Salsa dancing is a popular activity for many people, and it can be a lot of fun to learn how to do it! If you're new to the scene, you may be wondering what to wear to a salsa class. Don't worry – we've got you covered!
get the look:

What To Wear To A Salsa Class
This blog post will discuss the different types of clothes that are perfect for salsa dancing. We'll also provide five outfit ideas to help you look your best on the dance floor.
When preparing for your first salsa class, it is essential to consider what type of clothing will be comfortable and allow you to move freely. You also want to wear something that makes you feel confident!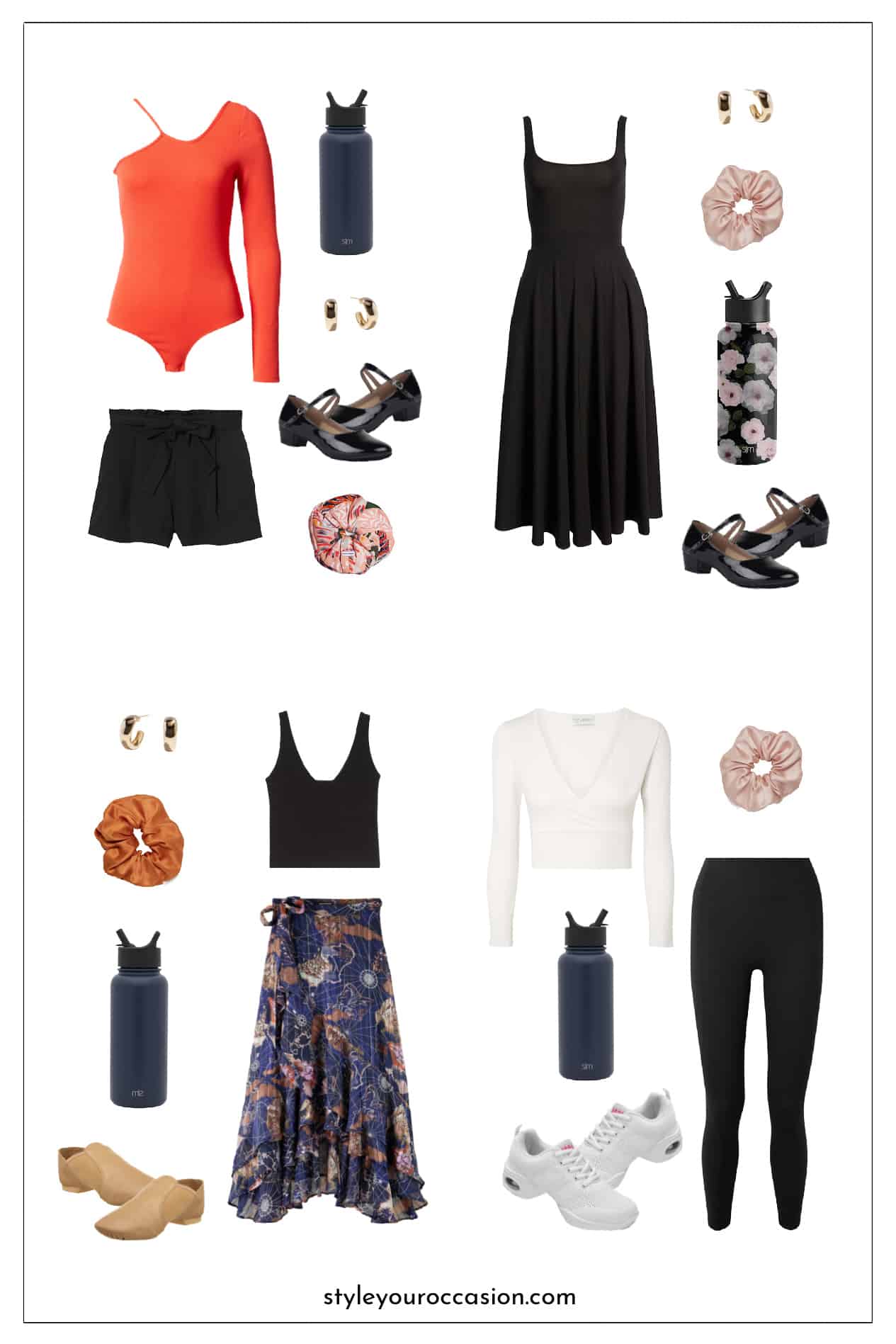 What should I wear to a beginner Salsa class?
When you're getting ready for your first salsa class, you want to be comfortable, but you obviously also want to look good! Here are some tips to help you pick the perfect outfit:
Choose stretchy clothes that you can move easily in. You want to raise your arms and legs without feeling restricted by your clothing. When first starting out, body-con dresses or jeans are not recommended because they can be challenging to move in. Instead, opt for stretchy pants or leggings, or a flowy dress that you can comfortably dance in.
Wear clothes that are lightweight and breathable. You will be moving around a lot during your salsa class, so you want to ensure that you're not getting too hot or sweaty. Choose fabrics that are light and airy, such as cotton, linen, or lightweight jersey.
Shoes are a must. You will need a pair of comfortable indoor shoes. Read more about the best shoes in the next section!
Avoid wearing sandals or sling-back shoes. When you're first starting out, it's best to avoid wearing sandals and sling-back style shoes. They can be challenging to dance in, easily fall off, and they may not be allowed in some salsa classes. Plus, if you end up with a partner with two left feet, you'll risk getting your toes stepped on!
get the look:

FAQ's For Salsa Dancing Attire:
Now that you know the basics, let's get into more detail about shoes and more as we answer some of the more frequently asked questions about what to wear to a salsa class.
What shoes do you wear for salsa dancing?
As we mentioned before, it is essential to wear comfortable shoes designed for dancing. Here are shoes you can try if you are a beginner:
Street shoes that are comfortable and easy to move in like ballet flats, loafers, or sneakers with a soft sole (not too grippy as you won't be able to pivot!).
Latin or Jazz dance shoes. These are great because they are lightweight and have a flexible sole that allows you to pivot easily.

Low heels. Make sure that they are comfortable with a wide heel so you can walk and dance in them without difficulty. You can also purchase Latin dance heels for a relatively good price if you plan to go from the studio to the salsa club!
shop shoes:

Can I wear sneakers to salsa?
This is a common question, and yes, you can wear sneakers unless the dress code for a particular studio says not to.
If you are comfortable dancing in sneakers and have a pair that is easy to move in, go for it! Just make sure that the soles of your shoes are smooth so you can pivot easily and won't hurt your knees.
You can also consider a pair of dance sneakers if you plan on committing to a lot of classes.
Do you need heels for salsa?
Heels are not necessary for salsa dance class, but many dancers choose to wear them because they can add a bit of sexiness to their dancing.
If you decide to wear heels, make sure they are comfortable and that you can walk and dance in them without difficulty.
What do female salsa dancers wear?
Female salsa dancers are known for their sassy moves and sexy outfits. Many salsa dancers opt for skirts or dresses that allow them to move freely and show off their legs. While the exact style varies depending on personal preference, bright colors and patterns are often seen on the dance floor.
In addition, many dancers wear shoes with a low heel and strap to keep them secure while they spin and twirl. Ultimately, the most important thing is to wear what makes you feel good and let loose on the dance floor.
shop the look:

What do you wear to a salsa club?
Most salsa clubs have dress codes; therefore, it is a good idea to check before heading to the club. For women, it is most common to wear a dress or a skirt that will make you feel and look fabulous when spinning on the dance floor. Some women will wear shorts and a fancy top or even jeans with a fun going out top depending on the club.
The biggest thing to keep in mind is that you wear something light, cool, and not too heavy. It gets hot in these clubs, so you want to opt for sleeveless tops or breathable clothing that allows you to move freely without overheating.

4 Perfect Outfits For Salsa Dancing Class & Clubs
Now that you know what to look for in a salsa outfit, here are four perfect outfit ideas to get you started.
The Flowy Dress
shop the look:

A flowy dress with stretchy material is a perfect salsa outfit that is both comfortable and stylish. Choose a dress that is knee length or higher, and avoid anything with baggy sleeves.
Most will choose a brightly colored dress to stand out. However, neutrals such as creams and blacks are equally stunning and eye-catching.
Skirt + Crop Top Combo
shop the look:

This is a fun and flirty option that is perfect for salsa dancing. Go with a combo of a stretchy skirt that flows and moves along with a fitted crop top.
You'll be able to move freely and feel super sexy at the same time! Just make sure the skirt isn't too long as it's important for your instructor to be able to see your feet and legs so they can correct your footwork if needed.
Leggings + A Wrap Top
shop the look:

With a pair of comfortable flat shoes or dance sneakers, this outfit is great for salsa class, Just bring along your water bottle for hydration and have fun.
If you are going to a cub but want to feel comfortable you can get away with this outfit as well, just add some statement jewelry and switch to a pair of comfortable (dancing-friendly) heels.
A Bodysuit + Shorts
shop the look:

You can make this combo casual with a bodysuit and high-waisted shorts (with stretch) for a salsa class.
Or, you can dress up the whole look a salsa club with a fancier bodysuit and a pair of stretchy high-waisted paperbag style shorts like the look below!
shop the look:

What To Wear To Salsa Class
Now that you know what to look for in a salsa outfit, you'll be able to hit the studio floor with confidence.
Just remember to choose a comfortable outfit that allows you to move freely and makes you feel fabulous and you'll be ready to take on the world (or at least the dance floor).
After a few classes, as you get more confident with your salsa dancing skills, you can dress up your class outfits and take them from the studio to the club!
Pin This:
More Style Guides You'll Love:
Country Club Attire: What To Wear + Classy Outfit Ideas
High Tea Attire: Exactly What To Wear To High Tea + Outfit Ideas
What To Wear To A Broadway Show + 8 Chic Outfit Ideas
What To Wear To Pilates: A Simple Guide
What To Wear To A Winery: The Do's & Don'ts + Chic Outfit Ideas