Got the ticket and mood ready for a Bad Bunny concert? The only thing missing now is a next-level outfit. Stand out from the crowd with 13+ Bad Bunny concert outfit ideas, inspired by the best street style.
*this post contains affiliate links*
Bad Bunny Concert Outfits 101
A Bad Bunny concert is always an exciting and memorable event and there's no doubt that concert-goers dress the part. Bright colors and sexy pieces are an absolute must-have, as well as fun accessories and sunglasses.
The idea is to, above all, have fun playing dress up. If you are looking for a Bad Bunny concert outfit, you're guaranteed to find some great inspiration here!
Perfect Bad Bunny Concert Outfit Ideas
The perfect bad bunny concert outfit? Think bold, sexy, and bright!
Try a matching crop top and pants set, fun jewelry and hair accessories. Go big with platform boots or sequins and don't write off a bikini top. The ultimate finishing touch? bold sunnies, of course!
Check out some of our fave Bad Bunny concert looks below from style influencers that know how to do bold and sexy.
Colorful and sexy
get the look:

This is the ultimate Bad Bunny concert outfit – a sexy and comfortable colorful romper paired with cool accessories and sneakers. This look is so foolproof you're sure to get a ton of compliments…maybe even from the Puerto Rican singer himself.
Opt for a brightly colored romper, or go vogue with an all-black look if minimalism is more your vibe.
Daring pieces
get the look:

Wanting to make a fashion statement? Experiment with daring pieces, like a chainmail skirt, metallic accessories and chunky boots.
This look is sexy but also leaves some to the imagination with the skirt over the bodysuit. You can go with a full-bottom bodysuit if you want more coverage. Or, if you are feeling more daring, opt for a thong!
Color is the new black
get the look:

Want a cute and flirty Bad Bunny concert outfit idea? Here's the perfect one. A sexy and colorful combination: a bright crop top and skirt.
Accessorize the look with hair clips, sneakers and psychedelic makeup, and be the best dressed in the crowd.
We love the pastel pink and the sneakers that complement the look. But, you can easily go with blue, green, or orange too!
A concert is a fiesta
get the look:

Take inspiration from Bad Bunny concert street style and experiment with contrasting bright colors, textures and prints. Don't forget to bring your best sunglasses and sneakers because a concert is just like a fiesta, with lots of dancing.
An oversized button up shirt is a perfect top to wear to the concert as you can leave it open for a sexy style, or tie it at the waist. It will provide some extra coverage and warmth when the sun goes down.
Rhinestones and sequins
get the look:

Sequins, glitter, rhinestones? Bring it on!
This sparkly combination is the perfect style choice for a Bad Bunny concert. The crop top adds sex appeal while the denim skirt gives a laid-back element to the outfit.
Pair it with combat boots for the ultimate Bad Bunny aesthetic. We love the blue on blue here but you can change it up with different colors or leather or patterned pants.
Bikinis, bikinis, bikinis
get the look:

What to wear for a Bad Bunny concert? A bikini, obviously!
Stay unique with a neon bikini top and contrast it with colorful pants. Finish the look with an oversized shirt or a denim jacket and don't forget a pair of sunglasses, of course.
This look is perfect if the weather is hot and you know you'll be dancing all night. You can also swap the bikini top for a basic cropped tank if you want a little more coverage.
A minimalism statement
get the look:

Sometimes standing out means doing less. Try a minimalist take on a concert outfit, with a ruched mini dress and cowboy boots.
With this Bad Bunny concert outfit you'll stand out from the crowd in the most simple way. If you want a splash of color, go with a bright pink or blue dress, and stick with neutral boots.
Swap the button-up shirt for a denim or leather jacket if the evening calls for cooler temperatures.
Athletic Barbie
get the look:

You'll feel comfortable dancing the night away with this casual and cute outfit for a Bad Bunny concert. The hot Barbie pink biker shorts and purse add a pop of color, and the oversized t-shirt and leather jacket are trendy and elevated.
The sneakers are the perfect dancing shoe, but you could easily swap these out for a pair of pink heels for a sexier vibe.
Corsets all the way
get the look:

Opt for something more unique and style a corset and jeans or a maxi skirt for a Bad Bunny concert.
Corsets are versatile in that you can dress them down with a pair of cargo pants, but still get that sex appeal. Or, you can dress them up with a skirt or leather pants.
Either way, this Bad Bunny concert outfit is sure to turn heads. And don't forget, wear sunglasses to finish the look, of course.
Statement co-ords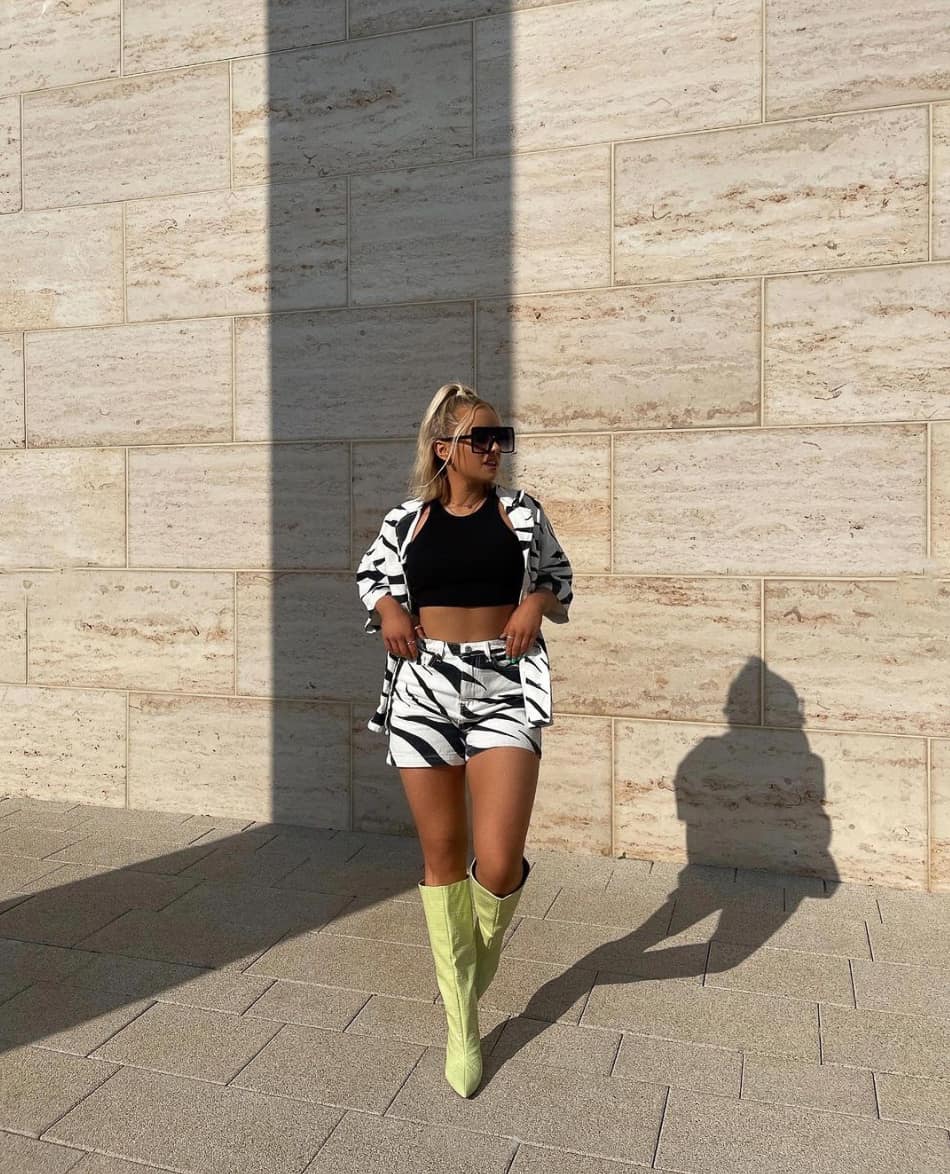 get the look:

If there was a Bad Bunny concert dress, we know it would include coordinated sets!
Anything matching always has a more elevated vibe, and we love the look of a top and bottoms that blend together perfectly, and there's nothing more fun than animal print.
Feel inspired by the Puerto Rican vibes and style a colorful co-ord crop top and baggy pants, or go with a matching jacket and shorts, or tank and skirt combo.
Sexy meets masculine
get the look:

Want to stand out at a Bad Bunny concert? Go with a denim on denim set that has a masculine, yet sexy vibe.
Pair the outfit with a pair of colorful sneakers, and accessorize with simple jewelry and sunglasses. This outfit is fun, playful, and unique. It has a feminine appeal, but you'll still feel comfortable and casual.
Going for the heights
get the look:

Blend into the scene at a Bad Bunny concert with a sexy crop top and mini skirt. But, don't blend in too much – contrast them with a pair of really high boots and you'll look like you have legs for days!
We love the matching pink set here, as it's colorful and bright – perfect for Bad Bunny. You can also easily wear a mini dress in a pattern or solid bold color.
If you know you'll be on your feet all night dancing away, swap the heeled boots for a pair of knee-high lug boots with a flat sole.
Go for leather
get the look:

Going for something more minimalist? Why not a pair of laced up leather trousers and a sexy crop top? Add on some high heel boots and your best moves for the ultimate Bad Bunny concert outfit.
This neutral look has a minimal vibe, but you can easily add in a splash of color with a pink or green top, or go with colored leather pants.
keep it professional
get the look:

Last on the list of Bad Bunny Concert outfit ideas, is a look that is totally hot, yet has a professional vibe.
If you prefer more coverage but still want to stand out, go with a hot pink pants set and sport a white crop top underneath. You can always remove the blazer if you get too hot.
The sneakers keep the outfit casual and comfortable for a concert, but the overall look has an elevated and classy feel.
What do you wear to the Bad Bunny concert?
At a Bad Bunny concert, the crowd is often in colorful and bright outfits that have a sexy vibe. Common outfit choices include;
crop tops

cargo pants

bikini tops

mini skirts

colorful matching sets

sequins

playful patterns

chunky boots and heels

sunglasses
While it's fun to dress up for a Bad Bunny concert, in the end, what you choose to wear is totally up to you. As long as you feel confident and comfortable, that's all that matters!
How long does a Bad Bunny concert last?
Bad Bunny concerts are usually a couple hours long, with backup dancers pumping up the crowd throughout.
We hope you have enjoyed this list of Bad Bunny Concert outfits and are inspired for the upcoming show. Just remember the recipe for a perfect BB outfit – bold, sexy, and comfortable!
More Style Guides You'll Love:
14+ Baddie Concert Outfits To Obsess Over
11+ Chic Winter Concert Outfits That Just Make Sense
What To Wear In Vegas: 17+ Classy & Elevated Vegas Outfits
18+ Chic Vegas Pool Party Outfits for Next-Level Aesthetic
How To Wear A Bodysuit With Jeans: 14+ Chic Looks To Copy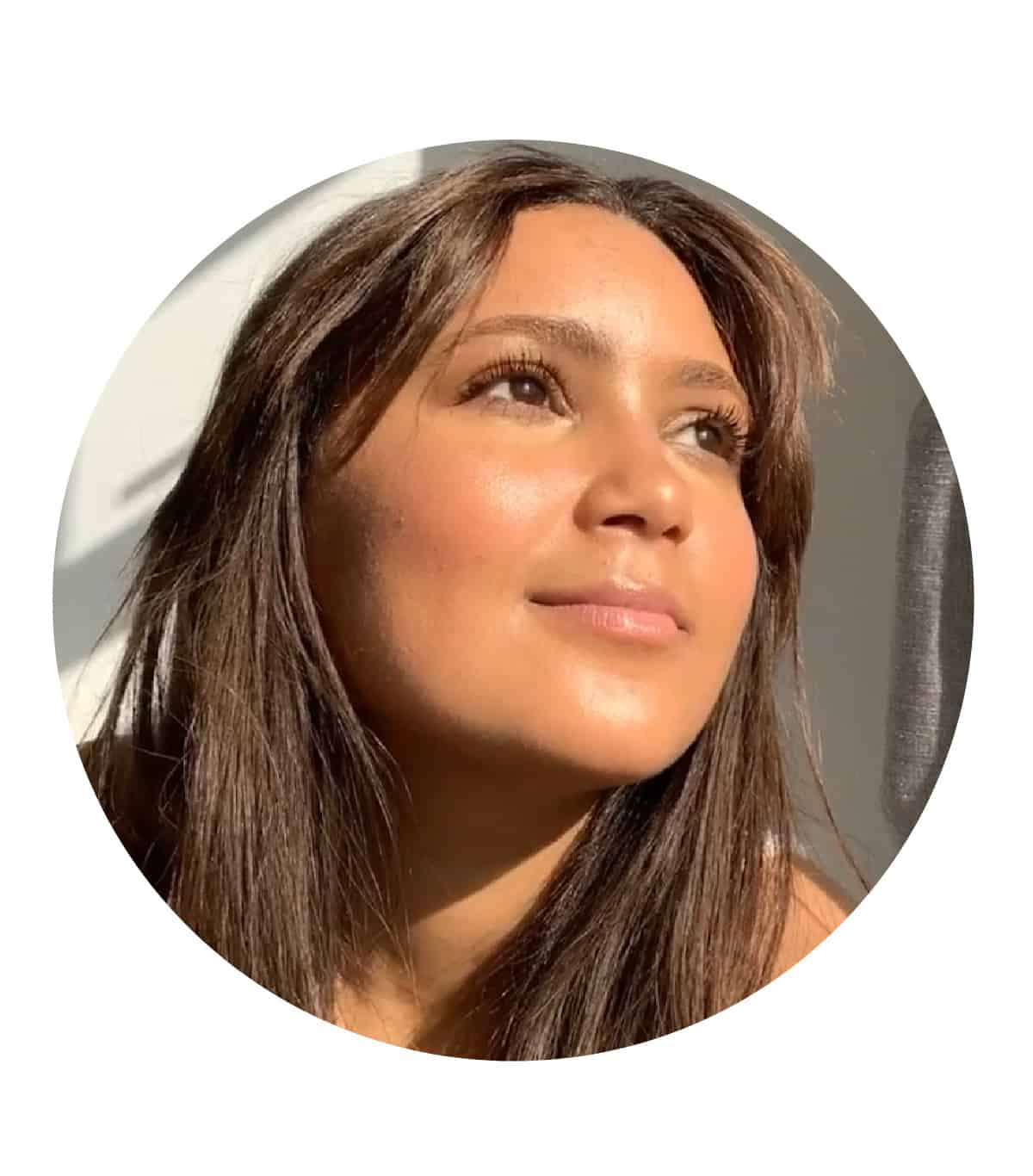 As an ever so opinionated child, especially when it came to the way people dressed, it made only sense that I'd follow a path of words and style. After completing a postgraduate degree in Fashion & Lifestyle Journalism, I've worked as a fashion PR assistant, as writer for Vogue Portugal and a styling assistant for Net-a-Porter. Today I help people with content for their websites and their wardrobes.