Check out our list of 11+ winter concert outfit ideas that will have you looking chic while staying warm! Whether it's a country concert outfit winter you want, or a rock, rap, pop, or alternative style, we've got you covered!
*this post contains affiliate links*
get the look:

Chic Winter Concert Outfits
Are you are headed to a winter concert and want to look chic, but still feel warm? We get it! Luckily, you can look stylish and be bundled up at the same time.
Winter concerts are the best way to make a long winter go faster, and while most of them are indoors, you'll still want to make sure you have extra layers to wear so you don't get cold on your way to and from the concert.
If you are heading to an outdoor winter concert, choosing the right pieces will help you create a fashionable look that is ready for the winter elements. Whether it's a country, rock, pop, or rap concert you are heading to, we're sure you'll find a few winter concert outfits below that you love!
jeans, puffer jacket + ankle boots
get the look:

The first of the winter concert outfits is a chic look that combines warmth with an edgy vibe. If you want something with more of a modern look, this outfit is perfect.
We love how this warm and cozy outfit still looks so chic. The glossy heels and gorgeous handbag add to the stylish look of this outfit, while the neutral colors keep it looking stylish. Add the turtleneck underneath for extra warmth, and you can opt for jeans without rips if you want to stay extra toasty.
leather pants, asymmetrical top + lug boots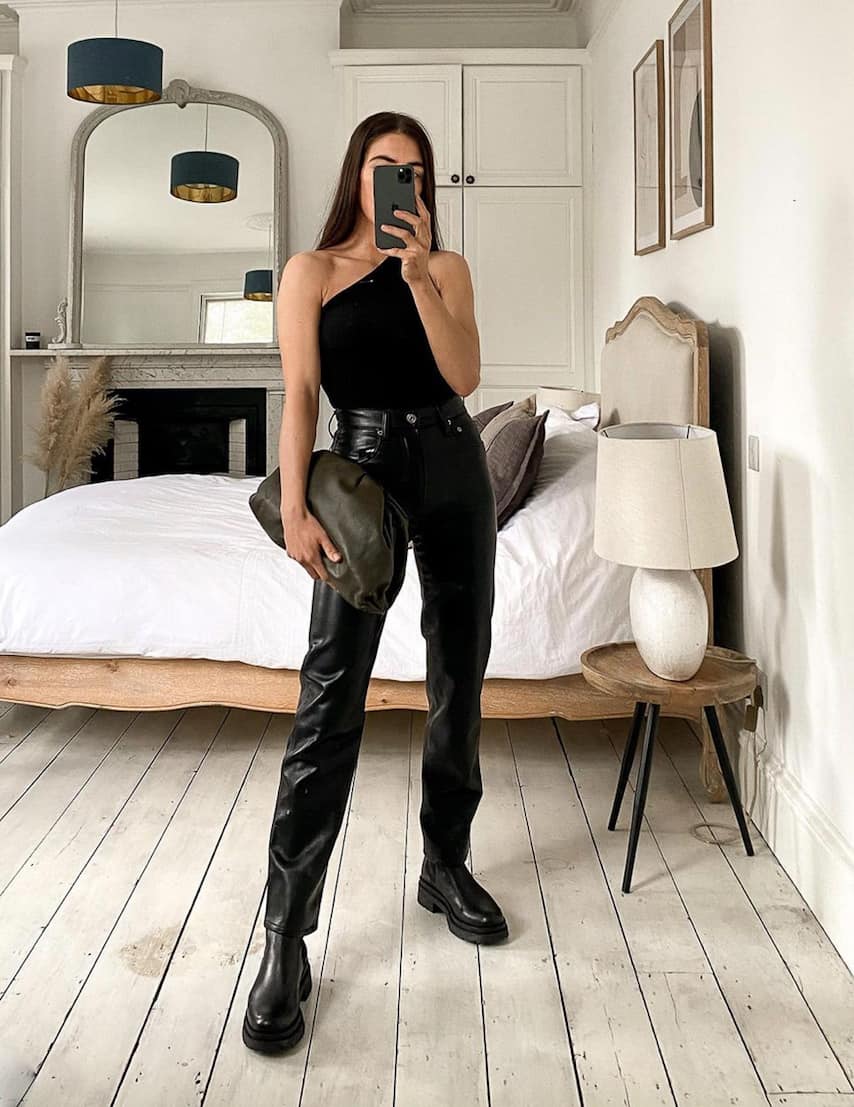 get the look:

Next on the list of winter concert outfits is a chic look that is a fantastic option if you plan to grab a cocktail or two before the show. This outfit has a fierce feel that we love, and it can be put together with simple pieces for an effortless look.
The leather pants will definitely keep you warm during your concert, and they also add to the edgy feel of this look. We love the one-shoulder top used here, and the chunky boots are practical for snow and add another stylish touch.
If you're worried about getting cold, bring along a puffer, fleece, or wool coat, just in case.
How do you dress for a winter rock concert without a winter coat?
You don't need to have a winter coat to go to a rock concert during winter. The key is to layer your outfit, so start off with a short-sleeved graphic tee or a long-sleeved top. Add on a pair of jeans and boots, then you can layer on a thick flannel shirt or a leather jacket.
You can also wear a bomber jacket, or a jacket that has fringe details would also be a great choice. A fringed coat or leather jacket will be perfect for keeping you warm during your concert, but the flannel is also a good choice since you can easily take it off and tie it around your waist if it gets warm.
faux fur jacket + knee high boots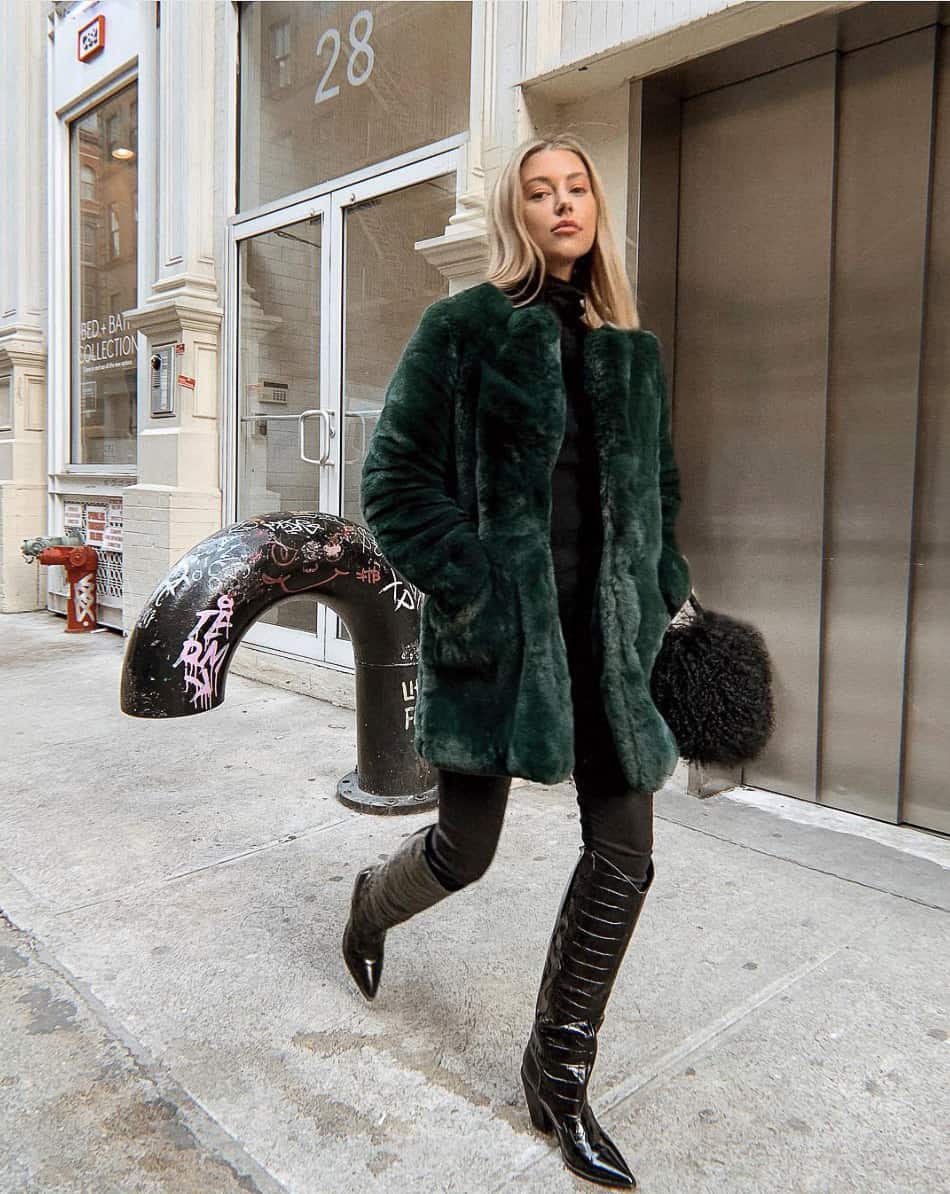 get the look:

Who doesn't love a daring and chic look with a faux fur coat? This is one of our favorite winter concert outfits, and it is perfect for the fashionista who plans to attend a winter concert.
We love the deep green color of this coat and how the fur handbag pairs so well with it. You can wear a black turtleneck and skinny jeans to start off this look and add your favorite faux fur coat and shiny knee-length boots to finish it.
midi skirt, lug boots + long wool coat
get the look:

Next up, we have this stylish and modern look with a flowy midi skirt and long coat. We love the comfy look of this outfit, and it'd be perfect for anyone who wants to be able to move freely while still staying warm.
A casual top and midi skirt are the base of this look, and a thick long coat and pair of boots will help keep you from getting cold. We love the neutral tones used here and how they add to the sleek and minimal look of the outfit, but you can also swap the coat or skirt for something more colorful if you want a fun look.
jeans, lug boots + shearling coat
get the look:

We love the edgy aesthetic of this outfit. This would be a great choice to wear to a rock concert, but it can really be worn to any show. You can also wear this if you plan to hit a couple of bars after the show.
The chunky boots are the perfect footwear for winter, while the jeans and scarf are easy additions for extra warmth. The faux fur coat is so gorgeous and will definitely keep you cozy in the cold winter air. Add a stylish purse like the one here to finish this edgy concert look.
leather pants, boots + wool blazer
get the look:

If you're a fan of using blazers in your outfits, this next look is for you. The leather pants and chic leather boots are perfect for a concert outfit, and the printed blazer adds a chic but fun touch as well. You can also use a solid-colored blazer and go for a color like blue or pink to add a bolder feel to the look.
The sunglasses and stylish shoulder bag are perfect accessories for this look, and you can easily change the top under the blazer to something cooler or warmer, depending on what you need.
leather jacket, maxi denim skirt + ankle boots
get the look:

This outfit has a chic look that we adore. The long skirt looks sleek and fashionable, and we love the belt around the waist. This look is a great choice if you are going out to dinner before or after the concert.
You can use a short-sleeved or long-sleeved shirt and add your favorite leather jacket over top. You can also use a graphic tee if you want something with more of a rock-and-roll feel. Don't forget a pair of black heeled boots to finish off this outfit.
sweater dress, tights, leather jacket + boots
get the look:

We absolutely love this edgy look, and it is the perfect outfit for a winter rock concert. You can also adjust this look to fit your personal style. Wear a shirt dress, an oversized sweater, or an oversized graphic tee for this look. Add the sheer black tights, a pair of ankle boots, and the leather coat to recreate the rest of the outfit.
We also love the accessories used here. The black beanie will help keep you warm during the show, and the chain strap shoulder bag adds a chic touch to the look.
Night Country Concert Outfit Winter
In the evening, depending on where you live, it can get pretty chilly! So you'll want to make sure you dress in layers for a night country concert winter style. Below are some chic looks that combine style with warmth!
cozy turtleneck, suede jacket + cowboy boots
get the look:

Another on our list of concert outfit ideas winter edition, is this combo of cowboy boots and a fringed jacket. The cropped cut of the coat and neutral tones used here add a modern touch to this Southern look.
This is the perfect outfit to stay cozy during a winter concert. The turtleneck sweater and jacket will keep you warm throughout the night, and the jacket can easily be taken off if needed. The cowboy boots will also keep you warm and are great for protecting your feet from any icy ground.
midi dress, leather jacket + western boots
get the look:

This chic outfit is an excellent choice for going to a country concert and grabbing some drinks afterward. We love the cute headband and the addition of the boots to add to the country feel of this look.
Start off with a black midi dress and add a cropped leather jacket over top. You can also swap out the black dress for a different color or a printed dress, depending on the look you're going for. Grab your favorite ankle boots to finish this look, and add a pair of stockings underneath if you're worried about getting too chilly during the show.
jeans, fringe coat + cow-print boots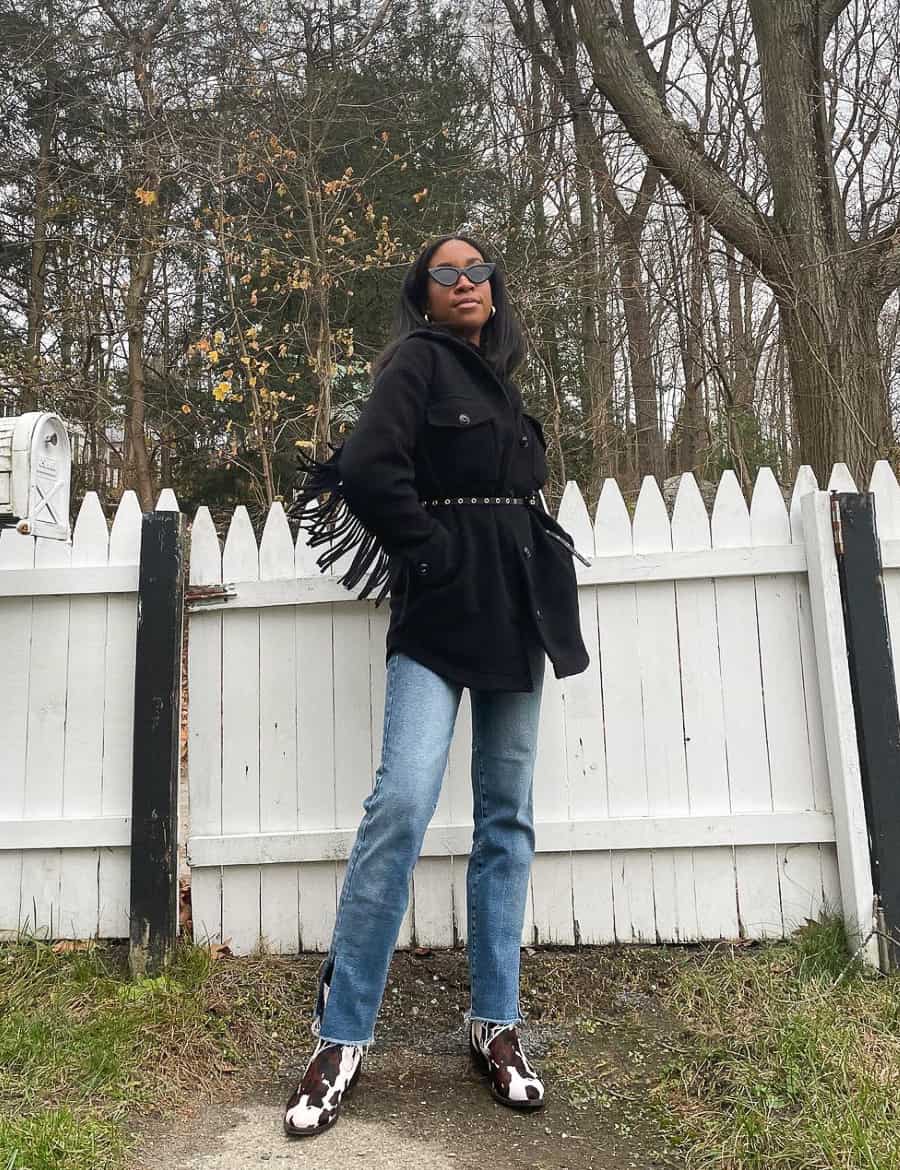 get the look:

Cow-print boots and a wool fringed coat are the perfect pairings to wear for a country concert outfit winter style. This outfit definitely has a country feel, but it is still super chic.
We love the addition of the belt over the fringed jacket, and it's perfect for staying warm and cozy during the show. The cow print is a nice subtle touch, and this outfit would look great if you wanted to swap the black coat for a deep brown to match the boots.
What do you wear to a winter concert?
When you're attending a winter concert, you want to be able to enjoy your experience, so the most important thing is to layer. Here are the best pieces to wear and layer together for a winter concert:
Jeans
Leather pants
Long skirt or dress
Stockings or tights
Sweater or cardigan
Warm coat (flannel, wool, shearling, sherpa, puffer)
Boots

(ankle, lug, knee-high, etc)

Beanie
Scarf
Boots are a great choice to wear in winter because they can keep your feet warm and make it easy to walk over snowy or icy ground. You can also wear a pair of stylish sneakers or heeled boots for a classier look.
What exactly you'll want to wear for your outfit depends on how cold it can get where the concert is being held and whether or not the show is indoors or outdoors. But these are the items you'll want to build your winter concert look with.
get the look:

Which concert outfit ideas winter ready?
These looks above are all great when it comes to concert outfit ideas winter edition. When choosing an outfit, you can use these looks as a guide and go with the best one based on how cold it will be, whether you'll be at an indoor venue or outside, and your own personal fashion style.
Which look was your favorite?
More Style Guides You'll Love:
15+ Baddie Winter Outfits for Next-Level Aesthetic When It's Cold
11+ Stagecoach Outfits With A Chic Coastal Cowgirl Vibe
14+ Country Concert Outfit Ideas You'll Want To Copy
What To Wear To A Comedy Show + 10 Chic Outfit Ideas
Effortless + Chic Winter Capsule Wardrobe for Winter
15+ Winter Family Photoshoot Outfits
How To Wear A Bodysuit With Jeans: 14+ Chic Looks To Copy
What To Wear To The Ballet: 11+ Chic and Elegant Looks To Try
13+ Bad Bunny Concert Outfit Ideas For A Next-Level Aesthetic
14+ Kpop Concert Outfits To Dance The Night Away In
country concert outfit winter
concert outfit ideas winter
winter concert outfits