Looking to add bodysuits to your wardrobe but not sure how? Check out our guide on how to wear a bodysuit with jeans for chic outfits to inspire you. You'll love these lace bodysuit with jeans, black bodysuit, and other bodysuit styles outfit ideas!
*this post contains affiliate links*
get the look:

Can I wear a bodysuit with jeans?
Yes, you can absolutely wear a bodysuit with jeans! Most bodysuit styles pair well with jeans for a casual but chic look. The body suit and jeans combo easily create a gorgeous outfit that gives off the feeling of effortless style.
A bodysuit with jeans is also one of the best ways to keep a polished look to your outfit since the bodysuit will always stay tucked into place. There'll be no need to adjust your outfit; instead, you can focus on enjoying yourself during whatever event you're attending.
What jeans go with a bodysuit?
High-rise jeans are considered the best style of denim to pair with a bodysuit. A high-rise cut creates a "snatched" waist look that blends the bodysuit with the jeans seamlessly to create a flattering silhouette.
When it comes to the leg cut of the denim, you can go with tapered mom jeans, straight-leg, skinny, wide-leg, or bootcut jeans.
Get inspiration for styling a bodysuit and jeans by browsing our favorite chic looks below!
Lace Bodysuit With Jeans
The following are our favorite looks that pair a lace bodysuit with jeans for a chic, sexy, and edgy look.
jeans, lace bodysuit + leather jacket
get the look:

The stunning details of this lace bodysuit are so eye-catching and chic. We love the vintage vibe here with high-waisted light-wash jeans and an edgy leather jacket.
If you prefer a more modern and bold look, swap out the light jeans for a darker pair or add some combat boots. Or you can add a pair of strappy heels for a sexy and feminine look that is perfect for date night.
lace bodysuit, blazer + jeans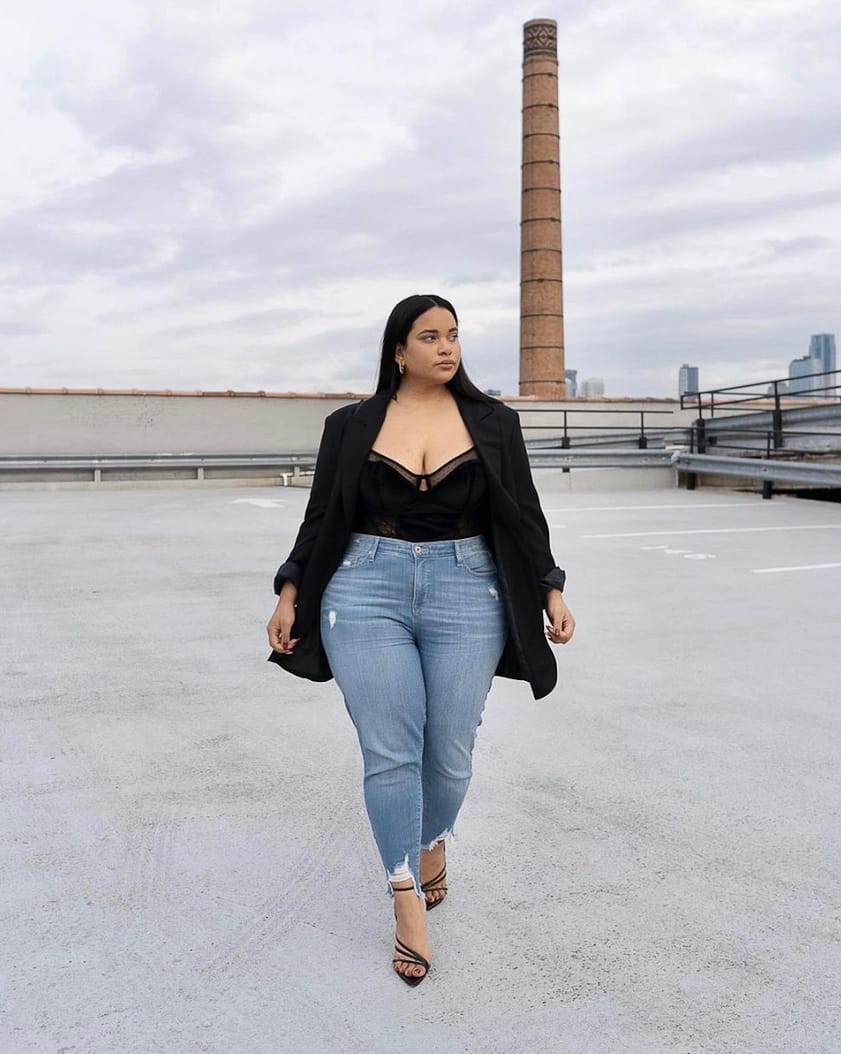 get the look:

If you need a gorgeous and polished outfit for your next party or girls' night out, try this look featuring a sexy lace bodysuit, stylish jeans, and a blazer.
We love the frayed details on the jeans here, and you can easily use a pair of ripped jeans for this outfit. The heels add to the sexy feel of this look, and we love the peekaboo lace along the top of the bodysuit. If you want to add a pop of color, trade out the black blazer for another neutral tone, like grey or navy.
Black Bodysuit With Jeans
A black bodysuit with jeans is a classic, timeless, and chic look. It's a no-fail combination that can go from day to night. Below are our top outfit picks!
feather detail black bodysuit, jeans + heels
get the look:

A playful and feminine bodysuit like this is perfect for a morning spent sipping lattes and enjoying fresh pastries. We are in love with the feathered straps on this bodysuit, and the gorgeous gold heels elevate this look even more.
The casual and relaxed light-blue jeans keep this look light and dreamy, while that gorgeous purse adds a vibrant touch. This bodysuit and the jean combo are perfect for a cool summer day in the city.
black bodysuit, blazer + jeans
get the look:

This gorgeous outfit is perfect for weekend brunch with the girls. We love the ribbed texture of this body suit paired with the sleek black blazer.
The light blue jeans keep this outfit casual, while the handbag and gold accessories add a stylish touch. You can use your favorite black bodysuit and add an oversized blazer or coat to recreate this look. A pair of heels would keep it classy, or you could opt for sneakers for a comfy and casual feel.
chic in monochromatic
get the look:

We are in love with the sleek look of this monochromatic, all-black outfit. The black bodysuit and jeans create a chic aesthetic, and the black accessories add a polished feel.
This is definitely a great outfit to wear while out and about. The relaxed-fit jeans and cozy sandals are perfect for a day spent walking around, but the strappy bodysuit and black purse keep the outfit chic.
If you want this look for your next date night, you can trade out the sandals for strappy black heels for an extra sexy feel.
jeans, long black bodysuit + heels
get the look:

We cannot get over how stylish and stunning this outfit is. The one shoulder body suit with ripped jeans and patterned heels creates a one-of-a-kind look that will leave people's jaws on the floor.
This outfit is the perfect chic look for an autumn day. Grab your favorite ripped jeans and a long-sleeved bodysuit with cold shoulders. You can add a pair of unique printed heels or go for a pair in a bright color for the same bold look.
mesh bodysuit, cargo pants + heels
get the look:

The sexy look of the black mesh bodysuit with the edgy cargo pants creates a bold and trendy outfit. We are always fans of the gorgeous all-black look, but the addition of patterned shoes and mesh details adds a fun touch to this outfit.
If wide-legged pants aren't your style, you can choose a pair of relaxed or slim-fitting black jeans instead. Either way, this look is perfect for a relaxing night with cocktails with your closest friends.
More Stylish Bodysuit With Jeans Ideas
A black bodysuit is always a great idea, but if you love a pop of color, or classic white, here are more looks to try!
bodysuit tank, white denim + sandals
get the look:

This bodysuit tank and loose-fitting jeans are an amazing combo for spending a summer day outside. The chunky sandals are perfect for keeping cozy while you enjoy a walk in the park.
We love the gorgeous bright color of the red bodysuit, although you can use any color here. The white jeans keep the look bright and add to the summer feel of the outfit.
Even though this look has such a laid-back feel, the strappy sandals and black shoulder bag make this a fashionable choice.
skims bodysuit with jeans

Contouring Skims bodysuits are incredibly popular, and for good reason! They look amazing with a pair of jeans and hug in all the right places.
This is a perfect pick for you if you love the look of classy and neutral-toned outfits. The rich tone of the light brown Skims bodysuit is so gorgeous and adds a warm feel to this neutral, minimal look.
We love the wide-cut legs of these jeans and how they balance the fitted bodysuit to create a stunning and flattering silhouette. The strappy white heels and sleek shoulder bag also add a feminine touch.
long-sleeved bodysuit, jeans + heels
get the look:

A long-sleeved bodysuit with high-waisted jeans looks so gorgeous paired together. This is the perfect outfit for exploring a museum or art gallery.
The simple combination of the two pieces gives off the feeling of effortless style, and the addition of an oversized bag, heels, and sunglasses add a polished finish to the look.
turtleneck bodysuit, jacket + ankle boots
get the look:

We love the casual vibe of this outfit. Even having such a laid-back feel, this outfit is plenty stylish and an absolute must for a chilly winter day.
The warm tones from the cream and brown colors of the jacket are so gorgeous. We love the matching colors in the boots and handbag as well. If brown isn't your go-to color, try using a deep grey or dark blue coat, shoes, and accessories instead.
The 'going out' bodysuit with jeans
get the look:

This shimmering bodysuit is so unique and a perfect piece to wear to a Christmas or New Year's Eve party, or a fun night out with the girls.
We love the details of this one shoulder bodysuit and its fun-loving vibe. The ripped denim jeans keep the outfit casual, while the strappy silver heels and silver jewelry make it chic.
If you want an outfit with a more daring look, this would look so vibrant and bold with a different colored glitter bodysuit like pink, blue, purple, or green.
asymmetrical bodysuit, oversized blazer + heels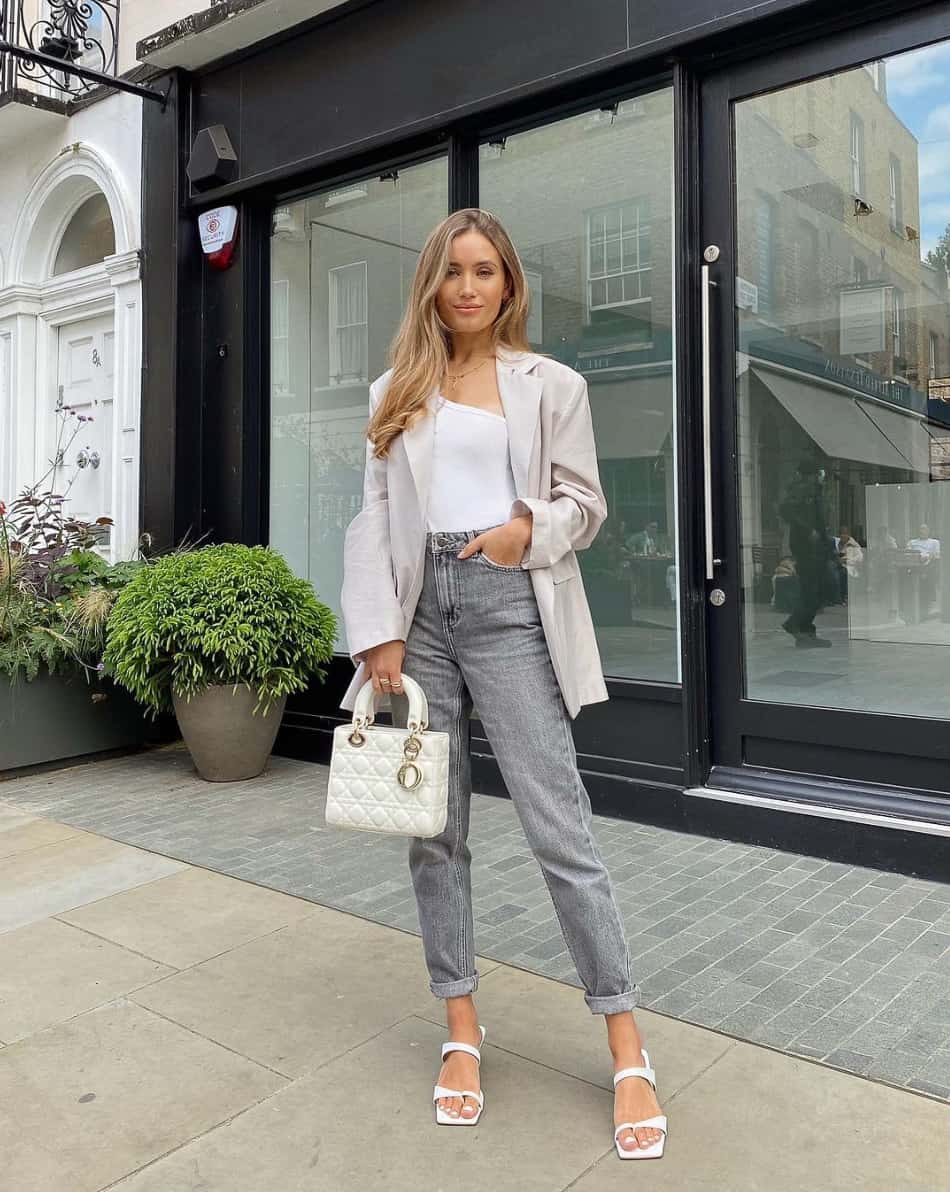 get the look:

A light-toned neutral outfit is always a stylish choice, and we love the unique look of this asymmetrical bodysuit.
High-waisted grey jeans are the perfect pair for this white bodysuit, and the light-colored oversized blazer is a stunning addition. The white accessories add to this bright and clean aesthetic.
This outfit is perfect for dinner and cocktails, or you could swap the heels for comfy sneakers for a casual lunch date look.
deep v-neck bodysuit, jeans + heels
get the look:

Straight-leg jeans and a wrap-style bodysuit create a casual but gorgeous outfit that you could spend a whole day in. This look is great for exploring a new city on a weekend getaway.
We love the flattering cut of this bodysuit and how the black belt accentuates the curves even more. You could also wear dark blue jeans or even black for a bolder look.
Are bodysuits still in style 2023?
Bodysuits have been in style for years and luckily, they're not going away anytime soon. Bodysuits will be a staple in fashion for 2023, and those with lace and other unique, gorgeous details like cut-outs, feathers, and sweetheart necklines will definitely be getting a lot of attention.
What bodysuit should I pair with jeans?
Most bodysuits will look incredibly stylish when paired with jeans. Start off choosing a bodysuit that has the look you want, like sexy lace, chic black, or something casual, and then add a pair of jeans and other pieces to finish your look.
Hopefully, you found some outfit ideas from this list to help you create the perfect look with a bodysuit and jeans.
More Style Guides You'll Love:
15+ Sexy Outfit Ideas That Are Seductive & Classy
14+ Elevated Jeans and Heels Outfit Ideas
15+ Coffee Date Outfit Ideas That Are Classy & Casual
What Shoes To Wear With Straight Leg Jeans For A Chic + Modern Look
*Best* Tops To Wear With Leather Leggings + Leather Leggings Outfit Ideas!
12+ Red Boots Outfit Ideas That Will Have You Smitten
What To Wear In Vegas: 17+ Classy & Elevated Vegas Outfits
14+ Bootcut Jeans Outfit Ideas That Prove You Need A Pair
13+ Bad Bunny Concert Outfit Ideas For A Next-Level Aesthetic