Looking for gorgeous brown nail designs to elevate your style this fall? You'll love our list of 27+ brown nails, including brown marble nails, brown nude nails, and brown swirl nails, that are perfect for 2023!
Stunning Brown Nails
If there's one thing that can instantly elevate your look, it's a fresh mani! And if you're looking for a chic and sophisticated nail design, a classic neutral color is always a great choice.
Neutral tones will give any manicure a timeless look; plus, they're versatile enough to pair with any outfit. With fall fast approaching, brown nail designs are the perfect choice. This hue has a warm feel and is a must for an elegant manicure in 2023.
To help you choose your next nail design, we've found the most stunning brown nails that will add effortless style to your look. We have everything from brown nude nails to brown marble nails to brown swirl nails, so there's plenty of inspiration to be found in our lists below!
Brown Nail Designs List
Whether you want a classic, solid brown mani or you're looking to mix things up with patterns and accents, we have brown nail designs below that you're sure to love!
Gradient Nails + Animal Print
Pair a gorgeous gradient with a daring animal print design for a playful and alluring mani. If you want to make it even bolder, add glitter details, gold flakes, or gems.
Are brown nails trending?
Yes. Brown nails are a popular pick in 2023, especially during colder months. This color instantly has a fall vibe, so it's perfect to use in autumn nail designs for a chic but warm aesthetic.
And while we love any shade of this gorgeous color, dark, rich browns are definitely going to be trending this fall!
Chocolate Nails w/ Chrome Finish
Chrome nails have been having a moment in 2023, so this design is a must for chic and trendy nails. A chrome finish looks stunning on light and dark colors, so while we love this chocolate color, you can go for this look with any shade of brown.
Brown Polish w/ Gold Flakes + Black Nail Art
We love the combo of light and dark shades here for some gorgeous contrast. The golden accents add a glamorous vibe, making this a top choice for a night out this autumn.
Brown Frenchies w/ Beige Details
This deep shade of brown is stunning and has an elegant vibe that we love. Keep it classic with French tips and add a subtle beige detail for a pop of contrast to brighten the look.
Brown Nails w/ Ombre Accents + Animal Print
Upgrade a simple mani with a brown ombre and animal print details. This lovely color is a must for chic animal print, and this nail design is great for a weekend night out with the girls.
Is brown a good nail color?



Brown is absolutely a good nail color! Not only does this color have a warm and friendly vibe, but it's also an excellent choice for autumn nails. And because this gorgeous color is neutral, it can easily be paired with other hues for an effortless look.
Something else we love about using brown as a nail color is that there are so many stunning shades to choose from! You can rock caramel, chocolate, mocha, espresso, or anything in between for an elegant and chic manicure in 2023!
Brown Nails & Metallic Flakes
Metallic flakes are a fantastic way to elevate any nail design, and these brown nails definitely prove that. We love the addition of small metallic flakes on each nail for a bit of shimmer, while the full flake accent nail is a playful touch.
Shimmering Dark Brown Mani
Add an eye-catching pop to your nails with a shimmering polish or topcoat. This dark color is stunning, and the sparkling finish quickly upgrades this simple mani.
You can wear this nail design for a minimal manicure that is still attention-grabbing!
Brown French Tips & Autumn Floral Art
If you want to add an autumn aesthetic to your brown nails, you can always add dainty fall floral art.
Red, yellow, and orange leaves are so cute, and the colors look stunning with this shade of brown. The French tips make this nail design the perfect combination of a classic design with playful details!
Dark Brown Polish + Negative Space Accents
You can elevate your brown nails with simple designs like French tips and negative space accents. These add an intriguing aesthetic to your manicure while keeping it minimal and classy.
Matte Brown Nails w/ Plaid Accents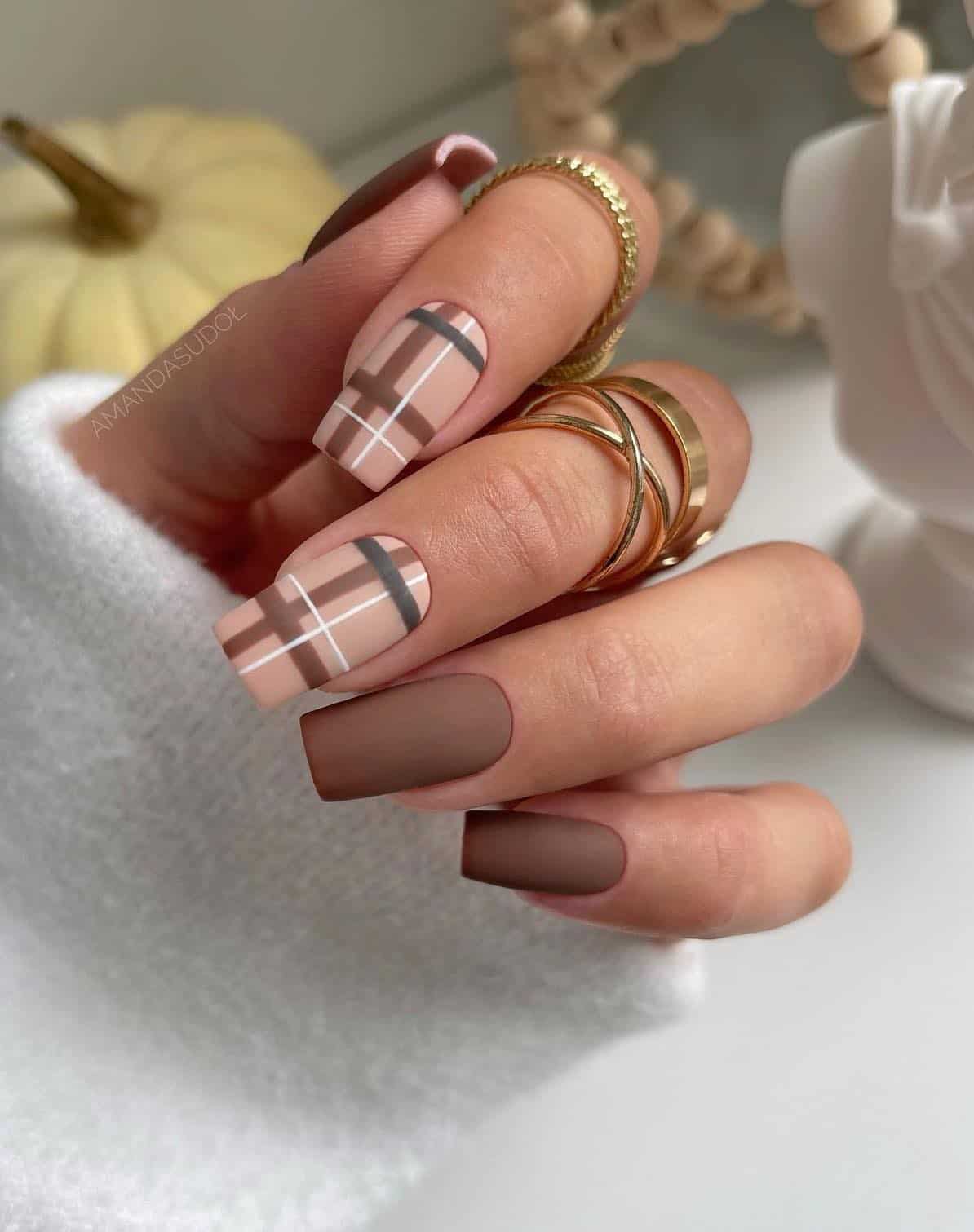 Plaid is another great pattern for a fall nail design, and the combo of neutral shades makes it easy to wear these nails with any outfit. The matte finish adds a refined touch, although you can go for a shimmering topcoat or glitter details if you want something more vibrant.
Neutral Collage Nails
Keep it youthful and trendy with a collage nail design! We love the combo of shades of brown with cream for a warm but bright mani, and the retro-inspired patterns will give you an effortless cool-girl vibe.
Brown Polish w/ Abstract + Floral Art
Abstract nail art has the perfect balance of playfulness and elegance. We love the mix of neutral shades here, and the leaf nail art gives this manicure an instant autumn feel. Choose a look like this to show off your bold style!
Matte Brown Nails w/ Glossy French Tips
Go for something simple but stunning with a matte brown base and glossy French tips. This nail design has a subtle elegance that will elevate any look this fall!
Brown Nude Nails
Nude brown nails are always stunning, so you really can't go wrong with a look like this! We have some beautiful brown nude nail designs below that are perfect for this trendy style.
Nude Brown Gradient Nail Design
A gradient nail design is a great way to elevate a classic manicure with solid-colored nude brown nails. It has a modern feel and is perfect for an effortlessly chic look.
Brown Nude Nails w/ French Tips
We are in love with this simple but elegant nail design! The combo of solid nails and French tips is modern and playful but still classy enough to wear at work or to formal events.
Mocha French Tips w/ Sweater Details
This light brown is so beautiful, and the sweater French tips are a classic cold-weather design. We love the cozy vibes we get from the color and the sweater details – so this is a great choice for when the air starts to get chilly, and you're ready for some hot cocoa!
Brown French Tips w/ Gold Flakes
The warm tone of gold accents pairs perfectly with the warmth of this rich brown nail polish. Go for this nail design if you want something elegant with an eye-catching pop!
Brown Marble Nails
Marbled nails are a top choice for bold and glamorous nails, and we've found some of the best brown marble nails to prove why this nail design should be a top pick in 2023!
Dark Brown Mani w/ Glitter Waves & Marbled Details
You can use marbled details to accent a classic manicure for a subtle but gorgeous nail design. And we love the addition of glitter waves for a vibrant touch.
Brown Marbling w/ Gold Glitter Borders
Marbling can be the star of your manicure, and you can make it really pop by bordering your marbled accents in gold glitter. This nail design is a must for anyone who wants to rock this beautiful shade but still have a bold and attention-grabbing mani!
Brown Marbled Frenchies w/ Black Speckles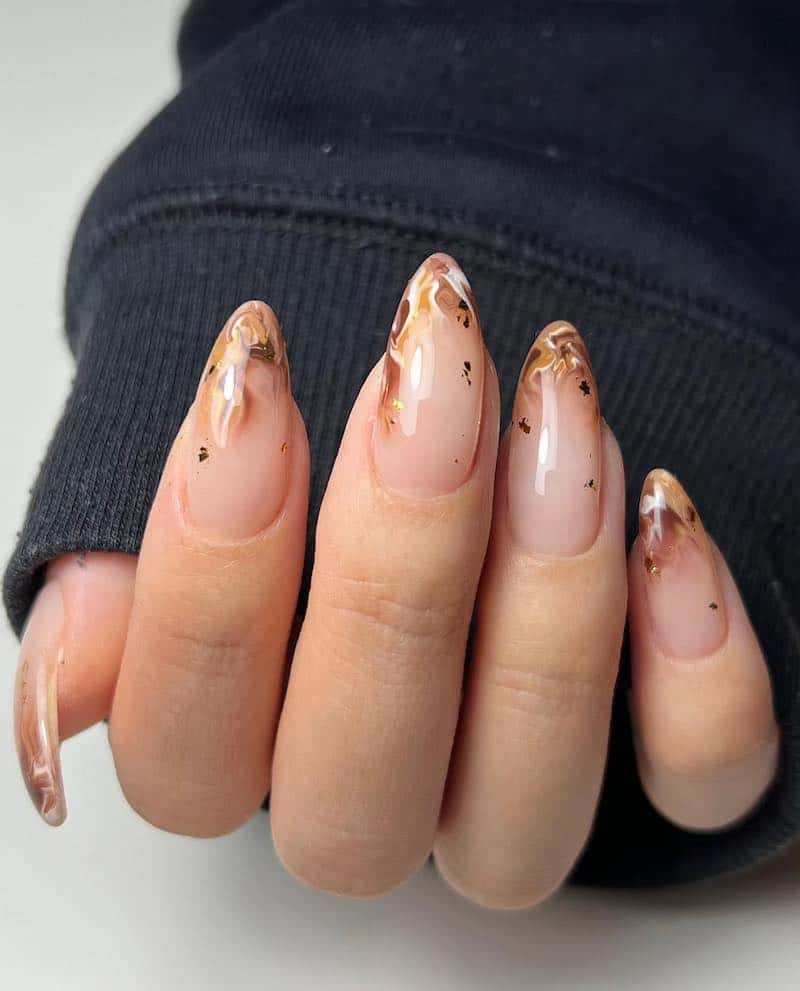 Go for flowy marbled French tips for a classic design with a modern twist. White and brown marbling is lovely together, and this manicure would be perfect to wear to a coffee date with friends.
Neutral Gradient + Matte Brown Marbling
We are here for this combination of marbled nails and gradient nails. One side is simple but classic, while the other has a bold and fun feel.
This nail design will definitely earn you countless compliments this autumn!
Brown Polish w/ Marble Accent Nails & Gold Flakes
Use marble nail art to accent your manicure for a playful touch. We love the addition of gold flakes in the marbled nails; they're chic and refined, making this manicure perfect for a date night in 2023!
Brown French Tips w/ Marble Details
We are so in love with these marbled Frenchies! They have the classic look of a French manicure while still being bold and trendy. You can add glitter for a more eye-catching design, but these nails really are stunning just how they are.
Brown Swirl Nails
Swirls have been a popular nail trend lately, and there are no signs of that slowing down anytime soon! This is a great way to add a playful detail to your nails while keeping them simple and chic.
Neutral Swirl Nails
Pair shades of brown with other neutrals for a lovely all-over swirl design like this! This nail art is perfect on long coffin nails like these since you can create long, beautiful swirls – but you can rock a design like this on short nails too!
Sparkling Brown Nails w/ Swirls
Pairing classic glossy nail polish with sparkling polish is perfect for these brown swirl nails! We love the shimmering accents from the glitter polish, and it helps to make the design pop.
Brown Nail Polish w/ French Tips & Swirls
If you're looking for a simple nail design that will add a refined touch to your everyday outfits, this mani with brown swirl nails is a fantastic choice. The minimal design and rich brown shade will pair with anything, so you can wear this anywhere from date night to a work meeting.
No matter which nail design you go for (brown swirl nails, brown marble nails, etc.), brown nail polish is a great choice to give your mani a sophisticated feel. We hope this list of chic brown nails has been helpful and you've found stunning brown nail designs to wear in 2023!
More Nail Inspiration You'll Love:
23+ Fresh Fall Ombre Nails To Obsess Over
25+ Stunning Beige Nails That Are Anything But Bland
32+ Classy Short Nail Designs & Ideas For Every Season