Looking for stunning short nail designs to rock in 2023? We have elegant nail designs for short nails for any season and any occasion. Whether you prefer bold colors or a minimal manicure, we have short nail ideas to inspire you below!
Classy Short Nail Designs
Nails are an excellent way to show off your personality and style. And while we love to see long and luxurious nail designs, we're also a huge fan of short nail designs!
Despite what some people may think, short nails don't have to be boring! They can be just as stylish as medium or long nails, and you can definitely rock a manicure that stands out even if you have shorter nails.
So whether you keep your nails trimmed for work or easy maintenance, we have gorgeous nail designs for short nails to prove that your nails can be bold and stunning no matter the length!
Short Nail Ideas To Try
We've found breathtaking nail designs for short nails to show you that short nails can still be as chic and eye-catching! Whether you're going for bold, bright hues or a subtle look, we have nail designs to inspire your next manicure.
Blue Matte Nails w/ Silver Accents
First on our list of cute short nails is this stunning royal blue mani.
We love the elegant matte finish on such a bold, beautiful shade, and the silver glitter details add another refined touch. This nail design is perfect to rock anywhere, whether going about your normal day-to-day or attending a lavish wedding!
Nude Nails + White Waves
We love the combo of classic manicure colors and a modern nail design. Nude and white are a perfect color pairing and abstract waves are chic and trendy, making this nail design a must for an elevated yet timeless look.
Green, White & Black Abstract Nails
This gorgeous design is a must if you like bold and colorful nail designs.The abstract nail art is chic and playful, and we love the combo of deep green and black with accents of bright white.
This manicure is a sure way to spice up your short nails!
What color looks best for short nails?
When it comes to the best color for short nails, bright shades work well if you want an eye-catching nail design, whereas nude and neutral tones create a classic look. Here are some of the best choices for nail polish colors on short nails:
Nude or neutral colors
Pastel shades
Bright red
Peach polish
Dark green or blue
You can also use gold and silver accents to make the colors pop even more and elevate your short nail design!
The Barely There French Manicure
The barely there French manicure is an easy way to create sophisticated aesthetic nails. You can stick with classic white or use a bright color like pink, green, or blue to add a youthful touch to this look.
Emerald Green Polish w/ Accent Nails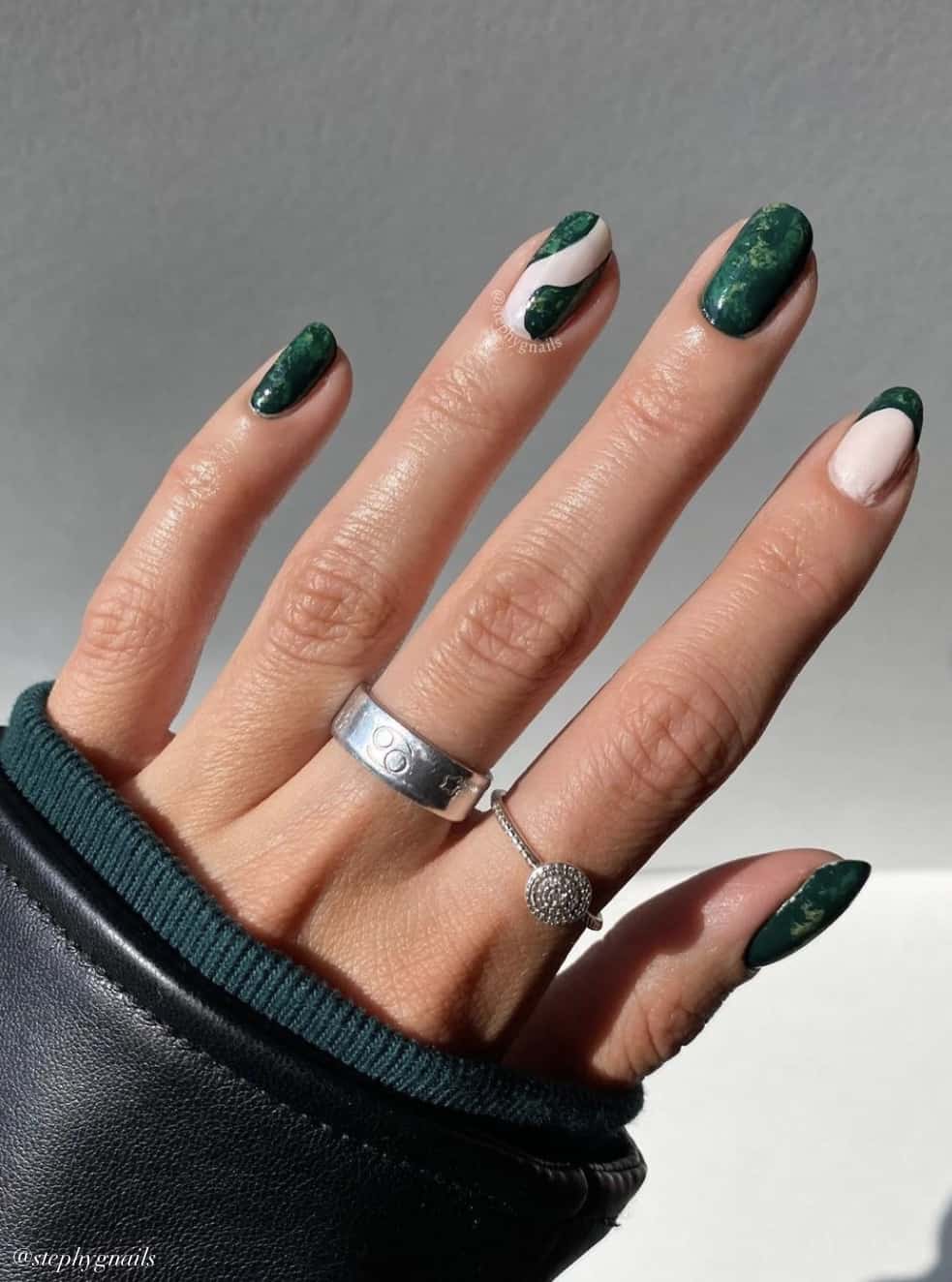 We are in love with this gorgeous green manicure!
The nail color is stunning and will add a bold touch to your everyday look. The accent nails add a playful feel, and you can add gold flakes or glitter if you want to add some more flair to this short nail design.
French Tips w/ Floral Nail Art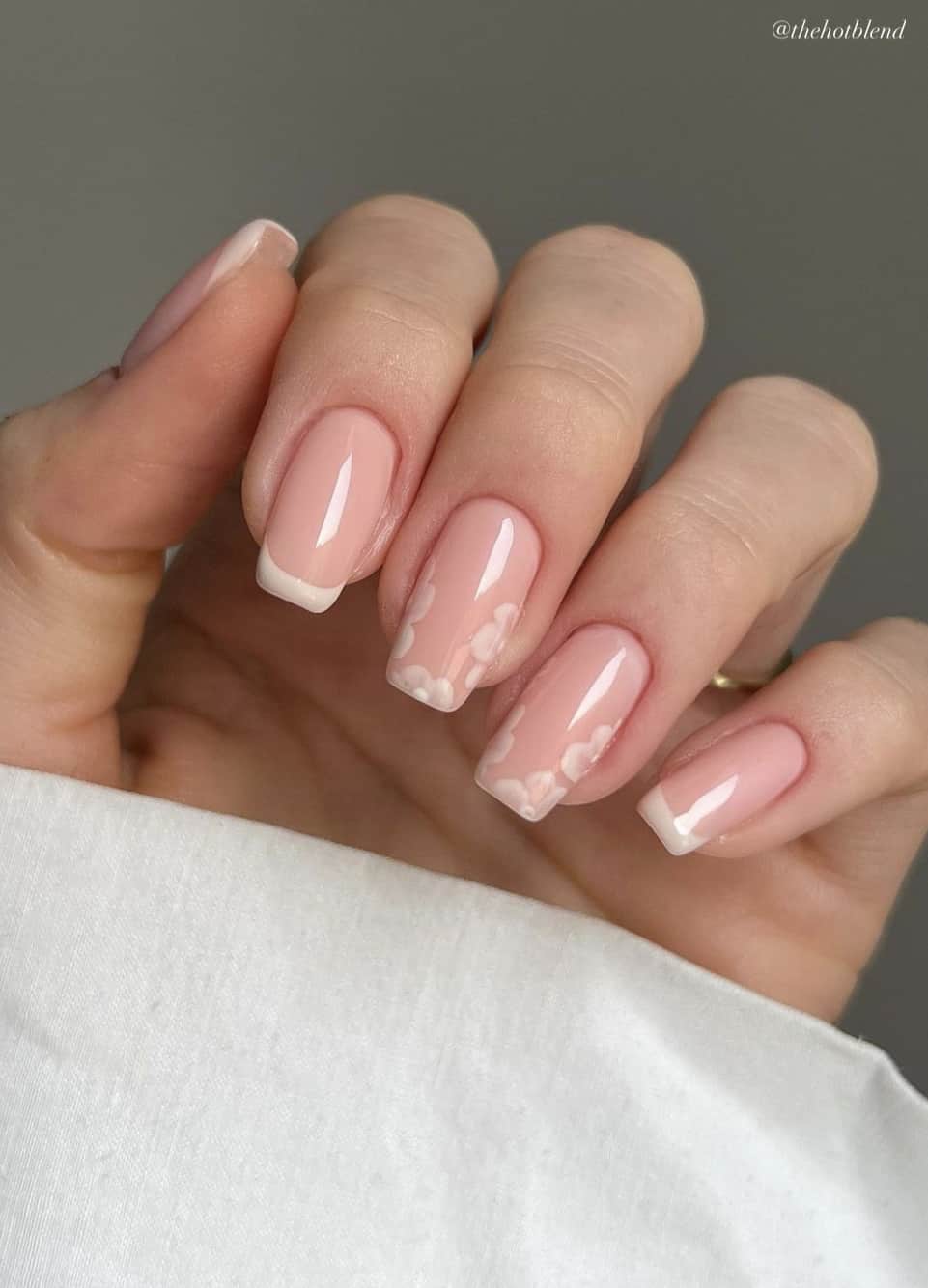 Here's another stunning twist on the classic French manicure. Floral details add a soft and feminine feel to any nail design, and the nude pink and creamy white tones definitely add to the romantic vibes here.
This manicure is the perfect way to upgrade your date night look!
Polka Dots + Gold Sparkles
Polka dots and sparkles are cute designs, while the white and gold tones add an elevated touch. This is the perfect nail design to show off during Sunday brunch or to add a playful touch to your everyday outfits.
Black French Tips w/ Dot Accents
Black French tips with dot accents are perfect for a chic short nail design! We love the contrast of the black and nude, and the dots add a touch of playfulness and whimsy. This black nail design is so versatile that you can wear it for casual or formal occasions.
Pink Polish + Crystal Accents
Pastel pink polish and crystal accents create a delicate and feminine look that we are here for! The soft color and sparkling accents add a touch of elegance to your nails without overwhelming them, making this perfect for anything from everyday wear to a special event.
What nail art looks good on short nails?
If you prefer simple manicures, you can stick with classic minimal designs such as French tips, wave accents, or line details. However, if you like bold nail designs, you can opt for geometric patterns, floral nail art, gem accents, and animal prints to spice things up!
Smaller designs and nail art are best for short nails so that the nail design will flow effortlessly on your nails and won't appear cluttered.
Black French Tips w/ Gold Leaves
Rich black nail polish and lavish gold leaves are perfect for creating an elegant nail design. This look is ideal for a formal event – think a black-tie wedding, cocktail party, or holiday get-together.
Swap the black for another shade if you want a more colorful look; emerald green, navy blue, or crimson would be gorgeous here!
Classic & Reverse French Manicure
We love this modern take on a French manicure.
The black polish, reverse French tips, and wavy line detail elevate this design and transform it into something chic and trendy! If you want to add a little glam to this nail design, go for crystal accents or metallic flakes.
Gorgeous Red Nails
A bright cherry red polish is definitely a must for a simple yet bold short nail design. Red always adds a daring and seductive feel to any look, so sport this manicure on a date night or anniversary dinner.
Zebra Print + Teal French Tips
Bright shades and animal prints are one of our favorite combos, and this shade of teal looks stunning when contrasted with the black and white zebra print. This manicure is perfect if you want to show off your playful personality, so you rock this with your day-to-day looks or while on your next vacation!
What nail shape makes short nails look longer?



Almond, coffin, round and stiletto nails are best to make your short nails seem longer. The elongated shape and tapered tips give the illusion of longer nails, so these elegant shapes are perfect if you want it to seem as if your short nails are longer than they really are!
French Mani w/ Pearl Details
To add a sophisticated touch to your short nail design, go for pearl accents like these. Pearls look stunning when paired with classic French tips, and the nude pink base adds a gorgeous feminine touch.
This nail design would be perfect as a classy manicure to sport in the summer, or for prom or graduation nails.
Wavy Line French Tips
Add a modern touch to a timeless design by creating a French manicure with line details. This stunning nail design is subtle enough to wear anywhere while still having a playful look!
Pearly Pink Manicure
A pearly pink manicure is such a gorgeous look and versatile enough to be worn to the office, out to lunch, or a formal event. Add gems to give this nail design a luxury feel, or leave it as is for simple but cute short nails.
French Tips, Flowers & Crystal Accents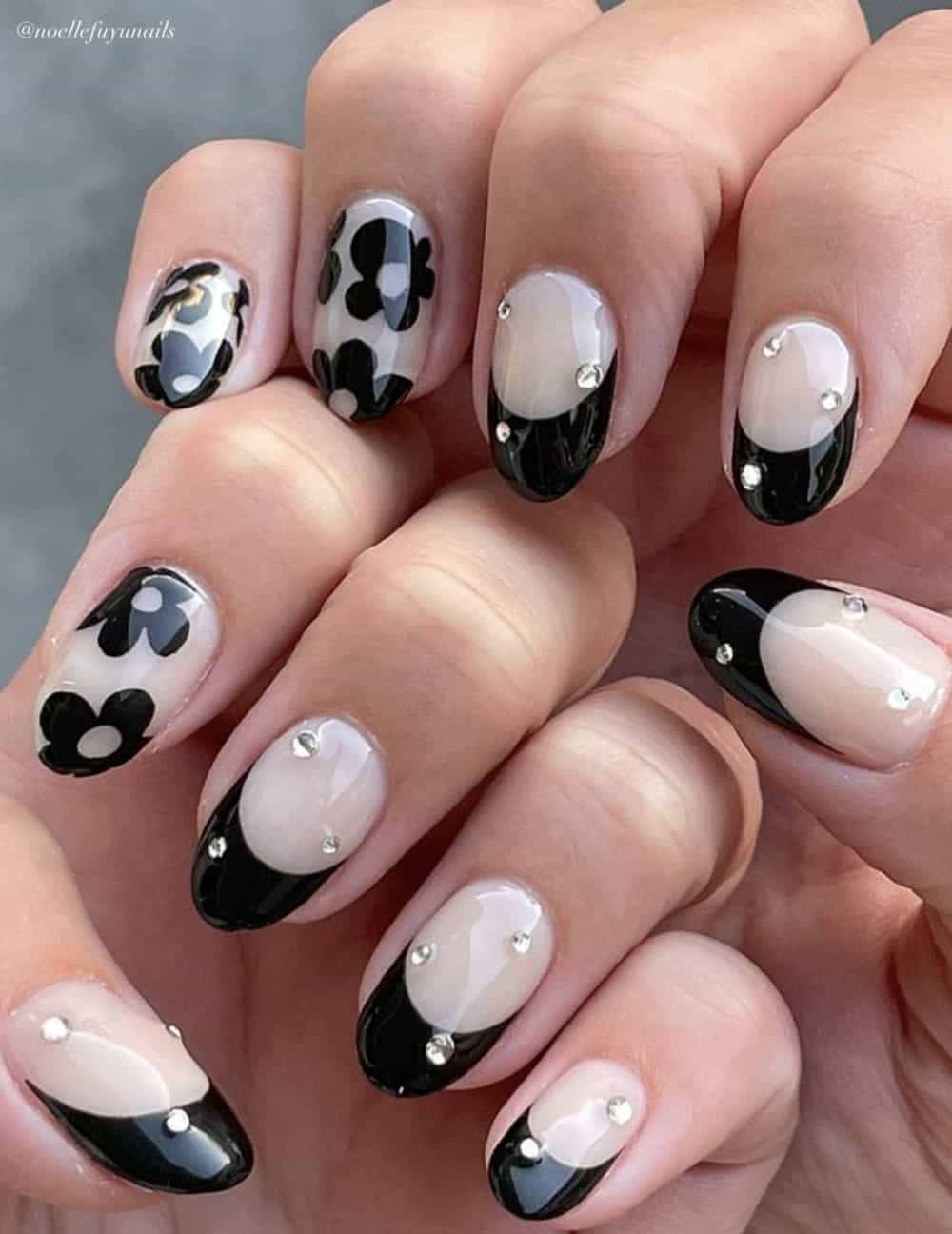 A pale white base and bold black polish look amazing together. Flower details are adorable and fun, while the crystal accents add a glamorous aesthetic.
This manicure will elevate any outfit you wear, and the floral nail art makes it perfect for the summer.
Nude Pink Nails w/ White + Silver Accents
Silver glitter and white polish are a color match made in heaven; we love to see these shimmering silver details paired with light tones like white and nude pink. This nail design has a glamorous and feminine aesthetic, making it the perfect addition to any outfit!
Hot Pink Nails w/ Gold Accents
This bright shade is daring and playful, while the gold glitter and metallic flakes make this manicure so alluring. This combo is perfect for a night on the town, so sport this look for your next girl's night.
Modern French Tips
You can't go wrong with timeless French tips, but adding a modern touch quickly elevates your style! If you want an even bolder look, opt for a nail color like pink, blue, or green instead of the classic white.
Red Glitter French Tips w/ Wave Accents
Try red glitter and bright white polish if you need a classy manicure for short nails this winter. French tips and a wavy accent nail are simple but still so stunning, and this design has a perfect holiday feel for those cold winter months.
Short Milky White Nails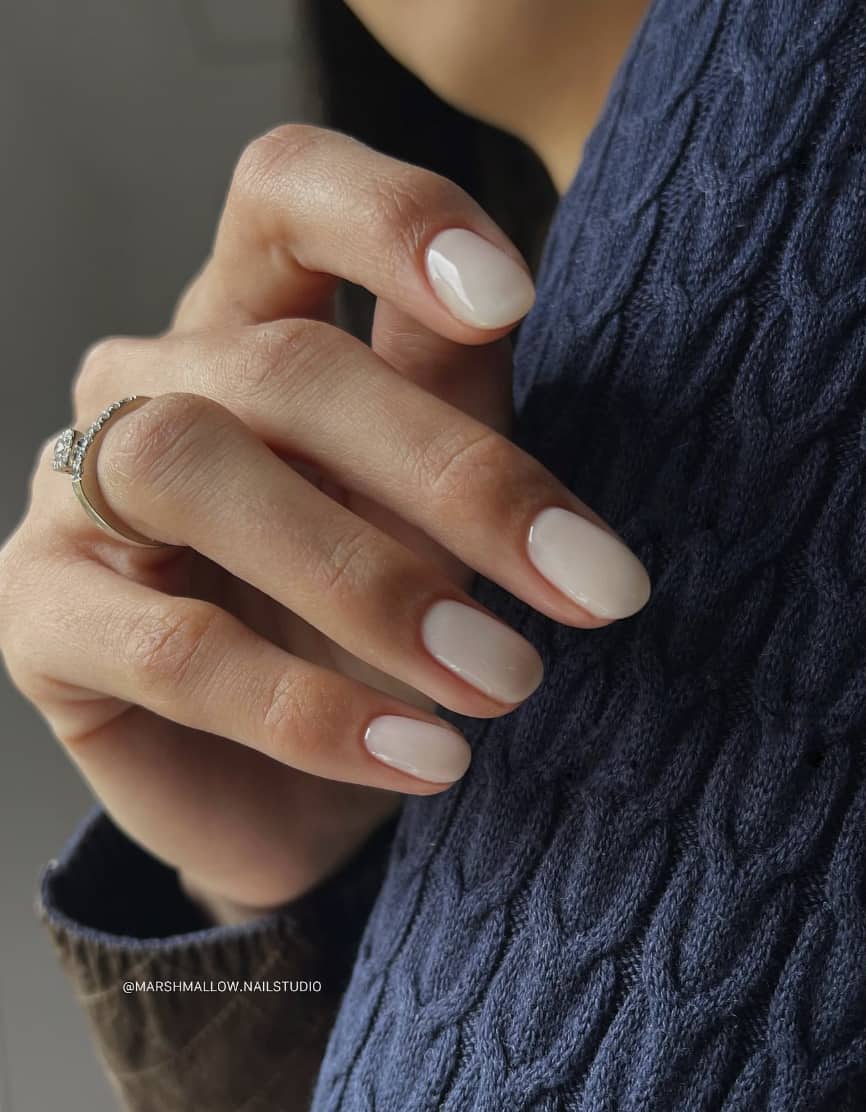 If you like the look of simple and solid-colored nails but don't want to go for a nude color, try milky white gel nails like these. This color will work for any time of the year and has a minimal but refined look that works for any occasion!
Black French Tips w/ Strawberry Nail Art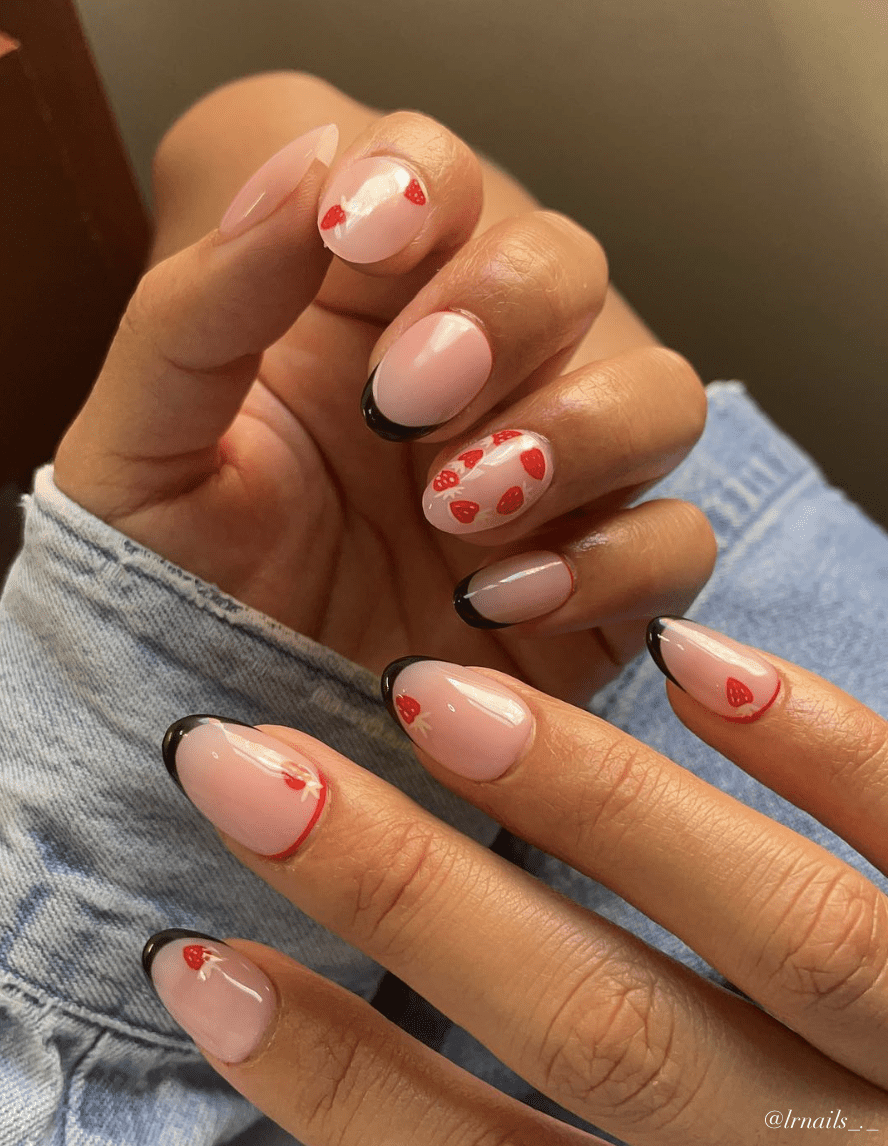 Strawberry nail art is perfect for a cute and youthful manicure!
The black French tips add some gorgeous contrast, and this pretty design would be perfect to wear while checking out the local farmer's market in the spring or summer.
Pink Mani w/ Daisy Nail Art
This is another gorgeous look that's perfect for warm weather. Pastel pink nails are sweet and feminine, and the daisy nail art is so fitting for both spring and summer.
Pink & Orange Nails w/ French Tips + Waves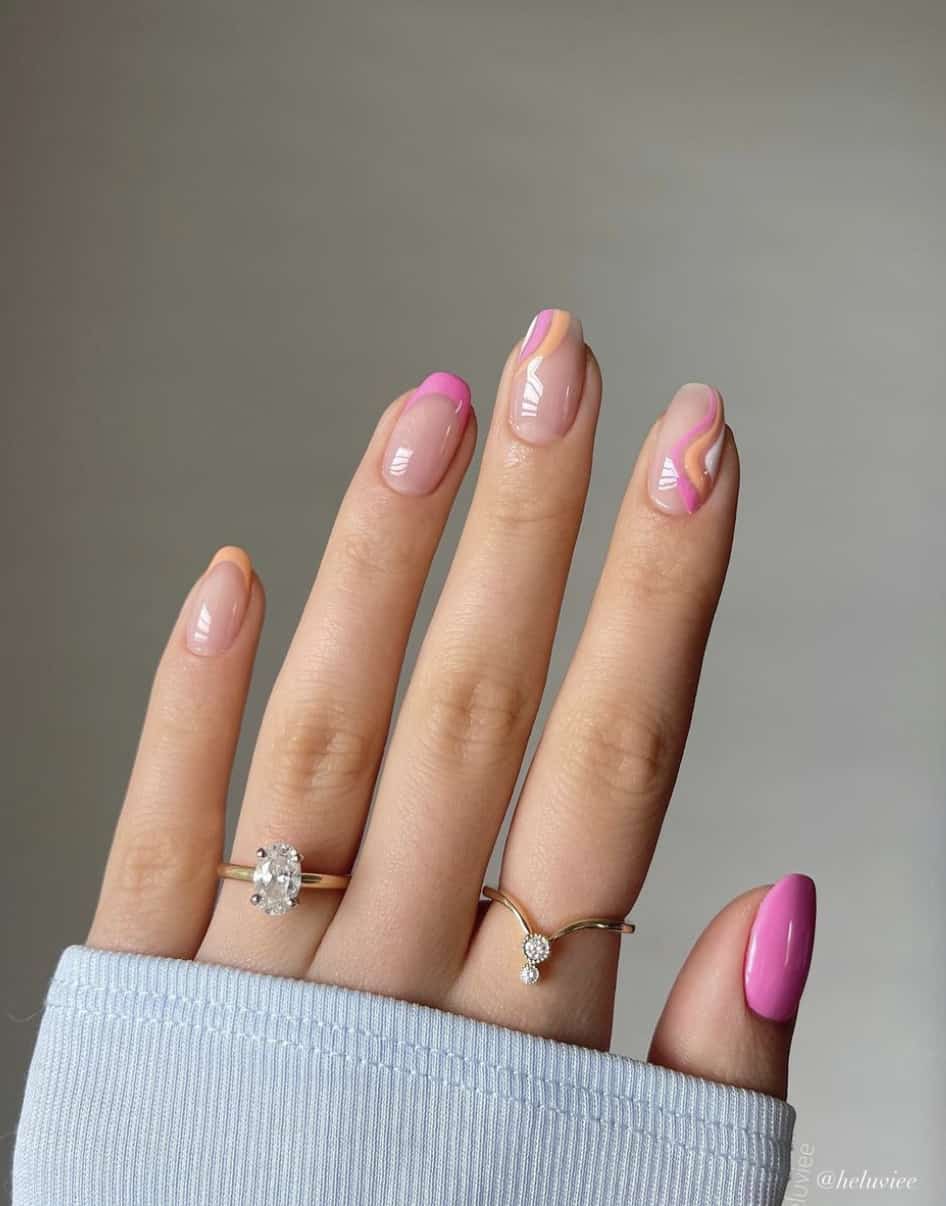 Orange and pink tones paired with wave details give these nails a retro look, and we are loving it! This adorable nail design is a go-to if you want to add a vintage flair to your look and show off your bright and playful personality.
Baby Blue Nails w/ Abstract Accent Nails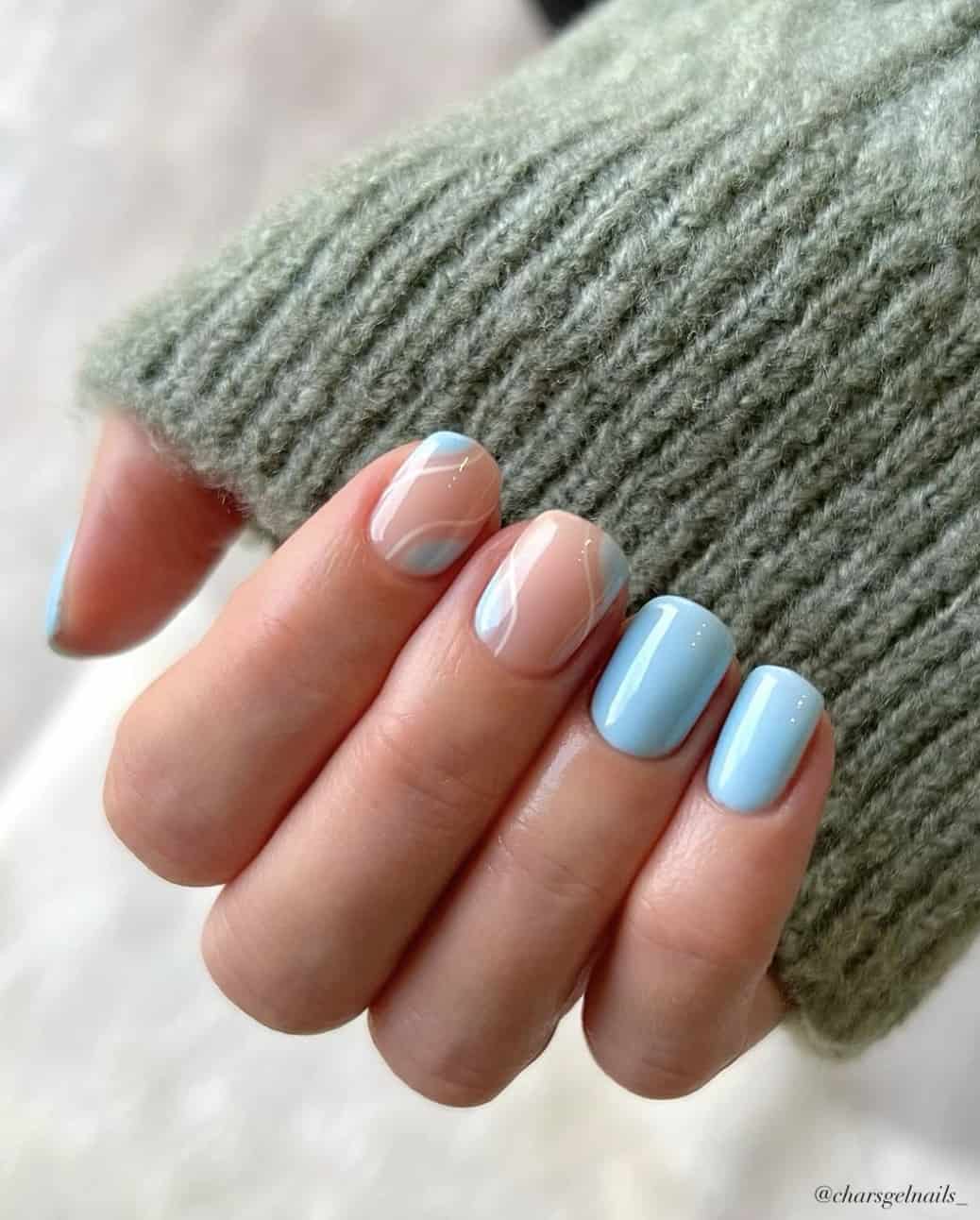 Baby blue always looks so stunning on a nail design, and this color easily adds a chic touch to short nails. The blue waves and white accents lines take this mani from simple to stunning, and you can take it up a notch by adding gem accents or silver glitter.
Pink Nude Nails w/ Gloss Finish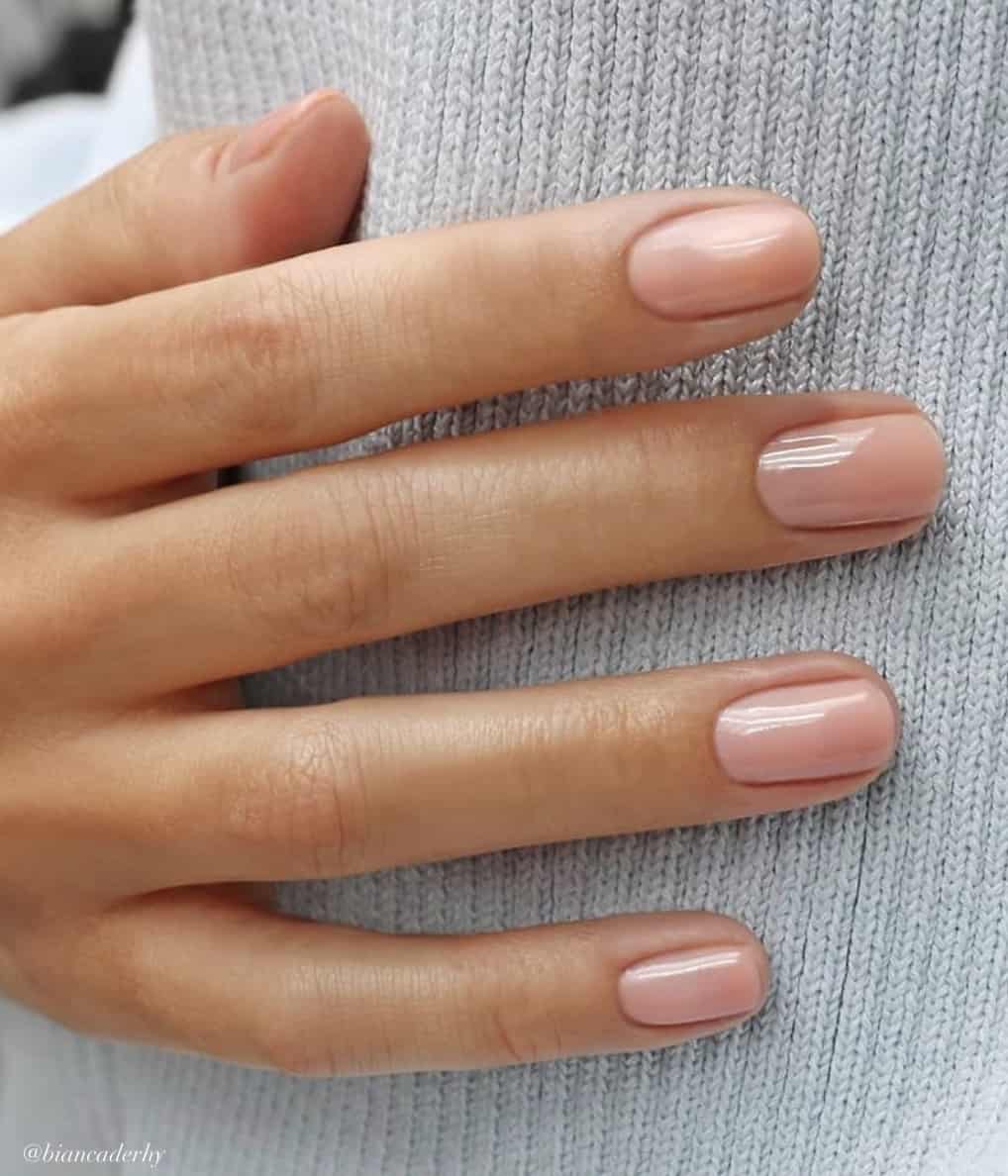 Simple pink nails are perfect if you want a minimal but feminine design. You can rock this color on short round nails like these or go for an elegant shape like almond of coffin to mix things up.
Nude + White Chanel Logo Nails
Want to show off your love for all things luxury and designer? You can elevate your short nails with a Chanel logo design for a subtle but glamorous manicure that will surely be an attention-grabber.
Floral French Tips
Delicate flower details are an easy way to add a sweet and whimsical feel to your nails while keeping them simple. This design can be taken from day to night in a flash and will easily complement any look.
Spring Green Nails w/ Wave Accents
This gorgeous soft green is perfect to wear in the spring, and the negative space design on the accent nails is so stylish and playful! If you prefer a mint green or even something darker, you can use any shade for this nail design and sport it any time of the year.
Nude & Black Abstract Nails w/ Gold Accents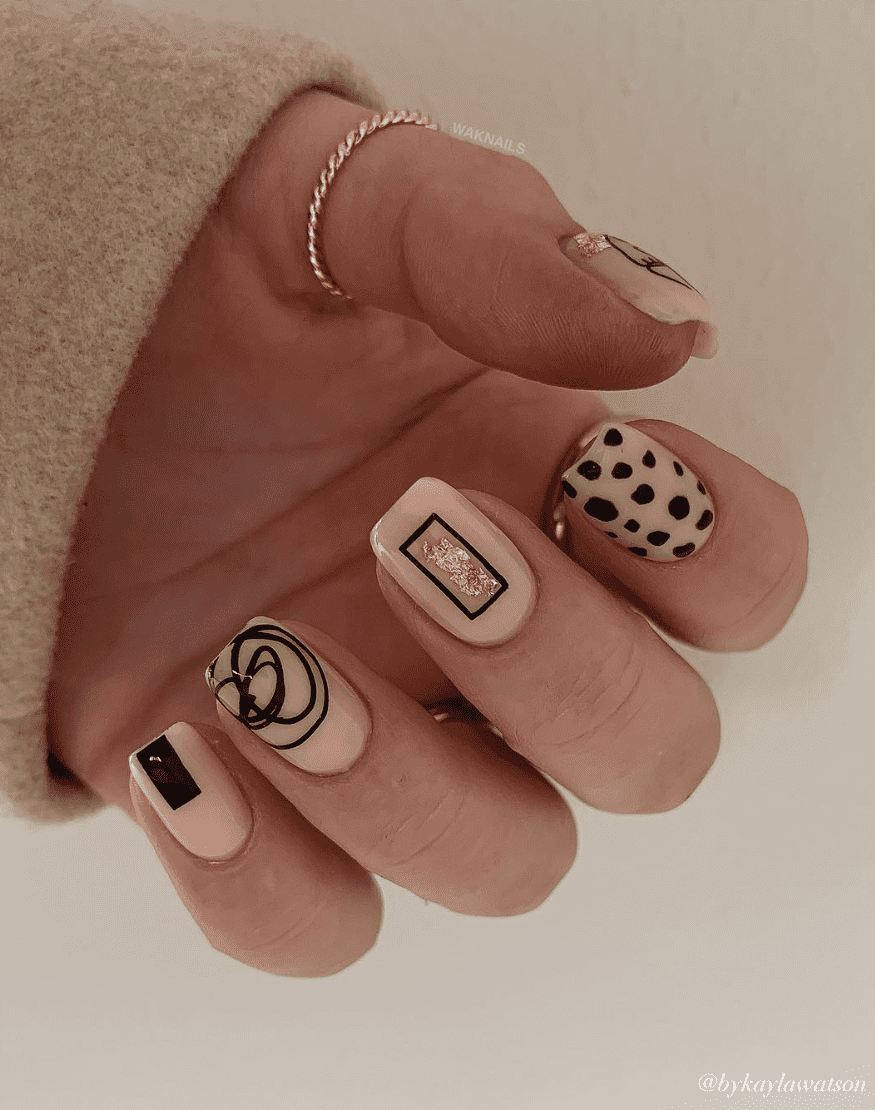 We can't get over how gorgeous this manicure is!
Nude nails with black patterns are the perfect blend of bold and youthful, and the metallic gold flakes make these gel nails pop. This design is excellent for anything from a coffee date to a night on the town.
Short Lilac Nails
Solid-colored gel nails are always chic and in style, and this pastel purple shade is so gorgeous. Lilac is a must for spring nails, but this nail color will also work in the warm summer months for a minimal but eye-catching manicure.
Short nails can be as bold, stylish, and vibrant as long nails – these gorgeous short nail designs prove it! We hope this nail guide has been helpful and you've found the perfect short nail ideas for your next manicure!
More Nail Inspiration You'll Love:
31+ Elegant Vacation Nails You'll Love For Your Next Getaway
23+ Chic Line Nail Designs For A Modern Aesthetic
27+ Chic Swirl Nails You'll Want To Copy
26+ Stunning Dip Nail Ideas To Inspire Your Next Mani
After earning a degree in Psychology from Eastern Florida State University, Ardelle realized she wanted a career that allowed her to be creative. She began freelance writing and has since written for various websites including fashion and style.
As someone with a love for all things creative, fashion quickly became her favorite topic to write about. Over the years she has focused on becoming an expert in fashion and beauty-related content. Through her writing, she aims to inspire and empower individuals to express their unique style!