In need of neutral nail designs that are elevated and chic? Check out our list of 25+ beige nails and beige nail designs including black and beige nails, beige glitter nails, and more that you're sure to love!
What are neutral colors for nails?
Neutral tones are a perfect base color for anything from a classic French manicure to a chic nail design. There are a variety of neutral colors to choose from for nails, including:
nude
beige
brown
taupe
grey
black
white, ivory, or cream
Our focus for this article is stunning beige nails as they are all the rage right now and are timeless and chic. Take a look through our list of beige nail designs below to inspire your next neutral manicure!
Stunning Beige Nail Designs
Beige is a gorgeous nude shade that looks fantastic on any nail design, and we have stunning manicures below to prove it to you!
Peach Beige Nails w/ Half-Moons + White Accents
Are you looking for gorgeous nails to wear this summer? This peachy beige and white sunburst nail art definitely gives off summer vibes, making it the perfect choice to wear during your next beach vacation.
Beige Polish on Square Nails
This simple beige color has a refined look and is a great choice to pair with a classic manicure. We love the look of these square nails, but you can use beige polish on any style – from coffin nails to almond and stiletto!
Almond Nails w/ Shimmering Beige Nail Polish
If you want to add a playful feel to your nude nails, add a glitter topcoat or go for a glitter polish like this. This shimmering beige nail color is classy enough to wear to any event but also has a fun and youthful vibe that we love.
Beige Nails w/ White Polka Dot & Gem Accents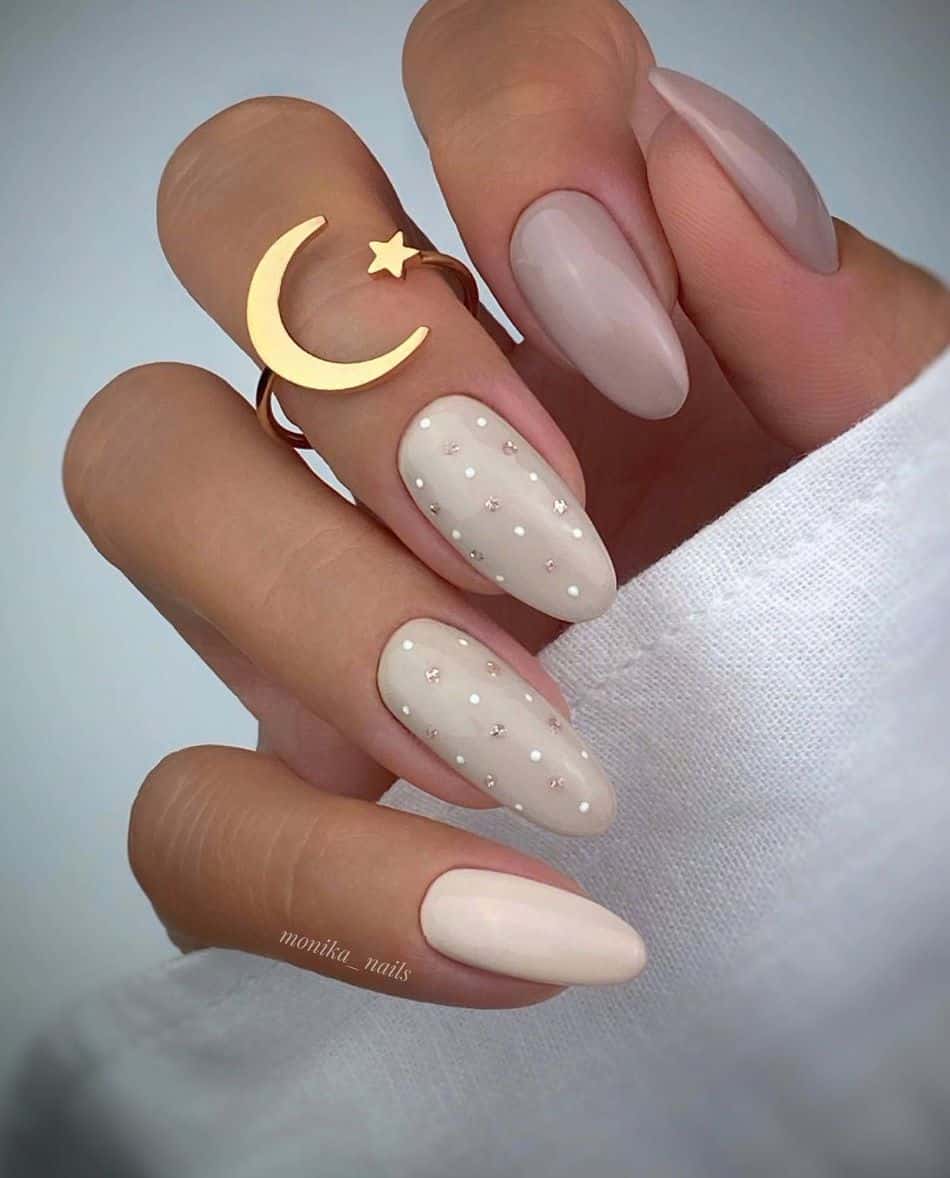 This gorgeous nail design proves how easily you can use a simple neutral tone to create a glamorous look! White polka dots and glittering accents take this classic manicure from minimal to dazzling. Go for this look if you want to add a high-class feel to your everyday outfits.
Light Beige Manicure w/ White Nail Art + Matte Finish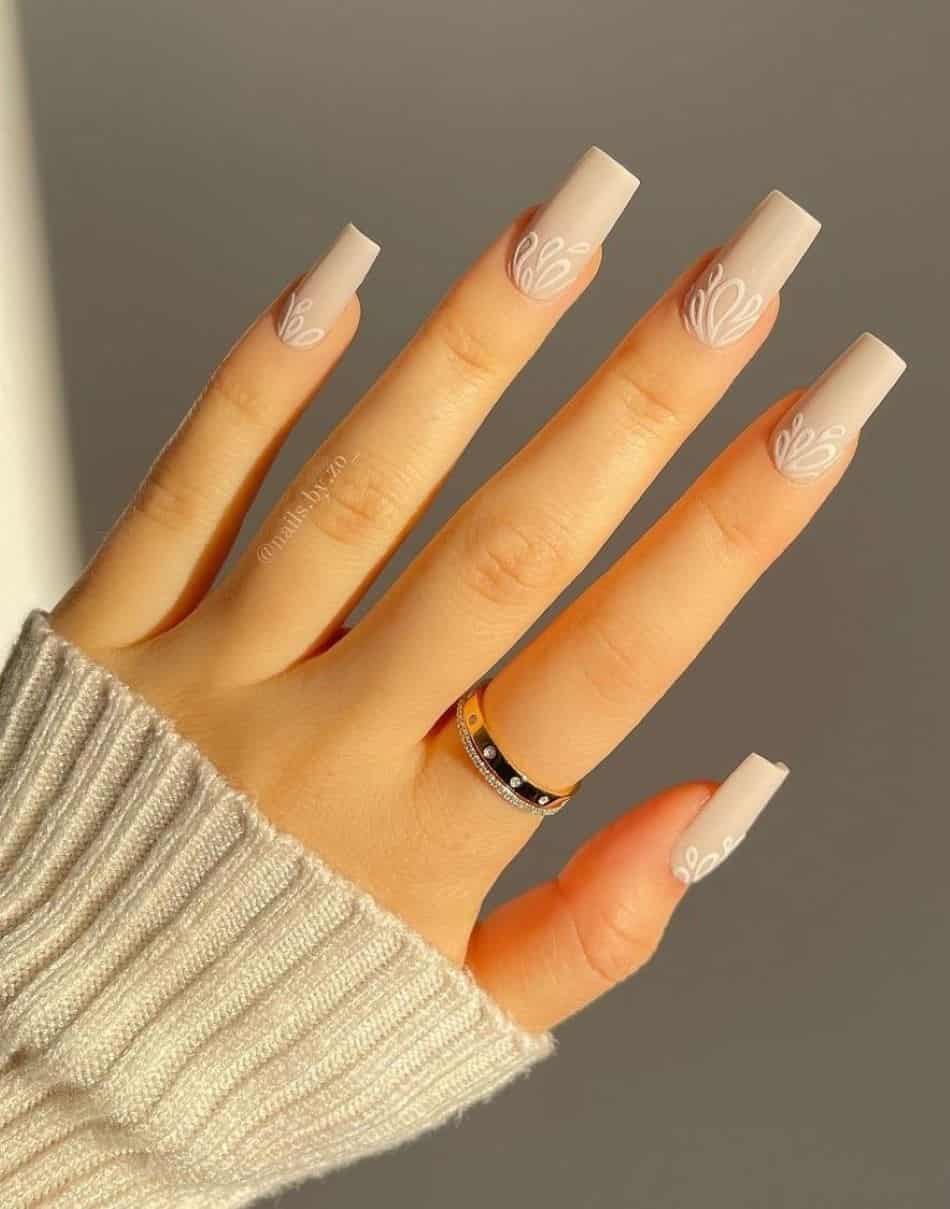 We love the soft and warm feel of the light beige used here, and the white nail art adds a pop of brightness. This nail design is a perfect choice if you're looking for something that is effortlessly elegant.
Dark Beige Nails w/ Glitter Accents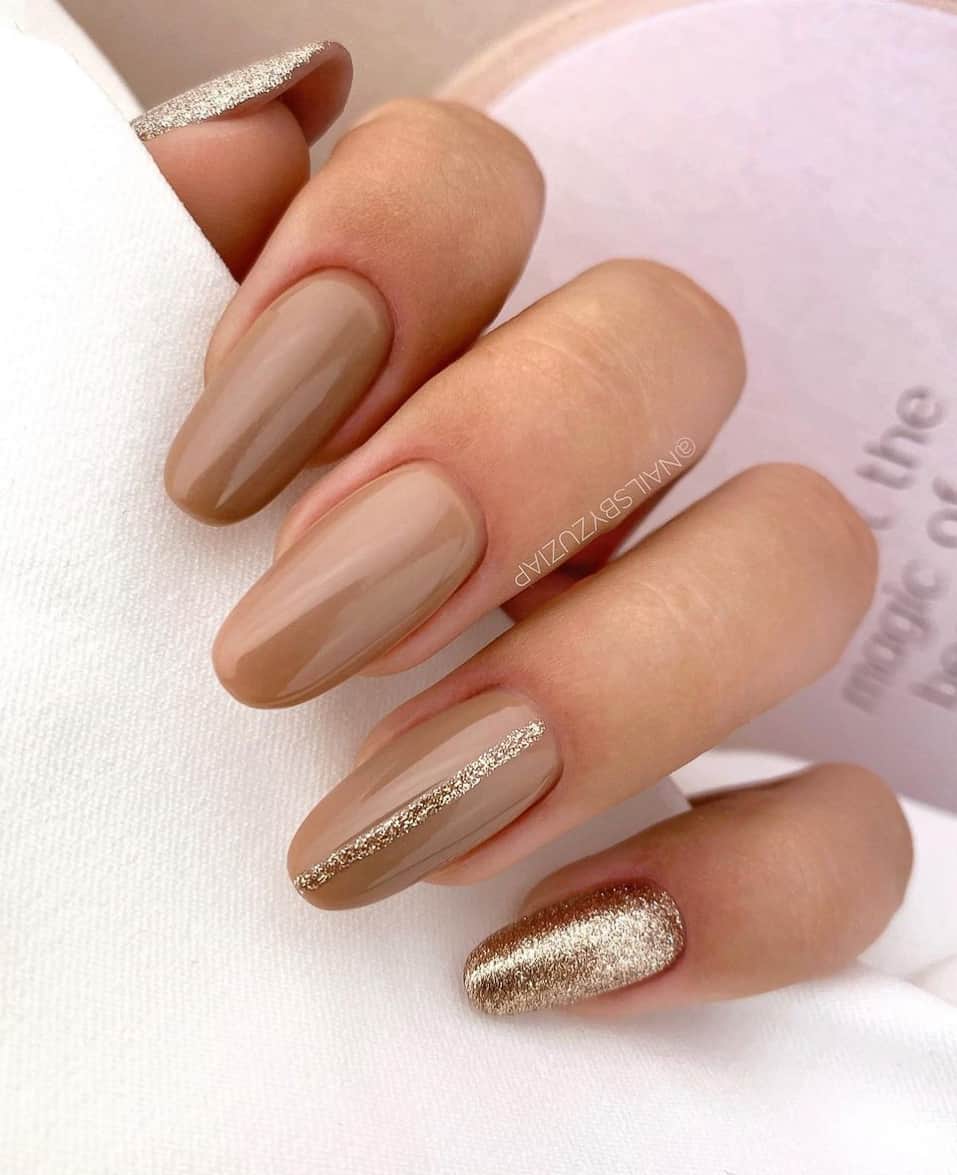 Beige nails with glitter accents are an easy combo that creates a stunning and classy look. The gold glitter works well with the warm tones of the beige polish and quickly adds some glam to this simple manicure.
Light Beige Nails w/ Wavy Silver Accent Lines
We are so in love with the refined style of this nail design. Glossy beige polish and matte nude pink look stunning together, and the silver accents make this manicure so captivating. If you're looking for a simple nude design to wear on your next night out, this is definitely the look for you!
Matte Nails w/ Houndstooth Print
We are always a fan of houndstooth in any look, and this pattern is a fun way to upgrade your manicure. Matte beige and white are a great color combo here, and the houndstooth adds a high-class feel to this nail design. You can sport this design year-round for an elegant and stylish look.
Beige Nail Polish Designs
If you prefer nail polish to acrylics, then we've got you covered. We have some beautiful beige nail polish designs to help you choose your next neutral manicure!
Beige Nails w/ Marbled Accents + Gold Foil
Who says that beige shouldn't be a go-to color for a classy, alluring look? These almond nails look gorgeous with this glossy beige polish, and the gold foil adds another elevated touch. And just when we think this look can't get any better, the marbled accent nail proves us wrong!
Beige Nails w/ French Tip Outlines
This is such a simple design, yet it has a high-class and sophisticated vibe. White and nude tones are a classic French manicure color combo, and these two are perfect for this modern, upgraded version of French tips.
This nail design is a perfect blend of trendy and timeless, so you can't go wrong sporting this look for any occasion.
Classic French Manicure w/ Beige Polish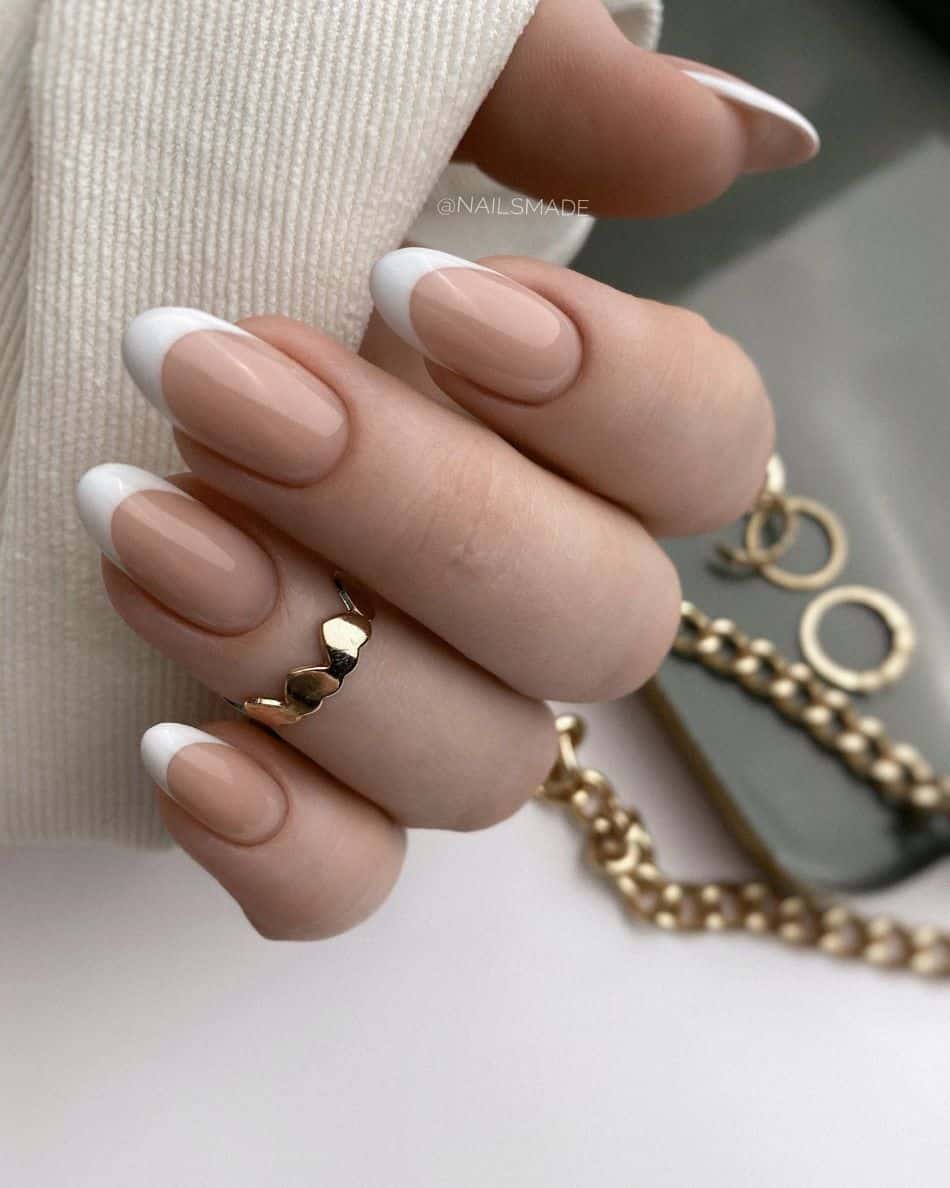 Of course, you also can't go wrong with the classic French tip white nails! We love the beige base color here; it's a refreshing break from nude pink and adds some welcome warmth to this look.
Matte Nails + Gold Accent Lines
This light beige makes a perfect base color for these vibrant gold accents! This design is so simple yet absolutely stunning, and it will definitely make you look elegant and put together no matter what you pair it with!
Cream + Beige Nails w/ Heart Details
We love the combo of cream and beige in this manicure! This nail design is an excellent choice for a flirty and on-trend look to wear on your next date night, and you can use lighter or darker shades of beige to match the aesthetic you're going for.
Beige Sweater Nails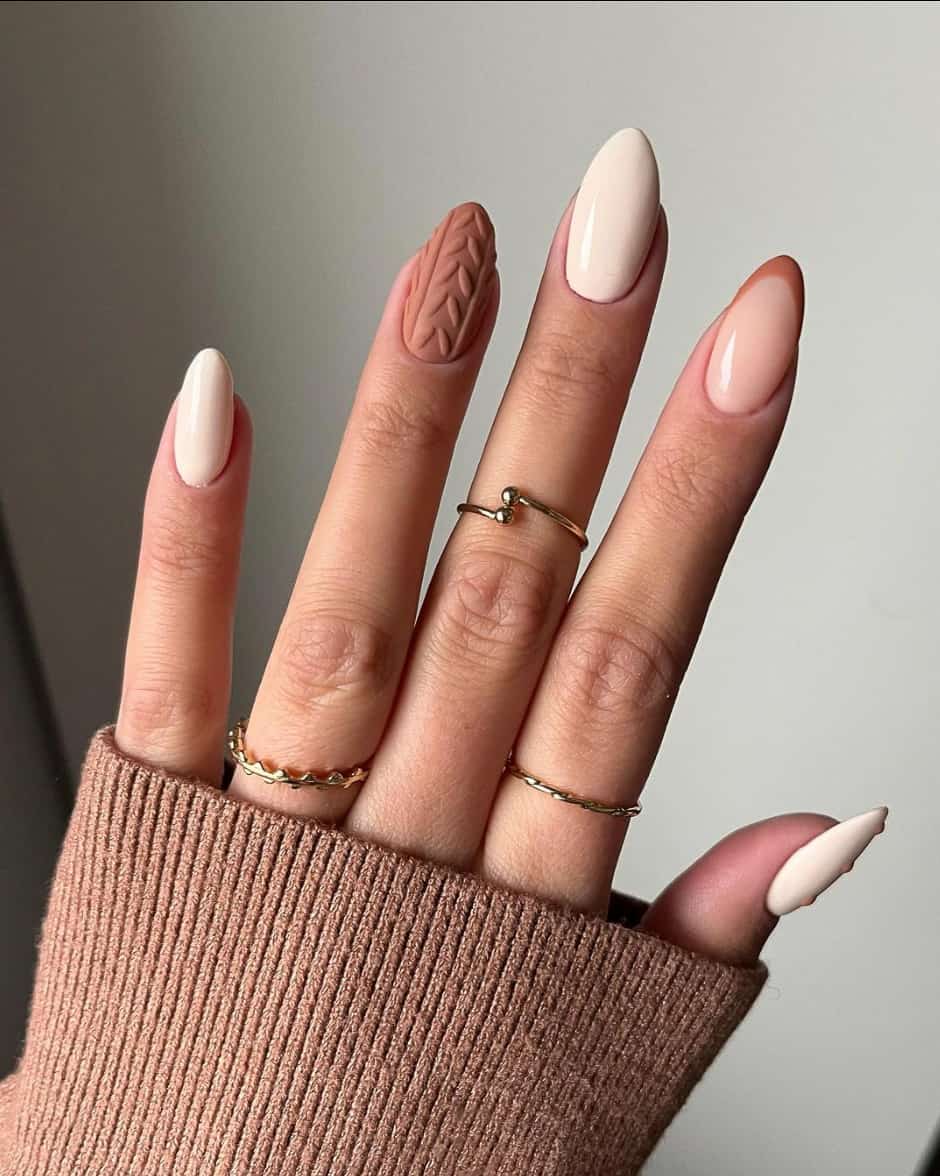 If you're searching for a cozy nude nail design to wear in chilly or transitional weather, we have a perfect look right here! This color combination is so gorgeous, and the mix of nail designs gives this manicure a playful and eye-catching aesthetic.
Beige + Brown Swirly Nails
Beige and brown tones paired with swirling accents definitely give this manicure a retro vibe. The swirls add a playful feel to this look, while the beige and other neutral shades make this look perfect for anything from date night to a day at the office.
Ombre Oval Nails
Ombre is one of our go-to designs for a fun and elevated manicure, and we've chosen our favorite beige ombre nail designs to share with you!
Long matte nails with glittering art has such an elegant look. Beige looks stunning in this ombre design, and the white leaves are a crisp and eye-popping addition. If long nails aren't for you, don't worry! This nail design will look fantastic on any length or shape.
Beige Ombre Comme des Garçons Nails
This is perfect if you're looking for a trendy nude nail design! Comme des Garçons accents have a luxury vibe while adding a playful touch to this look. We love the beige ombre design on natural nails, although you can easily use beige as your base polish and go for the classic red logo instead.
Square Ombre Nails w/ Beige + Glitter Polish
We love everything about these nails. The beige ombre and glitter accents are trendy but still look so gorgeous and elegant together. This classy look is easy to recreate on any nail shape, and you can use your favorite shades of beige here.
Neutral Ombre Nails w/ Dot Accents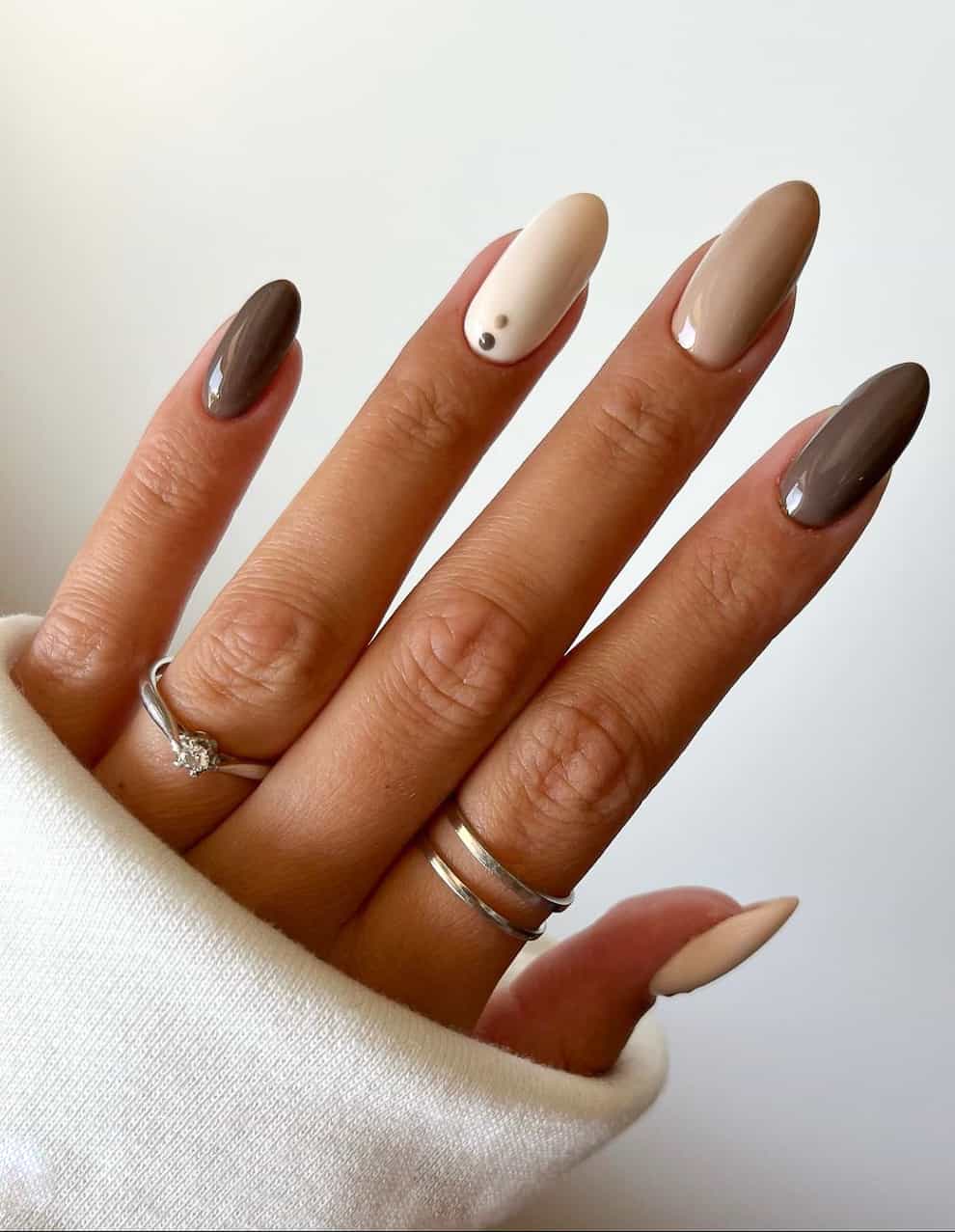 This minimal look has a classy and effortless feel to it. Beige, brown, and cream are an excellent color combo for this ombre design, and the dot accents are an easy way to elevate this manicure.
Black and Beige Nails
While we love the crisp, bright look of white and beige, we can't deny that black and beige nails look just as incredible. If you want to pair beige with dark tones, these manicures below are for you!
Asymmetrical Black & Beige French Tips
This black and beige nails design is perfect for a subtle yet alluring look. The asymmetrical gradient design along the tips has a bold, contemporary feel that makes this manicure so distinct. This is definitely an eye-catching design that you can easily wear from day to night.
Comic Black and Beige Nails
Comic nails are one of our favorite modern nail designs! This manicure has an elegant look from the neutral tones and matte finish, but it also has a playful feel from the comic-style design. It's a fantastic combination of classic colors and trendy designs.
Short Matte Nails w/ Black Nail Art
Short matte nails are always a good choice for a refined look, and delicate black leaf art further elevates this manicure. This is an excellent choice if you want a neutral design with bold touches to wear to your next event.
Abstract Art Nails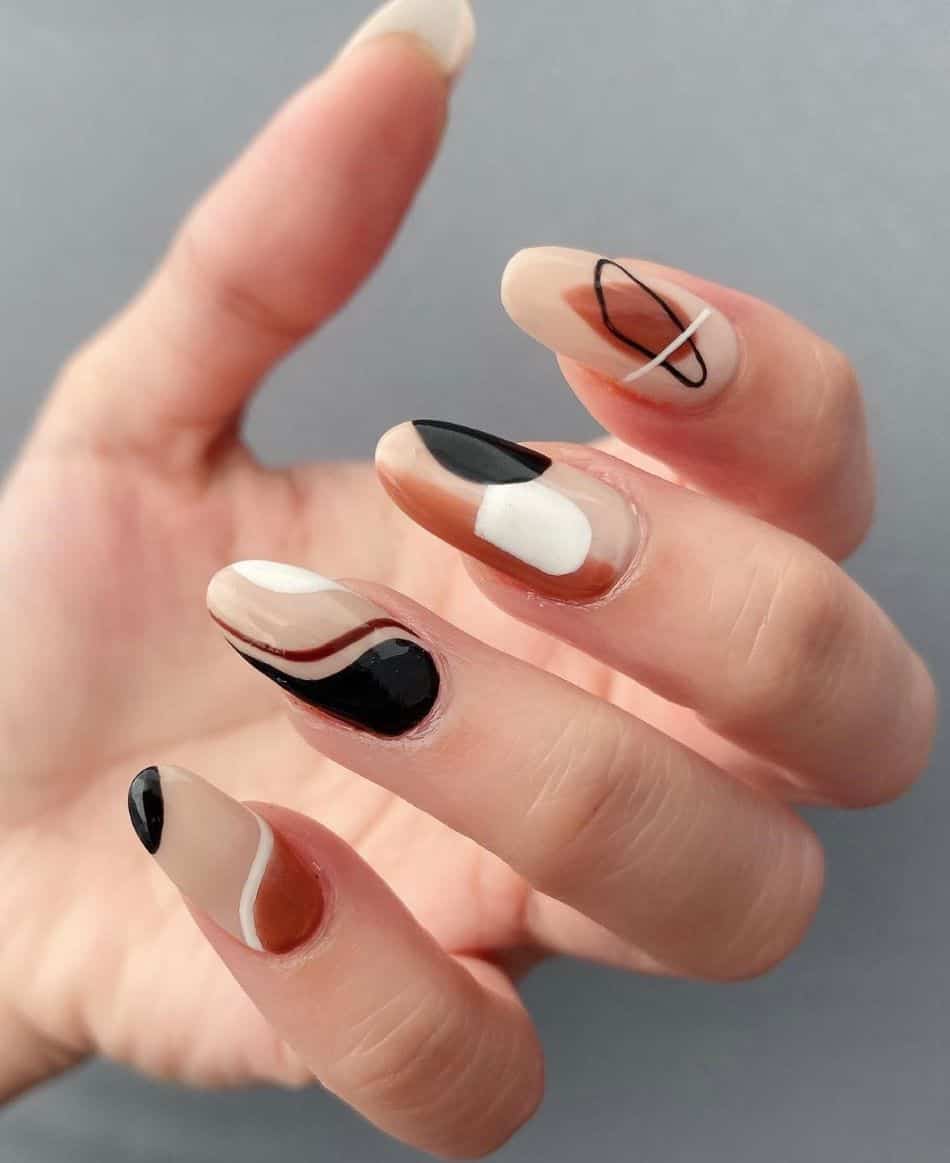 We are in love with the playful and edgy look of these black and beige nails. Beige, black, and brown look stunning together, and the white details pop against the warm tones. A nail design like this is always a fun choice because you can mix and match patterns and colors however you want!
Matte Beige Nails w/ Black Waves
The bold, glossy black polish is perfect with this soft, matte beige base. This manicure is elegant and alluring, and it's a great look to sport on your next girls' night out.
Cheetah Print Nails w/ Bright Red Accent Nail
Animal print is a must when looking for an elevated nude nail design. Beige is the perfect color for a cheetah print, and the black details and red accent nail adds some flair to this look. You can wear this spicy manicure anywhere from Sunday brunch to a weekend getaway with your SO!
Beige nails definitely don't have to be boring, and these stunning nail designs prove it. We hope you found some gorgeous new looks to try and that we inspired you to add this lovely neutral shade to your list of favorite nail colors!
More Nail Inspiration You'll Love:
21+ Chic Neutral Nails For A Classy, Minimal Aesthetic
27+ Brown Nails That Are Anything But Basic
23+ Chic Line Nail Designs For A Modern Aesthetic
20+ Stunning Nude Pink Nails & Nude Marble Nails You'll Love
21+ Stunning Mauve Nails With A Feminine & Youthful Vibe
21+ Cow Print Nails That'll Make You Love This Viral Trend
25+ Stunning Burnt Orange Nails with a Cozy Vibe
Christal Sczebel is an entrepreneur, published author, and content creator. Over the past decade she has worked in the digital media field building successful websites for both food and fashion. She has a natural affinity for minimal, timeless fashion, neutral home decor, and styling.
Here on Style Your Occasion, Christal is the Editor-in-chief and brain behind the aesthetic. She hopes you love the this space and the inspiration you'll find!