Love the effortless look of casual chic outfits but aren't sure how to achieve the casual chic style yourself? This guide is filled with the how-to for getting a casual chic aesthetic every time you get dressed!
*this post contains affiliate links*
How To Achieve Casual Chic Style
In the last couple of years, we've seen a shift towards a more relaxed aesthetic in the fashion world. And as more and more people swap going into the office for their home office, they're looking for casual but stylish outfits to wear throughout the day.
Women have figured out that they can wear a simple and laid-back outfit while still looking polished and put-together. And they don't have to compromise on comfort for that effortlessly chic look.
So if you've fallen in love with the casual chic aesthetic but don't know how to pull it off, don't worry! We have created a simple 3-step formula to help you build classic outfits every single time!
What is casual chic style?
The casual-chic style consists of effortless outfits made with a combination of laid-back wardrobe basics and refined, elegant pieces that elevate the look. In other words, it's the perfect balance of chic and casual aesthetics.
When creating a casual chic outfit, start with simple and comfortable wardrobe basics, like jeans and a white tee. Then, complete the outfit with elevated accessories and chic pieces to add a refined touch. You'll look casual, yet put-together.
The 3-Step Formula For Creating Casual-Chic Outfits
The 3-step formula is an easy way to create simple but stunning casual-chic outfits.
Start with casual basics. This will be items like jeans, tees, casual dresses, button-downs, linen pants, leggings, denim shorts, sneakers, or casual sandals.
Add a 'chic' piece.Choose one or two pieces of clothing or footwear that has a refined feel such as a blazer, trench coat, knit cardigan, tailored pants, or a pair of classic pumps.

The purpose of this piece is to add that elevated touch and turn your outfit from just casual into casual chic.

Elevate the outfit with accessories. High-quality jewelry, stylish handbags, classy sunglasses, or subtle hair accessories are the perfect finishing pieces. You can always invest in luxury accessories to add this elegant aesthetic, or there are more affordable options that still have a high-end appeal.
Pro Tip: It's also a good idea to choose wardrobe staples and accessories in neutral colors to make it easy to pair pieces together.
Below our editor-in-chief has put together some stylish outfits and image boards to show you the exact art of the casual-chic style formula!
Example 1
get the look:

A white knit sweater, black leggings, and beige sneakers are trendy and modern pieces that almost anyone will have in their closet. Begin with these comfy basics and add a 'chic' touch with an always-in-style trench coat. Then finish the look with a sleek black handbag and dainty gold jewelry.
This is the perfect outfit to look polished and refined while running errands or grabbing a latte.
Example 2
get the look:

A classic white button-up and straight-leg jeans are definitely some of our favorite basics, and they're easy pieces to dress up. Black ballet flats are fantastic for adding that chic feel. They have a timeless look, they're feminine, and they're simple enough to pair with countless other pieces.
A black tote and simple but elegant jewelry quickly add that elevated look that we're going for while keeping the outfit clean and minimal.
We've also created easy lists for each step, loaded with ideas on what basics, chic pieces, and elevated accessories to combine for an effortless look:
Casual Basics
These are the wardrobe staples you can lean on to build the base of your look. So make sure you start with these to get your outfit going.
Chic Pieces
Invest in your favorite 'chic' pieces to use in the second step and add that stylish touch to your outfit.
Elevated Accessories
These elegant accessories are a must to finish your look and have an effortless casual chic outfit.
Stud earrings
Orante headband
Casual Chic Outfits
Our editor has styled even more stunning looks to inspire you and show how easily you can create casual chic outfits!
camel coat, jeans, + boots
get the look:

A creamy ribbed knit sweater and distressed Levi's jeans are casual pieces that start this look, while the long camel wool coat and suede ankle boots add that chic touch.
Gold earrings, layered necklaces, and a taupe leather bag elevate the ensemble and round out this casual chic outfit.
ribbed cardigan, jeans + ballet flats
get the look:

Simple basics like a feminine black ribbed cardigan and blue jeans have a minimal edge and are perfect basics to start an outfit with.
The sleek black ballet flats are an excellent addition that add a refined feel. And the black tote and gold jewelry are the perfect 'elevated accessories' to give this outfit effortless chic style.
coastal-inspired casual chic
get the look:

Get a casual chic coastal vibe with breezy linen drawstring pants and casual sandals. These basics are a great way to start a casual chic look, especially if you want an ultra-comfy feel.
After that, add a cashmere knit cardigan for that 'chic' piece to keep this outfit laid-back but classy. Don't forget the dainty jewelry and designer handbag (or a look-alike) for the finishing touch.
blazer, jeans, + loafers
get the look:

Take casual chic to the office on casual fridays with a classic black blazer. A ribbed white tank and jeans make a great base to the outfit, while the blazer quickly adds a chic feel. The elevated black loafers, gorgeous shoulder bag, and jewelry combine to add that polished feel that creates a casual-chic aesthetic.
elevated summer look
get the look:

Create a casual-chic outfit for summer with the right pieces. A one-shoulder tank and chunky black sandals are stylish basics that have a warm-weather vibe. The pleated pants add a high-end feel to your basics, while the simple chain necklace, huggie earrings, and oversized straw tote are the perfect elevating accessories.
Parisian-inspired casual-chic
get the look:

If you love the "model off-duty" vibe, this look is worth a try.
Start with a simple pair of blue jeans and pair them with a classic white button-up shirt to start. Add sleek black ballet flats add a simple black tote for a chic touch.
Lastly, layered pendants are the 'elevated accessories' you need to perfect this Parisian-inspired outfit.
Street-Style Casual Chic Looks
We've found even more modern and chic street-style outfits to prove that the casual-chic style can work for anyone…and any occasion!
get the look:

Causal chic meets sporty with this combo of athletic pieces, a bold puffer vest, and a stylish handbag.
get the look:

A black midi skirt is the perfect chic piece to combine with basics like a white tank and flip-flops for an elevated summer look. Don't forget the woven leather handbag for the finishing touch!
get the look:

Ballet flats are the chic piece that this outfit needs, and the large black tote paired with simple earrings elevates the jeans and oversized coat.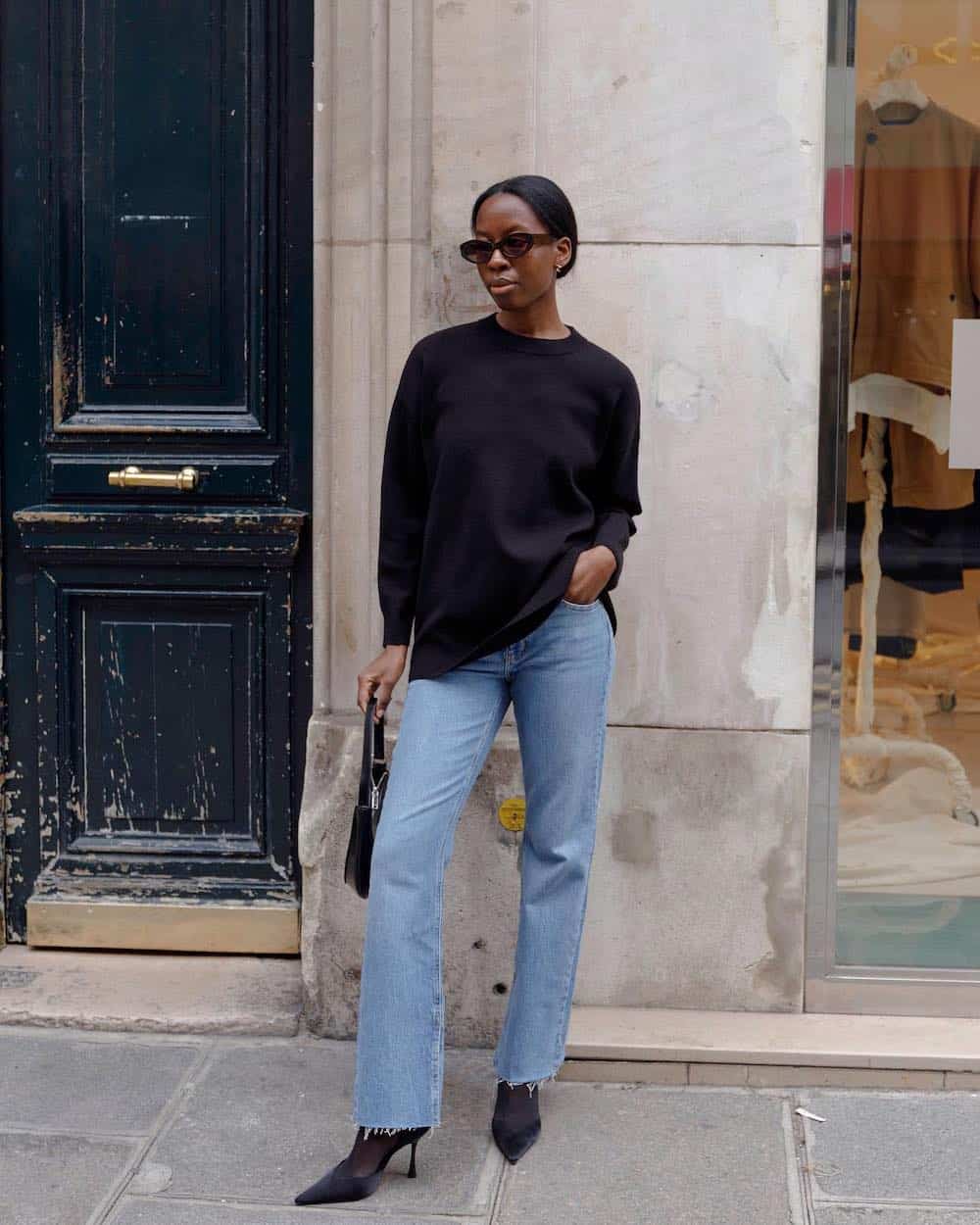 get the look:

This street-style outfit is simple but so stunning – basic blue jeans and a black sweater look refined when paired with black pumps, and the sunglasses and black handbag are perfect final details.
get the look:

Add an edgy feel to your casual-chic style by going for a leather jacket as your 'chic' piece and finishing the look with heeled boots and a sleek black bag.
get the look:

Simple jeans are easy basics to work with, while the sweater vest and strappy heels adds that stylish touch. Gold bracelets and rings instantly elevate this look, as well as a stunning camel-colored handbag.
get the look:

Chunky black flip-flops and a black sweater are great starting pieces, while the pleated trousers take these basics from casual to chic. Not to mention, the sunglasses and leather handbag are gorgeous accessories that definitely elevate this look.
How do you dress casual but chic?
Creating a casual-chic look is all about pairing basic wardrobe staples with stylish pieces and refined accessories to elevate the entire outfit.
You can easily put together casual chic outfits day after day using the simple 3-step formula we've laid out. So practice this method with your favorite pieces, and you can quickly learn to build casual chic looks with your wardrobe!
More Style Inspiration You'll Love:
What Shoes To Wear With Straight Leg Jeans For A Chic + Modern Look
How To Get The Old Money Aesthetic + Outfit Ideas To Recreate
11+ Elevated Happy Hour Outfit Ideas For Work & Weekend
How To Style Wide Leg Jeans: The Do's & Don'ts + Outfit Ideas