Looking to treat yourself to a gorgeous YSL bag dupe in 2023? Check out our list of 11+ YSL bag dupes that are top-notch look-alikes! These bags give a luxury vibe for much less, and look great with so many outfits!
*this post contains affiliate links*
Originally published Oct 2022, Updated June 2023

The Best YSL Bag Dupe List for 2023
Saint Laurent Paris, formerly known as Yves Saint Laurent (YSL), is a luxury brand that designs high-class clothing, shoes, bags, and more.
YSL creates incredible pieces that have a distinct look. While we adore the designs we see from this company, we know that the high price tag isn't affordable for everyone.
That's why we've put together this list of stunning YSL bag dupes, from the Loulou to the Cassandre, to the Kate to the Sac De Jour, we have excellent look-alikes for all of the most coveted YSL bags!
**2023 New Additions: As of June 2023, we've discovered that the brand Quince has several excellent YSL dupes that are made with leather, very high-quality, and at very affordable prices! Before you get into our full list, be sure to check out these options too:
Now, on to the rest!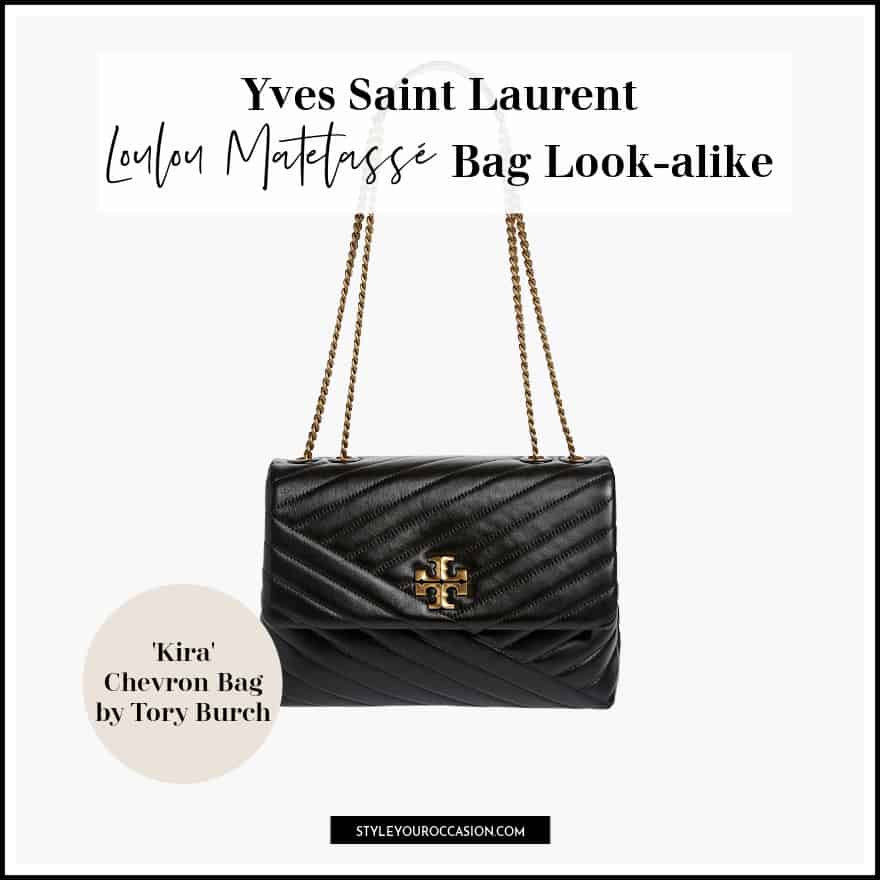 This Tory Burch shoulder bag is a perfect dupe for the Loulou Matelassé Leather Shoulder Bag. It's made from soft, high-quality leather and has the same quilted chevron pattern as the YSL bag.
One of the main differences between these two is the top flap closure. The Tory Burch dupe bag has a rectangular shape while the YSL bag has a triangular flap, although both look chic and stylish. The hardware on the top flap is also different, with each company using its respective logos.
The shoulder strap has the same look with a double metal chain and a leather shoulder guard for comfort when you wear it. The black and dark brown bags offer the closest match to the YSL bag but there are several other colors to choose from.
Is the YSL Loulou bag a classic?
Yes! The YSL LouLuo bag was introduced in 2017 and quickly became a fan favorite. While this bag is a newer design, it became a classic and iconic YSL style that is featured in every season. The chic and timeless look of this bag makes it perfect to pair with any look.
Our next YSL dupe bag is also from Tory Burch. While we love the look of the YSL Cassandre Envelope Wallet, we know the price is out of budget for many. Fortunately, this Tory Burch dupe is less than a third of the price.
Made from soft quilted leather, this wallet has an attached strap for easy carrying. While the YSL wallet has a strap made completely from metal, this Tory Burch dupe uses a combination of a metal chain and leather. The Tory Burch metal logo on the front flap also works as a lock for added protection, a feature that the YSL bag lacks. Both bags use gold-colored hardware for an elegant touch.
Both bags open to a front slip pocket as well as a zippered compartment. The YSL bag features more card slots but both bags have enough space for your everyday wallet essentials.

Next up we have this gorgeous Charles & Keith Trapeze Tote Bag, an excellent dupe for the YSL Nano Sac de Jour Leather Tote. Compared to the high cost of a YSL bag, this Charles & Keith dupe will set you back less than $100.
We love the versatility of this tote. With two top handles and a removable, adjustable shoulder strap, you can use this as a shoulder bag or handbag. While this dupe is missing those stunning pleated sides from the YSL bag, the Charles & Keith bag has plenty of elegant gold accents that make up for it.
The YSL tote is also made from genuine leather compared to the faux leather used for the Charles & Keith dupe. Another difference between these two is that the YSL bag has an open top while the C&K bag has a zippered top. Regardless, this dupe is a beauty and makes a wonderful alternative to the YSL tote.
Charles & Keith makes our list again with their beautiful Charlot Bag, a dupe of the YSL Solferino Bag. This purse has the same rectangular shape with elegant rounded edges. Make from faux leather with gold details, this Charlot bag will elevate any outfit.
The faux leather shoulder strap is detachable so you can switch things up and carry this as a handbag as well. The details on the front metal clasp add a charming touch to this bag.
Another great alternative to the Solferino bag is the Koa Bag from Charles & Keith, which has the same box shape and a very similar overall style.
This Tory Burch Kira Chevron Bag makes this list again, this time as a stunning full black shoulder tote. Similar to the YSL Medium LouLou Matelassé Bag, this Tory Burch dupe will give you the same stylish look without the high price tag.
While the Kira Chevron Bag is just slightly smaller, it is still roomy and just as luxurious. Made with chevron-quilted leather, this sleek black bag is paired with a black metal chain and black hardware on the front.
The full black look combined with the texture of the quilted leather is chic and sophisticated. The addition of the magnetic snap closure and double chain shoulder strap make this purse look almost identical to the YSL bag.
If you're looking for a dupe for the YSL Lou Matelassé Leather Camera Bag, then this next option is for you. The Tory Burch Kira Camera Bag is a small purse, designed with a quilted leather front and back with smooth leather sides.
This small rounded bag is black with brass hardware. The chain strap is adjustable and has a leather guard for ultimate comfort. Inside the zippered top are two slip pockets for small items, as well as a zippered pock on the back.
While the YSL camera bags have a rectangular shape with rounded corners, this Tory Burch dupe is more of an oval shape. This dupe also doesn't have the signature YSL tassel you'll find on the Lou Matelassé Bag.
We didn't forget to add a dupe for the iconic YSL Croc Embossed Leather Shoulder Bag. This JW PEI Ruby Bag is similar and considerably more affordable.
Unlike YSL, this Ruby bag uses vegan leather in its design. It also comes in five stunning colors rather than the single black option from YSL. This YSL dupe also differs from the original with a slightly curved shape on the bottom of the bag.
The YSL shoulder bag includes the metal logo with a tab closure to keep it shut, while the Ruby bag doesn't use any hardware on the front and uses a zippered top. However, these differences between the bags are subtle and the overall stylish look of the Ruby bag makes this a fantastic YSL dupe.
We are in love with this stunning two-toned raffia tote. This Altuzarra bag is inspired by the YSL Medium Basket Raffia Tote.
This large tote is made from natural-colored woven raffia with black leather details that give this bag a striking look. The raffia used on the Altuzarra tote is a lighter shade than the YSL bag, but it looks just as amazing.
The leather straps are stitched on in a cage-like pattern around the tote. Long braided leather handles add texture and style to the bag. This tote is gorgeous and the perfect statement piece to bring with you on those breezy summer days.
YSL Bag Dupe: Amazon Options
Amazon is an amazing marketplace to find gorgeous high-class bags for a great price. All of these options are dupes of our favorite YSL bags and all cost under $50.
Here's another YSL purse dupe for the Medium Loulou Matelassé Leather Shoulder Bag. Found on Amazon, this purse has a designer-inspired look without the designer price tag.
Made with vegan leather, this bag showcases the same quilted stitching we see in the YSL purse. It also has that same gold double chain strap with a leather shoulder guard. The shoulder strap is adjustable, easily changing the purse from a shoulder bag to a handbag.
The main difference between the look of these two purses is that the YSL dupe lacks the metal hardware on its front flap. But this bag is still sleek and chic, all for an affordable price.
Next on our list of YSL dupes from Amazon is this Lola Mae Quilted Camera Bag. This purse is a perfect alternative to the YSL Lou Matelassé Leather Camera Bag, and it even can be bought in dozens of beautiful colors.
This bag is made of faux leather, quilted to give it that YSL look. The long leather shoulder strap is both adjustable and removable, making this purse perfect for whatever look you want. Gold or silver-toned hardware is used to accent the bag.
While this dupe also doesn't have the metal details on the front, it does have a tassel that adds the same boho chic touch we see in the YSL purse.
Our next Amazon YSL purse dupe option is absolutely gorgeous. Inspired by the Kate Tassel Bag from YSL, this leather handbag is the definition of elegance and refinement.
This dupe is available in black and white, both using gold hardware for a chic look. The handbag is made from quilted vegan leather with a long adjustable chain strap. In place of the YSL logo, this dupe has a gold chain that runs down the center of the front flap meeting a gold metal tassel, giving it the same look as the Kate Tassel bag.
This clutch bag is perfect for an everyday wallet, with a roomy interior featuring zippered pockets and card slots.
Finishing our list is an Amazon dupe of the YSL Cassandre Envelope Wallet. With the same sharp rectangular shape and magnetic front closure, this bag is a great YSL dupe.
This purse is made from vegan leather with quilted stitching that follows the lines of the pointed front flap, perfectly mimicking the look of the YSL wallet. This design paired with the gold chain shoulder strap gives this purse a classy look.
The adjustable chain strap can be shortened down to a top handle, so this bag can go from shoulder bag to handbag and anywhere in between.
Is YSL a good brand for bags?
Yves Saint Laurent makes beautiful bags, purses, and wallets that are handmade with high-quality materials like leather and reinforced metal. While you do pay for the luxury designer name, you also pay for exceptional quality, and a bag that will last for years to come.
Additionally, YSL bags are known to hold their value and can be sold when you are ready to move on, making them worth the investment. We love the timeless look and feel of YSL bags, and the overall classy aesthetic they create.
Which YSL bags hold value?
The most valuable styles YSL bag styles include the LouLou bag and the Sac de Jour. But most of the Saint Laurent bag styles, particularly those in black or brown leather with the YSL monogram detail, will also hold their value if they are kept in good condition.
Our editor-in-chief swears by her YSL Solferino Bag which can be seen in many of her outfit photos on Style Your Occasion.
Whether you love these designs or prefer to shop for a different piece from their collection, these dupes are a great option to get the iconic YSL look for a more affordable price in 2023!
More Designer Dupe Posts You'll Love:
7+ Best Louis Vuitton Dupe Bags: Neverfull & More LV Dupe Bags
Bottega Veneta Dupe: 5+ Look-alikes
8 Chanel Dupes You Absolutely Have To See
Classic Chanel Backpack Dupe: 8+ Look-alike
Cartier Love Bracelet Dupe: 10+ *Stunning* Options
6+ Dior Book Tote Dupe Bags That Are Very Budget-Friendly
Hermes Dupe Bag: 9+ Affordable Look-alikes (Kelly, Birkin, Picotin)