Learn how to curate an effortless and elevated capsule summer wardrobe for 2022. This capsule is incredibly versatile with a multitude of chic outfit possibilities and the summer capsule wardrobe checklist will be your perfect guide.
*this post contains affiliate links*
A Neutral Capsule Summer Wardrobe
Summer is just around the corner as spring comes to an end and it's a great time to curate your perfect capsule wardrobe for the summer season.
If you are a fan of chic, neutral style, and want to streamline your wardrobe or begin to adopt a more minimalist style this, summer capsule wardrobe checklist and guide will help you along your way.
Below we will answer the common questions about capsule wardrobes for summer and give you a breakdown of each item included in this summer capsule. You'll also find images and style boards to give you tons of outfit inspiration.
What should be in a summer capsule wardrobe?
A thoughtful summer capsule needs to contain items that can be worn on warm, sunny days while also containing pieces that are great for layering when the days are cooler or for summer evenings.
So, below is a summer capsule wardrobe of the essential pieces we think is ideal to include.
Summer Capsule Wardrobe Checklist
How many pieces are in a summer capsule wardrobe?
There is no specific number for how many pieces need to be in your capsule. But, each piece should fit the following criteria: it's versatile, can be worn multiple times a week, and is good quality.
Our capsule summer wardrobe contains 19 pieces of clothing, four pairs of shoes, two bags, and other accessories.
Your capsule might need to be larger depending on your lifestyle, or it might be smaller too. The key is including neutral staples that can be layered, and having the right footwear.
A nice selection of accessories to choose from is good so you can elevate your overall look. This way you'll feel stylish and sophisticated for everything from running errands to going out for a date night.
How Do You Start A Summer Capsule Wardrobe?
The beauty of a capsule wardrobe is that it's tailored to you, your lifestyle, and your needs. Here are a few steps we recommended for starting your perfect minimalist capsule summer wardrobe.
Assess your lifestyle and what you do on a daily basis in the summer as this will help you determine the type of clothing that will make the bulk of your capsule. You may need to add in more dresses or professional clothes, or bring in more casual items.
Empty your closet and place all of your fall, winter, and other cold weather items in storage bins. You can keep these at the top of your closet or in a storage room and pull them out at the end of the summer to create a fall capsule wardrobe.
Declutter what's remaining to minimize the overall amount of summer clothing (here's how) then use our summer capsule wardrobe checklist above to guide you in what you are putting back into your closet, and deciding what items you might need to go buy.
Summer Capsule Wardrobe Essentials
Listed below is each item included in this summer capsule and the reason why it is what we consider to be a capsule essential for the summer season.

Basic Tank Top(s)
These staple pieces can be worn multiple times a week in the summer when the weather is hot or with a light layer over top when it's cooler. The classic, polished look of a simple black or white tank can be elevated even more with layered dainty pendant necklaces.

Camisole Top
A dainty camisole tank top is perfect for summer evenings with friends, or on a date, or can be paired with a midi skirt for a summer wedding.

Button-Up Shirt
A crisp button-up shirt belongs in every capsule in our opinion. This lightweight and airy staple is so versatile.
It can be dressed up or down and in a slightly oversized fit it can be worn over jeans for a more casual look or tucked into a pair of shorts or trousers. It also works great as a beach cover-up! We prefer white, but a subtle striped pattern can be perfect for summer as well.


Lightweight Blouse
A neutral or subtly printed sleeveless or short-sleeve blouse in linen or cotton material is a thoughtful addition to this capsule wardrobe. It can be worn casual or dressy and adds interest to a simple and minimalistic outfit.

Basic T-Shirt(s)
A neutral t-shirt (or a couple) is a staple in a summer capsule. Dress it up or down, and wear it over and over again all summer long. For versatility and comfort cotton or linen t-shirts are great choices.

Knit Cardigan
Layered over a t-shirt, tank top, dress, or midi skirt, a knit cardigan is a wonderful layering piece for summer. We love the oversized Jenni Kayne cashmere cardigan included in the capsule, But, a more affordable, and still high quality option, is from Quince.
You can also go for a cotton or linen cardigan if you prefer one that doesn't give as much warmth.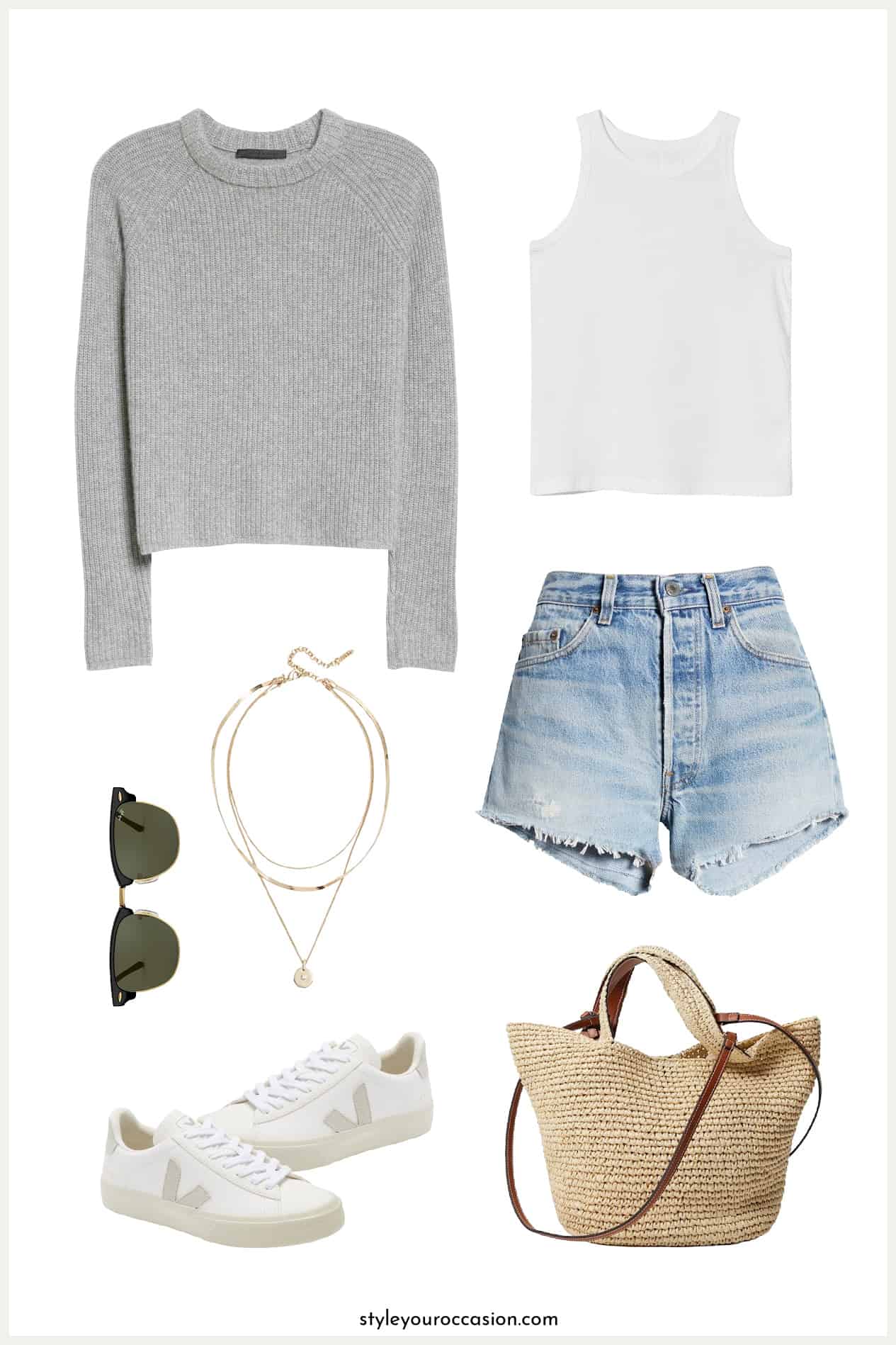 Lightweight Sweater(s)
For cooler days or summer evenings one or two lightweight sweaters make great layering pieces in a summer capsule. If you live somewhere that has cooler summer days, opt for a warmer fabric like cashmere, and if you live where the summer weather is always warm, go with cotton or a linen blend.

Denim Jacket
A denim jacket is an essential addition to a summer capsule. It can take you from day to night and you can go with a classic blue wash denim or go with black or cream.
We love a slightly oversized denim jacket to elevate any look.


Lightweight Blazer
Just like the denim jacket, a lightweight blazer is a great layering option for summer. It also has a classy look that can be perfectly paired with a pair of vintage wash jeans or shorts, sandals, and a tank top.
Or, throw it over a midi skirt or dress and put on a pair of sneakers for something more casual.

Denim Shorts
Jean shorts are classic for summer and can be worn all season long. We love a vintage wash blue but you can also go with white or black denim shorts.
If you always have trouble finding a good pair of denim shorts we highly recommend the Madewell perfect jean short for fit, comfort, and style.

Linen Shorts
Linen shorts are great because they have a casual yet elevated vibe. You can dress them up with a basic tank and dainty jewelry and heeled sandals.
Or, dress them down with a casual t-shirt, flats, and a woven tote for beach or lake days.

Tailored Shorts
We think it's a great idea to have one pair of shorts in your capsule that can be dressed up for a night out or brunch with friends. Tailored shorts with a paperbag waist or seam detailing are versatile and elevated.
Remember, if any of these items don't feel practical to your lifestyle, swap them out for an item that does.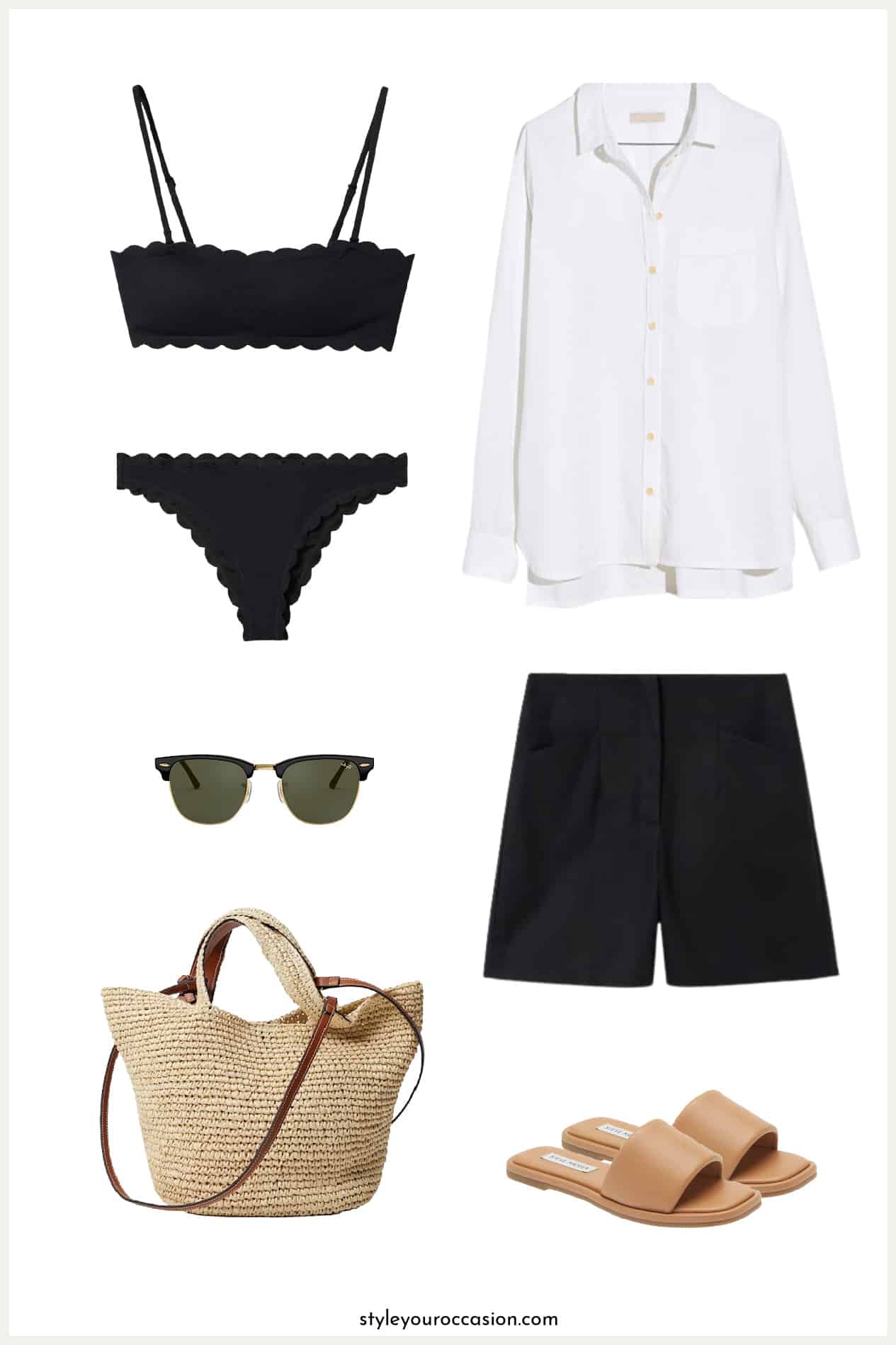 Swimsuit(s)
Summer isn't summer without beach and pool days, right? Add one or two neutral, chic swimsuits to your capsule and you'll be set!
If you feel like you need several swimsuits to make it through the summer, re-evaluate that and consider getting a few mix-and-match bikini tops and bottoms. This way you'll be able to make more swimsuit outfit combinations without having a drawer full of them.

Vintage Wash Jeans
A staple in any capsule is a pair of lightly distressed vintage wash jeans. We believe when you the perfect pair, you'll wear them multiple times a week.
We are a huge fan of the Madewell Perfect Vintage Jeans, but Levi's, Agolde, Everlane, are all fantastic brands to choose from as well.

Lightweight Trousers
A light ivory or beige pair of trousers goes a long way in the summer. Dress them down with sneakers and a cardigan, or up with heeled sandals and a blouse.
The light color has a fresh summery feel and can be super versatile, but you can also go with black if that is more your style.

Summer Dress(es)
When it comes to summer dresses you can go in any direction you like. If you love neutrals stick with a light and flowy white summer dress, or opt for a body con black tank dress. You can also try a patterned t-shirt dress, or go with one or two pretty floral summer dresses.
These should be dresses you can wear with sneakers and a denim jacket on a casual day, or wear with heeled sandals and the perfect jewelry for a laid back summer wedding or baby shower.


Midi Skirt
A solid neutral or floral patterned midi skirt is a great addition to the capsule for its versatility and ability to be dressed up or down.
A midi skirt can have a polished look with the right top, shoes, and accessories, and can take you from running errands to date night.

Sneakers
A great pair of white or ivory sneakers are a must for summer. Pair them with just about everything – jeans, shorts, dresses, etc. and be on your merry way!

Flat Sandals
One or two pairs of comfortable, yet fashionable flat sandals are essential to any capsule summer wardrobe. They can be paired with pretty much any outfit and will be your go-to for most summer days.
We recommend sticking with neutrals for versatility and making sure you choose a sturdy pair of sandals as you will definitely be wearing them a lot.

Heeled Sandals
For dressier occasions, weddings, date nights, etc. you'll want a stylish pair of heeled sandals. We love a strappy sandal with a chunky heel that combines style and comfort, but you can go with any kind of sandal you like best.
Again, we recommend sticking with neutrals for versatility here.

Mules
Pointy mules add that extra polished appeal to any summer look. We love a classic pair of slingback black leather mules, as well as leopard print, or you can keep it simple with a lighter neutral tone.

Woven or Leather Tote Bag
For accessories, a tote bag is a perfect, minimal, and practical addition to a summer capsule wardrobe. The woven style is versatile and is practical for a day at the beach or lake, or running errands.
Think of this as your catch-all carry everywhere bag for summer.

Crossbody Bag
Next, a crossbody purse that can be dressed up or down is another great capsule staple. It's the perfect bag that can hold just the essentials and not feel too clunky.
If you are able to, we recommend investing a little more in accessories to elevate moderately priced clothing items in your capsule. An investment bag goes a long way and can be worn every day of the week.

Sunglasses, Hats, & Accessories
Lastly, adding in a selection of classy accessories to your capsule wardrobe will tie everything together.
A great pair of sunglasses, neutral hair accessories like clips and scrunchies, dainty gold plated jewelry, and a baseball cap or straw sun hat are all subtle, classy pieces that are the cherry-on-top of every great summer outfit.

Final Notes
Creating a summer capsule wardrobe and curating the summer capsule of your dreams can take time! If this is your first time trying a capsule wardrobe for a season, have fun with it and learn as you go through the process of narrowing down your summer clothing to only to contain only the staples you love.
Then, play around with mixing and matching to create endless outfit combinations. A thoughtful, minimalist inspired wardrobe takes time and it's a journey as you hone in on your personal style and discover which clothing makes you feel amazing.
Also, a summer capsule wardrobe will help you look at consumerism differently as you limit buying new clothing throughout the summer. Just don't forget to give yourself some grace and little by little you'll build a summer capsule wardrobe you absolutely love!
If you are gearing up for fall, don't miss our Effortless Fall Capsule Wardrobe!
Pin me:

More Capsule Wardrobes You'll Love: