Wondering how to look old money? Or how to create old money outfits? I'm sharing my top tips for achieving the old money vibe along with old money aesthetic outfit ideas you can easily recreate (and on a budget too)!
*this article contains affiliate links*
What Does It Mean To Look Old Money?
The "old money" look is about dressing and styling oneself in a way that exudes luxury, wealth, and class without wearing flashy labels, ostentatious logos, or trends. It gets its inspiration from the subtle yet luxurious fashion of the past's richest families.
The old money aesthetic is related closely to the "quiet luxury" look, as it's a style that doesn't show off wealth in an obnoxious or obvious way. Instead, the focus is timeless pieces with an emphasis on quality over quantity.
And according to Harper's Bazaar, the old money look has become a trend rather than a lifestyle goal by GenZ. Meaning you don't have to actually have old money to look old money.
How To Look Old Money
I personally love the effortless elegance that's embodied in old money fashion, and I find it fits seamlessly into my own style. To help you look old money, I'm sharing my top tips and old money outfits for all budgets!
1. Stick with Neutrals
get the look:

The key to achieving the quiet luxury aesthetic/old money look is to stick with a mostly neutral color palette. Old money style is conservative and classic rather than bold or daring, so choosing timeless colors and avoiding bold patterns is key.
Invest in black, beige, camel, navy, and ivory pieces. And if you opt for patterns, choose timeless designs like subtle stripes, plaid, and neutral polka dots since they never go out of style.
Above, I'm wearing a simple ivory cashmere t-shirt, with a cable knit cashmere sweater over my shoulders. I've paired this with a classic black accent belt, pleated black trousers, and sleek black ballet flats.
2. Go With Tailored Fits & Quality Fabrics
get the look:

Old money outfits are often built around pieces with a well-tailored fit which feature clean lines, pleating, and a slim silhouette. Avoid anything skin-tight or baggy to keep from looking too casual or frumpy.
You'll see above, that my outfit looks like it's been pulled from a vintage Ralph Lauren ad—which is exactly the look I'm going for. You can never go wrong with a crisp, classic button-down in white or pale blue. I've paired mine with well-tailored linen shorts.
Quality fabrics are key to the old money aesthetic, so stick with long-lasting materials like cotton, leather, linen, silk, wool, and cashmere.
To finish off this look, I've tied a cable knit cashmere sweater around my shoulders—a signature feature of any old money outfit.
3. Try a Blazer
get the look:

Through my research into the old money aesthetic, I've found that a blazer is a classic piece you'll find in so many old money looks. A blazer, like the one I'm wearing above, can elevate a basic top and classic jeans to look more sophisticated and put-together.
For women, a slightly oversized cut will give a more vintage feel to the look, as opposed to wearing a tight-fitting blazer.
In this outfit example, I've paired a neutral plaid blazer with ivory, off-white, and browns. You can also try a charcoal wool blazer, classic black blazer, ivory blazer, or a camel blazer to achieve a similar look.
4. Opt for Classic Pieces
get the look:

One of my favorite ways to achieve an effortless old money look is with classic pieces like blue jeans and a simple button-up shirt.
Jeans are a staple 'quiet luxury' piece perfect for casual days (have a look at Princess Diana's everyday style for proof). For denim that is more expensive looking, choose ones made from thicker, more rigid cotton that will hold their shape.
In this outfit, I've again reached for a classic button-down, pairing it with high-rise jeans in a medium wash. Dark denim will always look sleeker and more formal compared to a light wash. I also recommend sticking with rip-less jeans to capture the tailored old money style.
More classic pieces include:
pleated trousers
neutral blazer
crewneck sweater
trench coat
sweater vest
button-up shirt
straight-leg or slim-fit jeans
loafers or ballet flats
5. Add Luxe Layers
get the look:

Whether you effortlessly drape a sweater over your shoulders, reach for your go-to blazer, or bundle up underneath a camel coat, layering will instantly make your outfit look more expensive.
These classic pieces elevate the simplest of looks, making your outfit feel chic and luxurious. They're also functional in the colder months when an extra layer is needed to stay warm.
The best part? You don't need to splurge on expensive coats and jackets to achieve this vibe. Instead, stick to timeless styles like a tweed jacket, classic cardigan, trench coat, or camel coat like the one I'm wearing. You can find these tried-and-true silhouettes at all price ranges; just be sure to look for durable materials whenever you can.
Old Money Aesthetic Outfit Ideas
Can't get enough of the quiet luxury style? You just need to be able to recreate the timeless and sophisticated aesthetic associated with the look. These include looks inspired by the fashion of upper class style icons like Princess Diana and Carolyn Kennedy.
Below are some more old money inspo looks from my fave fashion influencers!
White trousers, knit top + sandals.
get the look:

This old money inspired look is perfect for warm spring and summer days when you still want to look polished and put-together. A knit top adds a vintage touch alongside cream pleated trousers and leather slides.
Wool coat, turtleneck + statement sunnies
get the look:

No old money aesthetic outfit is complete without layering. Esther exudes quiet luxury in this outfit by layering a lightweight cashmere turtleneck underneath a heavier cream coat. The tone-on-tone keeps this look neutral, even when paired with burgundy heels. When it comes to sunglasses, vintage shades and '90s-inspired shapes are the way to go.
1/4 zip sweater + high waisted jeans.
get the look:

When it comes to old money outfits, it's all about refined simplicity. A timeless 1/4 zip sweater tucked into high-waisted off-white jeans creates an easy and sophisticated outfit. Add gold statement earrings and a brown leather belt to define your waist.
Cashmere crewneck, trousers + gold accessories.
get the look:

Recreating the old money aesthetic at home is easy when you have staple pieces. This outfit feels achievable yet elegant, combining classic elements like a camel crewneck sweater and tailored trousers with a few chic accessories.
Tailored shorts, linen top + scarf.
get the look:

Recreate this old money look this summer. Start with a pair of well-tailored cotton or linen shorts. Then, add a linen top and a silk scarf to exude old-world glamor and grace.
White dress + classic accessories.
get the look:

Nothing screams 'old money aesthetic' than an all-white look. This elegant white dress exudes lowkey elegance with its clean lines and modern shape. The outfit feels even more chic paired with black accessories for a minimal dressed-up look.
Also, don't forget that achieving the old money aesthetic also often includes softly styled tresses and a pop of red lipstick
Button-down dress + brown accessories.
get the look:

This old money aesthetic outfit from Lydia Millen is a different take on the classic button-down shirt. Swapping it out for a modest button-up dress exudes class while adding a feminine touch. Lydia accessorized with minimal brown accessories and a blazer to tie the look together.
Styling tip: You'll notice that while quiet luxury looks may feature an investment bag, they steer clear of loud labels and flashy designers. This is perfect for anyone recreating these looks at home who doesn't want to splurge on a luxury purse. Reach for logo-less, streamlined bags to achieve the same polished effect.
Cashmere sweater, trousers + black accessories.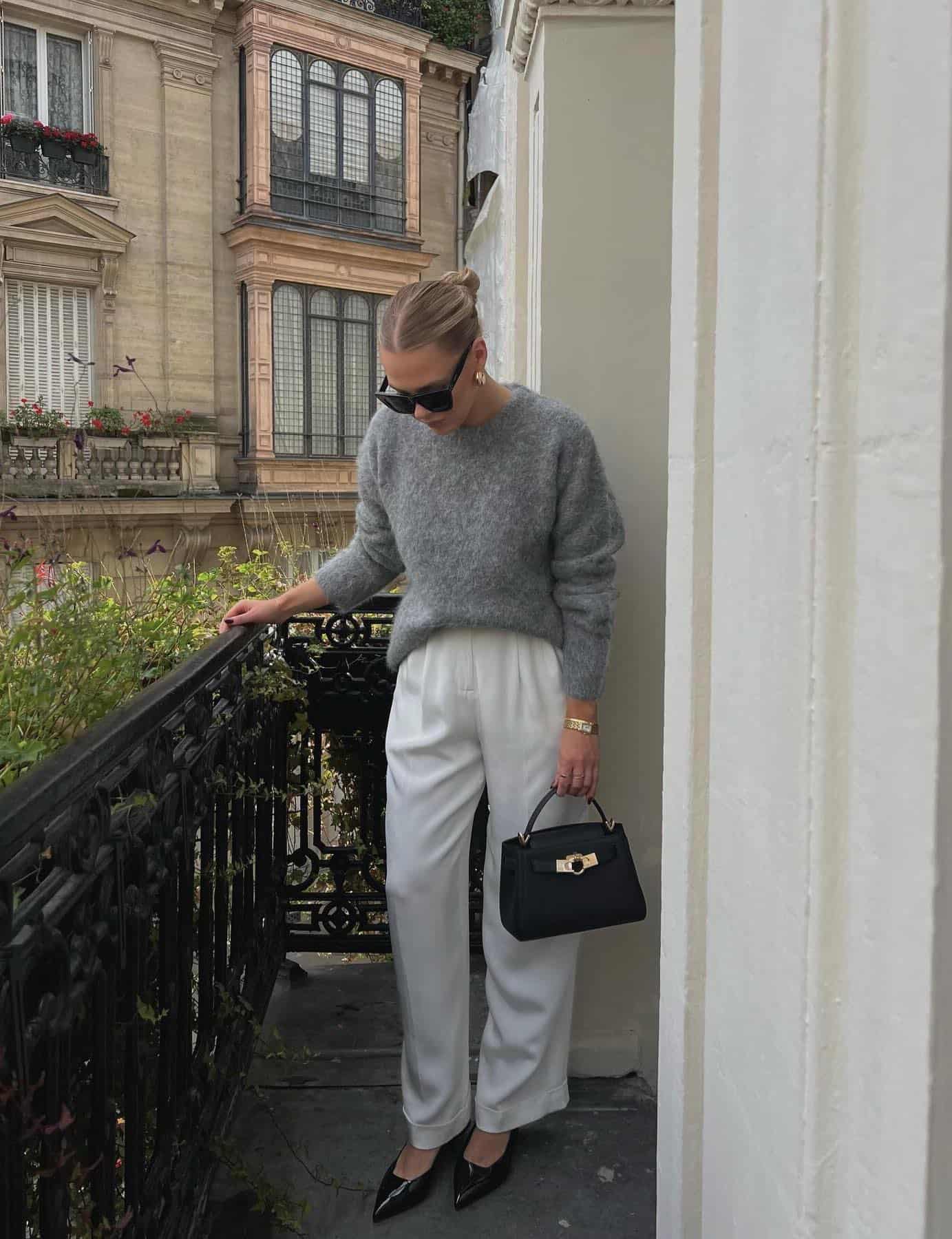 get the look:

Last on my list of old money aesthetic outfits, this look includes a soft cashmere sweater with perfectly tailored ivory trousers. The slicked-back bun, and coordinating black accessories feel thoughtful and well-styled.
Final Thoughts
I hope you've gained endless inspiration from these old money outfits and tips for how to look old money. Remember, you don't need a closet full of luxury items to recreate these looks at home. Simply stick to classic pieces and follow this styling guide, and you'll be as good as gold!
More Style Inspiration You'll Love:
15+ Old Money Brands (& Which Ones Are Actually Affordable!)
31+ Elegant & Classy Winter Nails I'm Obsessing Over