Want to know how to pull off shorts with boots? Check out our style guide with tips and inspiration on how to style cowboy boots with shorts in 2023, so you can rock the modern cowgirl aesthetic!
*this post contains affiliate links*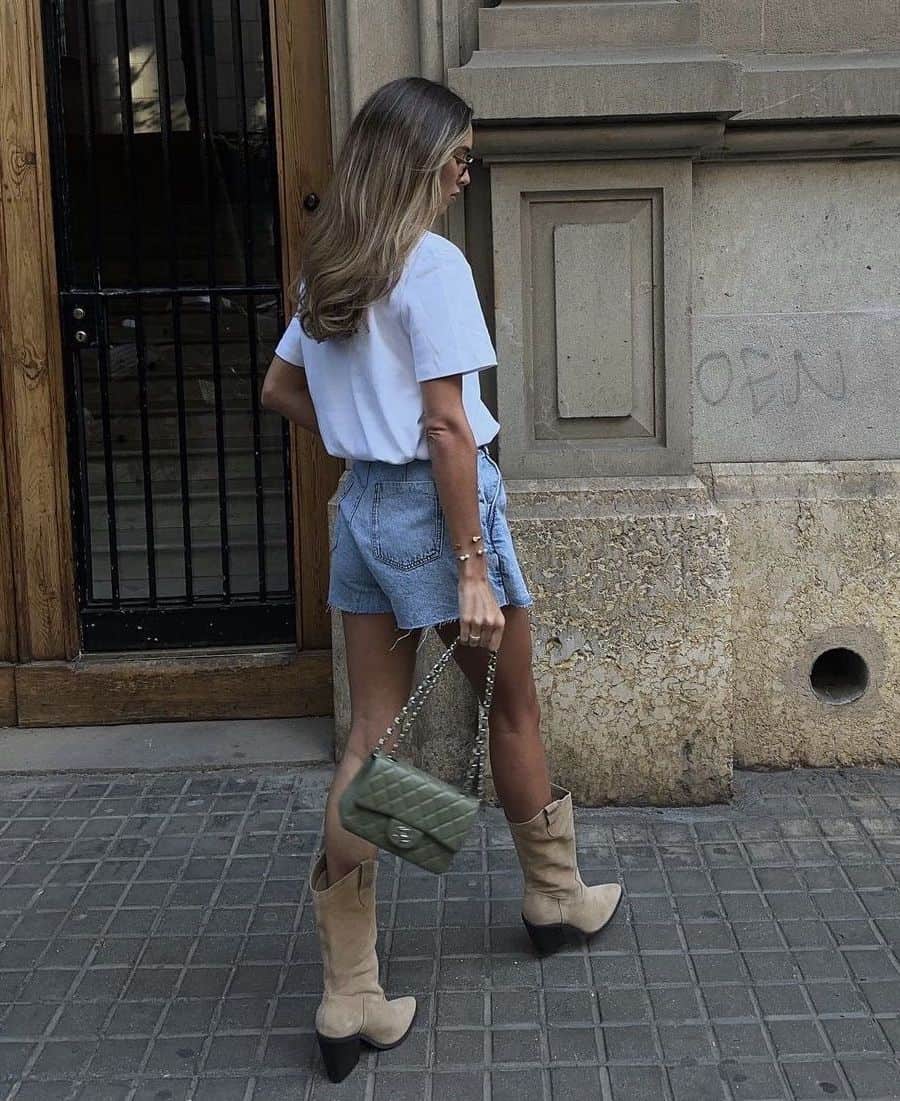 How To Style Cowboy Boots with Shorts
We've been loving the sunny spring days as of late, and now summer is just around the corner. It's time to pack away the sweaters and make room for breezy dresses and chic shorts!
While you may think that cowboy boots are only for cold weather, this fun footwear works year-round. You can rock shorts and cowboy boots in any season, and we're here to show you exactly how to pair these Western-style boots with shorts.
Read on for style inspiration that's chic and timeless, feminine and flirty, or bold and trendy – so no matter what aesthetic you're going for, there's a look for you below!
floral + feminine
get the look:

A floral crop top and light-washed denim shorts are a classic summer look, and the light brown cowboy boots add some coastal-cowgirl charm to this cute outfit.
The puffed sleeves and floral print are youthful, fun, and flirty – a perfect ensemble for a day in the sun. And we love the contrast between the delicate, feminine floral print and the rustic vibe of the boots.
This look is simple but so cute, and you can easily elevate it with some dainty jewelry and a tan handbag to match the boots. Rock this outfit on a day enjoying patio brunch or while hitting up your favorite beachside spot!
two-tone boots + mesh top
get the look:

Cowboy boots are perfectly paired with denim shorts here for an edgy look.
A black bralette top and sheer mesh shirt are definitely bold and youthful, and the two-tone boots are the perfect addition to these pieces. Light-washed denim shorts add some bright contrast and will keep you comfy on a summer day.
We love the feminine yet daring vibes here. Wear this outfit for your next night out with the girls or as a country concert look. Add a statement purse and chic but simple jewelry to dress this look up, and you're ready to go.
stick to neutrals
get the look:

Creamy neutrals always elevate. This outfit is the perfect example. The beige blazer is refined, while the ripped details on the denim shorts add a casual vibe.
Sticking with neutral colors helps pull all the different pieces of this look together, and the stitched details on the cowboy boots definitely make a statement without taking away from the polished look of the outfit.
If you're looking for a cute summer outfit that still looks stylish and put-together, this denim shorts and blazer combo is the way to go. Go for the same neutral colors here, or opt for brown, black, grey, or navy to mix things up.
Get more white cowboy boots outfit ideas here!
Can you wear cowboy boots with shorts?



You can absolutely wear cowboy boots with shorts! Cowboy boots and shorts are perfect for the summer season and can add a chic cowgirl vibe to any outfit.You can pair cowboy boots with denim shorts, leather shorts, drawstring linen shorts, and even biking shorts for a chic and trendy outfit.
And you can also find cowboy boots to fit any style – from square toe black boots to shimmering silver boots. And this makes cowboy boots are a great investment piece because they can be worn with so many looks.
Whether you're grabbing a coffee and running errands or going to an iconic music festival, this combo is sure to turn heads. So don't be afraid to try this look for yourself this summer; it may just be your new favorite combo!
chic + timeless
get the look:

You can always go for a look with shorts and boots that is timeless and refined. Classic jean shorts and a white button-up are polished yet chic and an excellent outfit for almost any occasion!
The tall suede cowboy boots have a simple design that fits in perfectly with this minimal outfit while adding a trendy and fun vibe. Go for a linen or cotton shirt to keep this outfit suitable for summer, and you can also wear a white tank underneath in case the day gets too hot.
Here's even more cute cowboy boots outfit ideas to check out!
running shorts + oversized blazer
get the look:

This look is the fantastic blend of sporty and chic with a touch of Western charm. And since biking shorts have been all the rage within the last couple of years, this outfit is also perfectly on-trend.
The white, grey, and black pieces work well together, while the purse adds some gorgeous color. And we love the combo of elevated pieces with casual ones here. Athletic shorts and cowboy boots have a laid-back feel, making this outfit perfect for everyday wear, while adding a button-up and blazer is perfect for cooler evenings or to dress the look up a bit.
This outfit is a must for a simple but stylish look this summer that can be worn while grabbing coffee or lunch or just hitting up your favorite shops.
make it metallic
get the look:

Next on our list of cowboy boots with shorts is this chic and fashion-forward ensemble.
Black leather shorts are a gorgeous piece for this outfit, and this wardrobe staple instantly adds an edgy feel to any look. The strapless pinstriped top is stylish yet flirty, making it perfect to pair with these shorts. And, of course, the black blazer adds a touch of sophistication that elevates the whole outfit.
We are definitely in love with these metallic silver cowboy boots! They're bold, playful, and an eye-catching piece that makes this outfit perfect for date night or hitting up happy hour with your friends. Keep the accessories to a minimum here – just add a chic purse and simple earrings and let the rest of the outfit be the star.
add some contrast
get the look:

Black denim shorts, a sleek black bodysuit, and tall white cowboy boots are the perfect summer outfit that's both edgy and chic.
This outfit is a fantastic look to stay cool on hot summer days while looking laid-back and fashionable. And the bodysuit adds a touch of sexiness, making this outfit a must for a night out with your SO. You can also dress this up by adding a blazer to the look or keep it as is for something minimal.
The tall white boots are the perfect addition to this outfit – they pop when paired with the black pieces, so this outfit is simple but alluring. Cowboy boots always add a playful touch, but the snakeskin texture of these shoes fit in perfectly with this sexy outfit!
a graphic tee + cowboy hat
get the look:

When it comes to simple but chic summer fashion, a classic country look never fails! This outfit is stylish and comfortable and has a relaxed vibe that's perfect for enjoying the summer sun and savoring those lazy summer days.
We love how this Western look has subtle details to add a modern and edgy touch. The ripped detailing adds a bold touch to this classic style, and the oversized graphic tee is casual and great for showing off your laid-back personality.
A black cowgirl hat is not only practical for staying shaded from the sun, but it also adds to the Western vibes of the outfit. And the dark brown cowboy boots tie everything together and give the outfit a cohesive look. Plus, they're perfect for keeping your feet protected and comfortable while you're out and about.
cowboy boots + a matching set
get the look:

If you're looking for a cute summer outfit that combines comfort with style, a matching white linen set with shorts and a button-up is what you need.
This outfit has serious summer vibes while still looking put-together and chic. The lightweight linen fabric is breathable enough to stay breezy even on the hottest summer days. And the woven black cowboy hat is playful and the perfect finishing touch for this Western-inspired look.
This outfit is a must if you're going out to enjoy the warm weather with friends or going to a summer festival, and it can even work for a night out.
add a pop of color
get the look:

This next look is another great example for how to pair boots with shorts.
A black crop top and light-washed denim shorts are an easy way to start off this look, while the black boots and vest quickly elevate the look. The short black cowboy boots add a subtle Western touch to this outfit, and the patterned vest is a perfect way to add some playful color to your look.
You can also opt for a black vest and choose a colorful pair of boots or a patterned top instead. Either way, this look is fantastic for staying cool and stylish all through summer!
Shorts and boots are a simple but stylish way for women to upgrade their look in 2023.
From denim cutoffs to athletic shorts, there's no wrong way to rock these pieces. So use this style guide as inspiration to wear cowboy boots with shorts for a stunning and country-inspired look this season!
More Style Guides You'll Love:
14+ Country Concert Outfit Ideas You'll Want To Copy
What To Wear In Nashville + Chic Nashville Outfits To Copy
What To Wear To A Rodeo + Stylish Rodeo Attire Ideas