Heading to the famous festival and looking for the best Lollapalooza fashion? You'll love this list with the perfect Lollapalooza outfits to make your festival experience even more unforgettable!
*this post contains affiliate links*
The Perfect Lollapalooza Outfits
Lollapalooza is one of the most popular summertime music festivals, and it's only a few months away! Whether you're going for one day or all four, you'll need some stylish and trendy festival outfits to make your experience that much better.
So, we've scoured the gram for gorgeous festival looks, and we found some incredible outfits to help inspire you. These Lollapalooza outfits are absolutely obsession-worthy and there's plenty of tips to help you get the same look so you can rock out at Lollapalooza in style.
Read on to see our fave festival looks.
ready to rock
get the look:

Since rock music is something that Lollapalooza is known for, a rock'n'roll outfit is definitely fitting for this festival!
A black mini skirt and graphic tee are fantastic pieces to wear to any music show, and this combo has a bold and edgy feel that's perfect for Lollapalooza! Something we love about a graphic tee is that it's an easy way to show off your personality, so this simple piece easily adds some flair to any look.
Add an oversized denim jacket to elevate your outfit and keep warm during cool evenings. And if a mini skirt isn't your style, go for the classic concert combo of a graphic tee and denim shorts.
You can dress this outfit up with statement earrings and chunky boots or keep it casual with sneakers and a layered necklace.
retro vibes
get the look:

If you're looking to stand out from the crowd and make a bold fashion statement, then a retro tie-dye set like this is the way to go.
Tie-dye is a must in Lollapalooza fashion and is always on-trend. We love how this skirt and crop top set has serious vintage vibes while still looking modern and chic! You'll be ready to dance the night away in this matching set, and it's also a great outfit for staying cool in that summer sun. Plus, you can easily throw on a denim jacket for an extra layer when it gets cooler at night.
Add some combat-style boots or chunky sandals and accessorize with a simple pair of earrings or necklace to complete this look.
fierce + feminine
get the look:

A crop top and midi skirt are a classic combo that works for so many occasions, including a legendary music festival!
This perfect Lollapalooza outfit has a feminine look that we adore, but it's also edgy and modern – exactly what we want for a concert outfit. You'll definitely stay cool in a cropped tank and flowy skirt, while the boots are perfect shoes to support and protect your feet at an outdoor festival.
Overall, this look is simple but has a baddie aesthetic that is sure to turn heads at Lollapalooza. Finish the outfit with a chic handbag and a chunky necklace or layered pendants for some extra glam!

summer baddies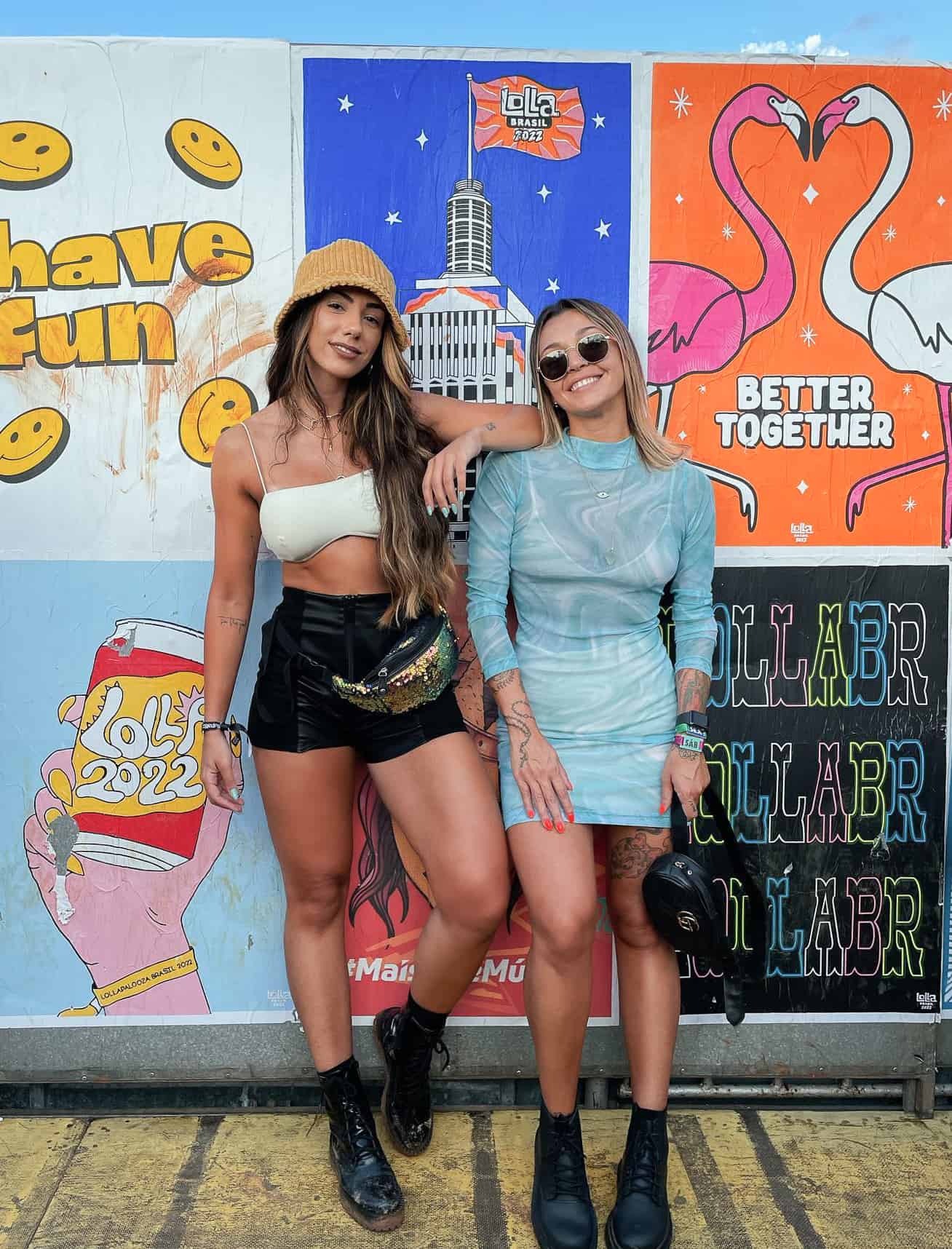 get the look:

Baddie style is all the rage, so Lollapalooza is a perfect time to let out your inner badass and dress for the part!
Wear a tie-dyed summer dress to add some gorgeous color to your outfit without overheating in the summer sun. Pair it with some boots to add a bit of edge to your look, or go for chunky sandals to keep it laid-back!
Or you can go for an edgy look with black leather shorts and a white crop top. Black and white are definitely a baddie color combo, and these contrasting shades have a classic look that's still so eye-catching.
Whether you go for a daring outfit or something a bit more feminine, keep in mind Lollapalooza fashion is all about baddie attitude!
modern disco
get the look:

If you're a fan of 70s glam and want an outfit that stands out, this is the look for you.
The cropped retro-style graphic tee is a must-have for any festival-goer – it's comfortable, stylish, and pairs well with any bottoms. And we are in love with this glamorous mini skirt! It's perfect for adding some sparkle to your Lollapalooza outfit, and it will absolutely give you some Instagram-worthy photos.
Combining these vintage-inspired pieces creates a fun and eye-catching look that is perfect for the Lollapalooza music festival. You can wear platform boots for a bold look or add a feminine touch with strappy heels. Either way, this outfit will definitely have you stealing the show!
sexy + sporty
get the look:

Next on our list of Lollapalooza outfits is a seriously stunning look that has the perfect mix of sporty and sexy vibes!
A cute mesh crop top is a fantastic piece to wear to any music festival; plus, a breathable shirt like this is great for summertime. The baggy cargo pants and chunky sneakers are not only trendy, but they're also practical to wear during an outdoor show. Your feet will definitely be comfy as you walk and dance around, and the baggy pants are another comfortable piece to spend the day in!
The designer handbag adds a luxurious touch that elevates the whole look and finishes the outfit perfectly. This Lollapalooza look will go from day to night effortlessly and is perfect for tomboys who still want a chic outfit.
cowgirl glam
get the look:

When it comes to Lollapalooza fashion, you can definitely make a statement with modern and glamorous country-style outfits like these!
We love how bold and alluring these looks are! Bright white and silver pieces are so eye-catching, while everything from the fringed crop top to the strappy heels has a flirty vibe. Plus, adding shimmering pink and purple accessories is not only stylish and feminine, but it's also a perfect way to add some sparkle for a music festival.
These cowgirl-inspired outfits are definitely the ultimate festival look – and you can keep it chic and feminine while showing off your daring and luxurious style!
70s babe
get the look:

Next on our list of Lollapalooza outfits, you can never go wrong with a vintage-inspired look!
This outfit is clean and simple, but it still has a chic and playful aesthetic that's perfect for any concert. The orange and white combo on these pants is definitely attention-grabbing and has serious summer vibes.
Choose a crop top and retro-style pants in lightweight cotton or linen blends to have a stylish and comfy outfit for your day (or days) at Lollapalooza. And this look is versatile, so you can pair it with a sleek pair of boots, chunky sandals, or a classic pair of trainers!
sleek + sultry
get the look:

Whether you're going to Lollapalooza for the first time or the fifth, you'll definitely want to dress up for the occasion! This outfit is sleek and subtly sexy, making it an easy Lollapalooza fashion pick if you want a killer outfit for this festival.
Jeans are a timeless choice; you can create so many outfits with this piece, and we love how these flared jeans add a playful touch to this look. A shimmering mesh tank fits the aesthetic of a music festival and adds a bit of glam.
The boots are a perfect addition if you want to add to the edgy look of this outfit, and they're great for long days spent outdoors. If you get too cold as the sun goes down, add a leather jacket or a matching denim jacket to stay stylish while you stay warm!
crochet cutie
get the look:

Even though you'll be on your feet and in the sun during this music festival, you don't have to sacrifice comfort for style! A cute and stylish two-piece crochet set makes a gorgeous outfit for Lollapalooza, and the platform sandals are another trendy piece that works perfectly here.
The floral pattern on this crochet set is a popular choice for Lollapalooza fashion, while the breathable fabric and breezy design make this a great outfit to wear on those hot summer days.
Platform sandals are an excellent way to add some extra cushioning for your feet, and the bright red is such a vibrant and gorgeous shade to pair with this colorful look. This outfit is definitely eye-catching and sure to earn you lots of compliments. Don't forget your sunscreen and sunglasses, and you'll be ready to rock the day away!
What to wear to Lollapalooza 2023?

If you're headed to Lollapalooza in 2023, here are some perfect outfit ideas to help you stay comfy and look fabulous while enjoying this music festival:
Mini skirt with a graphic tee and an oversized denim jacket
Cropped mesh shirt and baggy cargo pants with chunky sneakers
Denim skirt with a statement top, strappy heels, and a pink cowgirl hat
Two-piece tie-dye set with boots or platform sandals
Cropped tank and retro flared pants with combat boots
Shimmering mini skirt with a graphic tee or crop top
With these looks you'll fit in with the incredible Lollapalooza fashion!
Going to a music festival is an incredible experience and the perfect time to go all out. You can have a practical, comfortable outfit that's still bold and fun outfit. We hope these stunning festival outfits inspire you and help you create chic and daring Lollapalooza outfits that you'll remember for years to come!
More Style Guides You'll Love:
11+ Stagecoach Outfits With A Chic Coastal Cowgirl Vibe
13+ Harry Styles Concert Outfits For The Perfect Glam-Rock Vibe
14+ Baddie Concert Outfits To Obsess Over
13+ Bad Bunny Concert Outfit Ideas For A Next-Level Aesthetic