In need of a chic and modern country concert outfit ideas to wear to a country concert? Check out our list of 14+ cute country concert outfits that you'll want to copy in 2023!
*this post contains affiliate links*
get the look:

Modern Country Concert Outfits
Going to a concert is always a good time, and in our experience, dressing up for one is almost much fun as the show!
When you think of a country concert, you probably think of denim shorts, cowboy boots, and flannel. While we love this classic look, there are so many ways that you can elevate your outfit to make it modern and chic.
Heading to stagecoach this year? Check out these chic Stagecoach outfits!
We've picked out amazing outfits to show you how to style a country look that is refined and unique. Check out these perfect outfits below, and we'll tell you how to recreate them for yourself!
get the look:

What should I wear to a country concert?
There are so many pieces you can wear to a country concert for a stylish look! Here are just a few looks you can try for a country concert:
Classic blue jeans, a crop top and ankle boots
Denim shorts, a floral blouse and cowboy boots
Black jeans with a bodysuit and cowboy boots
Denim midi skirt with knee-high boots and a leather jacket
Little black dress, cowboy boots, and a wool fedora
You can choose a tank, graphic tee, or crop top to go with your country look or opt for a long-sleeved blouse, a denim button-up, or a shearling coat for a cold-weather show.
The accessories you choose can be a great way to add style and a country feel to your look. Go for accessories with fringe, cow print, crochet, or lace, and you can always add the classic cowboy hat and boots to complete your look.
Country Concert Outfit Ideas
We've scoured the internet for concert outfit ideas from our fave fashion influencers to show you just how to style a refined and modern look with some western flair.
a pair of daisy dukes
get the look:

Denim cut-offs, or Daisy Dukes as some might call them, are a classic piece for a country look, especially for spring or summer concert outfits. Cowboy boots with shorts makes a perfect for a country concert outfit!
A cropped black top adds a refined touch to this outfit, but you can wear a graphic tee or a halter top for a casual vibe. Or, try a long, kimono-style cardigan for a boho country look.
Wear classic denim cut-offs like the ones pictured here, or try ripped denim cut-offs or a patterned pair – like Aztec print or cow print.
all the cow print
get the look:

Give us all the cow print!
For a country concert, go bold with cow print jeans, or wear classic blue denim and a cow print tank for a more subtle look. Another way to add cow print to your outfit is by using your accessories – printed boots, handbags, or belts are all effortless ways to give your concert outfit a country feel.
Keep the faux leather jacket for a winter show, or make this a summer look with a classic tank top or tee.
Do you have to wear cowboy boots to a country concert?
Cowboy boots are a go-to piece to wear at any country concert, but they aren't the only shoes that will work for a country-inspired look. If you want to stick with boots, you can swap the cowboy boots for a classic pair of knee-high boots or ankle booties. You can also wear strappy heels or wedges for a chic and feminine look.
the denim midi skirt
get the look:

2022 was the year of the denim midi skirt and this trend isn't going anywhere!
Denim is a go-to way to add a casual, country feel to your outfits – but that doesn't mean you need to wear jeans. This denim midi skirt and tall cognac boots are both chic pieces that create a western vibe.
We love the edgy feel of the leather jacket, although you can swap it for a fringe jacket for more of a country look. You could also pair this skirt with a graphic tee for a laid-back aesthetic.
We love the classic tall boots here, but you can opt for ankle or cowboy boots if that's more your style.
country with a little glam
get the look:

Who says country and glam don't go together? Not us!
This feminine slip dress is gorgeous and looks stunning with metallic cowboy boots. People around you won't know if they want to watch the show or look at you (we also love this slip dress option for a Morgan Wallen concert outfit!)
If you want more of a relaxed vibe, pair your slip dress with casual pieces. Go for a long cardigan, a denim jacket, or brown or black cowboy boots.
the denim duo
get the look:

We are so in love with this double denim outfit and cow print boots! These pieces have a casual feel and will definitely be comfortable enough to wear all day, and the look has a total festival vibe.
The brown sweater matches the tone of the boots perfectly and is great to have if you get chilly. Although, if you want an outfit that is better for warm weather, you can swap the denim button-up for a denim crop top.
If you prefer classic cowboy boots, pair them with a cowboy hat, a fringed purse, or a cow print belt to add that country feel.
a little leather goes a long way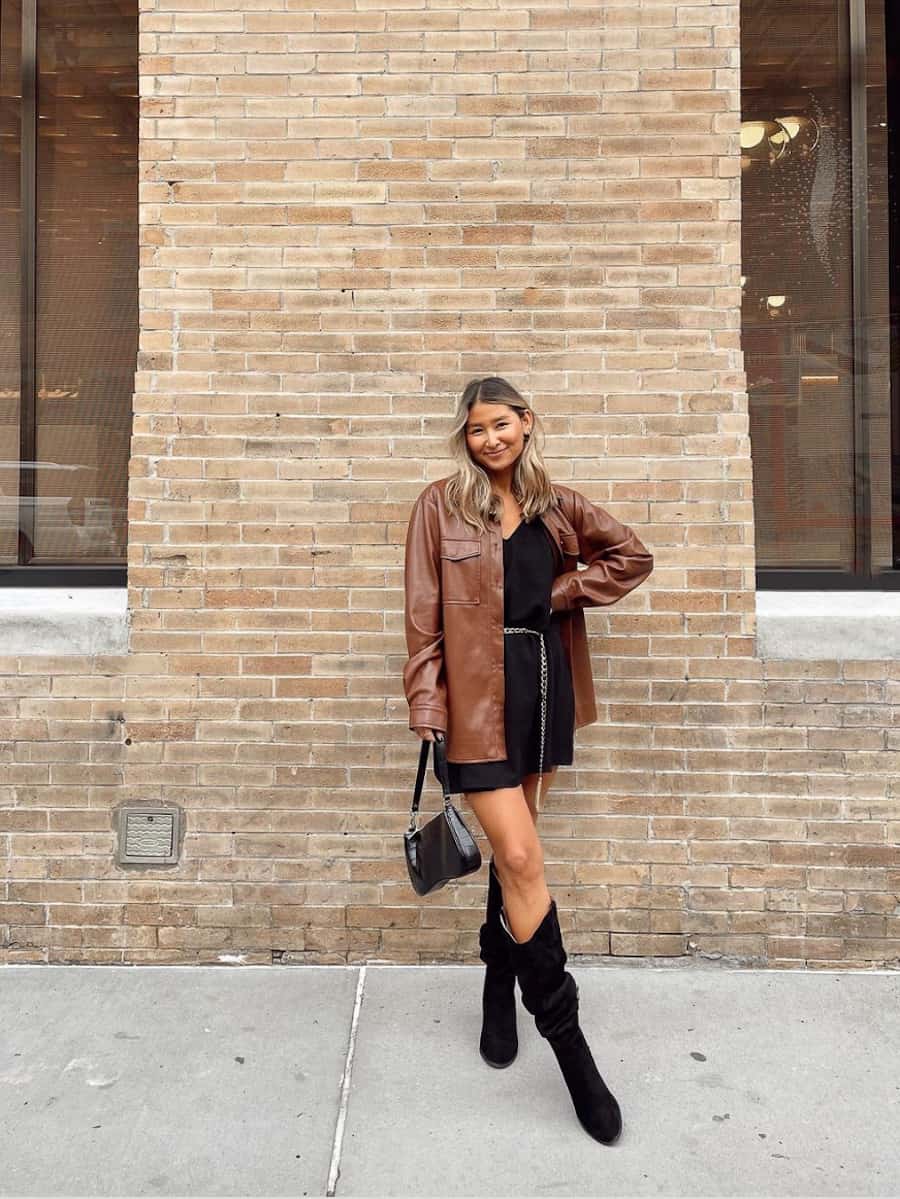 get the look:

We love how these simple and chic pieces are paired together for a country look. The black dress and black velvet cowboy boots look gorgeous together, but the brown faux leather jacket adds that Southern feel.
You can wear a brown leather jacket with any look to make it country concert ready. Go for a feminine style like this with a dress and boots, or keep it laid-back with jeans and a tee.
Either way, a brown leather coat will quickly transform your look into one that has a chic country vibe.
city cowgirl vibes
get the look:

This elevated take on a country outfit is simple yet so chic. The light-toned sleek cowboy boots have more of a modern feel than a traditional pair, and the black blazer also adds a refined touch.
Denim jeans and a white tank are something everyone has in their wardrobe, making it easy to recreate this look. You can go for black jeans or swap the white tank for a cropped cow print top if you want to add a stylish, playful touch.
Outdoor Country Concert Outfit Ideas
If you're planning on going to an outdoor show this year, don't worry! We didn't forget to include stylish country concert outfits for outdoor shows!
the shearling jacket
get the look:

A shearling jacket instantly adds a cozy feel to any look and is perfect for an outdoor cold-weather country concert. We love the combo of bootcut jeans, cowboy boots, and cowboy hat – they really complete the Southern vibe.
Go for black jeans to add a bit of edge or skinny jeans to show off the boots. You can also pair a sherpa coat with a midi dress and cowboy boots. Try a denim and shearling jacket with this look for a serious country aesthetic.
little black dress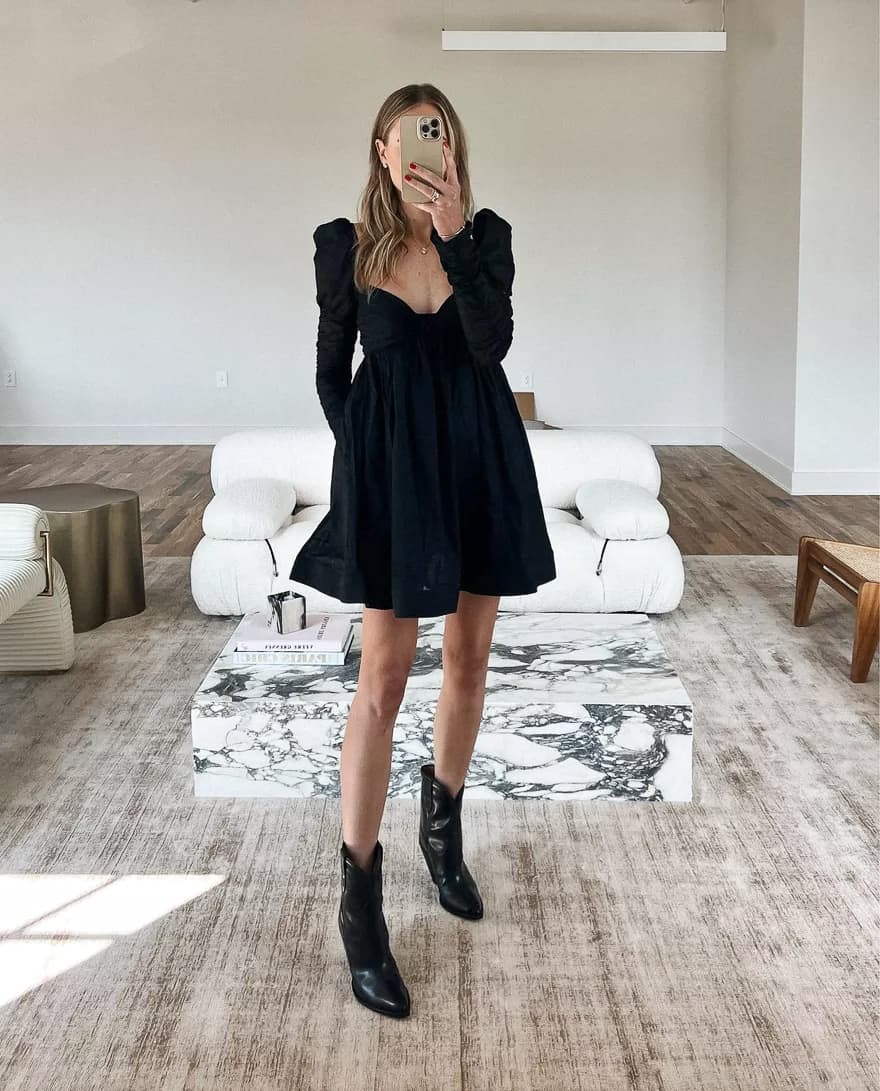 You can never go wrong wearing a little black dress to any event! The babydoll cut and puffed sleeves give this dress a romantic vibe, although you can wear any style for this look.
Try a figure-hugging dress, a casual sundress, or a flowy midi dress.The ankle-height western boots add a country flair that still looks modern, although a classic pair will look great too.
all the fringe
get the look:

Fringe is fantastic for adding a westen touch to an outfit, so a fringe jacket will quickly upgrade a simple look and give it a country feel.
We love the pairing of a cute and flirty mini dress with this chic fringe jacket, and the cowboy boots definitely give this outfit the look we're going for. If your concert is in the spring or summer, you can easily find other fringe pieces that are better for warm weather.
Try cowboy boots with fringe, a fringe crop top, a cardigan, or even fringed jeans for a similar look that isn't too heavy!
See more cute white cowgirl boots outfits here!
a little romantic
get the look:

A country look can still be feminine and romantic, and this outfit is perfect for a dreamy Southern look. This romantic dress pairs perfectly with the cowboy boots and hat for a country look and is a fantastic choice for a spring or summertime concert.
You can choose a dress in any color or style or opt for a skirt and blouse. Choose pieces with romantic details – think lace, ruffles, puffed sleeves, embroidery, floral print, or a bustier bodice like this dress.
What do you wear to a country Festival?
Whether you're road-tripping to Cali for the Stagecoach Festival or hitting a local festival, you'll want clothes that will work for days spent in the sun and on your feet. Try comfy pieces like:
denim shorts (go bold with fringe or feathers)
a mini or midi dress
biker shorts
graphic tee
tank top or crop top (go bold with fringe, rhinestones, or sequins)
denim jacket, leather jacket, or kimono-style cardigan
cowboy boots, sandals, or sneakers
cowboy hat and sunglasses
For more inspiration, we have some chic looks below that are perfect for country concert outfits that you can wear outdoors!
go with a boho vibe
get the look:

Boho and country fashion go hand in hand, so try blending these styles for a chic outfit. This colorful boho dress with cowboy boots and a hat is a perfect example of how to do just that.
A jean jacket is a fantastic piece to add to a boho-style dress and is great for transitional weather. Another boho-country look includes denim shorts, a chic top, and a long boho-style cardigan. No matter your style, adding a boho flair will add fun and whimsy to your country outfit.
modern crochet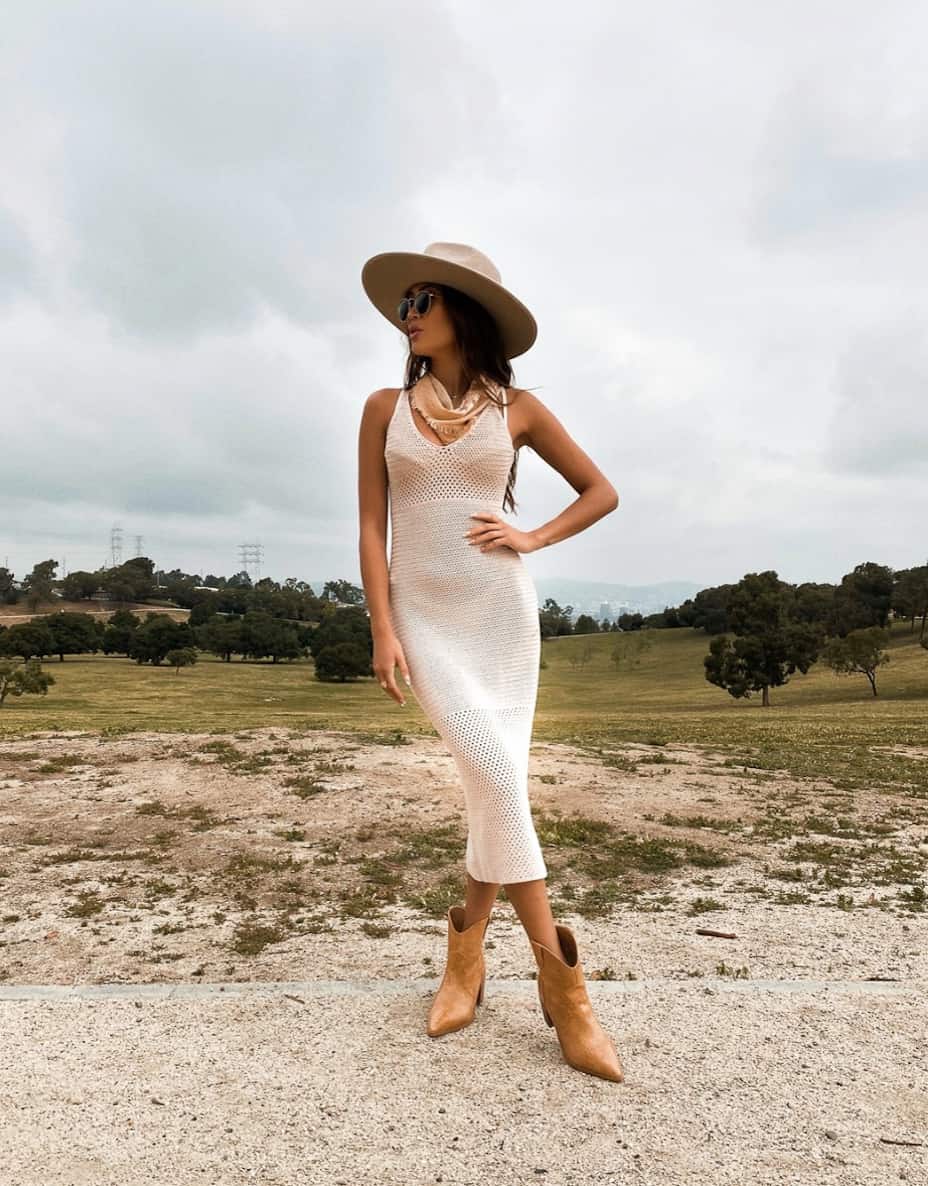 get the look:

This crocheted dress is stunning and creates a completely elevated country look. A dress like this is perfect for a summer outfit, but you can add crochet details in tons of ways. Try a crochet top, a crocheted cardigan, or a pair of denim shorts with crochet trim.
Don't forget the ankle-cut cowboy boots, the flat-brimmed hat, and the fringed bandana to add those Southern vibes.
country with a little rock
get the look:

We love this blend of country fashion with rock and roll! The graphic tee and leather jacket add that touch of rock, while the cowboy hat and boots add the country feel we're looking for.
A graphic tee, black or ripped jeans, leather shorts or a skirt, and animal print are all excellent choices to get a similar look.
stagecoach vibes
get the look:

Last on the list of country concert outfit ideas is a festival-worthy look worth copying. One thing that music festivals are known for is bold fashion, and Stagecoach is no exception. We love these trendy and youthful outfits, and a country festival is a perfect time to sport a look like this.
Pair denim shorts or a skirt with a bralette top, or go for a crop top or classic tank if you prefer more coverage. Add a cowboy hat and boots for some country vibes, and finish the look with stylish accessories.
See more cute Stagecoach outfits in this post!
Country concert outfits don't have to be the typical look you're used to seeing. You can create modern and classy looks to wear to your concert. Follow this style guide and use it as inspiration when planning your next country concert outfit!
More Style Inspiration You'll Love:
11+ Chic Winter Concert Outfits That Just Make Sense
What To Wear To A Rodeo + Cute Rodeo Outfits You'll Love
11+ Stagecoach Outfits With A Chic Coastal Cowgirl Vibe
13+ Harry Styles Concert Outfits For The Perfect Glam-Rock Vibe
What To Wear To A Comedy Show + 10 Chic Outfit Ideas
12+ Red Boots Outfit Ideas That Will Have You Smitten
What To Wear In Nashville + Chic Nashville Outfits To Copy
Christal Sczebel is an entrepreneur, published author, and content creator. Over the past decade she has worked in the digital media field building successful websites for both food and fashion. She has a natural affinity for minimal, timeless fashion, neutral home decor, and styling.
Here on Style Your Occasion, Christal is the Editor-in-chief and brain behind the aesthetic. She hopes you love the this space and the inspiration you'll find!