Loving the Instagram baddie aesthetic that's taken social media by storm? Check out our list of 30+ gangster Instagram baddie nails including coffin baddie red acrylic nails and baddie simple coffin nails with rhinestones that you'll love!
Chic Gangster Instagram Baddie Nails
Gangster Instagram baddie nails are one of our new favorite nail trends!
The baddie aesthetic has taken over social media, and these edgy designs have a creative and distinct look that's hard to compete with.
When it comes to embodying baddie vibes, it's all about being bold, confident, and edgy. This, of course, applies to manicures too. Gangster Instagram nails have some key elements that are essential for getting that bad girl aesthetic – the nails are long, the polish is bright and bold, and there's usually some bling involved!
Long coffin or stiletto nails are popular nail shapes for this aesthetic, and trendy colors include black, red, pink, or a multi-colored design. These nails also have a lavish feel, featuring rhinestones, gold flakes, glitter details, and high-class logos.
So whether you prefer minimal looks, intricate acrylics, or press-on nails, we have tons of stunning baddie nail looks below to inspire your next gangster Instagram baddie manicure!
Coffin Baddie Red Acrylic Nails
Red nails have an instant bad girl feel, so we've gathered our gorgeous red coffin nails from our favorite Instagram baddies to inspire your gangster manicure!
Long Red Coffin Nails w/ Glitter Accents & Snake Charm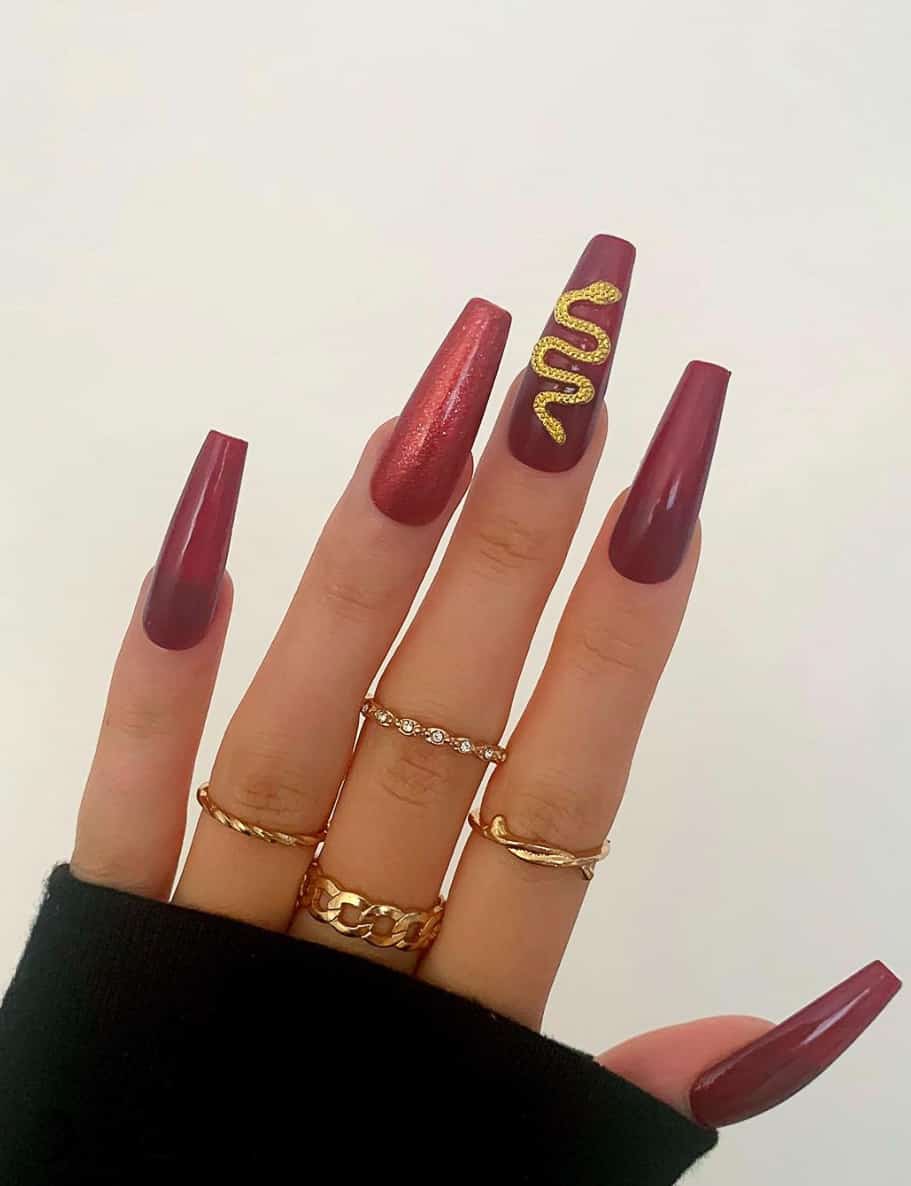 Bold nails are a must for baddie nails, so red is always a fantastic choice. Glitter accent nails add sparkle and glam, while the snake charm has an edgy vibe – perfect for a baddie aesthetic!
Long Red Jelly Nails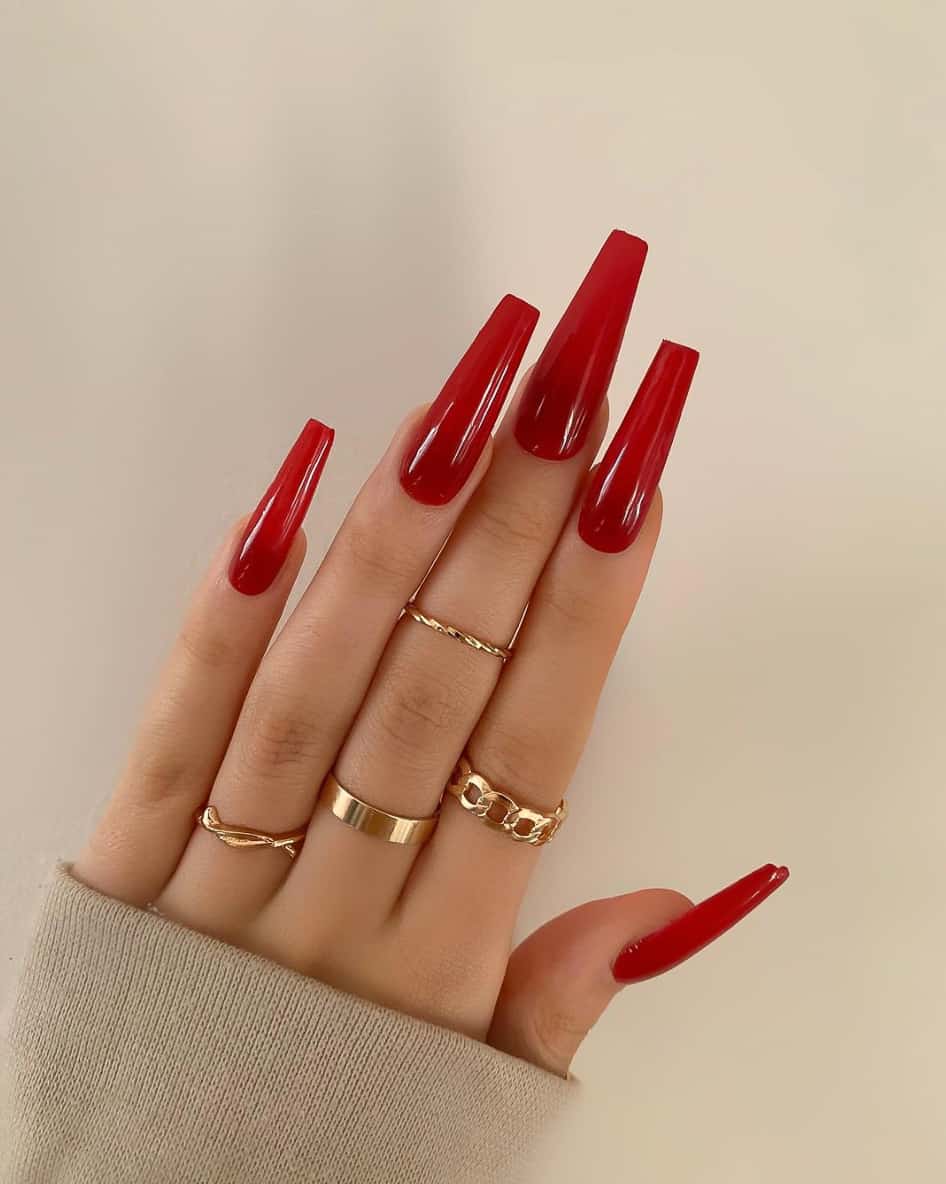 This vibrant bright red is daring and eye-catching. Even though this is a simple nail design, it definitely has an undeniable fierce feel to it.
Chrome Coffin Baddie Red Acrylic Nails
Chrome red is modern and bold with a rebellious vibe that's perfect for the baddie aesthetic. You'll definitely draw attention anywhere you go with these Instagram-worthy nails.
Long Bright Red Coffin Nails
A gorgeous vibrant shade of red is perfect for showing off your confident and bold personality. These coffin baddie red acrylic nails color have a striking aesthetic that you can style with a chic outfit to perfectly match the vibe!
Matte Red Nails w/ Black Speckles
Black and red are well-known for their baddie vibes, so combining them instantly gives off the bad girl aesthetic we're going for. The matte finish adds a refined touch to this bold design – perfect for anyone who wants to portray power and confidence.
Coffin Baddie Red Acrylic Nails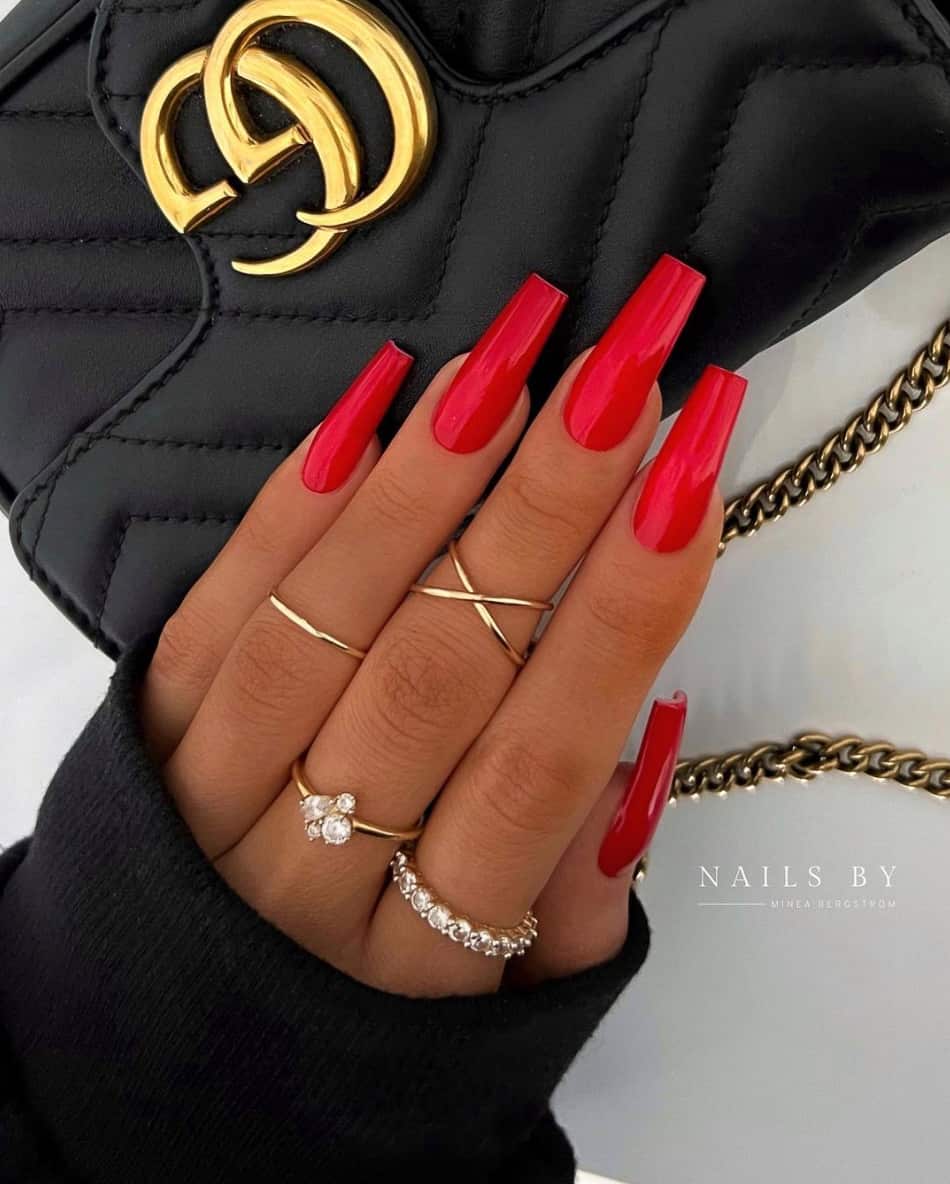 Gangster Instagram baddie nails don't always have to be intricate. We love these more simple coffin baddie red acrylic nails.
Pull off baddie vibes with a minimal nail design featuring bold red polish. You can add glitter and rhinestones or go for stiletto nails if you prefer, but this simple design is still perfect for a bad girl look.
Baddie Simple Coffin Nails With Rhinestones
Adding rhinestones is an easy way to add glamorous baddie vibes to any manicure. If you want nails that sparkle for your gangster Instagram baddie nails, these looks below are for you!
Long Pink Nails w/ French Tips + Rhinestones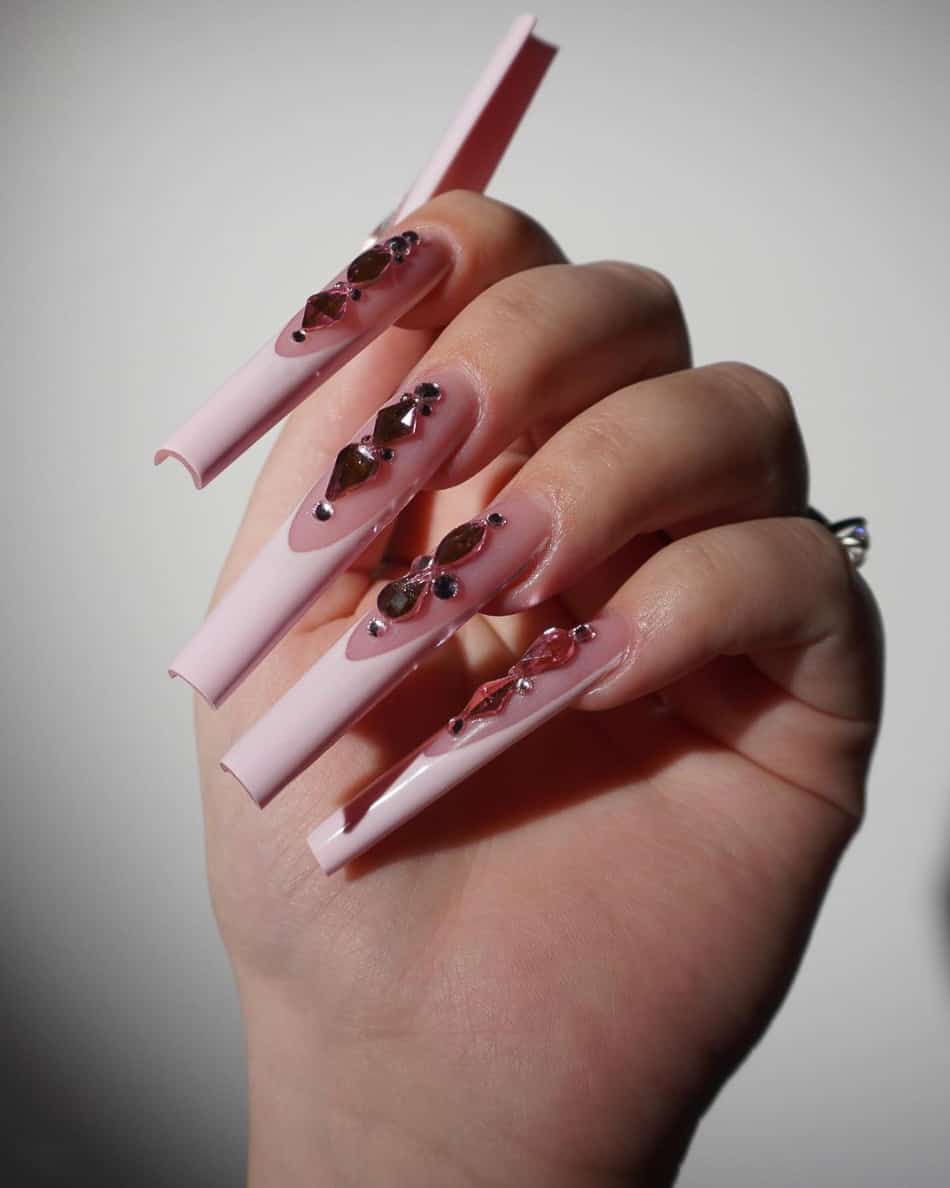 Long coffin nails are a signature baddie look, and the pink polish adds a feminine touch without taking away from the edgy vibes. Big, bold rhinestones and French tips are the perfect accents for this design and instantly add a lavish aesthetic.
Matte Pink Nails w/ Rhinestone Accents
This manicure has the perfect blend of sleek and modern designs with that baddie aesthetic. Matte pink nails help the rhinestones pop and add that glamourous baddie feel that we love!
Shimmering White Nails w/ Rhinestones
Long nails, gorgeous glitter, and rhinestone accents are the perfect recipe for gangster Instagram baddie nails. This manicure definitely has a bold and glamorous feel that exudes baddie confidence.
White Marbled Nails w/ Rainbow Rhinestones
Long square nails definitely give off a powerful and badass vibe. The marbled white polish and rainbow rhinestone accent is a perfect combo of bold and refined.
Shimmering Chrome French Manicure w/ Gem Accents
Bold metallic silver French tips and jewel-studded nails? Talk about a baddie look. These nails are long and luxurious, making them perfect for showing off your gangster style!
What is the most popular nail trend?
Gangster Instagram baddie nails have become one of the most popular nail trends for 2023! These gorgeous and eye-catching designs radiate confidence, luxury, and a bold style – so it's no wonder why people love this look!
The intricate designs allow for endless creativity and are a perfect way for people to show off their fun and daring style. Instagram baddie nails are a fantastic trend for anyone who wants to show off their playful and fierce personality!
Perfect Baddie Aesthetic Nails
Perfect baddie nails are bold, edgy, and attention-grabbing like no other. If you want more inspiration, we've got it for you with these stunning gangster Instagram nails that you'll definitely love!
Silver Coffin Nails w/ Black Outlines
Glittering silver adds that eye-catching sparkle that we love to see, and the bold black outlines add gorgeous baddie vibes. The long coffin nails are perfect for this look, though you can go for square or stiletto nails to change things up.
Coffin Nails w/ Black French Tips & Bat Nail Art
Make a statement with these bold coffin nails! Black French tips paired with bat nail art are playful and daring, just what you want to achieve that baddie feel.
Long Animal Print French Tips
Animal print is an OG baddie design, and using a mix of prints in French tips has a modern, edgy feel that's perfect for gangster Instagram nails!
Purple Gangster Instagram Baddie Nails
Matte ombre, French tips, glitter, and rhinestones? These nails are dramatic, luxurious, and dripping with baddie vibes! If you're looking for a design to show off your inner baddie, these nails are definitely the way to do it.
Cow Print, Gold Flake + Rhinestone Baddie Nails
There's no shortage of bold and trendy designs here! Cow print is definitely in and adds a playful touch to these baddie nails, while the gold flakes and rhinestones add a regal feel that we can't get enough of.
Nude Matte Nails w/ Gothic Letters & Heart Details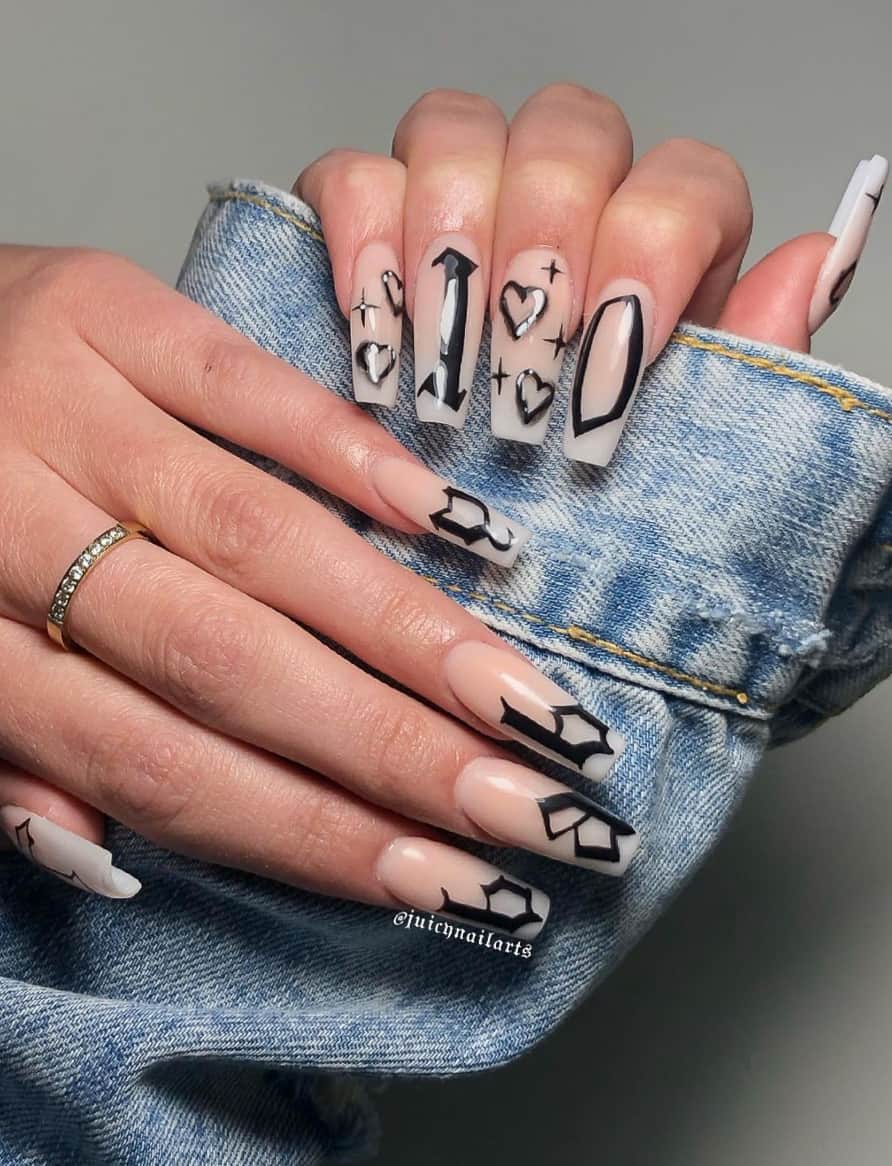 You can't look at these nails without thinking of the word "gangster"! Classic nude matte nails turn baddie with the addition of black gothic letters and playful nail art. The neutral tones are elegant while the nail design is bold and playful – a perfect combo for an Instagram baddie mani.
Pink + Purple Baddie Collage Nails
Who says gangster nails can't be pretty in pink and purple? Feminine and bold, these collage nails have playful designs that will have others giving you compliments left and right.
Red Mani w/ Black + White Print Nails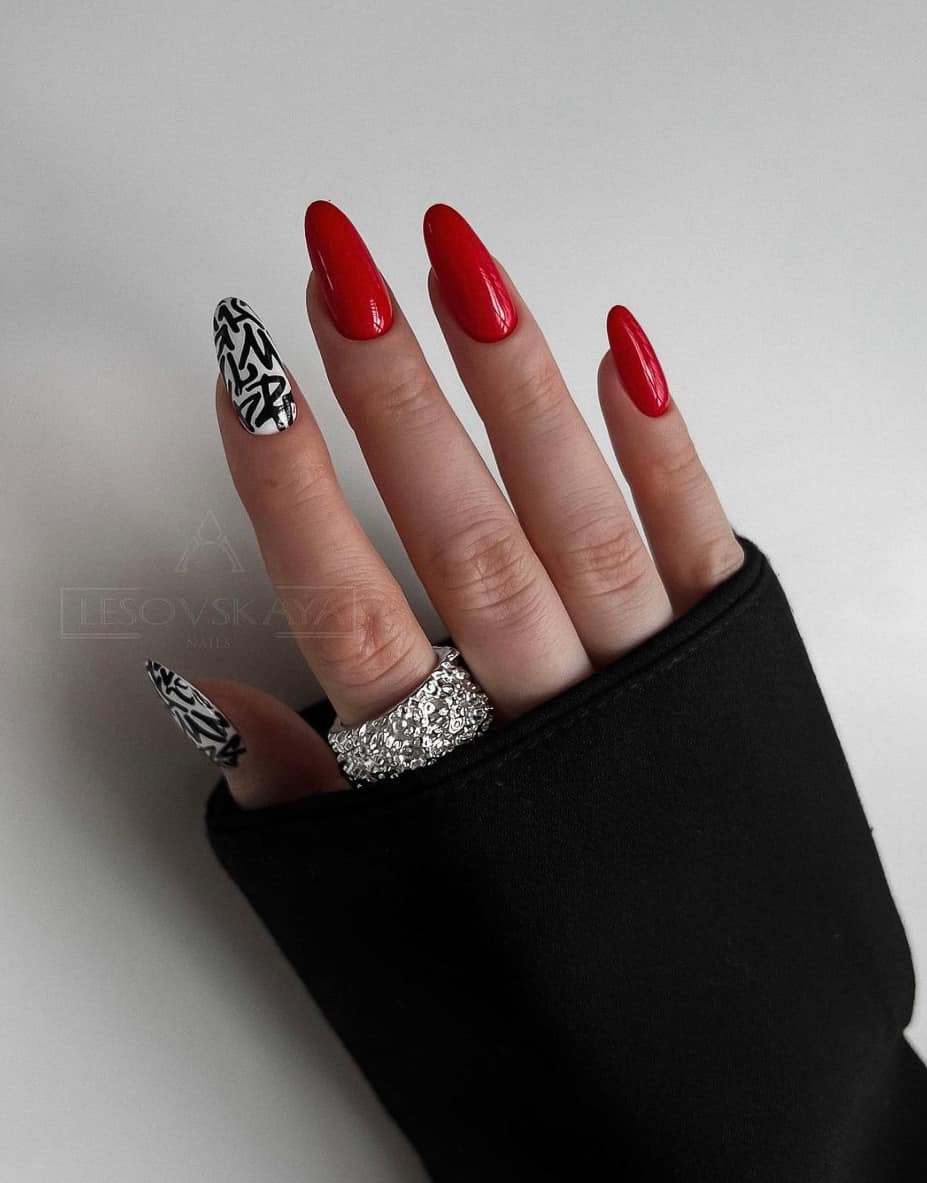 A bold and elegant red manicure looks stunning next to black and white graffiti print. This sleek and edgy design is perfect for anyone looking to show off their gangster baddie style without any sparkle.
Chrome French Tips + Silver Charms on Stiletto Nails
Stiletto nails instantly give off baddie vibes, and chrome French tips have that bold and eye-catching aesthetic that's perfect for this look. The silver charms add that bold and gangster feel that effortlessly completes this bad girl manicure!
Black & White Stiletto Nails w/ Graffiti Print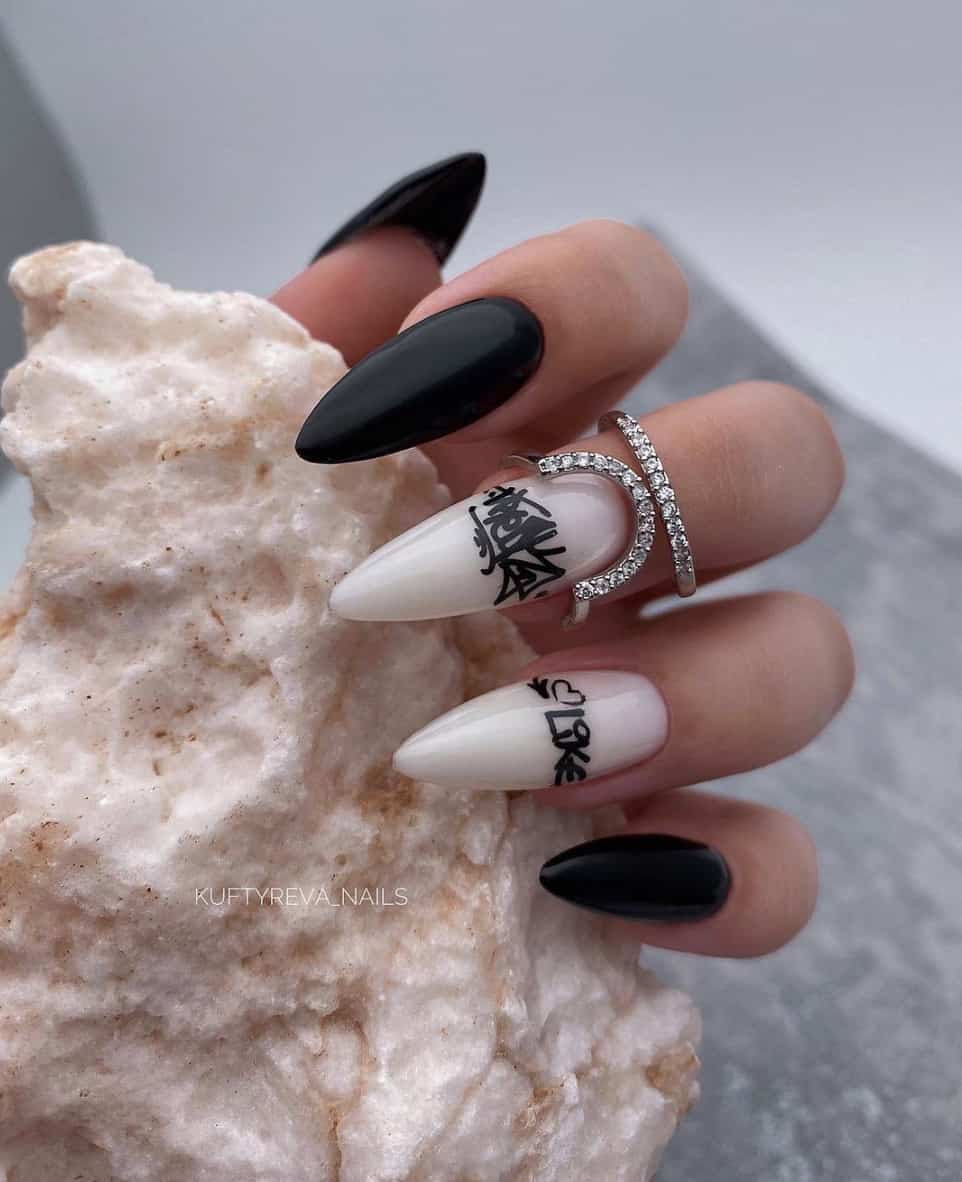 The striking contrast between black and white polish and the street-style print has an edgy and alluring aesthetic that's perfect for Instagram baddie nails. This is a must for anyone who wants a baddie look without the bling or bright colors.
Louis Vuitton Coffin Baddie Nails
If you think beige nails can't be bold, think again! These bad and bougie nails have serious Instagram baddie vibes. Everything from the luxury logo to the gold accents makes this manicure a glamorous and edgy style perfect for a bad girl look.
Baby Blue Instagram Baddie Nails
Who knew soft baby blue would be the perfect shade for baddie nails? We love how this look changes it up from the bold red and black tones and uses a delicate pastel shade instead. And the elegant French tips, the glitter accents, and sparkling rhinestones keep this mani looking luxurious.
Pink Playboy Coffin Nails
Pink and nude coffin nails are a perfect match with a Playboy bunny-themed nail design. We love the matte finish, and the big, bold rhinestone is just what this look needs for that baddie feel.
Hot Pink Gangster Instagram Baddie Nails
We love the daring look of these hot pink nails! Pairing them with marbled accents and chunky silver glitter has that bold and glamorous look that's perfect for a baddie aesthetic.
Pink + Black Louis Vuitton Nails
Long pink and black square nails are instantly elevated with this luxurious Louis Vuitton logo design. These sleek and elegant nails definitely have an attention-grabbing look that's perfect for showing off your glamorous style!
Zebra Print Coffin Nails w/ Gold Glitter Accents
Nude pink and zebra print coffin nails are a stunning combo, and this bold design is instantly upgraded with gold glitter accents. This is a perfect pick if you're looking for a playful yet elegant design to show off your baddie style!
Black French Tips + Hearts on Coffin Nails
Heart details are perfect for this aesthetic since baddies have a confident and alluring vibe that others just can't resist. Combine this flirty nail art with bold black French tips, and you have the perfect bad girl manicure to show off.
Long & Luxurious Baddie Nails
This nail design is definitely one of our favorite looks! The marbled glitter polish, chunky gold glitter, rhinestones, and a daring snake charm are a combination that is so stunning. We know you'll turn heads everywhere you go with these bold baddie nails.
It's easy to see why people love the Instagram baddie nail trend. These coffin baddie red acrylic nails and other baddie nail styles are alluring and luxurious, and they'll add a bold and playful vibe to any outfit. We hope you've found the perfect gangster nails to try during your next salon visit to show off your inner baddie!
More Nail Inspiration You'll Love:
21+ *Stunning* Purple Ombre Nails To Copy in 2023
23+ Must-See 90s Nail Designs That Are Totally Nostalgic
21+ Pink and Red Nails For A Fun & Flirty Vibe