In need of an outfit for an upcoming comedy show? We've got you covered with a style guide on exactly what to wear to a comedy show, plus 10+ chic comedy show outfit ideas to show you how to style a look that's fashionable and comfortable!
*this post contains affiliate links*
What To Wear To A Comedy Show
Hitting up a comedy club is a great way to spend a Friday night. Whether you're going to a comedy show with your girlfriends or your S.O., it's important to dress appropriately for your night out.
Most comedy clubs don't have a dress code, but in general, you want to wear something that has a casual and laid-back vibe. And since you'll probably be sitting for a couple of hours, you'll want something comfortable too!
Of course, you don't have to sacrifice your personal style to dress appropriately for a comedy club! And you can wear something that's fitting for your entire evening out – whether that involves just a night at a comedy club or dinner and drinks too.
If you're in need of comedy show outfit ideas, then look no further. We have an in-depth style guide with chic outfits to help you choose the perfect look for your night at a comedy club!
Perfect Comedy Show Outfit Ideas
For a perfect comedy show look, you want a good balance of style and comfort. We have stylish, casual outfits below from top fashion influencers to help inspire your comedy show attire!
little black dress
get the look:

There's a reason that a little black dress is considered a wardrobe staple! An LBD is a classic and versatile piece that you can dress up or down for any occasion, including a comedy show.
You want to create a relaxed look, so pair your LBD with casual shoes and accessories that will help to give off a laid-back vibe. For shoes, go for sneakers, sandals, or boots. You can add jewelry and a handbag but choose something simple to create the aesthetic you want, rather than a high-end piece.
jeans + heels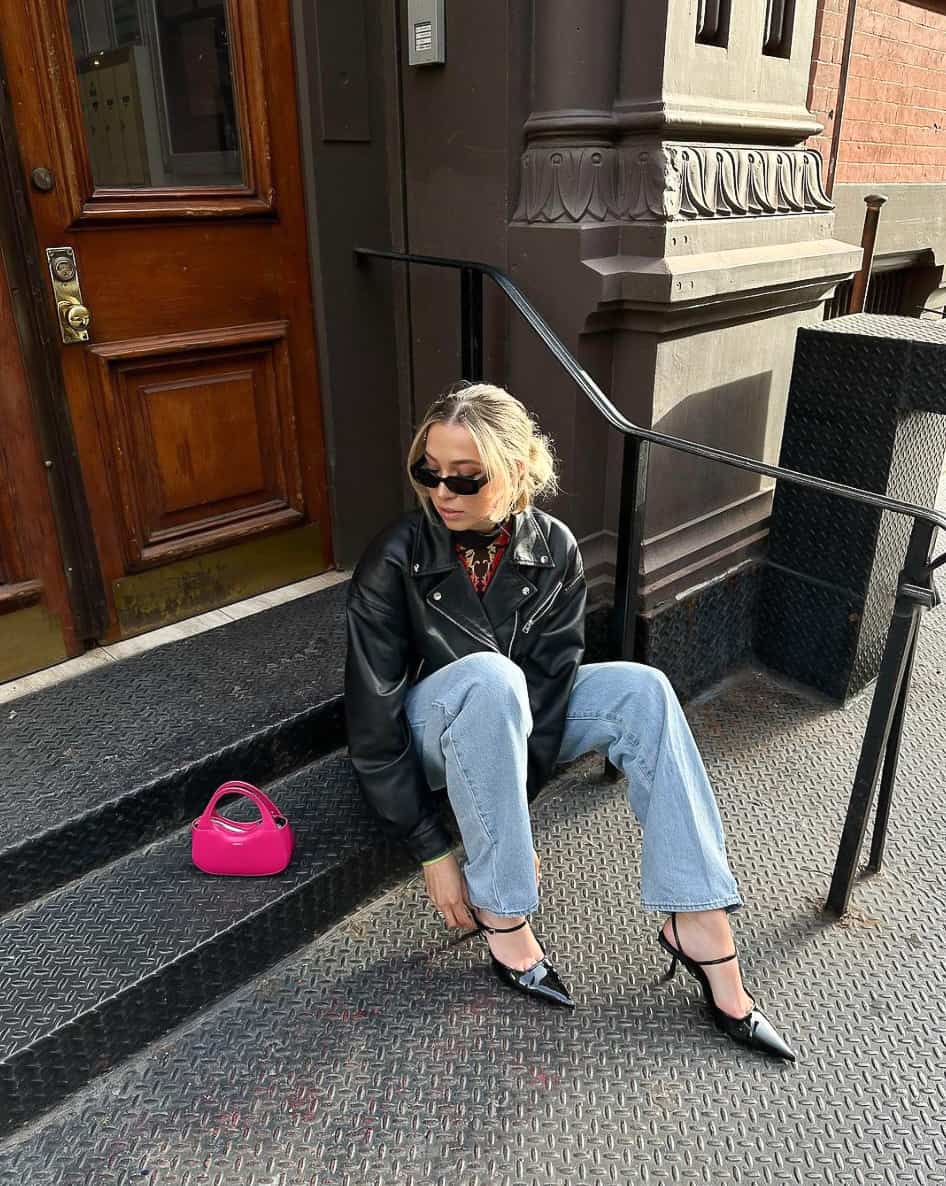 get the look:

Jeans are a casual piece you can easily combine with other items to create the perfect comedy show outfit. Heels will add a refined touch to your look, but that doesn't mean you'll be overdressed.
Pair this combo with simple pieces to create an effortless and easygoing look. Try wearing a classic tee, crop top, or graphic tee to add a relaxed vibe to your outfit. You can also add a jacket to tone it down and make it cool and casual. You could go for a denim jacket, a bomber jacket, or a leather jacket like the one pictured here.
statement pants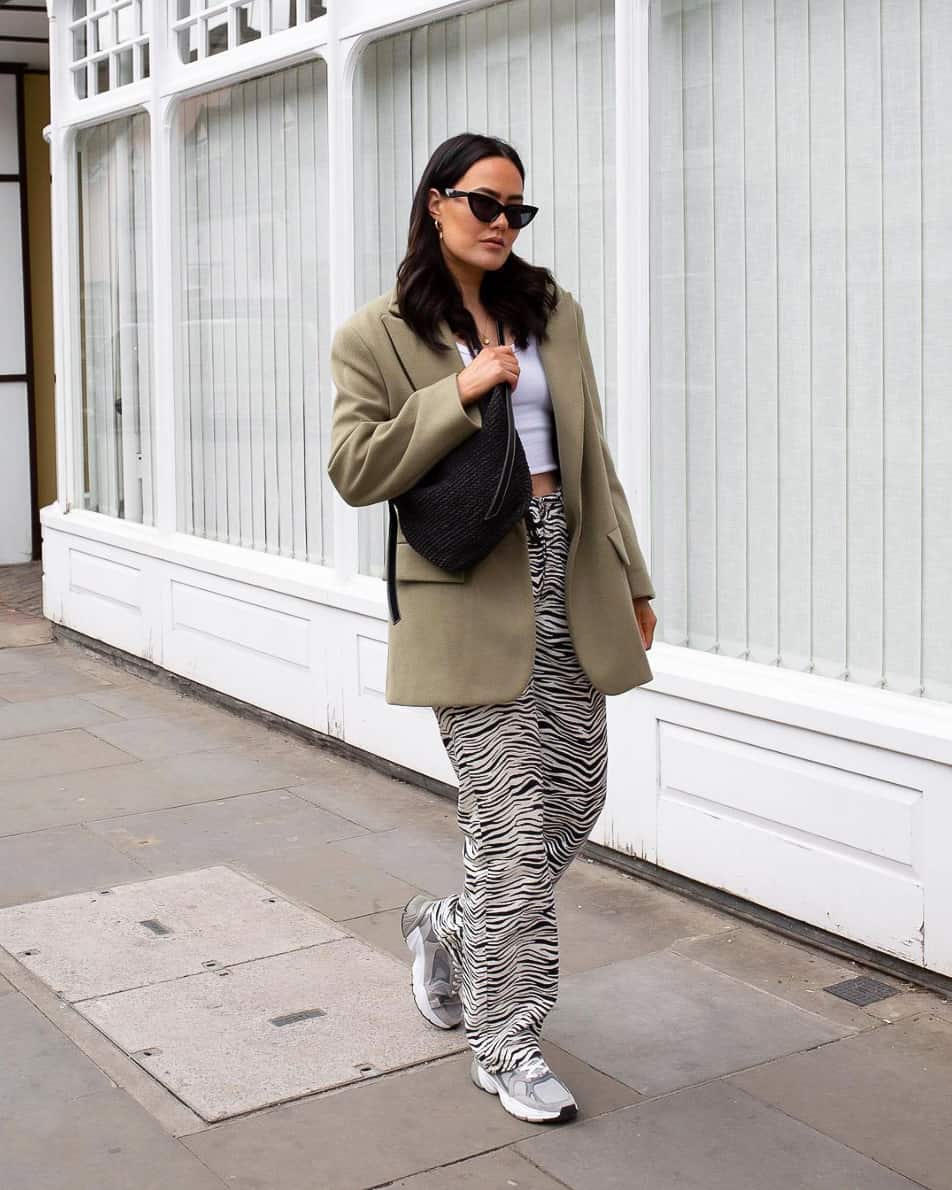 get the look:

Just because you're going for a laid-back look doesn't mean you can't make a statement! Wear an eye-catching pair of pants for a daring and playful outfit.
If zebra print isn't your style, don't worry! There are plenty of other bold styles that would work here. Try other animal prints, colored jeans, or another fun pattern like checkered, striped, floral, houndstooth, or polka dot.
What should a female wear to a comedy show?
Despite being a casual setting, women have countless options for what to wear to a comedy show! Here are some of our favorite looks that would be perfect to wear to a comedy club:
Jeans, classic tee, and low heels
Midi skirt, tank, denim jacket, and sneakers
Little black dress with ankle boots
Jeans, a graphic tee, and a blazer
Mini skirt, loafers, and a leather jacket
Statement top with black pants and pumps
Casual dress, blazer, and sneakers or ballet flats
While there aren't strict rules about what you have to wear to a comedy club, you should avoid wearing gym clothes and flip-flops. You also don't want to dress too formally since comedy clubs have a cool and laid-back atmosphere – so leave any cocktail dresses and ball gowns you have at home.
midi skirt + denim jacket
get the look:

A midi skirt has a casual yet chic vibe that's perfect for sitting around and cracking up at great jokes. Pair it with a denim jacket, and you definitely have a laid-back look that's perfect to spend the evening in.
You can easily add to the relaxed vibes by combining this duo with slip-on sneakers, a pair of boots, or strappy sandals.
blazer + casual dress
get the look:

A cute floral mini-dress is perfect for almost any occasion, so wearing this to a comedy show would be a great choice. Add an oversized blazer for an elevated look that still has a casual feel, and you've got a gorgeous outfit that you can wear to a comedy club and to grab dinner and drinks afterward.
You can wear low heels, boots, or even sneakers with this outfit. Add a handbag and some delicate pieces of jewelry, and you're ready for a good time!
Should you wear heels to a comedy show?
Heels are fine for a comedy show, just avoid stilettos as they can be challenging to walk in at dimly-lit venues. Instead, choose low heels, heeled boots, or wedges to wear in this setting.
Whether or not you wear heels really depends on how practical it is for you to do so. If you feel comfortable spending a few hours in heels and possibly walking around in them, then definitely rock some pumps on your night out!
However, if you think your feet will quickly tire or might even end up hurting from being in heels, then you should opt for sandals, boots, sneakers, or flats instead.
a 'going out' top
get the look:

A gorgeous going-out top is perfect for a stylish and classy look. You can wear a vibrant blouse for a playful and feminine outfit that's perfect for spending an evening out on the town.
We love the look of black jeans with this statement top, but you can pair a shirt like this with denim shorts, a midi skirt, or dress pants for a different aesthetic. For shoes, you can go for a simple and elegant pair of heels or an edgy pair of boots for a bolder look.
leather pants + sneakers
get the look:

Leather pants are stylish and edgy, making them perfect for a chic outfit that will have you standing out from the crowd. This piece is also incredibly versatile, so you can combine it with a simple top, a button-up, a graphic tee, and anything in between.
A bold pair of leather pants are perfect for a fall or winter evening since these pants will keep you warm and cozy throughout the night. And you can add on sneakers for a casual feel, boots if you want an edgy vibe, or heels for a refined look.
comedy club casual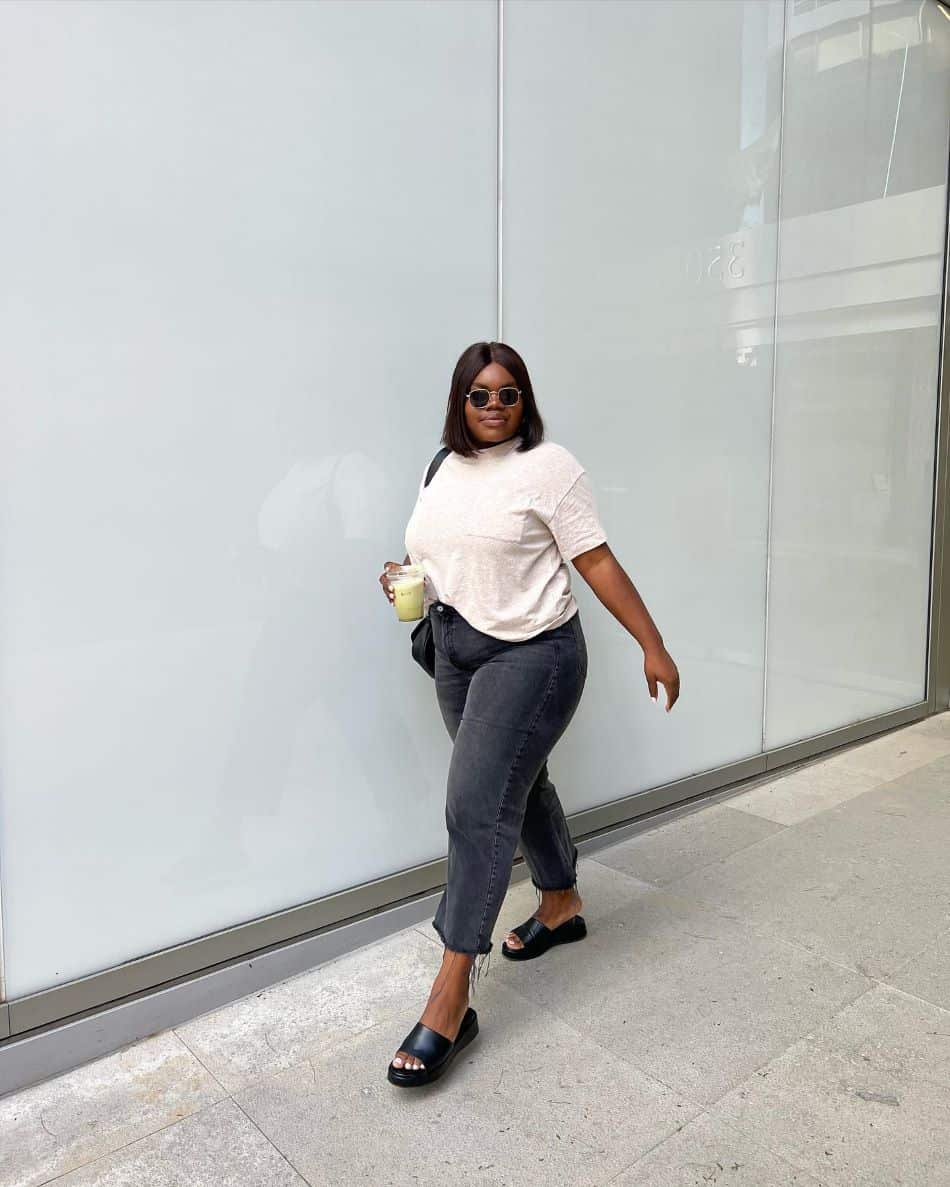 get the look:

We love an easy-going and comfy look like this. You can't go wrong with a classic pair of jeans and a plain tee. This is perfect for a laid-back look that will keep you comfortable all night. The neutral tones keep it chic, although you can easily add a colorful top, handbag, or shoes if you want to mix it up.
The sandals are also a fantastic choice for a casual look, so go for slide-on sandals like these if you won't be standing or walking much throughout the night.
Can you wear jeans to a comedy club?

Absolutely! Jeans are a perfect pick for a comedy club outfit as they are laid-back and easy to spend the night in, especially if you opt for a pair with a relaxed fit.
Jeans are also very versatile, so you can use them to create a look for any aesthetic or vibe you want. Plus, jeans work with any footwear, so you'll look great whether you go for classy heels or casual sneakers.
Their versatility makes them perfect if you have more than one spot to hit, so if you plan to see a comedy show and then hit a couple of bars after, these pants will be durable and comfy for the whole night!
leather jacket + loafers
get the look:

If you want an edgy piece to add to your comedy club outfit, a leather jacket is a fantastic choice. A leather jacket will elevate any look and add a bold feel to it. You can pair it with feminine pieces like the mini skirt here or opt to layer a leather jacket over jeans and a tee. Either way, a leather jacket will add a stylish touch to your outfit.
If you want to make sure you'll still be comfy, go for a leather jacket with an oversized fit so there's plenty of room for you to move around while at the club.
winter comedy club outfit
get the look:

You can definitely look chic while staying comfy and warm during a comedy show in the winter. Classic blue jeans and a sherpa-lined coat have the perfect blend of stylish and cozy, so these pieces are a fantastic combo to wear on a cold night out.
Make sure to wear a comfortable shirt underneath, in case you plan to take your jacket off in the club. If you're going out on a night that's colder than most, then you can add combat boots and even a beanie to this look for extra warmth and comfort.
Whether you want to wear jeans and boots or a skirt and sandals, there are tons of ways for you to style a gorgeous outfit that you can wear comfortably all night. Use this style guide as inspiration to find your perfect comedy club outfit so you can spend your night just enjoying the show!
More Style Guides You'll Love:
What To Wear To A Broadway Show + 8 Chic Outfit Ideas
11+ Elevated Happy Hour Outfit Ideas For Work & Weekend
What To Wear To The Ballet: 11+ Chic and Elegant Looks To Try
14+ Country Concert Outfit Ideas You'll Want To Copy