Looking for bold and playful 90s nails and 90s nail art? You'll love these 23+ 90s nail designs to inspire retro manicures in your life!
Stunning 90s Nail Designs
90s nails made their comeback in 2022, and this year we're sure to see more of the fun and funky patterns, vibrant colors, and unique pop culture nail art that this era is known for.
Not only do we love the nostalgic feel that 90s nails have, but we also can't get enough of the elevated and modern twists we are seeing on these retro designs.
We've rounded up our favorite 90s nail designs to show how easy it is to recreate these vintage-inspired manicures. The 90s had everything from colorful tie-dye to classic French tips, so we've got looks for everyone and every occasion!
What kind of nails were popular in the 90s?
The 90s had it all when it came to bold and trendy nails. There are tons of nail designs that evoke that retro vibe, and some of the most popular 90s nail trends were:
chrome or metallic nails
animal print
design collage nails
neon polish
bright red nails
chunky glitter nails
bright geometric patterns
jelly nails
classic French manicures
And, of course, 90s nail designs wouldn't be complete without some form of fun pattern painted on – smiley faces, flames, yin and yang symbols, flowers, and checkerboard prints were all part of what gave 90s nails their distinct look. Not to mention, these patterns were essential for those wild and edgy 90s grunge nails.
90s nail art was also a big hit as well, and pop culture was usually the subject matter. Popular characters from shows like The Powerpuff Girls and The Rugrats were featured on manicures, and even characters from retro games, like Mario and Pacman.
23+ 90s Nails To Try
So, without further ado, let's get into these stunning retro designs, and we'll show you how to add some 90s flair to your everyday looks!
Saved By The Bell Nails
Do you miss spending Saturday mornings watching the newest episode of Saved By The Bell?
These 90s nails are inspired by this beloved show, and the combination of bright colors, wavy lines, and abstract geometric patterns will instantly add a retro vibe to any outfit.
Pink Chrome Nails
Adding a shimmering chrome finish to your nail polish is an easy way to add that 90s feel to any manicure. We love how easy this look is to recreate, and even better, you can add a high-gloss chrome finish to any color you want!
90s Confetti Acrylic Nails
Confetti print is one of the best-known patterns of this era, and we love this elevated take on it. As far as 90s nail designs, this look will have you party ready in no time, so sport this stunning manicure for your next girls' night out.
Retro Goosebumps Inspired Nails
Goosebumps ruled the 90s with its iconic horror book series turned TV show, and its signature green slime definitely has a nostalgic feel.
Honestly, it's scary how much we love this nail design; and while it's a perfect look for Halloween, you can totally rock this retro manicure year-round.
Cotton Candy Ombre w/ Swirls + Sparkles
Swirls and sparkles are a classic in 90s nail designs, and we love these cute and feminine details paired with gorgeous pastel shades. These cotton candy gel nails are a great retro look to wear during spring or summer.
90s Inspired Neon Yellow Flame Nails
Two 90s nail trends are combined into one stunning nail look here. Neon colors and flame nail art are a perfect vintage combo, and while these nails are totally nostalgic, they still have a chic and modern feel to them.
Colorful Vintage Nails w/ Rainbow Swirl Accent
Mixing and matching bright colors quickly creates a 90s look, and the swirl pattern adds another retro touch to this manicure. These vibrant shades are perfect for the summer, and these nails will look great anywhere from a coffee date to a night on the town.
What was the most popular nail color in the 90s?
Light blue nails were, without a doubt, the most popular nail color of the 90s!
Alicia Silverstone, a fashion icon in the 90s, is credited with popularizing this gorgeous shade after an interview where she proclaimed her love for sky-blue nail polish by Hard Candy. After that, light blue polish became a staple for countless 90s nail designs.
Retro Tortoiseshell Mani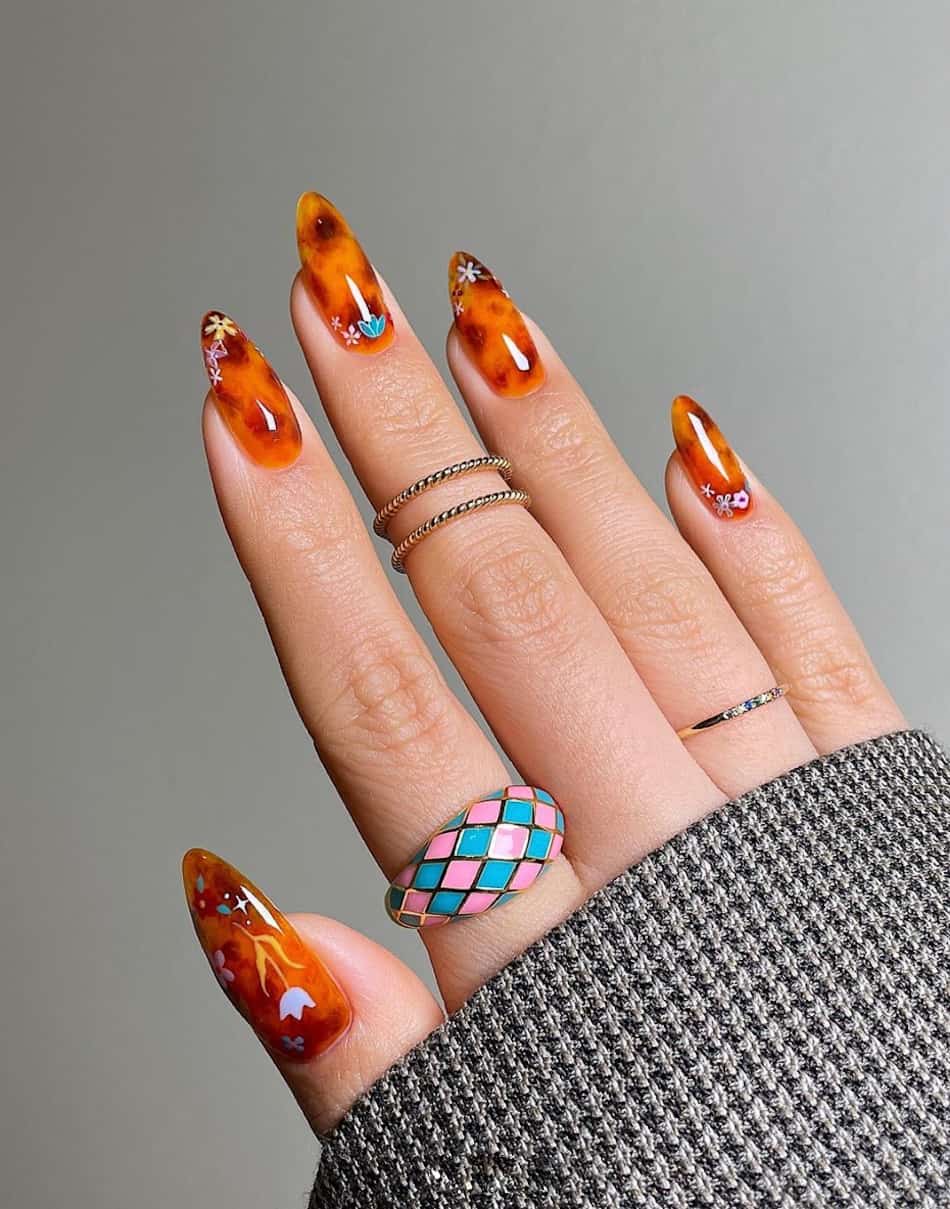 Did anyone make it through the 90s without owning some tortoise shell print?
This tortoise shell pattern was a staple in the 90s, and it instantly gives this manicure a vintage feel, while the flower details add a cute and playful feel.
Care Bear Nails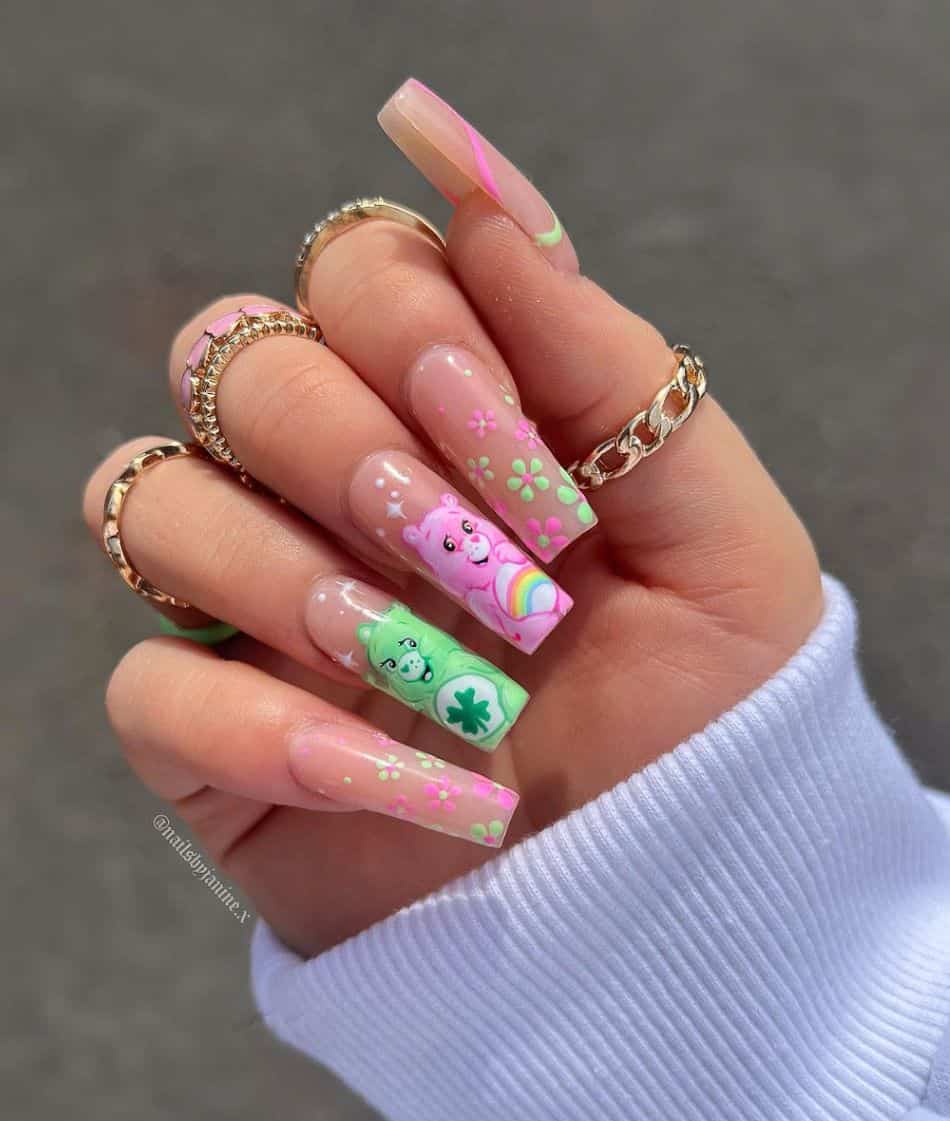 Even though Care Bears came out in the 80s, they were still all the rage during the 90s. These plushy bears were a top-selling toy during this era, so it's fitting to feature them in a retro nail look.
If you weren't a fan of these bears, don't worry! There are tons of other beloved 90s shows to inspire your next retro manicure.
Collage Manicure w/ 90s Nails Designs
Don't know which of the 90s nail designs is your favorite? You don't have to pick, you can choose them all!
Collage nails always have a nostalgic vibe, and we love that this nail design can be made with your favorite colors and patterns for a retro look that's all your own.
Neon Animal Print Nails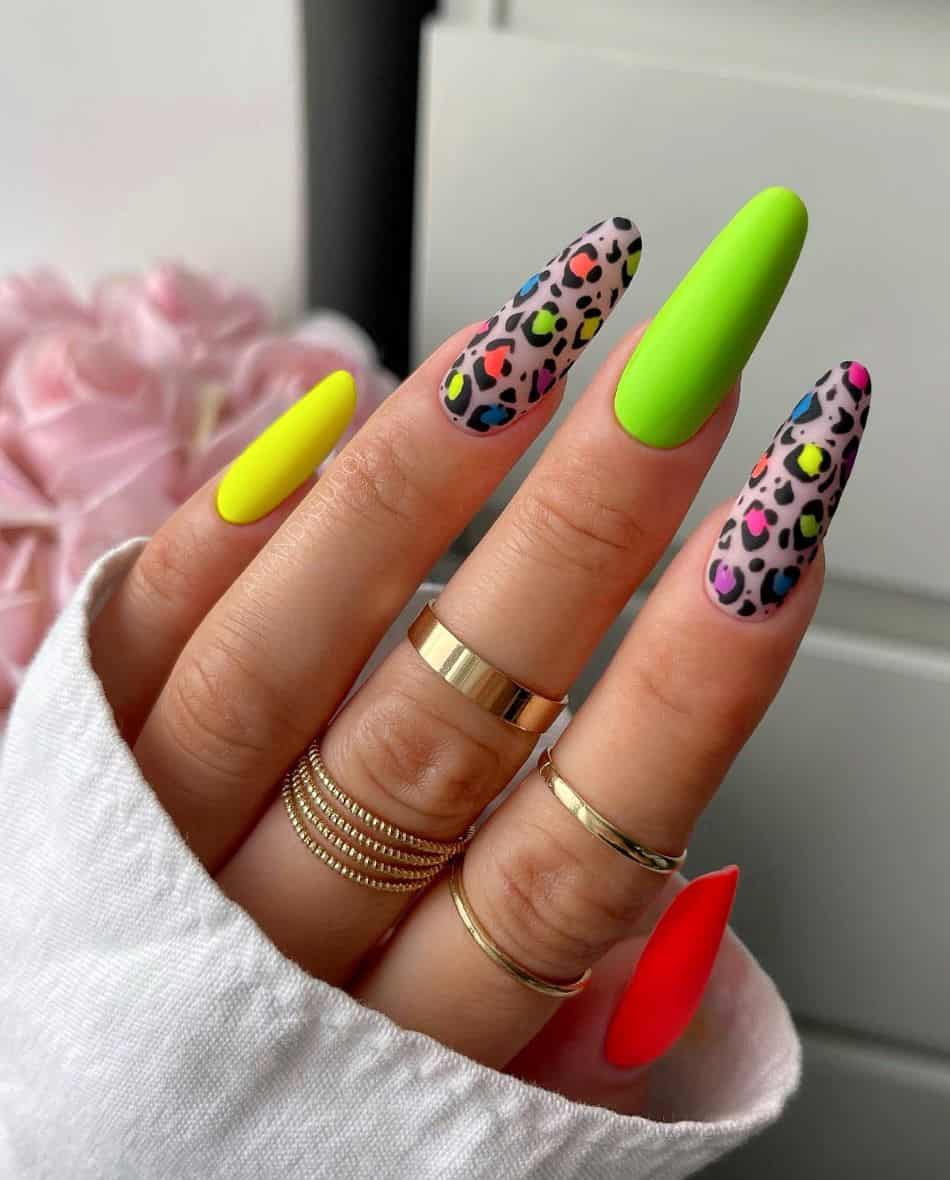 Rainbow animal print was a hot trend in the 90s (Thinking of you, Lisa Frank!), so naturally, a nail design with cheetah print and neon shades will be a perfect retro look.
Change things up by using zebra stripes or different colors, but no matter what, this design will definitely have a 90s feel.
Classic French Tips
Not all 90s nail designs are bright colors and wild patterns! French manicures increased in popularity during this era, so you can go for classic French tips on square or short squoval nails for a subtle retro look.
Chunky Retro Inspired Glitter Manicure
Chunky glitter was an easy go-to in the 90s, and glitter with different shapes and colors has even more of a retro feel to it. We love the versatility of this style because you can layer glitter over any color and instantly have a gorgeous and vibrant look.
Grunge 90s Nail Designs
Grunge fashion was a huge trend of the 90s and it became one of the most iconic styles of the era. The grunge look has a rebellious and carefree feel, and this manicure is perfect for anyone who prefers the dark colors and edgy patterns that come with this style.
Iridescent Retro Coffin Nails
These iridescent coffin nails are gorgeous, and you can add another retro touch by using gems to accent the nails. This 90s nail design can go from day to night in a flash, and it will definitely elevate any look.
Neon Girl Power Nails
Everything about this manicure screams retro. The hot pink and neon yellow, the cherry and heart nail art, and of course, the Girl Power text.
Give it a bolder feel with a glitter topcoat or sparkle details, and you've got the ultimate 90s nail look.
90s Smiley Face Manicure
A smiley face pattern is a simple 90s design that will add a playful touch to your looks. Adding smiley's over a clear coat gives this 90s look a modern feel, or paint them over a bright nail color for a more vibrant retro aesthetic.
Pretty Woman Nails
Rouge red nail polish was a hot pick in the 90s, and pairing it with a tortoise shell print gives this manicure serious retro vibes. These Pretty Woman nails are stunning, and a perfect 90s look for your next date night!
Pierced Jelly Nails w/ Silver Stars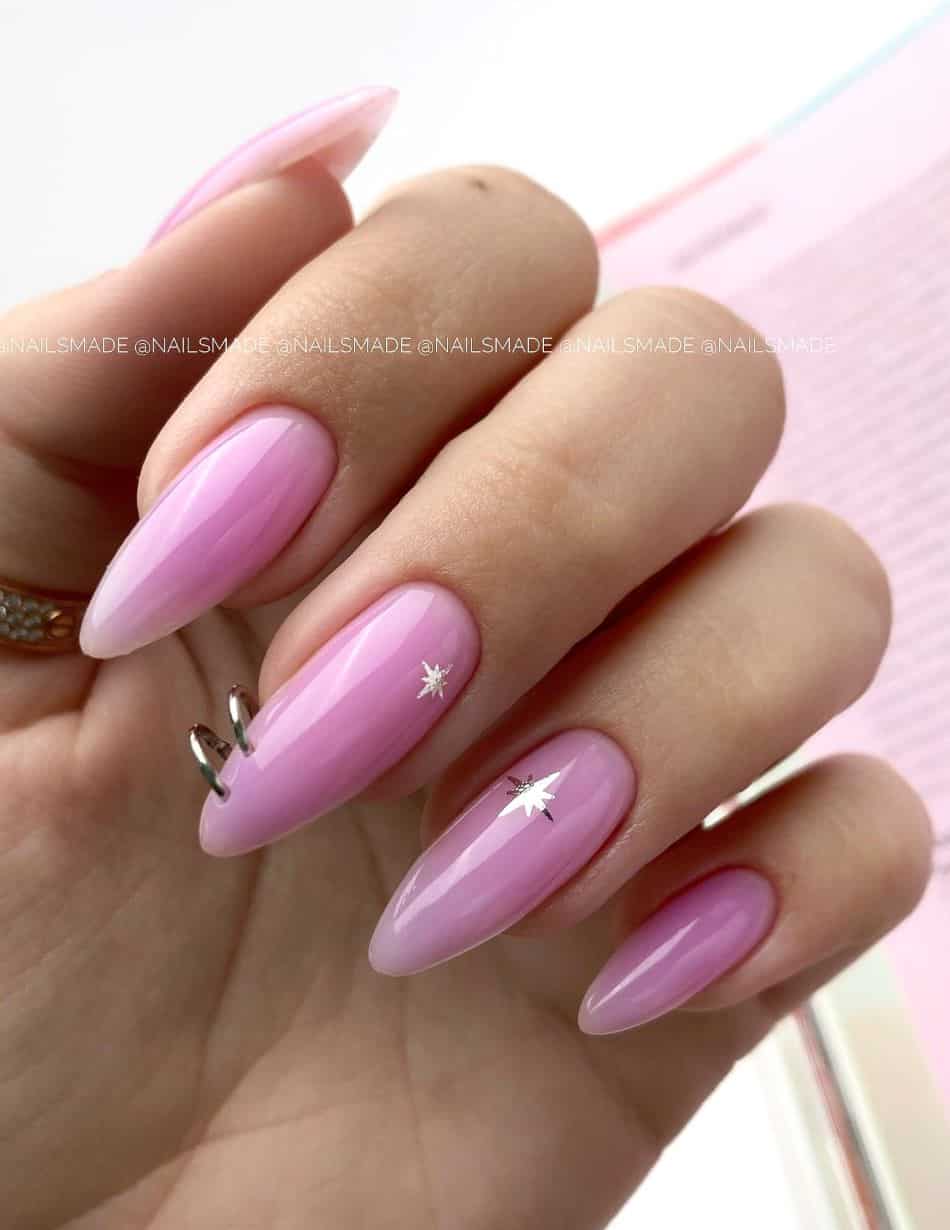 The 90s pierced nail trend is a bold and unique style that pairs perfectly with these pink jelly nails. This manicure has an undeniable vintage look, and you'll definitely be turning heads with this nail design!
Green Metallic Nails
We've added another metallic manicure for inspiration because we just can't get enough of this classic 90s look. Green chrome nails are bold and will quickly add a retro feel to your everyday looks.
Add some rhinestones or a fun pattern to elevate these 90s nails, or leave it as is for an effortless vintage manicure.
Tie Dye Nails
We can't forget about the tie-dye nails of the 90s. If you want a colorful and trendy look, tie-dye nails are the way to go. Whether you use pastel shades or vivid colors, tie-dye will definitely add a retro feel to your manicure.
Retro Pastel Waves + Black Speckles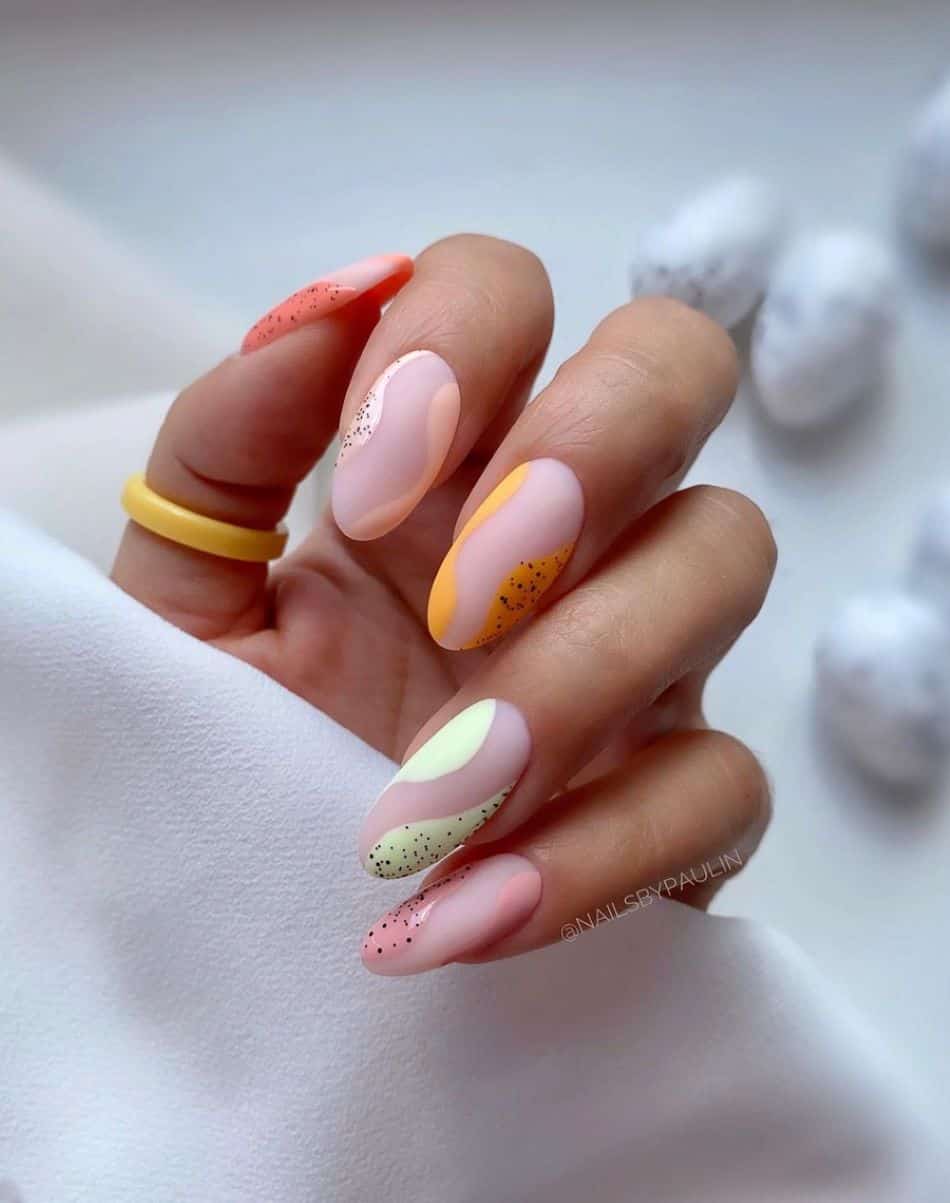 We love the matte finish on these 90s nails; they add a chic and modern feel to this vintage design. The pastel waves are an excellent choice for a 90s design, and the black speckles instantly elevate the look.
Pink Ombre Nails + Chunky Glitter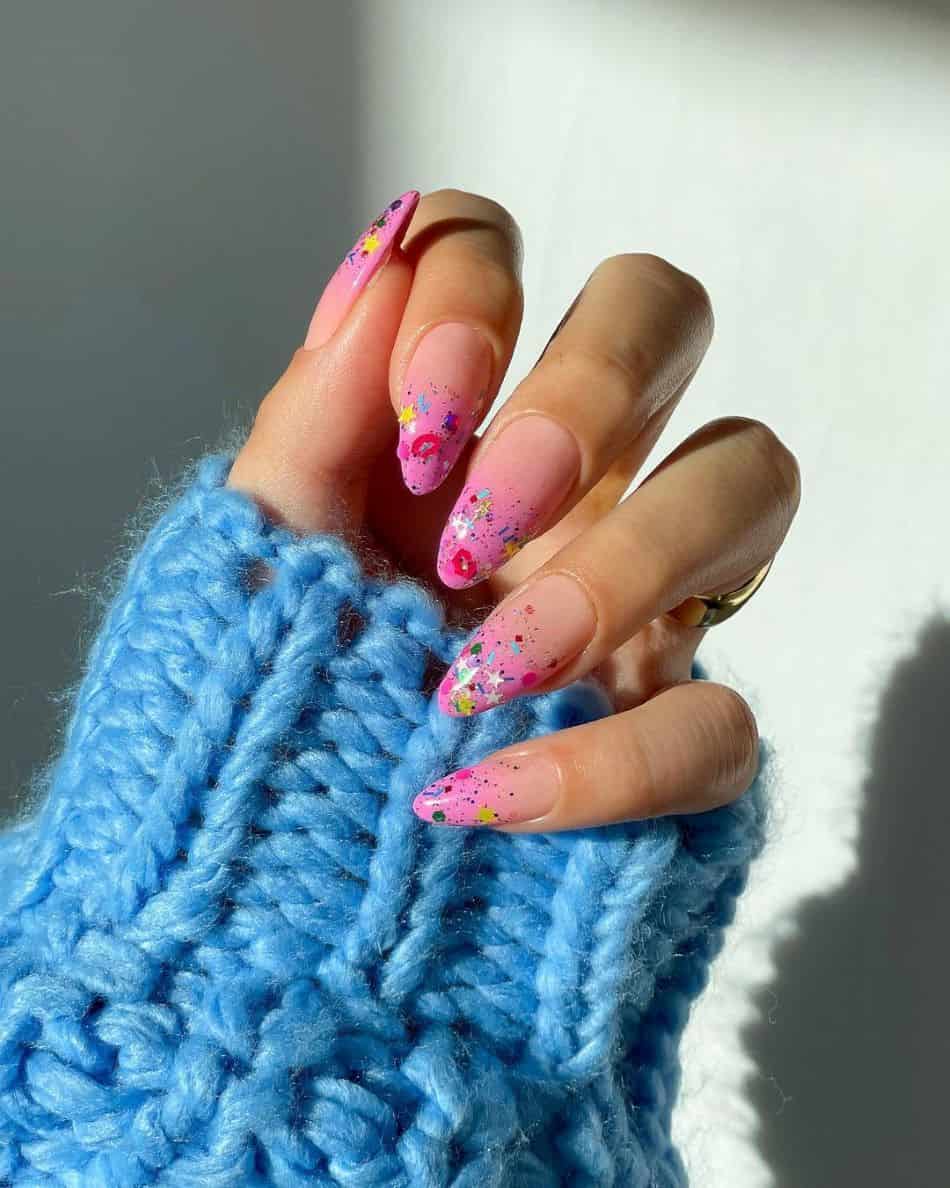 Ombre nails are one of our favorite 90s nail designs, and the confetti glitter transforms this manicure into a stylish retro look. Play around and have fun with this design; add a yin and yang sticker, paint on a lightning bolt, or add some flower details for a fun and youthful aesthetic.
When it comes to having a retro nail look, there are so many 90s nail designs for you to choose from. Whether you like classy French tips, a bold chrome look, or playful collage nails, there's no shortage of designs for you to try!
More Nail Inspiration You'll Love:
28+ Stunning Baby Blue Nails & Light Blue Nails To Try In 2023
25+ Gorgeous Green French Tip Nails You'll Love
30+ Gangster Instagram Baddie Nails To Obsess Over
21+ Nude Pink Nails & Nude Marble Nails
21+ Purple Ombre Nails To Copy in 2023
18+ 70s Nails That Have A Groovy Yet Elevated Vibe
21+ Perfect Periwinkle Nails for Spring & Summer
21+ Cow Print Nails That'll Make You Love This Viral Trend
Christal Sczebel is an entrepreneur, published author, and content creator. Over the past decade she has worked in the digital media field building successful websites for both food and fashion. She has a natural affinity for minimal, timeless fashion, neutral home decor, and styling.
Here on Style Your Occasion, Christal is the Editor-in-chief and brain behind the aesthetic. She hopes you love the this space and the inspiration you'll find!