Looking for chic pink and red nails or Valentine's Day nails? This list of red and pink nails has ideas for "Love Day" & any other day or occasion too!
Perfect Pink and Red Nails
Pink and red are a classic color pairing. This combo is a mix of sweet and feminine with bold and flirty, and these colors are set to be a trendy pair in 2023.
So, if you want to try a new color combo or you want the perfect manicure for Valentine's Day, don't worry because we've got your back!
We've searched for the best red and pink nails out there to inspire your next trip to the salon. Keep reading to see our absolute favorite manicures featuring rich reds and playful pinks.
21+ Pink and Red Nail Designs

We've gathered 21+ pink and red nails that are absolutely stunning. Take a look, and you'll surely find a gorgeous new nail design that you'll want to try!
Ombre Pink French Tip Nails w/ Hearts
We always love a french tip manicure, and these ombre pink french tip nails with tiny heart accents all over are so fun and flirty!
This manicure has a dreamy and romantic vibe that makes them perfect for Valentine's Day or your next date night. The pastel shades also make this a great nail design to wear during spring.
"LOVE" Coffin-Shaped Nails
These long coffin nails are so bold and stunning. We love how the contrasting colors alternate to create a unique, eye-catching effect.
This manicure is another fantastic choice for February, although we could easily see these vibrant nails being worn during an anniversary celebration too.
Two-Tone Slanted French Tips
The bright pink and gorgeous red used here work so well together. These vivid shades make a bold pair, making this manicure a definite attention grabber.
These nails are ideal for someone who prefers simple designs. Although, just because this manicure has a minimal look doesn't mean they have a minimal effect. These nails are both classy and alluring.
Square Red Nails w/ Wavy Line Accents
This deep shade of red has a refined feel, and it looks so vibrant paired with this pastel pink. We love the wave and splatter details across each accent nail. They add a playful touch to this chic manicure.
These beautiful nails are a great choice if you want a refined look. You could also change the shade of red to create a different aesthetic.
Light Pink + Glitter Red Nails w/ Hearts
We are always here for glittery nails, and red glitter nails are no exception. The combo of French tips and solid nails looks classy and timeless, while the tiny hearts add a cute and playful feel to these nails.
Make sure to try a gorgeous style like this the next time you go to dinner and a movie with your SO.
Light Pink Nails with Heart Details
This next manicure has a soft and romantic aesthetic that we absolutely adore. The light pink base and teeny tiny heart details create a dreamy feel that is perfect for your next couples' vacation!
We love the different shades of pink and red used for the hearts. You could also mix things up with this and go for a dark pink or red base with light pink heart accents.
Heart French Tip Nails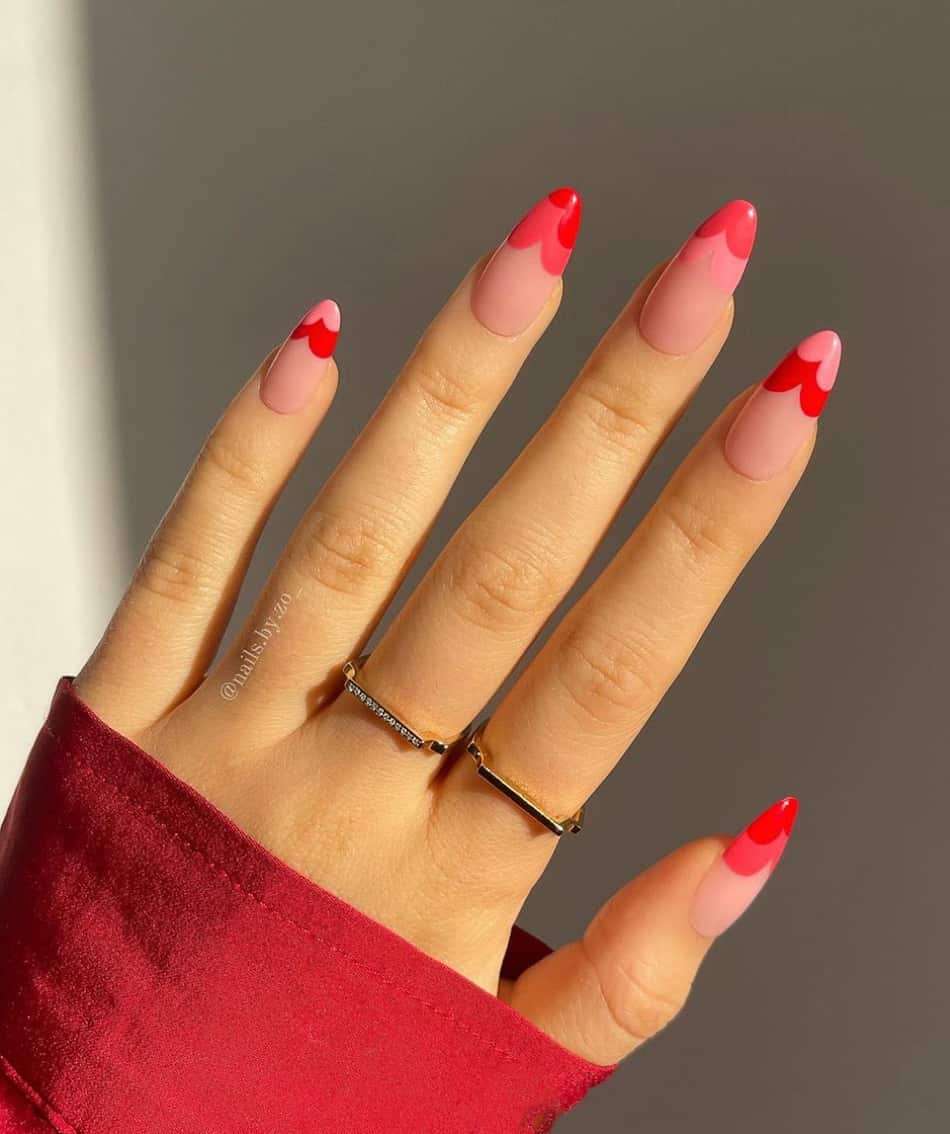 Pink and red make a gorgeous pairing for this manicure featuring heart-shaped French tips. These stunning nails are so intriguing and have a flirty feel that we love.
This adorable design would look so amazing on stiletto nails. These heart-tipped nails are an absolute must if you want a cute and classy manicure for Valentine's Day this year!
Square Nails w/ Pink + Red Waves
We're here for the cool and funky vibe of these nails. The waves and color combo give this manicure a retro feel we adore.
This laid-back and youthful look is definitely a fun way to try out the pink and red color combo. Wear them for your next girls' night out to add a vibrant and playful touch to your look.
Pink + Red Nails w/ Wave Accents
The bright red and baby pink polish on these nails are so gorgeous. We love the colorful wavy lines on both accent nails and how they add a flirty touch to a classy and modern manicure.
The white detail and bright shades make these nails so vibrant and eye-catching. This red and pink nail design would be perfect to wear to your next weekend brunch day.
Polka Dot Pink & Red Nails
We love the pairing of a cute and playful pattern like polka dots with the bright and vibrant red and pink used here.
Polka dots are a classic print, adding a fun and youthful touch to this look. Paired with the vivid shades of pink and red, this manicure is charming and alluring. This lovely manicure definitely has a summertime feel, making it perfect for those beach trips during warm summer days.
White Nails w/ Pink + Red Leaf Art
Botanical patterns always look chic and elegant in a manicure. This leaf nail art paired with the bright, crisp white base is a perfect combo.
We love seeing the red and pink used here instead of the standard green. This nail design would look amazing on any nail length or shape, and the red and pink leaves make this a perfect look for fall.
Gradient "LOVE" Nails
Pink and red are a match made in heaven for a gradient color nail design. These chic nails have a cute and feminine feel, and the LOVE written across each nail makes them an excellent choice for a flirty Valentine's Day nails look.
We love how these gorgeous pink and red ombre nails have a modern design that looks classy but still has the playful touches of the letters and hearts. It's a great mix of refined and charming.
Abstract Nails w/ Gold Hearts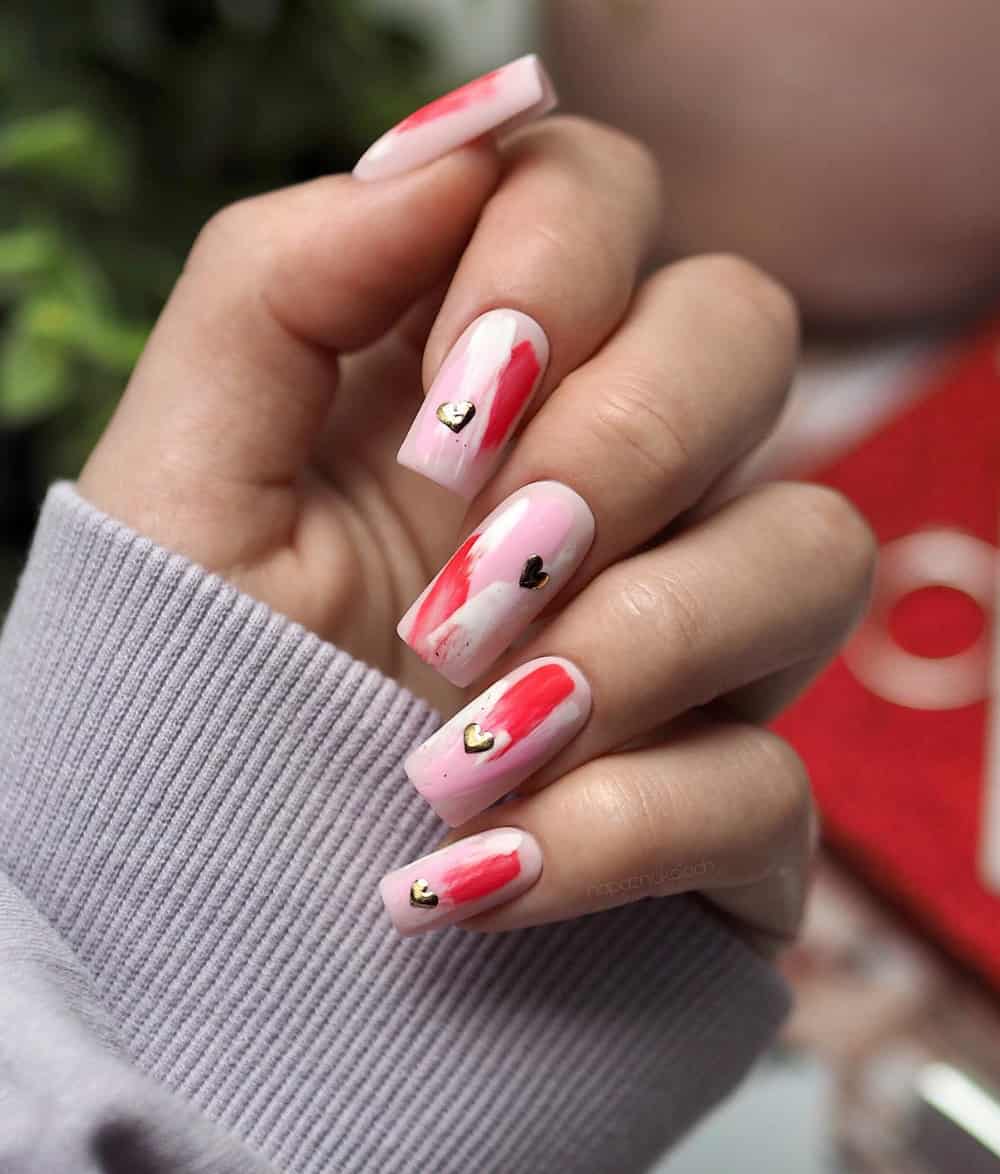 This beautiful manicure is a great pick for any abstract art lovers. The manicure has a casual chic feel from the abstract designs, while the gold heart accents make this look so captivating.
While these nails would be a fantastic pick for V-Day, they have a vibrant and playful feel that would make them an amazing look to have year-round.
Classic Pink Manicure & Red Hearts
We love a cute and flirty baby pink manicure, and the red hearts along each nail elevate this simple design and make it so gorgeous and chic.
The minimal design of these gel Valentine's Day nails is perfect for a subtle look for date night or your next anniversary. The light pink makes this manicure a good choice for some adorable springtime nails.
Groovy Checkered Nails w/ Daisies
We are so in love with these funky retro nails. The pink and red checkered French tips are feminine and bold, and the daisy details add a unique touch to this manicure.
These nails are so youthful and vibrant, perfect for showing off your fun-loving personality. Wear these to your next night out with friends, and it's sure to be an attention grabber.
Pink Nails + Strawberry Accents
These stunning nails have a cottage-core aesthetic, and we're here for it. This is definitely a perfect look for a picnic date at the park during spring or summer.
This bold hot pink is a perfect color to pair with strawberry red, and the vibrant colors make this manicure so captivating.
Pink + Red Nails w/ Abstract Nail Art
This manicure was meant to be worn to the opening of a new art gallery. This nail design has a sophisticated and elegant feel that we can't get enough of.
We love the look of the classic manicure paired with the modern abstract art design. The deep red and blush pink look so stunning together, and the white and black accents make this manicure so alluring.
Retro Nails w/ Cherries + Black Accents
Here's another retro look that we absolutely adore. We love the unique look of this manicure with different designs on each nail. The combination of waves, checkers, cherries, and eight balls makes this design so dynamic and mesmerizing.
These nostalgic nails have a fun and bold design that will match any adventurous and fun-loving personality. Wear these for a night on the town or on your next weekend girls' trip.
Red + Pink Comme Des Garcons Nails
This design adds a playful twist to the classic heart-patterned nails. The soft pastel pink looks so chic, and the Comme Des Garcons accents are a cute addition to this manicure.
These gorgeous nails are a perfect choice for women who want to show off their love of fashion.
Red & Pink "XOXO" Nails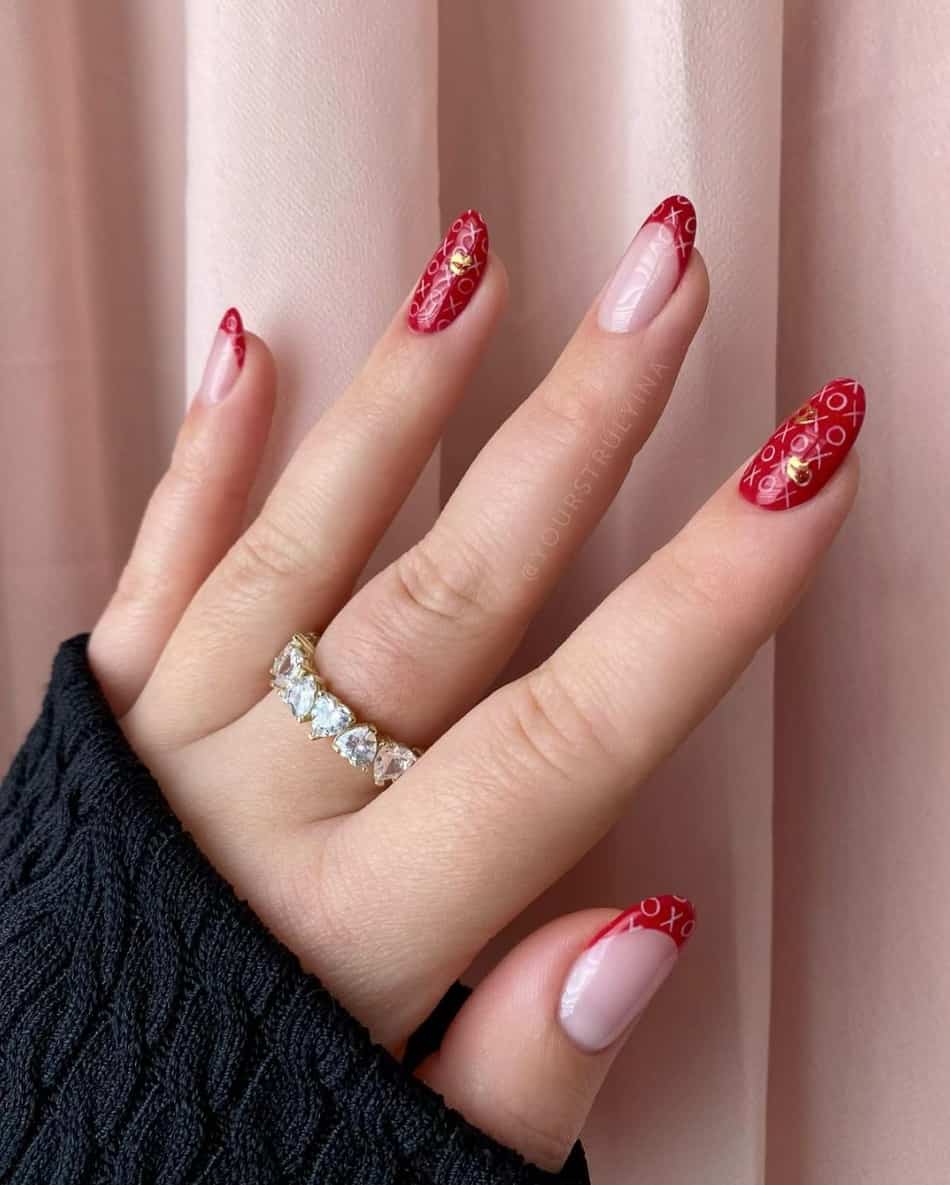 We are in love with the glamorous and high-end look of these Valentine's Day nails. The XO pattern paired with the gold lip accents completely elevates this nail design and gives it a luxury feel.
The deep shade of red and the nude pink are also a stunning combo. This manicure is definitely one of our favorite picks for Valentine's Day nails.
Shimmering Nails with Heart Accent
Finishing up, we have these beautiful shimmering pink and red nails. This manicure has a fun and flirty vibe, and the gorgeous glitter details and heart accent add another playful touch.
This is a perfect nail design for V-Day, but this manicure is versatile enough to wear throughout the year.
What do pink nails symbolize?
Pink nails symbolize femininity and have a playful and romantic feel to them. Whether you wear hot pink or a soft blush, this cheery color adds a youthful and vibrant touch to any look.
Do red nails look classy?
Red nails are absolutely a classy and timeless choice. This gorgeous color is bold and romantic, a perfect combo for elegant and eye-catching nails. Another plus, red nails stay trendy year after year because they're a classic choice that looks chic and polished every time.
Pink and red are an amazing, fashionable color combo. This pairing will always look chic, and you can create so many different designs with them. We hope you were inspired by these stunning pink and red nails and Valentine's Day nails and have found the perfect look for your next salon visit!
If you want more pink and red inspiration, don't miss this list of chic pink and red outfit ideas!
More Nail Inspiration You'll Love:
23+ Classic Pink and White Nails + Cute Pink and White Nail Designs
21+ Stunning Mauve Nails With A Feminine & Youthful Vibe
30+ Gangster Instagram Baddie Nails To Obsess Over
17+ Gorgeous Sage Green Nails To Inspire Your Next Manicure
18+ 70s Nails That Have A Groovy Yet Elevated Vibe
21+ Chic Neutral Nails For A Classy, Minimal Aesthetic
21+ Cow Print Nails That'll Make You Love This Viral Trend