Are you in the market for a Hermes Birkin bag? Finding the perfect Birkin bag just got easier with our guide on everything you need to know about Birkin bag sizes!
*this post contains affiliate links*
Hermes Birkin Sizes 101
Hermes Birkin bags are stunning high-end handbags that we can't help but be obsessed with. They are seen on celebrities and fashion influencers alike, and have achieved an iconic status.
As a matter of fact, most people simply dream of owning a Birkin, but few are lucky enough to find one in their hands. That being said, if you are on the search for your very first Birkin bag (or as a gift for a loved one) and want to know more about Birkin sizes, we've got the low-down.
Read on to learn all about the Hermes Birkin sizes and which one is best for you!
shop Birkin bags:

What are the sizes of Hermes Birkin bags?
This iconic and gorgeous bag is sold in 4 different sizes: Birkin 25, Birkin 30, Birkin 35, and Birkin 40. These bags are named based on their length in centimeters (but don't worry, we'll break down the measurements in inches too!).
Additionally, Hermes occasionally releases limited-edition sizes. Whether you're looking for an everyday elegant tote or a luxurious bag to bring to the office, Hermes will have the perfect Birkin bag for you.
Below is a foolproof guide on the four Birkin bag sizes. And, we'll fill you in on their dimensions, plus help you find the best Birkin bag to meet your needs.
What size Birkin is most popular?
The Hermes Birkin 30 is the most popular size of these gorgeous, iconic handbags. This luxury tote is lightweight enough to carry around all day and has enough space for everything you need. It can be carried on your forearm or used as a handbag.
At 30 cm in length and 22cm in height, Birkin 30 bag is perfect for everyday use, fitting all the essentials such as keys, a wallet, and your phone plus extra space for a scarf or makeup bag.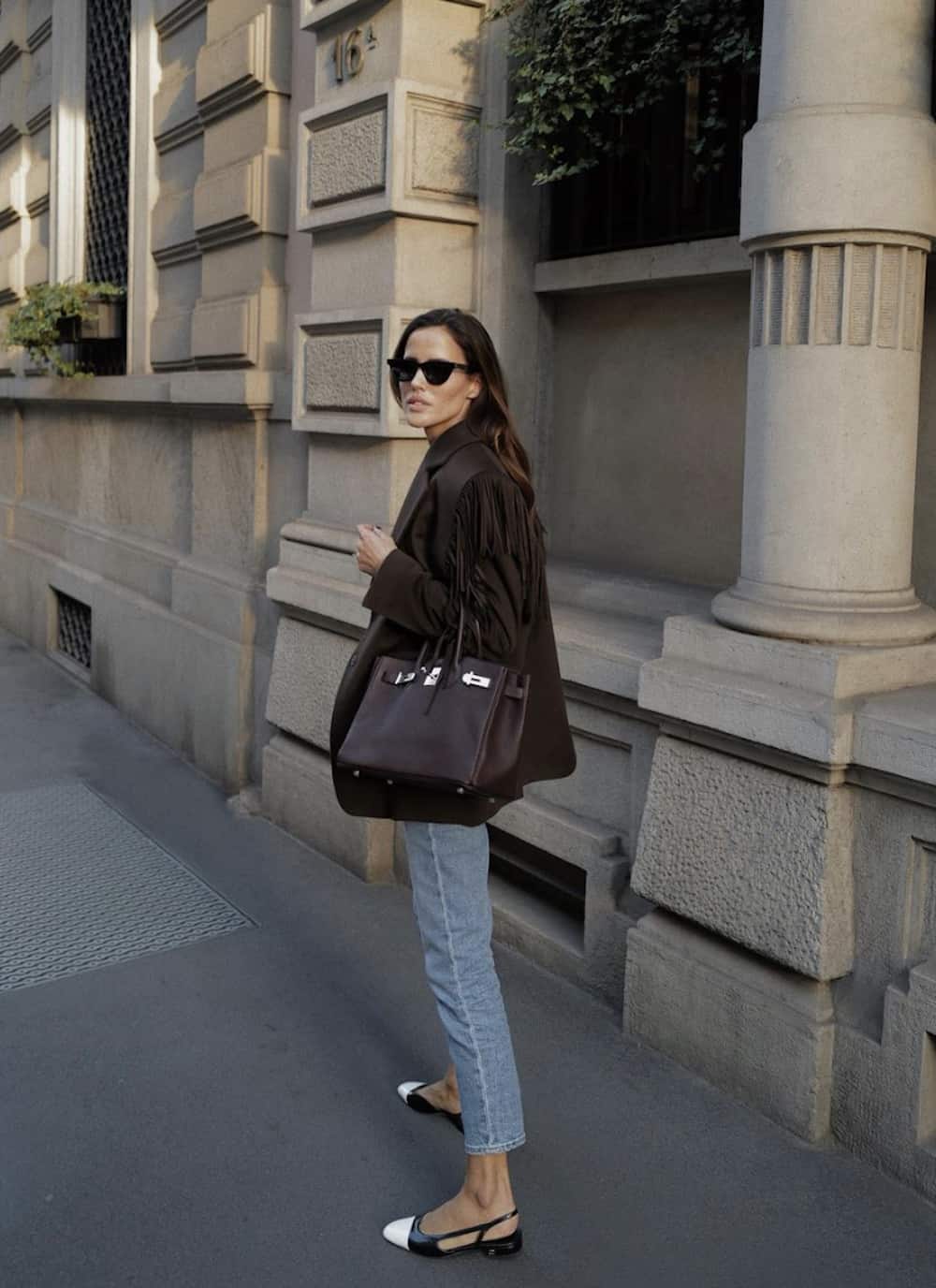 How big is a Birkin 35?
The Birkin 35 measures 35cm in width, 25cm in height, and 18cm in depth (13.5″ x 10″ x 7″). It is a medium handbag that is about the size of a small laptop.
What's great about the Birkin 35 is that it will fit everything you need to carry with you, and it still has room for some more. On top of your essentials, you can fit a water bottle, a book, or even an iPad.
Is Birkin 25 small?
Birkin 25 is the smallest of the Birkin bags, except for their rare, limited edition mini bags. Measuring 25cm in width, 20cm in height, and 13cm in depth, this chic tote considered to be quite small.
While a minimal size, the tote is still a great choice for anyone looking for a bag to carry just their daily essentials. The Birkin 25 can fit your phone, wallet, and keys and has just enough spare room for lipstick or some hand cream.
Hermes Birkin Sizes Comparison
Birkin bags are handmade from leather and have striking palladium or 18-carat gold hardware. They have a sophisticated and minimalist design that gives them a clean and versatile look.
Each designer handbag has a classic flap on the front, a front lock with keys, and metal feet to keep the tote standing. You can buy your Birkin bag in either rich colors or neutral hues.
It's honestly no wonder why this beautiful bag is constantly in demand. So that brings us to the real question. Which Birkin bag size is best for you and your lifestyle?
Learn more about each Birkin bag, compare their sizes, and find the perfect piece to add to your closet below!
Birkin 25
The Birkin 25 bag measures 10 inches wide, 8 inches high, and 5 inches deep with a handle drop of 4 inches. This handbag is a great choice if you're looking for a small lightweight bag to carry your most important items.
great for evenings out and daily activities
can carry phone and wallet
great for minimal essentials (lipstick, keys, etc.)
The Birkin 25 is perfect to use as an everyday bag when you want to carry light. You'll be able to fit your most important items like a phone, wallet, and keys.
Additionally, you can add in a small planner for when you're running errands or the perfect lipstick for a girls' night out.
shop Birkin 25:

Birkin 30
It's easy to see why the Birkin 30 is the most popular Birkin size. At 11.5 inches wide, 9 inches high, and 6 inches deep, this bag is easy to carry but allows for plenty of versatility.
can fit a tablet or book
great for day-to-day activities
can carry phone, wallet, snacks, and small water bottle
Just like the Birkin 25, you can easily fit all your daily essentials into this purse. But if you tend to carry a little more than the basics, then this bag size would be the ideal option for you.
You'll be able to add in a small makeup bag to bring with you on long days, or a small book to keep you entertained. This bag size also has a 4-inch handle drop and can be carried on your forearm or as a handbag.
shop Birkin 30:

Birkin 35
The next size is the Birkin 35. If you're looking for a stylish Birkin bag to bring along on a day trip, this may be the best size for you. This bag size measures 14 inches wide (35cm), 10 inches high (25cm), and 7 inches deep (18cm), with a handle drop of 4 inches.
can fit a small laptop or tablet
great for day trips
can carry phone and wallet along with water bottle or make-up bag
perfect as a work tote
Like the other sizes, you can bring your everyday carry items along in the Birkin 35. But in this size, you can add in a water bottle, a makeup or travel bag, and a book, making it a great tote bag for short day trips or long commutes.
A Birkin 35 can also be used as a chic work bag since you can keep a small laptop or tablet in it.
shop Birkin 35:

Birkin 40
And finally, we have Birkin 40. This style was the first Birkin bag that was designed for Jane Birkin herself. The Birkin 40 is the largest on our list, at 16 inches wide, 12 inches high, and 8 inches deep. The handle drop is slightly larger at 4.5 inches.
can fit a laptop or tablet
great for travel
can work as a diaper bag
fits everything you need
The Birkin 40 is not as popular as the others when it comes to being used as an everyday bag. But this size has so many practical applications that it makes a perfect addition to any wardrobe.
This original style Birkin can fit everything you'd need in a day, from a notebook to a laptop to a bag for accessories or travel items. You can use the Birkin 40 as a briefcase, a travel bag, or a chic baby bag just like Jane Birkin wanted.
shop Birkin 40:

How do you buy a Birkin bag?
Birkin bags are an exclusive product and can be difficult to find and buy. They typically can't be bought directly from a Hermes store or even from their website.
This designer handbag usually has a waiting list for those hoping to snag one, since they are produced in limited amounts. If you can manage to get your name on the list, you have to wait for them to call you.
You can try your luck at high-end consignment stores that sell luxury bags, or you can search for a Birkin online.
Where can I get a Hermes Birkin bag?
If you're ready to buy one of these exquisite bags, a great place to look is through online consignment retailers. Some of the most popular websites where you can look include Fashionphile, The Real Real, Rebag, and Vestiaire Collective.
Of course, when you shop for a designer bag secondhand, make sure that they are selling authentic handbags. The sites mentioned above are well-known for being trustworthy as well as having a great selection of gorgeous pre-loved Birkin handbags.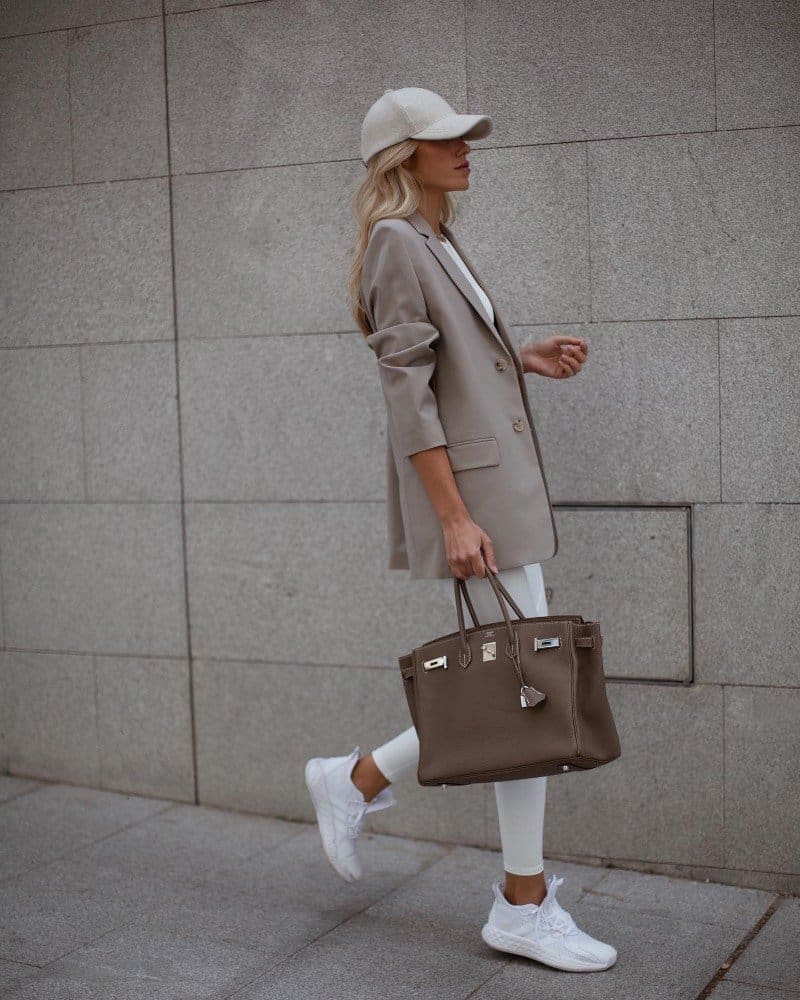 Final Notes
When trying to decipher the perfect Birkin bag size for you, it's important to assess your daily lifestyle. And, consider where you plan to bring the bag.
For example, if you want a small decorative tote to take to fancy events, go with the Birkin 25. Or, if you need a tote for day to day living, opt for the 30 or 35. For travel, you'll want to consider the 40.
Whichever size you go with, you'll be making a worthwhile investment as Hermes bags are known to appreciate in value over time, and are always in demand!
More Designer Style You'll Love:
Honest Jenni Kayne Review: The Pros & Cons You Need To Know
Incredible Khaite Dupe 3-Ways: Maddy Top, Scarlet Cardigan, Jo Sweater!
6 Amazing Hermes Sandal Dupes: A Très Chic Look For Less!
15+ Old Money Brands (& Which Ones Are Actually Affordable!)
Christal Sczebel is an entrepreneur, published author, and content creator. Over the past decade she has worked in the digital media field building successful websites for both food and fashion. She has a natural affinity for minimal, timeless fashion, neutral home decor, and styling.
Here on Style Your Occasion, Christal is the Editor-in-chief and brain behind the aesthetic. She hopes you love the this space and the inspiration you'll find!