Wondering what to wear in New Orleans? Or, what to include in your suitcase for an upcoming trip to The Big Easy? Get inspired with these chic New Orleans Outfits and a 4-Day packing list for your adventure.
*This post contains affiliate links*
get the look:

What To Wear In New Orleans 2022
You might have heard that a New Orleans vacation is similar to traveling to Vegas or Miami, at least as the party scene goes. While New Orleans is all about having a good time, there are some things you'll need to consider.
New Orleans sees hot and humid weather up to 5 months out of the year. Many of the festivals, including Mardi Gras, take place during those warmer months.
You'll want to be sure you are prepared for both rain and sunshine, but mostly, some pretty intense humidity when it comes to your New Orleans outfits! Light layering pieces like a tank top and t-shirt dress is perfect for the warmer, summer months, while a light jacket is ideal for a cool night.
get the look:

How To Dress In New Orleans
New Orleans is a casual city with a fun vibe. You don't have to dress-to-the-nines everywhere you go, but you can spice up your style for the nightlife and parties.
In the daytime, casual and comfortable clothing is perfect for sightseeing and exploring the city, while night is a great opportunity for glitz and glamour. Read on to learn more about how to dress when visiting The Big Easy!
What is the dress code in New Orleans?
To put it simply, there really isn't a set dress code in New Orleans. Anything goes! But, there are a lot of different things to do in New Orleans. So, for comfort and style you'll want your New Orleans outfits to match the activities accordingly.
Sightseeing in New Orleans, you'll find many women wearing some form of cute, casual outfit. Sun dresses, shorts, jeans, tank tops, and skirts can all be seen lining the historic districts.
The most important part of your sightseeing outfit is your shoes. Flats and sneakers will be your very best friend on this trip. Choose comfort over everything, and you'll be a happy traveler.
get the look:

What do people wear to bars in New Orleans?
When it comes to bars, you'll see people wearing a variety of outfits in New Orleans, depending on the time of day and the type of bar. Most of the bars line Bourbon Street and are pretty casual.
During the day, a cute, casual outfit and sneakers is perfect. At night, you can take it up a notch with a fun dress or skirt and lower block heels.
If it's Mardi Gras, sequins are your friend! Tourists and locals alike tend to go all out for the Mardi Gras festivities. A fun sequined dress or skirt is perfect for waving at the krewe members atop the extravagant parade floats.
get the look:

What should you not wear in New Orleans?
High heels or pumps, as well as heavy clothing. Here's why: New Orleans is one of America's oldest cities, meaning cobblestone lines many of the streets that tourists flock to each year. Cobblestones and heels are not a good match and can make walking challenging and cause a fall.
They are not the best option to wear anywhere in New Orleans, much less down Bourbon Street or walking through the French Quarter. If you want height, opt for low heels or wedges instead!
Additionally, New Orleans is quite hot and humid much of the year, so opt for lightweight clothing, and light layers, and leave heavy jackets and clothing at home.
New Orleans Outfits
Looking for some specific outfit inspiration? We've got you covered. Here are four perfect outfits to rock the streets of The Big Easy.
1. Mardi Gras Outfit
shop the look:

Mardi Gras is a two-week festival in New Orleans with music, drinks, dancing, parade floats and incredible costumes. Basically, it's an absolute party.
As stated before, you'll want to get all dolled up in a sequinned dress or midi skirt. Green, yellow, and purple are three great color ideas, as they symbolize the Mardi Gras season, and you'll see a lot of people sporting these colors.
Make sure to keep your footwear comfortable and your accessories minimal! You'll want to be hands free to catch candy (and shoes) during the exciting parades.
shop Mardi Gras outfits:

2. Nightlife Outfit
shop the look:

We said it once, and we'll say it again— New Orleans is hot! It's even hotter when tourists are all dancing and drinking in Bourbon Street bars.
If you're hitting the town in New Orleans, we suggest an elevated, yet casual look. A sweetheart tank top tucked into a patterned mini skirt is the way to go.
To create more of a nighttime look, add gold jewelry and block heels. You'll be chic and put together, without sweating the night away.
3. Sightseeing Outfit #1
shop the look:

There is tons of sightseeing to do in New Orleans. In the French Quarter particularly, there are historic buildings, beautiful cathedrals and gardens.
For this type of sightseeing, especially visiting the cathedrals, we recommend a casual and modest look. A midi dress with sneakers will have you looking chic and respectful anywhere you choose to visit!
A light jacket might also be necessary to cover your shoulders, or keep you warm in the cooler months.
4. Sightseeing Outfit #2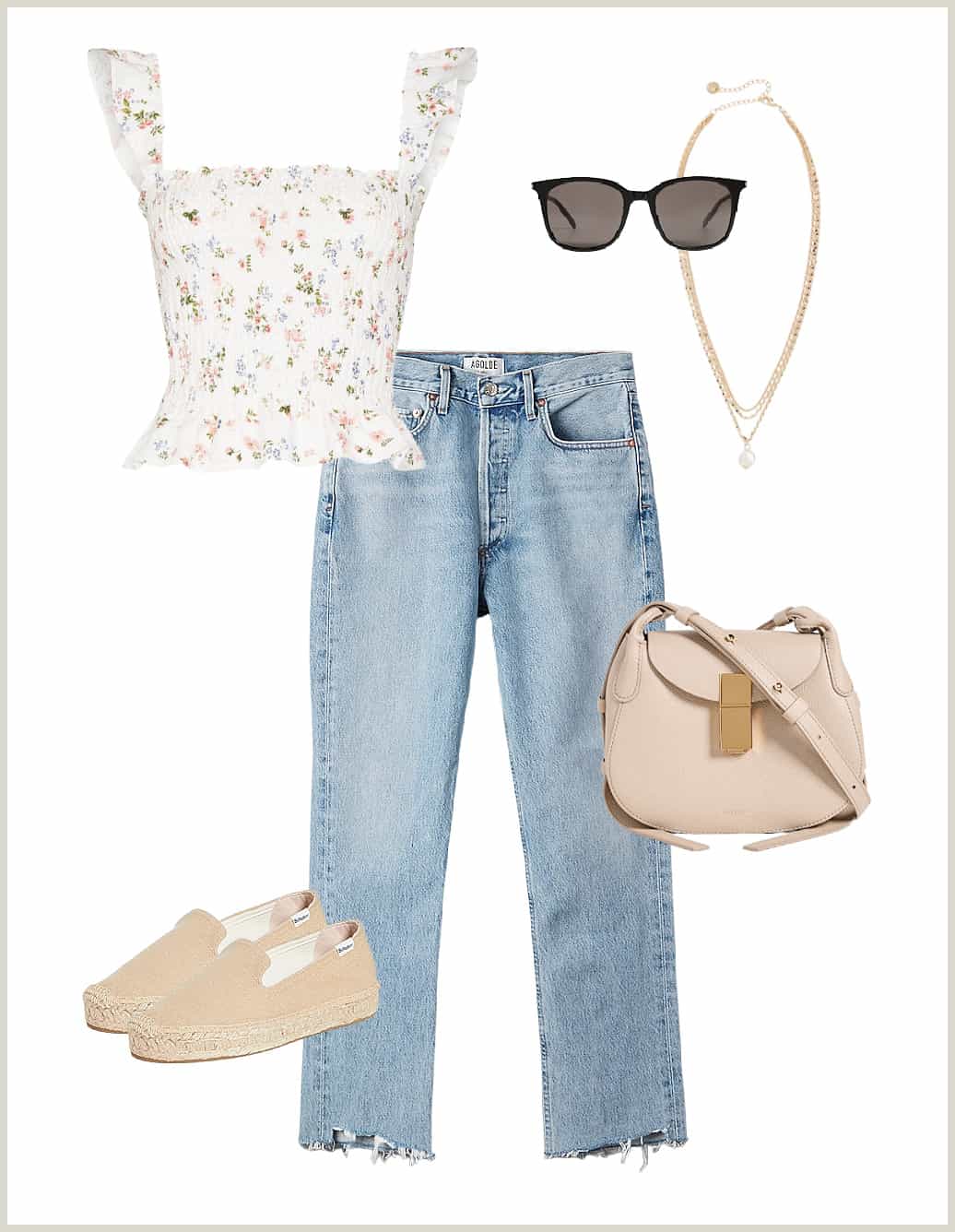 shop the look:

Magazine Street and various museums are also popular sightseeing spots in New Orleans. If you are going to be visiting these types of attractions, jeans and a tank top are a perfect idea.
Throw on some espadrilles and a pair of sunnies and you're ready for all that the shopping and museum districts have to offer.
If it's a really hot and humid day, opt for white linen pants instead of jeans or throw on a pair of shorts!
get the look:

Don't forget to pack a swimsuit if you are heading to New Orleans in the hot and humid months. Especially if your hotel or resort has a pool. It's a perfect way to cool off after a day of exploring.
Pro tip: Pack a simple black one-piece swimsuit as it can double as a bodysuit when worn with pants, shorts, or a skirt!
What should I pack for 4-days in New Orleans?
When you are heading to New Orleans for a 4-day vacation you can pack quite minimally, depending on the activities you'll be doing. Below is a great list to get you started.
1-2 midi or mini dresses
1 sequinned dress or skirt (for Mardi Gras)
1 pair jeans (swap for linen pants in hot/humid months)
1 midi or mini skirt (or a pair of shorts)
2-3 tank tops
swimsuit (if your hotel has a pool)
1 lightweight jacket (jean jacket or rain coat)
1 pair comfortable sneakers
1 pair low block or wedge heels
1 pair espadrilles or sandals
sun hat or baseball cap
sunglasses
dainty jewelry (leave expensive jewelry at home)
crossbody bag/purse
You can adjust this list depending on where you'll spend most of your time, and how much walking you'll be doing.
shop New Orleans essentials:

Final Notes
There you have it, your guide to what to wear in New Orleans, cute New Orleans outfits for inspiration, and what to pack for a short and sweet getaway. Remember, it's best to pack according to the weather and your specific itinerary.
In any case, invest in a great pair of sneakers because you'll definitely be doing a lot of walking! We hope you have the best time exploring the historic city and experiencing its fun and exciting culture.
Read below for more outfit inspiration and packing tips for other exciting vacations!
Mexico Vacation Outfit Ideas & What To Wear On Your Next Trip
What To Wear In Vegas: 17+ Classy & Elevated Vegas Outfits
What To Wear In Nashville: 8 Outfit Ideas + The Do's & Don'ts
What To Wear in Maui + 8 Chic Outfit Ideas
Exactly What to Wear to Disney World + 6 Outfit Ideas You'll Love