Love the old money aesthetic? You'll want to see this list of 15+ old money fashion brands that have that perfect quiet luxury vibe. And see which old money clothing brands carry pieces that are actually affordable!
*this post contains affiliate links*
Old money fashion is an effortlessly elegant style featuring classic silhouettes and timeless designs. This style, also sometimes called "quiet luxury", focuses on high-quality materials and a minimal yet sophisticated aesthetic that will never go out of style.
We love the chic vibe that comes from old-money fashion, but we know that not everyone can afford to spend thousands on their wardrobe to achieve this aesthetic. Luckily, there are some fashion brands that have a luxurious look and feel without the higher price tags, and we've included them on our list.
What brands have the old money aesthetic?
The old money look is becoming a huge trend in 2023. Here are some of the top brands that embody the old money, "quiet luxury" aesthetic:
Loro Piana
Jenni Kayne
Khaite
Max Mara
Brunello Cucinelli
Hermes
The Row
Toteme
Dior
Bottega Veneta
Gucci
Chanel
Ralph Lauren (*affordable)
Tommy Hilfiger (*affordable)
Massimo Dutti (*affordable)
Read on to learn about each one, and a couple more we chose to include!
Old Money Fashion Brands List
We're sharing the best old money brands with that undeniably luxurious vibe, so whether you're looking for chic apparel, gorgeous handbags, or stunning jewelry, you can definitely find what you're looking for from the list below!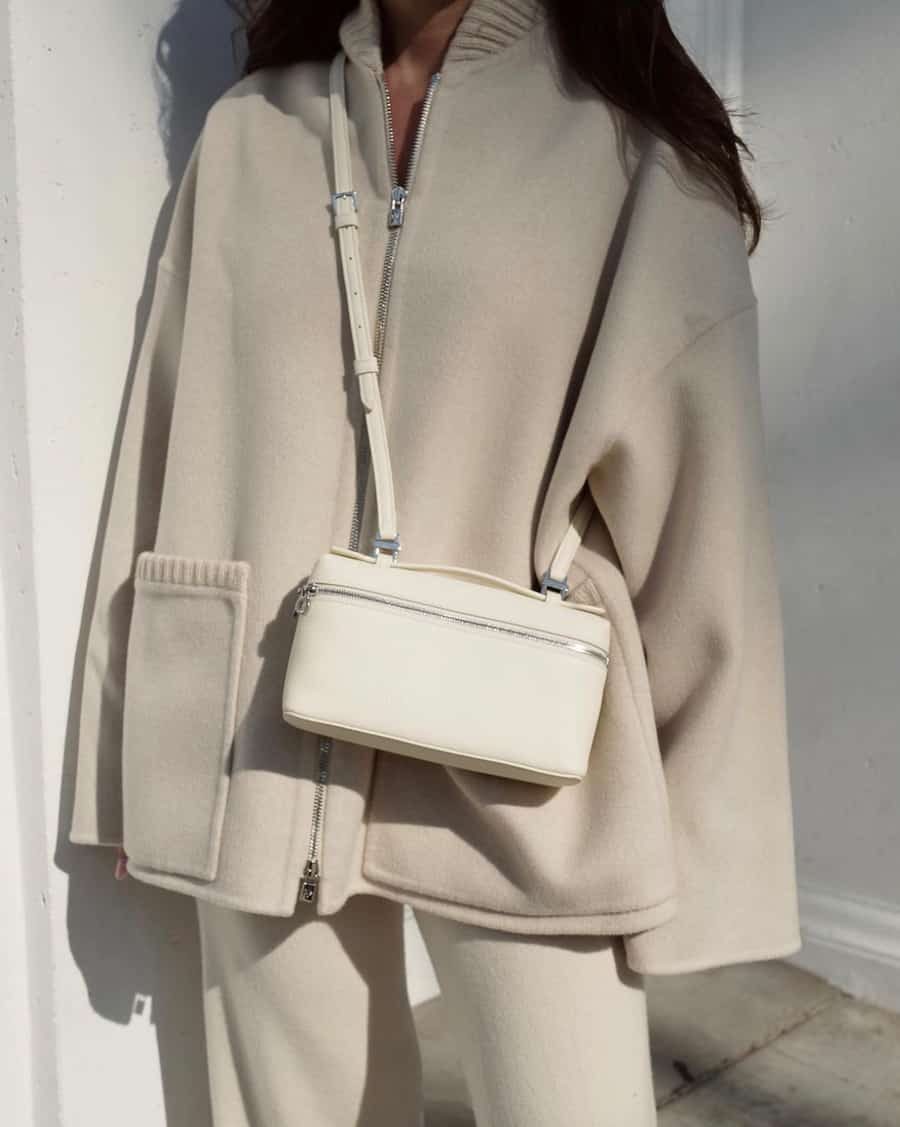 This Italian luxury brand is all about understated elegance. You can find a mix of bold prints and classic, neutral tones – all made with high-quality materials that will elevate the look of your everyday outfits.
Cashmere sweaters, luxurious coats, and flowy, feminine dresses are some of our favorite pieces from this brand. And Loro Piana carries products for men and children, as well as home goods.
Jennie Kayne is our favorite Californian brand that is the epitome of quiet luxury. This brand features stunning neutral palettes and has a minimalistic and timeless vibe, making it perfect for achieving that old money aesthetic.
This fashion brand is also one of the slightly more affordable options on our list (compared to the designer brands), and still has an incredible quality that will instantly upgrade your wardrobe!
Read our honest Jenni Kayne Review here.
Khaite came onto the fashion scene in 2016, and this brand has since become well-known for offering chic, feminine, and elegant apparel and accessories.
The designs from Khaite are simple but so gorgeous, and the craftsmanship put into each piece is unmatched. The price of clothing, handbags, and shoes from Khaite range from a few hundred to a couple thousand, but these investment pieces are definitely worth the price.
Seen on @dadouchic above is the coveted Scarlet Cardigan which we have on our wishlist! If you love Khaite pieces but can't stomach the price, check out our list of Khaite dupes that give an old money aesthetic, for less.
Next on our list of old money fashion brands is a classic Italian clothing company that's been around since the 1950s. Max Mara is all about sophisticated and timeless style, and all for an incredibly affordable price.
This brand has the perfect mix of classic silhouettes with bold and modern prints, so it's a must for anyone who wants old money style with an eye-catching twist.
Brunello Cucinelli is another Italian brand known for its quiet luxury aesthetic. This brand carries apparel in a soft, muted palette, and they also use high-end materials like cashmere, wool, and silk to deliver the highest quality product.
And while you can expect to spend at least a couple hundred here, this superior quality will ensure that these pieces last for years.
This next brand is almost synonymous with luxury. Well-known for its gorgeous and iconic handbags, Hermes is a brand that instantly gives any outfit an old money aesthetic.
But this brand offers more than purses. You can stock up on chic, elegant apparel for men and women or fill your house with stunning, luxurious home goods from this brand. Either way, you will definitely exude old money style when sporting pieces from Hermes.
The Row is a fashion brand that was started by Mary-Kate and Ashley Olsen in 2006. And these famous twins have since proven that they definitely understand effortless elegance and luxury.
The Row creates classic and minimalistic apparel that should be a staple in anyone's wardrobe, making it a must for anyone looking for chic and elevated basics.
This Swedish brand is all about elegance and simplicity – the pieces are minimalistic, made with clean lines and high-quality fabrics. And while we love the cozy knits, sweaters, and coats that TOTEME is known for, they have so much more to offer!
The designs at TOTEME feature classic silhouettes with modern and feminine details that instantly elevate each piece. And despite the incredible quality and craftsmanship, apparel from this brand will only set you back a few hundred.
If you are looking for more affordable options, see our excellent list of Toteme look-alikes for less!
What are the colors for the old money aesthetic?
Neutral colors are a staple of old money style, so you can't go wrong with white, beige, cream, camel, taupe, black, navy, or grey tones. Muted shades like olive green and mauve are also popular choices for this style.
Alternatively, if you want a bright, posh aesthetic, opt for pastel shades like lavender, blush pink and powder blue.
Specific patterns are also great for that old money vibe. Stripes, plaid, checkered print, and houndstooth are all excellent if you want to add a playful touch to your wardrobe while still having that classic, luxurious look.
Next on our list of old money clothing brands is an iconic French brand that's given us stunning designs since the 1940s. Dior has sophisticated pieces for men, women, and children that scream quiet luxury.
Whether you opt for a classy dress with floral details and ruffles or pleated trousers with a sleek button-up, each piece from this brand will give you that old money aesthetic you're going for.
For those wanting the look for less, see our popular list of Dior Book Tote dupes.
Bottega Veneta is a popular brand for its unique and stylish handbags, but this brand carries everything from apparel to shoes to jewelry. Something that sets Bottega Veneta apart is the fresh and modern feel of its designs. But that doesn't take away from the refined aesthetic that these pieces have as well.
This old money clothing brand perfectly blends contemporary and classic styles to create stunning pieces that will make you feel like a million dollars without actually spending that much!
And, you guessed it – we also have a great list of affordable Bottega Veneta look-alikes for less.
Of course, when we're talking about old money style, Gucci is a brand that you can't help but think of.
With humble beginnings in Italy, Gucci has grown to become one of the most iconic designer brands in the world. Their designs are a mix of bright, bold, and colorful with intricate embellishments, as well as neutral classics with timeless patterns that have an old money feel.
If you're a fan of apparel that has a posh and luxury aesthetic, Gucci is definitely the old money fashion brand for you! And, if you don't have a big budget, see our Gucci dupes list.
Chanel is a French fashion brand that exudes extravagance and sophistication. With their iconic tweed coats, diamond quilted details, and interlocking C's, this brand definitely deserves a spot on this list!
This clothing brand carries anything from vintage to modern designs, both of which have a chic, refined, and preppy vibe perfect for the old money style.
We understand most people won't own a Chanel piece due to the high price tag, so we've put together these lists of look-alikes for less: Chanel Slingback Dupes , Chanel Bag Dupes, Best Chanel Dad Sandals Dupes.
Lemaire is a fashion brand that's all about minimalism with a touch of old money aesthetic.
This brand creates designs with clean lines, neutral colors, and simple silhouettes, perfect for those who want to look effortlessly chic. Although, they also carry some pieces with bold and unique prints that still have that luxurious feel.
Surprisingly Affordable Old Money Brands
You don't have to spend a whole paycheck to get that quiet luxury style, especially with these affordable old money fashion brands below. You can find elegant basics, statement pieces, and everything in between – and all for a reasonable price!
If you're a fan of ivy league style, Ralph Lauren is an old money fashion brand that should definitely be on your radar!
The apparel here is elegant and timeless, with a hint of preppy vibes. Ralph Lauren uses neutral tones and classic silhouettes in their designs, although they are also known to have bold and playful pieces.
You can easily find stunning clothing for men, women, and children that are luxurious while still being affordable.
Tommy Hilfiger is another on the list of old money fashion brands with a posh vibe – plus, the clothing and accessories here are some of the most budget-friendly out of all the brands on our list.
You can stock up on pieces for yourself or for the whole family without breaking the bank or sacrificing that sophisticated aesthetic you want.
And last on our list of old money fashion brands is a Spanish clothing company that exudes quiet luxury.
Massimo Dutti has simple but absolutely stunning designs. Their prices can go up into the hundreds, but typically their pieces are around $100, making them a top choice for affordable old money clothing brands. And with the sleek and elegant silhouettes of their apparel and accessories, you won't want to pass these pieces up!
The old money aesthetic will always be in style, so you can't ever go wrong adding these sophisticated and timeless pieces to your wardrobe. Whether you're looking for dresses, purses, shoes, or casual wear, these old money clothing brands will definitely elevate your everyday outfits!
More Style Inspiration You'll Love:
10+ Best Capsule Wardrobe Brands in 2023
10+ French Lingerie Brands That Should Be On Your Radar