Looking for a chic Khaite dupe? Get the gorgeous Khaite aesthetic for less with these Khaite Maddy top dupe options, Khaite Scarlet cardigan dupe sweaters, Khaite bag dupe options, and more!
*this post contains affiliate links*
Originally published Nov 10, 2021, Updated November 20, 2023
The Search for The Perfect Khaite Dupe
Khaite has been taking the fashion world by storm for the past few years and is still incredibly popular in 2024. This brand is the perfect example of 'quiet luxury' and brings all the right aspects to the aesthetic we love: classy, timeless, neutral, and luxurious.
While we absolutely adore Khaite, the pieces come at a high price. The typical Khaite top is around $800, and the knit cardigans can run upwards of $1700.
So we have sourced some incredible Khaite dupes that have a very similar look and vibe but at a more realistic price point. Whether you are looking for a Khaite Scarlet cardigan dupe, Maddy top dupe, sweater dupe, or a Khaite bag dupe or shoes dupe, we have an option for you!
Khaite Maddy Top Dupe List:
The Khaite Maddy top is an iconic piece with finely ribbed knitting, a sweetheart neckline, a bustier style, and perfectly notched sides. It's unique in its style with the neckline and sleeves, and the ribbing detail is gorgeous.
While we did not find an exact look-alike, the Khaite dupe options below are very close!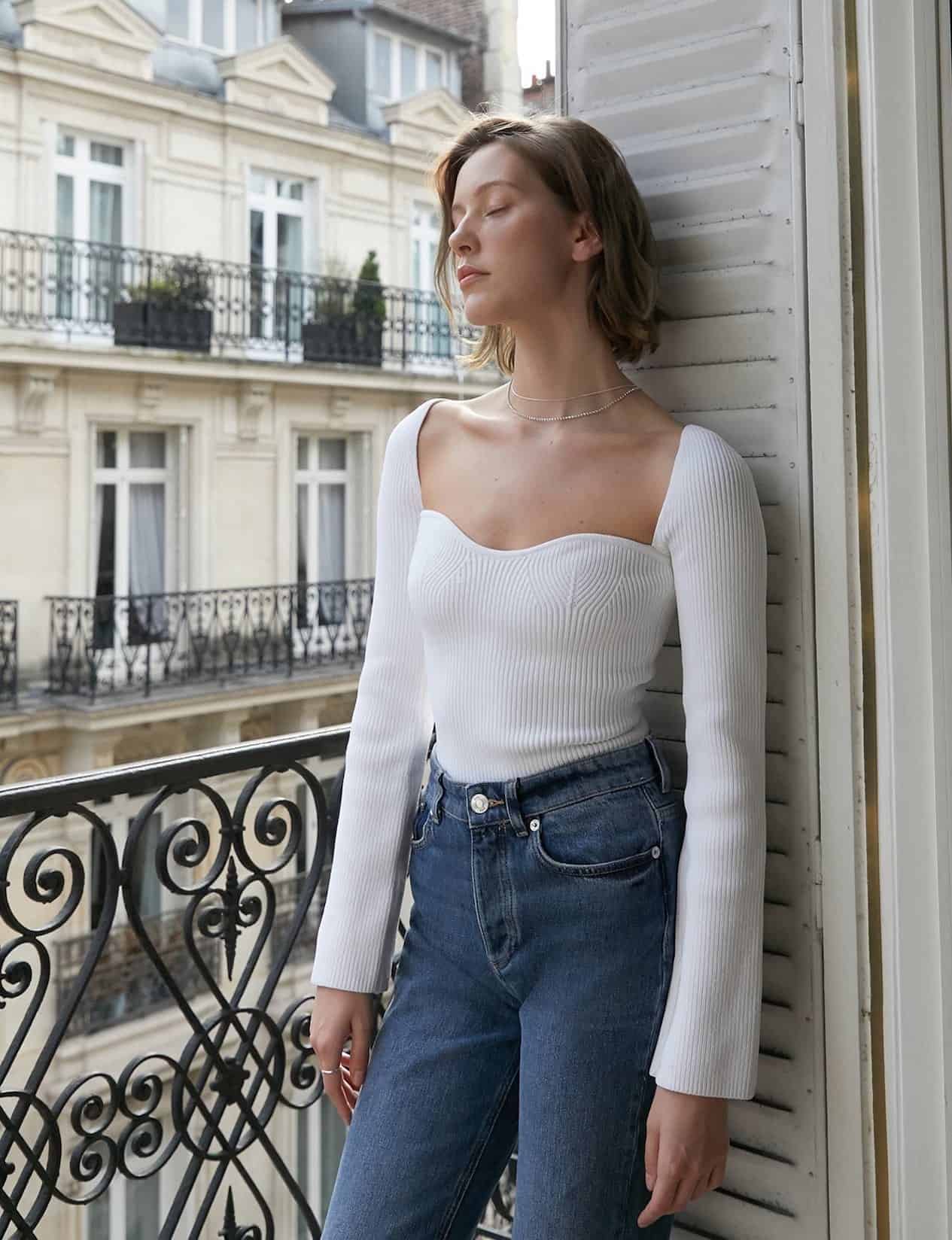 This Khaite Maddy top dupe from Pixie Market is by far the most similar looking. It's nearly the exact same but the color is more white rather than cream. It has lovely ribbed knitting in almost the same pattern and fits with a gorgeous sweetheart neckline.
The bottom of the sweater is straight across without the deep notches, but tucked in you can't see that differing detail. At less than $120, this dupe is at an incredible price point and is made with viscose fabric like the Khaite top. And it comes in a black color too!
We absolutely love this Maddy top dupe from Lily Studio. It has a very similar overall look and style, and has beautiful Khaite-inspired details.
Made with a rayon-blend material, the bustier-style top is structured yet stretchy for comfort. Pair it with jeans, a midi skirt, or leather pants in the fall and winter months.
At just $80, this dupe is a total steal!
The next Khaite Maddy top dupe is from the beloved brand Veronica Beard. The Gladys Sweetheart Pullover is made with a comfortable stretch ribbed knit that is similar in look and style to the Khaite top.
It is both versatile and flattering, and can be easily dressed up or down in all seasons! The Gladys top is a bit of an investment, but is currently on sale for 50% off, and is less than 1/4 of the price of the Khaite top!
Leave it to Amazon to give us some great affordable alternatives to our fave designer pieces! This Khaite Maddy top dupe from Amazon is made with a cotton and polyester blend that is both soft and comfortable.
It has a ribbed texture, sweetheart neckline, and bell sleeves that give major Khaite vibes. But, at just under $30, this top is a total steal! It also comes in a wide variety of colors and has hundreds of positive reviews with customer pictures.
This Rib-Knit Top from H&M comes in at number four on our list of Khaite dupe tops, and is also just under $30! It's made with a stretch rib-knit fabric and has a similar look and aesthetic as the Maddy top.
It comes in a bold green color as well, which is great if you prefer color in your wardrobe!
The last Khaite Maddy top dupe on our list is the Glenna Cashmere Sweater from Reformation. It is a chic ribbed top with a similar shape and style as the Khaite. While it does not have the exact same ribbed detailing, it does have the sweetheart neckline and a slim form-hugging fit.
Reformation is also a higher quality brand, so this dupe is a great sustainable option and at an awesome price point.
Khaite Ista Top Dupe
We wanted to include this excellent Khaite Ista top dupe option on our list, see below.
At just $49, the Aitne Knit top from Lily Studio is an excellent look-alike of the Khaite Ista Top (which is $800!). This stunning ribbed top comes in black and white and has an elevated vibe.
Wear it with a silk slip skirt and heels for date night, or dress it down with jeans and ballet flats.
Khaite Scarlet Cardigan Dupe List:
The Scarlet Cardigan has been seen on major celebrities like Katie Holmes and Rhianna. It has a gorgeous deep v-neckline, tortoiseshell buttons, luxurious cashmere material, and a stunning and contemporary cropped shape with long, relaxed sleeves.
The Scarlet cardigan dupes have very similar details and an overall look that we think you'll love!
From one of our all-time favorite brands Jenni Kayne, the Cooper Cardigan is an excellent alternative to the Khaite Scarlet cardigan (or the Khaite Suzette cardigan).
The Cooper cardigan features a structured silhouette and a slight bell sleeve, and ribbed details along the cuffs. It is wool and cashmere and touted as being "ultra soft". What's not to love?
While this cardigan is an investment, it is still far less than the Khaite cardigan and comes from a luxury brand (read our Jenni Kayne review here).
The next Khaite Scarlet cardigan dupe is a gorgeous piece from Lisa Yang. The Danni Cardigan is made with cashmere and has a very similar boxy look to the Khaite.
While it is an investment piece, it still costs less than 1/3 of the Khaite cardigan, and it is well made with a luxury material. If you have a decent budget, but not enough to go all-out on the Scarlet cardigan, this Khaite look-alike is a great option (and is currently on sale for 36% OFF at SSENSE!).
Made with a luxurious wool and cashmere blend, the Rails Lindi cardigan is a great Khaite Scarlet cardigan dupe for less.
It features relaxed sleeves, three buttons, pockets, and rib detailing at the cuffs that is very reminiscent of the Khaite cardigan. While it is an investment piece, the Rails is beautifully made and has a luxury-for-less feel.
More Khaite Cardigan Dupe Options:
If you are still looking for more Khaite cardigan dupe options, check out these three additional sweaters below!
Khaite Jo Sweater Dupe:
One of our absolute favorites, the Jo Sweater is so chic, classic, and polished. It has a deep collared v-neck, soft cashmere fabric with a touch of stretch, and a feminine shape and appeal.
We have found an excellent dupe that is high-quality, but at a much lower price point, and so similar in appearance!
This beautiful wool sweater by Almina Concept is a fantastic Khaite dupe. It has the same overall look and style and comes in the same warm grey tone. But, it is made with a combination of cashmere, wool, and nylon.
The price is incredible and it is a sweater we are absolutely adding to our Fall Capsule Wardrobe!
Khaite Cerise Bodysuit Dupe:
The Khaite Cerise bodysuit is gorgeous, feminine, and versatile. Wear it with jeans, a midi skirt, or pleated shorts. Or, save some cash and opt for one of our affordable dupes below!
Start the car!! This excellent Khaite dupe from Dynamite is just under $20 but has a stunning look that gives us major Cerise vibes.
In a stretch material with a twisted-knot front detail, this bodysuit is feminine and versatile. And, it's made to contour and shape your curves…
Three words: add-to-cart!
This next Khaite Cerise dupe is not a bodysuit, but a knit top that looks like a bodysuit because of its contoured, figure-hugging fabric. Fashioned with a center front knot, off-the-shoulder style, and ruching detail, the Ezlynn Knit top is the perfect Khaite look-alike.
Wear it in spring or summer with jeans, or in the fall or winter layered under a long wool coat with a knit midi skirt and boots.
Khaite Shoes & Bags Dupes
As if all of these Khaite dupes weren't amazing enough, we've also sourced some perfect Khaite shoe dupes and Khaite bag dupe options we know you'll love!
Khaite Marcy Flat Dupes:
The Khaite Marcy flats are one of our favorite newer pieces from the Khaite collection. They are feminine yet fun, and definitely a showstopper. You'll love these two affordable alternatives below.
Khaite Bag Dupe List:
Khaite brand bags are also iconic pieces and worn by all the most fashionable it-girls. Below are the best Khaite bag dupe options we could find!
We hope you loved this article and enjoy these dupes to get the luxury look, for less! And if you need help saving money for your first real Khaite piece, try this 100 Envelope challenge from Money Bliss!
Pin this:
More Look-Alike Posts You'll Love:
Original article image: