Looking for a chic Khaite dupe? Get the gorgeous Khaite aesthetic for less with these dupes for the Maddy Top, Scarlet Cardigan, and Jo Sweater.
*this post contains affiliate links*
The Search for A Perfect Khaite Dupe
I recently came across the Khaite label while perusing different outfit ideas on Instagram. I was immediately drawn in by the beautiful Khaite Jo Sweater adorned by a lovely LA based influencer, and I knew I needed to explore the brand further.
It is now on my goals list to own a gorgeous Khaite piece. But, in the meantime I have been searching for dupes that have the same look as some of the trending Khaite pieces but at a more realistic price point. A Khaite top, cardigan, or sweater can easily cost upwards of $1,500 so they are definitely an investment.
If you are reading this post you are likely in the same boat as me and love that Khaite look but need the look for less at this time.
Don't fret my friend! Below are incredible high-quality options for you at a lower price point.
Shop The Looks

The Khaite Maddy Top // $1,080-
This stunning top is likely on your wish list if you are reading this post. The chic Khaite Maddy Top has finely ribbed knitting, a sweetheart neckline, bustier style, and perfectly notched sides.
It's so unique in it's style with the neckline and sleeves, and the ribbing detail is gorgeous. While I was unable to find an EXACT look-alike I feel the Khaite dupe options below are really close and fit the bill!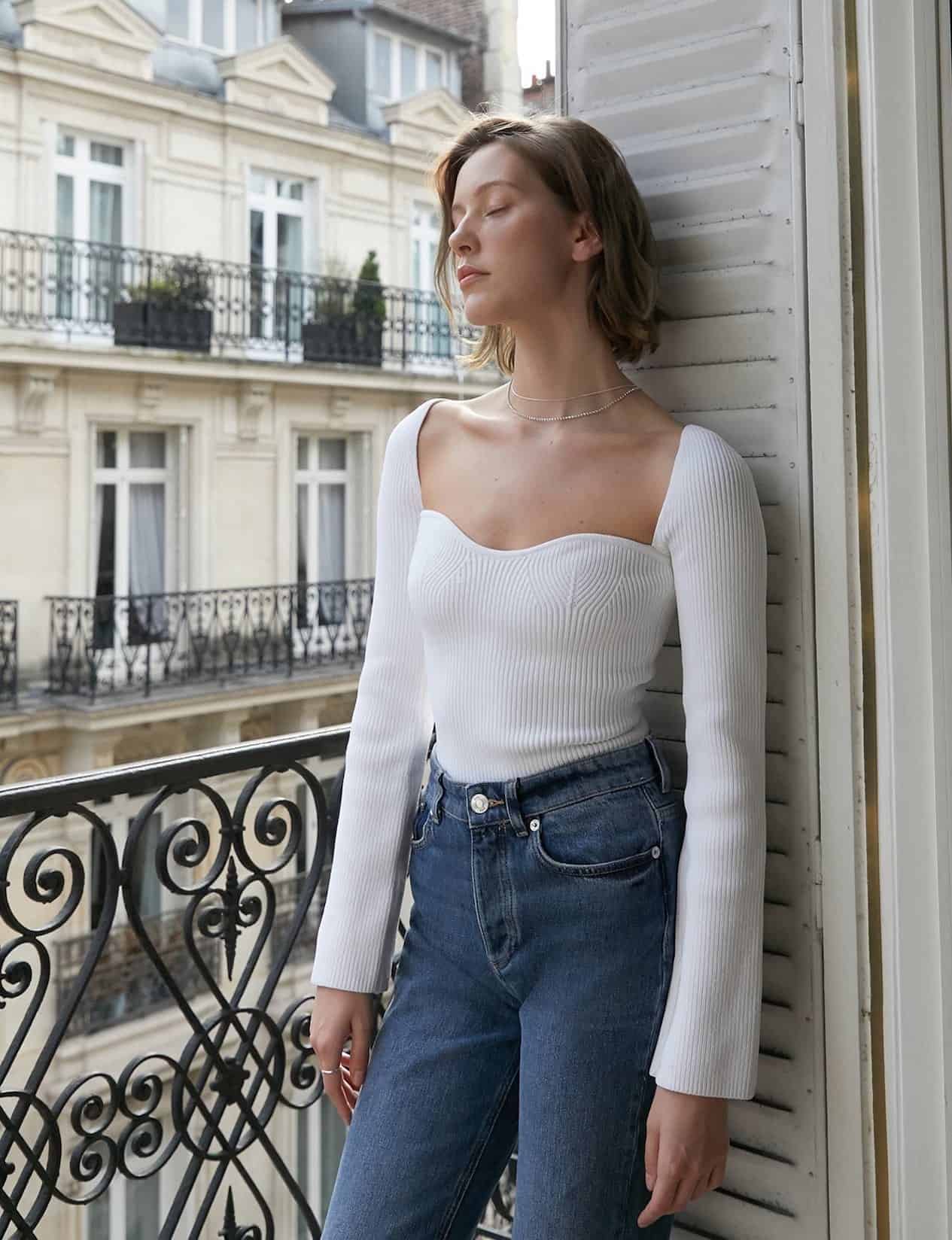 1. Chiara Bustier Knit Top from Pixie Market //$119-
This Khaite Maddy Top dupe is by far the most similar looking. It's nearly the exact same but the color is more white rather than cream. It has lovely ribbed knitting in almost the same pattern, and fits with a gorgeous sweetheart neckline.
The bottom of the sweater is straight across without the deep notches, but tucked-in you can't see that differing detail.
At less than $120, this dupe is at an incredible price point and is made with viscose fabric like the Khaite top. It comes in a black color as well.
2. October Top from Reformation // $88-
The October Top from Reformation is a chic ribbed top with a similar shape and style as the Khaite. While it does not have the exact same ribbed detailing, it does have the sweetheart neckline and a slim form-hugging fit.
Reformation is also a higher quality brand, so this dupe is a great sustainable option and at an awesome price point. It also comes in black!
Splurge:
3. Sammy Bustier Top by Jonathan Simkhai // $482-
This Khaite dupe is definitely more of a splurge (but still 1/2 of the cost of the real thing). It has many of the same details — the ribbing, sweetheart neckline, and notching. But, it is a warmer champagne color and has a different knit pattern on the bust area.
Jonathan Simkhai is a stunning designer label and this piece is just as much of an eye-catcher as the Maddy in my opinion.
Budget Friendly:
4. Milkmaid Top from Missguided // $20-
At just $20, this top from Missguided is a super budget friendly dupe. It has ribbed knitting, a body contour fit, sweetheart neckline, and the deep notches on the bottom hem.
The only main difference is likely the overall quality, and that the knitting detailing isn't nearly as intricate. But overall it has a very similar look and is a total steal if you are searching for a very low-cost option.
Shop The Looks

The Khaite Scarlet Cardigan // $1,580-
This beauty, the Scarlet Cardigan, has been seen on major celebrities like Katie Holmes and Rhianna. It has a gorgeous deep v-neckline, tortoiseshell buttons, luxurious cashmere material, and a stunning and contemporary cropped shape with long, relaxed sleeves.
This gorgeous cardigan is pricey but for very good reason. And, it can be worn with a matching knit bralette to complete the look.
What sticks out to me most with this Khaite cardigan is the shape and softness. The dupes have very similar details and overall look, but not one is exactly the same as the original. I think you'd be hard-pressed to find an exact replica!
1. Amelie Regenerative Wool Cardigan from Reformation // $198-
This stunning wool cardigan from Reformation is a great Khaite dupe. It has the same fisherman ribbing detail on the pockets and cuffs and has a similar look and shape.
Although it is not cashmere, the material is sustainable NATIVA wool and it comes in at a much, much lower price point at less than $200.
It's a cardigan you'll definitely feel amazing in!
Splurge:
2. Danni Cashmere Cardigan by Lisa Yang // $640-
A more expensive option on the list, this cardigan by Lisa Yang is very beautiful. It's made with cashmere and has a very similar boxy look as the Khaite Scarlet.
While it is pricier, it still costs less than 1/2 of the Khaite, and it is very well made with a luxury material.
If you have a decent budget, but not enough to go all-out on the Scarlet cardigan, this Khaite look-alike is a great option.
Budget-Friendly:
3. Boxy Cardigan from H&M // $35-
At just $35, this cardigan from H&M is a great buy if you are looking for a similar aesthetic to the Khaite cardigan. While the cardigan fits a bit more oversized, it has a lovely earthy hue and similar fisherman ribbing around the pockets and cuffs.
Plus, you can also buy a matching knit cropped bra to complete the look.
Shop The Looks

The Khaite Jo Sweater // $720-
One of my absolute favourites, the Jo Sweater is so chic, classic, and polished. It has a deep collared v-neck, soft cashmere fabric with a touch of stretch, and a feminine shape and appeal.
It is such a perfect neutral sweater and is sure to be my first Khaite purchase when the time comes.
The dupes below are truly amazing. They are high-quality, but at a much lower price point, and so similar in appearance. Definitely worth adding to your wardrobe!
1. Polo Wool Sweater by Almina Concept // $138-
This beautiful wool sweater by Almina Concept is a fantastic Khaite dupe. It has the same overall look and style, and comes in the same warm grey tone. But, it is made with a combination of cashmere, wool, and nylon.
The price is incredible and it is a sweater I am absolutely adding to my capsule wardrobe as soon as possible!
2. Cashmere Collared V-Neck from J.Crew // $168-
This cashmere polo-style sweater is another perfect dupe. In a lighter grey tone it has the deep v-neck, cinched cuffs, and a beautiful feminine drape.
It is also made with 100% cashmere which is why it is at a higher price point (but still only 1/3 of the Khaite price), but it's worth every dime.
Budget-Friendly:
3. Bershka Polo from ASOS // $32-
At just $32, this sweater from ASOS is a fantastic purchase if you are looking for a similar aesthetic to the Khaite sweater but don't mind some differences. This one fits a touch more oversized and the sleeves are wider at the cuff.
It is made with a soft cotton knit (hence the low price point) but is still trés chic.
Shop The Looks

There you have it!
Several gorgeous Khaite dupe options ranging from very inexpensive to more of an investment (but all still far less than a real Khaite!), with very similar looks and style.
Which one was your favorite? Tell me about it in the comments and be sure to pin the photo below to save this post for later!
Pin me:
Shop The Looks

More Look-Alike Posts You'll Love: