Looking for affordable Hermes sandal dupes? Check out six incredible look-alikes for the iconic Hermes sandals and super stylish ways to wear them.
*this post contains affiliate links*
The Search for The Best Hermes Sandal Dupes
Hermes is another high-end iconic brand. From the incredible (and outrageously pricey) Birkin handbags, to the gorgeous footwear, and delicate scarves, it's no wonder people are constantly on the search for look-alikes that come in at a lower price point.
If you've always dreamed of owning a pair of classic Hermes sandals but it just doesn't fit the budget, don't fret, you've come to the right place!
We've scoured the fashion world for high quality Hermes sandal dupes, and have come up with some seriously fantastic options that are definitely more budget-friendly.
One of the most iconic footwear items from Hermes is the classic Oran Sandal. These gorgeous leather slides have been seen on so many fashion influencers and celebrities. Coming in at a price tag around $650 (or more), they are definitely an investment.
You can purchase the sandals new on the Hermes website or buy gently used on websites like TheRealReal or Fashionphile.
Shop Hermes Sandals

The Italian made leather slide with a sleek H cut-out design are distinguishable and noteworthy. We've scoured the footwear world and have found five suitable dupes with very similar features and an overall look that we think you'll love.
The Hermes Sandal Dupes List:
At a small fraction of the price, these Goodnight Maracroon dupes look incredibly similar to the Hermes Oran sandals with the same "H" cut-out design, stitching, shape, and appearance.
They are made with faux leather (no surprise as the price is very affordable), but have nothing but 5-star reviews. While they definitely aren't made in Italy, they are gorgeous budget-friendly slides that give off that chic Hermes vibe.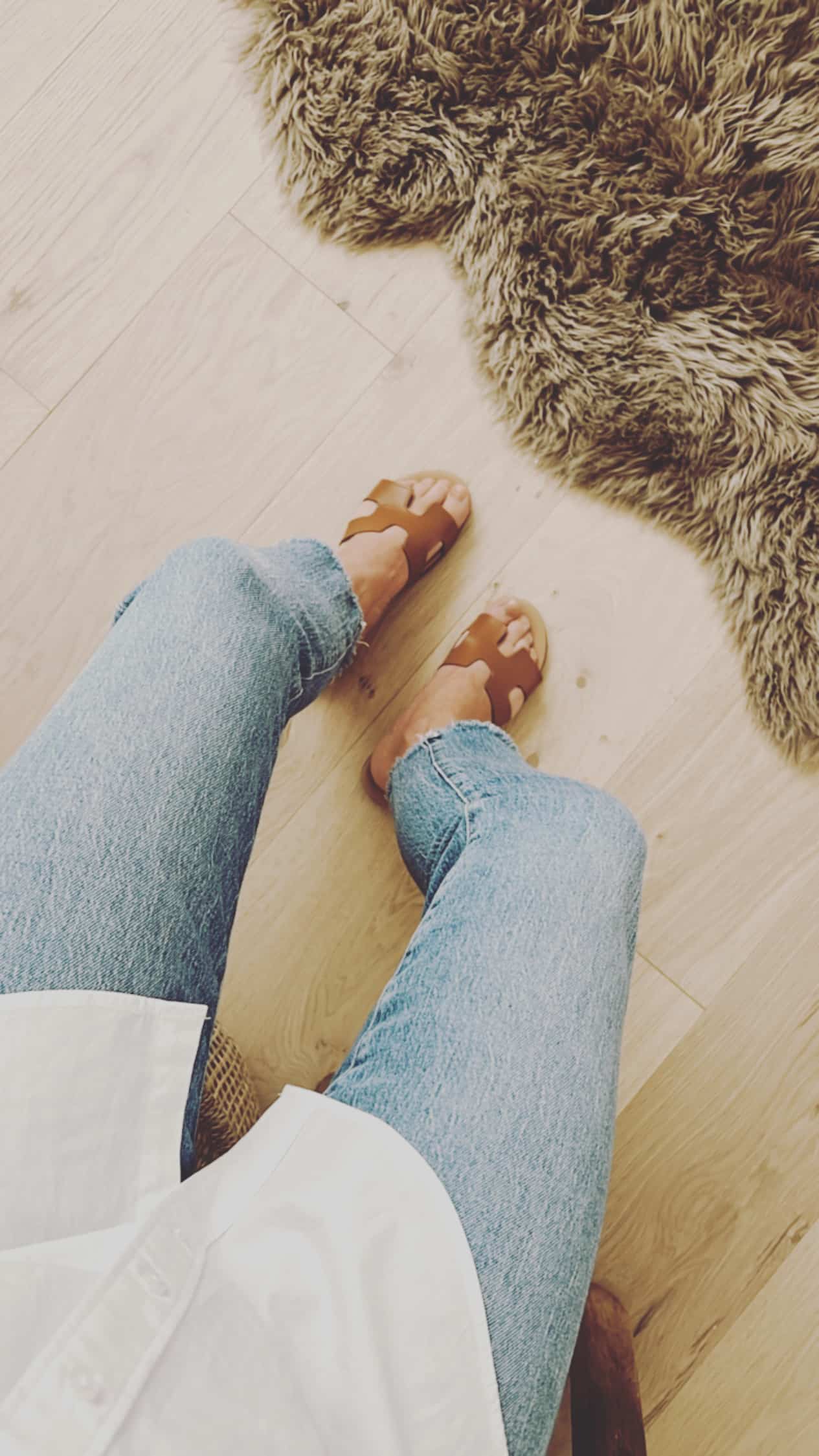 The next look-alikes on the list are the Steve Madden Hadyn Slides. They are made with a genuine leather upper and leather lining with a rubber outsole.
The cut-out H design is similar too the Hermes sandals, and they have the stitching detail which gives them a chic minimal look. They come in multiple colours including brown and black and a crocodile texture, making a great low-cost alternative.

Next on the Hermes sandal dupes list is this surprisingly good dupe from Dune London. These slides are made with a genuine leather upper, come in a variety of colours and have a similar cut-out design.
They also have the stitching around the design and are a highly-rated sandal. They do have a slightly higher heel than the Hermes Oran sandals but we love the look of a little heel to add some flair, don't you agree?

These lovely little slides from Sam Edelman are a great look-alike of the Hermes sandal without being a complete copy. They have a similar cut-out design and the stitching detail and are made with a leather upper and comfortable padded footbed.
They have a minimalist style and are super versatile, come in the brown or white, and also come in a slightly chunkier style with a thicker footbed. These sandals are also often seen on fashion bloggers and influencers.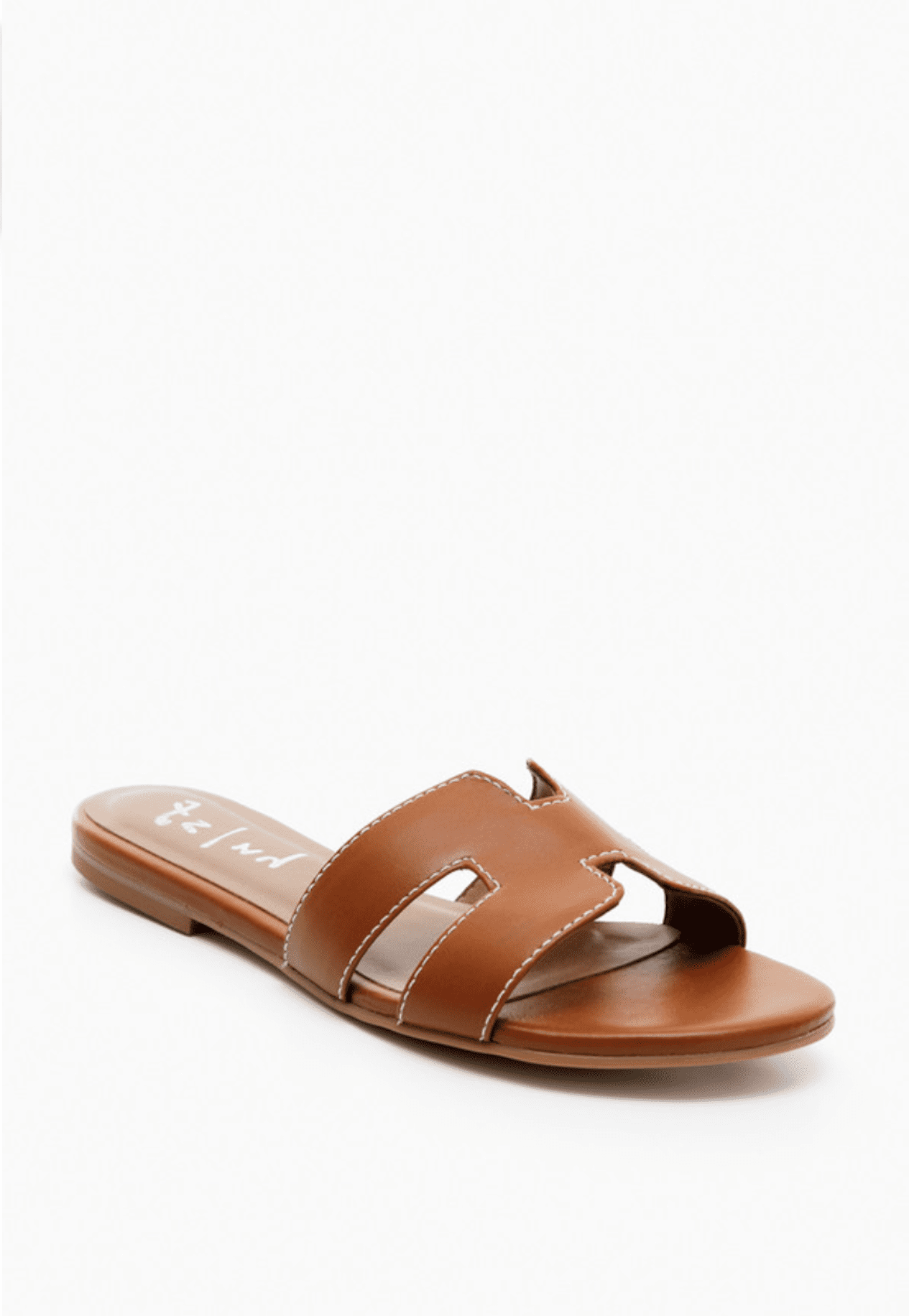 These pretty leather sandals by Tuckernuck are another fantastic dupe on this list! They are made in a cognac genuine leather with similar white stitching and H cut-out detail as the Hermes sandals.
A Tuckernuck exclusive, they are one of Tnuck's best-selling shoes and are a great addition to any summer outfit, be it shorts and a tank top, jeans and a t-shirt, or a simple sundress.

The last dupe on this list is a surprising one we found on Etsy. The sandals are serious dupes (logo and everything) that pretty much look exactly like a true Hermes.
The shop originates in Turkey and has made only a handful of sales and has zero reviews. So, it's tricky to know how legitimate they are. That being said, the shop is still running with the sales made, so if it were not legit we imagine Etsy would have already closed the shop.
It might be worth waiting until more sales have been made or reviews have been published, but those dupes sure are tempting! You can also check out this Etsy store with some good Hermes sandal dupes as well.
There you have it! A handful of incredible Hemres sandal dupes that will definitely make you feel chic and stylish, even if you can't get your hands on the real Hermes sandals…yet!
Be sure to pin the photo below to save this list for later and check out our other Look For Less/Designer Dupes posts below!
Pin me:
More Designer Dupes You Need To See:
Best Birkenstock Dupe: 17+ Look-alikes
11+ *Really Good* Valentino Dupes
Chanel Slingback Dupe: 9+ Stunning Look-alikes For *Way* Less
Bottega Veneta Dupe: 5 Look-alikes You Need To See
Seriously Good Gucci Loafers Dupes (& Mules too!)
8 Chanel Dupes You Absolutely Have To See
3 Balmain Blazer Dupes You'll Go-Gaga-Over
7+ Best Louis Vuitton Dupe Bags
11+ Really Good Golden Goose Dupes You Need To See!
Hermes Birkin Sizes: All You Need to Know + Size Comparison!