Wondering how to wear a belt bag crossbody or at the waist or how to wear a fanny pack in a stylish & modern way? Learn the best tips & see cute belt bag outfit ideas!
*this post contains affiliate links*
shop the look:

How To Wear A Fanny Pack or Belt Bag
Fanny packs, waist bags, or belt bags, whatever you prefer to call them, have made a big comeback in the past few years. In 2018, the belt bag came back on the fashion scene as the "it bag" everyone was wearing. And, a few years later – the belt bag is still a hot piece.
If you've been itching to add a fanny pack to your bag rotation, but aren't sure how to style it in a fresh and modern way, we're here to help! We've scoured the fashion world for the chicest and most elevated outfits we could find that showcase a belt bag in a current and stylish way.
Also, you might be surprised to know that you don't have to wear a belt bag around your waist! There are lots of ways to style this cute accessory, so read on to find out more!
What is a fanny pack called now?
Fanny packs are now often referred to as "belt bags", "waist bags", or "bum bags". While the standard nylon fanny packs have been around for ages (if you were born in the 80s you'll know all about this), they can now be found in fresh and modern shapes and materials including leather, shearling, satin, and suede.
Chic Belt Bag Outfit Ideas
Below are our favorite outfit ideas that show how to wear a belt bag for both style and function in 2023, and beyond.
Over an oversized button-down shirt.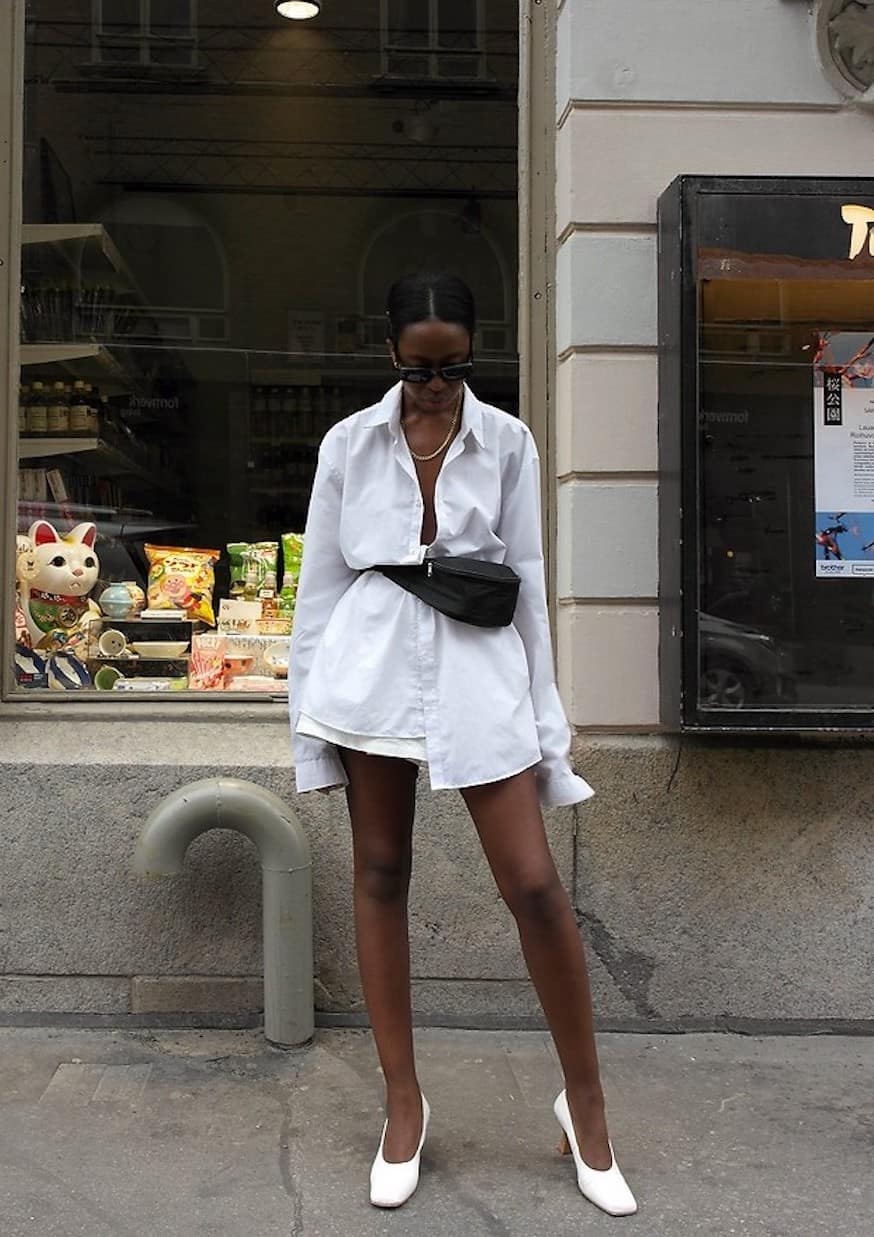 get the look:

This outfit is crisp, clean, and fresh looking with the oversized button-up shirt and white glove pumps. The black belt bag adds contrast and creates a cinched waist effect with the oversized shirt.
We love this look for so many reasons, but the main one is the minimalistic and timeless vibe it gives. Wear it for a festival or event or a night out with friends.
Over a sweater dress.
shop the look:

If you are wondering how to wear a fanny pack or belt bag for a fancy or formal occasion, this is a great outfit option. The black YSL Lou belt bag looks stunning over a simple sweater dress with sheer tights and knee-high boots.
If a YSL belt bag isn't in the budget, try a more affordable option like this faux leather belt bag from Open Edit, or this chic option from ALLSAINTS.
Business casual belt bag outfit.
shop the look:

If you are wondering how to wear a belt bag to the office, this is how. The brown Senreve belt bag looks excellent with pleated trousers, a fitted turtleneck top, and an oversized wool coat.
We love the neutral color tones and shades of camel and brown that give this whole outfit such an elevated appeal. This is exactly how to wear a fanny pack and look like a total boss.
with a midi dress.
get the look:

You can never go wrong with a little black dress, and a belt bag is a perfect accessory to add. We love this simple and classic look with the tiered black dress, black leather boots, and a touch of brown with the Dior saddle belt bag.
It's chic, polished, and perfect for all kinds of occasions whether you are going on a date night, to church, out for brunch, or shopping.
How To Wear A Belt Bag with Jeans
Wearing a belt bag with jeans seems like an obvious outfit choice. But, how exactly should you wear the belt bag?
Luckily, there are multiple ways you can style a belt bag or fanny pack with jeans, check out the looks below for inspiration!
Loosely around the waist.
Just because you have belt loops on your jeans, doesn't mean you have to loop the belt bag through them. You can simply secure your belt bag around your waist outside of the loops so it sits loosely at your waist.
This is a good option if the belt bag strap doesn't fit in your jean belt loops, or if you want to wear the belt bag with the pouch off to the side.
At your natural waist.
get the look:

If you are wearing mid-rise jeans, it might feel awkward to have the belt bag sitting so low. Instead, you can still wear it up higher at your natural waist for a cute look and flexibility.
This way to wear a belt bag with jeans also makes it easier to maneuver when you have to hit the loo!
Slung around the back.
This brown leather belt bag from MANDRN looks so cute slung around the bag with a pair of jeans and basic white top. The outfit is timeless, classic, and casual, showing that you don't need to wear a belt bag around the waist at all when you are in jeans.
Can belt bags be worn as crossbody?
Of course! Wearing a belt bag crossbody style has been the most popular way to sport a belt bag in 2022. This look is very on-trend and it gives the fanny pack/belt bag a modern and fresh feel.
You can wear a belt bag as a crossbody bag with both casual and formal outfits, and it creates a stylish hands-free alternative to other bag styles.
How To Wear A Belt Bag Crossbody
Check out our favorite crossbody belt bag looks below!
Cute, sporty, and casual.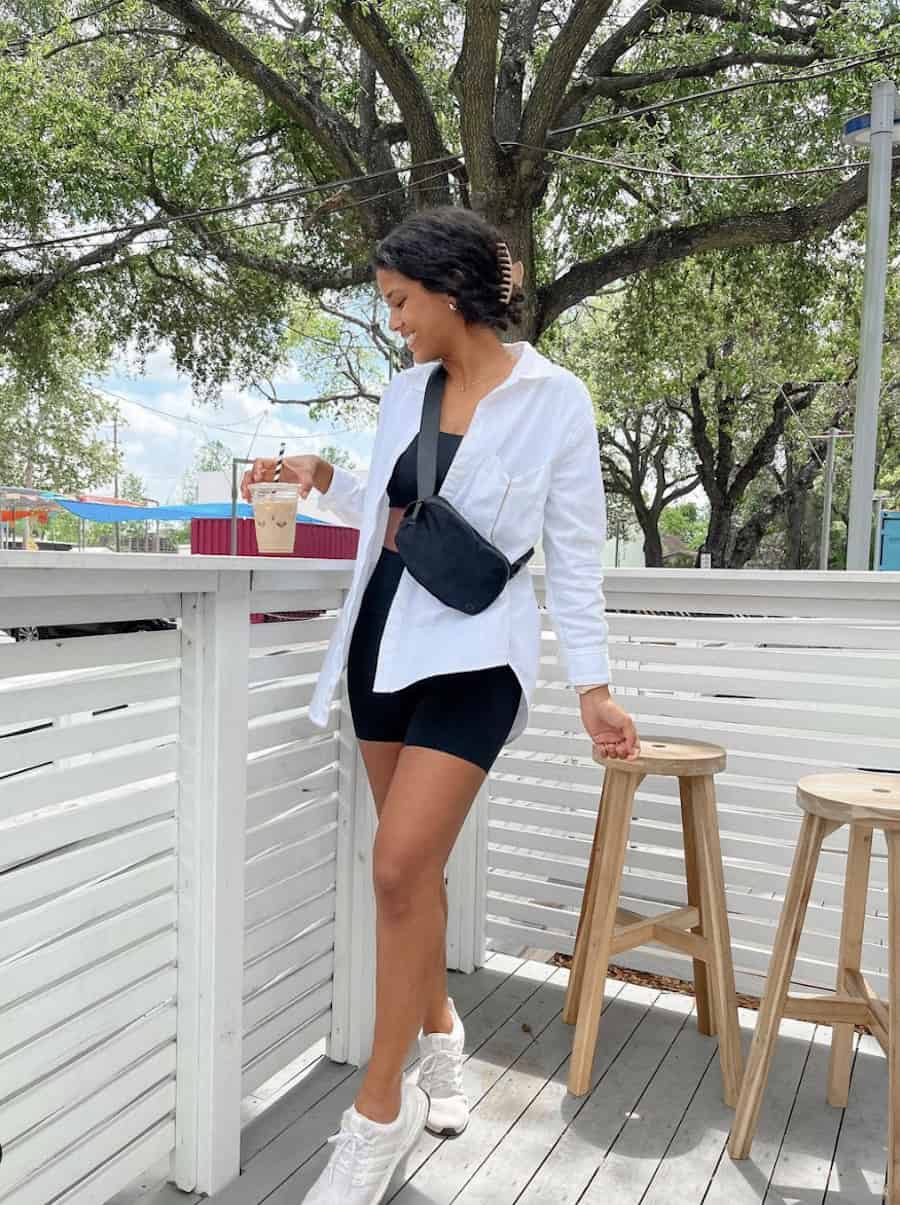 shop the look:

The Lululemon Everywhere belt bag is incredibly popular when it comes to cute and modern fanny packs that have a sporty edge. We love this simple look with biker shorts, a crop top, a button-down shirt, and sneakers.
This should be your go-to outfit when it comes to running errands in the warmer months. Throw on the belt bag, toss in your phone, lip gloss, and keys, and out the door you go!
Multi-pack over a mini dress.
shop the look:

Cay Cabotage wears the MNDRN Ziggy belt bag with an add-on circle pouch for a stylish look. We love the simplicity of this outfit, but also how the belt bag is the focal point.
The oversized shirt and boots give the outfit an edgy appeal, while the neutral tones keep it minimalistic and chic.
Over a puffer jacket.
get the look:

For a cute and sporty winter look, wear a belt bag crossbody over a puffer jacket with trousers and sneakers. This outfit is modern, edgy, and totally practical for the days that you have a million errands to run.
Whether you are a mom who's always on the go, a university student, or just a busybody, this outfit is sure to please.
Ultimate street style.
get the look:

How can one look so effortlessly cool? An animal print fanny pack, striped top, ecru jeans, and sneakers – that's how.
This outfit is perfect in so many ways. It's fun, laid-back, wonderfully curated, and yet very approachable. If this was the outfit that made fanny packs cool again, we would not be surprised.
Here for the party.
shop the look:

The holiday season is just around the corner and this is a belt bag outfit that you definitely need to keep in mind. We love the sparkly mini dress that's perfect for any party combined with a sleek designer belt bag worn crossbody-style.
This look is dressy and chic, and perfectly showcases how a belt bag can be worn for a fancier occasion.
Elevated everyday basics.
get the look:

This is probably our favorite belt bag outfit on the list. It's timeless, minimal, chic, and practical for every day wear. It's also perfect for transitional weather and most seasons of the year.
The woven leather belt bag from MNDRN is sleek and modern, and is giving us Bottega Veneta vibes (but it costs way less!).
Over the shoulder.
get the look:

If you aren't convinced there are multiple ways to wear a fanny pack or belt bag, here's another; over the shoulder like a shoulder bag! If you go with a larger fanny pack or bum bag, you can easily wear it in this style.
Then, if you want to give your shoulder a rest, simply sling it over your neck and wear it crossbody-style.
More Belt Bag Outfit Ideas
Simply because we found so many cute ways for how to style a fanny pack, we have to share a few more!
Are belt bags out of style?
Belt bags are not out of style. While they made their big comeback a few years ago, the trend is still going strong in 2022 and is expected to continue into 2023 as more belt bag styles emerge along with ways to wear them.
We are all for the fanny pack look and we sure hope it's here to stay! Don't you agree?
More Style Guides You'll Love:
10+ Chic Gucci Belt Bag Outfit Ideas That Prove You Need One
15+ Chic & Modern Gucci Belt Outfits You'll Want To Copy
17+ Chunky Loafers Outfit Ideas + How To Style Chunky Loafers
Christal Sczebel is an entrepreneur, published author, and content creator. Over the past decade she has worked in the digital media field building successful websites for both food and fashion. She has a natural affinity for minimal, timeless fashion, neutral home decor, and styling.
Here on Style Your Occasion, Christal is the Editor-in-chief and brain behind the aesthetic. She hopes you love the this space and the inspiration you'll find!