Wondering how to style a chic & modern Gucci belt bag outfit? See 10+ Gucci belt bag outfits from fashion-it girls that prove you need one in your wardrobe!
*this post contains affiliate links*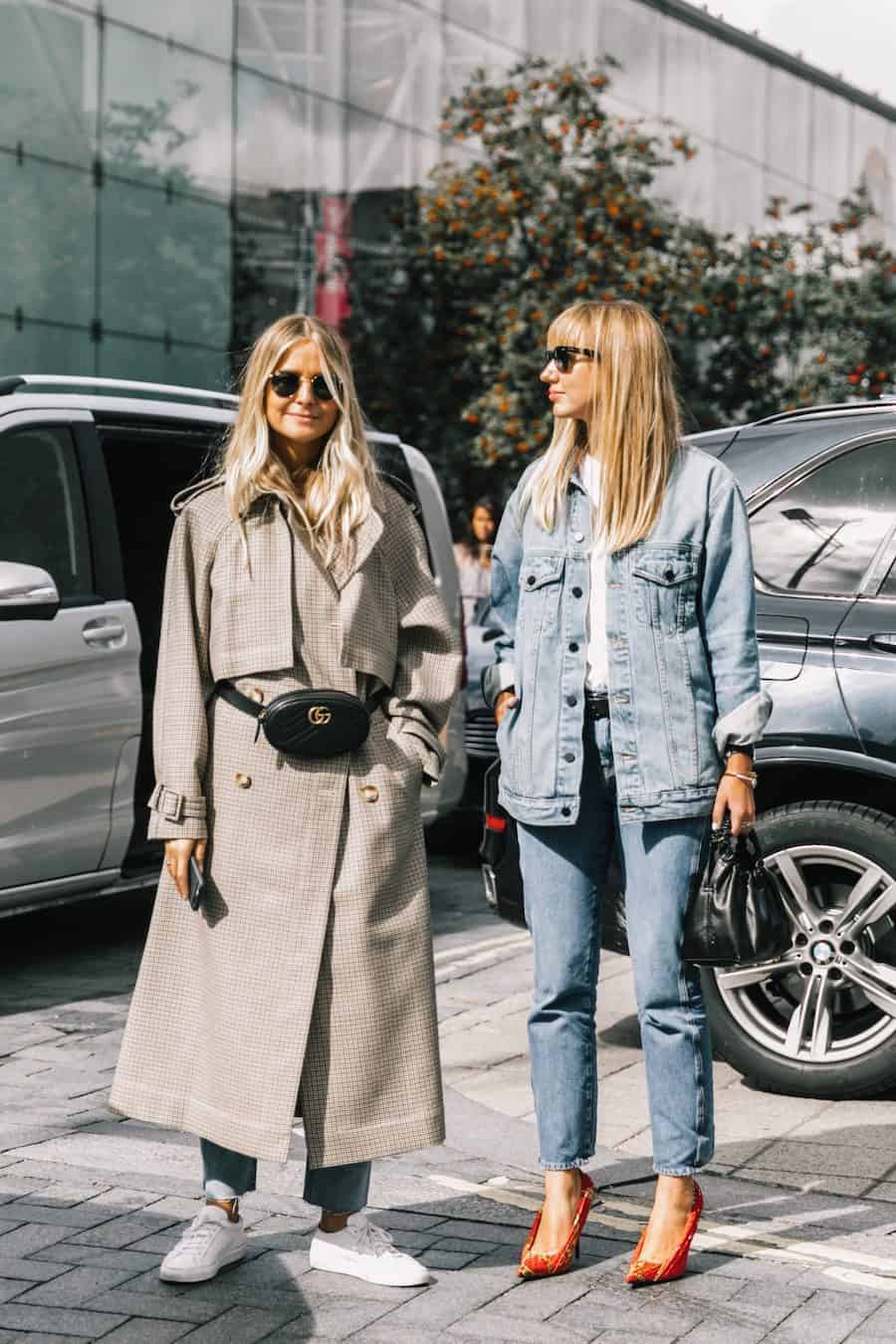 Modern Gucci Belt Bag Outfit Ideas

Gucci Supreme Belt Bag Outfit 1
get the look:

We love this outfit featuring the Neo Vintage Gucci Supreme belt bag. The beige canvas with brown leather trim is a beautiful color palette that complements the creamy neutrals in this outfit.
It has a relaxed California vibe that proves Gucci belt bags can be worn both for dressy occasions and laid-back days. The Web strap adds a small pop of color and a tiny bit of contrast to the overall look.
You could easily wear this outfit for running errands, school pick-up, meeting friends for lunch, or a day at the farmers market.
Gucci Supreme Belt Bag Outfit 2
get the look:

We created this outfit with the Gucci Supreme belt bag as the perfect lounge-on-the-go look. A matching sweater and pant set in an ecru color gives an elevated look, and the quilted collarless jacket is on-trend and great for layering.
A comfy pair of sneakers and the belt bag finish the ensemble, making this an excellent choice for days when you don't feel like leaving the house, but have things to get done, and want to look good doing it.
Finally, a pair of minimal gold earrings add the perfect amount of glam.
How do you wear a Gucci belt casually?
You can wear a Gucci belt bag in a casual way by pairing it with laid-back clothing. Try vintage-wash jeans and a basic white t-shirt, leggings and a matching sweatshirt, or any outfit with sneakers. All of these will work great with a Gucci belt bag for a relaxed vibe.
You can also choose the more subtle styles of belt bags, like the Neo Vintage Gucci Supreme belt bag, the Ophidia Utility Belt, or the Gucci Off-The-Grid bag worn in as a sling.
Marmont Belt Bag, Tank, + Trousers
get the look:

Here's another cute Gucci belt bag outfit idea that combines a dressier look with casual sneakers. We love how the Gucci Marmont belt bag is worn in a sling style, rather than along the waist.
The padded shoulders on the tank give an elevated vibe, and the trousers keep the look more business casual. Sneakers are a comfortable shoe choice, but you can easily take this look from day to night by swapping them for heeled sandals or pumps.
Or, put on a pair of sleek Gucci Brixton loafers and add a blazer for an office-ready outfit.
Dressed-Up Gucci Belt Bag Style
get the look:

For date night, drinks with friends, or a party, this outfit is an excellent choice. It's giving sexy, confident, and polished.
The velvet finish on the Gucci Marmont belt bag complements the suede thigh-high boots, and the belt worn over the blazer dress creates the perfect snatched-waist look.
This Gucci belt bag outfit is a total head-turner and we are here for it.
Gucci Belt Bag over Slip Dress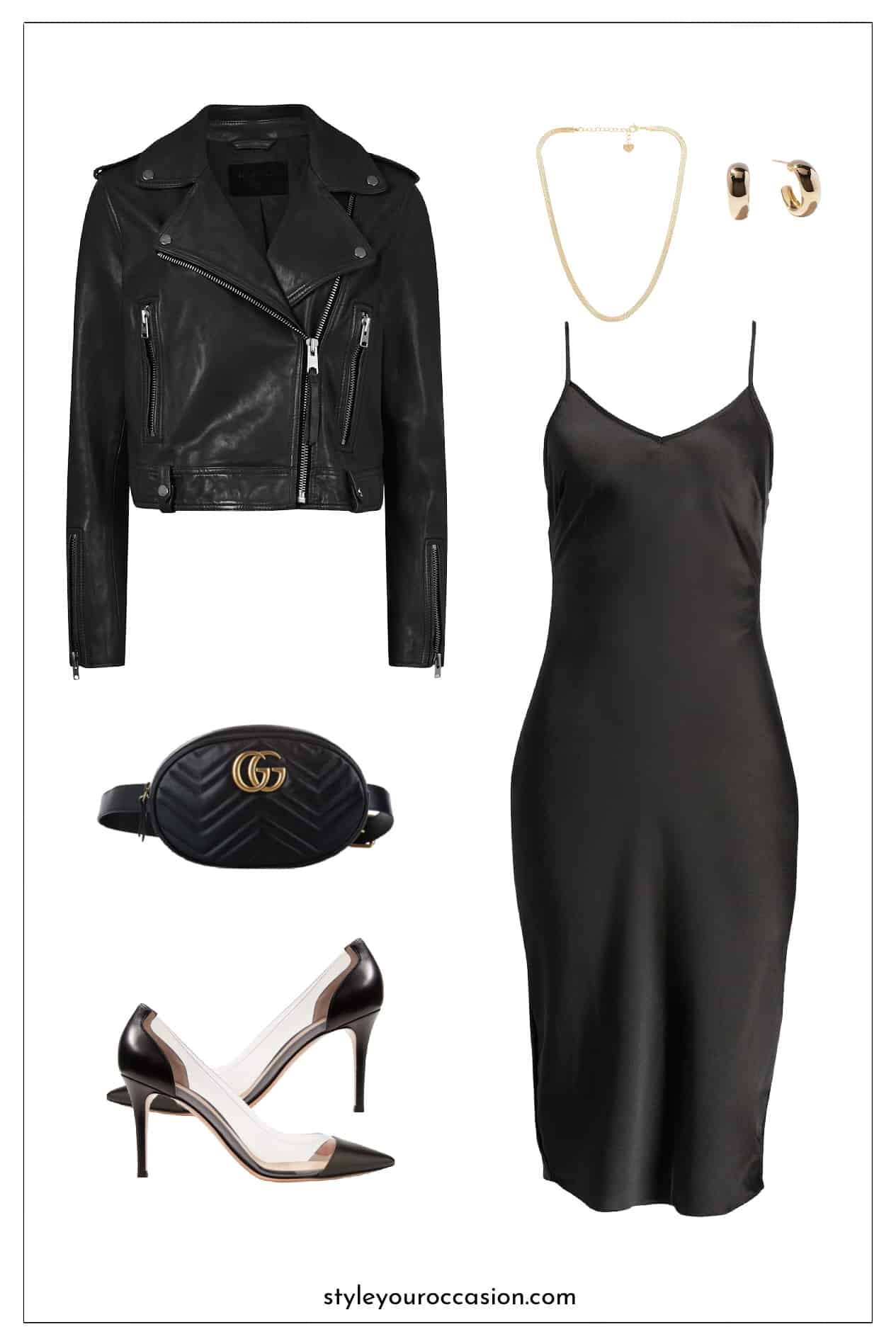 get the look:

Another great way to sport your Gucci belt bag for a night out is over a sleek slip dress with pumps. The bag will keep you hands-free so you can hold your drink and dance the night away.
Add a leather jacket for an edgy appeal, or go with a blazer for a classy look. We chose dainty gold jewelry to finish the ensemble, and nothing too heavy to take away the star of the show – the Marmont belt bag.
You can find the older Marmont style on sites like Vestaire Collective or Fashionphile, or go with the latest Gucci style here.
You can style a belt bag with jeans in multiple ways, it all depends on the vibe you are going for. For a casual look, wear the belt bag like a sling across your chest, and wear a basic t-shirt and pair of sneakers. For a dressier look, fasten the belt bag through the belt loops on your jeans, and go with a chic bodysuit and a pair of pumps.
You can also wear the belt bag around your waist, slightly looser, and not in your jean belt loops at all, like the look below.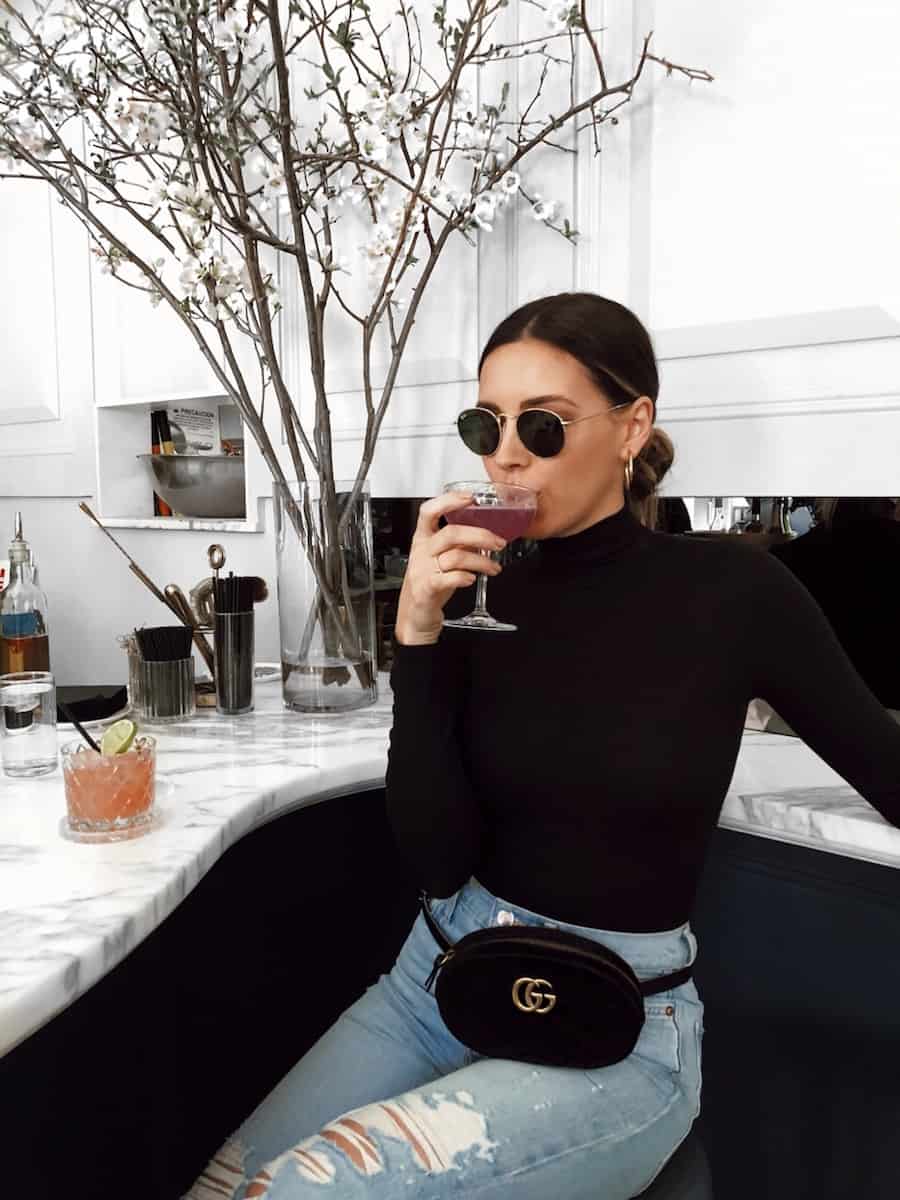 get the look:

This is a cute and timeless way to wear a Gucci belt bag. Jeans and a black top will never go out of style, and a black Gucci belt bag adds flair to a minimalistic outfit.
Choose dressier shoes for a night out, or go with a casual shoe option for the daytime.
Gucci Ophidia Belt Bag Outfit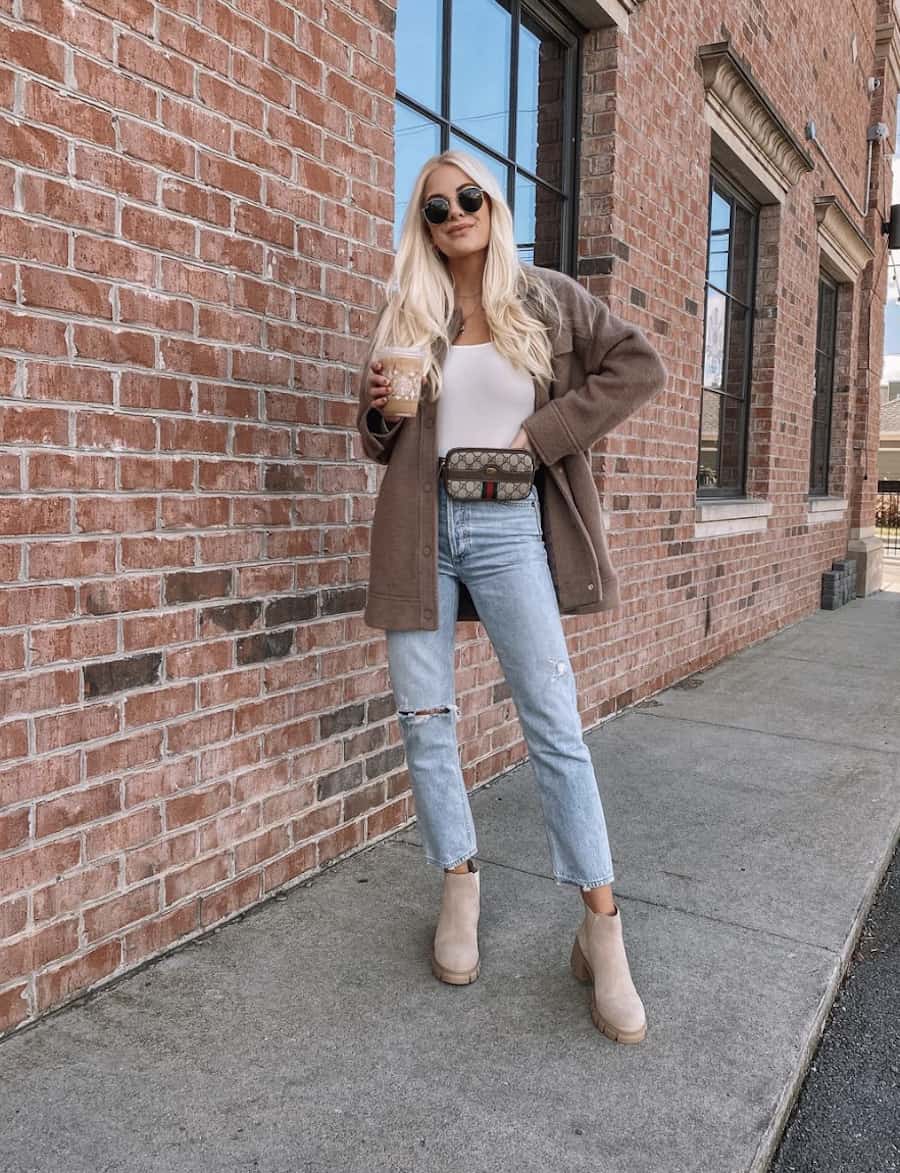 get the look:

We love everything about this Gucci Ophidia belt bag outfit. It's excellent for fall and has a great color palette that complements the Gucci belt bag perfectly.
The Ophidia belt bag is the best choice when you want to be hands-free and only need to carry along your phone, keys, and some lip balm. It's all about effortless outings with this outfit.
Jeans, Trench, + the Blondie Belt Bag
get the look:

A Gucci belt bag we are totally crushing over right now is the Blondie belt bag. So, we created this timeless and polished outfit to show you how it can be styled.
The jeans keep the look casual, but the Gucci loafers and ribbed top elevate the outfit. You can tuck the top in and wear the belt bag in the loops of the jeans, or keep the top untucked and wear the bag cinched around the natural waist.
A trench coat finishes the ensemble giving it a classy Parisian vibe. What's not to love?
Cute + Casual Gucci Belt Bag Outfit
get the look:

If you want your Gucci belt bag outfit to look effortless and cute, try this one!
We love the Gucci Marmont style with the chain belt and flap detail. It can easily be worn casually, or dressed up for a night out.
This look is perfect for a coffee date, a walk in the park, or running errands. The matching shorts and crop top go great with the cropped denim jacket, creating a fun and flirty look that is easy to pull off.
More Gucci Belt Bag Outfits
If you still aren't convinced you need a Gucci belt bag, here are a few more outfit ideas to inspire you!
Monochromatic Vibes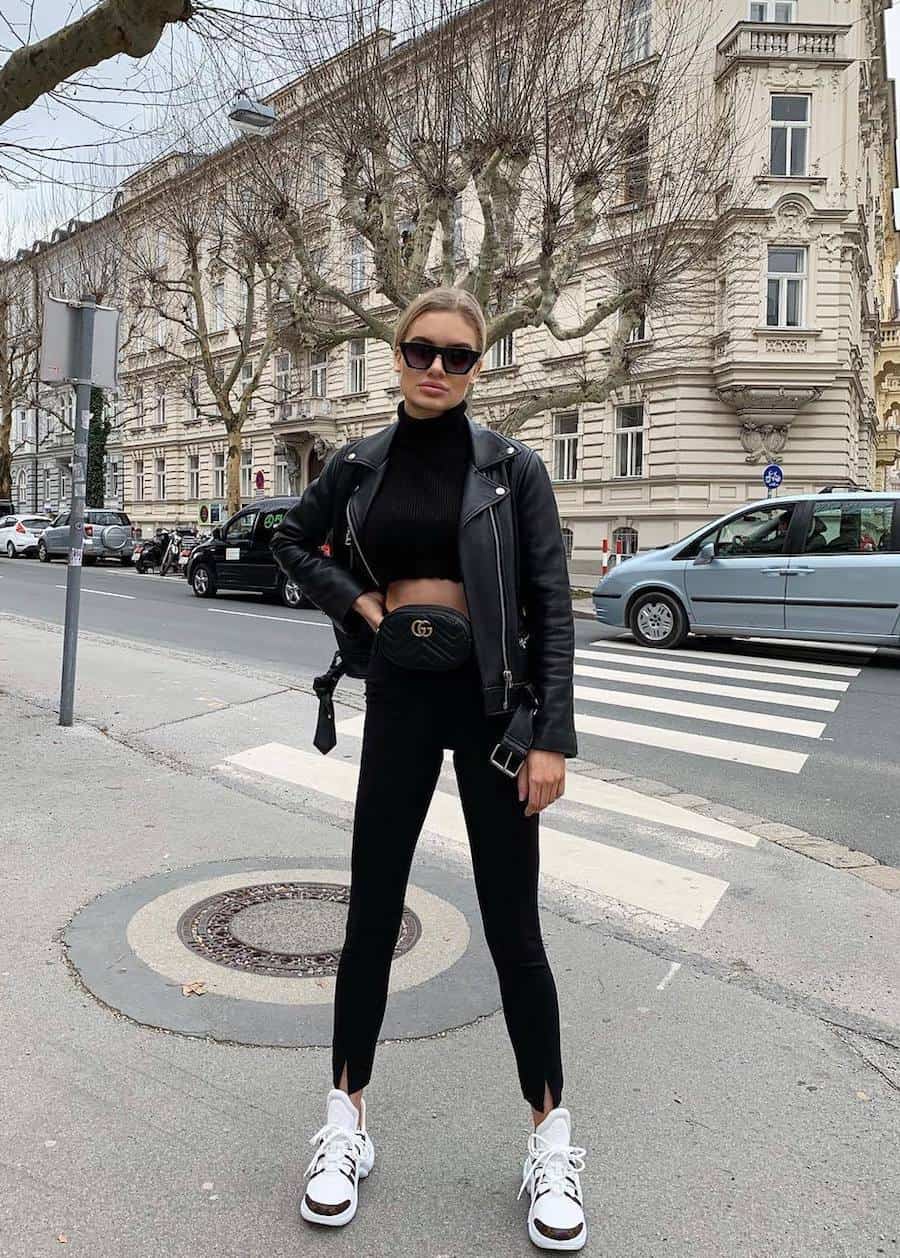 Sporty Belt Bag Outfit
get the look:

Lastly, is an outfit that has a sporty vibe and is practical for on-the-go days. The Gucci Supreme belt bag looks great worn loosely over a matching black athletic set, and the white oversized button-up shirt elevates the look.
The ball cap and white sneakers finish the outfit perfectly!