Looking for Gucci belt outfit ideas or ways to style a Gucci belt? Check out 15+ chic and modern Gucci belt outfits that show a variety of stylish ways to rock this iconic accessory.
*this post contains affiliate links*
Modern Outfits with Gucci Belt
Every outfit is better with an iconic Gucci belt. Don't believe it? Check out how you can rock this wardrobe staple with these effortlessly chic and classic Gucci belt outfit ideas!
The Gucci belt is an investment that stands the test of time and instantly elevates any look. We've rounded up 15+ of our favorite Gucci belt outfits that you can easily recreate.
How do you style a GG belt?
A Gucci belt can be styled many different ways including:
with jeans and a blouse
over a long blazer or cardigan
with dressy trousers and a camisole
over a dress or romper
with a pair of shorts and a cute top
with leather leggings and sneakers
Whether it's the peak of summer or the dead of winter, Gucci belts have a way of classing up outfits year round. Here are some of our favorite Gucci belt outfits that you can easily copy with your own wardrobe.
Casual Street Wear Gucci Belt Outfits
For casual occasions, day to day activities, and laid-back evenings out, you can sport your stunning Gucci belt with the outfits below.
jeans, Gucci belt + ankle boots.
get the look:

If you're searching for an effortless outfit, look no further: straight leg jeans and Gucci belts are a match made in heaven. The belt really pops against this simple and classic combination.
This chic outfit never goes out of style and can be worn year round, so it's perfect for a capsule wardrobe. Switch out your boots for chunky heeled sandals to walk this look right on into summer.
Gucci belt, skinny jeans + stiletto heels.
get the look:

While the whole world seems to be leaning toward leisure wear, nothing can compete with the put-together, effortlessly-chic, casual combo of tailored jeans and blazer. It's a pairing that exudes elegance while still being down to earth.
Pair your structured jeans and classic pumps with a sleek black leather Gucci belt to instantly glam up your look from head to toe.
Gucci belt, jeans + leather jacket.
get the look:

You can't go wrong with this laid-back look. Whether you're headed for dinner with friends, or running errand, this relaxed outfit is elevated enough to help you transition from one scene to the next throughout the day.
Throw on your best vintage-wash jeans and white tee, and add a leather jacket and Gucci belt for a cool factor that ties the whole outfit together.
Gucci belt + leather leggings.
get the look:

For those who want the luxury of comfort while still maintaining style, this comfy-meets-cool outfit is the best of both worlds.
To recreate the look, accessorize your black leather leggings with a Gucci belt or Gucci belt bag, oversized blazer, and sleek sneakers to give your casual outfit an edge.
Swap the sneakers for pumps to take this outfit from day to night.
Gucci belt, jeans + feminine top.
get the look:

Gucci belts are very versatile and look excellent dressed up and down. For a chic and stylish outfit pair straight-leg jeans and with a puff-sleeve blouse.
This is the perfect outfit to complete with a signature waist-cinching Gucci belt. A classy and versatile outfit, it can easily take you from day to night with just a switch of your shoes.
classic black on black.
get the look:

Next on the list of Gucci belt outfits is a chic and elevated look. The classic leather Gucci belt is the perfect way to break up an all black look, and it has the added benefit of slimming the waist.
Got black pants, a black sweater, and black loafers (Gucci is a bonus)? Add your Gucci belt and this outfit is a piece of cake to achieve.
casual monochrome.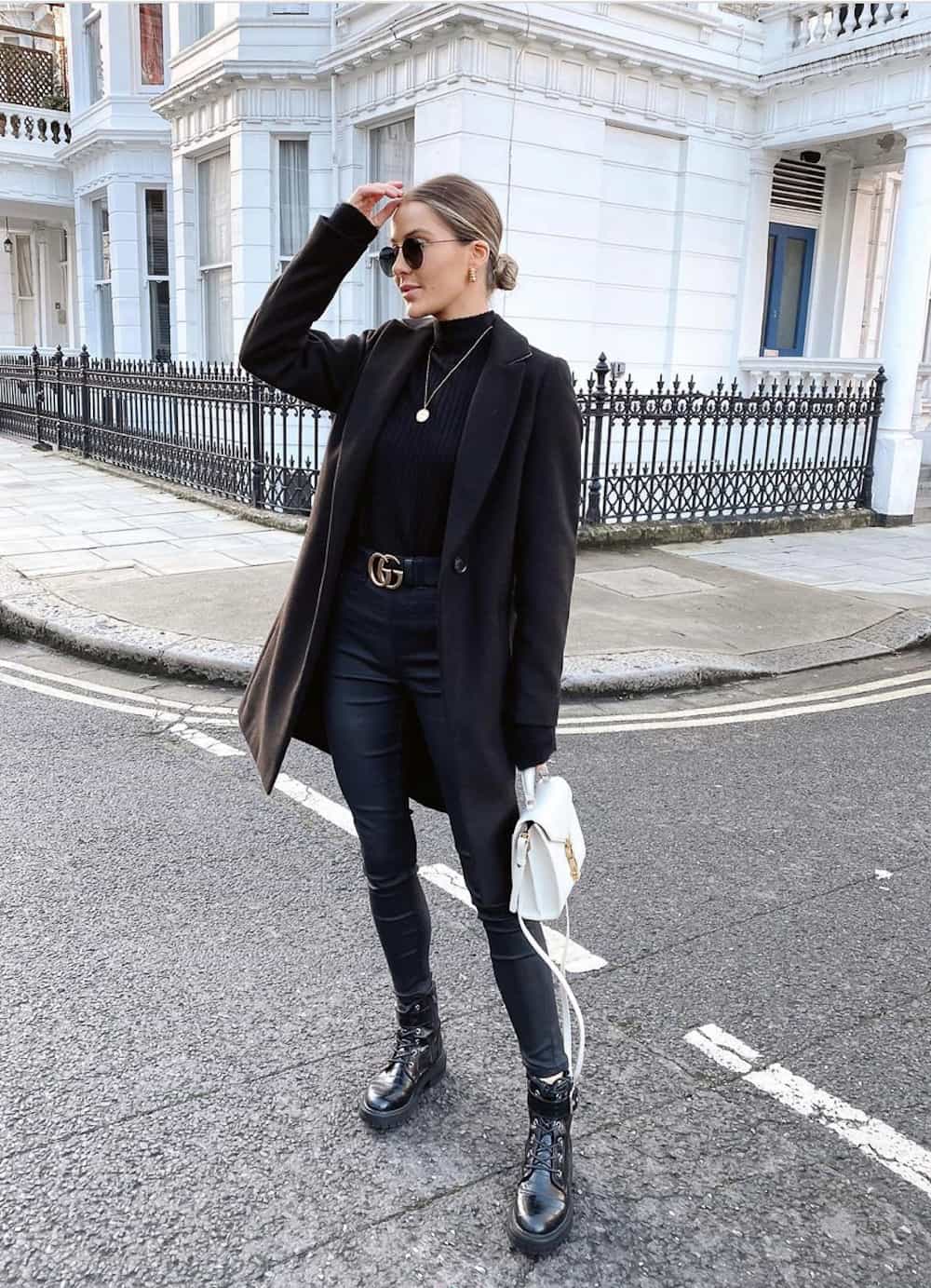 get the look:

There's a reason black clothes never go out of style. Channel your inner supermodel by pairing chunky combat boots with a black top, leather pants, and coat ensemble along with your favorite black Gucci belt.
With this outfit you'll definitely look 'en Vogue'. It's also best to go with the Gucci wide leather belt as it will stand out and be the focal point of the outfit.
Gucci belt over a blazer.
get the look:

Buck the trend of belted jeans by adding a signature Gucci belt over a blazer. The belt nips in the oversized, structured blazer to create the cinched waist effect and balance out your proportions.
Go with a wider Gucci belt over a boxy boyfriend blazer or tweed blazer for a classy fall look. And, opt for jeans or a pair of wide leg trousers to complete the outfit.
belted scarf + oversized coat.
get the look:

If comfort is king for you, you'll love this effortless way to elevate your winter outerwear. Use a classic Gucci belt to cinch an oversized coat while securing a stylish cashmere or wool scarf to add extra warmth and a pop of color.
Finish the look with vintage-wash jeans and lug boots. This is a perfect fall or winter outfit you'll wear again and again.
Classy Gucci Belt Outfits
If you want to wear your gorgeous Gucci belt to the office or in a more professional setting, try these classy looks below.
cream Gucci belt + neutrals.
get the look:

Carry the class of the Gucci belt into your everyday workwear with some of the subtler leather belt color options.We love the Gucci belt in ivory, brown, or dusty rose.
A thin neutral Gucci belt adds sophistication to this outfit palette and instantly takes this work look from boring to bougie.
Gucci belt + tailored pants.
get the look:

Next on the list of Gucci belt outfit ideas is a look that is chic and elevated. A slim Gucci belt is the perfect way to dress up a business casual look.
The clean line defines the waistline on tailored pants making them visually appealing yet professional. Pair a more daring bustier top like this one with a blazer to seamlessly take your outfit from the office to happy hour for drinks.
elastic waist trousers + gucci belt.
get the look:

You don't need belt loops to wear a Gucci belt with a chic pair of tailored pants. Try trousers with an elastic waist band and tuck in a blouse or fitted shirt.
The belt can be worn right over top of the waistline creating a seamless look.
How do you pair a Gucci belt with a dress?
A Gucci belt can be easily worn with a dress by wearing it cinched at the waistline. You can purchase leather loops secure the hanging end of the leather belt, or fold it over and tuck it into the belt.
Gucci belts also look excellent with all kinds of dress styles. You can easily wear one over a chic summer mini dress or with a classy slip dress.
A Gucci belt can also be used for tucking a sweater when wearing one over a dress. Take a look at some of our favorite ways to combine the two.
midi dress + Gucci belt.
get the look:

What makes the Gucci belt such a staple? It has to be its waist defining abilities.
Fasten your Gucci belt over a midi dress to prevent your waistline from getting lost in the fabric. Throw on your favorite cropped jacket and boots to recreate this comfortable yet chic outfit.
slip dress, Gucci belt + sweater.
get the look:

Cool weather calls for chunky knits and cozy fabrics. Harness the power of the Gucci belt to accentuate your waist and break up heavier fabrics.
Wear an oversized sweater over a simple slip dress and add a Gucci belt to draw attention to your natural waistline. Throw on a chic wool coat and voila! You'll be channeling your most fashionable self in no time.
tailored shorts + Gucci belt.
If you work in a more fashion-forward office environment, this is definitely a Gucci belt outfit you'll want to try. There's no question that a Gucci belt raises the formality of shorts.
Pair tailored shorts with a more modest blouse or sweater for the perfect summer work ensemble that won't leave you dying in the heat!
Are Gucci belts still trendy?
Absolutely! Gucci belts are still trendy. In fact, a Gucci belt is a timeless piece that will never go out of style. They are incredibly versatile and can be worn so many ways no matter which fashion trends come and go,
A better question is, how can I make my Gucci belt outfits trendy? With a little creativity, you can find new and unlikely ways to incorporate the Gucci belt.
Below are some more outfit showstoppers we personally can't wait to copy!
denim shorts + oversized blazer.
get the look:

Think outside the box! The sleek sophistication of the Gucci belt isn't just reserved for the office or cooler weather.
Why not wear your Gucci belt with your favorite pair of denim shorts and T-shirt for an unexpected pairing? Add a loose fitting, linen blazer with a print for a cool, carefree effect.
romper with a Gucci belt.
get the look:

Lastly, on the list of chic Gucci belt outfit ideas is the Gucci belt and romper combo. A look where classy meets sassy.
There's no cooler pairing for the fun loving, adventurous woman. Wear your favorite jumpsuit or romper with your Gucci belt for an outfit that screams equal parts fun and sophistication.
Final Notes
If you're still on the fence about the Gucci belt, just consider its high quality and versatility. Not only does it add an elevated appeal to casual outfits or work wear, it can elevate your outfits year round!
With its expert craftsmanship, a Gucci belt is an accessory that you'll be able to wear over again for years to come. If there's one staple that you should splurge on in your wardrobe, the iconic Gucci belt is it!
More Style Guides You'll Love:
18+ Modern Womens Gucci Loafers Outfit Ideas
10+ Chic Gucci Belt Bag Outfit Ideas That Prove You Need One
How To Wear A Belt Bag + 19 Modern Belt Bag Outfit Ideas
How To Style Shorts with Tights + 15 Chic Shorts and Tights Outfits
How to Wear a Poncho: Chic + Modern Outfit Ideas To Try
17+ Leather Pants Outfit Ideas That Prove You Need A Pair