Looking for inspiration for chic and classy neutral nails to wear all year round? Check out our list of 21+ neutral color nail designs that have a timeless and minimal look!
Gorgeous Neutral Nails
If you love a timeless, minimal, and neutral aesthetic, it's likely you also keep it simple when it comes to your nails. We love the look of a clean, minimal manicure, simple nude nails, or a subtle neutral nail design.
In this post you'll find tons of chic and modern neutral color nail designs to carry you throughout the year!
What are neutral colors for nails?
Neutral colors are classic and well-known for pairing well with any look, making them the perfect pick for your next nail color. There are several neutral colors you can choose from, which include:
White
Cream
Nude
Grey
Black
Tan
Taupe
Beige
Brown
Although this isn't the complete list of shades that fall under the category of neutral colors, these are the neutral basics, and other tones are usually a variation or blend of these.
Neutral Acrylic Nails
Acrylic nails can easily be painted with gorgeous neutral toned polish or neutral color nail designs for a classy look. Here are our top picks for neutral acrylic nails.
1. Square Acrylic Nails w/ Leopard Accents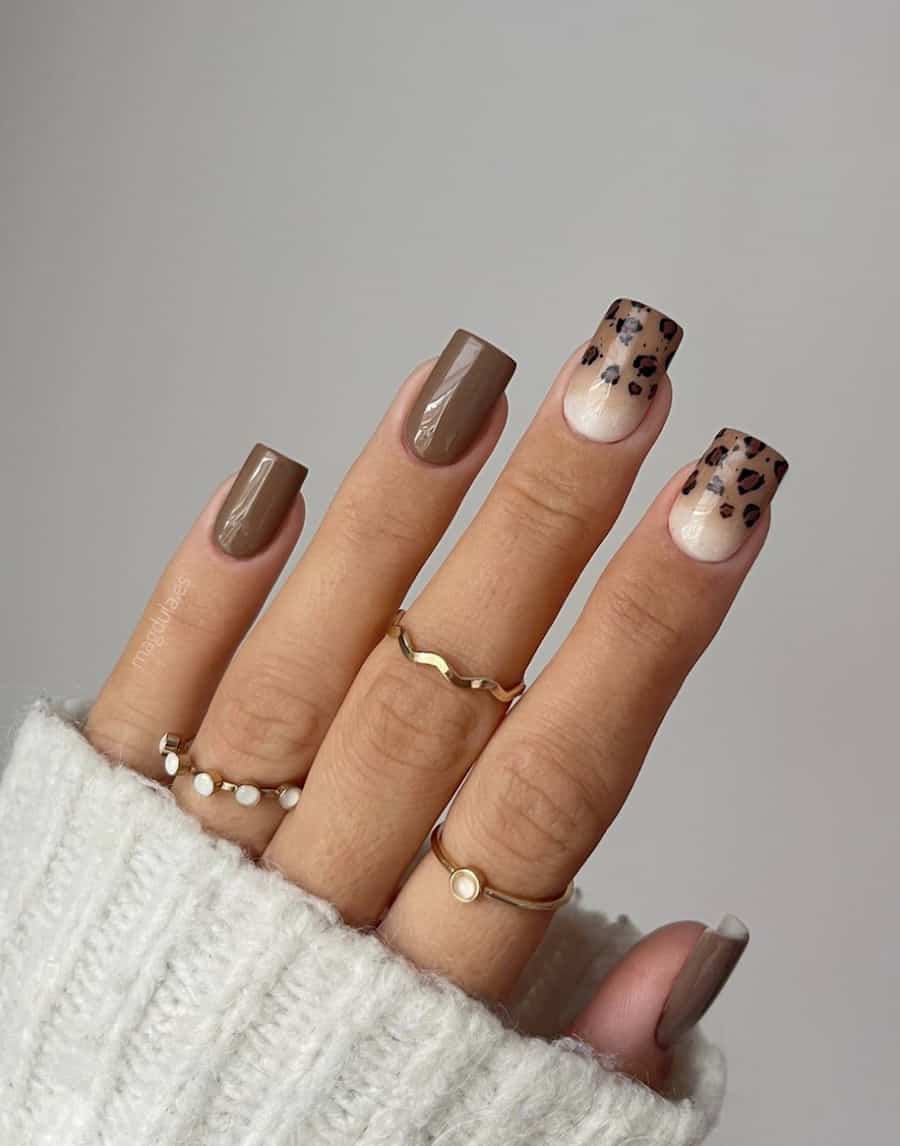 These stunning glossy nails definitely have a classy, neutral look. Paired with the bold animal print accents, this manicure has a minimalist feel that is still cute and playful.
The rich shade of brown paired with the leopard neutral color nail designs on the accent nails complement each other well. While this nail design is featured with a medium length, this manicure would still look amazing on shorter or longer nails.
2. Nude and White Checkered Acrylic Nails
This manicure is perfect for those who want something that has neutral tones but is still fun. We love the slight French tip on the solid nude nail and how it ties the whole design together.
Nude and white are timeless neutral colors that will look great with anything and stand out when paired together this way.
3. Short Brown Speckled Nails
The light brown base of these nails is a gorgeous and warm shade. The white speckles across each nail keep this manicure looking cute and stylish.
This simple but elegant design looks great on shorter nails, making these perfect for someone who wants a subtle but beautiful nail design.
Neutral Ombre Nails
If you love the playful feel of an ombre nail, then we've got you covered. These neutral manicures use a combination of classy neutral with adorable ombre designs.
4. Oval Brown Ombre Nails
This dreamy manicure uses neutral tones and a playful ombre design to create a nail look that we adore. This charming design uses gorgeous shades of brown to keep it minimal yet charming.
These neutral tones will easily pair with any look, while the ombre designs add a daring touch that will surely be an attention grabber.
5. Neutral Comic Ombre Nails
Like the one above, these nails go from an intense dark color to a light brown and tan. The ombre colors add a stylish touch, but the comic outline adds a playful detail.
On our list of neutral color nail designs, these gorgeous nails definitely have the most stand-out look. If you like unique, this manicure is the one for you.
6. Nude Pink, Brown, + Cream Nails
The long square shape of these nails is so elegant, and we love them paired with the variety of neutral colors and gorgeous nail art. This is an excellent choice for neutral color nail designs in the spring months.
We are in love with the unique twist on French tips using wavy bands along the top and down the side. And the ombre look on these French tip-inspired lines perfectly matches the mix of colors seen throughout the rest of the nails.
7. Short Ombre Brown Nails w/ Black Speckles
These short classy nails have a refined ombre effect going from rich brown on one end to a crisp white on the other. The shades of brown are light and well-matched, so the ombre is subtle but still gorgeous.
Of course, we also love the cute black speckles across each nail. This detail adds a youthful look to these chic nails.
Neutral Almond Nails
Almond-shaped nails make a perfect pair for beautiful neutral shades. If almond is your preferred nail shape, then these next manicures are meant for you.
8. Two-Toned Neutral Animal Print Nails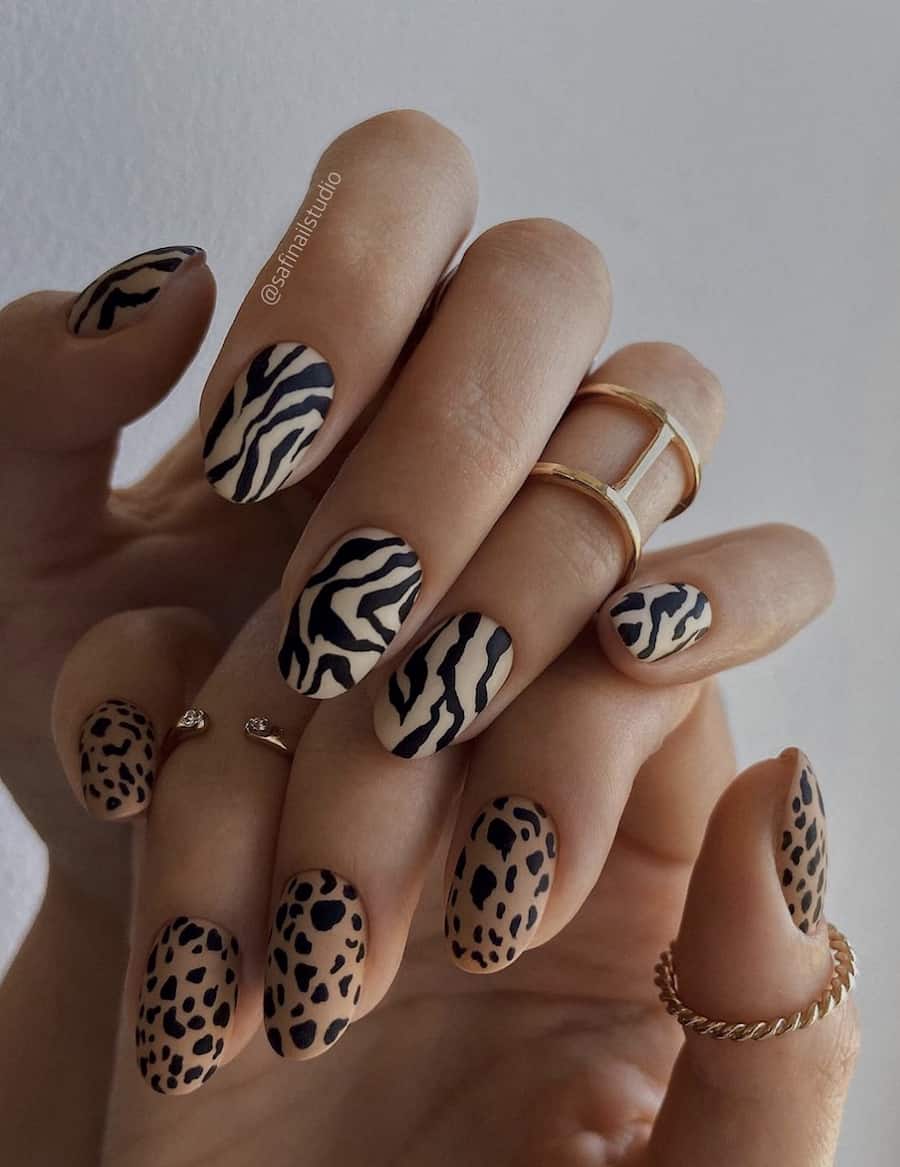 These aesthetic nails are proof that neutral doesn't need to be boring. The tan and cream shades are complemented by not one but two black animal print designs.
Using two different types of animal print adds a charming touch to this manicure that will show off your fun personality. This is a perfect choice if you have been searching for a playful design to use for neutral summer nails.
9. Nude, White, + Brown Nails w/ Leaf Art Details
This design on long almond-shaped nails is one of our favorite looks. The shades of light brown look fantastic paired with the pinkish-nude, and the white lines and black leaf art make this design a true beauty.
Even though multiple colors are used here, it still has that minimal look we love. The fine lines and delicate leaves add a feminine and romantic touch to these nails.
10. Brown + Nude Textured Almond Nails
These nails have a classic look with a unique twist. Using different shades of brown and adding a textured design gives this manicure a youthful feel.
If you're looking for a clean and minimal look with subtle details, this is an excellent option for you.
11. Neutral Almond Nails w/ Bead Accents
Next, we have this stunning manicure that uses shades of taupe with brown accents for a bold but elegant look. Silver and gold beads and the gold chain along the cuticle line of one nail give these nails a unique look.
The nail polish color looks incredible, and while it keeps the neutral theme, the taupe color sets this design apart from the rest.
12. Black French Tip Nails w/ White Accents
This play on the classic French tip manicure is bold and alluring. The daring use of black makes these nails look chic but edgy, and the delicate white lines add depth and interest.
If you love the look of the timeless French manicure but want to add a more playful touch, then try out this nail design during your next visit to the salon.
Want more inspo? Check out this list of black nail designs.
13. Nude Almond Nails w/ White Details
Another twist on French tip nails, this tops our list of neutral nail designs. It brilliantly uses only a white outline to give this classic style a modern look.
While this manicure is cute and playful, it's also a very subtle and minimal design that is perfect for a classy but unique look.
14. Classic Nude + White French Tips
While we've been drooling over the gorgeous variations of French-tipped nails, we couldn't leave out the original inspiration behind them.
These nails are the archetype for minimal and neutral nails. The traditional style of French manicures will always have a stylish and polished look that we can't help but come back to time and time again.
15. Simple Clear Coat on Natural Nails
Yet again, this look emulates French-tipped nails but is actually a glossy clear coat on beautifully manicured nails.
This classic look is perfect for displaying gorgeous milky white nails. The subtle difference between the pink nails and natural white tips makes this look like a pastel French manicure, giving these nails a sleek and chic look that others will envy.
What color nails goes with everything?
If you're looking for a nail color that pairs well with everything, then neutral colors are the best option. Black, brown, nude, and white are our go-to picks when we want a color that will look chic no matter what we wear.
Neutral Nail Polish
You can't go wrong with using good old-fashioned nail polish, and these neutral-toned manicures use just that for stunning neutral nail looks.
16. Classic High-Gloss Black Polish on Short Nails
Even though these nails are simple and minimalistic, they still stand out with the use of the bold black color.
The intense color and glossy finish make this manicure an eye-catching beauty. And the short length and classic square shape make these nails both beautiful and practical.
17. Gorgeous Taupe Nails w/ Black Details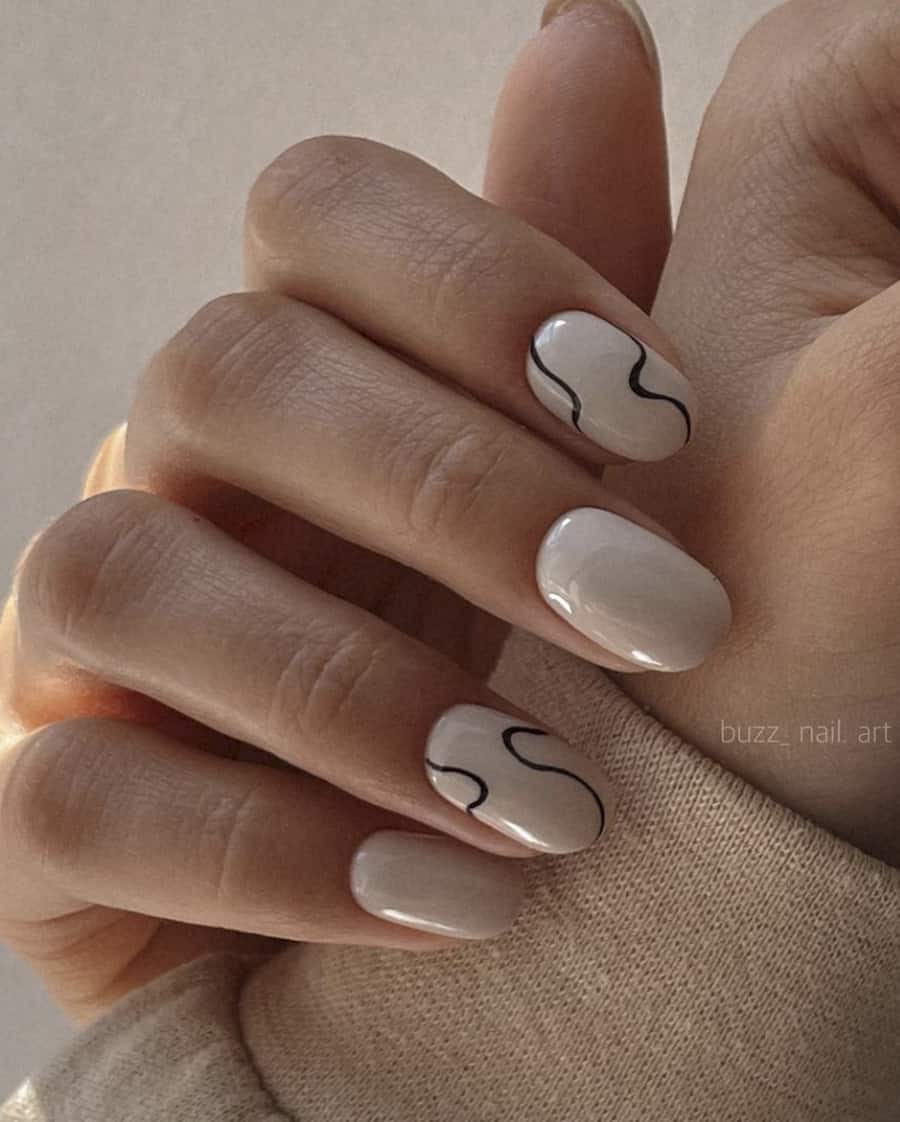 This nail color is absolutely breathtaking. This creamy shade of light taupe is a perfect neutral tone that gives us a refreshing break from more commonly used neutrals like nude, brown, white, and black.
The bold black wavy lines perfectly complement the warm base color of these nails, and these playful details add a fun and youthful feel to this elegant manicure.
18. White Paint Brushstroke Nails
We are completely in love with this dreamy nail design. The gorgeous cream nails have a matte finish that gives this manicure a classy feel.
The brightness of the white with the textured details is both refined and playful. These nails are a perfect pick if you're looking for a neutral design for a winter nail look.
19. Neutral Brown and Bronze Accent Nails
Next on the list neutral nail designs is nails that are nothing short of gorgeous and imaginative. We love the contrast between the classic pink and white tones and the daring brown and bronze accent nails.
Using light brown for the accent nails is the perfect pair for the vibrant bronze tips. The finer details, like using gloss on some nails and matte on others, really add to the bold look of these nails.
These would make the perfect elegant vacation nails too!
20. Solar Eclipse Nails with Gold Accents
We cannot get over how stunning this manicure is. Short square nails are paired with classic neutral tones for a refined look, but the subtle details of this design are what make these nails so mesmerizing.
The shimmer on the white nails stands out next to the matte black. And the gold lines across the white nails add a divine touch that will have others begging to find out who your manicurist is. We also think these would be great graduation nails!
21. Neutral Houndstooth Nails
Finishing up with this bold look on the list of neutral nail designs, we have these gorgeous light brown nails paired with a black houndstooth pattern. This nail design is sure to turn heads on its own, but the addition of vibrant gold across one nail makes the whole manicure feel vibrant and luxurious.
How do you pick a neutral nail color?
Picking a neutral nail color can be easy when you consider what look you're going for. Black and white are neutrals that stand out but also easily pair with every color, while shades of brown and cream have a warm and alluring feel.
You can also pick a neutral color based on what is currently in your wardrobe. Whether your clothes are muted or bright or warm or cool-toned, there are several neutral colors that you can match to your outfits.
Which neutral nail designs are the best?
These nails use gorgeous neutrals and exquisite details to create refined and classy looks. The best neutral nail designs for you will depend on your own personal style and tastes, but we hope this list helps you to find the perfect neutral nails for your next dazzling manicure.
More Nail Style You'll Love:
25+ Stunning Beige Nails That Are Anything But Bland
23+ Classic Pink and White Nails + Cute Pink and White Nail Designs
21+ Stunning Nude Pink Nails & Nude Marble Nails You'll Love
17+ Gorgeous Sage Green Nails To Inspire Your Next Manicure
21+ *Stunning* White Christmas Nails
19+ Gorgeous Emerald Green Nails You'll Want To Copy
21+ Stunning Mauve Nails With A Feminine & Youthful Vibe
19+ Stunning Navy Blue Nails & Dark Blue Nails
21+ Cow Print Nails That'll Make You Love This Viral Trend
19+ Gorgeous Olive Green Nails You'll Absolutely Love
21+ Pink and Red Nails For A Fun & Flirty Vibe
Christal Sczebel is an entrepreneur, published author, and content creator. Over the past decade she has worked in the digital media field building successful websites for both food and fashion. She has a natural affinity for minimal, timeless fashion, neutral home decor, and styling.
Here on Style Your Occasion, Christal is the Editor-in-chief and brain behind the aesthetic. She hopes you love the this space and the inspiration you'll find!