Headed to Mexico? Learn exactly what to wear and get stylish and functional Mexico vacation outfit ideas!
*this post contains affiliate links*
Mexico Vacation Outfit Ideas
So, you're taking a trip to Mexico. As you prepare for your vacation, you've likely dreamt up scenes of tanning under the sunny sky, taking in the sights, and tasting the delicious food with a margarita in hand.
While all that sounds great, you should also think about what type of clothes to pack. There are several factors to consider, including location, weather, and your itinerary. Though there are no hard-and-fast rules, you should pack thoughtfully to ensure you remain comfortable and appropriate while still looking fabulous (that goes without saying).
Continue reading to discover exactly what to wear, and get some cute and functional Mexico vacation outfit ideas.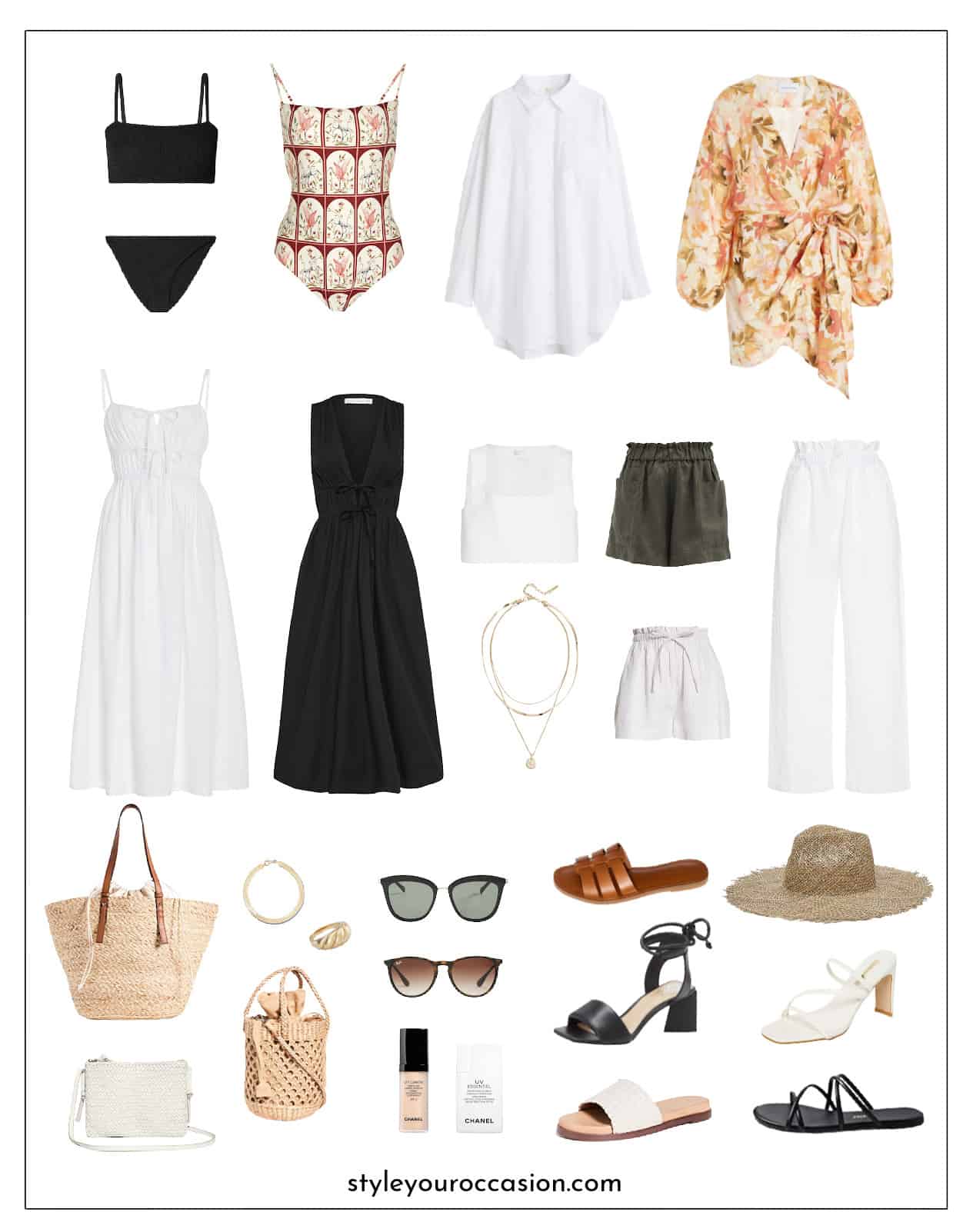 What Should I Wear On Vacation To Mexico?
Mexico is a popular destination spot, and this can partly be attributed to the warm, sunny weather. Whether you're headed to Cancun, Tulum, or Playa del Carmen, a suitcase filled with the right outfits will have you feeling confident and comfortable – two essentials every woman needs on vacation.
Some regions of Mexico tend to have a more modest fashion, while touristy destinations will accept your summer wardrobe, so considering your location is key!
Here's a quick rundown of items you'll want to pack for your beach trip:
Tank tops and breathable t-shirts and blouses

Maxi skirts, rompers, or lightweight dresses

Lightweight shorts and pants

Comfortable shoes or sneakers

Photos: @aurathelabel, @sivanayla
If you plan to visit any of the cathedrals, you should try to stray away from tank tops and short shorts. Instead, pack a pair of lightweight trousers or a maxi skirt to avoid wearing inappropriate attire.
While your suitcase will mostly be filled with beachwear, you should also consider the weather. The temperature may drop in the evenings and depending on the time of your stay, simple beach cover-ups might not suffice.
To avoid feeling cold at dinner, pack a lightweight jacket or a sweater to throw over your shoulders before heading out at night. It's also a great idea to do a little tanning before your trip to develop a bronzed base tan and avoid burning! Try this DIY tanning bed cleaner while you're at it!
What Do You Wear On The Beach in Mexico?
If you're planning to stay in a Mexican beach town, such as Los Cabos or Puerto Vallarta, you can get away with a more casual, carefree style.
Here's what you'll want to wear for daily trips to the beach:
Swimsuits

: choose one-piece or two-piece swimsuits you feel confident in and fit comfortably.

Oversized button up shirt or beach cover-up:

when you're planning your outfits stick to lightweight fabrics like linen and cotton that dry quickly and combat humidity.

Laidback, minimal pieces and neutral shades

: these are easy to style for multiple occasions. Plus, versatile pieces can double as beachwear, meaning you'll have more room for souvenirs and other essentials in your suitcase.

Accessories:

sunglasses, sun hat, tarnish-free jewelry

(but nothing super expensive that you would be very upset about losing!)

Again, you'll want to opt for airy, breathable materials. Light cotton and linen are recommended, as they absorb sweat and will keep you cool to a certain degree.
Additionally, if you want to embrace Mexican culture, you can wear hand-woven fabrics or embroidered tops.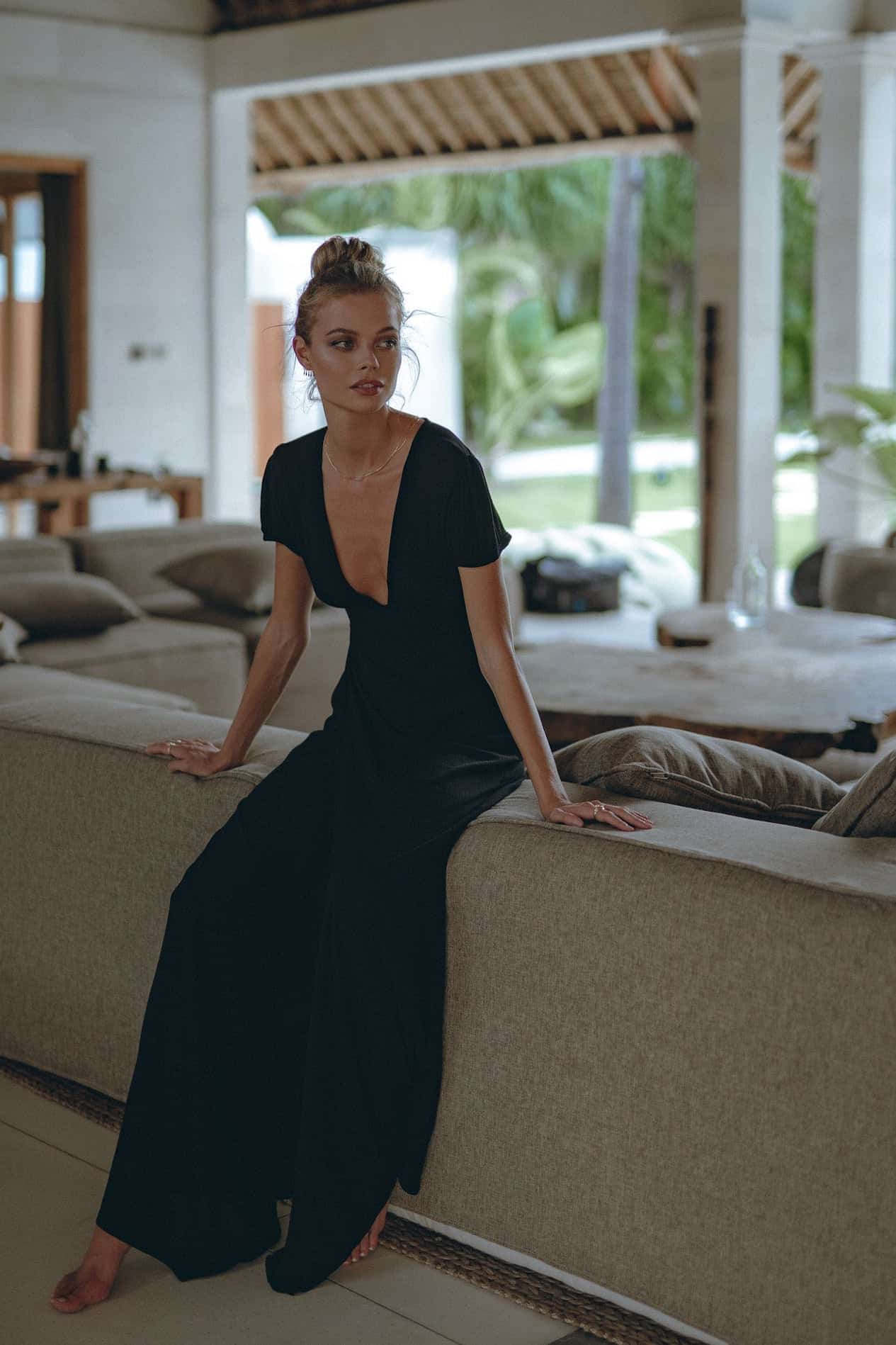 What Should I Wear To a Resort In Mexico?
Most Mexican resorts won't have a dress code, so you're free to dress as you please; however, there will be locations where you should dress more formally, such as the bar or restaurant.
Here are some ideas:
Dressier lightweight dresses or maxi skirts
Neutral tank tops
Swimsuits with cover-ups
Flat or heeled sandals
Subtle, tarnish-free jewelry to add a little something extra
Additionally, all-inclusive resorts likely have on-site activities, including swimming, various sports, and workout facilities. Make sure to consider your itinerary and plan your outfits accordingly.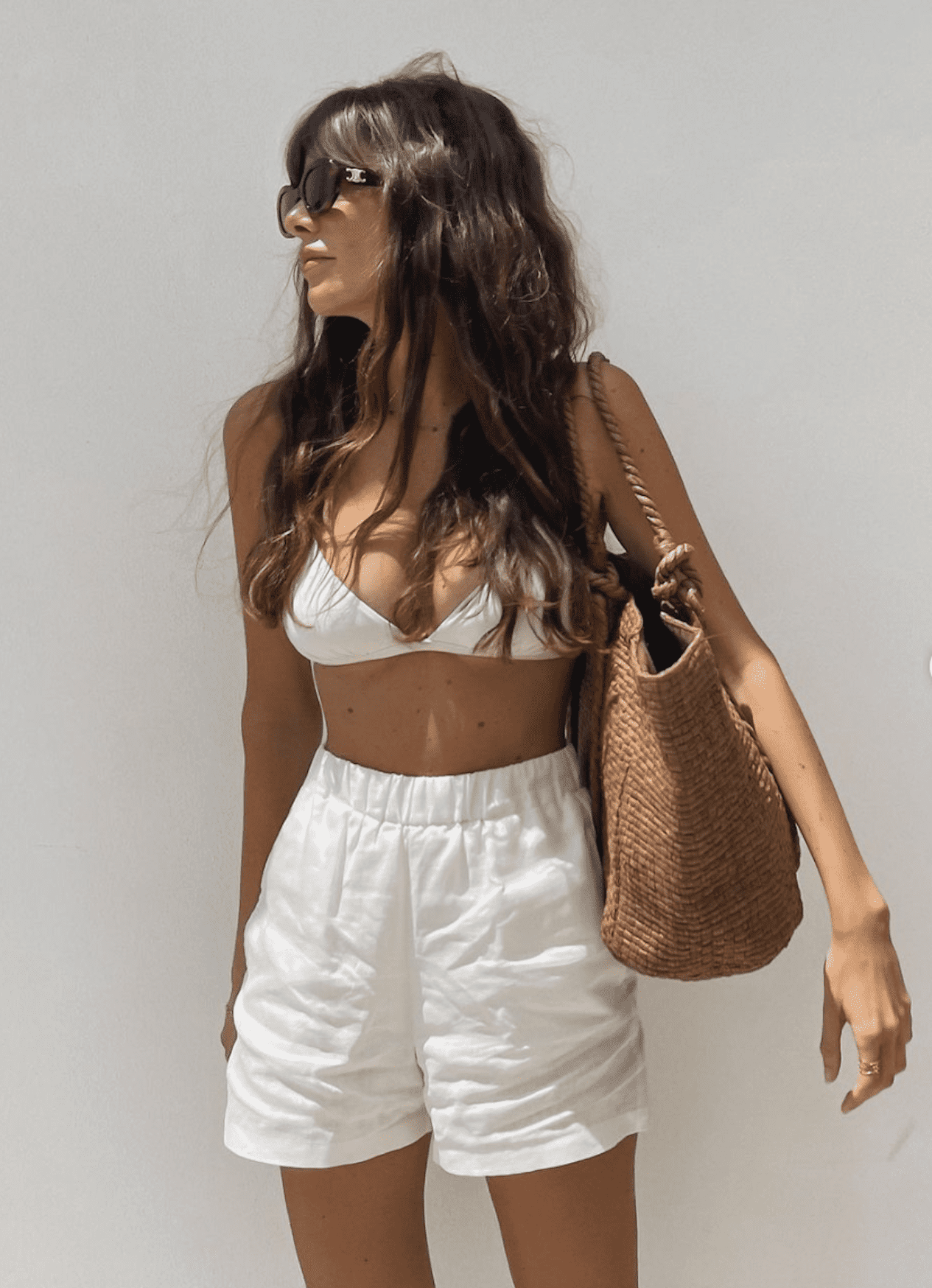 More Staples and Accessories To Bring to Mexico
In addition to the proper clothing, you should also consider accessories and other staples. The following items are functional and fashionable, allowing you to enjoy your trip looking (and feeling) great.
Sunglasses: In a sunny climate like Mexico, sunglasses are a must. I recommend packing an inexpensive pair you don't mind dirtying with sand or sunscreen smudges.

Sunscreen: Speaking of sunscreen smudges, sunscreen is an absolute must when you're traveling to a sunny country. Try to find one with an SPF of at least 50 to protect your skin from the harmful UV rays.

Sun Hat: There is no such thing as too much sun protection. A large straw hat will shield your face from the sun while lounging in the sand or strolling on the boardwalk.

Beach Bag: Taking a versatile carry-all bag on your trip will serve you well in the long run. I recommend a crossbody beach bag, which allows you to carry your daily essentials while keeping your hands free.

6 Mexico Vacation Outfit Ideas You'll Love
Below are six elevated, stylish, and effortless outfits for your Mexican vacation that are airy, breathable, and will keep you feeling comfortable.
For the pool.
get the look:

This light and airy outfit is perfect for a day at the pool and can easily double as a breezy outfit for breakfast, brunch, or lunch… poolside margaritas anyone?
At the beach.
get the look:

A crinkle black bikini with a light linen cover-up and airy shorts is perfect for the beach, with the added sun protection if you need it. Bring along a hat if you want, and pack your favorite book for a relaxing read while listening to the waves.
Shopping the markets.
get the look:

Browse around the towns and markets in this lightweight, pretty dress, along with a pair of comfortable sandals, and some dainty accessories.
Exploring ancient ruins.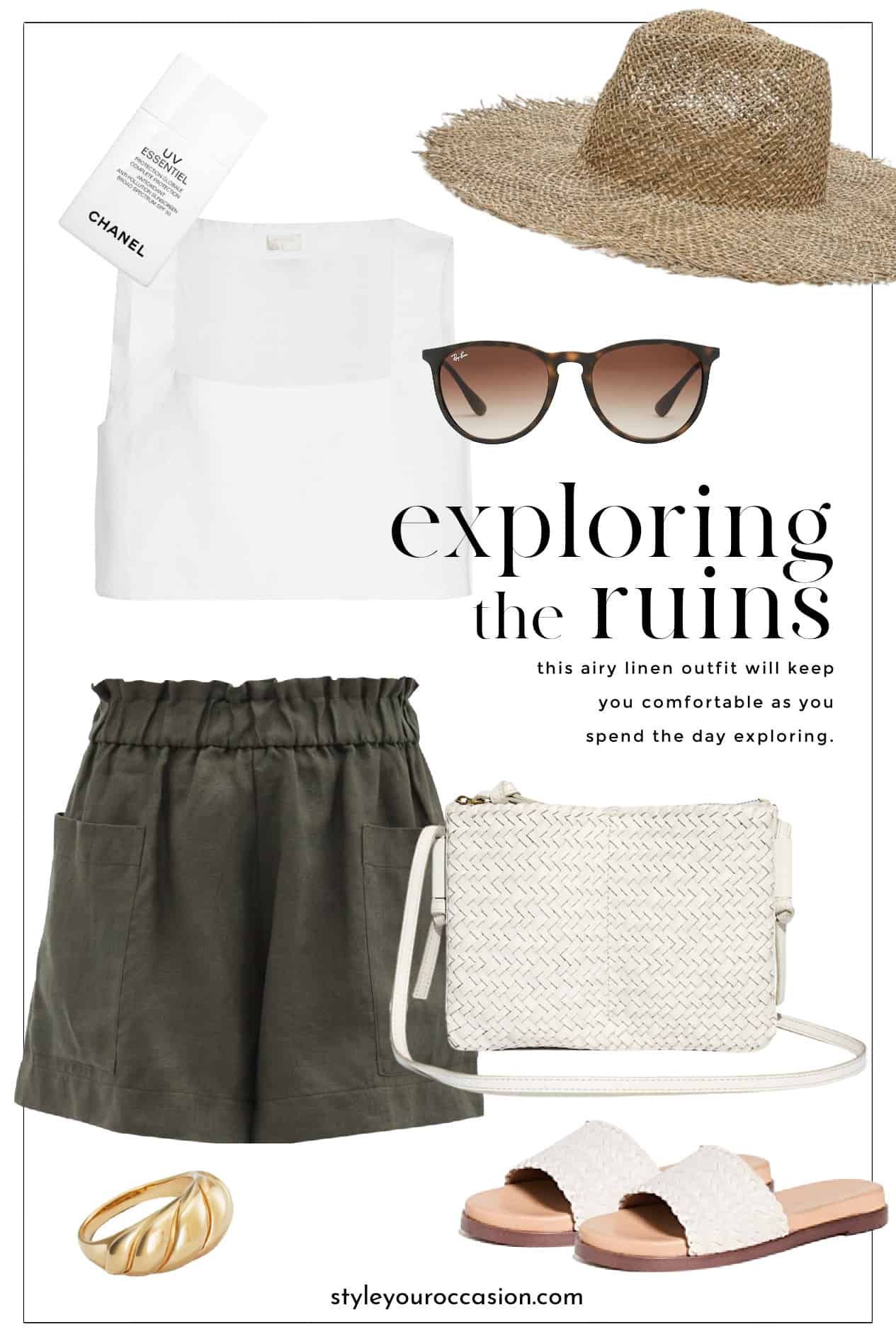 get the look:

Soak up the Mayan history and explore attractions in this stylish linen shorts and tank combo. Wear comfortable sandals, and a crossbody bag to tote sunscreen, snacks, and other necessities.
Resort dinner.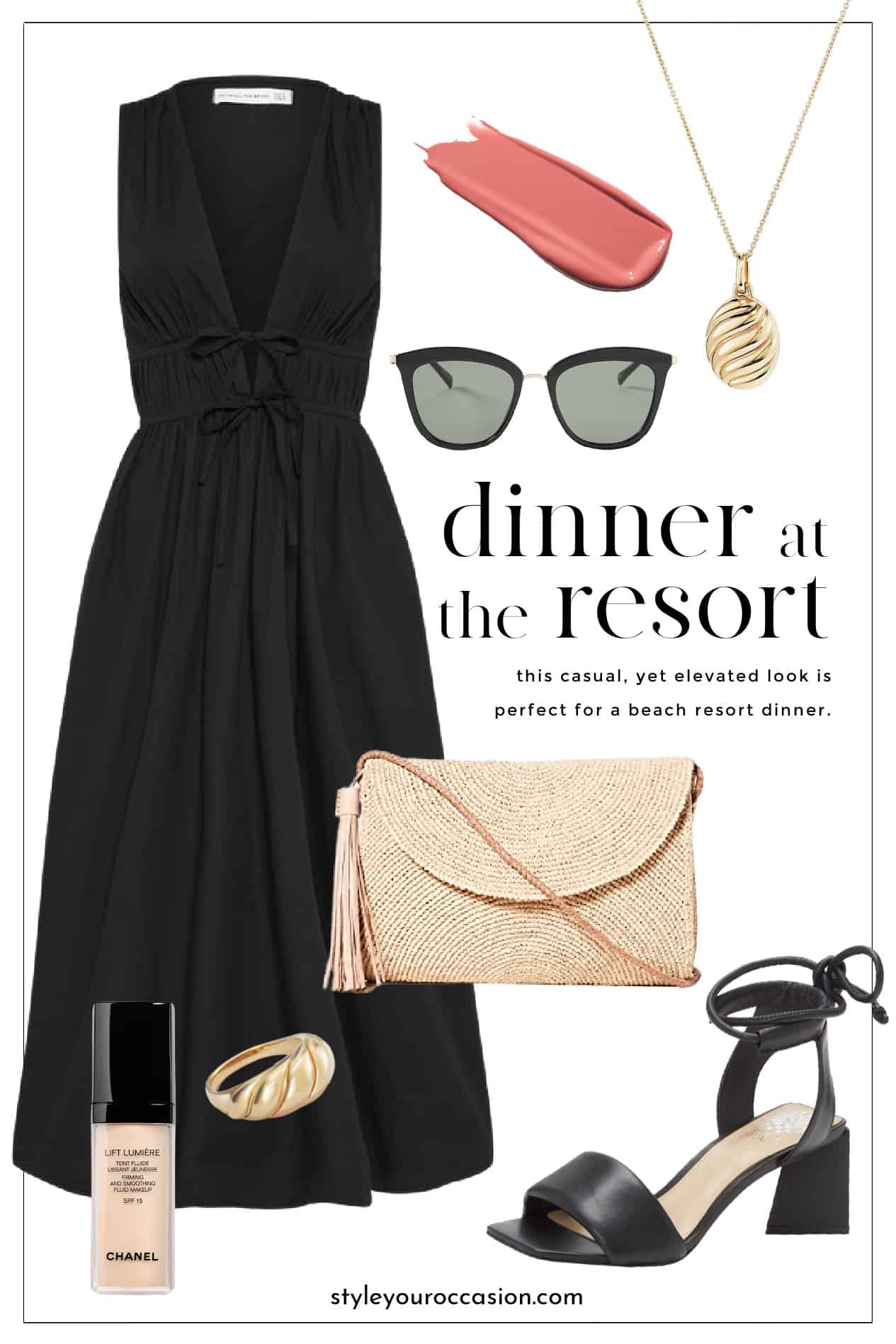 get the look:

Elevated, but still comfortable, this gorgeous lightweight black dress, strappy sandals, and gold jewelry is perfect for a delicious dinner followed by a walk on the beach or drinks in a lounge. Bring along a light cardigan or shawl if it is going to get cooler once the sun goes down.
Beach wedding guest.
get the look:

If you are headed to Mexico for a wedding, here is a gorgeous outfit that's light, breathable, and eye-catching. The perfect combination of elevated and effortless.
And there you have it! Mexico vacation outfit ideas to inspire you so you feel prepared and excited for your upcoming trip.
Which was your favorite? Be sure to pin the photo below to save this post for later!
Pin Me:
More Travel Outfit Guides You Need To See:
14+ Chic Desert Outfit Ideas For Your Next Desert Getaway
15+ Effortless Linen Pants Outfit Ideas
Best Beach Bag for Moms: 10 Beach Bags for Function + Style
18+ Chic Vegas Pool Party Outfits for Next-Level Aesthetic
What To Wear In Vegas: 17+ Classy & Elevated Vegas Outfits
Exactly What To Wear To Disney World
What To Wear In New Orleans: Cute Outfits + 4-Day Packing List
15+ Cute Disneyland Outfits For The Perfect Park Aesthetic
12+ Comfy Airport Outfits & Travel Outfits
Christal Sczebel is an entrepreneur, published author, and content creator. Over the past decade she has worked in the digital media field building successful websites for both food and fashion. She has a natural affinity for minimal, timeless fashion, neutral home decor, and styling.
Here on Style Your Occasion, Christal is the Editor-in-chief and brain behind the aesthetic. She hopes you love the this space and the inspiration you'll find!