Wondering what to wear with white skirts, or looking for white skirt outfits? We've got you covered with plenty of tips and elevated white skirt outfit ideas that will show you how easy it is to style this classic piece in any season!
*this post contains affiliate links*
What To Wear With White Skirts
Wearing white pieces can instantly give your outfit a classic, elevated, and polished look. That's why a white skirt is considered a wardrobe staple in the fashion world!
This piece is chic, timeless, and versatile, easily pairing with anything from a sweater to a crop top to a blazer. So if you're wondering what to wear with white skirts in 2023, you've come to the right place.
White Skirt Outfit Ideas
We've gathered chic white skirt outfits from our fave fashion influencers to show you how to style this piece in any season and for any occasion. In 2023 we are seeing a lot of midi skirts, so we've included midi-length skirt options as well as mini and maxi. Enjoy!
mini skirt + mini blazer
get the look:

Who doesn't love a tailored matching set?

This option is an easy grab out of your closet and have a complete outfit in minutes. All you have to do is add some accessories, and you'll be ready for the day.
We love the mini skirt and cropped blazer together; it's refined yet trendy. This look would be perfect to wear while hitting up your favorite brunch spot or for a night out with the girls. The off-white mini skirt is warm-weather-friendly, and you can always wear a cropped tank top under the blazer on a hot day.
the denim mini
get the look:

Next on our list of white skirt outfits, a denim mini skirt is a must if you'll be taking advantage of the summer sun at the beach or the lake! Or even if you plan to spend a warm day strolling downtown and checking out local spots.
We love the look of this distressed white mini skirt, although you can easily style a classic mini for a similar look. A tank top and white cotton or linen button-up will keep you cool, and the straw hat is both fashionable and functional here.
What should I wear with my white skirt?
When styling a white skirt, consider the type of skirt you have. Midi and maxi skirts tend to have a more formal feel, while mini skirts usually have a youthful and laid-back look. You can pair a white skirt easily with:
tee or tank top
long sleeve top
knit sweater
cardigan
black blazer
denim jacket
ballet flats
sneakers
sandals
heels
The material your skirt is made out of matters too! Classic cotton or silk skirts are better for a refined look, while denim and linen blends are more casual. You can choose to style your white skirt outfits based on the aesthetic of your skirt, or you can pair it with pieces that will dress it up or down.
Either way, your white skirt outfit is bound to turn out stylish and stunning!
go for casual
get the look:

This white linen pencil skirt is so gorgeous! Even though it's a long skirt, a linen blend will keep you cool and comfy throughout your day, making this a fantastic look for spring.
We love the combination of a chic white skirt with a knit sweater vest. The loafers are classy yet still comfortable enough to walk around in, making this outfit is perfect for grabbing a latte before browsing your fave shops.
add some contrast

White and black are a perfect color combo, popping against each other for a gorgeous contrast.
Create an outfit for cold weather, like in early fall when it's still warm enough for a skirt and heels, with a black leather shirt jacket for the chill. If you want to make the outfit more suitable for winter, trade heels for boots and add a pair of stockings.
Black leather and a white skirt are always a great match, no matter the season.
What do you wear with a white skirt in the winter?
When wearing a skirt in winter, go with a midi or maxi skirt (you can also get away with a mini skirt in the winter, but make sure you have warm tights underneath). Then, pair your skirt with any of the following for a chic winter look:
chunky knit sweater
cashmere cardigan
turtleneck
shearling vest
wool coat
knee-high boots
ankle boots or Chelsea boots
thick tights
winter ready
get the look:

Don't be afraid to rock a gorgeous white skirt like this in the winter!
The thick ribbed skirt will keep you cozy and definitely has a winter look. It's long enough to provide plenty of coverage from cold air, but you can layer some winter tights underneath if you need to.
A turtleneck and short coat are the perfect combo to protect you from the elements, and the white leather boots are great in the winter. Don't forget a chic handbag for all of your essentials!
make it leather

If you're going for a bolder look, go for a white leather skirt. Leather pieces transform an outfit into something with effortless style. A short skirt and a bright blue button-up are definitely fitting for spring, and the black leather boots complement the outfit perfectly.
This look is an excellent choice for grabbing lunch with girls. Go for heels if you want a more feminine look, or keep it as is for a head-turning outfit!
school girl chic
get the look:

This outfit is fitting for anything from a day at school to running errands. The mini skirt and blazer give this look serious schoolgirl vibes and a youthful aesthetic.
Loafers tie into the schoolgirl look and are good for being on your feet, though you can go with sneakers for a more casual outfit.
pretty + professional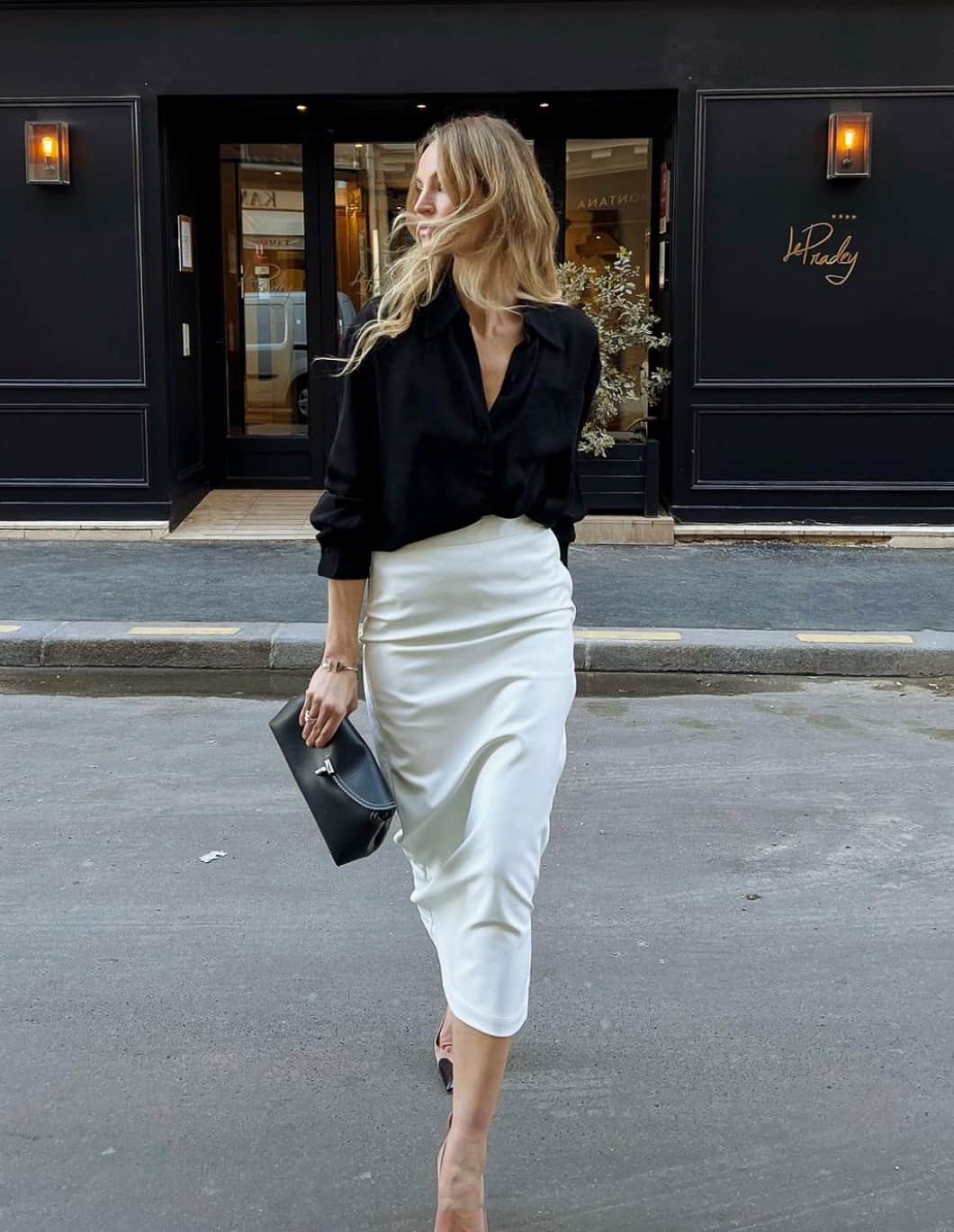 get the look:

You really can style a white skirt for any occasion – including a day at the office! This chic pencil skirt definitely has a formal look to it that makes it perfect as office attire, and the black button-up also works for an office setting.
We love the white and black together, but if you prefer more color in your outfits, swap the black shirt for an emerald green or try light blue for a soft spring look. Add your favorite pair of pumps, and you're ready to take on the day!
add some color
get the look:

When it comes to what to wear with white skirts, adding a pop of color is an easy way to elevate the look. Everything about this outfit, from the ribbed midi skirt to the burgundy leather blazer, has a cool and laid-back feel to it.
The leather blazer makes this a great option for early spring or fall, and is perfectly on-trend for this year. If you want a warm-weather outfit, lose the leather jacket and stick with just a crop top!
denim midi skirt + sneakers
get the look:

Denim and sneakers are the perfect pieces to pair together for a casual look. This laid-back outfit is a good choice if you want a simple but chic look to wear while running errands around town.
The Converse sneakers are youthful, and the front slit in the skirt adds a playful touch. We love the loose cozy sweater here, making it suitable for a chilly day, or you can pair this with a tank top if it's warm out.
Not to mention, long denim skirt outfits are very on-trend right now!
What tops to wear with white skirt?

White skirts are very versatile, making them easy to pair with so many pieces. You can wear a variety of tops with your white skirt, including:
tank top or tee
casual sweatshirt
knit sweater or cardigan
halter top or crop top
turtleneck
flowy blouse
button-up shirt
blazer
denim jacket
leather jacket
vacation vibes
get the look:

When it comes to what to wear with white skirts, you can never go wrong bringing one on a tropical vacation. A skirt is perfect to wear while exploring a new town (or revisiting an old favorite), and the faded burgundy button-up is so gorgeous.
We love the fringe details on this midi skirt; they add to the vacation vibes here. And, of course, flip-flops and a straw hat are also so fitting for a holiday outfit!
You can use a short or a long skirt for a look like this. Just pair it with sandals, a large tote, and a blouse or tank top for an effortless vacation outfit!
White Tennis Skirt Outfit Ideas
When you think of white skirts, you can't help but picture a classic white tennis skirt. So, we've chosen some chic tennis skirt outfits to add to our list!
go for a sporty look
get the look:

Next on our list of white skirt outfits, tennis skirts always have a bit of a sporty vibe. So whether you're actually going out for a game of tennis or just want that sporty look, a white tennis skirt will be perfect for you!
We love the pop of color from the bright green tank, and this cropped tie top is definitely a summer piece. The sneakers and baseball cap add to the athletic feel and help give this white skirt outfit an overall casual look.
a tennis skirt + sweatshirt
get the look:

This tennis skirt has a bit of a sporty feel as well, but the addition of the sweatshirt gives it a laid-back and youthful vibe. Sneakers add to the relaxed look and make this outfit perfect for anything from shopping with friends to checking out a local museum!
You can rock this look in the fall or trade the sweater shirt for a sweater vest if you want a similar look that's good for sunny days!
White skirts have a refined and clean aesthetic that makes them so perfect to pair with other pieces. No matter what look you prefer, white skirt outfits can easily fit into your wardrobe to help you create stunning looks. We hope you feel inspired for what to wear with white skirts in 2023!
More Style Guides You'll Love:
10+ White Jean Skirt Outfit Ideas That Are Minimal + Très Chic!
Exactly What To Wear To A Comedy Show + 10 Chic Outfit Ideas