Are you taking a trip out to Las Vegas? Check out our list of 11+ Vegas mens outfit ideas to be the best dressed while in Sin City! There's mens Vegas outfits for all kinds of occasions you can plan on your trip!
*this post contains affiliate links*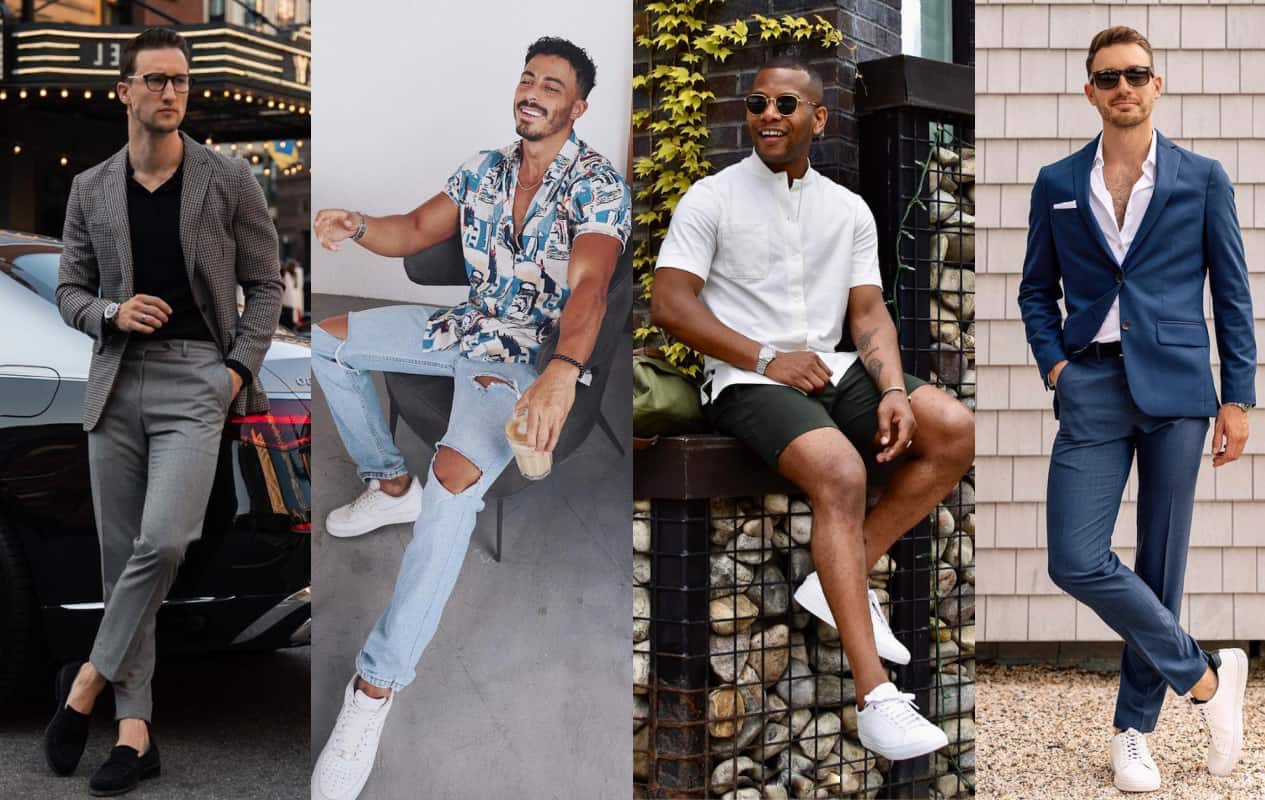 Mens Vegas Outfits for Any Occasion
Las Vegas is an iconic city with endless entertainment and incredible nightlife. One thing we love about this gorgeous city is the fantastic fashion we see there. From casual pool days to high-class dinners and nightclubs, there are plenty of places to dress up for.
If you plan to visit Vegas and don't know what to wear during your trip, read on and discover our style guide for stylish men's outfit ideas while staying in Sin City.
What should guys wear in Vegas?
Business casual is an appropriate and good-looking style for men to wear while visiting Vegas. You'll want to pack various items like sneakers, dress shoes, button-ups, blazers, chinos, jeans, and a suit, but if you are ever unsure about what to wear (aside from the pools), stick with a business causal ensemble.
You can mix and match pieces to create different outfits for different occasions. Since some restaurants and nightclubs will have a dress code, you'll want a more formal look when you're going there.
If you are visiting in the summer and plan to lounge by the pool, don't forget a pair of swim trunks and a laid-back outfit, like casual shorts and a short-sleeved button-up.
Stylish Vegas Men's Outfit Ideas
Below are excellent mens Vegas outfits for a trip to Sin City that you can easily recreate. They are stylish, modern, and work for many different Vegas outings.
This look with dress pants and a suit jacket is a perfect Vegas outfit and an excellent choice for a dinner look. The deep blue looks great, and the white sneakers keep the look laid-back and relaxed while still being fashionable.
If you want a more formal look, you can always swap out the sneakers for a pair of dress shoes. You can also change the colors to something more neutral or a different color.
What do guys wear to dinner in Vegas?
While in Vegas, plan to wear a formal or business casual outfit to dinner. This can include a nice pair of jeans with a collared button-up shirt and a blazer, or suit pants and a dress shirt with dress shoes or loafers. Some high-end restaurants may have a dress code, and formal wear might be required, so it's always best to check before you go.
You can choose a suit or opt for a more casual look with dark-wash jeans, a button-up shirt, and a tailored blazer.
Next on the list of mens Vegas outfits is a stylish, statement outfit perfect for the vibe of Sin City.
Distressed jeans and a casual printed button-up are great for the local bars you're sure to visit while in Vegas. Add a pair of stylish sneakers, and you've got a laid-back look perfect for relaxing with cocktails and friends.
If you prefer a more minimal look, swap the printed top for a solid-colored one or change the ripped jeans to a standard pair.
This look is perfect for exploring the city on your first day in Vegas. This summer outfit is casual and comfy for walking around without sacrificing style.
We love the neutral look of this outfit, with a bright white shirt and shoes and the muted tone of the green shorts. But you can really change up this look to fit your personality.
Choose your favorite pair of shorts and add a neutral-colored top and a comfortable pair of sneakers to finish this look on our list of mens Vegas outfits.
When you're spending a night in Vegas visiting their legendary nightclubs, you'll want to dress to impress. This outfit has a simple but fashionable look that's perfect for a night of discovering the fantastic entertainment in Vegas.
A casual shirt tucked into dress pants starts off this look. You can grab a patterned blazer for a stylish touch or go for a different color, like deep blue or dark green. The black loafers keep this outfit looking formal but are comfortable shoes to spend the night in.
How should guys dress in Vegas clubs?
Mens Vegas outfits for the clubs should be semi-formal. Choose dress pants, chinos, or a nice pair of jeans, and add a dress shirt or a button-up. Keep it simple with leather sneakers, loafers, or dress shoes.
You can add on a blazer or suit jacket, but it's not necessary if you want to stick with a laid-back look.
This is another excellent choice for a dinner outfit while in Vegas. This outfit has more of a relaxed feel to it with the plain white tee and sneakers, but the suit keeps it looking stylish. We love the monochromatic blue shade of this suit, but it would also look great in darker colors.
The combo of suit and sneakers would also be great to wear out to a nightclub, although some high-class clubs may have stricter rules and won't allow sneakers.
Next on the list of mens Vegas outfits is a classic choice for all kinds of occasions. You can't go wrong with bringing a pair of dark jeans, and these are perfect to wear when you hit the famous Vegas casinos.
A comfy pair of jeans and a tee is a great casual look while in a casino, and the blazer and dress shoes add an elevated feel to this outfit, making it perfect for going from casino to restaurant.
How do guys dress in Vegas casinos?
Vegas casinos have more of a casual vibe compared to the restaurants and nightclubs there. You can wear a more laid-back outfit like jeans and a t-shirt or light sweater when you plan to spend some time here, but you'll still want something that looks stylish and out together.
Opt for sneakers if you are going to be visiting multiple casinos and want to feel comfortable, or if you are hitting the high-rollers tables, be sure to dress to impress.
If you plan to hit a pool party while in Sin City, then you'll definitely want to pack a fun pair of swim trunks and casual clothes to pair with it. This is a great laid-back look for lounging by the pool, enjoying cocktails under an umbrella, or taking a dip in the water.
We really love the matching swim trunks and casual button-up pictured here. If you don't have a matching set like this, you can pair any button-up with your favorite swim trunks or board shorts. Don't forget a pair of sunglasses and a belt bag to keep all your essentials nearby.
When it comes to mens Vegas outfits you might not think of a travel outfit, but you don't want to overlook this one as it's likely you'll go straight from the airport to the casinos and maybe even a club!
This outfit is a great choice. You can stay comfortable while walking through the airport and still have a fashionable look when you land in Vegas and explore the strip.
A pair of chinos or jeans are perfect to start this look, and add a casual collared shirt or button-up over the top. The sneakers, sunglasses, and cap are perfect for travel and add to this outfit's simple and laid-back vibe.
We love this look for spending an evening enjoying five-star dining and hitting the clubs afterward. The oversized blazer adds a relaxed and comfortable feel to the outfit, but this stylish look is still perfect for being out and about in the city.
Put on your favorite button-up and dress pants, and add leather dress shoes and a dark-colored blazer. This look is easy to put together with different pieces and can easily be changed to fit your style.
This look is definitely a great choice to spend the day walking down the strip and enjoying the city. You can spend the day in this casual outfit, checking out the casinos, having lunch, and checking out the top attractions in Vegas.
Chinos or some comfy dress pants are perfect to start off this look. Layer a short-sleeved button-up over a tank, and add the loafers to finish this outfit. You can also swap out the loafers for a pair of sneakers for a more casual feel.
What men wear in Vegas during the day?
In Vegas, during the day it's best to wear something with a laid-back feel like jeans, chinos, shorts, or a more formal pair of dress pants, and add a collared shirt or button-up over a tee. Loafers, sandals, or sneakers are also great choices to add to your daytime look.
This dark-colored outfit has more of an edgy look than the rest, and it's a great option for a casual look while in Vegas. You can wear this on a chilly day or spend the night bar-hopping in this outfit.
Black or dark blue jeans are perfect for this look, and the tee and sneakers add to the relaxed feel. The leather jacket is a nice touch, adding a rebellious vibe to the outfit.
This is definitely a great outfit if you plan to spend some summer days in Vegas. The outfit is super casual and great for staying comfortable while walking around the city, but the all-black look makes it stylish.
Grab a comfy pair of pants, like chinos or linen pants, and add a button-up of the same color. Throw on a pair of sandals that you can spend the day in. You can also add a silver chain like the one pictured here to add a bit more style to the outfit.
Steps to Creating a Dressy Vegas Mens Outfit
You'll be visiting plenty of exciting places during your time in Vegas, so you'll want to bring versatile and stylish pieces to build outfits with, including:
Basic t-shirts
Button-up shirts (short and long-sleeve)
Jeans
Chinos
Casual shorts
Dress pants
Suit jacket or blazer
Swim trunks
Sneakers
Dress shoes
Loafers or sandals
Sunglasses
Sling bag
Start by deciding if you're going for a casual look or want something a little more formal. From there, you can choose the pants you'll wear and add a shirt that will match the look you're going for.
You can stick to a nice pair of sneakers for casual days and wear dress shoes to high-end restaurants and clubs. Make sure to pack other essentials you'll need, like swim trunks if you visit in summer or jackets for winter.
When visiting Vegas, make sure to bring clothes you're comfortable in. Sin City will keep you busy, so you want to ensure you'll be comfy during your days and nights there. Fortunately, you don't have to sacrifice style for comfort, and you can use these looks as a guide for stylish outfits that are perfect for exploring and enjoying Vegas.
More From The Mens Edit:
What Shoes To Wear With Chinos + 11 Modern Mens Chino Outfits
8+ Mens Country Concert Outfit Ideas (That Aren't Too Cowboy!)
Grey Pants Brown Shoes: How To Master This Combo for Men
10+ Simple Outfits With Light Blue Jeans For Men
What Color Shirt Goes With Khaki Pants? Foolproof Guide For Men
10+ Modern Mens Trench Coat Outfit Ideas That Prove You Need One