Are leggings business casual? Learn what business casual is and how you can wear leggings in the office and look great doing it!
*this post contains affiliate links*
Are Leggings Business Casual?
Leggings have become a staple in many women's wardrobes, and the debate over whether or not they are appropriate to wear as business casual attire rages on.
What is considered "business casual?" Is it a suit? A dressy blouse with slacks? The answer is not so black and white.
In general, business casual attire is clothing that is more relaxed than what you would wear to a job interview but still looks professional. Leggings can definitely be worn as part of a business casual outfit, especially with current trends like stirrup leggings and split hem leggings. But, there are some things you need to keep in mind.
In this post we will discuss what business casual attire is and give you five outfit ideas for how to wear leggings in the office.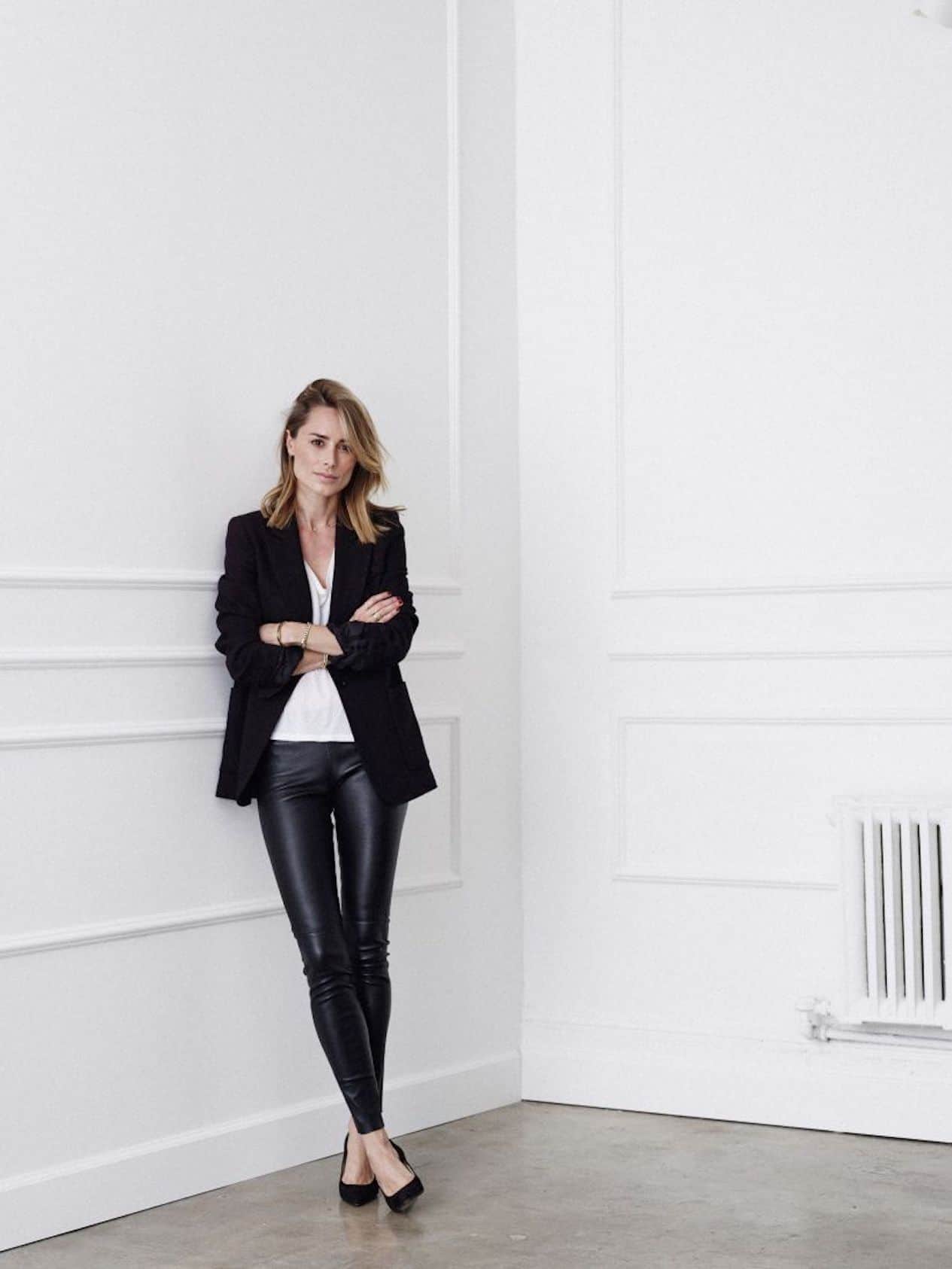 What is considered business casual attire?
This is a question that many women struggle with, as the definition of business casual can be somewhat vague. In general, you should avoid anything too revealing or too casual.
Leggings are often considered as only casual or athletic attire, but there are ways to style them to be appropriate for the office. And, there are many styles of leggings out there, many which are more professional in look and fit.
Below are some guidelines for what to wear (and not to wear) as part of a business casual outfit:
Avoid anything too revealing:
Leggings that are made of thin material can be inappropriate for the office. If you're unsure, err on the side of caution and choose a pair of leggings that are thicker in material.
You can also do the "bend down" test to see if the leggings become sheer in your knees or on your bottom when you squat down or bend over. This is a good indicator the fabric is too thin for business casual purposes.
Make sure your leggings are full or slightly above ankle-length:
Leggings that are too cropped and sit mid calf or below the knee look more athletic and can appear unprofessional. Opt for a pair of ankle-length or full-length leggings.
Avoid anything with intentional holes or rips:
Leggings or "jeggings" made from denim or other materials that have intentional (or unintentional) holes or rips are definitely inappropriate for the office.
Choose dark neutral colors:
When in doubt, stick to a darker neutral color like black, brown, gray, or navy. These colors appear more professional and are more appropriate as business casual attire.
Avoid prints and patterns:
Leggings with loud prints or patterns can be distracting and too casual for the office. If you want to wear leggings, we recommend you stick to a darker neutral solid color.
Or, if you want to try a pattern, go with a neutral plaid as this has a more professional vibe.
shop plaid leggings:

Can you wear leggings to an office job?
You can absolutely wear leggings to an office job – as long as you do it the right way.
First and foremost, make sure your leggings are well-fitted and are made with a thicker quality fabric. You don't want anything see-through.
Black is always a classic and versatile choice, but feel free to experiment with different cuts and styles: stirrup, split hem, seamed, etc.
shop leggings:

Next, consider what you'll be pairing your leggings with. A longer length button-down blouse or cardigan is always a solid option. But, you can also try pairing them with a cropped blazer or worn over a long sleeve bodysuit if you feel daring.
One of the keys to getting away with leggings as business casual is to wear them with the right footwear. Loafers, mules, pumps, or ankle boots are great professional options.
Finally, accessories are your friends. A statement necklace or pair of earrings can really elevate your look. But be careful not to go overboard – you want to look polished, not overdone.
How do professionals wear leggings?
Now that we've gone over office attire and what to avoid when choosing your business casual leggings, let's look at a few outfit ideas for how to wear leggings in a professional setting.
shop the look:

Wear a Blazer
Pair your leggings with a blazer and classy cashmere t-shirt. A blazer is a business casual staple that can be dressed up or down, depending on the occasion.
Try a pair of super trendy stirrup leggings and wear a sleek set of loafers and dainty jewellery to elevate the look. Swap out the loafers for pumps to easily transition from day to night.
shop the look:

Wear an Oversized Sweater or Tunic
Pair your leggings with an oversized sweater, vest, or a tunic. In the cooler months, try a chic pair of faux leather leggings and layer a long-sleeve top or button-up shirt underneath.
Or, in the warmer months pair seamed leggings with a lightweight tunic or one that has a feminine collar.
Wear ankle boots or pointy flats for stylish footwear. This outfit option is a great way to stay comfortable while still looking polished.
shop the look:

Go With A Long Cardigan
A knee-length cardigan is an excellent option for those days when you just need to put together a quick look. Pair your leggings with a long cardigan and a high-neck tank top or a blouse.
This outfit is comfortable and easy to wear but still looks put together. You can also add a scarf or layered pendant necklaces to elevate the look.
For footwear go with a stylish pair of flats or simple, classic heels.
shop the look:

Try A Shirt Dress
This is an excellent option for those days when you need to look a little more business than casual. Pair your leggings with a shirtdress and add a belt to cinch in the waist.
This outfit looks professional and stylish and can be easily dressed up or down with accessories and footwear.
shop the look:

Wear A Flowy Blouse
Pairing stirrup or split-hem leggings with a longer flowy blouse is an excellent option if you're looking for something that will take you from the office to happy hour.
Opt for a flowy blouse in a neutral color like cream. You can also layer this look with a cardigan or blazer during the fall and winter.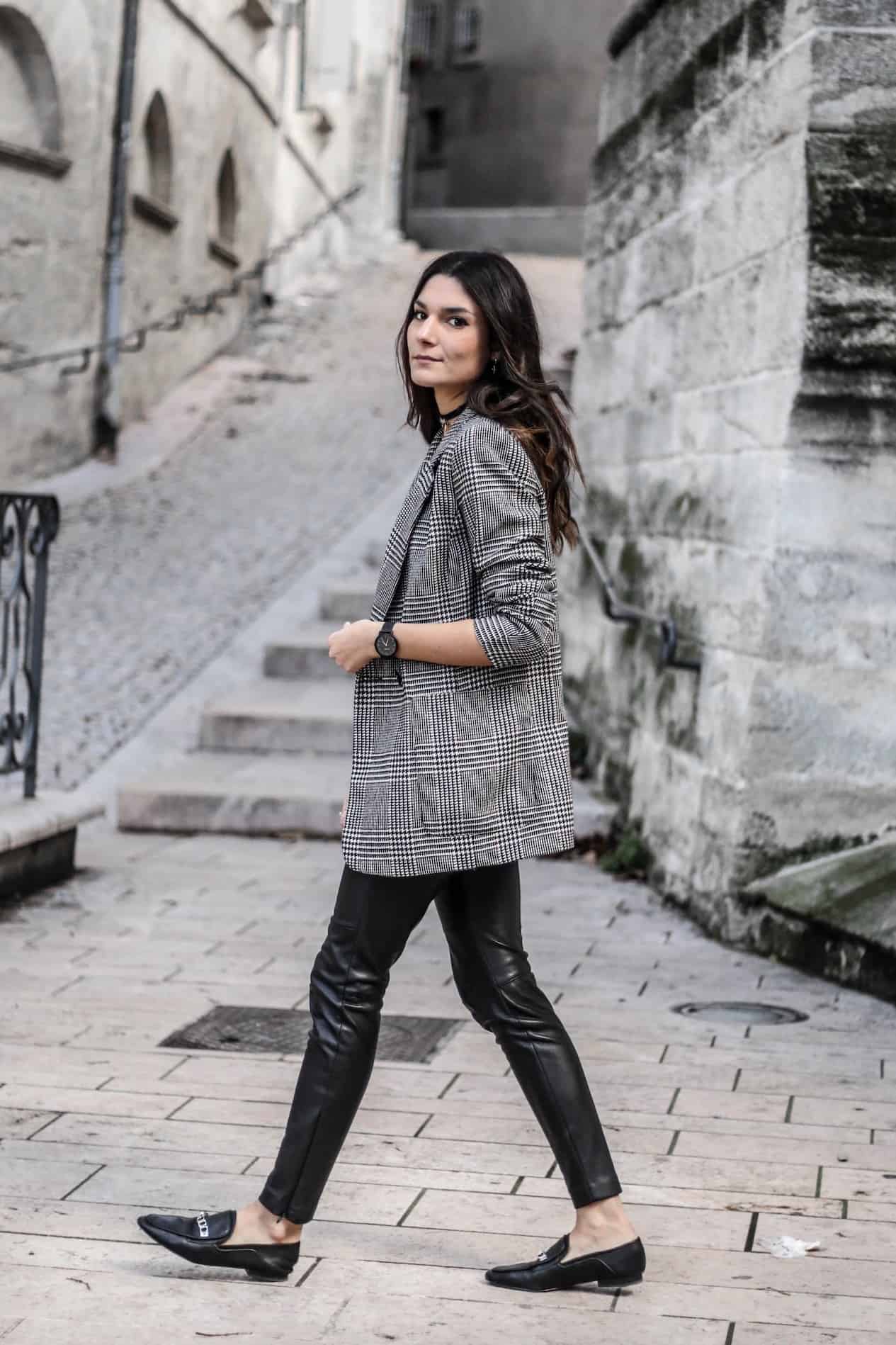 Can you wear leggings business casual?
The verdict: wearing leggings as part of a business casual outfit is perfectly acceptable, as long as you appropriately style them.
When choosing leggings for work, make sure to choose a pair made from a nice, sturdy fabric with a little bit of structure to it.
Avoid leggings that are made from thinner fabrics. Instead, try elevated legging styles with seam details, split hems, stirrups, or a leather appearance.
Pair your leggings with a nice blouse, cardigan, or tunic, and finish off the look with dressy footwear. With the right pieces, you can easily create a business casual outfit that is comfortable and classy.
So, now that you know the answer to "are leggings business casual?", you just need to find the perfect pair. With so many options available, it's easy to find a great pair of leggings that suit your style and needs. So, go ahead and give them a try!
Pin this:
More Style Guides You'll Love:
The Best Tops To Wear With Leather Leggings
17+ Chunky Loafers Outfit Ideas