Are you a first-time rider wondering what to wear? Have no fear, we're here to cover all the do's and dont's of what to wear horseback riding, plus some stylish outfit suggestions for your next riding lesson.
*this post contains affiliate links*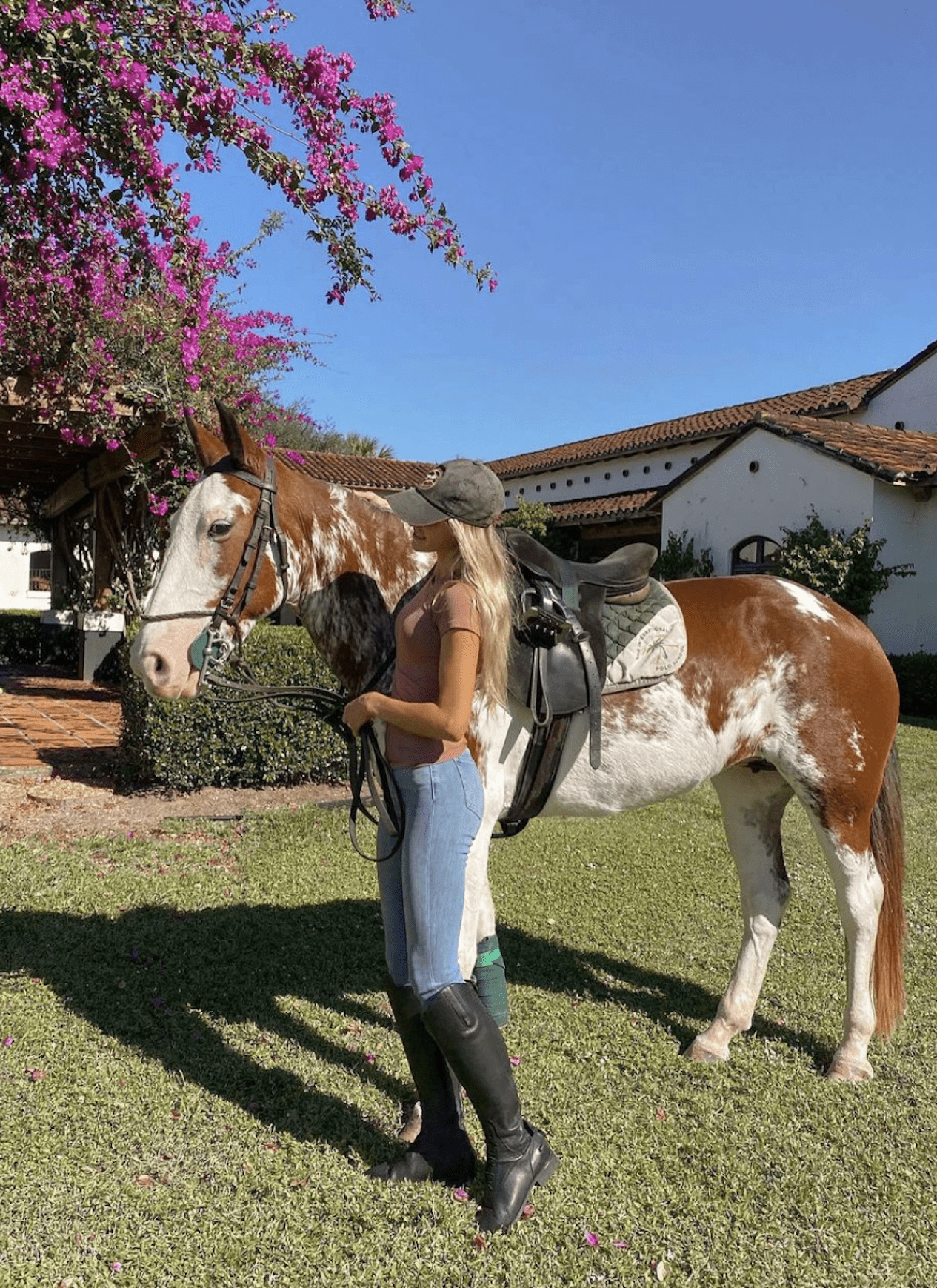 What To Wear Horseback Riding
If you've never ridden before, horseback riding can feel like a bit of a daunting challenge! It's important to feel relaxed and comfortable when riding to have an enjoyable experience, for both you and your horse friend!
Comfort starts with clothing, so you'll no doubt be wondering what to wear horseback riding. And, equally as importantly, how to make it stylish.
In this article you'll learn all about the must-have outfit items, what to avoid wearing, and get some great outfit inspiration for your ride.
Must-Have Riding Outfit Items
Below we've compiled some of the must-have riding outfit items for your first time out in the paddock:
Riding Boots
Every horseback rider needs a functioning pair of riding boots. You don't need to buy professional riding boots, but make sure to wear a secure pair of shoes. Your shoes/boots must have a minimum 1-inch heel to prevent your foot from slipping through the stirrups.
If you are going to be riding Western, you can stick with casual boots with a small heel or go with cowboy boots. If you are riding English, go for a pair of comfortable ankle boots or invest in a pair of English riding boots.
shop boots:

Riding Hat
Most stables will provide you with a riding helmet for your lesson or trail ride. If you wanted to go all out and buy your own, opt for a classic black. It does go with everything after all! Unless you are an experienced rider, it's best to wear a helmet, even though a cowboy hat might look better… safety first!
shop helmets:

Sweater or Long Sleeve Shirt
When it comes to what to wear horseback riding, you want to be prepared for all eventualities. If you're out on a long trail ride, make sure to bring along a sweater or long-sleeved top to keep warm in chilly temperatures or avoid sunburn and misquito bites from bugs you might encounter on the trail.
If it's going to be a hot day you can go for a tank top or t-shirt, just don't forget the sunscreen and bug spray.
shop tops:

Comfortable Pants
When horseback riding you're going to need a lot of mobility in your legs. Make sure to wear pants that you can easily move about in, especially when mounting and de-mounting. For English riding we recommend you choose a cute pair of black, neutral, or beige leggings. For Western, opt for a pair of straight-leg or skinny jeans with some stretch.
shop pants:

Riding Gloves
While gloves aren't mandatory for riding, they are worth getting to protect your hands on long rides. English riders often wear nice leather gloves, and Western riders go for classic cowhide gloves. If the weather is really warm or you are just going for a short lesson or ride, you can skip the gloves or rent some.
shop gloves: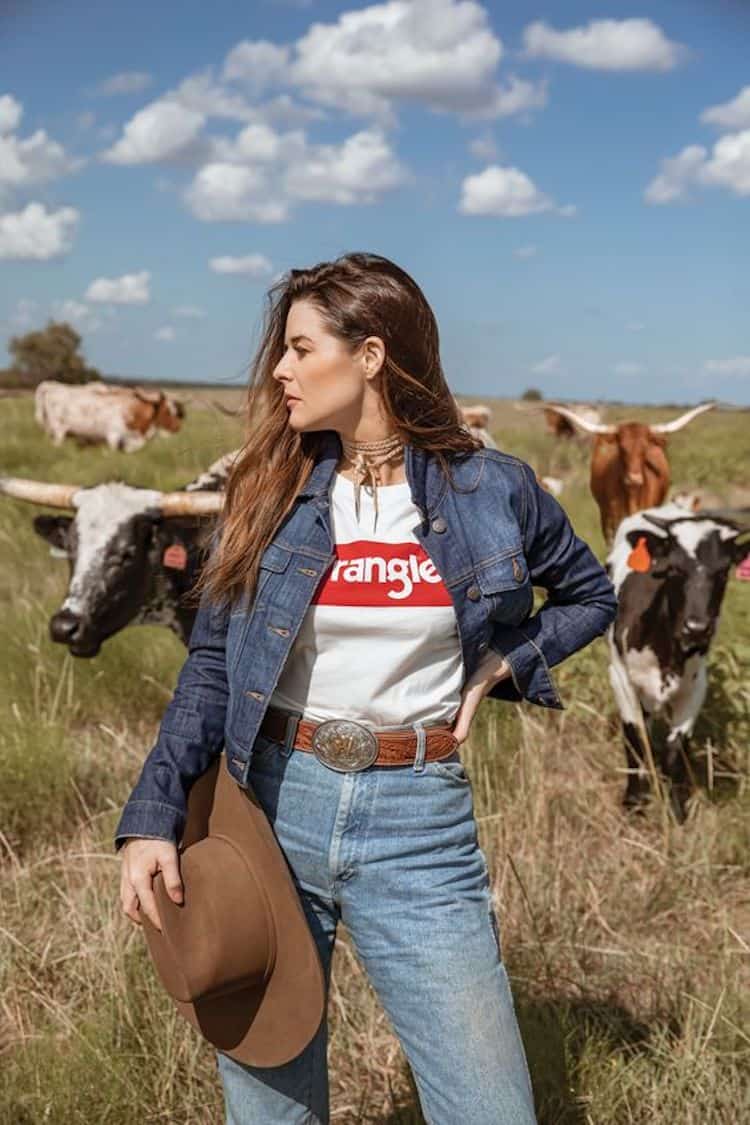 Can you wear jeans while horse riding?
Yes you can. But, it depends on the style of jeans. Slim fitting jeans or jeggings that have stretch to give you the mobility to horseback ride are a great option. However, baggy jeans that restrict your movement or easily catch on riding equipment are a big no.
When wearing jeans as part of your outfit for horseback riding, make sure to opt for a straight, slim, or skinny fit. This means that they can be tucked into riding boots, and if untucked, they aren't going to catch on your stirrups or bushes when out on a trail ride.
Ensure your jeans are made from denim with stretch so that your movement isn't restricted when riding.
shop jeans:

What should you not wear when horseback riding?
Now that you know the do's, here are a few things that are best avoided in your outfits for horseback riding:
Flip flops. Great for vacations, for horseback riding lessons…not so much. Not only are flip flops a safety hazard when riding (as they can easily fall off), you're also likely to get some weird looks at the stables showing up in beach shoes.
Flat shoes. Ballet flats, sneakers with a flat sole, or any other style of shoe without a heel are a no-no. When horseback riding you need at least a 1-inch heel to keep your foot secure in your stirrups. Without a heel to prevent your foot from slipping through your stirrup, your whole leg could get caught if you happen to fall off the horse.
Jewelry. Accessorizing is a great way to liven up any outfit, however, when it comes to horseback riding jewelry is best left at home. Dangly jewelry can be a safety hazard, and there's a change you could loose it while on your ride.
Skirts or dresses. While it might make you feel like you've walked straight out of a scene from Bridgerton, long skirts and dresses don't function all that well when up in the saddle.
Shorts. When riding your legs will naturally rub against the saddle, without the extra layer of protection that pants provide, you can end up with some really uncomfortable chafing, especially if it's a warm day and you are sweating. Avoid the rash and go with a pair of comfortable pants like those linked in the previous section.
Stylish Outfit Ideas for Horseback Riding
Now that we've covered the do's and don'ts, it's time for some outfit inspiration. Below are some of our favorite, simple looks for your first time riding, be it an English equestrian lesson or Western trail ride.
monochromatic comfort.
get the look:

There's nothing like a western look when horseback riding. Opt for a monochrome outfit like the one above for a classic and stylish silhouette up the saddle. If you really want to hit the nail on the head, add a large belt with an iconic western buckle.
A western horseback riding outfit calls for cowboy boots above all. Pick up a pair of mid-calf length black or brown boots to complete the look.
sunny day western.
get the look:

When riding in hot summer weather, keep cool and stylish in a comfortable black tank. Pair with waist-high blue jeans as pictured above.
Opt for a comfortable pair of hiking boots (with a minimum 1-inch heel), or get the real western look with a pair of comfortable cowboy boots. And, don't forget the sunscreen!
English elegance.
get the look:

If you have big aspirations about someday making it big in the equestrian show ring, then first you have to look the part. Take inspiration from the picture above for your English lessons and get a pair of neutral jodhpurs or tight trousers for a sleek silhouette.
Pair with leather riding boots as well as a fitted navy or black blazer to complete this sophisticated riding look. If you feel the blazer is too stuffy for a simple lesson, then go with just a white button up shirt tucked into the pants, or a simple knit sweater.
casual English lesson.
get the look:

For an English riding look that's a bit more casual than the previous, go with a pair of jodhpurs (riding leggings), a zip-up sweater, and a lightweight vest. Slide on a pair of English riding boots and don't forget your English riding helmet.
This look is great for a casual lesson or training day, and the extra layers are nice for chilly weather or more time spent in the stables where the temperature can feel cooler.
What do you wear horseback riding on the beach?
When taking a gentle ride on the beach, you don't have to be strict when it comes to functional horseback fashion. To prevent chafing (especially in hot weather) we recommend wearing a pair of lightweight linen pants instead of shorts or a dress. For a top, go with a swimsuit, tank top, or button up linen shirt to keep you cool.
It's likely you won't be given a helmet for a beach ride, so opt for a woven straw hat for sun protection. If you are riding bareback (without a saddle) you won't need to worry about footwear at all and can go barefoot. But, if you are in a saddle, we recommend a pair of sturdy sandals with grip, or a small heel.
shop beach outfit:

In summary, figuring out what to wear horseback riding isn't challenging once you know the basics. We hope this post has helped you on your way. Whether you are going for an English equestrian lesson or heading out on a trail ride, you'll be able to put together an outfit with ease.
Remember to choose the right footwear for safety, and always wear pants…leg chafing is no joke!
Happy trails!
More Style Guides You'll Love:
Chic Outfit Ideas for the Spa + What To Wear
What To Wear To A Salsa Class + 4 Perfect Outfit Ideas!
Rock Climbing: A Beginners Guide for What To Wear
What To Wear Paddleboarding: A Simple Guide for Every Season