Headed to a spa for some TLC? Learn exactly what to wear to the spa for massages, body treatments, swimming, and more. Plus, get chic outfit ideas to inspire you!
*this post contains affiliate links*
What To Wear To The Spa
Planning the first trip to a spa can feel overwhelming! You may be wondering what exactly to wear at the spa. Do you need different clothing depending on the treatments booked? Will you be in a robe most of the time? Don't worry, we've got you covered!
We will cover exactly what to wear to the spa, at the spa, for different treatments, and how to wear your hair and makeup. You'll also learn about robes, footwear, and what to expect when it comes to spa attire.
Additionally, we've compiled some great outfit ideas for different spa treatments and scenarios. Every spa is a little different, but whether you are going to a day spa, resort spa, or nordic spa, we'll get you set on your way!
Before you head to the spa for a luxurious spa day, pack the following items:
Tote bag – for bringing along all your personal belongings
Pool sandals or flip flops – for the spa pool, showers, and to keep your toes free if you've had a pedicure
Swimsuit – if the spa has a steam room, whirlpool, or swimming pool
Small waterproof bag – for wet clothing/swimsuit
Hair ties/scrunchies/claw clips – you'll want your hair up and out of the way for massages, etc.
Brush, makeup, personal toiletries – to freshen up before you leave
Book – optional, for easy reading while you are relaxing
Most spas have lockers in the change rooms to store your personal belongings. Additionally, you may want to bring your own robe if the spa does not provide them (check ahead to see).
(@murielle, @vickiheiler, @juliaberolzheimer)
If visiting a high-end spa or spa resort, contacting the spa ahead of time to ask about the dress code (if any) is always a great idea.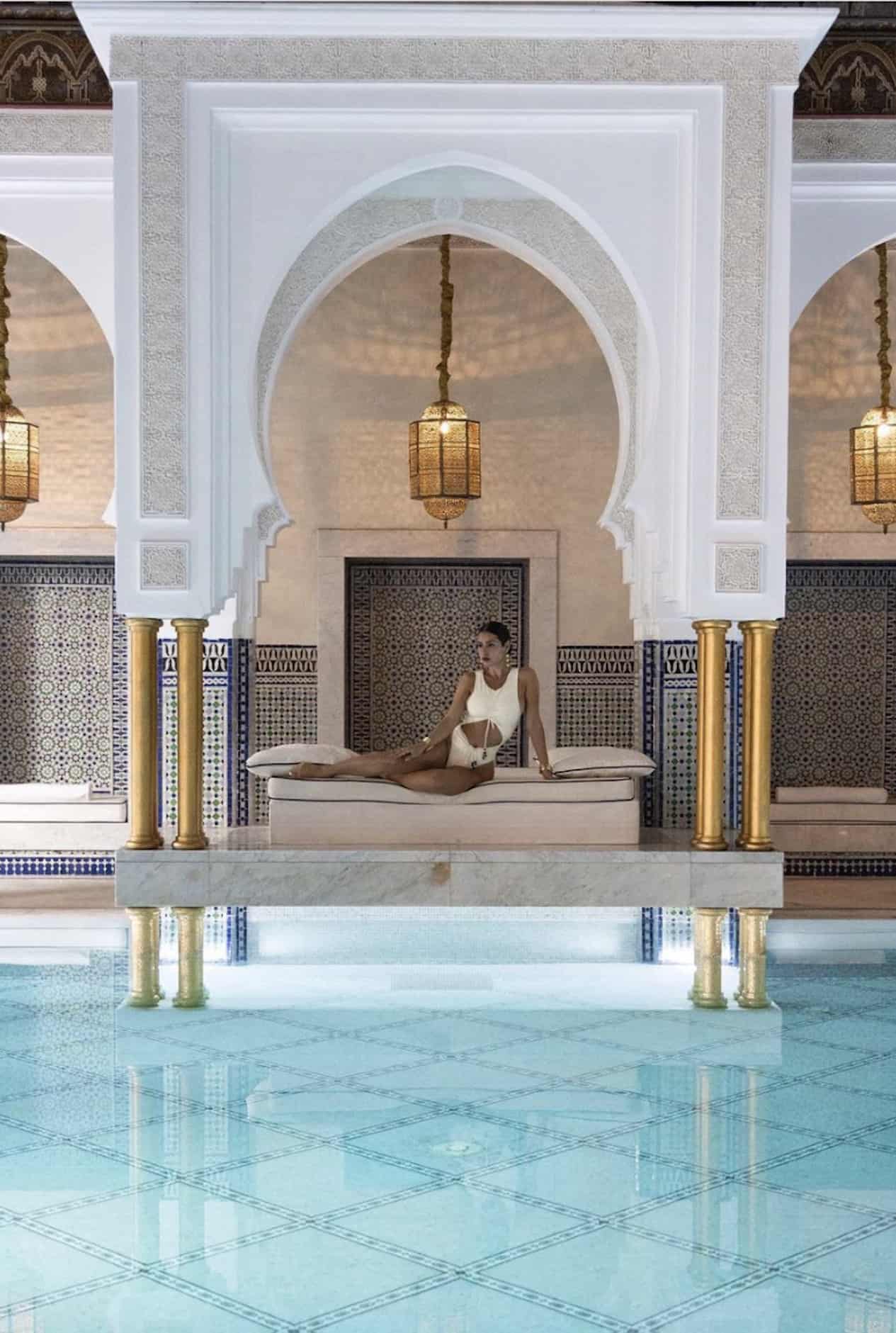 Can you wear clothes in a spa?
One of the most common questions about spa attire is: are clothes required? Almost all spas offer a robe and slippers upon arrival. Guests can then decide how far they strip down and it's all up to individual comfort level.
If the spa does not provide a robe, then it is expected to remain in clothing (or your own robe) for the duration of the spa visit aside from massage treatments. If provided a robe, some people prefer to be completely nude, while others like to dress in underwear and a bra.
Furthermore, some people feel more comfortable with a pair of shorts and a tank top underneath their robe. Or, a swimsuit, if there is a steam room, whirlpool, or swimming pool at the spa. Ultimately, your comfort level is most important so do not feel pressured to strip down if you aren't up for it.
Do you take your bra off at the spa?
It depends! Many people choose to leave it on under their robe, and some like to take it off. However, when getting a massage, it's best to remove it to enjoy the full massage experience. You can remove your bra just before the session if you are comfortable doing so.
It is good to know that massage therapists are trained in draping techniques to make sure your private parts are always covered during the session. In short, you do not need to worry about being exposed.
When getting a body wrap treatment, you may keep your bra and underwear on. Or, wear a swimsuit during the treatment. Some spas also provide disposable underwear to put on to prevent oils, lotions, or scrubs from damaging clothing.
Do you wear makeup to a spa?
There is nothing wrong with wearing making to a spa. Especially if heading to the spa after a busy day. Once you arrive you will have the chance to wash your face if you wish.
If getting a facial, your makeup will be removed by the esthetician. Most spas have shower facilities in the change rooms so you can remove your makeup before, during, or after your spa day.
If headed to the spa first thing in the morning, we recommend arriving with a fresh face. Simply apply makeup before leaving and you'll be glowing!
get the look:

What to wear for a body wrap?
As a general rule of thumb you can go nude, in underwear, or a swimsuit for a body wrap. If you choose to bare-all, it's likely you will have small towels draped over your private parts so they will not be fully exposed. However, this does depend on the spa and some are more open to nudity than others.
If you aren't into full nudity, you are welcome to keep on underwear or a swimsuit. In this case, keep in mind that lotion or other formulas used for the wrap can get on your clothing. Some spas offer disposable underwear to prevent clothing from getting wrecked, so this may be an option as well.
get the look:

Final Notes
When it comes to what to wear to a spa, remember that "evaluated comfort" is the goal. You want to feel classy and stylish, while still having comfortable clothing to change into when you are in full relaxation mode at the end of your visit.
Avoid tight or restricting clothing like jeans, and don't forget to remove your jewelry before your spa treatments. Wear your hair up and out of your face, and be prepared to be pampered.
We hope you enjoy your spa day!
Pin this:
More Style Guides You'll Love:
What To Wear To A Salsa Class + 4 Perfect Outfit Ideas!
High Tea Attire: Exactly What To Wear To High Tea + Outfit Ideas