Headed to a wine tasting in 2023 and need the perfect winery outfit? Learn exactly what to wear to a winery and what to wear wine tasting. And be inspired with chic winery outfits and wine tasting outfits to try in warm and cool seasons.
*this post contains affiliate links*
Originally published June 1, 2022, Updated June 2, 2023
What To Wear To A Winery 101
There's nothing quite like the hills of Tuscany, the Napa valley, or the lakeside of the Okanagan, along with other beautiful places referred to as "wine country". If you are planning a trip to any of these destinations (or others), you are in for a big treat.
When visiting wineries you might want to tour the vineyards and learn about wine making, enjoy a wine tasting, or a delicious meal on the terrace. Whatever your plans, you'll definitely want to make sure you are wearing the right winery outfit.
Things To Consider
When you are deciding on winery outfits, you'll will want to consider a few important factors;
the season/weather – will it be hot, warm, cool, or rainy?
the type of winery – is it casual or more upscale?
the occasion – are you just visiting, or are you attending an event like a winery wedding?
For instance, if you are going to a winery in the summer you'll want to wear lightweight breathable clothing that is stylish and flattering. If visiting a small boutique winery, you can wear a more casual outfit. On the other hand, if you are going to a high-end, upscale winery you'll want to dress up for the occasion.
In the fall and winter it might be too cold for a dress, so you can opt for pants, ankle boots, and a nice sweater instead (see wear to a winery in the fall)!
Read on to get chic winery outfits, learn what to wear wine tasting, and see some wine tasing outfits too!
Chic Winery Outfits
In the spring and the summer we recommend going with light, airy clothing options that are minimal, chic, and comfortable. Unless you are going to a casual, small family-owned winery, you'll find the overall vibe is often more upscale and people will dress slightly more formal. Here are some of our favorite winery outfits for 2023!
strapless top, trousers + sandals
get the look:

This winery outfit is chic, minimal, and has a refined feel. It's perfect for wandering through the vineyards (flat shoes are the best choice if you'll be "off-roading"), and sitting down for a post-wine-tour lunch.
Bring along a basket bag for your essentials, and extra room to pack a couple bottles of wine home with you!
feminine midi dress.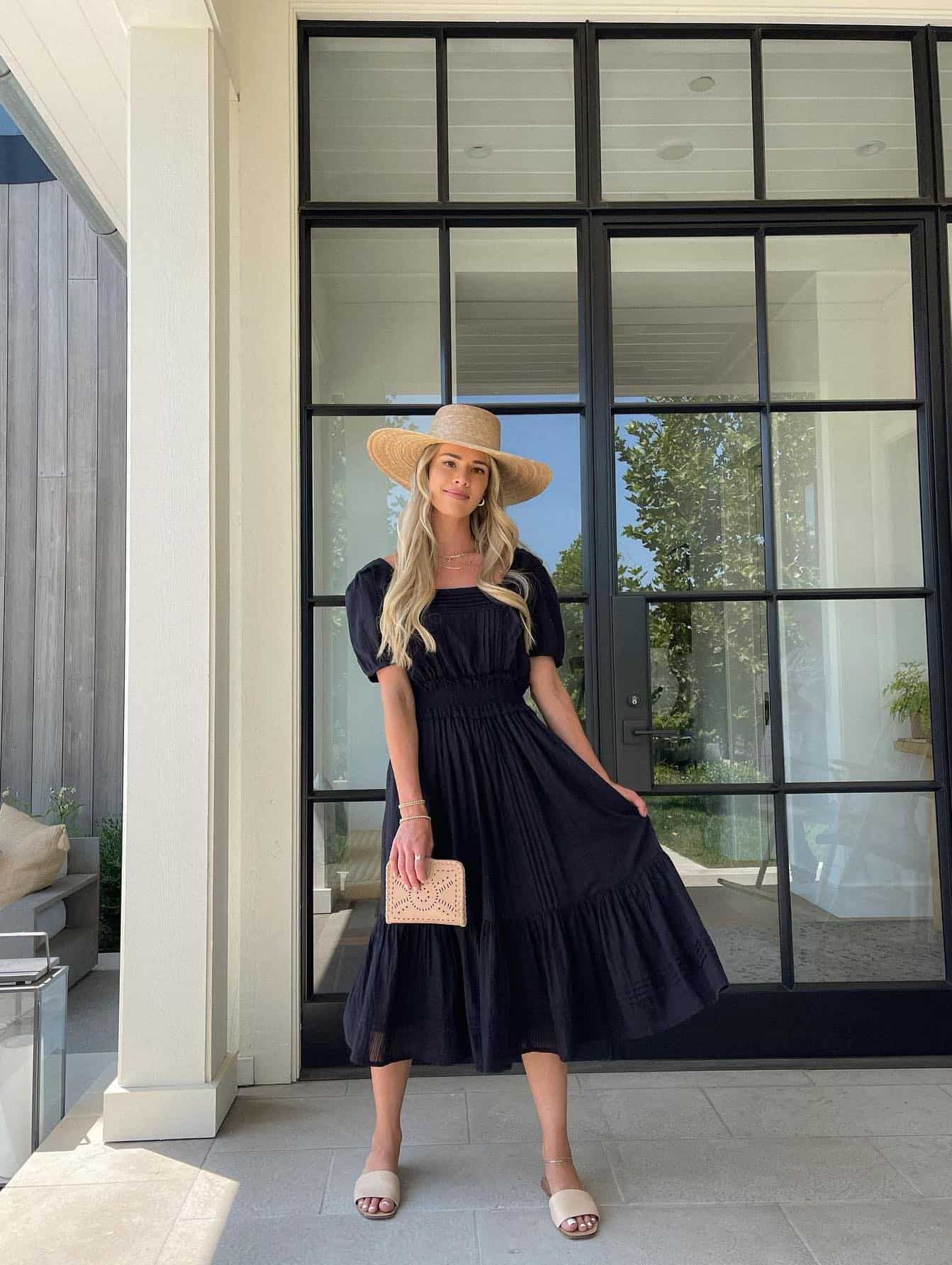 get the look:

A pretty midi dress is the perfect balance between casual and dressy. Therefore, it can be the perfect wine tasting outfit and be comfortable enough for a tour around the vineyard.
Style a midi dress with a pair of comfortable flat sandals for a casual winery trip. Or, dress it up with heeled sandals and a designer crossbody bag (hands free!) for a top-rated winery visit.
Go for classic black, or opt for a floral midi dress if you prefer a splash of color.
flowy maxi dress.
get the look:

One of our favorite winery outfits is a pretty maxi dress. If you are headed to a luxury winery or a wedding at a winery in the summer, a maxi dress is the perfect go-to. It is light and airy enough for hot weather, but is formal and chic for a fancy occasion.
Go with a nice pair of comfortable heeled sandals (or ankle boots in the fall) and dainty accessories to elevate the look. Remember, less is more. Let the maxi dress be the statement piece and keep everything else to a minimum.
pleated shorts + tank top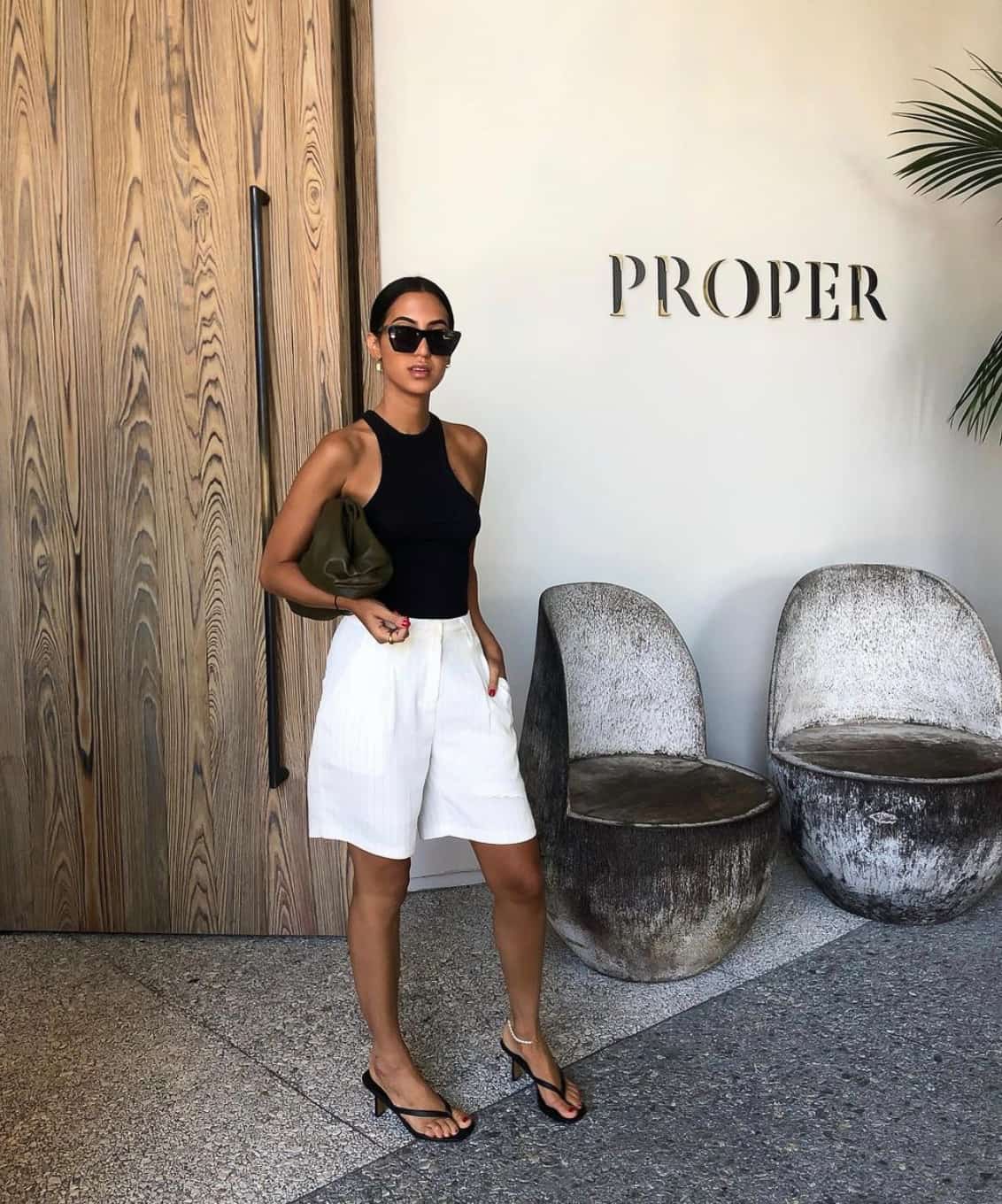 get the look:

When the weather is really warm and you plan to do everything from a wine tour, to tasting, to lunch, shorts and a blouse or tank top is a great combo. If you choose a pair of nice tailored shorts, such as paperbag shorts or linen shorts, you can dress up the outfit and still be appropriately dressed for an upscale winery.
Throw on a pair of comfortable heeled sandals, flat mules, or flat sandals, and bring along a brimmed woven hat for extra sun protection.
Midi skirt + tank top.
get the look:

A midi skirt and a minimal tank top can look very classy and elevated for a casual day exploring wineries or a tasting at an upscale estate.
You can opt for a breezy linen skirt with a simple tank top for something lightweight and casual. On the other hand, you can go dressier with a silk midi slip skirt and camisole for a wine tasting followed by dinner.
casual winery outfit with denim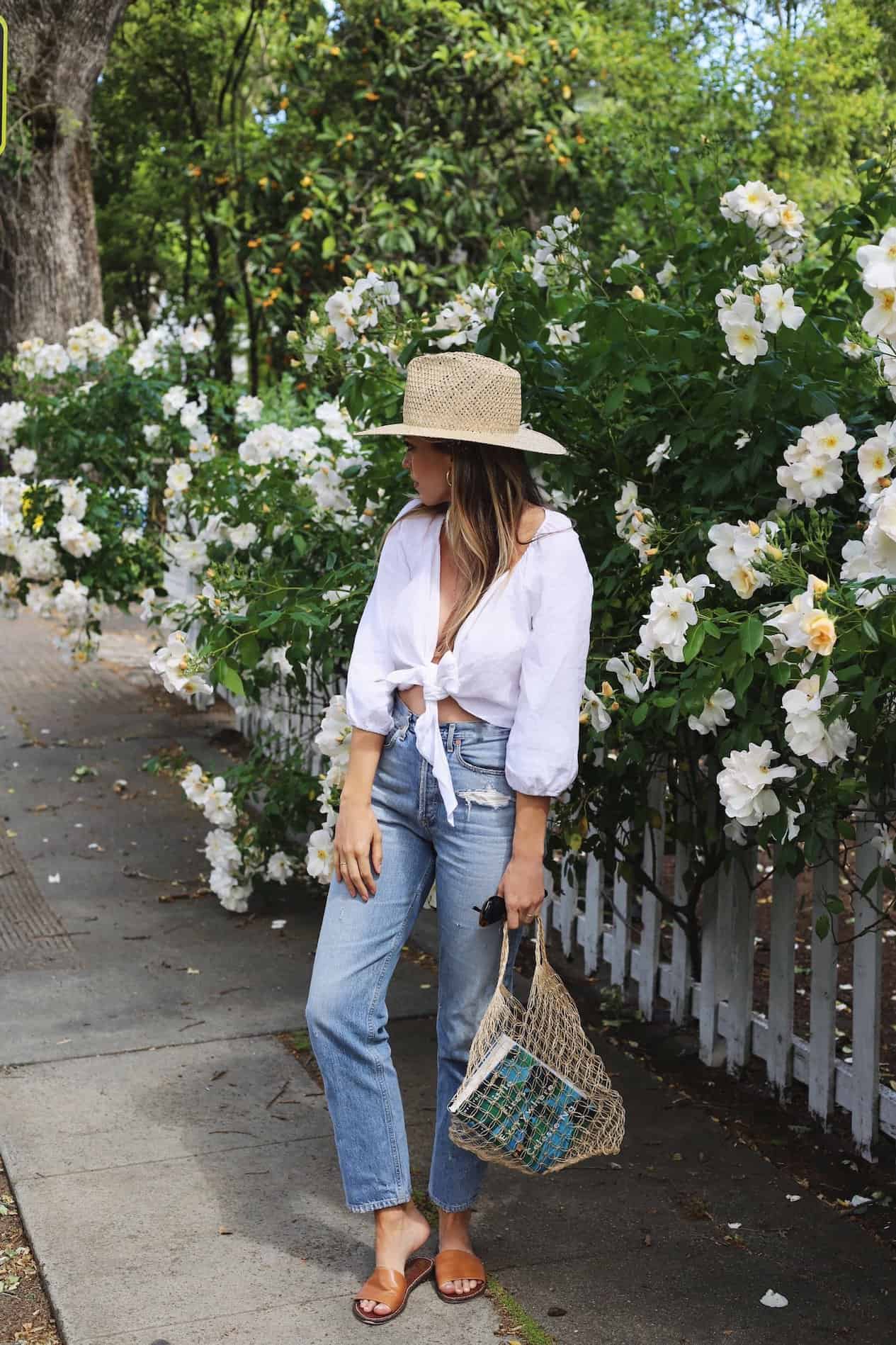 get the look:

Visiting a casual family-run winery, or a farm winery calls for a more casual outfit. Don't be afraid to pair jeans with a cute top, and comfortable slides.
We love this California-chic look that would be great for exploring the smaller wineries in Napa Valley!
What To Wear Wine Tasting
For even more winery outfit inspiration we've gathered a few more looks that work perfectly for a casual winery trip that includes a tour, tasting, and a lunch or dinner.
Stylish Wine Tasting Outfits
When taking in a wine tasting, you'll want to dress smart and comfortably. Many wineries have an upscale atmosphere so err on the side of caution and go with more tailored and polished pieces.
Take a look at our fave wine tasting outfits below!
blouse + palazzo pants
get the look:

This look is elegant and fresh, making it perfect for a winery visit in the spring or summer. The heeled sandals and flowy pants make the outfit dressy enough for lunch or dinner at an estate winery.
But, the pants ensemble is also casual enough for a relaxed wine tour at a boutique winery. Not to mention, palazzo pants are very versatile and work for all kinds of occasions.
ribbed sweater dress.
get the look:

For a wine tasting on a cooler day or evening, try a ribbed sweater dress. Pair the dress with kitten heel sandals, or try ankle boots. Add a leather or suede jacket for an extra layer in the early spring or fall.
When it comes to wine tasting outfits, we love a sweater dress with a wrap style or a body con style, as they are both chic and flattering!
elevated in jeans.
get the look:

For a casual trip to the winery, try a wine tasting outfit with jeans, and elevate the look with ankle boots and a nice knit top. We love this casual-chic outfit that would be perfect for a wine tasting in the fall.
Make this outfit work for spring or summer by losing the vest and swapping the boots for simple heeled sandals.
What To Wear To a Winery Wedding
A wedding at a winery is a perfect opportunity to get all dolled up. As a matter of fact, most wineries that host weddings are on the luxury side of the spectrum and have a beautiful estate to explore.
Below are some great winery outfit ideas for a stunning vineyard wedding:
floral midi dress.

A feminine floral midi dress is a perfect winery wedding option paired with nude heeled sandals, dainty jewelry, and a nude clutch or purse. Additionally, we recommend nude accessories with florals as it doesn't compete and compliments the colors on the dress wonderfully.
satin slip dress.
get the look:

Next on the list of wedding winery outfits, a satin slip dress is classy, chic, and definitely sexy. Simply put, paired with simple heels, and touches of jewelry, this is a perfect outfit to wear to an upscale estate winery wedding.
Opt for black for a classic look, or add a little splash of color with it and go with a pretty pastel hue like the dress on Julia above.
little black dress.
get the look:

You can truly never go wrong with a little black dress, and a winery outfit is no exception . Especially if you are attending a winery wedding. A classic black midi dress in a linen, satin, or knit fabric can be a perfect go-to for a wedding that at an estate winery.
Pair it with some neutral sandal heels and dainty accessories and you'll be good to go!
Winery Outfit FAQ's
What shoes do you wear to a winery?
When visiting a winery you can wear sandals, mules, loafers, ballet flats, boots, and certain types of heels. But, you'll want to consider a few things when deciding on the right pair.
If you are going on a wine tour through the vineyards you will want to make sure you have flat or block-heeled footwear. A

void high, pointy heels as they can get stuck in the ground as you walk.

Wine tours tend to be quite long, and you'll be standing most of the time, so prioritize comfort!
Additionally, we recommend you avoid sneakers and flip flops as they are both often too casual for a winery setting.
Is it okay to wear jeans to a winery?
It depends! You can easily wear jeans to a casual winery, especially a farm winery that grows crops alongside grapes. Many wineries are very laid-back and do not have a dress code. So it's not unusual to see the owners wearing overalls or work-wear as they are in and out of the fields.
On the other hand, estate wineries, or those with an upscale or high-end atmosphere, may have a dress code that doesn't allow jeans. Therefore, it's best to check if there is a dress code ahead of time to be on the safe side.
If you are really set on wearing jeans to a fancier winery, go for a dark wash or black jeans without any rips, as they have a dressier look than light wash or distressed jeans.
What do people wear to a wine tasting?
A wine tasting experience is similar to attending a brunch, lunch, or dinner with a set menu. Therefore, you'll want to dress nicer for the "occasion" so leave the leggings, sneakers, and athletic wear at home. A midi dress, sweater dress, tailored pants or nice jeans and a sweater, are all suitable options for wine tasting outfits.
Sometimes wine tastings are right in the wine cellars which can be cooler in temperature so bring along an extra layer just in case.
What do you wear to a winery when it's raining?
If you have a winery tour or tasting planned but the weather calls for rain, don't fret! Here are some tips:
Bring along an umbrella
Wear a hands-free crossbody purse so you can hold your umbrella and wine glass (at the same time!)
Opt for a waterproof trench coat that will look stylish over a dress or trousers
Wear rain boots or waterproof ankle boots to keep your feet warm and dry
What Not To Wear To A Winery
Now that we've given you a full range of outfit ideas and what to wear, let's quickly cover what not to wear to a winery, whether its a small laid-back farm winery or a fancy estate winery.
Flip flops. Not only are flip flops overly casual, they are also not very sturdy and don't make the best walking shoe if you are heading on a wine tour.
Sneakers. In general sneakers are a bit too casual for a winery. Although some people will still wear them, we suggest leaving them at home and going with a dressier shoe option.
Pumps with pointy heels. As mentioned earlier, pumps with pointed heels can easily get stuck in the grass or ground when walking around the vineyard. Choose shoes with a block heel or wedge heel instead.
Athletic wear. This includes leggings, joggers, sweatpants, hoodies, and other items you'd wear to work out or lounge in. They are too casual and you'll stick out like a sore thumb at the winery wearing this style of clothing.
Optional: A handheld bag/purse. When it comes to a bag or purse you'll want something with a long strap to wear over your shoulder or as a crossbody. In short, you'll be holding a wine glass for much of the time, going with something hands-free is ideal!
We hope you have enjoyed this very thorough post on what to wear to a winery! No matter what time of year you are planning, where you will go (there's even great wineries in Ohio!), or what kind of winery you'll tour, you can be confident with winery outfit ideas and wine tasting outfits that are classy, elevated, and chic.
More Style Guides You'll Love:
14+ Modern Fall Winery Outfits For Your Next Trip To The Vineyard
What To Wear To The Spa + Chic Outfit Ideas
High Tea Attire: Exactly What To Wear To High Tea + Outfit Ideas
Country Club Attire: What To Wear + Classy Outfit Ideas
What To Wear In Nashville: 8 Outfit Ideas + The Do's & Don'ts