Learn all the basics about high tea attire including what to wear to high tea in 2023, what to avoid, and get stunning outfit ideas to wear to your next high tea party!
*this post contains affiliate links*
Originally published April 29 2022, Updated April 25 2023
get the look:

High Tea Attire For Women
Have you been invited as a guest to high tea, but have no idea what to wear? It's no doubt you want to look your best, so we are here to help you learn all about high tea dress code, what the best outfit choices, are and what to avoid.
And, we've got the perfect looks, whether you'll be dressing up for a really special occasion or dressing down for a more casual tea.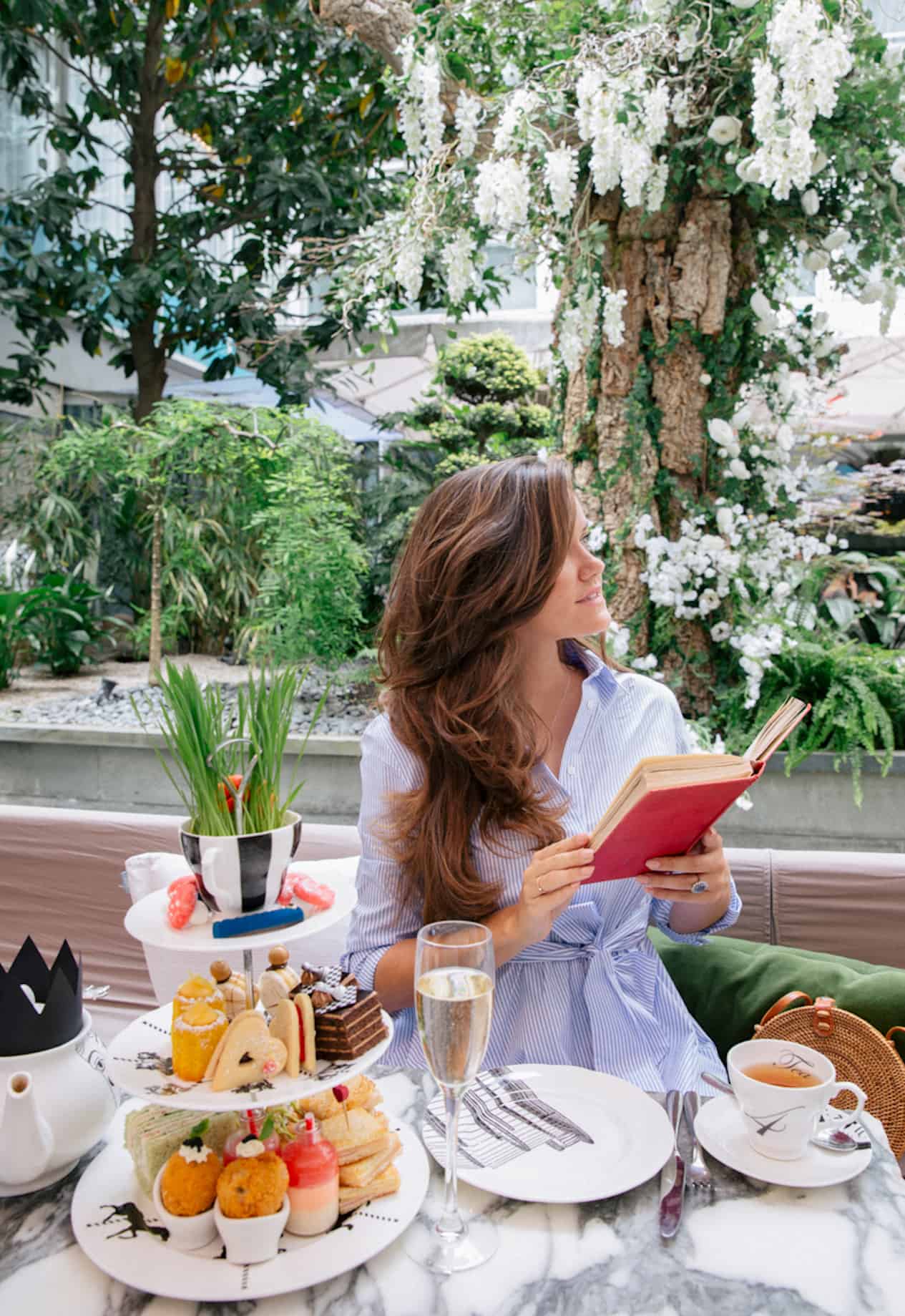 get the look:

What is High Tea?
High tea is a light meal typically eaten in the afternoon, and it usually consists of sandwiches, scones, and pastries. It is a British tradition, and it is often eaten as a break from work or on a special occasion.
Traditionally high tea was actually eaten in the evening after work by the working class; however, today, high tea and afternoon tea are often used interchangeably.
When you're invited to the "tea" part of high tea, you should expect a more formal event or party that consists of light bites such as small sandwiches and finger foods. In addition to tea, it is also traditional to be served champagne during high tea.
get the look:

What do you wear to a High Tea?
When you're invited to high tea, you'll want to dress in a more formal manner. But, since you'll be eating and drinking you'll also want to be comfortable. Below are a some perfect high tea outfit ideas to choose from:
floral knee-length or midi dress
midi skirt and a dressy blouse
classic black dress (knee length or longer with a conservative neckline is best)
tailored pants and blazer
matching tweed pant or skirt set
dressy jumpsuit
tailored pants and a dressy blouse
Do you have to wear a dress to high tea?
Traditionally a dress or skirt was most appropriate for high tea. But, nowadays there is more flexibility on what you can wear as long as you lean towards a more smart casual, conservative, or formal style.
Some great options for high tea attire include: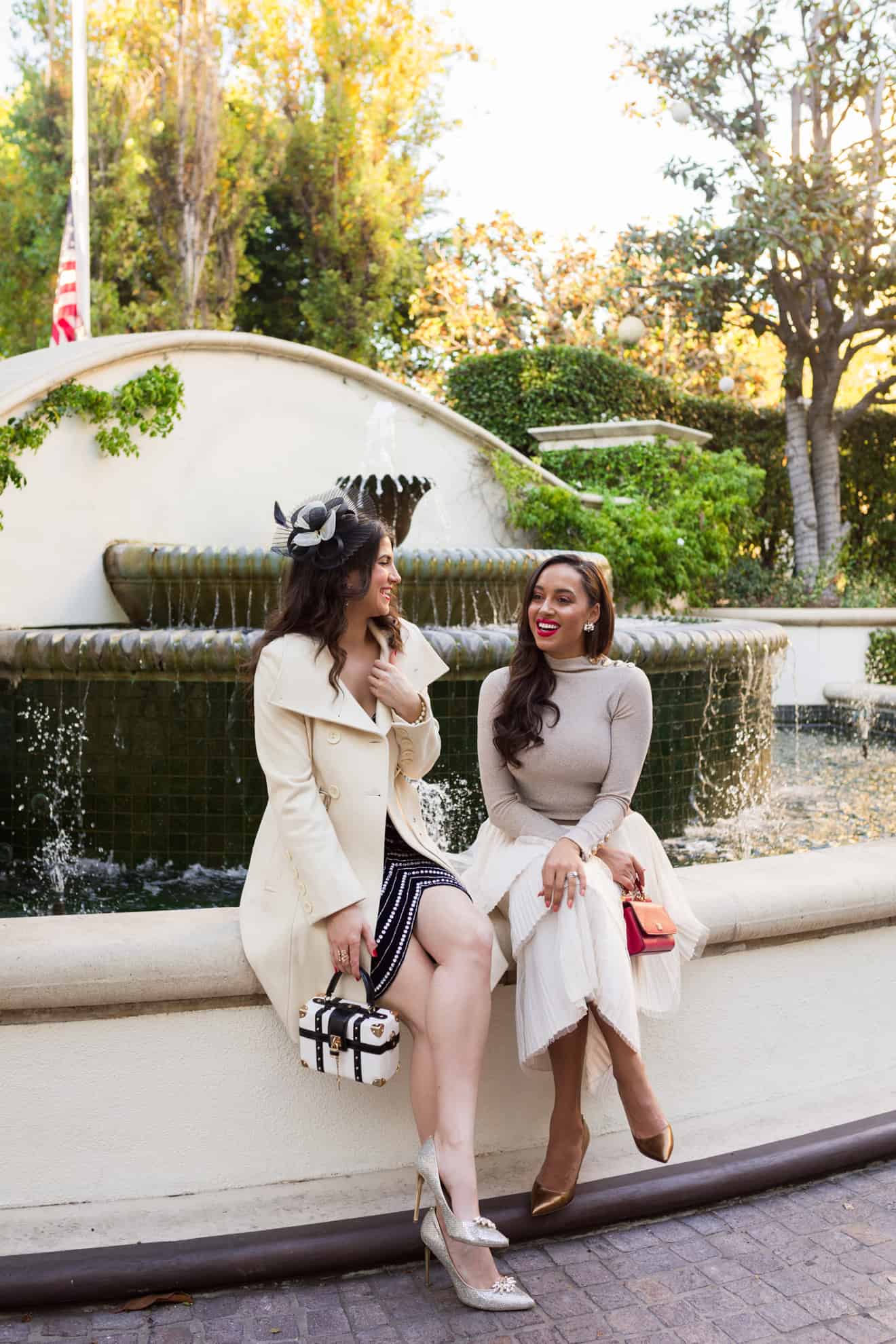 What colors should you wear to high tea?
While there are no set rules for what colors you should or shouldn't wear to high tea, it is generally advised to avoid neon colors and overly loud patterns. High tea is a more formal event, so you want your tea party outfit to reflect that.
Some great color and pattern options for high tea include:
White
Cream or Ivory
Navy
Grey
Pastels (blush, mist blue, sage green, etc.)
Subtle floral prints or polka dots
If you choose to wear something brighter, it is good to pair it with a neutral color and subtle accessories.
What shoes should you wear to high tea?
The best shoes to wear to high tea are comfortable but also stylish. High heels are an option, but if you're going to be walking around a lot or standing for long periods, it's best to choose a mid or low heel, or even flats.
Some great shoe options for high tea include:
Ballet flats
Loafers
Mules
Kitten heels
Pumps
Peep-toe heels
get the look:

Can you wear pants to high tea?
Because high tea is a more formal event, dresses or skirts are typically seen as the ideal option over pants. However, pants can be worn to high tea if they are well-tailored, made with a nice material, and dressed-up with the right shoes, top, and accessories.
If you choose to wear pants, make sure they are well-fitting and made of a nice fabric, and avoid jeans and athletic pants.
Some great pant options for high tea include: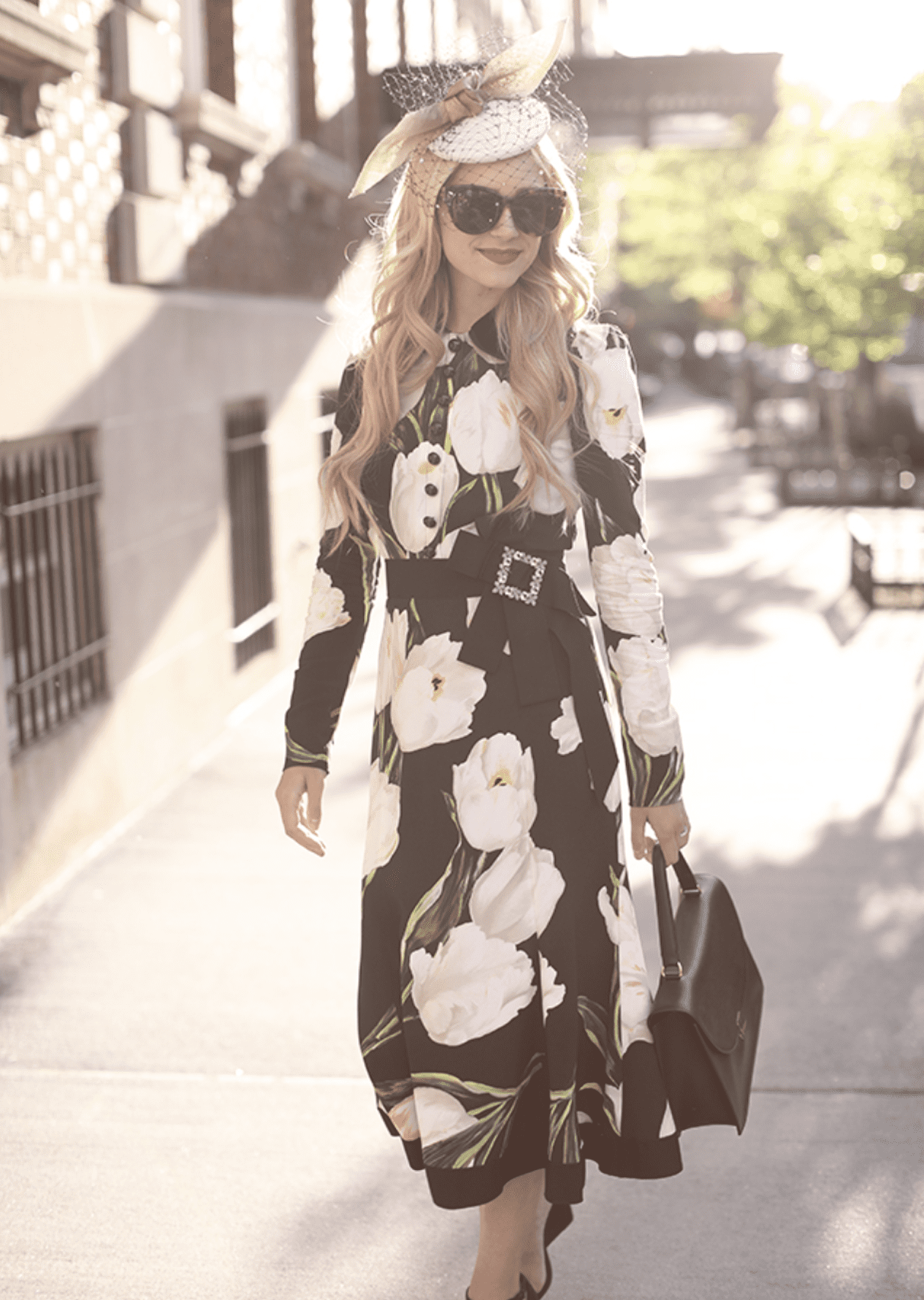 Do you wear a hat to high tea?
There is no rule saying you have to wear a hat to high tea, but it is definitely an option. If you choose to wear a hat, make sure it coordinates with your outfit and is more formal in style.
Some excellent hat options for high tea include:
Alternatively, you can wear a chic headband with pearl or silk details.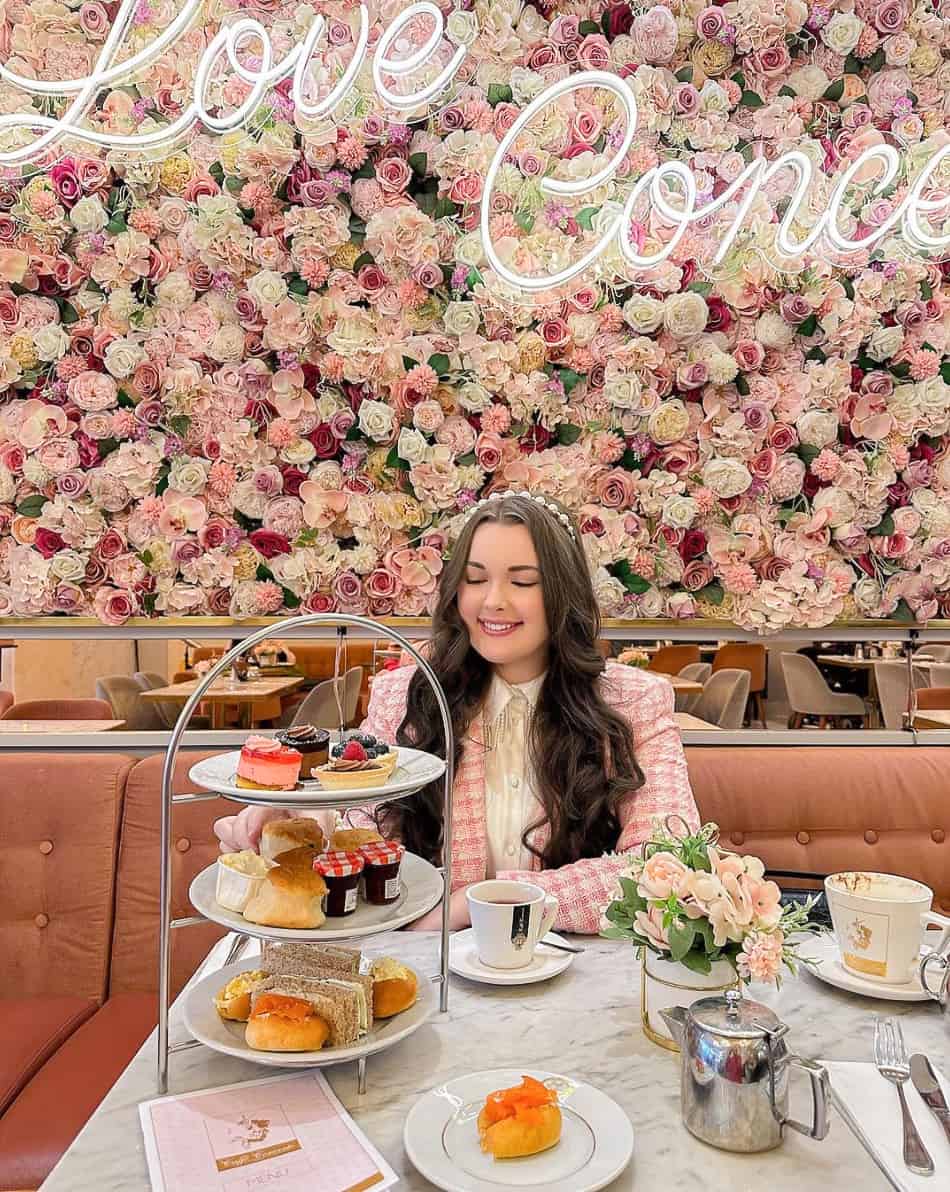 High Tea Dress Code
If you're attending high tea and are not entirely sure what to wear, you may want to stick to a traditional tea dress code.
Below are some guidelines to help you decide what to wear:
High tea is a formal occasion, so you'll want to dress accordingly.

Hats are not required, but they can add a touch of elegance to your outfit.

Gloves are not required, but they can also add a refined look.
High heels are not required, but they can make you look more dressed up.

A dress or skirt is always a good choice for high tea.

If you're wearing a dress or skirt, make sure it is at least knee-length.

A blouse or lightweight sweater is an excellent choice.
Pants or trousers can be worn to high tea, just avoid denim, leggings, and overly casual pant styles.

Choose a nice pair of dress shoes or heels to complete your outfit.
5 High Tea Attire Outfit Ideas To Try
High tea is typically a more formal event, so you'll want to dress accordingly. Here are five great outfit ideas to get you started.
The White Pant Suit

While it might not be your typical outfit for an afternoon, pants suits are an excellent option for those wanting to look polished at high tea. Choose a well-tailored pair of pants and match them with a sleek blazer.
Add a pretty blouse or camisole underneath, and finish the look with some nude heels. For an extra high tea touch, add a pillbox hat or fascinator in the same color as the pants suit.
The Pretty Floral Dress
get the look:

If you want to go the more traditional route, a pretty floral print dress is always a safe bet for an afternoon enjoying high tea. Opt for a knee-length dress or longer and made of a light, airy fabric.
Add a cardigan, cropped tweed jacket, or blazer to add a sophisticated layer. And finish the look with a pair of ballet flats or low heels.
The High Tea Jumpsuit
@skirttherules_, @oliviajeanette_
get the look:

Yes, you can definitely wear a jumpsuit to high tea!
Choose a dressy jumpsuit in a solid color or pretty print. While a jumpsuit is a more playful choice for high tea, it can still look very sophisticated and refined in a full-length style (avoid short rompers).
Go with a soft flowy fabric like linen or silk, and pair it with heels and dainty jewelry to finish the look. You can also add a cardigan or blazer if you want to cover your arms.
A Blouse & Colorful Skirt
@natalie.yerger, @juliaberolzheimer
get the look:

Midi skirts are still having a moment in 2023, making for a great high tea outfit option. Choose a skirt in a pretty print or a pastel color and pair it with a simple white blouse or sweater.
Add kitten heels or comfortable pumps, and go with a sleek hairstyle, hat, or dressy headband to complete the look. And, if you are enjoying High Tea in London, be sure to check out these South London Parks and sport your stylish outfit.
A Tweed Set
get the look:

This is a great high tea outfit combo.
Choose a matching skirt set in tweed, or go with a cropped tweed blazer and tweed pants. There are so many different options for matching tweed sets, we're sure you'll find one to suit your personal style!
Add some dainty jewelry, a neutral purse, low heels or ballet flats, and you'll be all set for an afternoon at high tea!
What To Wear To a Tea Party
So what will you be wearing to high tea? Will you go for a traditional outfit or something more modern? Whatever you choose, make sure you feel confident and comfortable in what you're wearing for tea time.
High tea is all about enjoying good company, delicious food, and of course, fabulous fashion!
More What To Wear Guides You'll Love:
What To Wear To The Spa + Chic Outfit Ideas
What To Wear To A Broadway Show + 8 Chic Outfit Ideas
Mexico Vacation Outfit Ideas & What To Wear On Your Next Trip
What To Wear To A Salsa Class + 4 Perfect Outfit Ideas!
Capsule Summer Wardrobe: Checklist + What To Wear
Country Club Attire: What To Wear + Classy Outfit Ideas
What To Wear To A Winery: The Do's & Don'ts + Chic Outfit Ideas
Christal Sczebel is an entrepreneur, published author, and content creator. Over the past decade she has worked in the digital media field building successful websites for both food and fashion. She has a natural affinity for minimal, timeless fashion, neutral home decor, and styling.
Here on Style Your Occasion, Christal is the Editor-in-chief and brain behind the aesthetic. She hopes you love the this space and the inspiration you'll find!