Looking to rock a pair of paper bag shorts this summer? Get 11+ classy paper bag shorts outfit ideas that have a minimal and elevated vibe.
*this post contains affiliate links*
Paper Bag Shorts Outfit 101
There are certain pieces of clothing that seem to stand the test of time and paper bag shorts are one of them. This style of shorts has been around for years and it seems like they are here to stay.
The beauty of paperbag shorts is that they are like a chameleon, suitable for almost any occasion – from a casual day at the beach to a wedding. The cinched waistband with a tie gives the shorts a unique look that elevates them above a normal pair. And, that is exactly why they are so versatile.
In this post we will go over some FAQ's, talk about the best way to style paper bag shorts, and of course, give you a great selection of paper bag shorts outfit ideas for all kinds of occasions.

Are paper bag shorts flattering?
Absolutely! The unique cut and style of paper bag shorts makes them flattering on every body type. The high, cinched waist will accentuate your natural curves, and the looser fit around the hips helps draw attention away from tummy bugles (although there's absolutely nothing wrong with a tummy bulge!).
Paperbag shorts also tend to fit a little looser around the legs so they don't ride up and squeeze the thighs which can be uncomfortable.

How can I make my paper bag shorts look good?
The best way to style paper bag shorts to make them look good, is to wear them with a top that is tucked in at the waist, or a crop top. Because paper bag shorts naturally flare out above the waistband, and often have a tie, you don't want your shirt to cover this unique detail. Wearing a shirt untucked can cause your waist to look bulky and the shirt to bunch up.
As for footwear, the sky's the limit! Paper bag shorts look great with sneakers, sandals, flats, heels, and ankle boots. See how we've styled them with a variety of shoes in the outfit ideas below.
What top goes with paper bag shorts?
Here is a list of the best top to wear with paper bag shorts:
body-con tank tops
sleeveless, short-sleeve, or long-sleeve bodysuits
crop tops
basic t-shirts
button-up shirts
lightweight blouses
All of these tops can be easily tucked-in around the waist and aren't too long in length. Or, they have a cropped style.

Paper Bag Shorts Outfit Ideas
Now that you know the do's and don'ts when it comes to styling paper bag shorts, below are some of our favorite minimal and chic outfit ideas to try for both casual and dressy occasions.
Paper Bag Jean Shorts Outfit
shop the look:

Cute and casual, this outfit with denim paper bag shorts is great for every day activities – running errands, meeting up with friends, or exploring the city. Paper bag jean shorts are trendy and add a little something more to your basic denim shorts.
Transition to night by swapping the sneakers for a pair of cute heeled sandals, and the long-sleeve top for a black camisole. You'll be date night ready in minutes!
Black Paper Bag Shorts Outfit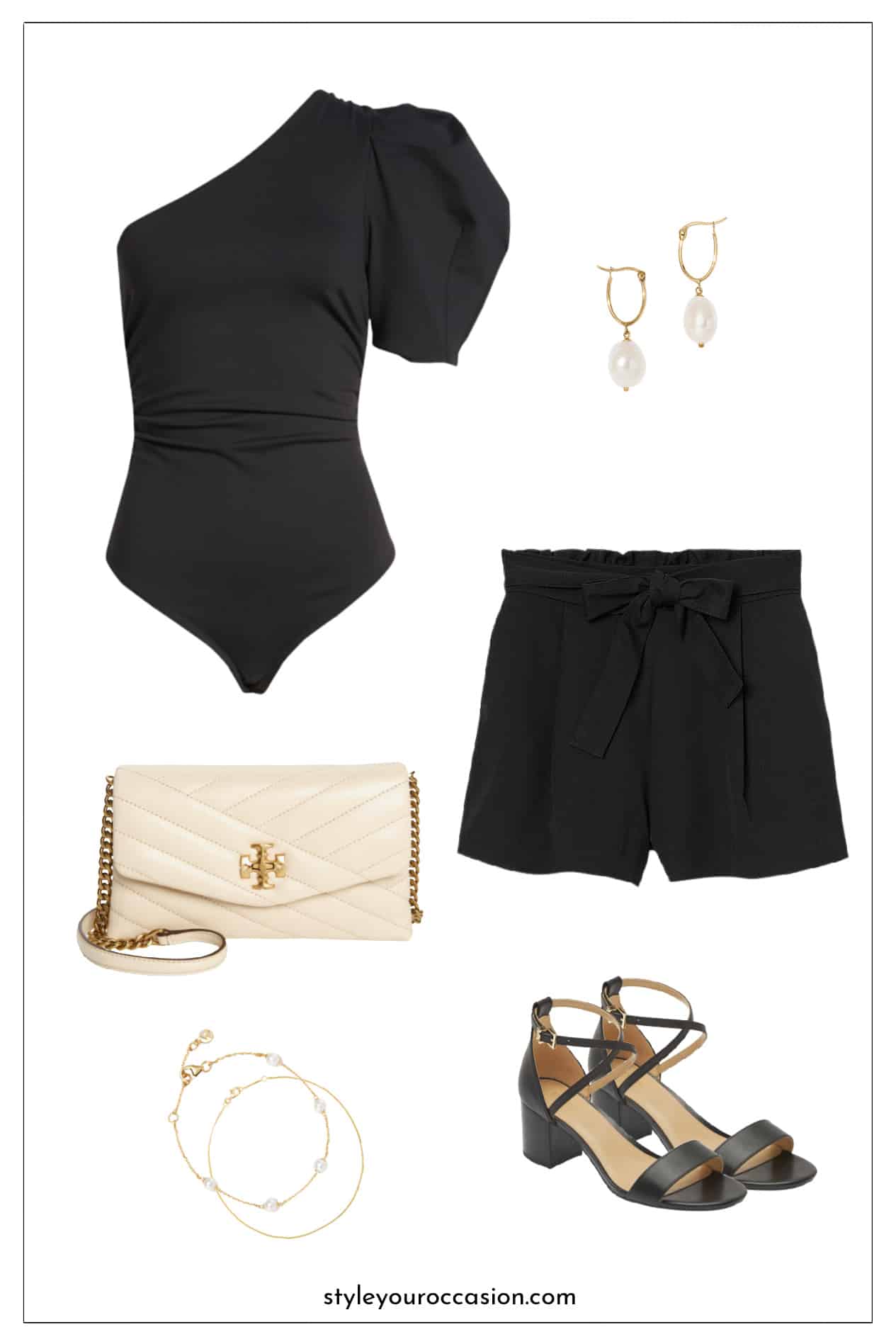 shop the look:

Black paper bag shorts can easily be dressed up or dressed down. For this look we have dressed them up for a fancy occasion like a wedding, party, or date night. The shorts look great with a pair of black heeled sandals, a cute bodysuit with a puff sleeve, dainty gold pearl jewelry, and a designer bag.
To dress the black paper bag shorts down, swap the heels for flat sandals, and the top for a simple black tank. Simplify the jewelry and swap the designer bag for a casual tote or straw basket bag.
Paper Bag Shorts with Crop Top
shop the look:

The sun is calling with this outfit perfect for a day at the farmer's market, sipping wine on a terrace in the sun, or a weekend coffee run.
The linen blend crop top works perfectly with the cotton paperbag shorts, strap leather sandals, and straw details with the hat and bag. Take this look to night by swapping the sandals for a pair of heeled sandals, and trading the hat for some gold jewelry.
Casual Blouse + Paper Bag Shorts
shop the look:

We love the look of a classic button up blouse with paper bag shorts. It's casual yet elevated and can work for all kinds of occasions. In the paper bag shorts outfit above, we combined a simple short-sleeve blouse with the shorts and black sandals, a straw handbag, sunnies, and a pendant necklace.
For a slightly dressier take on this combo you could swap the flat sandals for heeled sandals, and go with a chic black leather crossbody bag.
Dressy Blouse + Paper Bag Shorts
shop the look:

For a dressier twist on paper bag shorts with a blouse, the look above is one to try! Find a pretty blouse with a nice print, or an embroidered detail, and pair it with light or dark paper bag shorts.
Add a pair of pumps or heeled sandals, and some dainty jewelry with a stylish bag. This paper bag shorts outfit can be worn to a bridal shower, out with friends, a family event, on a date, and more!
Beach Day Paper Bag Shorts Outfit
shop the look:

For a day at the beach (or the pool), pop on a pair of casual paper bag shorts over a one or two-piece swimsuit, and add a button-up shirt for extra sun protection. Slide on a pair of simple sandals and grab your beach bag!
This look can take you from the water to brunch, lunch, or exploring in summer or on vacation.
(@sezane, @stylewithtiffanyd_)
Are paperbag shorts in style in 2022?
In 2022, paper bag shorts are definitely in style, and a great wardrobe staple for the warm seasons. Keep a pair of paper bag shorts around for casual beach days, brunch with friends, and for dressing-up (with the right top and shoes) for a laid-back summer wedding.
We hope you have enjoyed this post and are inspired to put together some paper bag shorts outfit ideas of your own.
So, which was your favorite??
Pin this:
More Summer Style Guides You'll Love:
Capsule Summer Wardrobe: Checklist + What To Wear
15+ Linen Shorts Outfit Ideas For Spring, Summer & Vacay Mode
How To Style Shorts with Tights + 15 Chic Shorts and Tights Outfits
What To Wear Camping: Tips + Outfits You Should Try
How To Style A Baseball Jersey: 8 Chic + Stylish Looks You'll Love!
Christal Sczebel is an entrepreneur, published author, and content creator. Over the past decade she has worked in the digital media field building successful websites for both food and fashion. She has a natural affinity for minimal, timeless fashion, neutral home decor, and styling.
Here on Style Your Occasion, Christal is the Editor-in-chief and brain behind the aesthetic. She hopes you love the this space and the inspiration you'll find!