Wondering what to wear to Top Golf? Learn what to wear, what not to wear, and get some really cute Top Golf outfits inspiration for what to wear for a Topgolf date, party, or other casual gathering!
*this post contains affiliate links*
Originally published May 19, 2022, Updated May 15, 2023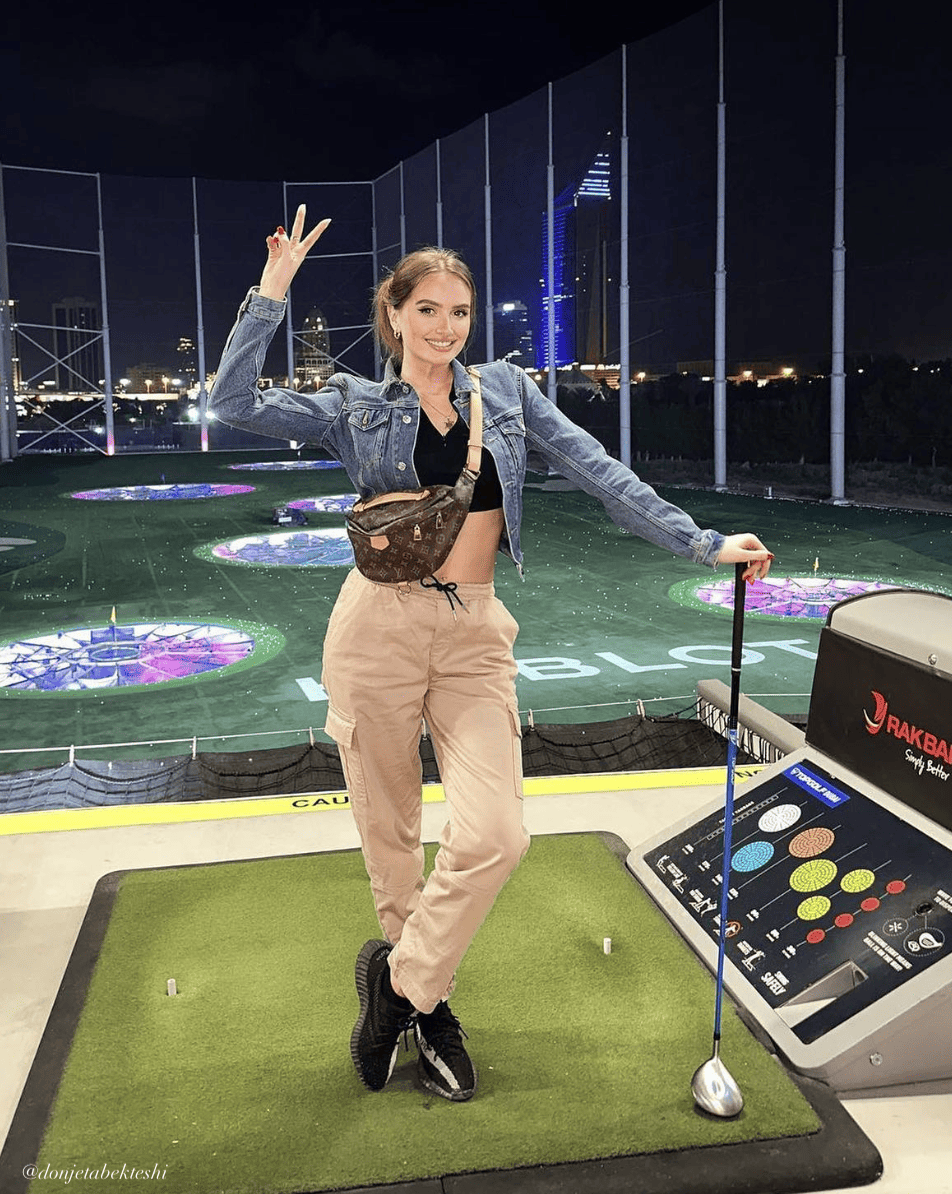 get the look:

What To Wear To Top Golf
If you're looking for a fun, relaxed way to spend an afternoon or evening with friends, look no further than Topgolf. This unique and popular venue has something for everyone – whether you're a seasoned golfer or a total newbie.
But, what should you wear to Topgolf in 2023? That can be a challenge, especially if you're not sure what the dress code is.
Don't worry – we've got you covered! This blog post will give you a ton of tips on what to wear to Topgolf in 2023, depending on the occasion or event.
What is Top Golf?
Topgolf is a unique golfing experience that combines traditional driving range practice with a fun, competitive game. Players score points by hitting targets located around the driving range, and the person with the most points at the end of the game wins.
While you play the game you can order food and drinks. It's sort of like a bowling alley, but for golf! Making it a perfect venue for parties, work events, date nights, or casual gatherings with friends.
get the look:

Does Top Golf have a dress code?
Unlike a country club, Top Golf does not have a dress code, and there is no requirement to wear golf attire. In fact, the venue is quite casual, meaning it is not uncommon to see visitors wearing everything from shorts and tees, to jeans and sneakers.
Because there is no specific dress code, anything goes as long as you're comfortable! However, your reason for visiting Top Golf may better dictate what you should wear. Are athletic pants and nice sneakers appropriate? Sure! But, what if you are going out on a fancy date? Maybe swap the sneakers for something a bit more dressy.
Let's talk more about what to wear and what not to wear to Top Golf.
Do I have to wear tennis shoes to Top Golf?
No, you don't have to wear tennis shoes to Topgolf. However, it is recommended to wear casual sneakers or closed-toe shoes if you're planning on hitting balls to avoid any injury to the foot in the case of a wayward ball hitting your toes!
If you're not planning on playing golf, feel free to wear whatever type of shoe you like. Just avoid shoes with a very high heel or shoes that haven't been broken-in yet. It's common to walk a lot at Topgolf seeing as it is a very big venue, so you don't want aching feet at the end of the night!
Can I wear a skirt to Top Golf?
Yes! You can absolutely wear a skirt to Topgolf. In fact, we would say that skirts are one of the best items to wear to this venue. They're comfortable, flattering, and can be dressed up or down depending on the occasion.
Just be sure to avoid anything too short or you might show more than you intend during a golf swing (tip: wear a pair of mini biking shorts under your skirt or go with a sporty skort instead). You can also wear a trendy golf or tennis skirt like the look above, with a tank top or t-shirt, for a golf-inspired look that's still casual.
Cute Top Golf Outfits To Copy
Now that you know what to wear (and what not to wear) to Topgolf, it's time to start planning your outfit. Here are some great Top Golf outfits, depending on the occasion.
What To Wear To a Topgolf Date
get the look:

If you're going on a date to Topgolf, we recommend wearing something casual yet stylish. A great option is a pair of your fave comfortable jeans with a basic white or black t-shirt.
Add a leather jacket or cardigan if it's chilly, and don't forget to wear closed-toe shoes. Finnaly, add some cute gold jewelry (but nothing too dangly) to elevate the look.

Another idea for what to wear to a Top Golf date is a cute dress with a pair of sneakers like Fashion Jackson's outfit above. Or, try an athletic dress with sneakers like Clare Hogle here at Topgolf.
Wrap a denim jacket around your waist and opt for a pair of classic sneakers to keep you comfortable.
get the look:

Lastly, when it comes to what to wear to a Topgolf date, you can go casual with leggings, sneakers, and an oversized denim jacket. This is perfect for a second or third date when you want to show your date your laid-back side and relxed sense of style!
What To Wear To a Party at Top Golf
If you're attending a casual party, whether it be a birthday party or another celebration, we recommend wearing something fun and relaxed. Try a pair of leather leggings with a cute camisole top and flats.
get the look:

If the party is more formal, you can opt for a dressier look like a dress or jumpsuit. This outfit would be great for a summer party with friends or your another idea for what to wear to a Topgolf date.
We love the look above paired with lower heels that are still comfortable and practical. A jumpsuit is dressed up, yet flexible and stretchy for when it's your turn to swing the golf club. And you can always kick off your shoes if you want!
What to Wear to a Top Golf Work Event
Top golf is a relaxed dress code venue. However, it is essential to remember that this is still a work event, so you'll want to avoid anything too casual or revealing when it comes to your Top Golf outfits.
A good rule of thumb is to dress as you would for a happy hour or after-work drinks with colleagues. With that in mind, a blouse or tee paired with jeans and a blazer is a great look.
get the look:

If you're looking to make a bit more of a statement, consider adding accessories to complement your looks, like a gold earring or a necklace. And, you can choose to wear a pair of sneakers, loafers, ballet flats, or low heels (yes, heels are allowed at Topgolf!), depending on how casual you want to look!
What To Wear With Friends At Top Golf
For a casual gathering with friends go with something relaxed and comfortable. A golf skirt, sneakers, and a tank is great.
If you are going for a girls' night out at Top Golf, you'll want to wear something fun and flirty. Try a simple dress or skirt and a tank, or stick with a pair of pants and a cami top.
You can definitely wear a pair of comfortable heels, or stick with a cute pair of sneakers. This is an excellent opportunity to shop your closet and put together a look that is edgy, fun but minimal.
What should I wear to Top Golf?
Top golf is a versatile venue without a dress code, so your outfits can be easily dressed up or down depending on the event. Some cute and easy Top Golf outfits include:
comfortable jeans, t-shirt, and sneakers
t-shirt dress with sneakers and denim jacket
tennis skirt with a tank and sneakers
athletic dress with sneakers
jumpsuit with low heels and a denim jacket
leather leggings with a t-shirt and sneakers
oversized t-shirt with biker shorts and sneakers
blazer, t-shirt, jeans, and loafers
We recommend something casual yet stylish if you're going on a date. For a party, go for something fun and dressed up. And if it's a work event, remember to keep it professional.
get the look:

No matter what you choose to wear, avoid anything too restricting or uncomfortable – you'll be moving around a lot and you want to make sure you can swing a golf club easily! Plus, you don't want your feet to hurt by the end of the night.
We hope this guide has helped you figure out what to wear to Top Golf with friends, for a party, or work event, and what to wear to a Topgolf date. No matter what the occasion, we know you'll look fantastic!
More Top Golf Outfit Inspiration
(images top to bottom; @itslaurenandy, @golfstoriesrt, @vanillestheguide, @unmissabl)
More Style Guides You'll Love:
Christal is an entrepreneur, published author, and content creator. Over the past decade she has worked in the digital media field building successful websites for both food and fashion. She has a natural affinity for minimal, timeless fashion, neutral home decor, and styling.
Here on Style Your Occasion, Christal is the Editor-in-chief and brain behind the aesthetic. She hopes you love the this space and the inspiration you'll find!