Are you wondering what to wear to meet his parents for the first time? Get inspired with 10+ cute and modern outfit ideas for what to wear when meeting his parents that you'll love, they'll love, and he'll love.
*this post may contain affiliate links*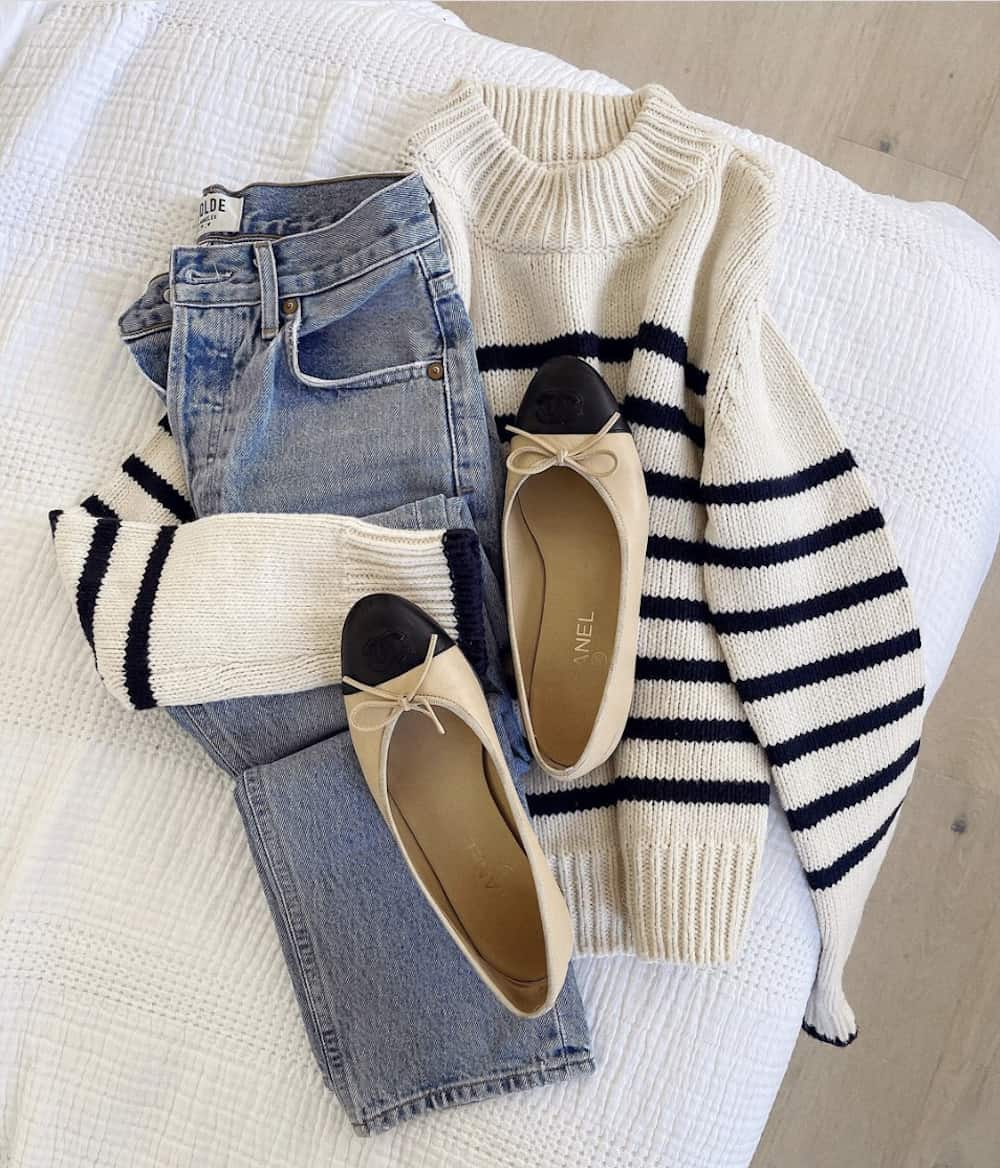 get the look:

What To Wear When Meeting His Parents
It can be incredibly nerve-racking preparing for the first time you'll meet your boyfriend or fiancé's parents. Will they like you? What should you say? Should you bring them a gift? What should you wear?
These are all likely questions that have passed through your mind as the meeting approaches. While we can't tell you what exactly to say, or how you'll hit it off, we can help you in the wardrobe department!
We've scoured the fashion world for 10+ perfect outfits for what to wear to meet his parents, and we think you'll love them too! Not only are these outfits cute and classy, but they also give a great first impression.
Not to mention, they're comfortable. The last thing you want is to be fidgeting and fumbling with your outfit while you're navigating through your first conversation with his parents!
get the look:

When meeting your boyfriend's (or perhaps, your fiancé's) parents for the first time, you'll want to make sure you dress modestly. While they may be very laid-back people, it's a good idea to err on the side of caution and wear something with a more conservative vibe at your first meeting.
Great outfit ideas include a midi dress, a skirt, jeans, or trousers, a blouse or crewneck shirt, and a jean or leather jacket. For footwear, you can opt for ankle boots, ballet flats, loafers, or low heels.
You'll want to look polished and confident, but also feel like yourself in whatever you're wearing. Read on for meet-the-parents outfit inspiration!
Perfect Outfits To Meet His Parents
Below are our favorite looks for meeting his parents as they are cute, comfortable, and classy (the ultimate trifecta!). We've categorized the ideas depending on the season, and if it's a casual or formal event.
Spring + Summer Outfit Ideas
In the spring and summer you'll want to wear something light and airy (not something you'll be sweating more than you already are in!). Opt for pants and a blouse, or a cute dress!
sweet and simple.
get the look:

We love this sweet and simple idea of what to wear when meeting his parents. It's relaxed yet elevated, polished yet comfortable, and makes a great first impression.
This outfit would be great for brunch, lunch, or a casual dinner in the spring or summertime. You could also wear it to a BBQ at his parent's house.
Just bring along a knit sweater or jean jacket if the temperature gets cooler in the evening.
the little black dress.
get the look:

A little black dress, with a more modest appeal, is a no-fail option for what to wear to meet his parents. This is a great look if you are heading to a more formal setting, such as a fancy restaurant or a party.
We love the look above with the high-neck black dress that hits just above the knees. It is conservative but eye-catching at the same time.
Add some simple black heels and a small clutch or handle bag and you'll have his parents smitten at first sight!
casual, but polished.
get the look:

When meeting his parents in a laid-back setting, you'll want to look casual but still polished. The best way to achieve this is by pairing a neutral top and pants, with casual accessories like brown sandals and dainty jewelry.
We love the look above with the black on black, and touches of brown. The ribbed-knit top is dressy but subtle, and the black trousers look excellent with the brown belt.
You can make the look even more casual by adding a denim jacket. Or, swap the sandals for classic canvas sneakers if you will be going to a park or doing a lot of walking.
Normally sneakers can come off as overly casual and might not make the best first impression. But, by pairing sneakers with a dressier top and pants, you'll look like you put intention and effort in your ensemble.
the wedding meeting.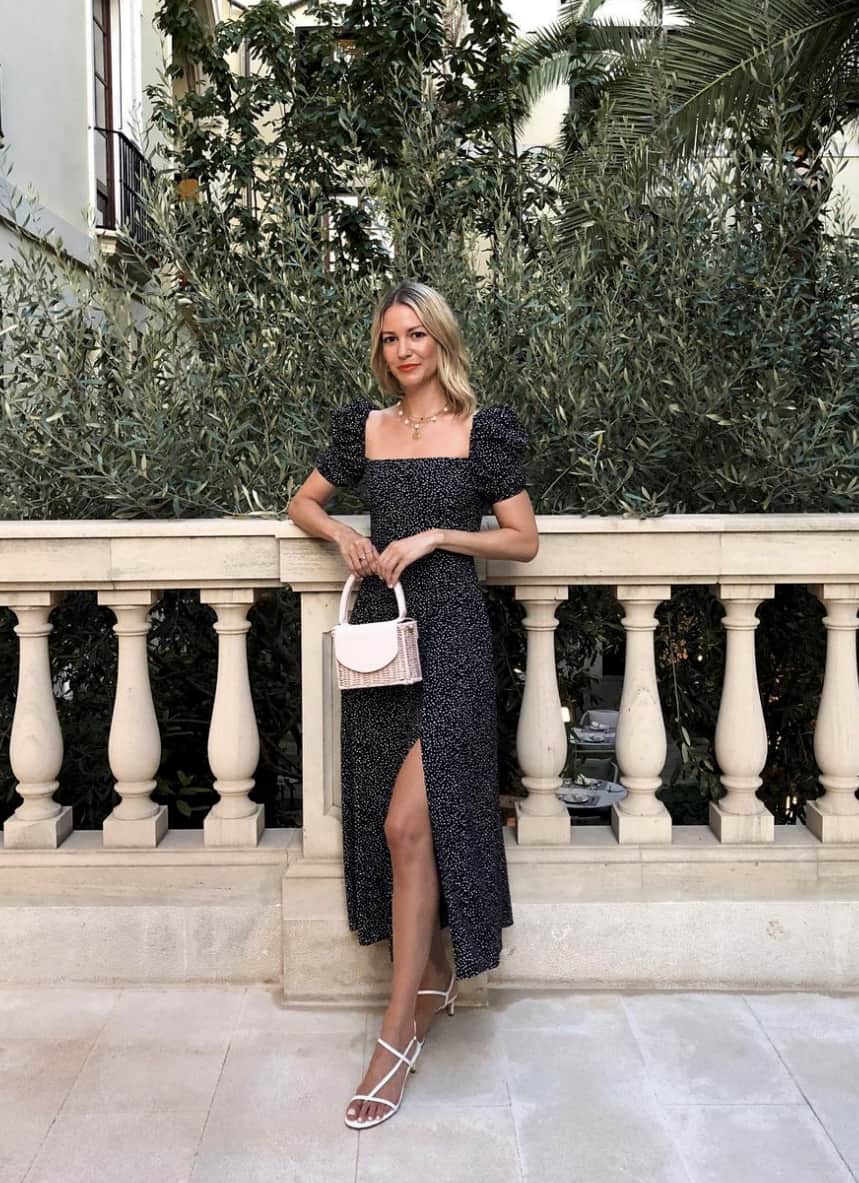 get the look:

The weddings of his friends or family members tend to be common times to meet the parents. In this situation, you'll want to make sure you're dressed up for the occasion, while also looking polished and classy.
We love the outfit above with a simple floral midi dress, heeled sandals, and dainty jewelry. This look is understated and elegant, and also on the more conservative side (which is especially important if you'll be meeting grandma too!).
chic, like a boss.
get the look:

If your beau's parents are more old-fashioned, wow them with a classy outfit, and then charm them with your lovely personality.
This look is great for spring when the temperatures are still a little cooler. Pair cigarette-leg black pants with simple kitten heels, a basic white t-shirt, and a cropped jacket.
The outfit is chic, polished, and perfectly put-together.
Fall + Winter Outfit Ideas
In the fall and winter you'll want to dress warmer, but still look cute. Layers are always a great idea along with warmer fabrics. Below are our favorite ideas for what to wear when meeting his parents in the fall or winter.
effortless dress + ankle boots.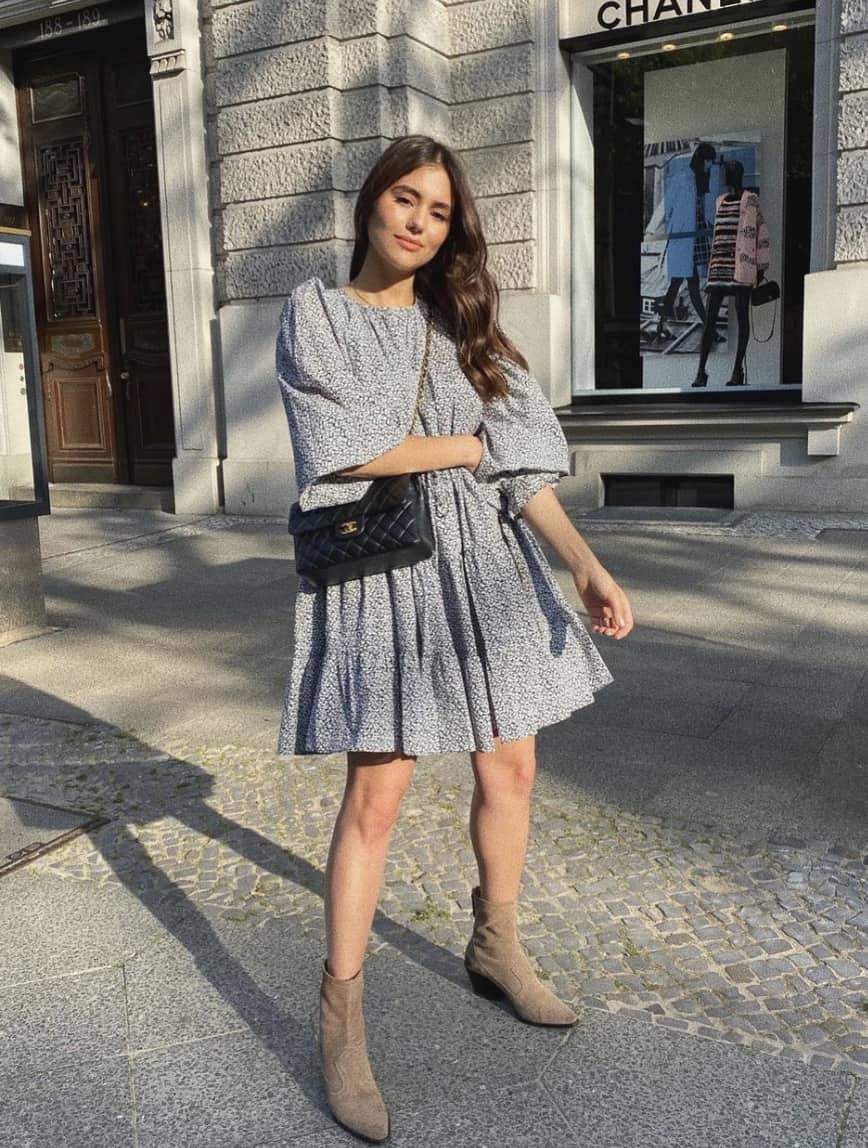 get the look:

In the fall when the weather is still warm enough for bare legs, this is a perfect meet-the-parents outfit to try. We love a cute shift dress in a solid or floral pattern with a high neckline, as it looks both classy and cute.
Pair your dress with some suede ankle boots for that extra fall vibe. Or, for additional coverage wear tall or knee-high boots.
This look is feminine and fun, but still conservative and modest enough for meeting his parents.
polished in denim.
get the look:

If you love to wear jeans, you can absolutely slip into your favorite pair for meeting his parents! Because jeans are quite casual, you can elevate them with dressy loafers or mules.
To complete this fall outfit for meeting his parents, add a cashmere or ribbed knit t-shirt, and layer with a camel coat. You'll feel classy and comfortable and definitely make a great first impression.
tall boots and layers.
get the look:

For a chic and classy look, go with tall boots and an oversized wool blazer. This fall or winter outfit for meeting his parents is stylish and looks put together.
If you want even more comfort, swap the skinny jeans for leggings and go with a longer sweater that covers your bum. You'll be sure to impress the parents, and the whole family if they are around!
How do I prepare for meeting his parents?
You may be feeling nervous leading up to meeting your beau's parents, and that's totally normal! Being prepared always helps to lessen the nerves. Below are some things you can do to prepare for meeting his parents:
Ask about his parents beforehand so you know their names, ages, and interests. This way you can keep the conversation flowing more easily, especially if there's an awkward silence!
Decide on your outfit ahead of time. Rather than stressing about what you'll wear last-minute, ease your nerves by choosing a cute and comfortable outfit before the meeting.
Get a gift to bring. A small, thoughtful gift is always a lovely gesture and makes a great first impression. Homemade baking, flowers, wine, or olive oil are all great ideas.
get the look: