Are you recently engaged? Congrats! Find out exactly what to wear to engagement photos with this simple and stylish guide.
*this post contains affiliate links*
What to Wear to Engagement Photos
Getting married is an exciting time full of planning and celebrating. I imagine you have a plethora of Pinterest boards full of inspiration to show for it.
However, with all the celebrations related to getting married comes the struggle to find the perfect outfit for each occasion. Shopping for a wedding dress is usually at the top of your mind, but what about your engagement photos?
When it comes to your engagement photos, you'll want to wear something timeless and chic but also represent you and your personal style.
If you are searching for inspiration, below are several great options that will have you looking your best for your engagement photos.
Photos: @AhnaMariaPhotography, @thehardins
What clothes to wear for engagement photos?
When it comes to what to wear for engagement photos, neutrals are always a good choice. You want your outfit to compliment your surroundings and your partner, and not compete with them.
Consider dressing in light colors like ivory or crisp white, or earth tones like beige, olive green, black, or gray. These always help create a look that is both polished and put together.If you want to add a pop of color, go for a muted tone like mist blue or blush pink.
Shop The Perfect Neutrals:

Another option is to keep your outfit simple and focus on accessories. This way, you can change your look with different hats, scarves, or jewelry.
When it comes to shoes, you want something comfortable and neutral to tie the look together. A nude or black heel or sandal is always a safe bet.
Shop Accessories:

Dresses are an excellent option for engagement photos because they can be simple but can still make a statement. If you choose to go this route, try to find a dress with a unique neckline or detail.
What color dress should I wear for engagement photos?
As mentioned above, I'm a sucker for neutrals and think they are always a good option.
You want your outfit to compliment your surroundings and your partner. A sleek, chic, neutral dress that is solid in color, or with a subtle pattern, will accomplish just that!
Shop Dresses:

Is it OK to wear white for engagement pictures?
In short, yes! It is perfectly fine to wear white for your engagement pictures, and in fact, some couples even choose to go monochromatic and wear all-white or all-black outfits for their engagement photos.
Photos: @scarletroots, @laurenvandame
However, if you are worried about looking too formal or like a bride-to-be too early in the wedding planning process, you can always go with other neutral tones or muted colors.
Shop White Dresses:

5 Chic and Minimal Outfit Ideas for Your Engagement Photos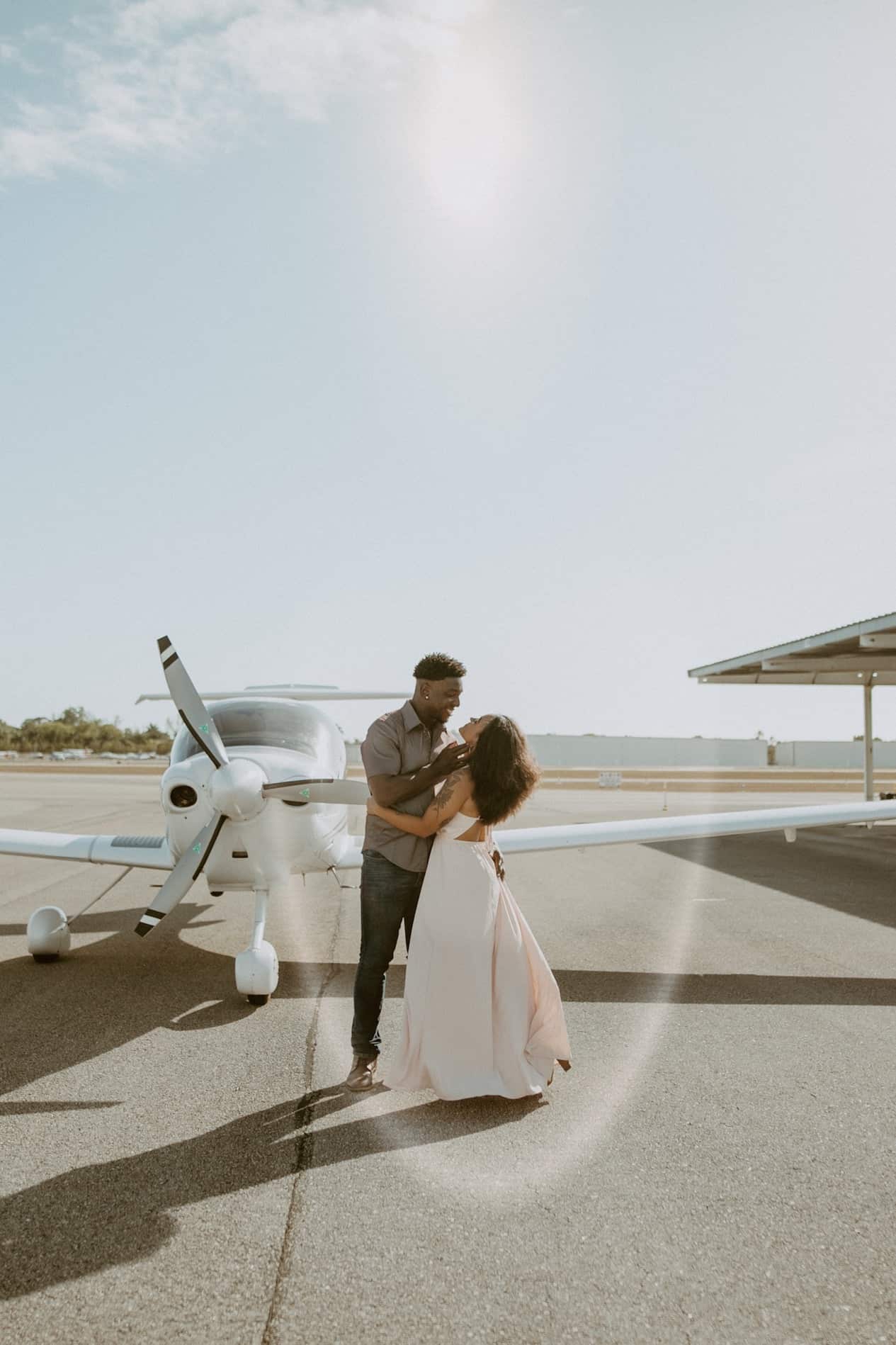 A Neutral Maxi Dress
A maxi dress is always a good option for any photo session, and it is feminine and flowy and can be dressed up or down. For engagement photos, try to find a neutral dress in color with minimal details.
You want to avoid all of the focus on your outfit, but rather on your beautiful ring and smiling faces!
Shop Maxi Dresses:

Photos: @annaelizabethphoto, @kirstenkilpatrick
Jeans and a Neutral Top
If you're looking for something a bit more casual and playful, jeans and a neutral top are always a classic combo that will never go out of style.
For your engagement photos, you can dress it up in a fancier top with ruffles or lace, or keep it simple. A jacket is also a great option to layer over your outfit.
Shop The Look: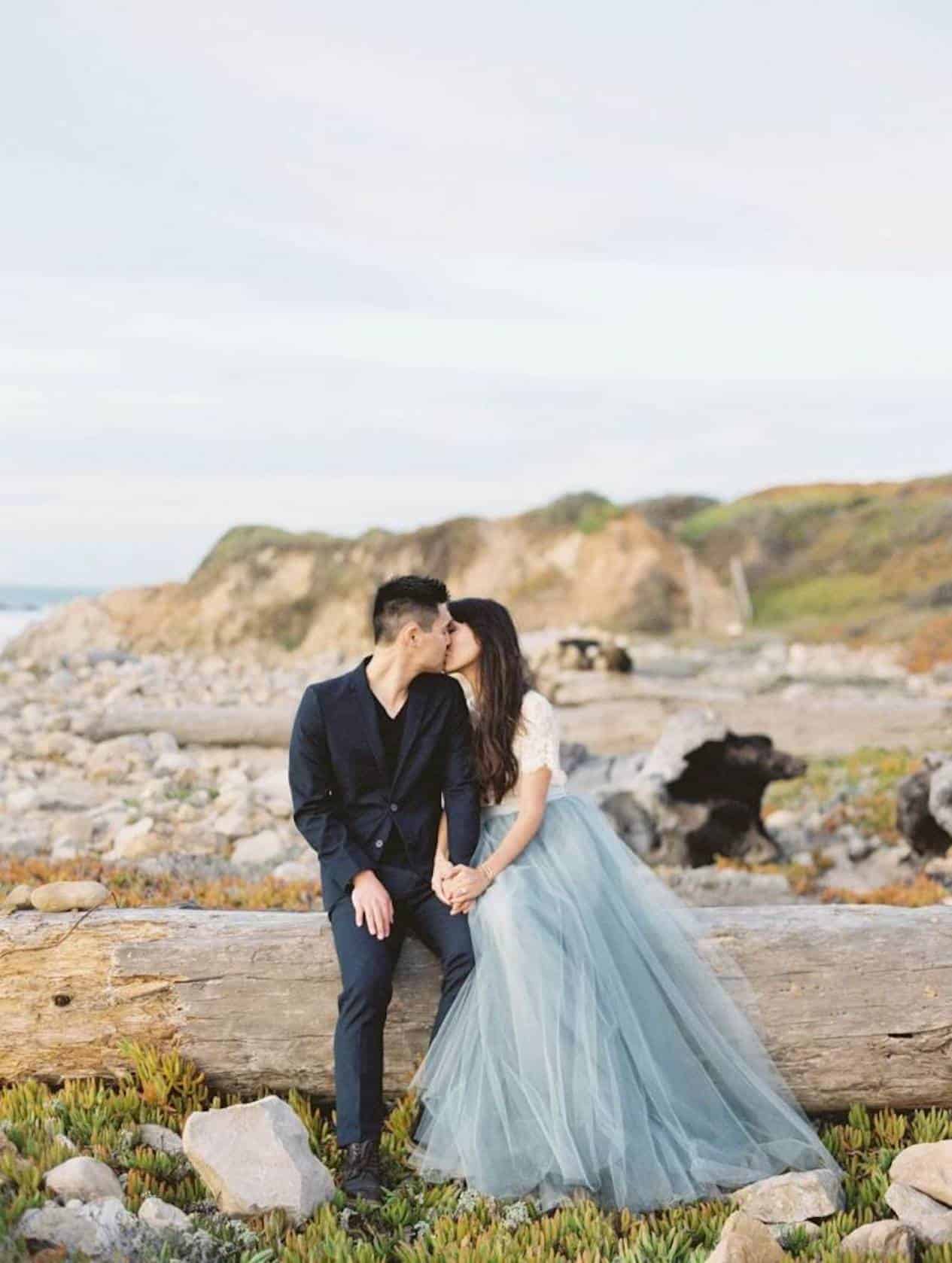 A Pretty Skirt and a Cute Top
Another great option for engagement photos is a skirt and top combo. A pretty skirt with a fun pattern or lace detail paired with a cute top is the perfect outfit for showing off your personality.
You can go with neutral colors like black, navy, or gray or add a pop of color with a blush, mist, or sage tones.
Tip: If you are wearing a skirt, make sure it is the right length. You don't want it to be too short or overly long – both of which might look awkward in photos.
Shop The Look:

A Chic Blazer and Trouser Combo
If you want to dress up a bit more for your engagement photos, a blazer and trouser combo is always a chic option. Pair it with some fitted trousers or a skirt, and you'll look polished and put together.
Tip: Don't be afraid to play with your accessories. An added scarf, necklace, or earrings can really make your outfit stand out.
Shop The Look: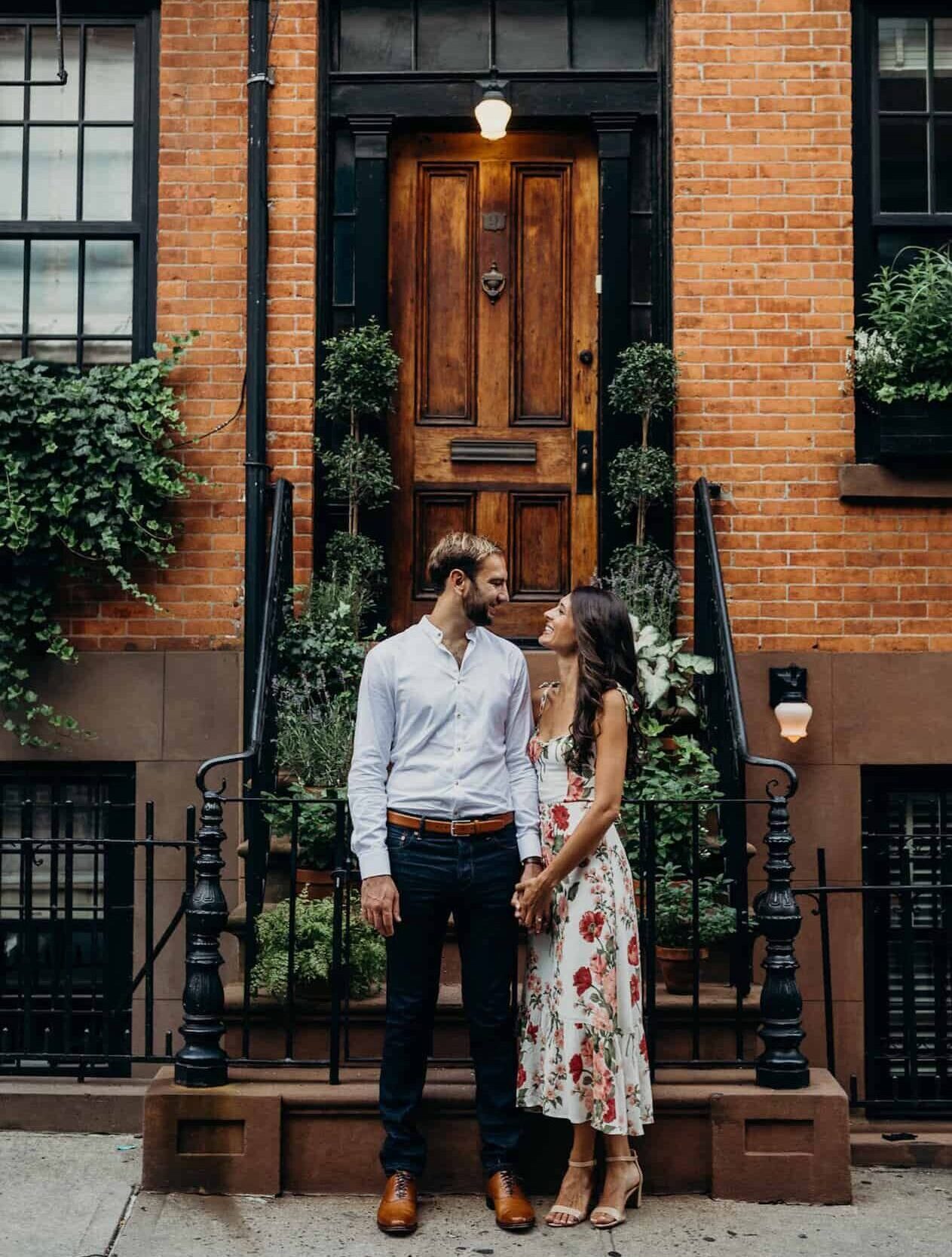 A Casual Dress
Last but not least, a casual dress is always a great option for engagement photos.
A dress with a subtle print or muted color is perfect for adding feminine flair. You can add some pretty accessories like dainty earrings or a necklace to tie it all together.
Tip: If you wear a dress, make sure it is comfortable and not too tight. You will be wearing it for at least a couple hours, and you don't want to be uncomfortable the whole time.
Shop Casual Dresses:

There you have it. Five outfit ideas will help you look your best in your engagement photos. Did you have a fave? No matter what outfit you choose for your engagement photos, just make sure that it represents you and your style.
Keep the focus on your beautiful ring, undeniable chemistry, and your smiling faces, and you'll be sure to have stunning photos so you can remember this special time.
To keep the excitement going, check out this list of the top Honeymoon destinations in the world as you continue to plan, and this list of who's most likely to questions for couples to entertain guests at the wedding!
More Style Posts You'll Love: