Looking for ideas on what to wear for engagement photos? You'll love our simple and stylish guide filled with engagement picture outfits (including the top trend for 2023), and the best tips to help you find out exactly what to wear for engagement photos outdoors and indoors!
*this post contains affiliate links*
*Originally published Feb 4, 2022, Updated June 6, 2023
What to Wear For Engagement Photos
Getting married is such an exciting time full of planning and celebrating. We can only imagine the plethora of Pinterest boards you have full of inspiration, bridal shower themes, and decor ideas for your big day!
However, with all the different celebrations that come with getting married comes the struggle to find the perfect outfit for each occasion. Shopping for a wedding dress is usually at the top of your mind, but what about your outfit for your engagement photos?
When it comes to your engagement photos, you'll want to wear something timeless and chic while also representing you and your personal style. If you've been searching for inspiration, we have exactly what you need!
We've sourced the most stunning and classy engagement photoshoot outfits below that will have you looking amazing for your engagement photos.
Engagement Photo Outfits 101
When it comes to choosing what to wear for engagement photos outdoors or indoors, neutrals are always an excellent choice. You want your outfit to compliment your surroundings and your partner, not compete with them. Neutral colors make it easy to accomplish that without taking away any style from your outfits!
Go for light colors like ivory or crisp white or earth tones like beige, olive green, black, or gray. These shades always help to create a look that's both polished and put together. And if you want to add a pop of color, a pastel tone like mist blue or blush pink, or a subtle floral pattern is always a fantastic choice.
shop neutral outfits:

Choosing The Right Accessories
You can also keep your outfits simple and focus on accessories. This way, you can elevate and change your look with different hats, scarves, and jewelry.
And when it comes to shoes, you'll want to choose something comfortable and neutral as a way to tie the whole look together. Nude or black heels or sandals are always a safe bet, and these classic shoes will help create that timeless look you want.
shop accessories:

Dresses For Engagement Photos
Dresses are an excellent option for engagement photos because they can be simple while still making a statement. If you choose to go this route, find a dress with a distinct detail that helps you stand out – think unique necklines, lace detailing, or bold accents.
shop dresses:

Is it OK to wear white for engagement pictures?
Wearing white for engagement pictures happens to be the top trend for 2023! You may think that white should be reserved for your wedding day, but it's perfectly fine to wear white for your engagement pictures, and creates the most beautiful aesthetic.
When choosing white for engagement photos, opt for a more casual white dress that has a bride vibe, but isn't a full on wedding gown. Or, opt for other white clothing like jeans, linen pants, a white blouse, or a white pant suit.
Also, when it comes to what to wear for engagement photos outdoors, you can still go with white, just choose a dress that won't drag along the ground!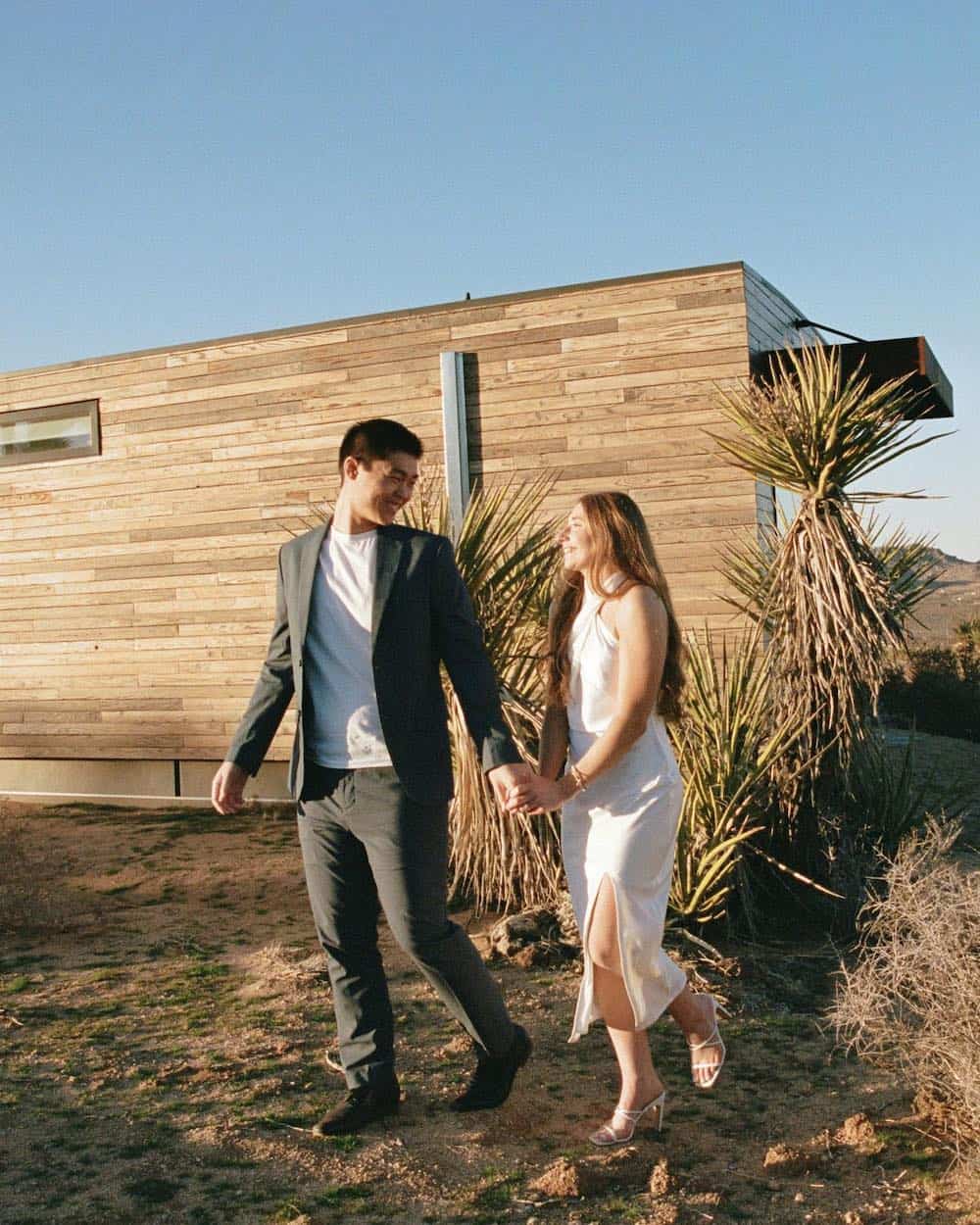 The photo above is a perfect example of the engagement photo trend for 2023. The bride-to-be is in a white dress that is dressy, yet subtle, and the groom-to-be is in a blazer and pant set with a t-shirt.
shop white dresses:

Chic Engagement Picture Outfits
We have some gorgeous inspiration below to help you find the perfect engagement picture outfits. Whether you want to wear a wedding-inspired dress in line with the 2023 trend, or something colorful, or if you want to go for an unexpected look, there is a look we are sure you'll love!
a wedding-inspired dress

(*top 2023 trend!)
get the look:

As mentioned earlier, wearing a wedding-inspired dress has been so popular for engagement pictures, and this the hottest engagement photo outfit trend for 2023. If you peruse through IG you'll see tons of engagement photo session reels with women opting for this stunning trend!
A mini dress will have a casual feel, although a midi or maxi dress would also work here. And you can choose a white dress that reflects your style and personality. Choose a simple and sleek dress or one with lace and embroidery.
No matter which one you go for, this look is so gorgeous and perfect for engagement photos.
neutral maxi dress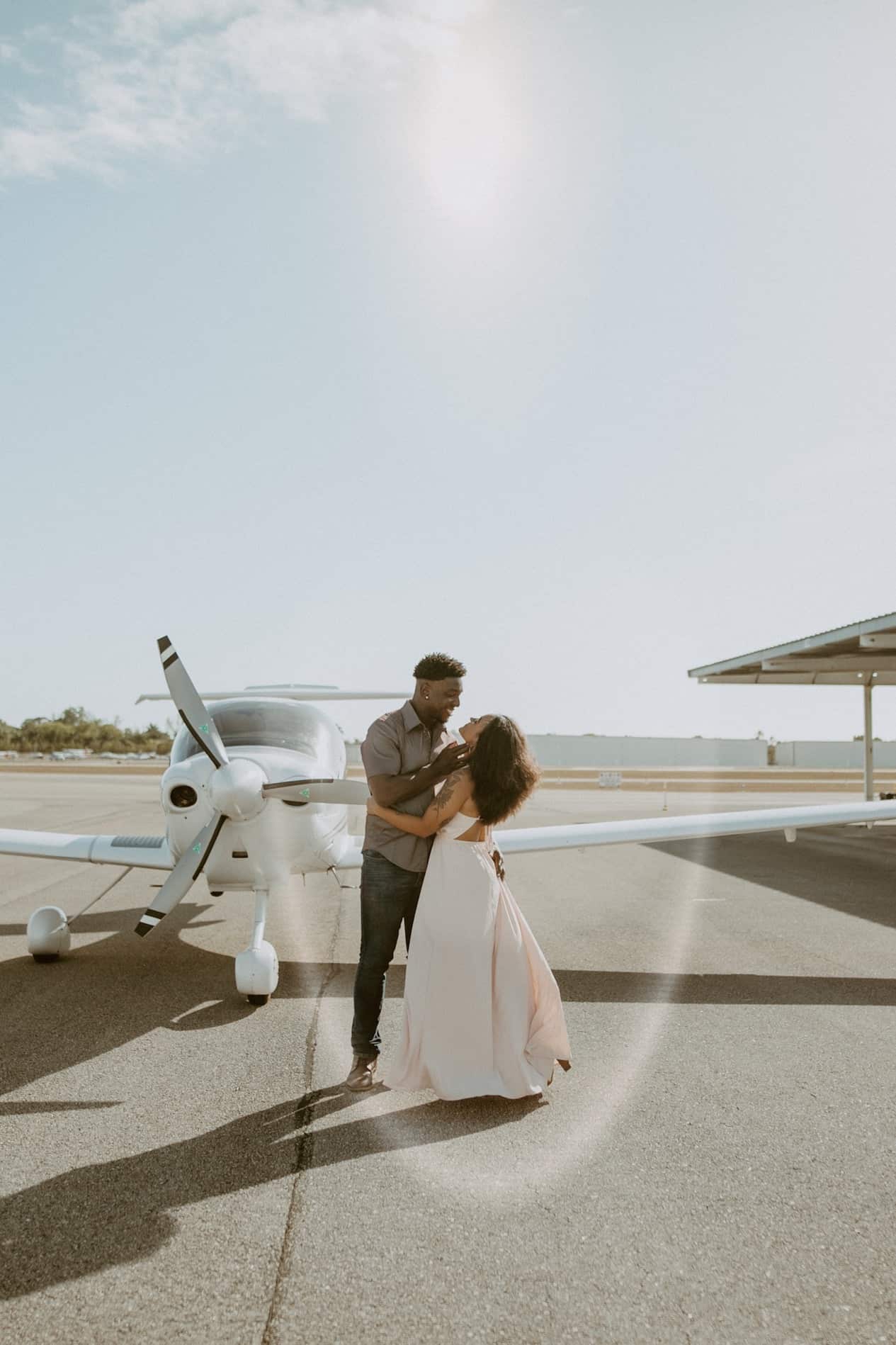 shop maxi dresses:

A maxi dress is always a good option for any photo session. It's feminine and flowy and can be dressed up or down to suit the aesthetic you want.
For engagement photos, try to find a dress in a neutral color with minimal details. This will help you to avoid all of the focus going to your outfit and instead keep it on your gorgeous ring, smiling faces, and the beautiful moment that was captured!
jeans & a pretty top.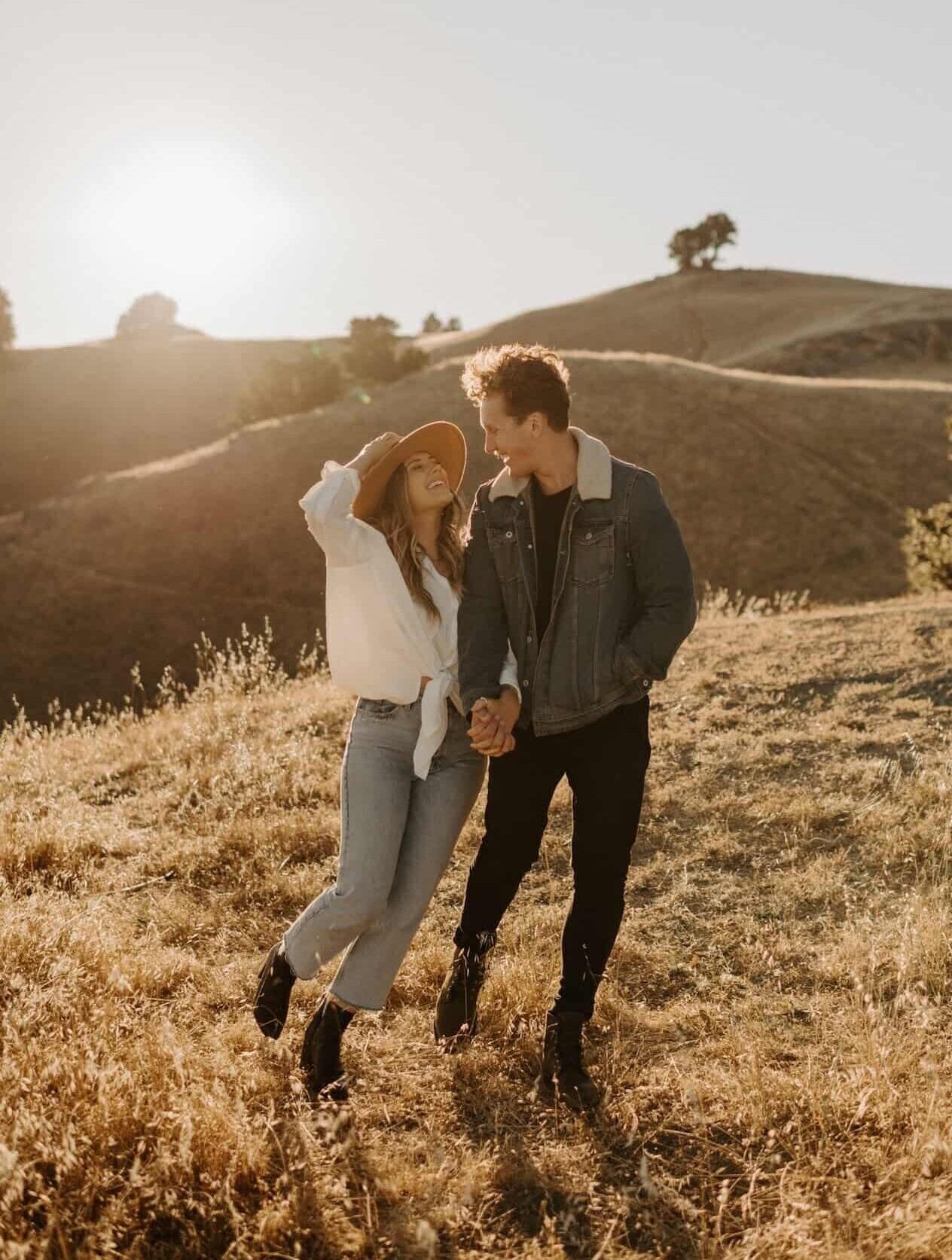 shop the look:

If you want something with more of a casual and playful feel, jeans and a neutral top are a classic, laid-back combo that will never go out of style.
For your engagement photos, you can dress this duo up with a fancier top featuring ruffles or lace or keep it simple. A jacket is also a great option to layer over your outfit and works well if your photo shoot is in fall or winter.
statement skirt & simple top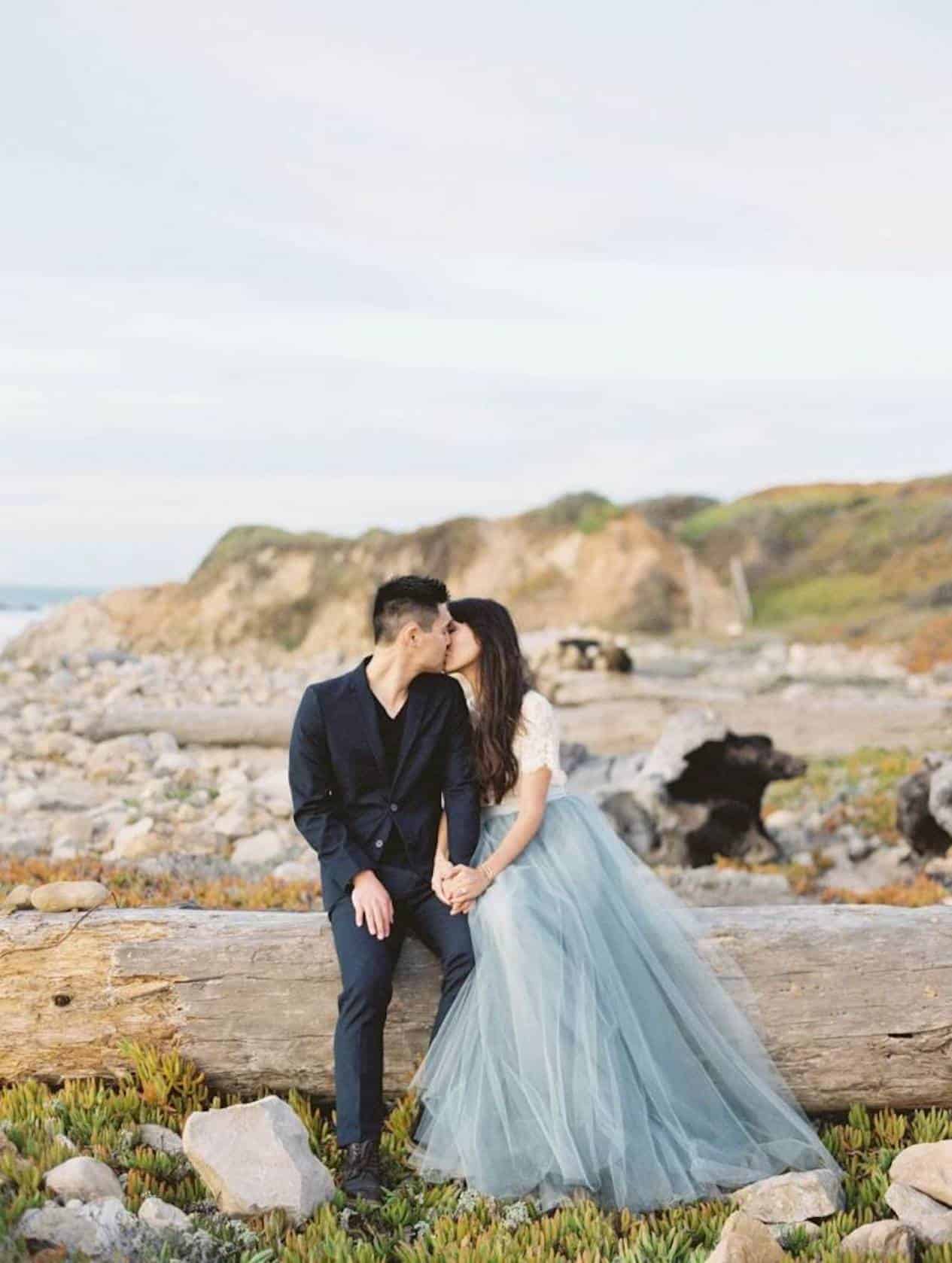 shop the look:

Another great option for engagement photos is a skirt and top combo. A statement skirt with playful materials, a fun pattern, or lace details can be paired with a cute top for the perfect outfit that also shows off your personality.
You can go with neutral colors like black, navy, or gray, or add a pop of color with blush, mist, or sage tones.
chic tailored suit
shop the look:

If you want to dress up a bit more for your engagement photos, a blazer and trouser combo is always a chic option. If you don't want to pair your blazer with fitted trousers, opt for a skirt instead for a polished and put-together look.
Tip: Don't be afraid to play around with your accessories. Try adding a scarf, necklace, or earrings to really make your outfit stand out.
the pretty floral dress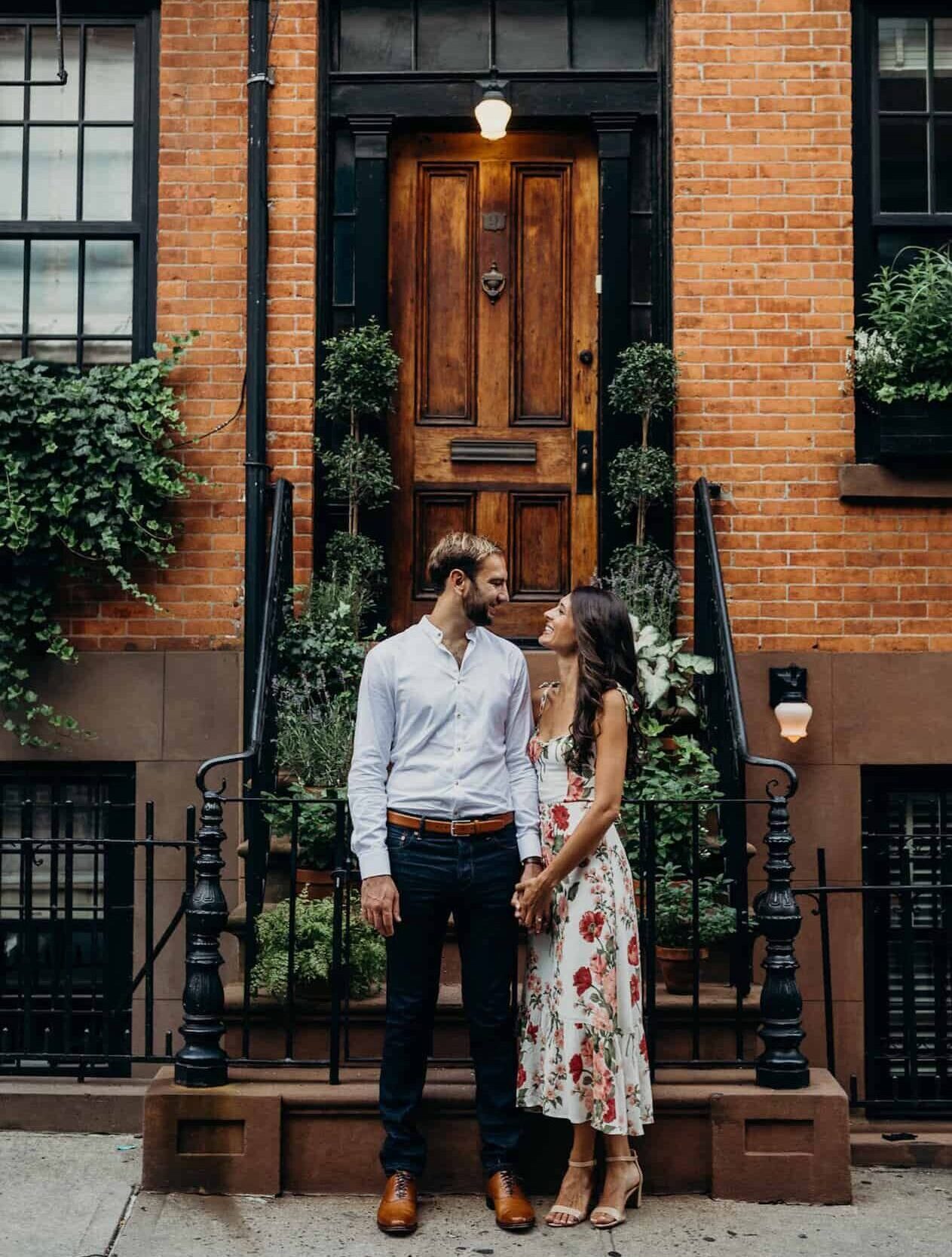 shop floral dresses:

A pretty floral dress is always a great option for engagement picture outfits.
Choose a dress with a subtle floral pattern or go for a muted color to add some gorgeous feminine flair. You can also add some pretty accessories like dainty earrings or a necklace to tie the whole outfit together.
Pro Tip: Reformation is our top choice when it comes to choosing floral dresses for engagement photos, they are stunning and are available in petite and plus size too!
the trendy jumpsuit
get the look:

Go for a bold and modern look with a chic denim jumpsuit! This outfit has a playful feel and a vintage vibe that we love.
Add some sneakers if you'll be doing some bike riding during your photoshoot, although heels or espadrille sandals would be perfect for giving this outfit more of a feminine aesthetic.
And if a full denim look isn't your style, choose a white linen jumpsuit or opt for a colorful jumpsuit to change things up!
chunky knit + jeans
get the look:

If you're taking your engagement photos in cool weather or prefer cozy outfits, a chunky knit sweater is a great way to add a stylish touch while keeping it classic and comfy.
This shade of brown is such a warm and inviting neutral, or you can opt for cream, grey, or pastel pink for something more colorful. The white pants are a fantastic piece to pair with the sweater, and adding some dainty jewelry will instantly elevate this look.
But, when choosing what to wear for engagement photos outdoors, remember that white pants always risk getting dirty, so opt for a cropped cut if you'll be frolicking through a meadow or taking photos on the beach!
Engagement Photo Outfit FAQs
Below are some more of the common questions when it comes to what to wear for engagement photos. Read on to learn a little more about color choices and what to avoid!
What is the best color to wear for engagement photos?
When choosing a color to wear for engagement picture outfits, you can always go with neutral shades for a classic and timeless look, so opt for white, cream, beige, brown, and black. On the other hand, if you want more color, go with pastels like blush pink, baby blue, or sage green, or deeper hues like navy blue, forest green, or rust.
These color choices won't distract from your photos or take away from the scenery.
What colors to avoid for engagement photos?
There are some colors that would be best to avoid during your engagement photos. Bright shades that draw the attention away from you and your fiancé are not something you want to wear during your photoshoot. These would be colors like lemon yellow, teal, or fuchsia. While these colors are gorgeous, they can easily become the focus of your photos.
As we mentioned, neutral and muted shades will look stunning while letting you be the star. Plus, they are always in style when it comes to engagement picture outfits, despite any changes in fashion trends.
There you have it. A great selection of ideas for what to wear for engagement photos outdoors and indoors! Which outfit was your fave? No matter what look you choose for your engagement pictures, just make sure that it represents you and your style.
Keep the focus on your beautiful ring, undeniable chemistry, and your smiling faces, and you'll be sure to have stunning photos that you can enjoy for years and use to remember this special time.
Still feeling excited about your upcoming nuptials and all the celebrations that come with it? Check out this list of the top Honeymoon destinations in the world as you continue to plan, and this list of "who's most likely to questions" for couples to keep guests entertained at the wedding!
More Style Posts You'll Love:
20+ Stunning Beach Maternity Photoshoot Ideas
Spring Family Photo Outfits You'll Love
What To Wear When Meeting His Parents: 10+ Perfect Outfits
Christal Sczebel is an entrepreneur, published author, and content creator. Over the past decade she has worked in the digital media field building successful websites for both food and fashion. She has a natural affinity for minimal, timeless fashion, neutral home decor, and styling.
Here on Style Your Occasion, Christal is the Editor-in-chief and brain behind the aesthetic. She hopes you love the this space and the inspiration you'll find!