Wondering what to wear for a coffee date? Check out my list of coffee date outfit ideas that will have you looking classy and stylish!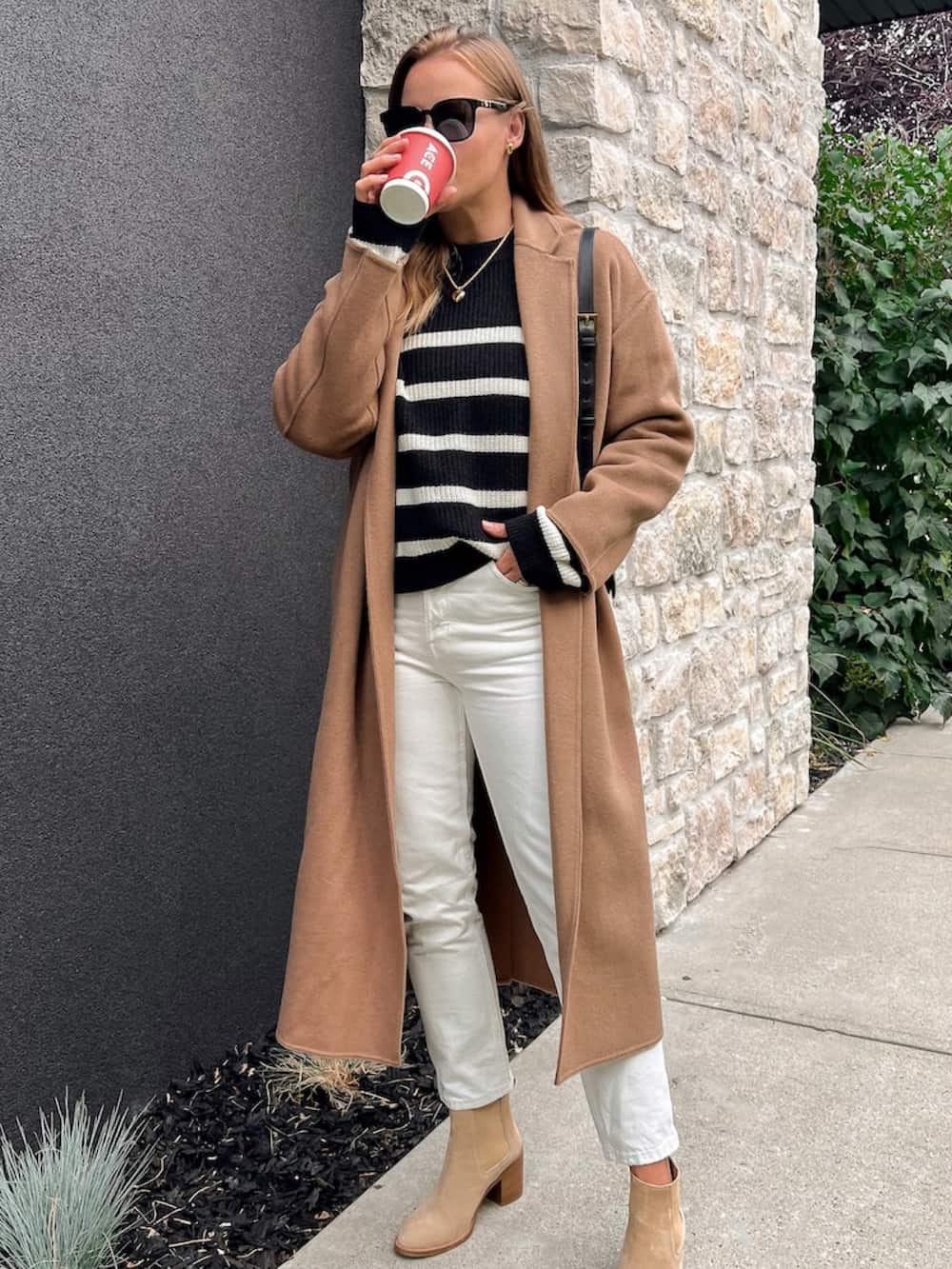 *this post contains affiliate links*
Originally published Dec 4, 2022 – Updated Nov 28, 2023
Choosing What To Wear For a Coffee Date
A coffee date is a great way to get to know someone in a laid-back setting. When you're choosing what to wear for a coffee date, you'll want something to match the relaxed vibe of the coffee shop but that will also make you look chic and show off your personality.
I love pairing a long camel coat with a knit sweater, off-white jeans, and boots (see my outfit above). It's comfortable but still classy and perfect for a coffee shop on a cold fall or winter day.
What do you wear to a coffee date?
Below are some of my favorite pieces to wear during a coffee date for a casual and chic look:
Jeans
Casual dress
Midi skirt
Sweater or cardigan

Basic tops like black and white tanks
Long trench or wool coat
Denim or leather jacket
Sneakers, loafers, ballet flats, boots, or low heels
You can create a stunning outfit with any combo of these pieces. Of course, you can always swap out comfy shoes for high heels for a classy vibe. And you can make any look fashionable with elevated accessories like jewelry and a chic bag.
Perfect Coffee Date Outfit Ideas
Below I'm sharing my favorite ideas for what to wear for a coffee date in 2024!
This look definitely has a laid-back vibe that I adore. The simple midi skirt, sneakers, and oversized denim jacket all combine for a relaxed outfit that is perfect for a chill coffee date. This is also a great choice if there is the possibility that you'll explore the town together afterward.
Choose a denim jacket that has an oversized look and combine it with a silk or wool midi skirt for an elevated appeal. Add a pair of chunky sneakers like the Chuck Taylor's on @emitaz here for a simple and cozy look.
Hannah of @cocobeautea never has a shortage of classy looks. Here, she's wearing a casual and warm outfit for a fall or winter coffee date. This outfit has an all-over relaxed feel, but the belted jacket and luxurious purse take the look to another level.
The laid-back blue jeans and sneakers are perfect for staying comfy while out and about, while the turtleneck sweater and jacket is sure to keep you warm and cozy. I'd recommend swapping the sneakers for heels if you want a more feminine and dressy look.
Our next outfit is casual enough for a coffee date with a side of brunch, but also has a refined and polished feel. To recreate this look, grab a pair of relaxed linen trousers and add a neutral tank top. Opt for a high-rise neckline like the one on Gigi for the same classy vibe.
Next on my list of coffee date outfits is a stylish look for the laid-back girl who likes to combine fashion with function. An ivory sweater and ecru jeans make the perfect monochromatic base, and the rich color of the coat elevates the whole outfit even more.
You can wear any off-white pants and pair them with an ivory or cream tee or sweater, depending on the weather. I also love the cozy shearling mules added to this outfit, but you could easily wear a pair of sneakers, loafers, or ballet flats for something more understated.
If you're looking for a bold and stylish outfit, you really can't go wrong with a pair of leather pants, in my opinion. The dark colors give this outfit an edgy look, but the loafers, coat, and layered sweater keep the ensemble down to earth.
Start with leather pants as the base for your outfit then layer on a cozy sweater and long coat for a relaxed feel. I love how the black loafers tie the outfit together and keep it looking first-date-casual.
This next look by @taylasnts will make a great first impression that says your fun and down to earth. The casual look of the Birkenstocks, baseball cap, and jeans will also show your effortless style.
I would wear this look if my coffee date was planning to take me out and about on a chilly day!
rich coffee hues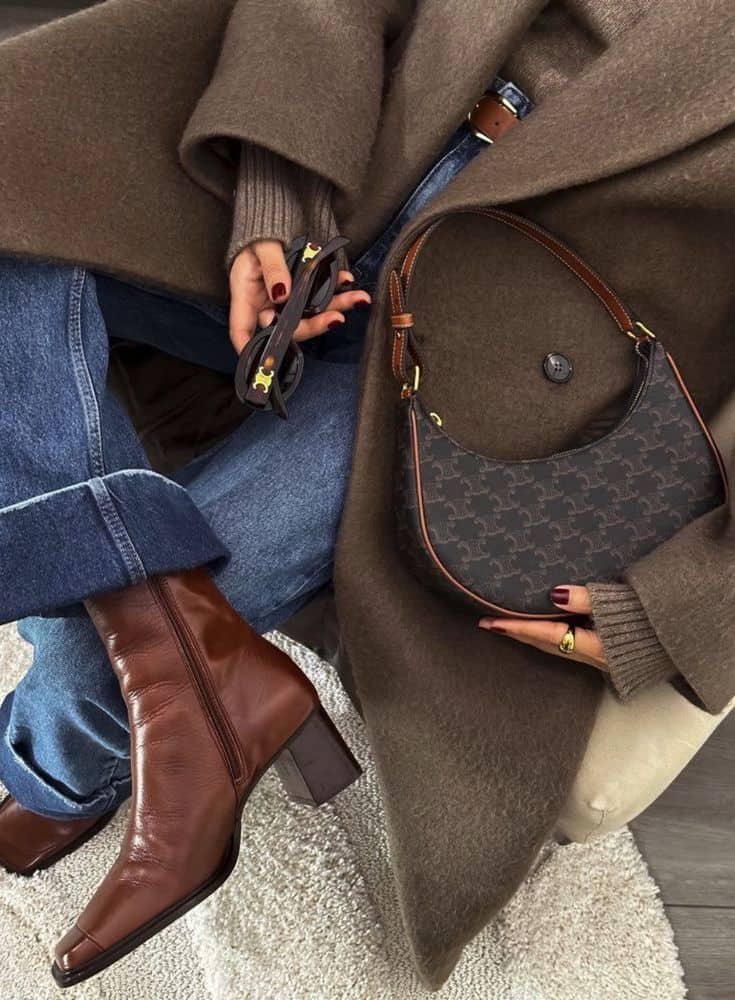 When going on a coffee date, why not dress in rich, beautiful brown coffee hues? I absolutely adore this look from Lola Rio Style. The soft brown coat, taupe knit sweater, blue jeans, and luxurious brown accessories.
This outfit just screams classy cozy coffee shop style to me. Don't you agree?
This next outfit on @sumaiahassan is perfect for date night at a coffee shop. The flirty cami top, trench coat, and heels make this outfit look so stylish, but the casual jeans make it perfect to wear in a relaxed setting. I think this elevated look could easily go from coffee to cocktails!
To recreate the look, start with a pair of wide-leg jeans, a tank or camisole, and add a long coat to layer on top. Don't forget to add a pair of kitten heels! Or go with ballet flats if heels feel like too much for the occasion.
Next is a cozy and relaxed outfit, perfect for an overcast day. I love the look of the chunky necklace as it adds a fashionable touch while keeping the outfit casual.
To recreate @paulineriemis's look, grab any pair of dark jeans and add a chunky sweater vest. While we can't see the footwear, I would recommend a pair of Chelsea boots, chunky loafers, or sneakers.
This is one of my favorite looks on the list. I love the relaxed and sophisticated vibe of the striped sweater with dark jeans. It's perfect for a casual look that you can also wear for a walk in the park post-coffee.
To recreate this look, grab your favorite pair of dark wash jeans and a cozy striped sweater. Opt for black or two-toned ballet flats to keep this outfit looking laid-back yet refined.
If you're going for a feminine and trendy look on your coffee date, try this sweater and maxi skirt combo. According to Vogue, denim maxi skirts were seen at the spring 2024 ready-to-wear fashion shows, so I know the trend is going strong this coming year!
This outfit has a cozy feel that's perfect for a relaxed vibe but still looks polished. The neutral tone of the turtleneck sweater could be traded for something more bold, and you can also add heels to this look as well.
The leather jacket paired with relaxed-fit jeans gives off a 90s grunge vibe that I love. This look has an edgy feel but is comfortable enough to spend the day in. This is an excellent choice if your coffee date extends into a lunch or dinner date.
Side note: This is a great look for a friends date too. After all, there are both pros and cons of being single, and if you don't have a romantic date lined up yet, don't fret!
I am so here for the dreamy look of this outfit with a silky midi slip dress. This coffee date look has such a refined feel to it, perfect for sipping a latte and munching on scones.
With the dress, the cropped black tweed jacket adds a posh touch that I adore, while the sandals look so stylish. This look is ideal for spending a cool spring or summer day on a coffee shop patio. And, be sure you are smelling your best with these Zara perfume dupes!
I love the edgy and elevated feel of this next coffee date outfit.
The combo of leather pants and ankle boots looks amazing with the blazer, and the glam-rock vibe of the plaid blazer adds so much character. The white top helps to balance the look, although you could easily trade it out for camel or red to add a pop of color.
This next outfit has such a sophisticated look to it. I would personally wear this going from a casual coffee date to a day spent exploring museums, vintage shops, or art galleries with my date.
The classic blue jeans add the casual vibe I want, while the black pieces keep the outfit chic.
knit cardi and dress set + sneakers.
Cozy meets cool with this gorgeous combo that is both casual but super stylish. The midi dress and sneakers have a laid-back feel, and the matching cropped cardigan adds an elevated touch. Matching sets are all the rage right now.
To recreate this look, grab a midi-length dress and add a cropped cardigan. Add pair of colorful or basic white sneakers to finish the outfit!
If you are looking for other casual date ideas, check out this article with 30 fun backyard date night ideas!
More Style Guides You'll Love:
What To Wear When Meeting His Parents: 10+ Perfect Outfits
What to Wear With A Leather Jacket
12+ Museum Date Outfit Ideas With A Cool & Classy Vibe
11+ Elevated Happy Hour Outfit Ideas For Work & Weekend
How To Wear A Bodysuit With Jeans: 14+ Chic Looks To Copy
15+ Elevated Brown Pants Outfit Ideas To Make You Love This Hue
15+ Chic Fall Date Night Outfits You'll Feel Amazing In!
14+ Modern Fall Winery Outfits To Wear
What To Wear To A Broadway Show + 8 Chic Outfit Ideas