Are you wondering what to wear to a baptism as a guest? Check out 15 elegant, elevated, and appropriate baptism guest outfit ideas for your friend or family members special day.
*this post contains affiliate links*
get the look:

What to Wear to a Baptism
If you have a baptism on the calendar in the near future and are wondering what to wear, we've got you covered! Baptisms are meaningful events that hold a lot of importance, so your outfit should be planned and thoughtfully put together.
Most baptisms take place in a church, but the formality of each church can vary greatly. If the baptism is at a Non-denominational or more modern mega-church, you can wear a more casual outfit than at a Catholic or Orthodox church.
If you're a woman in your 20s to 40s looking for stylish outfit ideas for a baptism, we've created a list of smart casual attire that is appropriate for the occasion.
Baptism Outfit Ideas for a Guest
At the baptism your focus will be on your friend or family member that you're attending for, so you'll want to find something that fits well and looks polished without being too flashy. You'll also want attire that fits the nature of the event, so comfortable, modest outfits are the way to go.
Choose your pick of dress pants, skirts, and dresses to feel comfortable yet appropriate during your time at the baptism.
Slip skirt, blouse + sandals
get the look:

To achieve a chic look for a baptism, choose a long neutral slip skirt and pair it with a simple blouse and cute sandals. Adding a pop of color with the sandals is a fun addition, and makes the outfit stand out a bit more. An ivory or off-white outfit is a fool-proof option as it has a fresh feel making it fitting for this special day.
If it's springtime, find a sleeveless or short sleeve. You could also go for a long-sleeve top if it's wintertime and instead, pair the outfit with boots. Be sure that your skirt is on the longer side, especially if you're attending a more conservative church.
Jumpsuit + heels.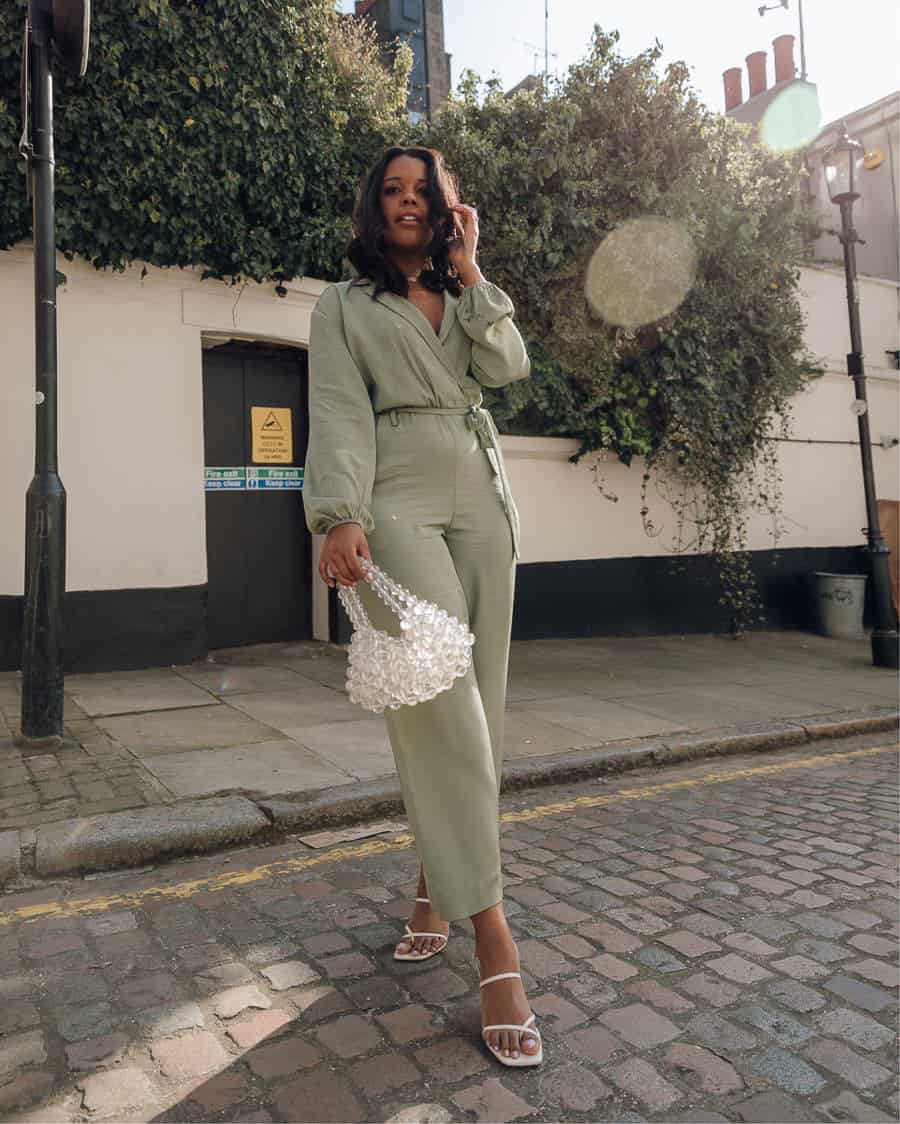 get the look:

A jumpsuit is a cute, fun look for any occasion, especially a baptism. It's an outfit that shows you've put effort and thought into your appearance for the day. You can easily dress it up with a pair of strapped heels and jewelry, or you could dress it down with a pair of loafers or boots.
This look is a good mix of casual and formal, as well as feels comfortable to wear, making it the perfect choice if you're a guest at a baptism. There is a wide range of cute jumpsuits for everyone, including shorts or long pants, short sleeves or long sleeves, and an array of colors and textures.
Dress, blazer + heeled sandals.
get the look:

If you're looking for a simple, put-together look for the upcoming baptism, try pairing a pretty printed dress with a blazer or cardigan and low-heeled sandals. It's a comfortable outfit that will show you appreciate that the event is special, without looking like you're trying too hard.
A wool-blend blazer is a great option in the early spring or fall when it's chilly outside. Or, go with a linen-blend or cotton blazer in the spring or summer.
This is a perfect outfit for the baptism and you can easily wear it to the lunch celebration after the church service!
Sweater, maxi skirt + ankle boots.
get the look:

We love this beautiful outfit idea for cooler weather seasons. Pair a long wool-blend or silk skirt with heeled ankle boots and an oversized sweater to look chic, conservative, and polished. This is a comfortable outfit that is great for the cooler months with a darker color scheme, but the white stripes on the sweater keep it from looking like a funeral outfit.
This is also a great outfit if you're living in the city since it gives off a downtown, urban feel. This smart casual look follows the dress code while adding some style to the event!
What Do You Wear to a Baptism as a Guest?
If you're wondering what to wear to a baptism, a safe bet is a knit sweater or formal blouse paired with dress pants or a long skirt. Another failsafe idea is a midi-length dress that isn't low-cut. Go with ankle boots, low pumps or heels, loafers, ballet flats, or heeled sandals, and add a blazer, wool coat, or long cardigan.
It can be difficult to choose the right outfit for a baptism, especially if you're not used to the church atmosphere. Every church and chapel is unique and can vary in formality. It's always a wise idea to check with friends and family about attire, but as long as your outfit is relatively modest and somewhat formal, you'll be okay.
Sweater dress, wool coat + pumps.
get the look:

A knee-length or midi-length sweater dress with a long wool coat is always an elegant choice, no matter what formal event you're attending. The dress and coat combination is a classy look that is timeless, sophisticated, and elevated! All the best traits of a baptism outfit.
Finish the look with a purse, heels, and dainty jewelry. Show your friends and family that you've put time into preparing for this event and that it means a lot to you through your outfit.
Cardigan, pleated skirt + heeled sandals.
get the look:

For an elegant look, pair a cardigan sweater with a pleated skirt and simple heeled sandals. Choosing an earthy color scheme gives a warm, comforting, and friendly vibe. You'll make a good impression on friends and family at the baptism while feeling comfortable in your outfit.
It's easy to add a crossbody purse, sunglasses, and jewelry to this outfit to dress it up more. This option is great for chilly autumn or spring days. Go out afterward and celebrate at a restaurant or home!
Midi-length dress + flats.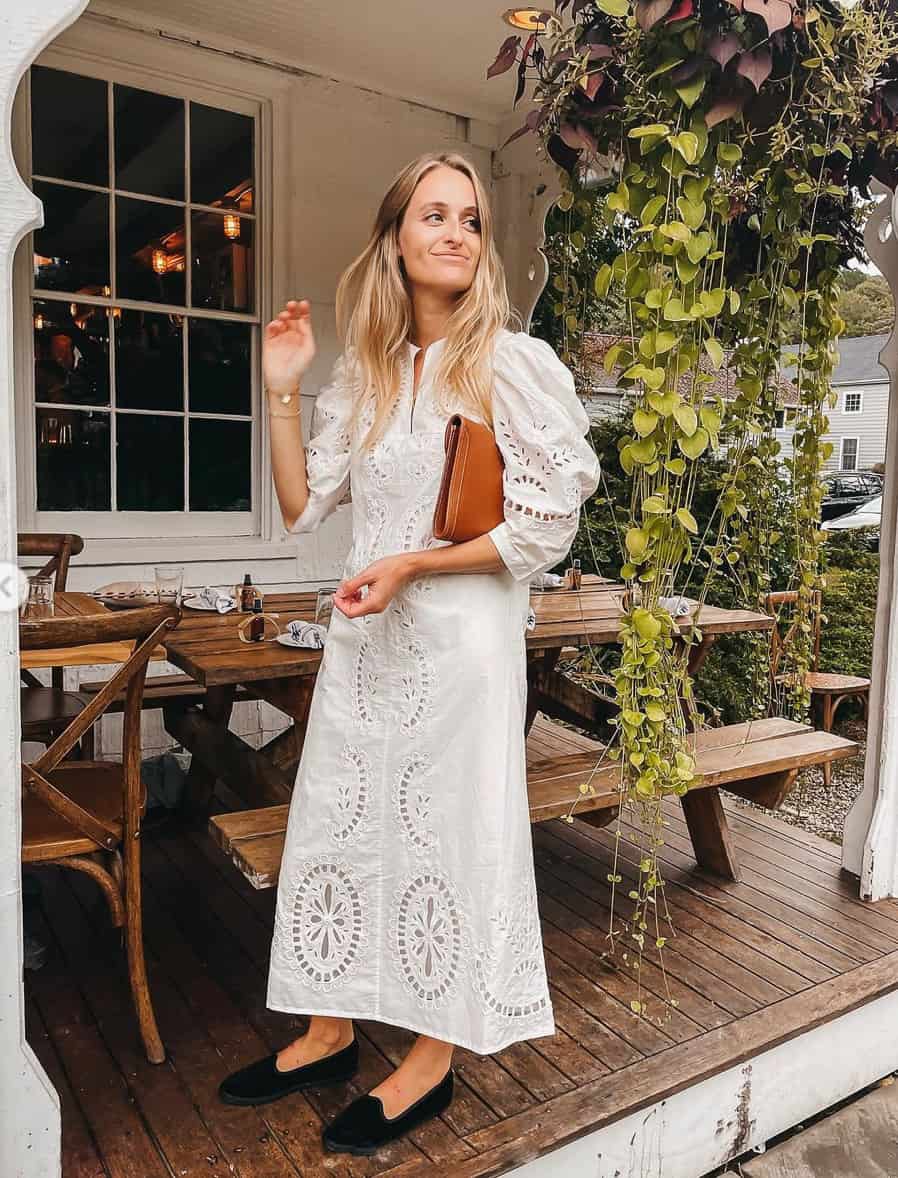 get the look:

A midi dress with some texture goes a long way. A pretty white eyelet dress is perfect for the church setting with its modest and conservative nature, yet has a feminine feel and is very flattering. There are many great options out there for white dresses.
Adding a pair of simple black or tan loafers or ballet flats is a great addition to the outfit. A dress like this can go either way, so you'll fit in whether the baptism is more formal or on the casual side.
Button-down, tailored shorts + blazer.
get the look:

A white button-down shirt is a polished clothing piece that makes any outfit appear more formal. High-waisted, tailored shorts are a great option to pair with the blouse, and you can always wear sheer black tights under the shorts to give a more conservative vibe.
Add a neutral blazer to tie the outfit together and keep the sophisticated feel. f you're going to a more conservative baptism or Christening, choose this look to attend in style.
Can You Wear Jeans to a Baptism as a Guest?
Yes, jeans can be a suitable choice for a baptism as many churches have a casual setting and no formal dress code. That being said, it is always a good idea to check if there is a dress code at the church you'll be attending before showing up in jeans.
If you decide to wear jeans to a baptism, it's best to choose off-white, white, or dark-wash jeans without holes, rips, or distressing. Wear your favorite jeans confidently with a cute cardigan or stylish blouse and dressier footwear.
Cardigan, dark jeans + low heels.
get the look:

Speaking of jeans, here's a great option! This outfit pairs a stylish, knit cardigan sweater with black jeans. The outfit works for a baptism or Christening at a less formal church. Just add a chic handbag and low heels to finish the look.
This is a great way to wear jeans because it feels sophisticated without coming off as too fancy. You'll feel comfortable in this outfit and be happy you made the choice to go with classic options.
Collared sweater, leather pants + flats.
get the look:

We love this fresh and cute outfit for a spring, summer, or fall baptism. A collared cardigan has a feminine look and is balanced by the chic brown leather pants.
Finished with floral flats, this outfit is casual and modest enough to bring to a baptism. Find a sweater with a floral design or pastel color scheme to add some flair to the look!
Knit skirt set + heels.
get the look:

We love this monochromatic look with a knit sweater and skirt set. For a baptism in a trendy city like New York or Nashville, this bold and fresh look is a stylish option.
Add a white handbag, white-rimmed sunglasses, and white heels to elevate the outfit. This look is great for spring, fall, or winter.
If you prefer a different color, a pastel tone like sage green or pale yellow would be really cute too!
Silk blouse, wide-leg trousers + heels.
get the look:

For a stylish and chic baptism outfit, try this. A silk sleeveless top paired with wide-legged trousers are the way to go if you're looking for an appropriate baptism outfit in the summer.
To complete the look add statement jewelry and a classic purse. Go for strappy heeled sandals or low pumps to keep the outfit formal and fashionable.
Cream sweater, trousers + camel coat.
get the look:

We're bringing out the wool coat again and this time, going for a perfectly polished look with a cream sweater, flared pants, and suede boots. The matching neutral between the top and bottoms makes the outfit look sophisticated and elevated.
A camel coat makes every outfit look more classic, and we love the idea of a long camel coat with a tie belt and brown suede boots to match. This option is great for a fall or winter baptism.
Floral midi dress + sandals.
get the look:

A floral midi dress is an ideal going-to-church outfit option. If you're unsure of what to wear to a baptism and don't want to come off too formal or overdressed, a flowy floral dress is the way to go.
Add a cute purse and sandals to keep the outfit looking put-together and polished. And be sure to choose a dress that has a higher neckline (avoid a low-cut style to keep the outfit more conservative).
All you need is one of these bible verses for your Instagram bio and you'll look like a seasoned church-goer!
Tweed jacket, flowy pants + ballet flats.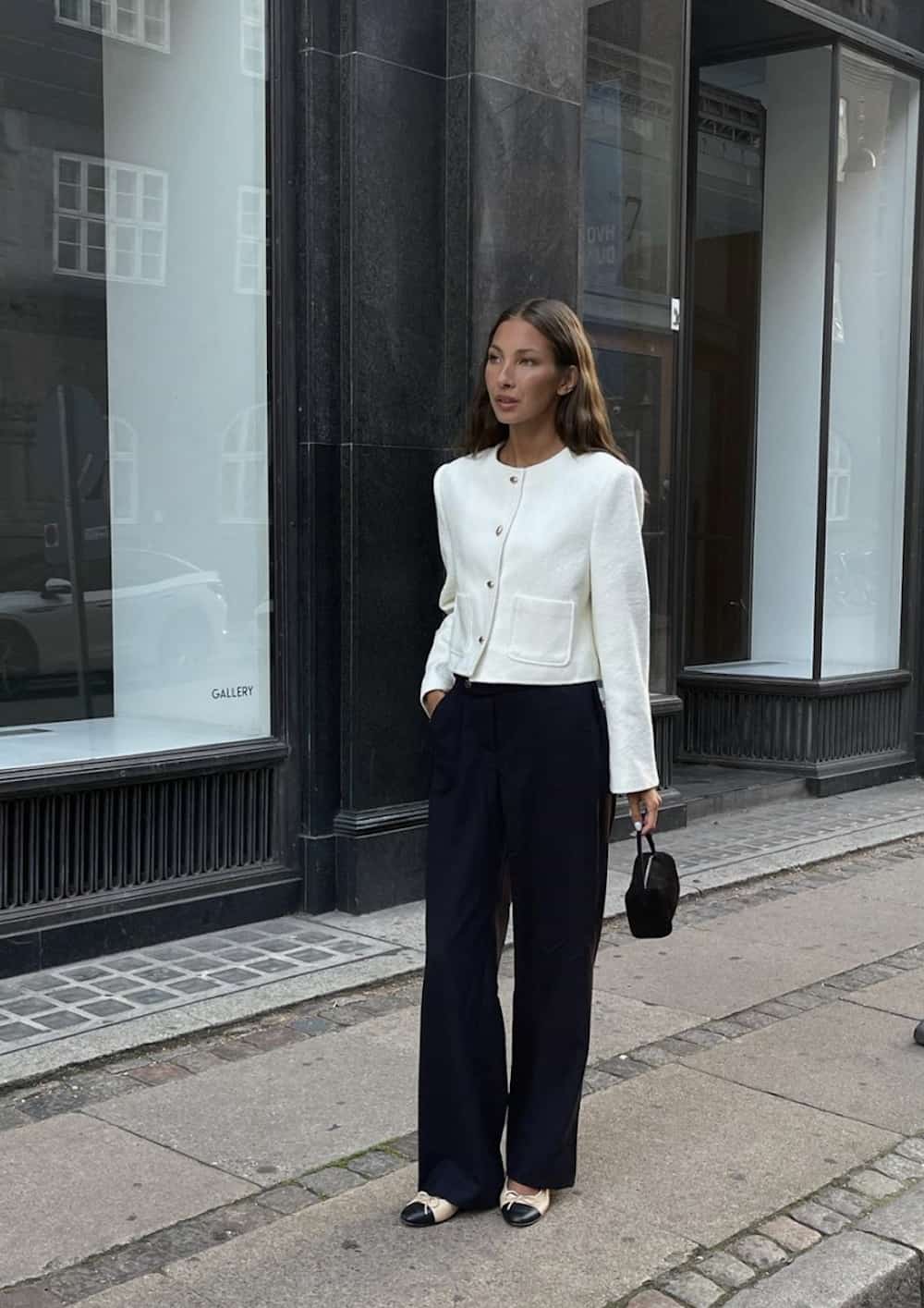 get the look:

Lastly, we have another more formal outfit that is an excellent choice for a baptism. Cropped tweed jackets are definitely having a moment right now and we're here for it!
A cropped tweed jacket has an elevated feel and instantly makes an outfit look more polished. The flowy trousers are classic and feminine, and the ballet flats are a comfortable, yet dressy-enough option to wear.
If you prefer a more formal outfit yet don't want to overdo it, this is a perfect choice.
What Not to Wear to A Baptism
When going to a baptism it's important to know what to avoid so you don't end up looking too casual or wear something that might be considered inappropriate for the occasion. Here's what you should avoid:
Flip Flops. Not only are they too casual, but they can also come off as tacky for an event such as a baptism.

Mini Skirts or Dresses. As cute as they are, most miniskirts and mini dresses aren't appropriate attire in a conservative setting as they show a little too much skin.
Low-Cut Tops. Similar to mini skirts or short dresses, low-cut tops aren't appropriate for this setting. There are many cute tops to choose from that have higher necklines.
Distressed Jeans. Denim with holes, rips, or distressing have a very casual feel, so it's best to avoid them for a baptism.
Clothing With Slogans/Text. While you might love your "it's wine time" shirt, tops with a slogan or text are best avoided at a baptism as they can be rather distracting.
What is appropriate to wear to a baptism?
There are many stylish, fashionable, and appropriate outfits to wear at a baptism. The best options include a nice sweater or blouse with a long skirt or tailored trousers, or a flowy dress with a blazer or long coat.
It's a good idea to dress formally and conservatively as most baptisms take place in a church. Even if the church is non-denominational or a more casual setting, it's better to be overdressed than underdressed in this scenario.
We hope you have been inspired by these elegant outfits to wear to a baptism as a guest, and you are ready to go celebrate your loved one's special day!
More Outfit Guides You'll Love:
14+ Modern Fall Winery Outfits To Wear
16+ Chic Cozy Outfits That You Can Easily Wear On The Go
How To Style Shorts with Tights + 15 Chic Shorts and Tights Outfits
What To Wear When Meeting His Parents: 10+ Perfect Outfits
Christal Sczebel is an entrepreneur, published author, and content creator. Over the past decade she has worked in the digital media field building successful websites for both food and fashion. She has a natural affinity for minimal, timeless fashion, neutral home decor, and styling.
Here on Style Your Occasion, Christal is the Editor-in-chief and brain behind the aesthetic. She hopes you love the this space and the inspiration you'll find!