Wondering what to wear with grey sweatpants? Check out our list of 11+ grey sweatpants outfit ideas for women to see how easy it is to style this cozy wardrobe staple, and get street style inspiration from the best outfits with grey sweatpants.
*this post contains affiliate links*
What To Wear With Grey Sweatpants
Grey sweatpants are a cozy piece that just about everyone has in their closet. And while most people think grey sweats are only meant to be worn while lounging around the house, we know that this wardrobe staple is a perfect piece for a fashionable and functional look.
Since street style looks often dictate trends, we've been thrilled to see grey sweatpants and other loungewear used to style chic and trendy outfits (post-pandemic too!).
This sporty piece can be dressed up or down to match the aesthetic you want. We've sourced stunning looks from our favorite fashion influencers and have created a few chic style guides to show you how easily you can elevate grey sweatpants to create trendy and modern looks.
Chic Grey Sweatpants Outfit Ideas
These simple style boards provide an easy formula for a chic and modern outfit with grey sweatpants so we hope you are inspired to recreate them!
denim jacket + sneakers
shop the look:

A denim jacket is a timeless piece that adds a laid-back vibe to any look. So if you want a casual outfit to wear while running errands or grabbing a coffee with friends, then grey sweatpants and an oversized denim jacket are the perfect combo.
Pair it with a black long-sleeve top for chilly days or opt for a short-sleeved tee or tank when it's warmer out. Finish off this look with a pair of sneakers, and add a pop of color with pink or red lipstick.
And most importantly, remember that chic, high-quality accessories (bag, sunglasses, jewelry) will elevate any look.
a trench coat + trainers
shop the look:

You can quickly elevate your grey sweatpants outfit with a classic trench coat. We love pairing dark grey sweatpants with other neutrals for a timeless look. The sweatpants and off-white henley are great for a cool day, and the trench coat adds extra warmth and style.
The trainers add to the casual vibe of this outfit and are perfect if you plan to be on your feet all day. This look is ideal for anything from a walk in the park to checking out some new shops and cafes.
Add a sleek handbag and gold jewelry to take this outfit from simple to très chic.
chelsea boots + a leather jacket
shop the look:

Grey sweatpants can also be styled into an edgy outfit, and we love how easily you can put this look together with basic pieces. Start by pairing your grey sweatpants with a long-sleeved black crop top. Add some black lug, combat, or Chelsea boots and tuck the hem of your sweatpants into the boots.
Of course, don't forget to add a leather jacket and grab a faux shearling handbag. Finish the look with gold jewelry and big sunglasses, and you'll be ready for wherever the day takes you!
Street Style Outfits With Grey Sweatpants
Sweatpants are a staple in street-style fashion and not always as casual as you might think. We've gathered a variety of looks to prove that grey sweatpants can work with any style and for almost any occasion.
shearling vest, hoodie + ugg boots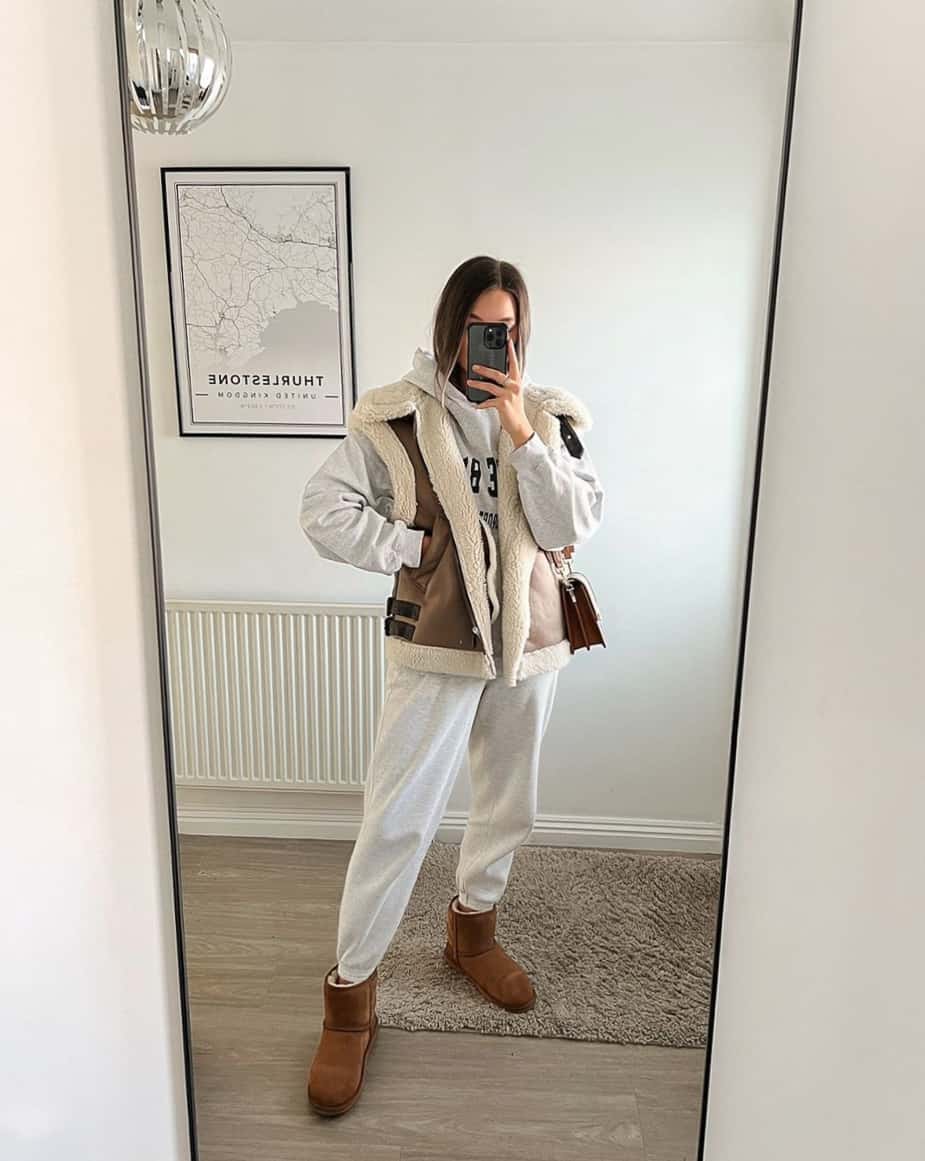 get the look:

Using grey sweatpants in a cold-weather look is an easy way to add a comfy and laid-back feel to your outfit. The combo of the hoodie and grey sweats definitely has a casual vibe, but the texture of the shearling and warm tones of the vest and ugg boots elevate this outfit.
We love the combination of light grey and cream with deep brown, although you play around with the colors in this look to suit your own style. For a bold look, go for darker tones, or keep it light for a relaxed feel.
Add a strappy shoulder bag, and you've got the perfect look to wear while exploring the city this winter.
a long cardigan + heels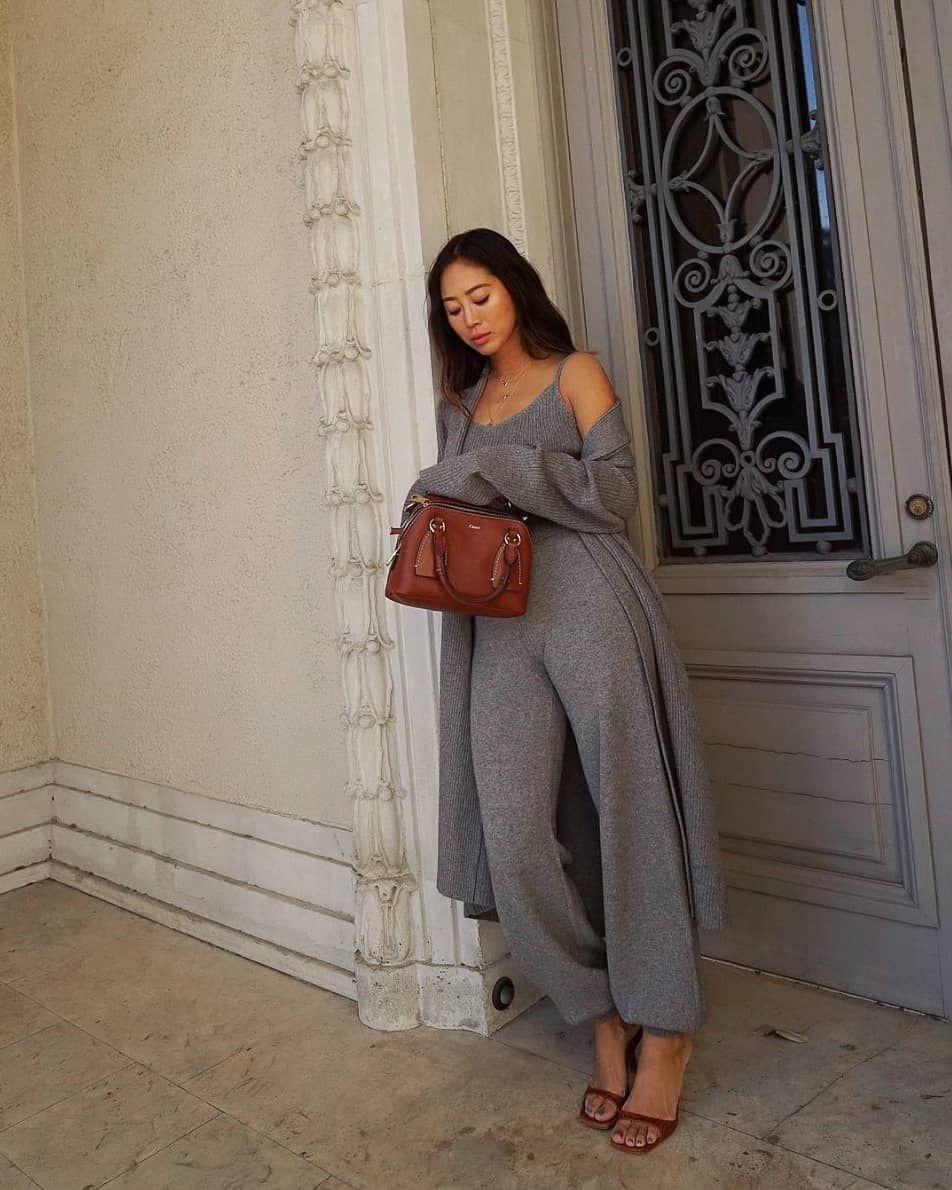 get the look:

A monochromatic look is a fantastic way to make your outfit chic and timeless. These grey knit sweatpants look stunning with the grey knit tank, and the grey long cardigan is perfect for adding a refined feel.
You can choose a medium grey like this one or opt for a lighter shade of grey. The strappy heels and brown bag are elegant additions that turn this relaxed outfit into a polished and modern look.
You can sport this style on a weekend brunch date or during a night out on the town.
What should I wear with grey sweatpants when it's cold?
When the weather is cold, pair your sweats with other cold-weather pieces like a long-sleeved tee, hoodie, sweatshirt or sweater, wool coat, puffer coat, or a shearling jacket. If you want a stylish and classy look, go with a knit turtleneck, blazer, and lug boots.
Additionally, you can stay warm and cozy by adding stylish accessories to your outfit like a knit scarf or beanie.
wool coat + sneakers
get the look:

Next on the list of outfits with grey sweatpants, we love a matching sweatshirt and long coat for fall or winter. This outfit is perfect for staying comfy while still looking modern and stylish, easily worn to a casual lunch or coffee date.
The neutral coat is a gorgeous pick, although you can opt for a black or charcoal coat to add darker tones to the look. The converse and chic handbag add another touch of style to the outfit, and don't forget to add some gorgeous jewelry for a refined appeal.
a blazer + strappy heels
get the look:

Didn't think you could style grey sweatpants into a dressy and chic outfit? Well, think again!
Pairing grey sweatpants with a sleek black blazer and strappy black heels is an easy way to get a look that is both comfortable and uniquely fashionable. Add a white shirt for a bright and clean aesthetic, or go for a pastel top to add some color.
The beanie is a great addition to stay warm, and make sure to bring along a stylish shoulder bag to carry your essentials during your next date night or Sunday brunch with the girls.
What do grey sweatpants match with?
Grey sweatpants easily match with tons of pieces, including but not limited to:
classic tee or graphic tee

long-sleeved shirt

sweatshirt or hoodie

denim jacket

black leather jacket

long cardigan or coat

sneakers

lug boots, chelsea boots, shearling boots, or combat boots
If you want a more polished look you can even pair grey sweatpants with a tank, oversized blazer, and black heeled sandals. You can elevate outfits with grey sweatpants by adding gold or silver jewelry and a chic handbag.
And, since grey sweatpants are a neutral tone, you can pair them with any color!
matching set + heels
get the look:

When you think of grey sweatpants and sweatshirts, you may picture a gym outfit or some loungewear. But this stunning look can easily be worn while you're out and about, from a lunch date to a night out.
The pointed-toe pumps and chic clutch take this look from basic to trendy. We love the bold star earrings, or you could go for a classic pair of hoops to elevate this outfit. You can also swap the neutral-colored heels for something bold and vibrant to add some gorgeous color to this look, although you can't go wrong with a minimal and monochromatic look like this.
sherpa jacket + clogs
get the look:

Cropped grey sweatpants with a black sherpa coat and clogs make a simple but stylish look that you can wear in the spring or fall. Wide leg sweatpants add to the laid-back vibe and makes an ideal outfit for running errands.
Go with neutrals to make basic pieces look timeless and chic, and you can add other stylish touches like jewelry, a scarf, or some sunglasses to complete the look.
puffer vest + platform uggs
get the look:

A puffer vest is an excellent choice when it comes to elevating a casual grey sweatpants outfit. You can start with a matching set like this one from Adanola, and pair the combo with a grey beanie and platform uggs. The deep green puffer vest and bag make this outfit look so stylish while still being comfy.
We love how these pieces come together for a casual chic look that is perfect for a chilly weekend day. The neutral tones pair well together, although you can opt for a vest in pastel shades of green or blue for a more colorful look.
trainers + long puffer jacket
get the look:

Last on the list of outfits with grey sweatpants, this casual and cozy look is perfect for spending a cold day out and about with your friends or SO. The light grey sweatpants are a great shade to pair with the deep brown coat, or you can swap the warm-toned coat for one in black or navy blue.
The sneakers add to the laid-back feel, while the long coat and belt bag turn this into a refined and modern look. Add some gold jewelry and chic sunglasses for a finished outfit that is both cozy and trendy.
How do girls wear grey sweatpants?
Women and girls can wear grey sweatpants with casual and comfy pieces like tees, sweatshirts, or denim jackets for a relaxed look. Or, opt for a refined style with a leather jacket and lug boots, or even a blazer with heels. You can create different looks with different styles of grey sweatpants – casual cotton, knit, cuffed, or wide-leg.
No matter what aesthetic you're going for, grey sweatpants can be styled into a look for almost any event.
The verdict is in — grey sweatpants are a wardrobe staple that can easily be styled into a chic and modern outfit. Use this style guide as inspiration to find your favorite outfits with grey sweatpants and start adding this piece to your everyday looks.
More Style Guides You'll Love:
16+ Chic Cozy Outfits That You Can Easily Wear On The Go
12+ Chic Black Joggers Outfit Ideas To Copy
How To Wear A Shacket: 16+ Chic Shacket Outfit Ideas To Copy
15+ Baddie Winter Outfits for Next-Level Aesthetic
What To Wear With Camo Pants: Tips & Modern Looks
Christal Sczebel is an entrepreneur, published author, and content creator. Over the past decade she has worked in the digital media field building successful websites for both food and fashion. She has a natural affinity for minimal, timeless fashion, neutral home decor, and styling.
Here on Style Your Occasion, Christal is the Editor-in-chief and brain behind the aesthetic. She hopes you love the this space and the inspiration you'll find!