Do you have a pair of camo pants to your wardrobe and want to know how to style them in 2023? You'll love this style guide with chic army pants outfit ideas and tips on what color goes with camo, and what to wear with camo pants for a modern, on-trend look.
*this post contains affiliate links*
What To Wear Camo Pants With
Army pants made their comeback with the rest of Y2K fashion in 2022, and we are in love with all of the gorgeous camo pants outfits we've seen since then!
Camo pants are a must in street style fashion, and it's been proven time and time again that these pants can styled into chic and modern looks for women. But while this piece can definitely be a fashionable addition to your wardrobe, we know that figuring out how to style them can be a challenge.
Luckily, we've found army pants outfits to help inspire you to add this bold piece to your wardrobe, and we have plenty of tips to help you start styling your own camouflage pants outfits for a daring new look!
Camo + Army Pants Outfit Ideas
If you're wondering what to wear with camo pants in 2023, look no further. We've chosen stunning outfits with army pants and laid out our best tips and tricks below on how to style this playful piece. So whether you have camouflage cargo pants or camo leggings, we've got a look for you below.
simple + sporty
get the look:

Camo pants are perfect for styling into a simple but sporty outfit like this. Army pants already have athletic vibes, so pairing them with a crewneck sweater and black trainers is an easy yet stylish look.
When it comes to knowing what color goes with camo, grey is always a safe bet! This outfit is perfect for keeping you warm on a chilly day, and it's a great look for anything from grabbing coffee to grocery shopping.
add a blazer
get the look:

Adding a blazer to a camo pants outfit creates a chic and polished look.
Go for a neutral undershirt like this white tank top to keep it simple and easy to style. Sticking with a classic neutral tone like black for the blazer also keeps this outfit looking refined, and the heels add a feminine vibe that perfectly contrasts with the army print.
The blazer easily turns this outfit from casual to sophisticated and still allows the camo pants to shine!
pops of color
get the look:

Wondering what color goes with camo that isn't a neutral? You may not think that bright shades would work so well with camo pants, but we're here to prove that they definitely do!
The vibrant colors add a gorgeous contrast to the muted tones in the camo print, and this makes the outfit unique and eye-catching. These bold shades also give the outfit a fun and youthful vibe that's perfect for showing off your fun-loving side.
camo + leather
get the look:

Is there any outfit that wouldn't look good with a little leather in it?
Leather is the perfect addition to an outfit with camo pants. We love the contrast between the sleek black leather and the rugged vibes of the army pants; it's a gorgeous combo that really elevates the outfit.
The neutral color of the leather vest also pairs well with the shades in the army pants, so you can go for anything from a leather jacket to a leather crop top for a similar look.
How do you style camo pants?
Camo pants can be styled in so many ways; go casual with a classic tee, tank top, or sweatshirt, and a bomber jacket, and finish the look with sneakers, sandals, or boots! If you want to dress up your camo pants, pair them with a blazer, a button-up or blouse, or a tank top with a high neckline.
You can go with boots if you want footwear that's good for walking, or try adding heels to elevate the outfit even more and add a chic, feminine touch. Additionally, you can stick with neutral tones to make it easy to style your camo pants, or go for bright colors if you want a bold, eye-catching look.
winter ready
get the look:

Army pants are perfect for a cold-weather outfit, and these pants look fantastic with a variety of coats and jackets.
A faux leather and shearling jacket has a masculine aesthetic that matches the camo pants, giving this outfit a laid-back tomboy vibe. Sneakers fit the look perfectly and keep this outfit feeling casual.
This is definitely a go-to outfit for those chilly days spent out and about town.
What color goes with camo?
Despite what many people think, camo print pairs well with many colors! These are some of our favorite shades to combine with camo print pants:
army green
khaki
olive green
brown
black
beige or tan
white
grey
blue
pink or purple
orange
laid-back vibes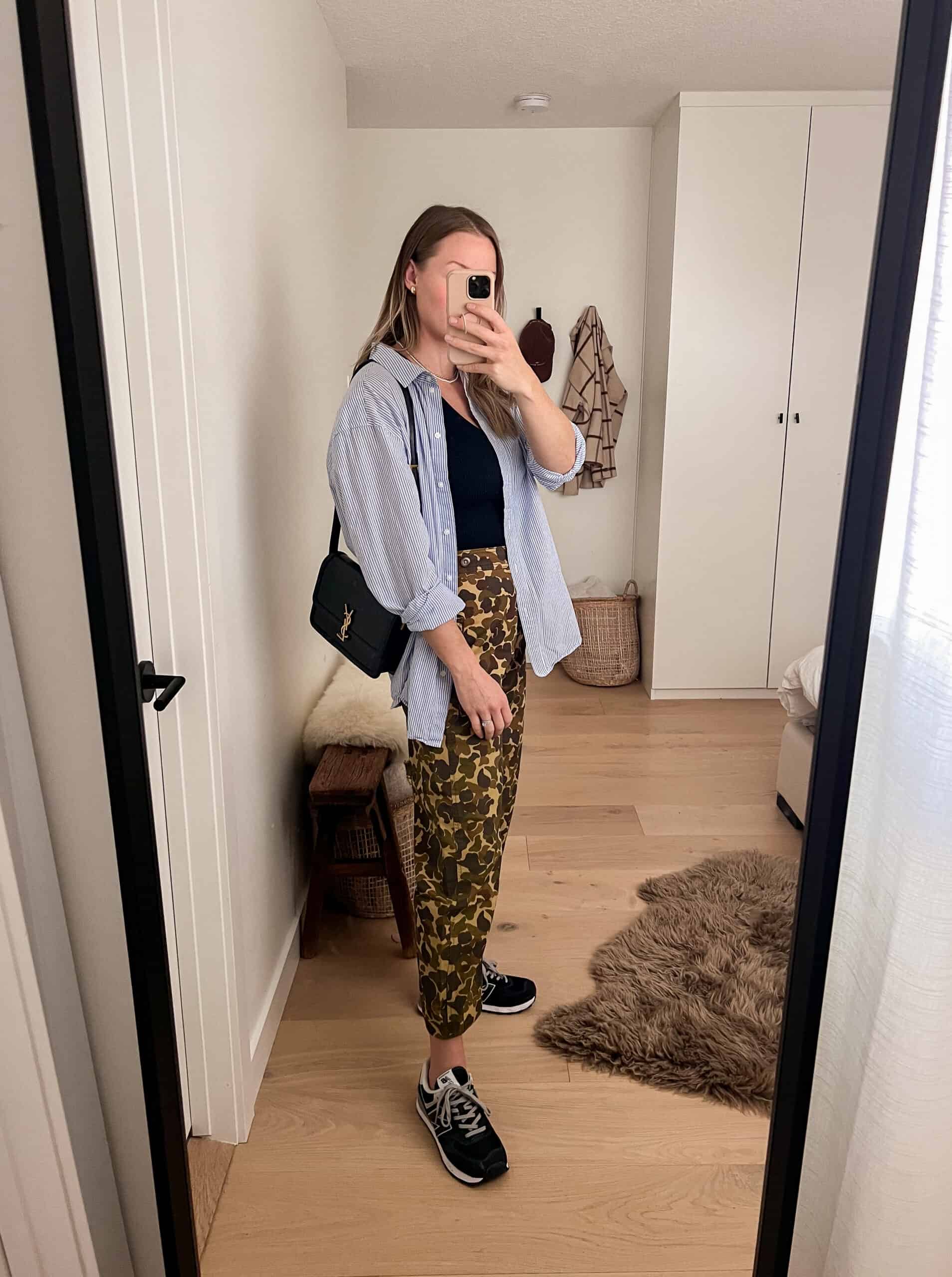 get the look:

This is a perfect example of how to combine camo print with a gorgeous shade of blue! Using a neutral shade for the undershirt and sneakers is a perfect way to balance the outfit and let the blue and camo print be the stars.
The blue button-up and sneakers also add a casual feel to the outfit, making it perfect for grabbing lunch with the girls before running a few errands.
add a feminine touch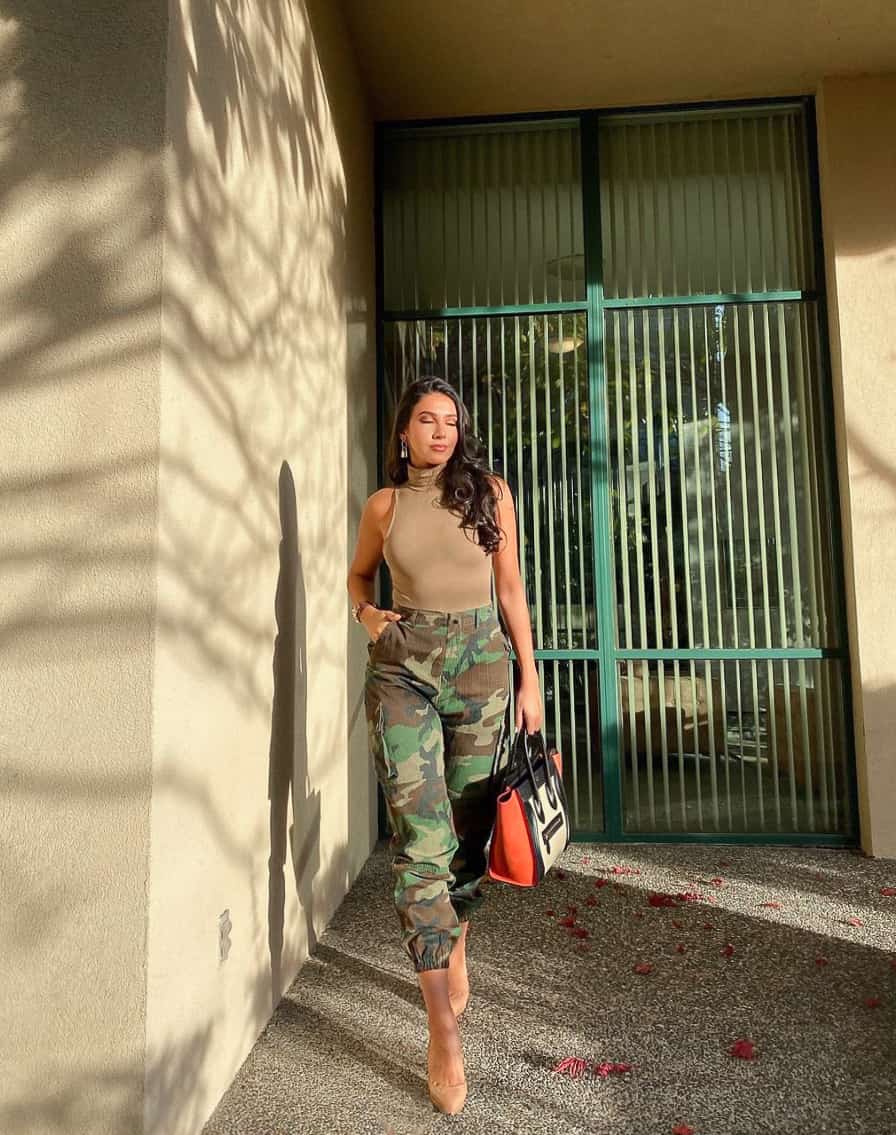 get the look:

Who knew camo print could be part of such a sexy and feminine look?
The sleek nude-toned tank top pairs perfectly with the neutral tones in the army pants, and keeping the colors neutral throughout the whole outfit adds a polished and put-together feel.
Nude pumps are a fantastic way to add a feminine touch to any outfit, and this look is a must if you want a bold outfit for your next girls' night out!
camo + a corset top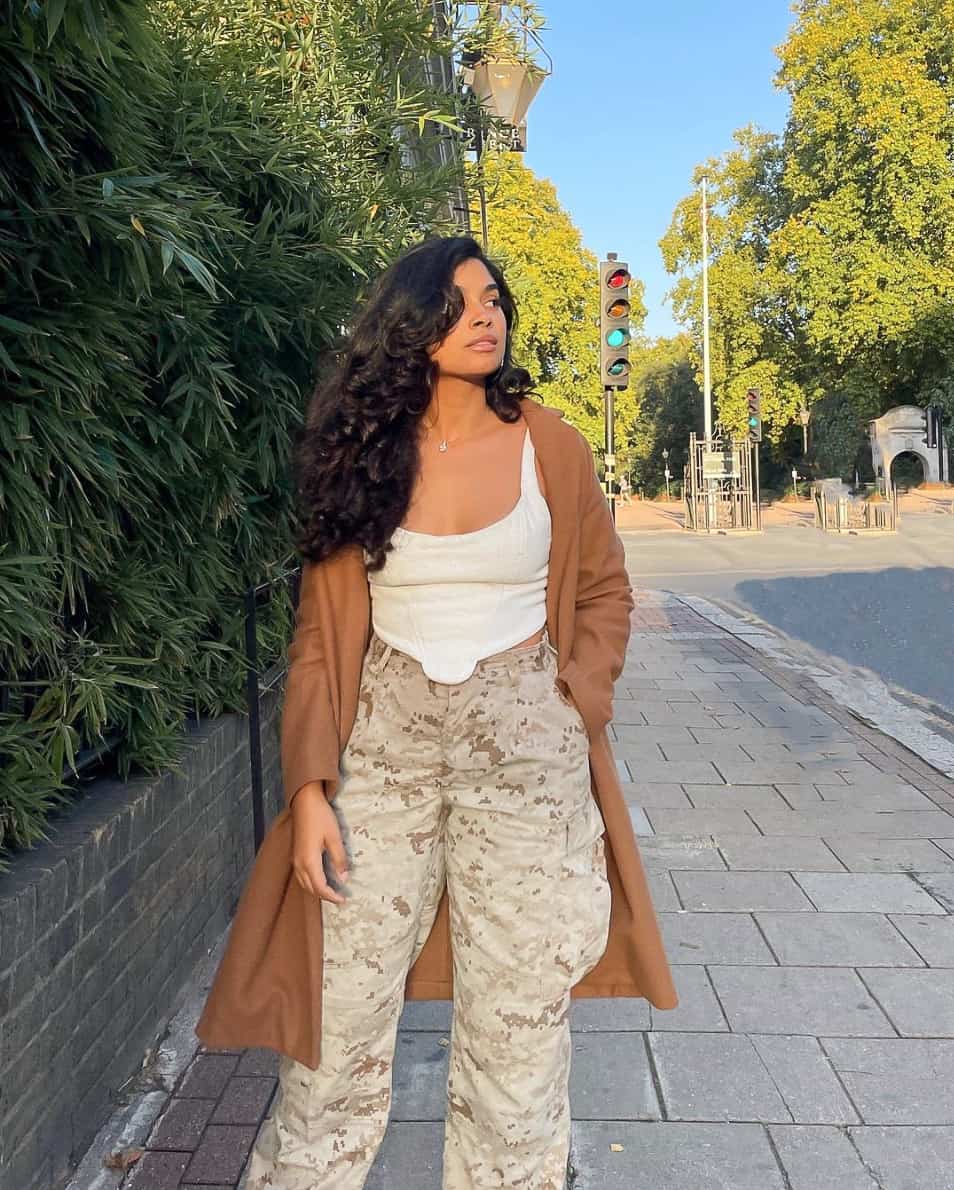 get the look:

We are in love with this combo of retro camo print pants with a trendy and feminine corset top.
These pieces contrast each other so well, and we love the combination of masculine and feminine vibes. The tan camo print on these pants is so gorgeous and makes it easy to combine this pattern with other pieces.
If you are wondering what color goes with camo in a lighter shade, ivory and brown are always a safe bet. Go for an off-white corset or crop top for a warm-weather look or add a chic camel coat for cold days.
No matter which one you go for, you'll definitely have a head-turning outfit!
pair it with black

Black will easily pair with any color and pattern, camo print included. You can quickly put together a stylish outfit with camo pants by sticking to neutrals, and black has a bold feel that matches the vibe of army pants.
A black sweater is perfect for transitional weather, although you can opt for a tee, a button-up, or a tank top. Black sandals add a laid-back vibe that makes this outfit ideal for grabbing a latte and strolling through your favorite shop.
Can you wear camo pants with a jean shirt?



You can definitely rock a jean shirt with camo pants! Go for a buttoned-up denim shirt or leave it open for a casual look; just make sure to stick with neutral or muted shades throughout the rest of the outfit.
A classic black, white, or grey shirt is perfect to wear underneath your denim shirt, and black is a good color choice for shoes.
You can also dress these pieces up or down, depending on where you're going. A buttoned-up top and heels would be perfect for a night out, while an unbuttoned denim shirt and sneakers or sandals are an easy go-to for a stylish yet relaxed outfit.
camo + denim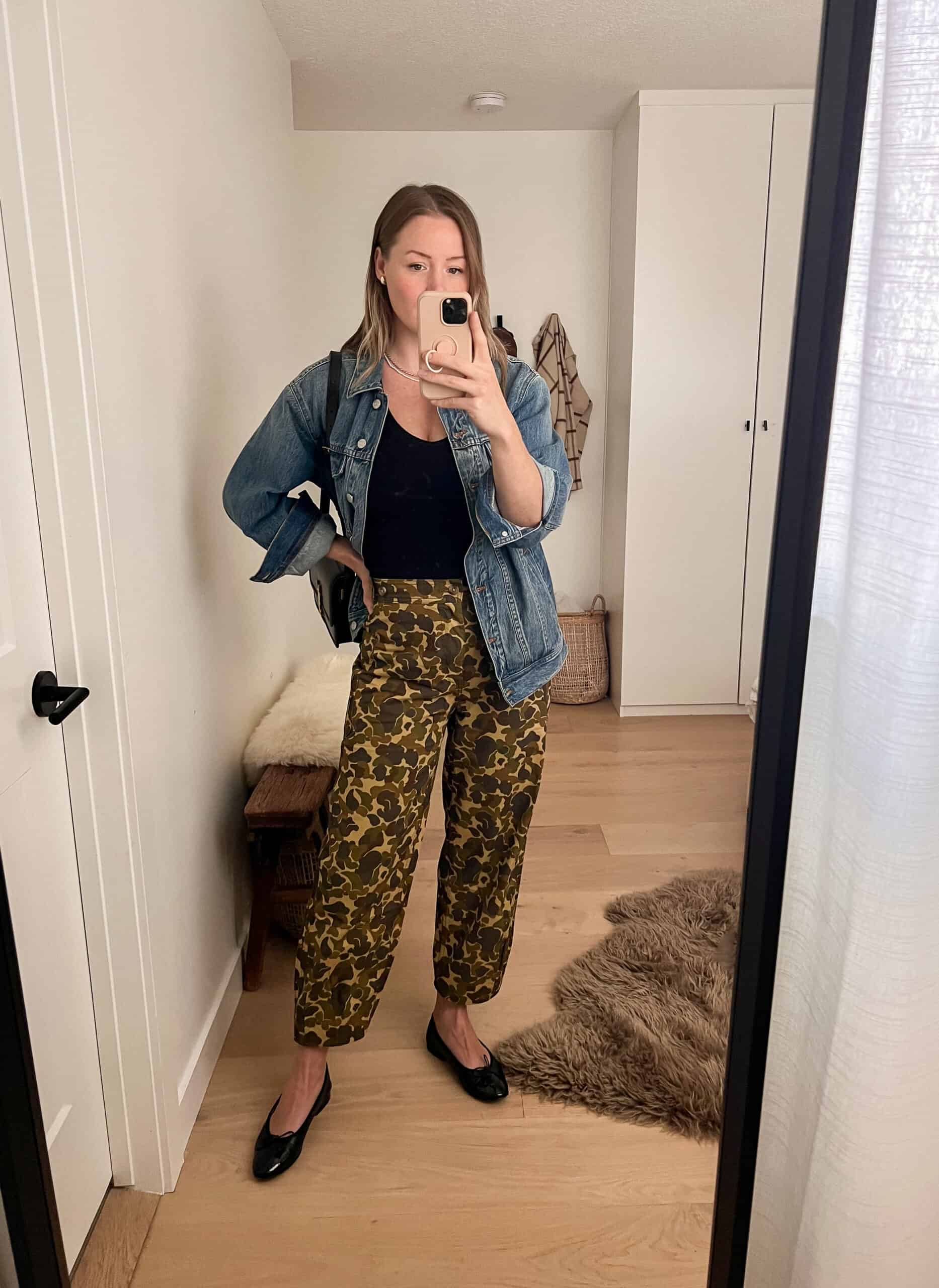 get the look:

Camo print and denim are a match made in heaven. And this outfit proves it!
The black top and shoes keep the outfit looking chic, and we love the ballet flats in this look to add a feminine touch.
A denim jacket and camo pants are both casual pieces that pair well for a laid-back outfit like this. You can rock this look while grabbing lunch with your friends or even on a date night with your SO.
mix in metallics
get the look:

Metallic pieces are perfect for adding an eye-catching element to any outfit, and the shimmering silver really pops against the muted tones of the army pants.
This combination of military-inspired camo and bright metallics creates an outfit that's edgy, youthful, and unique. You can add a metallic accent with shoes, purses, or even a silver crop top, so don't be afraid to play around and create a chic and daring look that's perfect for you.
camo + combat boots
get the look:

Is there a more classic pairing than army pants and combat boots?
These pieces definitely have a military look, which is why they work so well together. The edgy black boots and rugged camo pants are a must if you want a bold outfit.
We also love that these pieces have muted and neutral tones that will easily pair with other colors. As a result, it's easy to turn this into an outfit that's both fashionable and functional.
Go for tall combat boots like these, or try ankle boots for a more subtle look.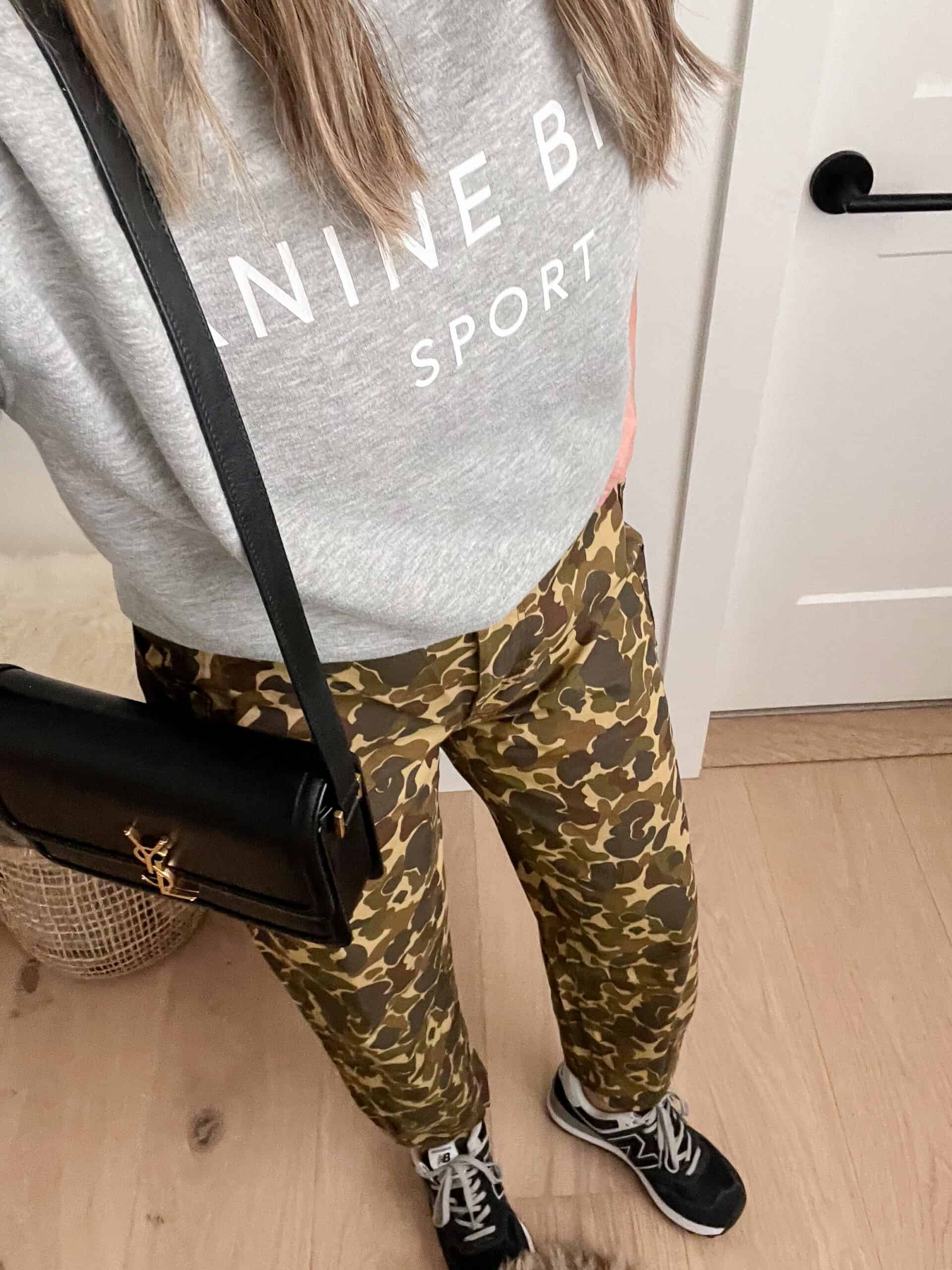 What To Wear With Camo Pants

When it comes to styling camo pants, it's not as difficult as it may seem! Sticking to neutral tones is an easy way to create a cohesive look with this bold print, and if you are still unsure about what color goes with camo – err on the side of caution and go with black, white, grey, or shades of brown.
That being said, don't be afraid to experiment with more daring colors and styles to find the perfect army pants outfits for you!
More Style Guides You'll Love:
12+ Chic Black Joggers Outfit Ideas To Copy
11+ Chic Grey Sweatpants Outfit Ideas
17+ Leather Pants Outfit Ideas That Prove You Need A Pair
After earning a degree in Psychology from Eastern Florida State University, Ardelle realized she wanted a career that allowed her to be creative. She began freelance writing and has since written for various websites including fashion and style.
As someone with a love for all things creative, fashion quickly became her favorite topic to write about. Over the years she has focused on becoming an expert in fashion and beauty-related content. Through her writing, she aims to inspire and empower individuals to express their unique style!