If you are looking for romantic and feminine lingerie, then you'll love these 10+ French lingerie brands with gorgeous and seductive pieces that will make you feel incredible!
*this post contains affiliate links*
The Best French Lingerie Brands
Good lingerie combines sensuality, beauty, and femininity into high-end pieces, and French lingerie brands know just how to do that. These brands use high-quality materials like silk and lace and transform them into luxury lingerie that will make you feel sexy and irresistible no matter your shape or size.
We've hand-picked our top French lingerie brands that should definitely be on your radar, including Fleur Du Mal, Agent Provocateur, Simone Pérèle, Chantelle, and YSE Paris. So if you're shopping for a new lingerie set for Valentine's Day, a boudoir session, or any other special occasion, or if you simply love classic and timeless French style, you need to know about the brands below!
Before buying, be sure to get a bra fitting done so you can invest in lingerie that fits you like a glove!
Agent Provocateur designs luxury lingerie that celebrates women and femininity, exactly what we look for in a lingerie brand.The brand creates pieces that are the perfect blend of playful, seductive, and sophisticated, and this has led them to become one of the world's top brands for intimates and lingerie.
Their lingerie is made from high-quality materials in a variety of styles. Whether you prefer a romantic vibe or something bold and edgy, Agent Provocateur has something for everybody.
Shop Agent Provocateur intimates, swimwear, nightwear, and apparel online – in regular and plus sizes. You can also often find their lingerie in department stores or specialty boutiques.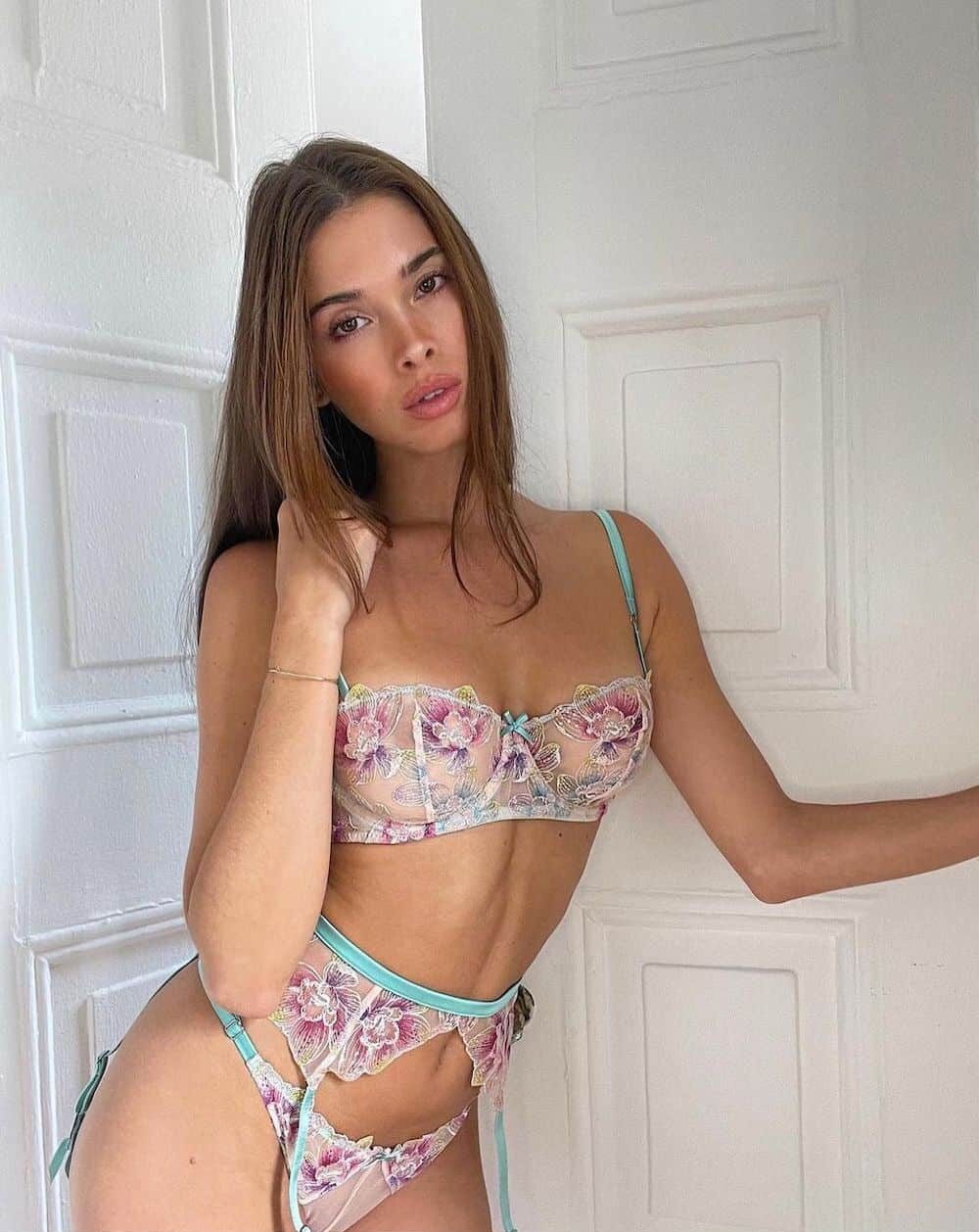 Fleur du Mal is a *stunning* French-based lingerie brand that was founded in 2012. This company is well-known for its elegant and modern designs, beautiful embroidery, bold colors, and unique silhouettes.
The collections at Fleur du Mal include lingerie, sleepwear, swimwear, and everyday clothing. Their pieces are designed to be luxurious, comfortable, and timeless, so if you're looking for beautiful pieces that you can feel confident in, Fleur du Mal is definitely worth checking out.
You can buy directly from their website, which offers free shipping on all US orders or find pieces at department stores like SSENSE and Saks Fifth Avenue. Treat yourself to a piece from one of their incredible collections, stock up on basics, or get a little bit of both!
Chantelle is a lingerie brand known for feminine and sophisticated styles that flatter a woman's natural curves. Chantelle has been creating magic in the lingerie industry since 1876, and their beautiful creations are glamorous with a contemporary feel.
There are so many styles to choose from, from classic designs to modern and alluring pieces. Chantelle also carries swimwear, shapewear, and athletic wear, so they have a look for every occasion.
This fashion-forward brand sells its gorgeous pieces through its e-commerce store. They ship worldwide and provide free shipping in the US for orders above $95. If you prefer to shop for lingerie in person, visit their website to find shops near you that carry this stunning brand.
If you're looking for classic Parisian lingerie that has a modern twist, look no further than Eres. Eres is a luxury lingerie and swimwear brand (as the prices reflect) that has been designing beautiful feminine pieces since 1968, and they've also expanded to include athleisure and loungewear.
This brand creates pieces that are timeless and luxurious, with a focus on quality craftsmanship and delicate details. Eres designs pieces with high-end fabrics, like French silk and Italian lace, to create lingerie and swimsuits that are both beautiful and comfortable.
You can shop their pieces at Saks Fifth Avenue or online, where they offer free standard delivery and returns on all orders within the US. Another thing we love about this brand is how inclusive they are – Eres carries plus sizes for dozens of pieces.
Maison Lejaby is a French lingerie brand that was established in France back in 1930. This brand creates stunning designs that embrace the female body and celebrates femininity. This company is a leading lingerie brand known for its innovative, sexy, and feminine designs.
Their designs range from classic and minimal to soft and romantic. You can find a variety of sizes, and they carry basic neutrals as well as deep shades of red, blue, and purple. Whether you're looking for a seductive piece or something comfortable to wear throughout the day, Maison Lejaby has it.
Like other brands on this list, Maison Lejaby has a line of swimwear, sportswear, and loungewear. They have dozens of stores throughout France or shop online to take advantage of their worldwide shipping. This brand also tends to be one of the more affordable options here, with many pieces costing under $100.
This next French lingerie brand has been creating timeless and elegant lingerie since it was founded in 1958. Aubade Paris uses incredible craftsmanship to create their high-end lingerie, and their designs are modern and beautiful.
A combination of luxurious fabrics and incredible attention to detail has made Aubade one of the most popular lingerie brands. Delicate lace and embroidery, rich colors, and sophisticated designs are what you'll find on their e-commerce store, and they ship to dozens of countries around the world.
Whether you're looking for a classic bralette, a sexy plunge bra, or a lacy bodysuit Aubade Paris will have what you need. And while you search for a spicy new lingerie set, you can check out their line of swimwear and nightwear.
Simone Pérѐle is a French lingerie brand that has been designing beautiful, feminine pieces for women for over 70 years. They offer a wide range of styles and silhouettes, from classic and timeless to modern and fashion-forward. They also carry lines for loungewear and shapewear.
Their pieces are crafted from luxurious materials such as silk, lace, and satin and feature intricate details. Whether you are looking for everyday essentials, special occasion lingerie, or something in between, Simone Pérѐle has something for you.
We love how soft and comfortable the bras are, and because they're made with high-quality fabrics, they'll last for years! Shop through their online store, or find pieces in department stores such as Neiman Marcus, Bloomingdales, or Nordstrom.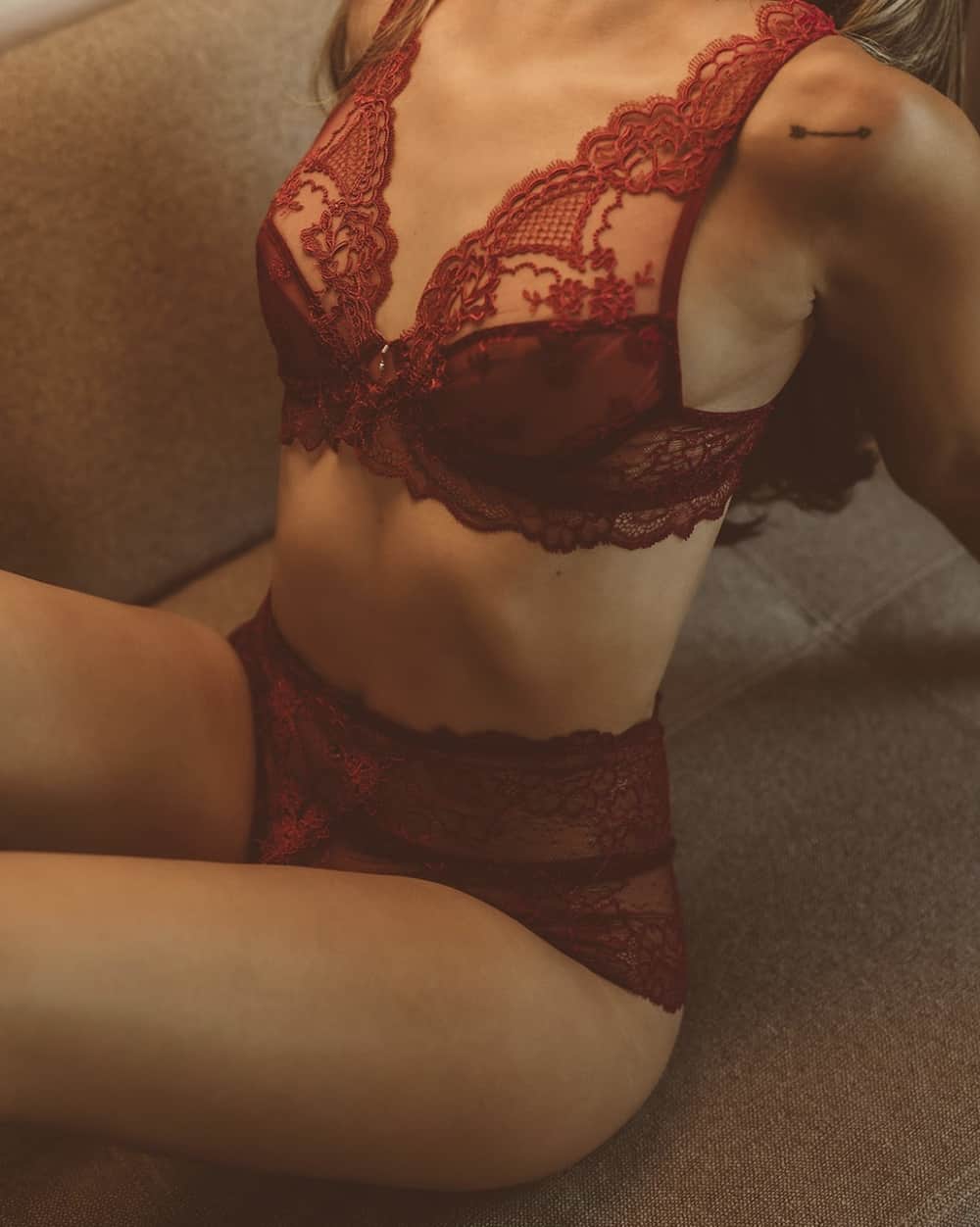 Lise Charmel was founded in Lyon, France, and this brand has been creating refined luxury pieces ever since. They have a bold and sensual style that results in high-quality and glamorous lingerie.
This brand's designs feature gorgeous lace, soft silk, and rich velvet fabrics that are used to create sexy and refined bras, bodysuits, and more. Lise Charmel also carries a loungewear and swim collection that showcase the same vibrant and lavish style as their intimates.
Lise Charmel can be found in luxury department stores, and they sell their high-end pieces online, shipping to the US, France, and other European countries.
Etam Pairs is a French lingerie brand well-known for its high-quality lingerie and swimwear collections. This company designs bold lingerie that makes you feel sexy and confident while still feeling comfortable.
This lingerie brand is a trendy and popular choice worldwide, and it's easy to see why. Etam Paris creates stunning original designs that are expertly crafted with high-quality fabrics like lace, silk, satin, and tulle.
We love that Etam Paris offers a range of sizes so that all women can find gorgeous pieces to add to their wardrobes. Besides intimates and swimwear, they have an incredible selection of loungewear, apparel, and activewear and all for an affordable price. They have stores all over the world and ship to most countries.
Ysé Paris is famous for their high-end selection of lingerie that blends luxury with comfort. Founded in France, they use modern designs and exquisite details to create an alluring selection of lingerie for any occasion.
These sensual pieces have a timeless look that we can't get enough of. We also love that Ysé Paris has a strong focus on sustainability and ethical production, using eco-friendly materials and partnering with workshops that have fair labor practices.
Ysé Paris sells their pieces in stores across France and online. You can choose pieces from their stunning selection of intimates, loungewear, swimwear, and athletic clothes, all for a price that won't break the bank!
LIVY is a French-based brand that was founded in 2017. This brand creates stunning lingerie, along with swimwear, nightwear, and apparel. Their designs have a bold and contemporary feel that we are in love with.
These thoughtfully designed pieces have a sophisticated and unique look, and they're crafted from quality materials for a comfortable and high-class feel. You'll find anything from classic pieces in neutral tones to edgy styles and vibrant colors. LIVY has something for any person and any style.
LIVY has stores throughout France and some in Belgium, although they ship to the US and dozens of other countries in Europe. This brand is more on the expensive side, but the incredible quality and gorgeous designs make them worth it!
Whether you're going for the classic French girl style or something bold and modern, you can find gorgeous pieces from these French lingerie brands. We hope you've found this list helpful and can grab some incredible new pieces for a stunning and sexy look!
More Style Guides You'll Love:
15+ Sexy Outfit Ideas That Are Seductive & Classy
15+ Classy Boudoir Outfit Ideas
13+ Paris Outfit Ideas Inspired By The Chicest French Influencers
15+ Old Money Brands (& Which Ones Are Actually Affordable!)
15+ Chic Fall Date Night Outfits You'll Feel Amazing In!
16+ Stores Like Artizia You Need To Know About For Elevated Style
Christal Sczebel is an entrepreneur, published author, and content creator. Over the past decade she has worked in the digital media field building successful websites for both food and fashion. She has a natural affinity for minimal, timeless fashion, neutral home decor, and styling.
Here on Style Your Occasion, Christal is the Editor-in-chief and brain behind the aesthetic. She hopes you love the this space and the inspiration you'll find!