Looking for winter country concert outfit ideas? I'm sharing cute and stylish winter country concert outfits to wear for a daytime festival or for a night concert, and tips on how to look the part while keeping warm!
*this article contains affiliate links*
Cute Winter Country Concert Outfits
When I think of a country music concert, I picture good times, songs to sing along to, and plenty of cowboy boots, of course! For me, getting dressed for a summer country concert in denim shorts or a sundress is easy. But a cold-weather show on the other hand, requires a few more layers and is thus a little trickier.
But don't worry! You can still rock your cowboy hat and denim for your next winter country concert outfit while staying warm and chic. All you need is some concert outfit inspo to spark your inner cowgirl! And luckily, I've gathered plenty of it with these chic and cute winter country concert outfits.
What do you wear to a country concert when it's cold?
If you're heading to a country concert in the winter, you'll want to wear layers. I recommend sticking with jeans, leggings, or a midi skirt or dress to keep your legs warm. Then, add a layer such as a leather jacket, denim jacket, or suede coat, or bomber jacket.
If the concert is indoors, feel free to wear a tee shirt, bodysuit, tank, or long-sleeve top as long as you've brought a jacket.
When it comes to footwear, I always go for western-style boots because they're on-theme and keep my feet warm. But, sneakers, lug sole boots, or tall boots are also appropriate options.
Winter Country Concert Outfit Ideas
Now that you know the basics of what to wear to a country concert in the winter, I'm sharing some great winter country concert outfit ideas, starting with some looks by our editor-in-chief Christal. Then, I'm sharing more looks from my fave fashion it-girls!
Graphic tee, denim midi skirt + wool coat.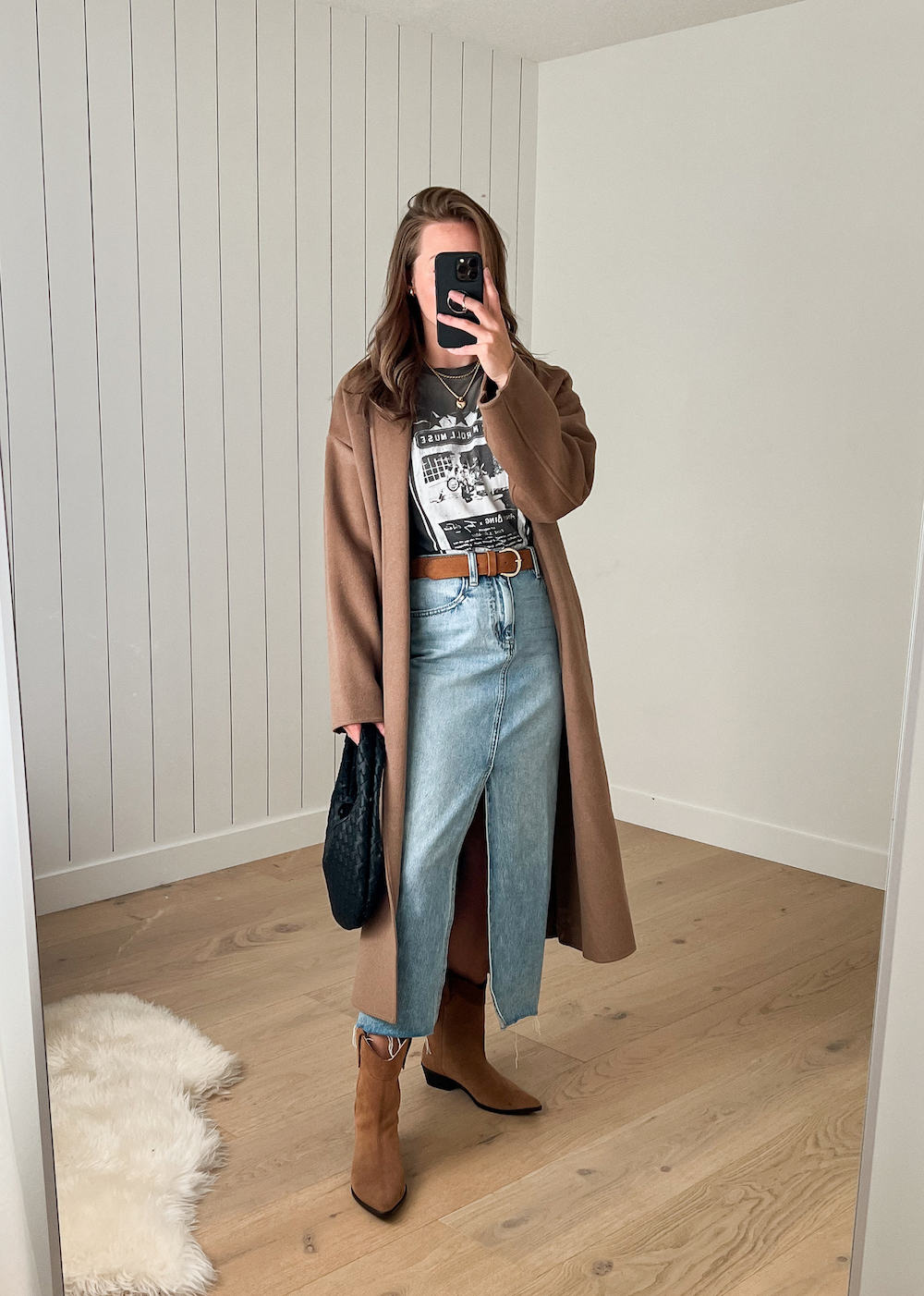 get the look:

Denim midi skirts are one of this year's hottest trends, but they're also a chic piece to wear to a winter country concert. Instead of reaching for jeans, go for a denim midi (or maxi) skirt instead like Christal above.
I love how this look has a country-rock vibe with the combo of the denim skirt and graphic tee. Bonus points – have your tee feature the country music artist you're going to see!
I also love the brown Western-style booties, long wool camel coat, and brown suede belt to cinch the waist and warmth and interest to this country concert look. Not to mention, make it cold-weather appropriate!
Leather jacket, western boots + velvet leggings.
get the look:

This country concert outfit is perfect for chilly winter nights. Whether you're sitting, standing, or dancing, you'll stay cozy and comfortable in velvet or leather leggings and an oversized sweater.
What country concert outfit is complete without cowboy boots? By styling your cowboy boots with an edgy leather jacket and casual leggings, you avoid looking costumey.
I adore the leather jacket in this outfit, but you could also wear a denim jacket or add a pop of pattern with a plaid shacket. If you need to bundle up even further, a bodysuit or thermal underneath your sweater will do just the trick. Trust me.
Sweater, jeans + leather jacket.
get the look:

This winter country concert outfit is fashionable and comfortable. It starts with a capsule wardrobe base of jeans and a cozy sweater. From here, she adds unique style through accessories and outerwear.
I love how the leather jacket and black shoulder bag add a chic yet edgy touch, while the brown leather belt and suede Western-style booties add a country vibe.
Black boots, jeans + wide brim hat.
This is another stunning country concert outfit to tip your hat to. The light wash vintage-inspired jeans and boxy leather jacket make the look perfect for a daytime show.
Pointed-toe Western-style booties not only have a high-fashion vibe, in my opinion, but a low heel makes them easy to walk in to and from the venue. Which is ideal if you're exploring the city or killing time before the concert.
The wide-brim hat isn't your traditional cowboy hat but still gives a hipster country vibe. I'd wear this look to an outdoor country concert, music festival, or show in Nashville!
Denim on denim.
Denim on denim (also known as the Canadian tuxedo) is one of my all-time favorite daytime looks. And because it's all about the double denim, the look is inherently Western and perfect for a country music concert.
While a denim shirt is already country concert ready, the Denim Fringe Jacket adds a cool yet classic Western spirit. I absolutely love how this outfit embraces matching denim, but I wouldn't hesitate to mix dark and light denim for a casual, contrasting look.
Cowboy hat, black jeans + basic tee.
A chic cowboy hat is a mainstay accessory in any country girl's wardrobe. Throw it on with virtually any look, and you're ready for a country concert.
But if you need some inspo, take notes from this achievable look. I love how she paired her black cowboy hat with matching distressed black jeans and a basic white tee shirt—closet essentials most women have.
The ultra-cool black and white cowboy boots tie it all together, but really any color boot would work here. A shearling jacket will keep you warm during an outdoor show and adds interest to the look.
Mini dress + knee high boots.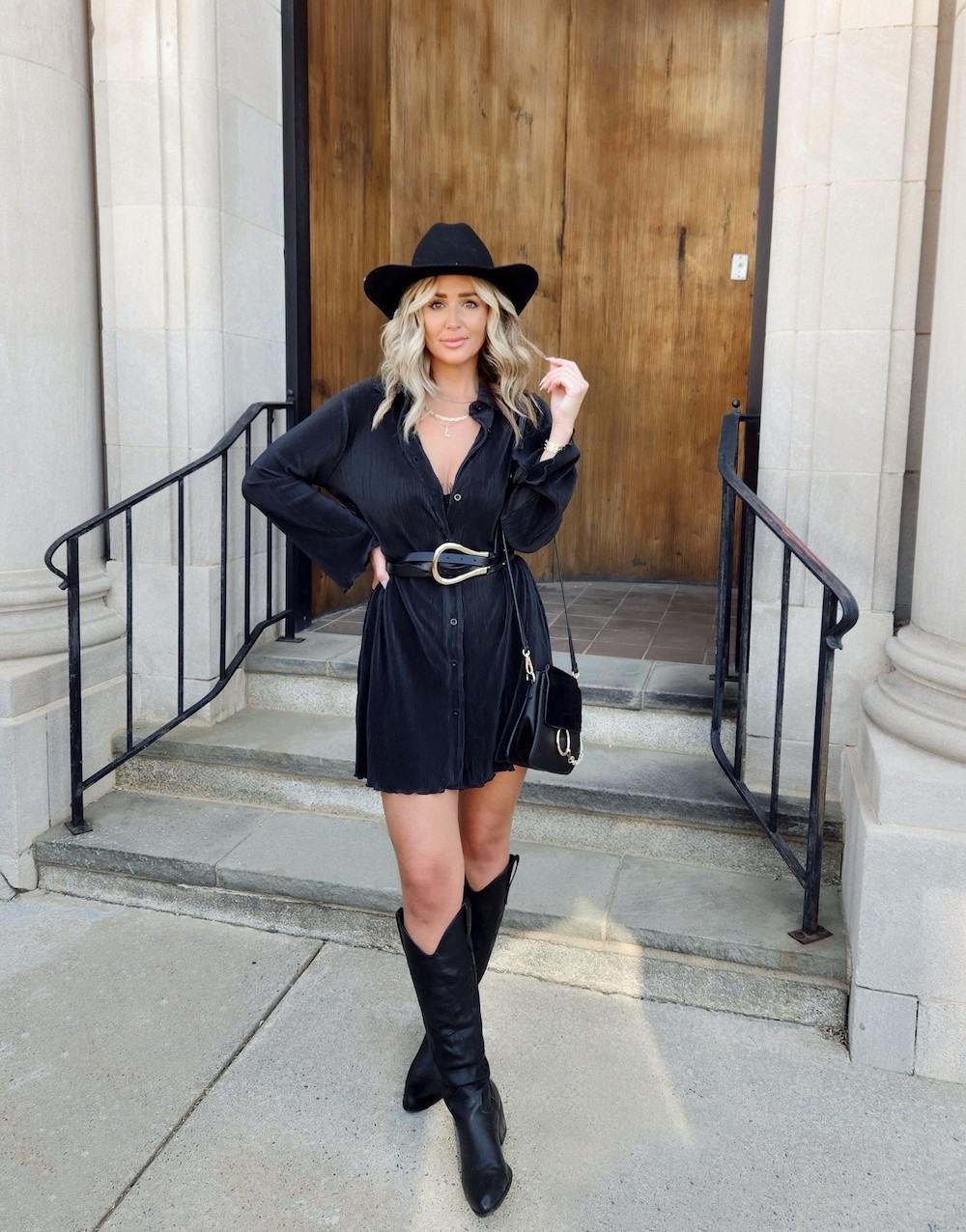 Can you rock that cute mini dress to a winter country concert? The answer is yes! Since most indoor venues will be pretty warm once you're inside, you can still wear breezier outfits like this one.
For me, this look is very much winter-appropriate because the mini dress features long sleeves and is balanced by knee-high cowboy boots. It's an especially great option if the weather doesn't get too cold where you live.
Top the look off with a cowboy hat and all-black accessories for a contemporary, minimalist feel.
Leather leggings, boots + teddy coat.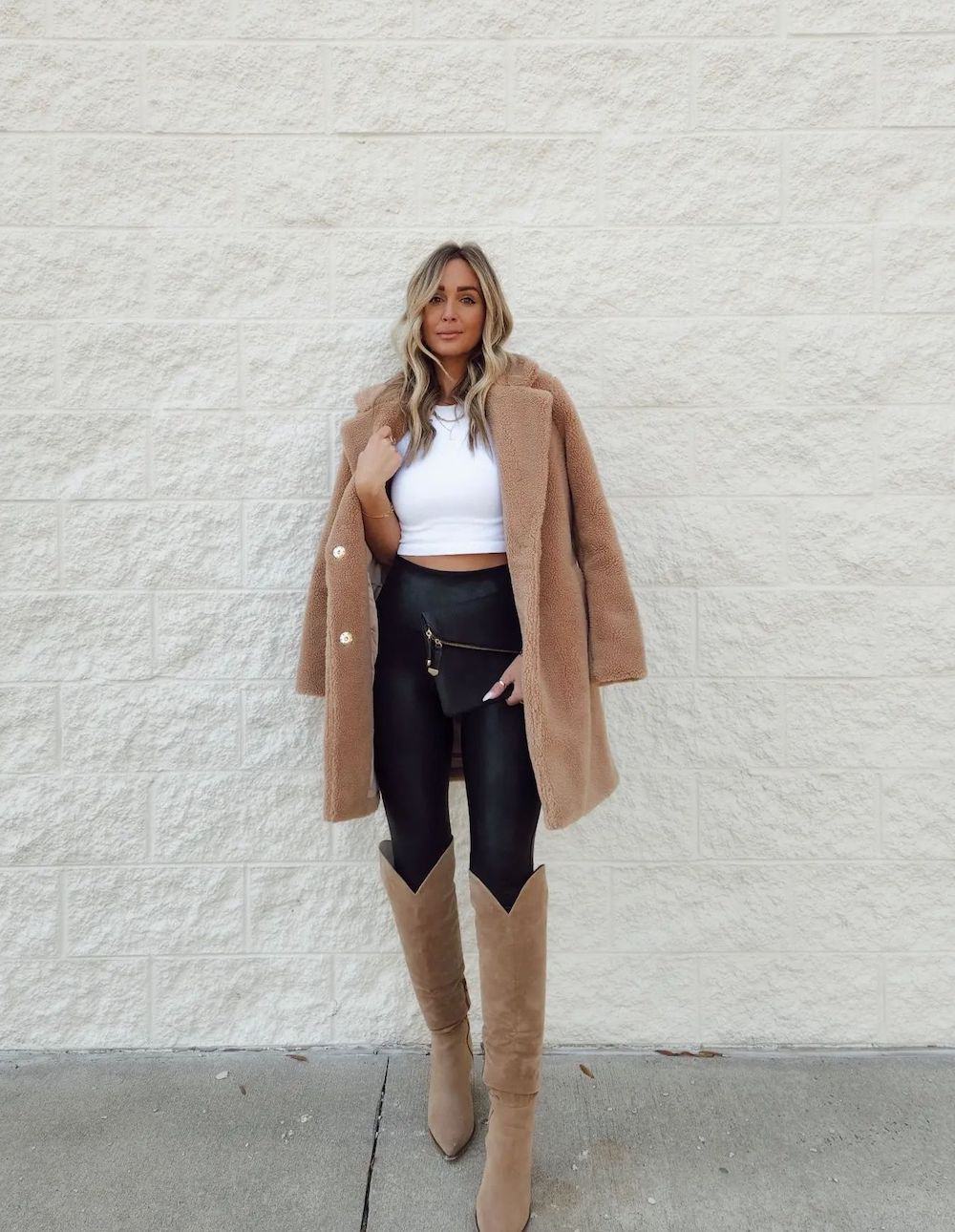 This winter country concert outfit is everything.
I love that the look feels laid back with the white tee-shirt and faux leather leggings but is elevated with the knee-high cowboy boots and oversized teddy coat. A furry coat like this one feels unexpected for a country concert, but it's sure to keep you cozy.
While this look feels bougie and luxurious, it's actually easy to achieve at home. Even if you swap out those faux leather leggings for a basic pair or the white shirt for a graphic tee.
Night Country Concert Outfit Ideas for Winter
When the temperature drops even further, you'll want to make sure you are warm and stylish in your night country concert outfit for winter. Here are my favorite looks to try!
Blouse, denim skirt + ankle boots.
get the look:

I love how all-black leather accessories instantly make any outfit harmonious and well-styled. I've mentioned that cowboy boots are a great choice for wearing to a night country concert in winter, but this look proves that any style of boot will steal the show.
I'm dying for these ankle booties seen on our editor-in-chief. They look great with midi or maxi skirts but are also sophisticated paired with jeans, sweater dresses, or trousers.
All-leather look.
The best winter country concert outfits incorporate Western-inspired textures and materials, including my favorite, leather. This look features lots of leather with tall brown leather boots and a brown leather midi skirt.
But that's not all. The addition of a leather and fur-lined aviator jacket brings a cool girl vibe that will keep the chills away.
I'd wear this look out to dinner or drinks before the concert. The flattering proportions and sexy leather also make it a perfect date night outfit.
Sweater, midi skirt + metallic cowboy boots.
If there is a perfect time to bust out those metallic cowboy boots, it's at a night country concert outfit in winter. These boots are a total showstopper, but I know they'd also keep my feet warm as I track through sleet or snow.
To me, this look shows that you don't have to go full-on cowgirl to look chic and stylish. The black midi skirt is comfortable for a night of standing and dancing, while the thick cable knit sweater adds a cozy element.
Cowboy boots, scarf + belted short coat.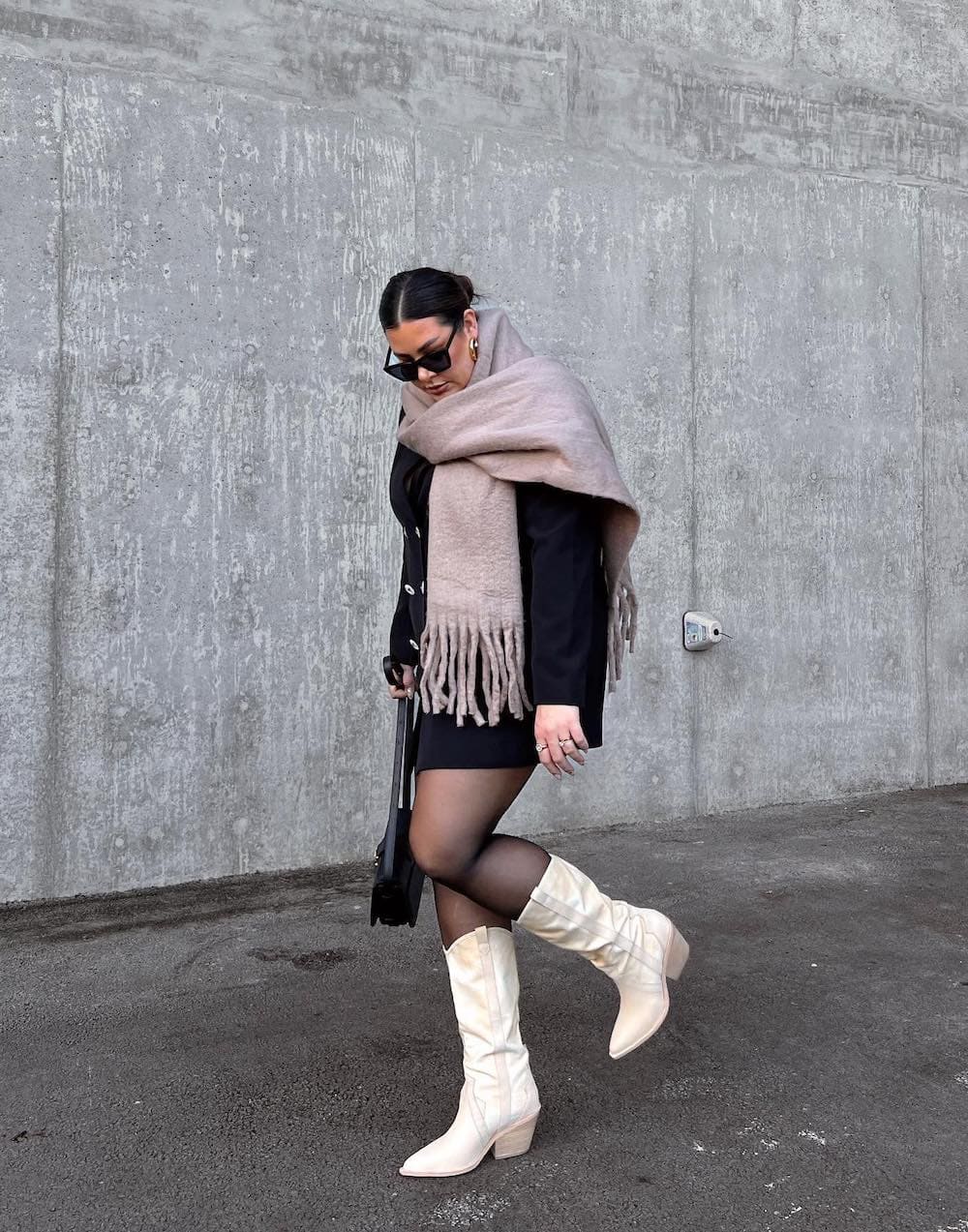 The most essential part of any winter country concert outfit is the outerwear. If you choose the right outerwear and the venue is warm enough, you can really wear anything underneath.
I'm taking notes from this look. You can't see the outfit underneath, but that's okay! The belted short coat and tights are chic and sophisticated while staying practical for the winter weather.
Who says you can't wear white in winter? These white cowboy boots add the perfect country touch for this concert-faring look without going over the top.
Statement sweater + thigh high boots.
This look offers a contemporary twist on Daisy Dukes.Swap denim shorts for leather shorts for a more fall- and winter-appropriate vibe.
I love how the leather shorts barely peek out from underneath this oversized vintage-looking sweater—it's so chic.
Tall boots are the key to wearing shorts or a mini skirt in winter. These thigh-high Western boots cover a good portion of the legs, so you won't feel nearly as chilly, especially if the venue is indoors.
I'm totally obsessed with the oversized sweater and shorts combo in this night country concert outfit for winter. However, a mini sweater dress would also look perfect here.
I hope this list of winter country concert outfits has inspired you and given you some great tips on getting dressed for a country music show when the weather is chilly!
Which look was your fave? Be sure to pin it!
More Style Inspiration You'll Love:
14+ Country Concert Outfit Ideas You'll Want To Copy
17+ Chic Long Denim Skirt Outfits Making Me Love This Trend
14+ Chic White Cowboy Boots Outfit Ideas w/ Urban Cowgirl Vibes