Do you love the aesthetic of The Row but not the sticker-shock? You'll love my list of The Row dupes, including The Row tote dupe options, The Row 90s bag dupe options, The Row brindle bag dupe options, and more!
*this post contains affiliate links*
When it comes to accessories, I love pieces with a timeless and minimalist aesthetic that can be worn year after year. The Row first came on my radar a couple of years ago, and seeing as the brand fits that exact aesthetic, it's no surprise I've been smitten since!
I have been eyeing the N/S Park Tote but haven't been able to convince myself to take the plunge (yet!). So I decided to see what similar, more affordable alternatives were out there! Hence, my extensive list of The Row dupes I'm sharing with you!
I've included look-alikes for the classic Park tote, the retro-chic 90s bag, the elegant brindle bag, and more in this list that's perfect for elevating your style without draining your bank account!
The Row Tote Dupe List:
The N/S Park Tote bag is one of this brand's most popular handbag styles, so naturally, I am starting this list off with the top choices for chic The Row tote dupes! These look-alikes are great alternatives and do not cost thousands.
On my most recent visit to J.Crew, I was able to hold and feel the Berkeley Bucket Bag. And let me tell you, this tote is a must-have for anyone who wants a more budget-friendly version of The Row Park Tote.
This look-alike is similar in size to the medium Park Tote, making it spacious enough to carry all your main essentials. It has a sturdy single strap and sleek bucket shape, as well as an inner top tie that's just like The Row bag.
While J.Crew does carry this bag in gold, I think the classic, sleek black tote is a better dupe for The Row since it has the timeless look the brand is known for. Plus, this look-alike is also made from high-quality leather, feels great in hand, and has a luxurious feel.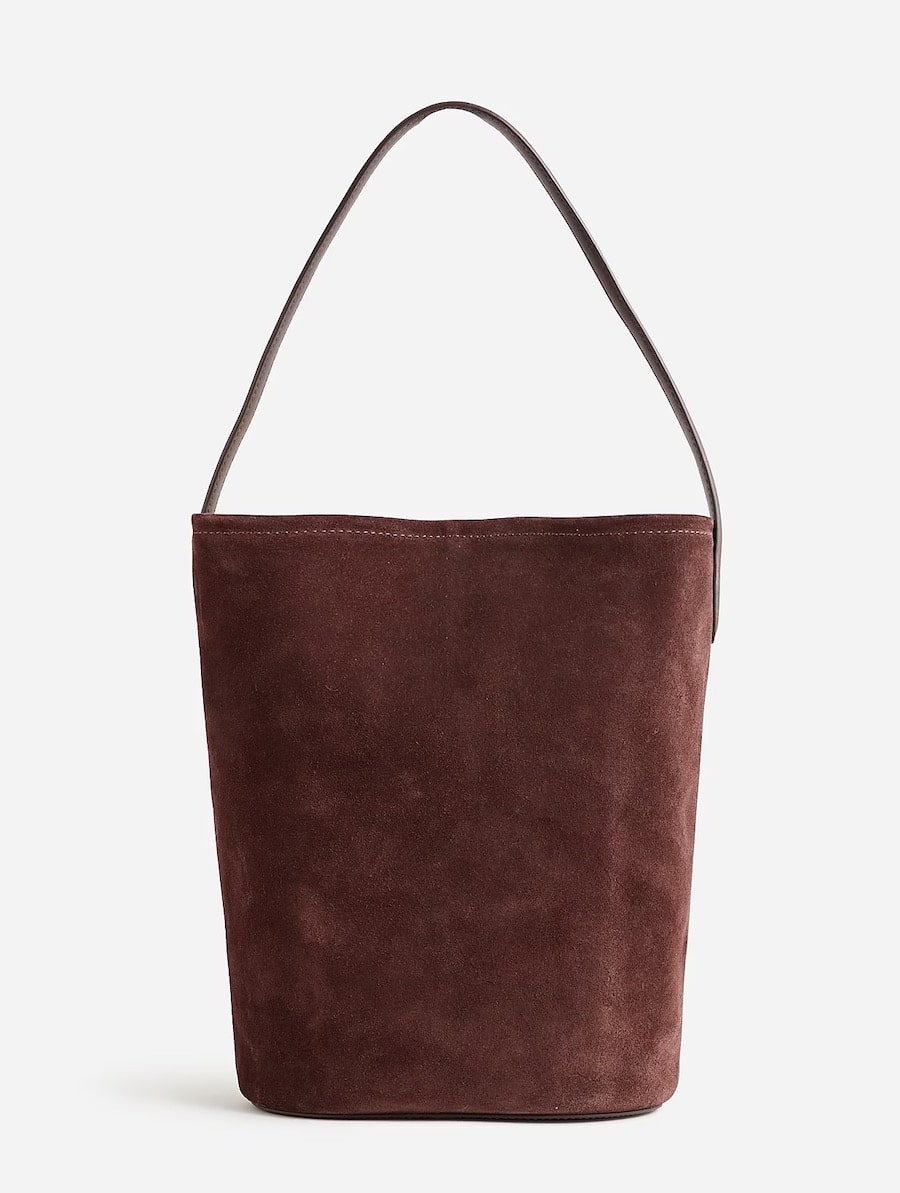 When I was at J.Crew I also inspected the suede version and I do think this will be the one I end up adding to my bag collection.
This suede iteration of the Berkeley Bucket Bag is in a beautiful ganache/chocolate color and is actually suede on one side and smooth leather on the other. All of the other details are the same – sturdy single strap, bucket shape, and interior closure ties.
Overall, this tote option from J.Crew is a top choice in my books!
If you're on a tight budget when it comes to treating yourself, no worries! I have a very affordable but still stunning and high-quality The Row tote dupe for you!
H&M is definitely one of my go-to brands for affordable pieces, and they did not disappoint this time. This Shopper Tote is made from polyester, which gives it a faux leather feel and also makes it such a great price!
This tote is also a very good size, measuring just a bit larger than the medium Parker tote and with enough space for a laptop. And since this dupe comes in elegant black, it's versatile enough to pair with any outfit!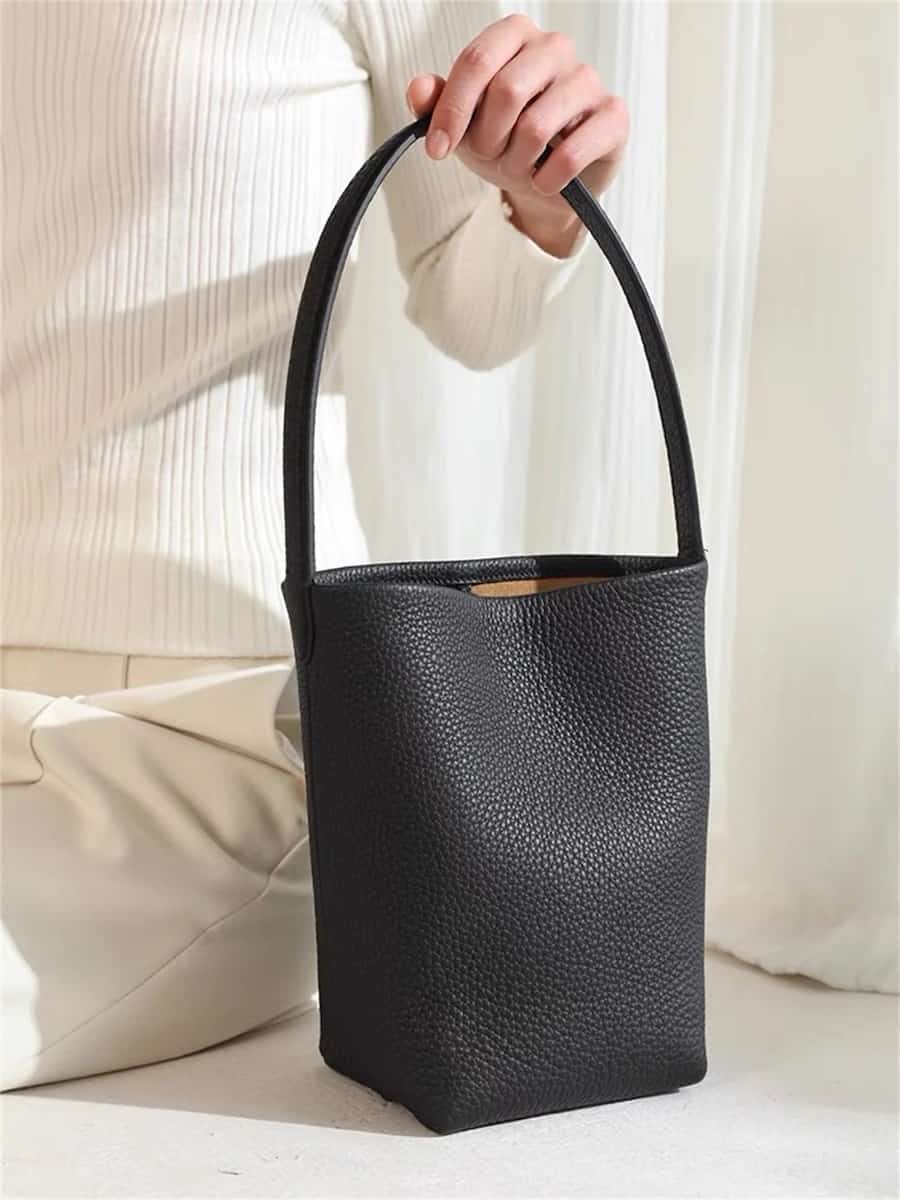 Next up, I've had this Leather Bucket Bag from Etsy in my cart for quite a while.
It is smaller in size and therefore a great dupe of The Row Small Park Tote! The dupe is made from calfskin leather, so it's perfect if you want to get the same lavish look and feel as the original bag while spending a fraction of the price!
Something that I love about this dupe is that it comes with more color options than the other look-alikes on my list. Classic neutrals like black, beige, and cream are excellent if you want an elevated and versatile piece, but there's also wine red if you want to add a bolder color to your wardrobe.
In terms of appearance, I think this dupe is by far the best. Aside from missing the brand name stamp, it's pretty much a replica.
The Row 90s Bag Dupe List:
Next on my list of dupes is The Row 90s bag dupe options. The bags below offer that similar baguette style with a retro feel at a much lower price point.
First up, this Leather Shoulder Bag from Etsy has the same dimensions and the same gorgeous design as the 90s bag. I also love that it has the same zippered top and thin handle.
It is a small black baguette-style purse that is perfect for carrying essentials on a girl's night out. And while I love the classic black calfskin leather, this bag also comes in a soft brown suede. No matter which color you choose, this 90s bag dupe will give you the same elevated aesthetic as The Row bag would in my opinion.
This next Leather Baguette Bag from Etsy comes in many colors, including black and white leather and beige, tan, or black suede. Like the other The Row 90s bag dupe on this list, it's about the same size as the original version and has that sleek silhouette and retro feel.
The top handle is adjustable to give you the perfect fit, whether you want to carry it on your wrist or keep it on your shoulder. And even though this dupe is such a great price, it's still an incredible quality.
Etsy always surprises me when it comes to designer bag dupes!
The Row Bindle Bag Dupe List:
The Row Bindle bag style is great when you need to carry around a little extra but still want a chic accessory. If you're a fan of this particular The Row bag, you're sure to love these bindle bag dupe options I have listed below!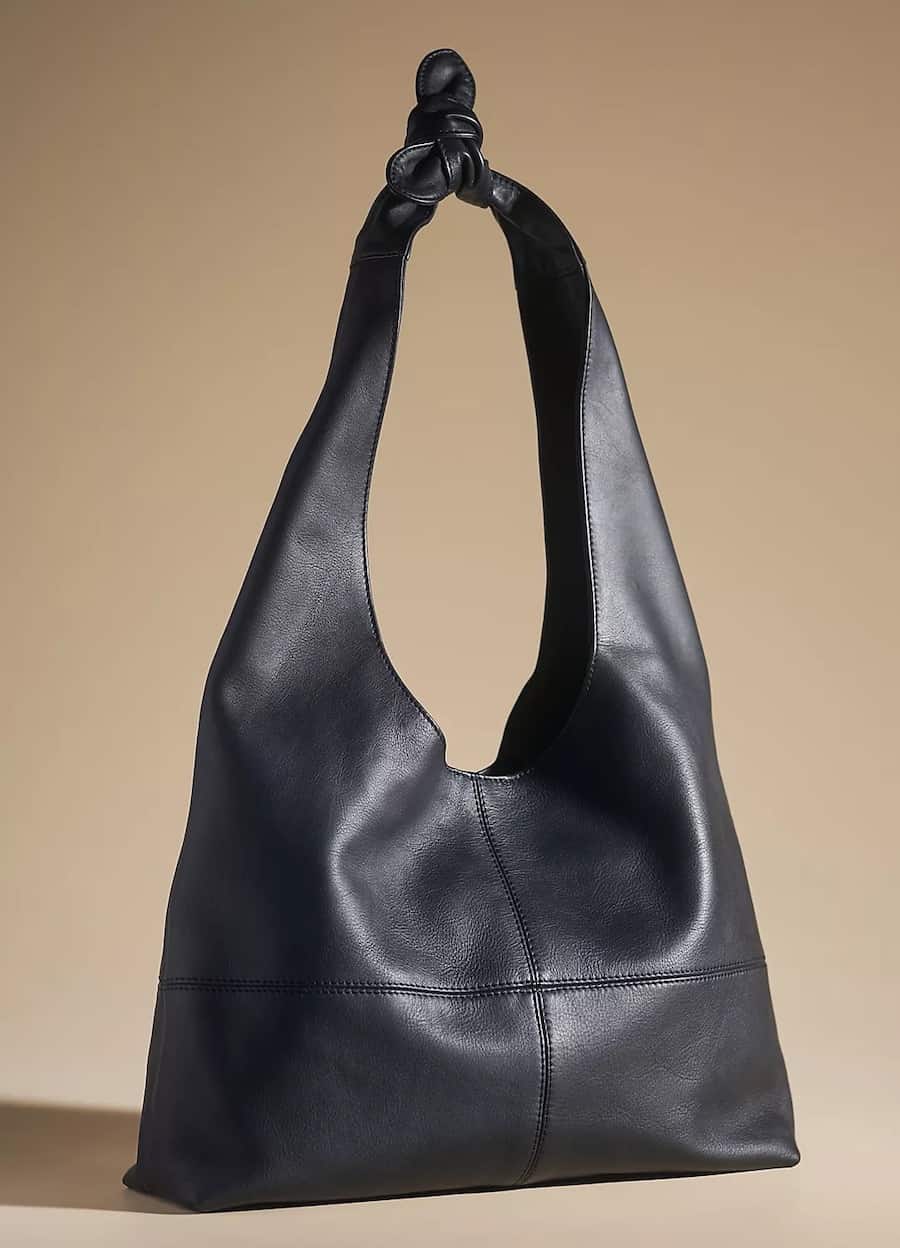 Gosh, I love Anthropologie. When it comes to designer alternatives, Anthro always has great options, including this gorgeous Slouchy Knotted Shoulder Bag that's an excellent alternative to The Row bindle bag.
I love the feminine chic vibe from this slouchy style tote. The knot on top of the handle is such a cute detail, and it's made from genuine leather, so it has the same high-quality look and feel as The Row version.
The large interior is spacious enough for a laptop, so you can bring this bag along as a stylish work tote or use it to dress up your outfits while on vacation. And it comes in classic shades like black, tan, and khaki green for a versatile look.
I have another stunning dupe from Anthropologie – the Love Knot Faux Leather Bag! This one is slightly smaller than the first look-alike from this brand, but it still has plenty of room for everything you need for the day. And one of my favorite things about this dupe option is the matching removable pouch to help keep smaller items organized!
This leather bag also has the same slouchy style but double knots along the handle instead of just one. One main difference is that this dupe is made from faux leather, making it more affordable and a great vegan alternative.
It comes in both neutral shades and vibrant colors, like red and yellow. But again, the neutrals are better suited for a The Row dupe since this brand designs pieces with a neutral palette.
The Row Banana Bag Dupe List:
Over the last year, it seems every fashion it-girl has been carrying The Row's Banana Bag. If you are pining for this bag, I think you'll love the dupes I've found below! They are great quality and much more affordable.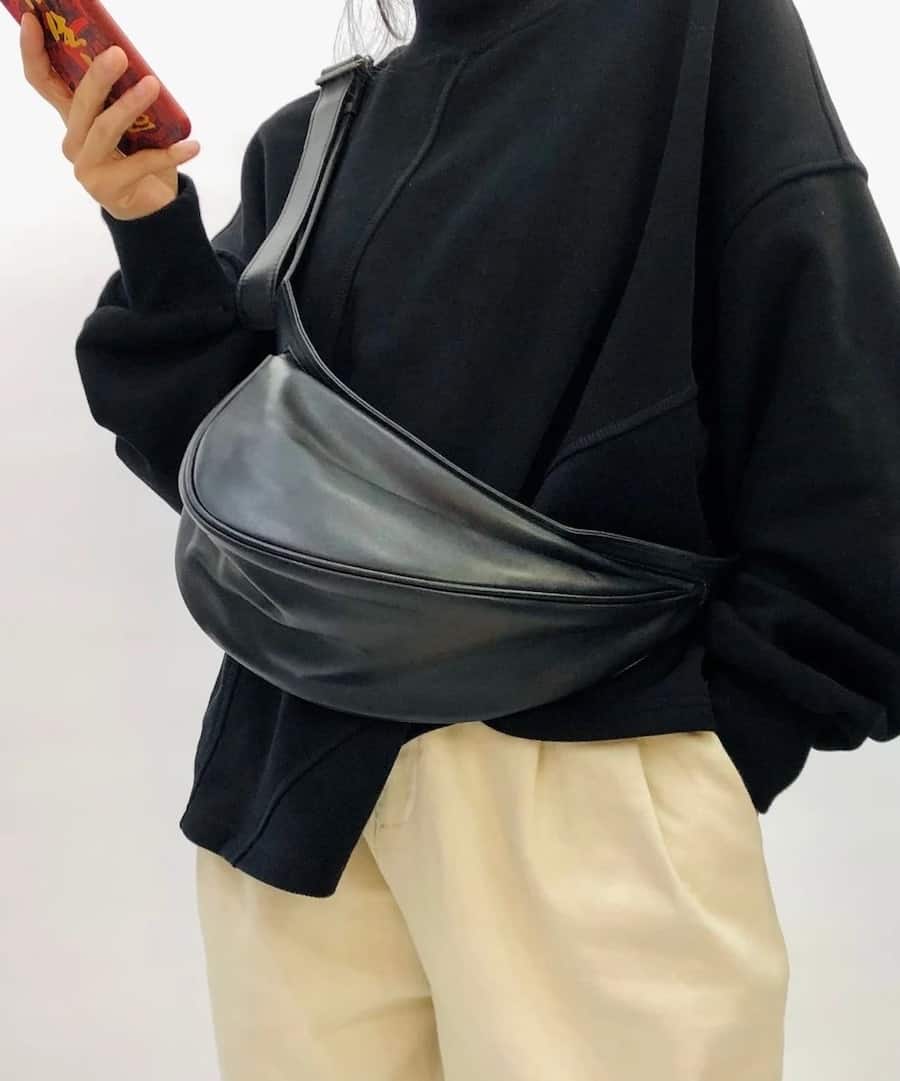 This Minimalist Sling Bag from Etsy is a bit smaller than The Row version, but it will still hold everything you need while keeping your hands free.
Bonus points — this Etsy shop has hundreds of incredible reviews! Plus, this dupe is made from genuine leather, so it looks as good as the Banana Bag and is definitely durable.
Snag this look-alike in black or camel for a chic purse that will become an everyday favorite!
Next on my list of The Row dupes is this Banana Shoulder Bag from Etsy. The bag is crafted with Italian leather for that luxury feel, and the chic crescent shape is just like the original slouchy Banana Bag shape.
This dupe also has adjustable straps and a lined interior to keep all of your important items safe. And it's also worth mentioning that this shop has dozens of gorgeous designer dupes, including many of the other styles you can find at The Row.
Next is my top pick if you're looking for a Banana Bag dupe under $100! This Sling Bag from Oak & Fort is made from faux leather, but buyers are still raving about how soft and high-quality it is.
I actually own the Bottega Veneta Jodie dupe from Oak & Fort and have nothing but positive things to say about it. This dupe bag has a similar crescent shape and comes in timeless black and brown, so it will instantly add a refined feel to your outfits.
More The Row Bag Dupes:
If you're looking for a bag that's not on this list, don't worry. I'm sharing a few more must-see The Row bag look-alikes below!
Do you love the look of The Row Half Moon bag? Me too!
Luckily for a fraction of the price, this Half Moon Bag Dupe from Etsy came onto my radar. It is made from vegan leather and comes in an array of classic neutral colors.
This dupe bag is a medium size, making it an excellent choice for everyday wear. I love a bag that has enough space for my everyday items without being too bulky. It can be taken from day to night effortlessly!
This Sofia Bag Dupe is another fantastic look-alike from Etsy. Unlike The Row version, this alternative doesn't have an adjustable crossbody strap but has a sleek top handle instead.
Still, this gorgeous bag is made from genuine leather, so it's definitely worth the investment in my opinion. The gold hardware also looks stunning on both the black and tan options. So no matter which color you choose, you're getting a beautiful piece!
If you're looking for a large tote that's chic and versatile, you'll want to see this last dupe!
This J. Crew Berkeley Tote is a convincing look-alike of the E/W Day Luxe Tote from The Row. And I adore the combination of both suede and leather in this bag – the combo of textures just takes the aesthetic to another level.
This bag also has the same roomy interior, zippered pocket for small items, and snap closure to keep things secure.
Is The Row worth the price?
Based on the popularity of the brand and the continual trending of their pieces, I'd say The Row bags are worth their price tag. Additionally, when buying a piece from The Row, you're not just paying for a luxury label; you're also paying for superior craftsmanship and timeless design.
This brand is all about "quiet luxury", so while you don't get bold, recognizable logos on The Row pieces, you do get high quality. That being said, if you don't have a large budget, plenty of brands offer similar styles for a more affordable price as you've seen on my list!
I'm still on the fence about taking the plunge with a The Row bag myself. But, I do think that if you have the budget, this brand is worth the investment.
If not, you can still get the same quality and look with one of The Row dupes on my list!
More Affordable Alternatives You'll Love:
Celine Bag Dupe: 9+ Must-See Celine Look-alikes For Less
Bottega Veneta Dupe: 12+ Must-See Look-Alikes
Hermes Dupe Bag: 9+ Affordable Look-alikes (Kelly, Birkin, Picotin)