If you are looking for inspiration for winter outfits, this winter capsule wardrobe edition for the 2022/2023 winter season, is your answer. This elevated, effortless, and classic neutral capsule wardrobe will take you from day to night, and from milder days to super chilly days in the winter months.
*This post contains affiliate links*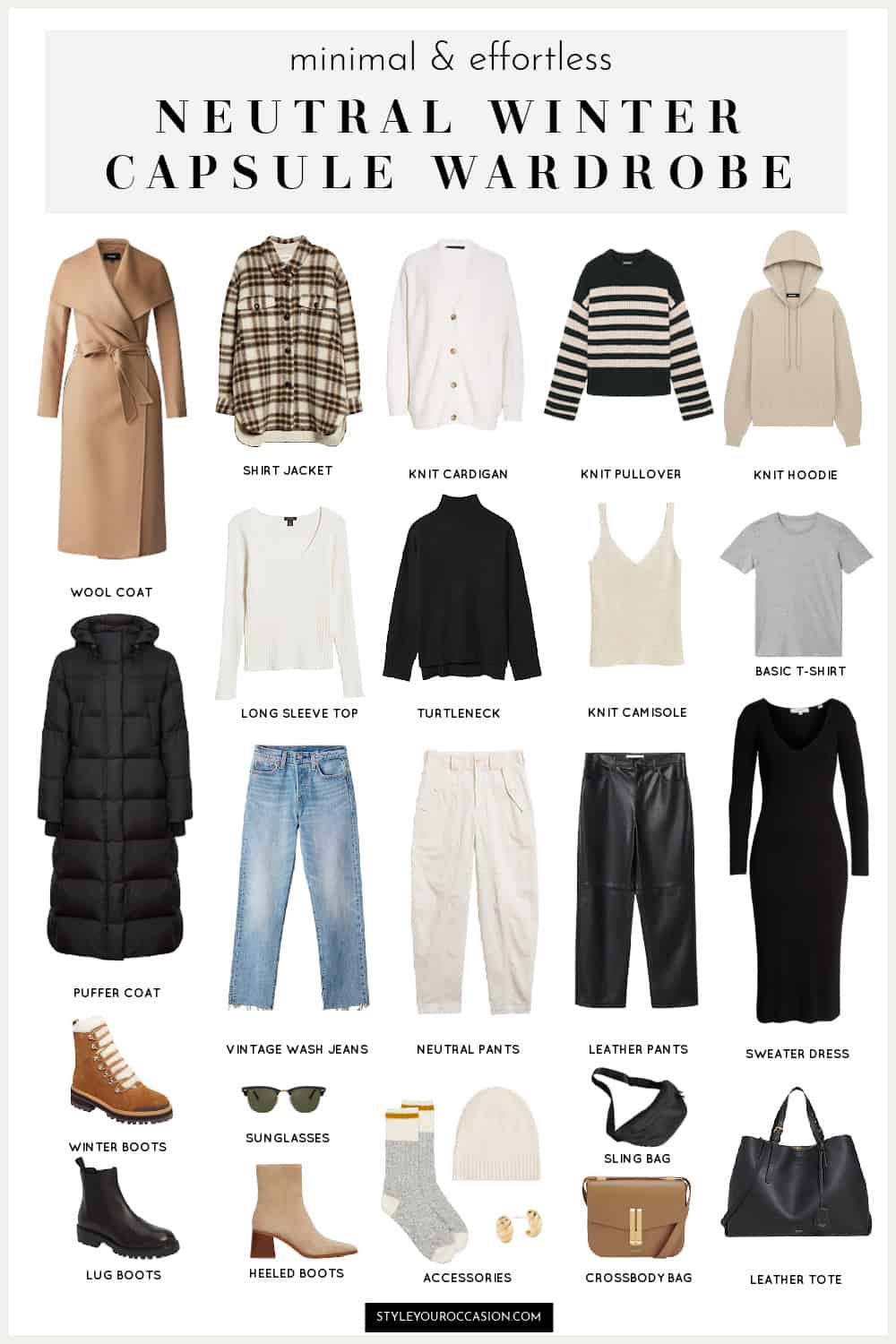 This post was recently updated to reflect the 2022/2023 season!
Elevated & Effortless Winter Capsule Wardrobe 2022
If you are new to capsule wardrobes or have been using them for years, you'll love this winter capsule wardrobe for the 2022/2023 winter season.
It's the most annoying thing to stare at a bursting closet and think "I have nothing to wear!". Does this sound familiar? A curated and thoughtful capsule wardrobe is a fantastic solution to eliminating closet overwhelm, frustration, and decision anxiety every time you need to get dressed.
This minimalist winter capsule wardrobe is a perfect way to declutter and streamline your wardrobe for the chilly season. Let's get into it, shall we?
How do you start a winter wardrobe?
When creating a winter wardrobe capsule, you'll want to start before the season begins. Or, use the month of October to start the transition as the weather will still be shifting from fall to winter. The following steps will help you build your capsule wardrobe for winter:
Start by removing the fall items that you will no longer be needing from your closet and put them into storage bins (lightweight sweaters, denim jacket, shorts, sneakers).
Keep any pieces that are good for transitional weather such as jeans, basic t-shirts, ankle boots, and a lightweight coat (such as a wool blazer or wool shirt jacket).
Make a small list of items you will need to add to your winter capsule, such as a puffer jacket, combat boots, thick knit sweaters, and warm beanies.
Stick to mostly neutrals as neutral clothing items are very versatile and can easily create a wide range of outfits.
What should be in a winter capsule wardrobe?
In a well-executed winter capsule wardrobe, you'll find warm outerwear, such as a puffer jacket or long wool coat, knit sweaters, basic tops, jeans, leather leggings, a sweater dress, everyday winter boots, tall boots, beanies, gloves, and chic, minimal accessories. It's wonderful to know how a small selection of versatile pieces can make a wide variety of outfit combinations.
A winter capsule wardrobe should be simple and neutral but also fit your lifestyle, whether it's relaxed and casual, or professional and dressy. Choose pieces you know you will wear again and again, as this will help you resist the urge to buy more than you truly need.
If you work from home or are a stay-at-home mom (or both!), you can get away with more laid-back clothing. If you don't have kids or have a socialite lifestyle, you will likely want more dressy or formal options.
Read through the capsule wardrobe checklist below to understand how each piece has been thoughtfully chosen and is perfect for the chilly season. Additionally, you'll learn how to adapt the items in the capsule to work for your individual needs.
Long Wool Coat
A long, warm wool coat is a great staple for any winter capsule. Depending on the climate where you live, you may want to go with a thicker wool coat or one that is more lightweight.
This piece can be dressed down with a pair of lug boots and casual pants or dressed up with a sweater dress and heeled ankle boots. Because winter gets quite chilly, this layering piece is a polished way to handle the elements and look fantastic doing it.
As an alternative, if you like the look you can go with a teddy-style coat!
shop coats:

Parka or Puffer Coat
Winter weather can be unpredictable, and if you live in a northern locale, you're likely used to some wicked snowstorms. The best way to look fashionable and still handle the cold is with a warm puffer coat.
You can adapt this winter wardrobe essential depending on the harshness of the winters where you live. Opt for a long, heavy puffer coat if you deal with months of snow and below-zero temperatures. Or, go for a shorter puffer coat or one that is more lightweight if snow is a rarity.
shop puffer coats:

Shirt Jacket or Fleece Jacket
A cozy wool shirt jacket or fleece overcoat is a perfect transition piece when the winter is just beginning and fall weather is still lingering. An oversized fit is on-trend and works great for layering.
Plus, a longer length will help keep your bottom warm if you sitting on any cold benches outdoors!
Go with a neutral plaid pattern or stick with a solid neutral color like taupe or beige. A shirt jacket can also be dressed up or down, making it a versatile closet essential for winter.
shop shirt jackets:

Knit Pullover
You may need 2-3 knit pullovers in your winter capsule wardrobe, and that's totally ok. A great knit sweater with a crew neckline, half-zip, or v-neck is a versatile piece that can be worn in so many ways.
We recommend you stick with neutral tones or add in subtle winter colors like sage green, mist blue, or navy blue. This will make the sweaters easier to mix and match with different outfits.
A knit pullover has an elevated and polished vibe that definitely draws the right attention. If you live somewhere that has cooler winter weather, opt for a warmer fabric like wool or cashmere.
On the other hand, if you live where the winter is warmer, go with cotton or a cashmere blend so you don't get too hot.
shop knit pullovers:

Turtleneck Sweater
Along with a basic knit pullover, a simple turtleneck sweater is another one of the closet essentials in a winter capsule. On a chilly day, you can put on a cozy turtleneck that will keep you warm and toasty, then layer with one of the outerwear pieces.
Like the pullovers, go with a fabric weight that makes sense for the climate you are in. Thick wool may be too hot for those in mild areas, so go for a cashmere or cotton blend.
shop turtleneck sweaters:

Knit Cardigan
Layered over a knit camisole, long-sleeve top, or sweater dress, a cozy knit cardigan is another wonderful piece for winter. We absolutely love the oversized Jenni Kayne cashmere cardigan included in this capsule, but a more affordable (and still high-quality option) is from Quince.
A warm knit cardigan is a piece you'll find yourself wearing again and again in the winter months. Whether you're lounging at home or need an extra layer heading out, a cardigan is a great throw-on-and-go piece.
shop knit cardigans:

Knit Hoodie
On a winter day, a knit hoodie can keep you feeling warm but also has an elevated look compared to a basic sweatshirt. We love the look of a cashmere or wool blend hoodie with a pair of jeans, leather pants (or leggings), or utility pants.
Add a pair of boots with the look and you'll be good to go! You can also easily layer this piece under a coat for extra warmth.
shop knit hoodies:

Midi-Length Sweater Dress
In this winter capsule, we included a sweater dress that comes in a solid black ribbed fabric. The dress is from Vince, and it's incredibly versatile as it can be dressed up or down.
But, you can choose any long-sleeve dress to add to your capsule. The beauty of a sweater dress is that it adds femininity to a capsule that can feel quite saturated with big and bulky items.
When choosing a sweater dress for your winter capsule, we recommend sticking with neutral color tones, patterned or solid (leopard print is fantastic this time of year), and a midi length for extra coverage.
shop sweater dresses:

Long Sleeve Top or Bodysuit
Basic long-sleeve tops are wardrobe staples that can be worn multiple times a week in the winter with an extra layer over top (wool coat, shirt jacket, knit cardigan). We love ivory or off-white, light grey, or beige to brighten up winter looks and keep them versatile.
Additionally, you can go with nice ribbing detail that gives a basic top a more dressed-up look when styled with dainty pendant necklaces.
For more formal options, you can swap a basic long sleeve top for a nice blouse or two.
shop long-sleeve tops:

Basic Tees
A neutral t-shirt (or a couple) is a staple in all capsule wardrobes. In every season you can dress up a basic t-shirt, or dress it down for a casual day.
In the winter, a t-shirt is a great option for layering under something warmer. This way if you are too warm when you're inside, you can lose the sweater/coat and sport the t-shirt.
For quality and comfort, we recommend you go with classic cotton. Or, for an elevated look and extra warmth in the winter, try a cashmere t-shirt like this one from J. Crew.
shop basic tees:

Cami or Knit Tank Top
Baby it might be cold outside, but often indoors the heat is turned up in the winter. So, it's always a good idea to have 1-2 nice camisoles or knit tank tops to wear for a date night or drinks with the girls.
You can easily pair a black or ivory rib-knit tank or silk camisole with leather pants, jeans, or a midi skirt. Add a pair of chic lug boots or heeled ankle booties and a warm wool coat and you'll be ready for whenever the night takes you!
Alternatively, a knit tank is a great option to wear under a cardigan or pullover sweater.
shop tanks:

Vintage Wash Jeans
A staple in any winter capsule wardrobe is a pair of über fashionable vintage-wash jeans. Trust us when we say, once you find the perfect pair, you will wear them multiple times a week.
We absolutely love Madewell Perfect Vintage Jeans (in all washes). But, Levi's (vintage if you can find them!), Agolde, Citizens of Humanity, and Everlane are all fantastic brands to choose from.
In the winter you might find you prefer darker tones more, so you can opt for black jeans or a dark blue denim wash.
shop jeans:

Utility Pants or Trousers
This piece is quite specific, but it can be an excellent option in the winter. Thicker cotton utility pants (aka. cargo/carpenter) look excellent, and are very stylish with Chelsea or lug boots.
While you might not be sure about the light off-white or ivory color in winter, it totally works to freshen up any winter outfit. If you prefer, you can also go with black barrel pants or even darker tan color.
Another option here would be corduroy pants if that's your thing! No matter what you choose, go with a neutral color tone and choose pants that have a wide-leg or straight-leg style so they can be worn over boots (or cuffed with thick socks).
shop utility pants:

Leather Leggings or Leather Pants
Black leather (real or faux) pants or leggings are a great addition to the winter wardrobe capsule for their elevated look, versatility, and ability to be dressed up or down. We love the polished look that they give with the right top, footwear, and accessories.
If you opt for leather leggings, they are naturally thicker and will be warmer than your typical pair of leggings. To make a change from the usual, and really lean into 2022/2023 trends, go for a pair of straight-leg faux or real leather pants.
Either way, they'll make any winter outfit stellar.
shop leather bottoms:

Winter Boots
In the winter it's likely you'll encounter snow, so a stylish pair of winter boots are a must when it comes to the footwear in your capsule. On extra cold days, you'll want a warm and cozy winter boot to slip your feet into, so we recommend going with a pair that's shearling lined.
Don't forget to make sure the boots you get are waterproof too. And, if you go with suede, use a suede protector spray to keep them from getting dirty.
shop winter boots:

Lug Boots/Chelsea Boots
Lug boots, combat boots, or Chelsea boots are a great option for the winter months. They are (usually) water and snow-proof, and look sharp with so many different outfits.
You'll likely find you are wearing these boots almost all the time during the winter unless it's super snowy and cold where you live.
Go for black, brown, or even white boots for a fresh pop.
shop boots:

Ankle Boots or Knee-High Boots
Heeled ankle boots add that extra polished look to any winter outfit. They are also a great option for any occasion you need to be more dressed up for.
You can go with ankle-height heeled boots, or opt for knee-high boots if that's more your style. Earthy colors like cognac brown leather or tan suede are stunning. Or, go for a simple pair of black ankle glove boots for even more versatility.
Once again, if you do opt for suede, be sure not to forget shoe protector spray!
shop heeled boots:

Leather Tote Bag
A large, practical leather tote is the perfect, minimal addition to any capsule wardrobe. Black, brown, or taupe leather is versatile and suitable for the season.
Think of a large leather tote as your catch-all bag for winter!
shop leather totes:

Crossbody Bag
A crossbody purse is another perfect piece to include in a capsule wardrobe for winter. A nice leather crossbody will make any outfit look more polished, and is easier to carry around than a large tote.
We are head over heels for the Demellier crossbody bag we included in this winter capsule. If it's possible, invest a little more in your accessories to elevate moderately-priced clothing items.
An investment purse always goes a long way and can be worn on the daily.
shop crossbody bags:

Belt Bag
Belt bags (also known as sling bags or bum bags) are having a moment in 2022, and we can see this continuing right into next year.
They are the perfect, hands-free, stylish alternative to a crossbody bag when you only need to bring along the essentials.
We included the Everlane transit bag in our winter capsule because it's super versatile and useful for carrying keys, a phone, lip balm, and sunnies.
shop belt bags:

Accessories
Lastly, adding a selection of stylish and practical accessories to your winter capsule wardrobe will tie it all together. We adore a cozy beanie or toque, warm oversized scarf, leather gloves, a great pair of sunglasses, wool socks, and dainty gold-plated jewelry.
You can never go wrong with subtle, classic pieces that are the cherry on top of every great winter ensemble.
shop accessories:

What's NOT included in the winter capsule wardrobe?
These following items don't necessarily change a whole lot from season to season and can be worn all year round. Therefore we have not included these in the capsule.
But, that doesn't mean you can't mix them with the items in your capsule to create even more outfit combinations!
undergarments (bras, panties, socks, etc.)
pajamas
loungewear (sweats, hoodies, etc.)
workout wear (leggings, sports bras, tank tops, etc.)
What should I wear for winter 2022?
Your 2022/2023 winter season wardrobe should consist of warm outerwear including a parka and wool coat, cozy knits for layering, basic t-shirts and long sleeve tops, jeans, leather pants, utility pants, boots, a toque, and practical accessories like a tote bag and sunglasses.
With just a small selection of neutral, minimal pieces, you'll be able to create endless winter outfits to last you all season long!
More Capsule Wardrobe Inspiration: