Looking for cute pumpkin nails for fall in 2023? Check out our list of 26+ pumpkin nail design ideas and pumpkin nail art that will have you ready for cool weather and hot cocoa!
Perfect Pumpkin Nails
Fall is on the way, and that means it's time to get ready for chic autumn-inspired outfits and manicures!
And what better way to show off your autumnal spirit than with some cute pumpkin nail designs? From classic jack-o'-lanterns to modern pumpkin patterns, there are endless options to choose from. And we've found stunning pumpkin nails from our favorite influencers and nail artists to inspire your pumpkin-themed nails.
So, whether you want to add a touch of whimsy to your next manicure or you want to add a little seasonal flair to your everyday looks, check out these adorable pumpkin nail designs that will have you ready for crunchy leaves, cozy sweaters, and all things pumpkin spice in no time!
Pumpkin Nail Design Ideas:
We have everything from timeless pumpkin nail art to trendy and colorful designs, so you can easily find a manicure that's perfect for you below!
Orange Polish + Pumpkin Accents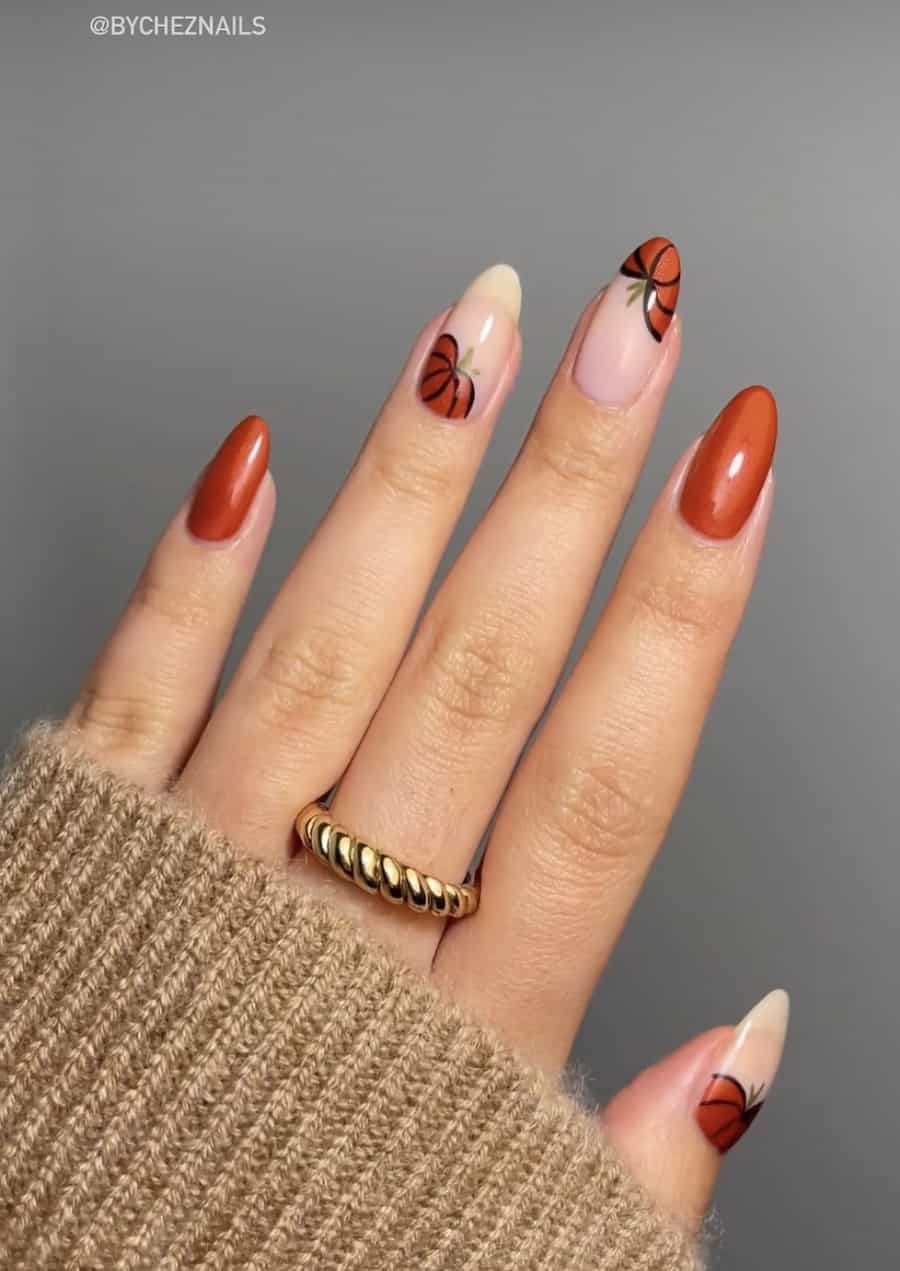 If you're a fan of classic designs with a modern twist, this mani is perfect for you! Orange pumpkin peek-a-boos are so cute, while the glossy orange polish has a sophisticated feel. This is definitely a fantastic choice to show off your love for fall and get you ready for the new season.
Pink + Orange Nails w/ Pumpkins
This pink nail polish is bold and eye-catching, adding a modern flair to a classic solid-colored mani. We love the pumpkins as French tips; they keep this nail design classy while adding an autumn vibe!
Glossy Nude Nails w/ Shimmering Pumpkins
Shimmering nail polish is a great way to elevate any manicure, and these sparkling pumpkins have a magical feel that's perfect for this time of the year! And while this glistening orange does stand out, this simple nude nail and pumpkin design is great for a subtle fall look.
When should I start wearing fall nail colors?
When changing nail color to match the seasons, late summer to early fall is an excellent time to go for rich, cozy colors for your manicures. While some prefer to swap their bright summer hues for fall shades close to the end of summer, others prefer to wait until the leaves change colors and the weather cools down. Both are totally fine!
Pink Pumpkin Frenchies
Add a feminine flair to your fall manicure by going for pink pumpkins with delicate and cute flowers on them! This is a must if you're excited about fall but still want to sport the bright and girly colors of summer.
Neutral Autumn Nails w/ Glitter Accents
You can always keep it classy with neutral tones and add some eye-catching pops with gorgeous glitter. The pumpkin Frenchies make this an obvious autumn nail design, but the beige and cream tones make this look easy to pair with any outfit.
Dripping Jack-O-Lantern Nails
If you're a fan of the spooky vibes that come with the fall season, this manicure is perfect for you. Dripping carved pumpkins definitely have spooky Halloween vibes, so these nails are an excellent choice for October (or sooner if you just can't contain your excitement!)
Matte Fall Nails w/ Pumpkins & Sweater French Tips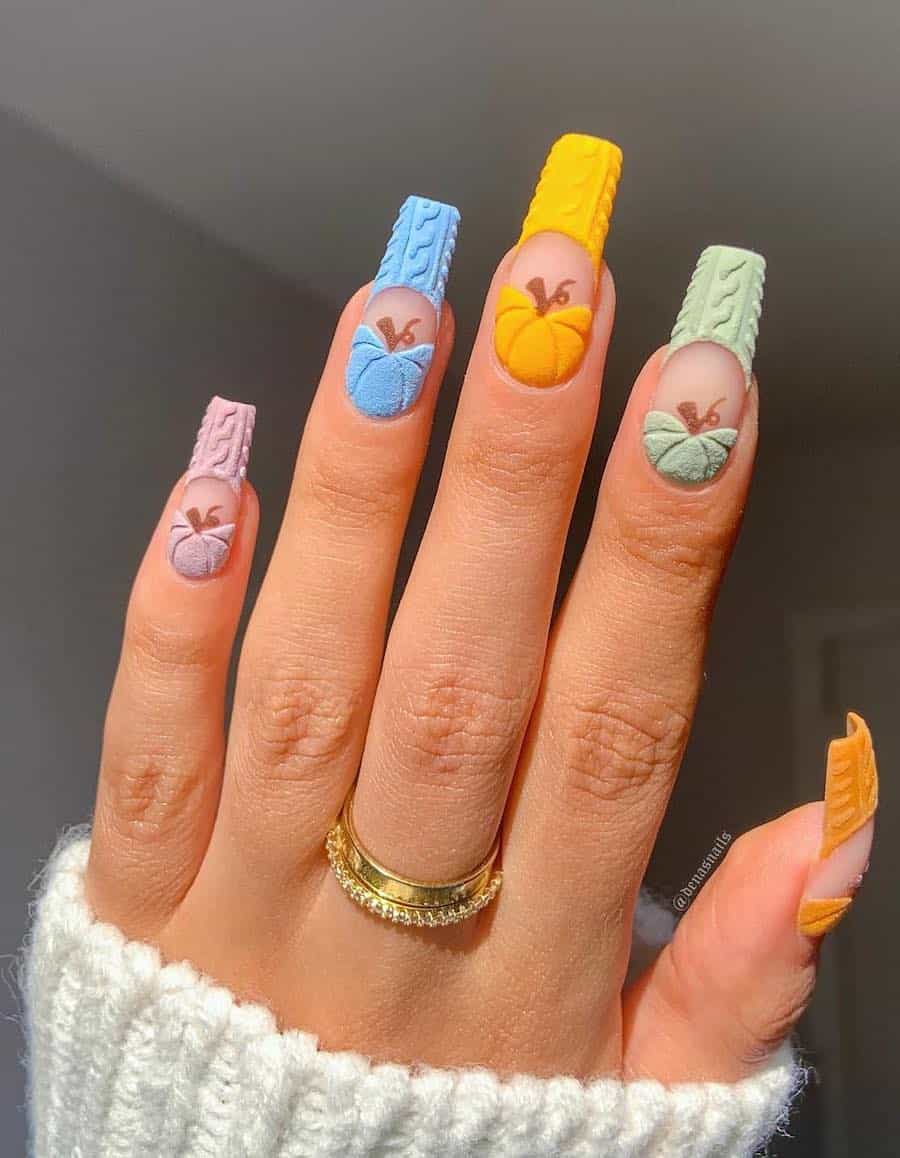 Sweater nails are one of our favorite cold-weather nail designs, and pairing these cozy, detailed French tips with pumpkin art instantly gives this mani a chic autumn aesthetic!
We love the colors used in this nail design, too – light and bright but still with a very distinct fall vibe.
White Grids +Sparkly Pumpkins
We are obsessed with these rich, sophisticated fall colors! These shades are so fitting for an autumn-inspired mani, and the combo of a matte finish with sparkle details gives this nail design a unique look.
You can sport this manicure anywhere from a coffee date to a pumpkin patch this fall.
Orange Polish, Pumpkins + Bronze Glitter
The rich matte orange and bronze glitter in this mani look so stunning together and are perfect for the upcoming change in seasons! We love the addition of fall leaf nail art with the pumpkin design, making this a very chic and glamorous autumn manicure.
Colorful Pumpkin French Tips
We love seeing classic feminine colors used in pumpkin nails, and the combination of fall colors with pink, purple, and gold details gives this manicure a girly and glamorous look! This nail design is perfect for anyone who wants soft and refined pumpkin nails in 2023.
Orange French Tips & Pumpkin Accents
Orange and white nail polish are a great color combo for a bright but definitely autumn-inspired nail design. The French tips are classic, and the pumpkin art quickly adds that fall feel. Plus, these nails have a subtle design that makes them great for anything from work to a night out to a cool-weather bonfire!
Glossy Black Polish + Sparkly Pumpkins
Black and orange are very classic Halloween colors, so this nail design instantly has a gothic vibe. The sparkly orange polish is bold with an alluring look, so you should definitely go for a mani like this if you want some eye-catching Halloween nails!
Navy Blue + White Nails w/ Pumpkin Art
This manicure is great for a subtle transition into fall nail designs. The combo of glossy cream nails and matte navy blue polish has an autumn vibe while still being bright, and the blue helps the pumpkins pop as well. Plus, we love the abstract details for a modern twist on classic fall nails!
Is navy blue a fall nail color?
Navy blue is a timeless and versatile shade that can work for any occasion but is also perfect for fall. This dark, cool shade pairs so well with common autumn colors like burgundy, orange, and forest green. And since blue and orange are complimentary colors, these shades create a gorgeous and eye-catching combo.
So, if you're looking for a chic and sophisticated nail color for the fall season, you can't go wrong with adding navy blue to your mani!
Brown Frenchies & Pumpkin Patches
Pumpkin patch nail art is definitely a go-to if you plan on visiting a real-life pumpkin patch in 2023. The brown Frenchies have cool-weather vibes while still looking elegant, and this incredible nail art will earn you compliment after compliment this fall!
Chrome Orange Pumpkin French Tips
Modern chrome details meet classic autumn nail designs with these chrome-finished orange pumpkins. The beige base is a great choice for autumn nails, and the pumpkins are, of course, so perfect for this season but still have a bold feel that makes them stand out!
Glossy Nails w/ Spotted Pumpkins + Gold Accents
We are loving these brown spotted pumpkins with swirly gold details! This mani is a must if you plan to grab some seasonal drinks or brunch with your girls and want something that is daring but still fitting for fall.
Beige + Orange Fall Nails w/ Plaid + Pumpkins
Beige and brown are fantastic neutrals to pair with orange nail polish for fall nails! The plaid details will instantly elevate a cozy autumn outfit, and the pumpkin nail art is so playful.
Sparkling Silver Polish + Purple Pumpkins
Shake things up with purple pumpkins this fall! Purple is definitely another great Halloween color, so you can sport this mani to a costume party in 2023 or go for this if you want a bold and feminine nail design.
Of course, the silver polish is another great touch, making this a glamorous and alluring manicure that will turn heads night and day! And, if you need costume inspiration, check out this list of Halloween costumes for college girls.
Black Glitter Frenchies w/ Gold Pumpkins
We love the combination of sparkly black French tips with metallic pumpkins. The nude pink base is perfect for breaking up the rich tones in this nail design, but the rest of this manicure is definitely bold and chic!
Matte Orange Polish & Pumpkin Nail Art
If you're a fan of classic fall colors and elevated designs, this next manicure might be the one for you! We love the intricately painted pumpkins; the burnt orange polish has a refined feel while giving off serious autumn vibes.
And don't forget to add sparkling details to the pumpkins for an elevated look.
Adorable Jack-O-Lanterns
Tiny painted pumpkins with adorable smiling faces have a playful, youthful aesthetic that's perfect for Halloween night or anytime in the fall! You can add some glitter accents if you want a more detailed design, but this cute manicure is a top choice for autumn nails as is.
Plaid Pumpkins on White + Orange Nails
We have another gorgeous plaid and pumpkin nail design that we had to share with you! This manicure has an undeniable fall feel, and the orange plaid pumpkin is the perfect touch to make this a fun and eye-catching nail design.
Gradient Autumn Nails
We can't get over how gorgeous this modern pumpkin nail design is! The pairing of pastel tones with classic fall colors is so stunning, and the pumpkin nail art is subtle but chic.
You can swap the shades here for your favorite autumn colors or go for gold instead of white for the pumpkins if you want a more daring manicure.
Fall Frenchies + Pumpkin Accent Nails
We're here for this all-over pumpkin mani! Combining pumpkin French tips with pumpkin-patterned accent nails is seriously stylish. You can't hide your excitement for fall with these nails, and they're sure to be the perfect nail design for those Instagram-worthy holiday photos.
Glittering Orange + Autumn Nail Art
Pumpkins and fall florals are beyond cute and perfect for accenting a chic orange mani like this. We love the bright orange instead of a muted fall shade, and the sparkling accent nails transform these nails from simple to stunning!
Classic French Manicure w/ Pumpkin Accents
White French tips are timeless for a reason, so you can't ever go wrong with a timeless design like this. Adding the pumpkin nail art makes these nails fall-ready in no time, and they have an effortless style that will pair perfectly with any outfit this autumn!
Pumpkin nail art is a fun way to add an autumn feel and a playful vibe to your manicure! So whether you go for something cute, classic, or a simple design with nail decals, you can't go wrong by rocking pumpkin nails in 2023.
More Nail Design Inspiration You'll Love:
25+ Stunning Burnt Orange Nails with a Cozy Vibe
23+ Fresh Fall Ombre Nails To Inspire You
27+ Stunning Forest Green Nails To Obsess Over
23+ Chic Line Nail Designs For A Modern Aesthetic