In need of trendy concert looks to wear this summer? You'll love our list of stylish concert outfits, including outdoor concert outfits that you can rock all summer long!
*this post contains affiliate links*
Perfect Concert Outfits for Summer
Summer is one of our favorite seasons. It's the season of fun, sun, and concerts!
Going to a concert or festival is always a fantastic time, and you'll definitely want to dress in something cute and comfy for a show in the summertime. Luckily, there are so many options for stylish looks that are also warm-weather-friendly.
So whether you're going to see your favorite band again or check out a new artist, you need a look that is chic and trendy. We have inspiration and outfit ideas to help you rock your summer concert outfits like a pro.
Summer Concert Outfits List
We've searched the internet and found gorgeous concert outfits from our fave fashion it-girls. Whether you're going to an indoor or outdoor summer concert, there's a look for you below.
simple + sleek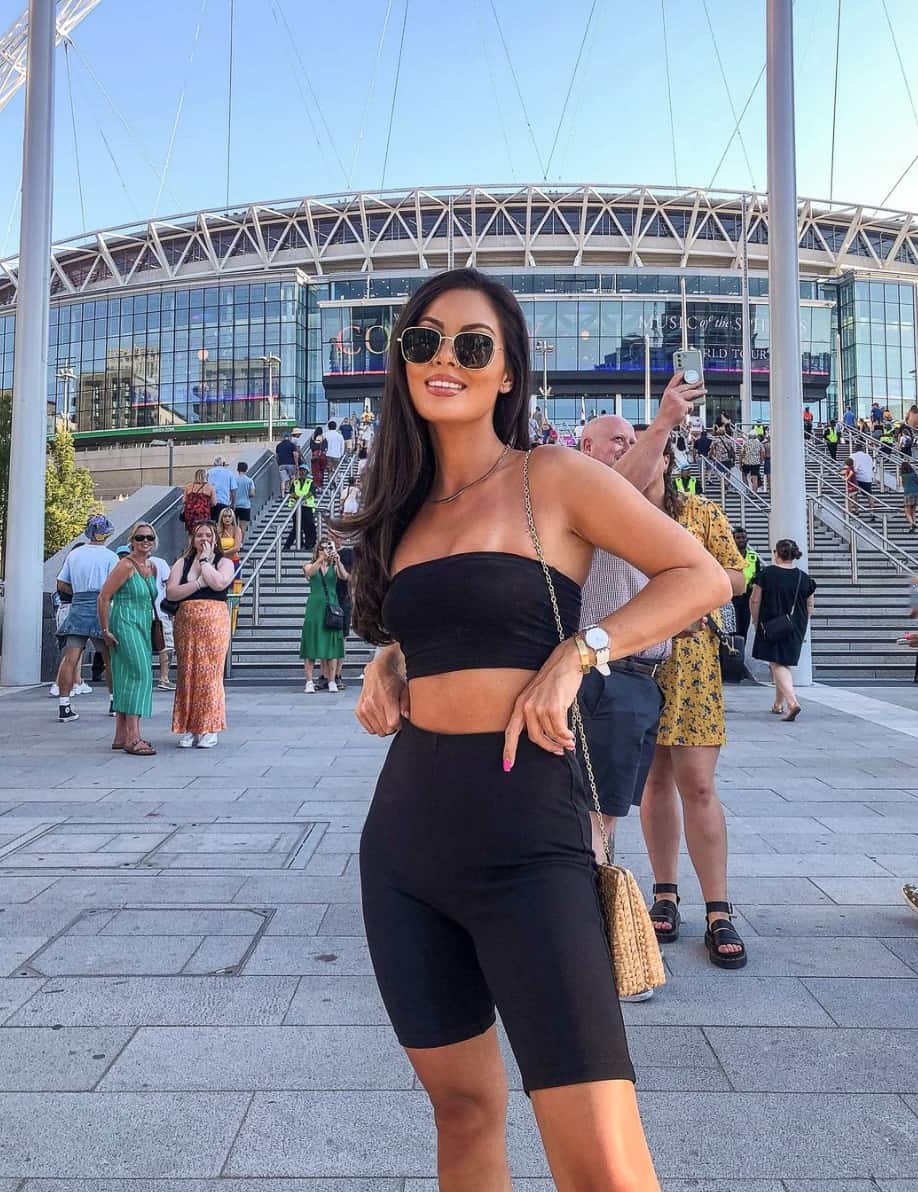 get the look:

Sometimes a simple outfit is one of the best ones! We love this look as an outdoor concert outfit – it will keep you cool and comfy on a hot summer day and is still so chic.
The black shorts and tube top are sleek and stylish, although you can go for a colorful combo if that's more your style. Try a pink, green, or blue matching set like this for an outfit that will stand out.
Or you can mix things up by going for black shorts and a vibrantly colored top. Either way, this minimal outfit is a must to beat the heat in style this summer.
And don't forget to elevate your look with some gorgeous accessories. An outfit like this will pair with any shoes – so try heels for a feminine look, sandals for something summer friendly, or cowboy boots if you're going to a country show. Finish the look with a handbag and some dainty jewelry, and you'll be good to go!
summer chic
get the look:

Denim shorts are a summer staple, so you can't go wrong sporting a pair of these during a show this summer.
We love the combo of classic denim shorts with a colorful and feminine top. And the strappy sandals are comfy footwear that's perfect for warm weather. You can also swap the long sleeves for short sleeves or a crop top if you're feeling sassy and want to stay cool during an outdoor concert.
The vibrant green purse adds another gorgeous pop of color and is a great accessory to carry all your essentials around – phone, wallet, and sunscreen (obviously!). Stick with the shades of green for an extra summery feel, or trade them out for your favorite color.
make it monochromatic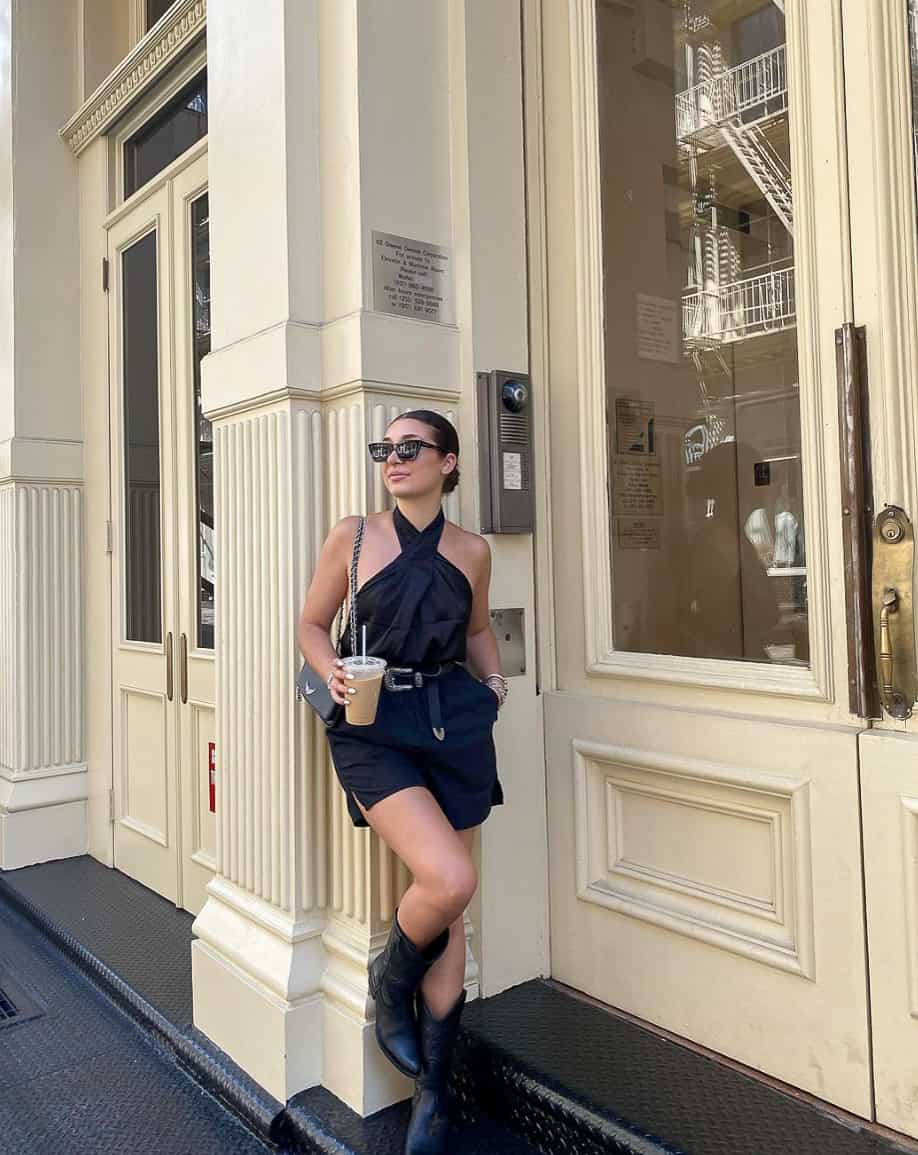 get the look:

Going for a monochromatic look is an easy way to mix and match pieces and still have a stylish outfit. We love how everything from the sunglasses to the shoulder bag and the boots are the same shade.
This look is the perfect blend of casual and feminine, with a touch of Western flair from the cowboy boots. A silky statement top elevates this outfit, while the black shorts are a great base that will keep you comfy in the summer sun.
You can always choose a different color if you don't want to wear black – try an all-white look or choose your favorite hue and rock a colorful look. Pink is a great color for something bright and feminine, or you can opt for sky blue for a gorgeous summer shade that will have you looking amazing!
cargo pants + metallic accents
get the look:

We love this pairing of masculine cargo pants with chic, feminine pieces. The corset-style tank definitely has an edgy yet sexy feel, while the silver clutch and heels add a shimmering pop that's so alluring.
Heels are best for an indoor show, although you can choose a thick heel if you want to wear some silver slingbacks outdoors. Complete this look with dainty jewelry, and you have an effortless but bold outfit that will have you stealing the show at your next concert!
cowgirl boots w/ lace + satin
get the look:

These are also gorgeous summer concert outfit with chic and feminine pieces.
A white satin crop top and mini skirt are perfect for summer, and the black cowboy boots add some eye-catching contrast. Plus, these shoes are great for dancing around and walking outside.
We also love the lacy top paired with white shorts – it's sexy yet has a cool and casual feel that works so well for a summer concert. And again, we love those vibrant orange cowboy boots that add a playful touch to this outfit. Keep the light brown button-up to add a modest touch to the outfit and get some extra protection from the sun as well.
Whether you're going to a show with your sister or your bestie, choosing outfits with a matching aesthetic is a cute way to dress up together while still showing off your personality!
metallic mini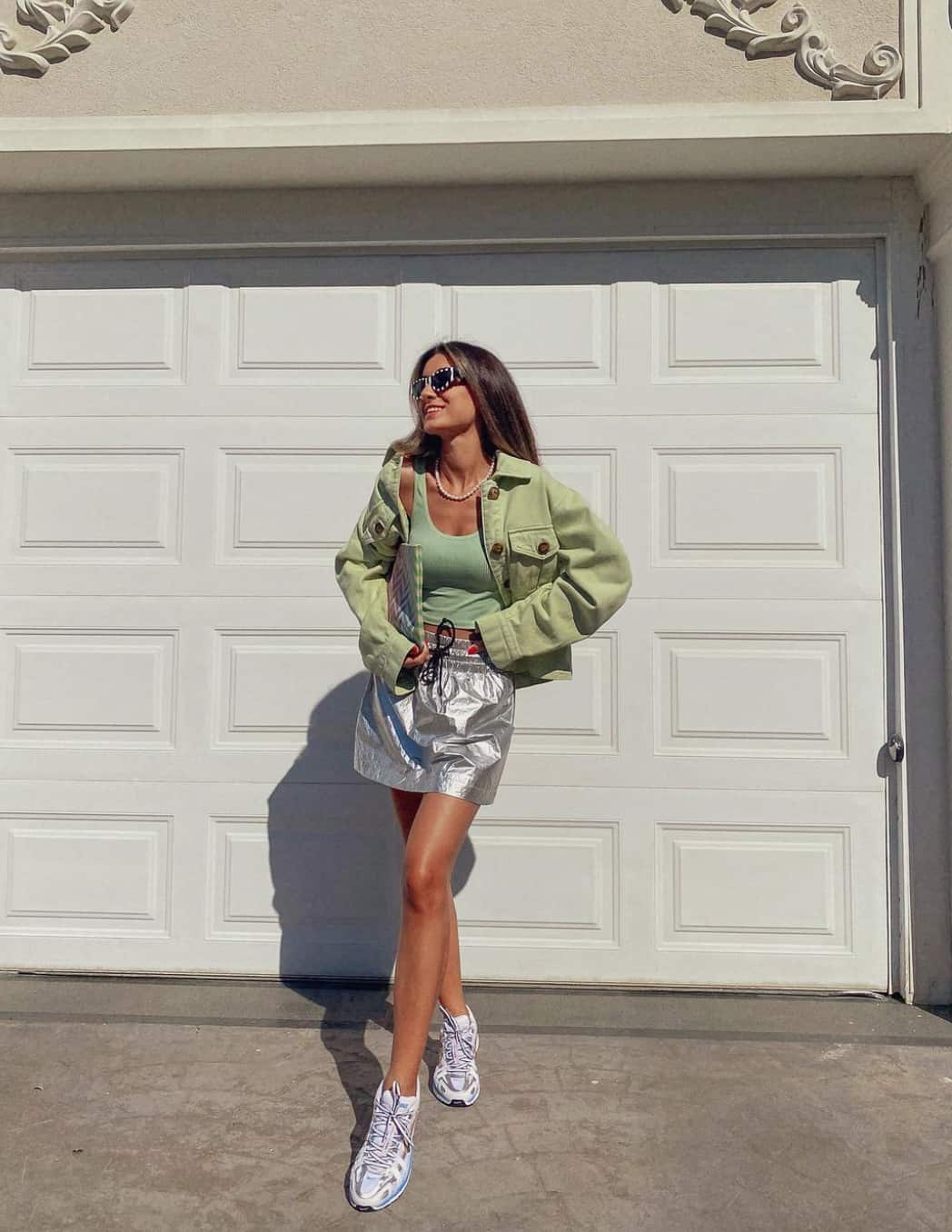 get the look:

2023 is all about metallics, and we see the trend continuing.
You can go for simple but stylish pieces for your concert outfit and add one bold touch with a metallic mini-skirt. This skirt will definitely shimmer in the summer sun and have all eyes on you, while the green tank and jacket are simple but fun pieces to complete the outfit with.
Sneakers are also perfect to add a casual feel to this look. Plus, you will definitely feel comfortable with supportive trainers like these!
Is it OK to dress up for a concert?
Not only is it okay to dress up for a concert, it's the perfect time to do so. A concert or festival is one of the best times to rock a glam look. Or you can dress in something chic and minimal for a gorgeous look with effortless style.
Either way, a concert is the best time to experiment with different styles, so don't be afraid to play around with your outfits or wear bold and eye-catching pieces to your next concert.
a midi skirt + denim jacket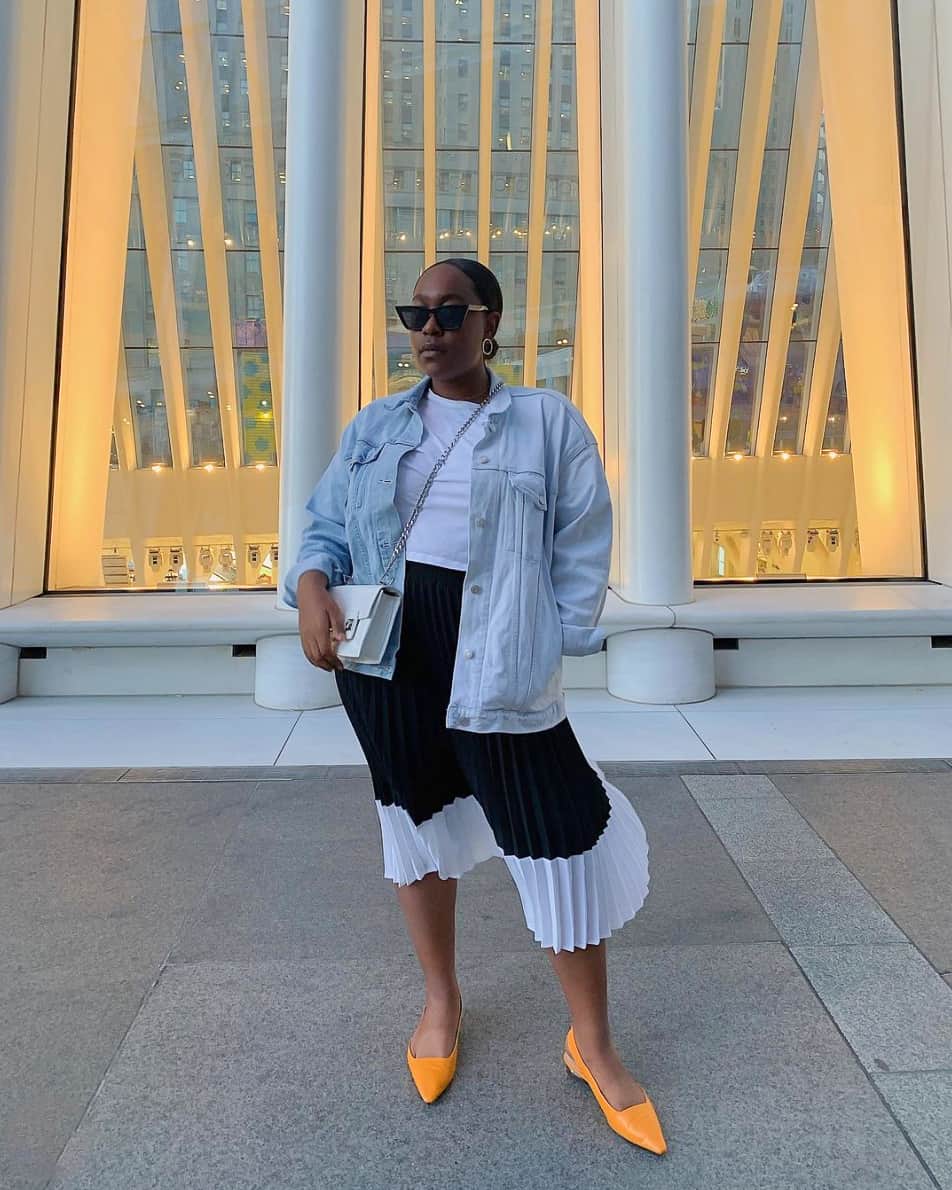 get the look:

We are in love with this combo of a feminine pleated midi skirt and a casual chic denim jacket. A midi or maxi skirt is a simple but elegant piece you can wear as part of a summer concert outfit, while the classic white crop top and light-washed jean jacket add that laid-back vibe.
The two-tone midi skirt is a perfect way to add a chic touch to this outfit. Going for neutral colors is a great way to make all the pieces of an outfit work together, but don't forget to add that pop of color with orange slingbacks or another colorful piece!
festival-ready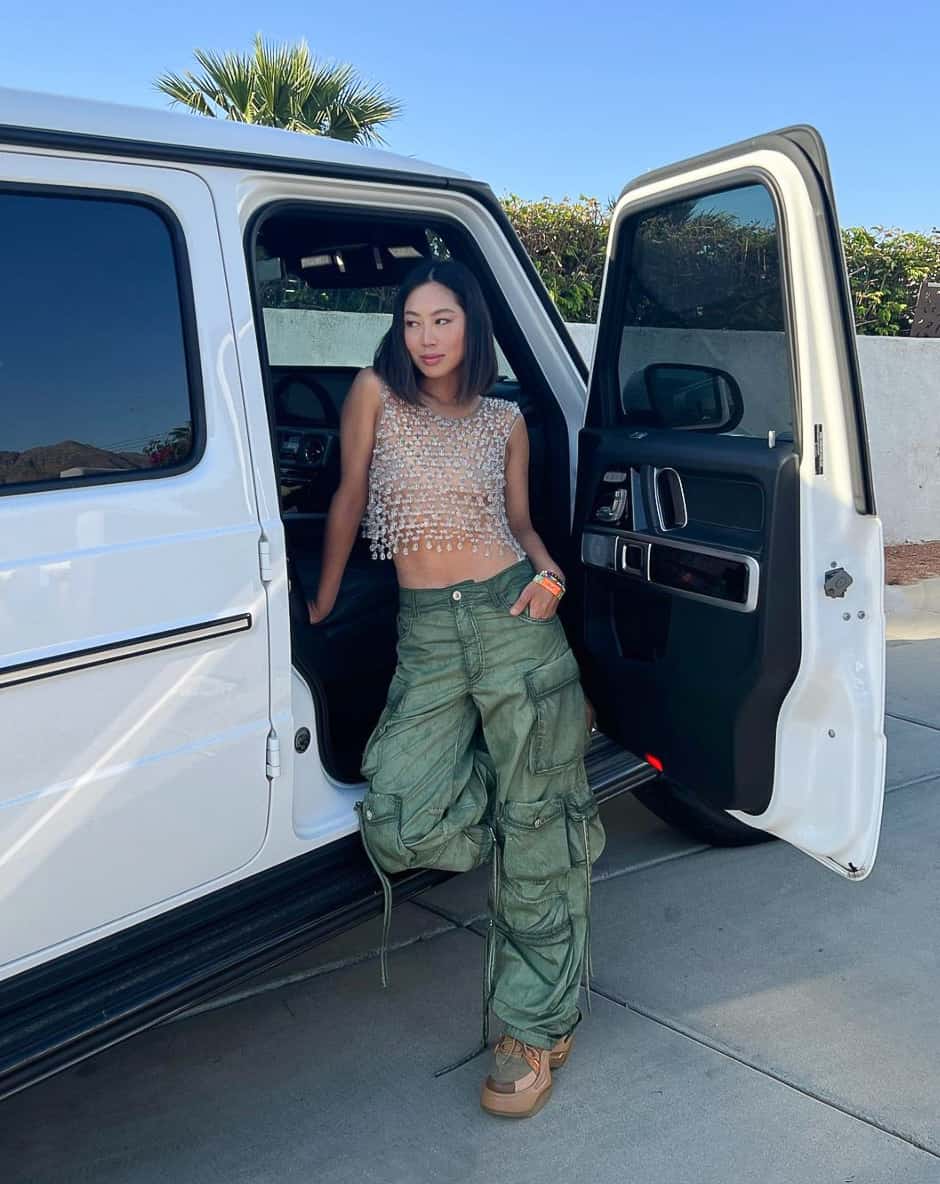 get the look:

Leave it to Aimee Song to create a perfect festival outfit that combines masculine with feminine.
Adding a statement top can quickly upgrade any outfit, and pairing this pretty top with baggy cargo pants and platform sneakers is definitely fitting for a bold concert outfit.
These pants are so comfy and will be easy to spend a day in, while the shoes are another comfortable piece that's great for being on your feet. These two are so trendy, but adding the embellished crystal tank instantly transforms this outfit into a chic and fashion-forward look that will be turning heads all day long!
CROCS: FREE SHIPPING ON ALL ORDERS OVER C$ 79.99+!!
What do you wear to a summer concert in your 40s?
You can still look chic while wearing comfortable pieces in your 40s at a concert. A flowy sundress, pair of distressed jeans, or pleated shorts with a lightweight blouse would be perfect. And you can choose fun prints, bold colors, and fashionable accessories to show off your personality.
As with any age, you want to make sure you're wearing comfortable pieces that still look cute. Choose flowy pieces made from linen or cotton that are comfy and easy to dance and walk around in. Additionally, comfortable sandals or sneakers are a great choice, but if you want an edgy look, opt for boots or wedges.
statement pants
get the look:

Metallics again. And we're here for it!
When choosing an outfit for any concert, you can always choose one piece to be the star of your look. Create a bold outfit with a pair of statement pants, and go for simple but chic pieces to pair it with.
Silver pieces are always gorgeous and eye-catching, but you can also choose a pair of colorful jeans or printed pants to make a statement. A sleek black top and black heels help balance out the bold bottoms. And you can add subtle details, like the silver straps on the tank or the shimmering handbag, to help tie the whole outfit together.
And, this outfit would look great with one of these black and silver nails!
pops of color
get the look:

Tee Public: Everything is on sale! Up to 35% off sitewide!
Jeans and a band tee have become an iconic outfit for concerts and festivals, and you can transform this classic look into a modern and trendy outfit with gorgeous pops of color.
The pink details on the top and the heels are so chic together, making this simple outfit perfect for a concert. The ripped jeans and black handbag add a bold touch to the outfit, while the pink accents are perfect for a feminine look.
Choose any shade you want for a look like this. Use accessories and one or two pieces in the outfit to add those vibrant and eye-catching colors while keeping the rest neutral.
edgy + chic
get the look:

Next on our list of summer concert outfits is this stunning outfit that has urban cowgirl written all over it.
It's a blend of country style with a bit of rock'n'roll and a feminine feel that we love. A denim midi skirt and crop top have a laid-back vibe that's perfect for spending a day at a concert, while the red cowboy boots and leather jacket are daring and edgy.
This is a great look for an indoor show, although you can definitely wear this outdoors as well. The leather jacket is a great addition, but you can always take it off if you get too hot and still have a sleek and stylish outfit.
simple + feminine
get the look:

When in doubt, go for minimal and feminine pieces to create a chic concert outfit. A lacy white skirt definitely adds a girly feel, while the other simple pieces let the skirt shine.
A tank top, mini skirt, and boots are so fitting for a summer concert – you'll stay cool, and your feet will be comfy as you dance to your favorite songs! Go for black and white colors for a classic look with some gorgeous contrast, or add some color for a vibrant outfit.
Either way, you'll look fantastic with a simple but feminine outfit like this!
What should I wear to a concert in the summer?
When you're going to a concert in the summer months, you'll want something that you can stay cool and comfortable in while still looking stylish. Choose pieces made for warm weather like a mini skirt, denim shorts, linen shorts, or a summer dress. And you can pair these bottoms with crop tops, tanks, and band tees for a chic concert outfit.
Also, don't be afraid to wear bold pieces for an eye-catching, Instagram-worthy look! Add colorful heels, metallic accents, and shimmering details to make your outfit stand out.
You can easily make concert outfits summer friendly by going for warm-weather pieces and lightweight materials. Use this style guide as inspiration to find the perfect summer concert outfits for 2023!
More Style Guides You'll Love:
11+ Stagecoach Outfits With A Chic Coastal Cowgirl Vibe
13+ Harry Styles Concert Outfits For The Perfect Glam-Rock Vibe
14+ *Not Tacky* Country Concert Outfit Ideas You'll Want To Copy
14+ Baddie Concert Outfits To Obsess Over
12+ Perfect Morgan Wallen Concert Outfits To Dance All Night In!