Wondering what to wear to a Morgan Wallen concert? You'll love this list of 12+ Morgan Wallen concert outfits. These Morgan Wallen concert outfit ideas stylish, chic, and totally have a modern cowgirl vibe!
*this post contains affiliate links*
Perfect Morgan Wallen Concert Outfits
Morgan Wallen is starting his One Night At A Time tour soon, and if you're one of the lucky fans that will be seeing him perform live, then you're probably already planning what to wear to his show.
As with any music concert, you'll want something chic and fun while still being comfortable enough to spend the night in. And to help you out, we've searched the web and found gorgeous country music concert outfits that are perfect for a Morgan Wallen show.
So whether you're looking for something sleek and daring, a flirty and feminine outfit, or a full-on country-style ensemble, we've got the outfit inspiration you need to take your concert experience to the next level!
What to wear to a Morgan Wallen concert?
If you're headed to a Morgan Wallen concert in 2023, here are some great outfit ideas for women that are stylish and still comfortable enough to dance in!
A denim mini dress with cowboy boots
Cut off denim shorts, crop top, and western boots
Little black dress, black western boots, and a cowboy hat
Crop top, distressed jeans, and cowboy boots
Midi dress, colorful cowboy boots, and a leather jacket
Flowy sundress, cowboy boots, and a denim jacket
Denim midi skirt, crop top, blazer, and western boots
Oversized graphic tee, denim shorts, cowboy boots, and a cowboy hat
Fringed jacket, denim shorts, and tall western boots
Morgan Wallen Concert Outfit Ideas
Whether you're a die-hard Wallen fan or just looking for a fun night out, you'll want to dress to impress. We have stunning Morgan Wallen concert outfits below that are bold, playful, and comfy enough to dance around in!
denim midi dress + cowboy boots
get the look:

Go for a cute girly look with a denim mini-dress. The puffed sleeves add a feminine touch to the look, while the cowboy boots give the outfit some serious country flair.
If you're going to an outdoor or late summer show, you can always go for a denim dress with short sleeves to prevent overheating. Adding a cowboy hat is also an excellent idea for an outdoor show since it will give you some shade while adding a little something extra to your concert look!
But if you're going during the colder fall months, a long-sleeved dress like this with tall boots makes for a perfect country concert outfit.
cut-off shorts, crop top + tall boots
get the look:

Denim cut-off shorts and tall cowboy boots have an effortless feel that's perfect for a chic but comfy concert outfit! The cowboy boots are not only fitting for a country music concert but also practical and comfortable enough to stand in for the night.
And the denim cut-off shorts and white crop top are the perfect combination of cute and casual. Finish the look with a statement belt as a chic accessory that also adds a bit of glam and fun to the outfit.
little black dress, a cowboy hat + boots
get the look:

A little black dress is classic and so versatile, making it perfect to dress up for a country music concert!
Go for an all-black look by pairing your LBD with black cowboy boots and a black cowgirl hat. This monochromatic outfit is bold and effortlessly chic, so you'll look stylish throughout the show.
Add the floral choker necklace for a feminine touch, or go for simple, dainty jewelry for a more subtle look. Either way, you'll look stunning in this outfit – plus, you'll end up with some very Instagram-worthy photos!
midi dress, leather jacket + colorful boots
get the look:

Mix classic country pieces with bold style for a stunning look like this. A slip dress is perfect for a comfy concert outfit, while the black leather jacket adds a layer of warmth and an edgy vibe to the look.
And we are so in love with these gorgeous red cowboy boots. The red and black shades create a daring, badass aesthetic – although you can opt for blue, pink, or green cowboy boots for a colorful and eye-catching country concert look!
floral midi dress + trainers
get the look:

Wondering what to wear to a Morgan Wallen concert that doesn't include cowboy boots? A floral midi dress and trainers is the perfect combination.
A pair of chunky trainers will not only keep your feet happy, but they're also trendy and add a casual vibe to the outfit. The dress is feminine, playful, and perfect for a country music show. Plus, the midi length is great for staying cool while still having coverage, which is especially important if you'll be outside.
If you want to up the cowgirl vibe, simply add a denim or a fringed suede jacket!
one-shoulder top, denim shorts + cowgirl boots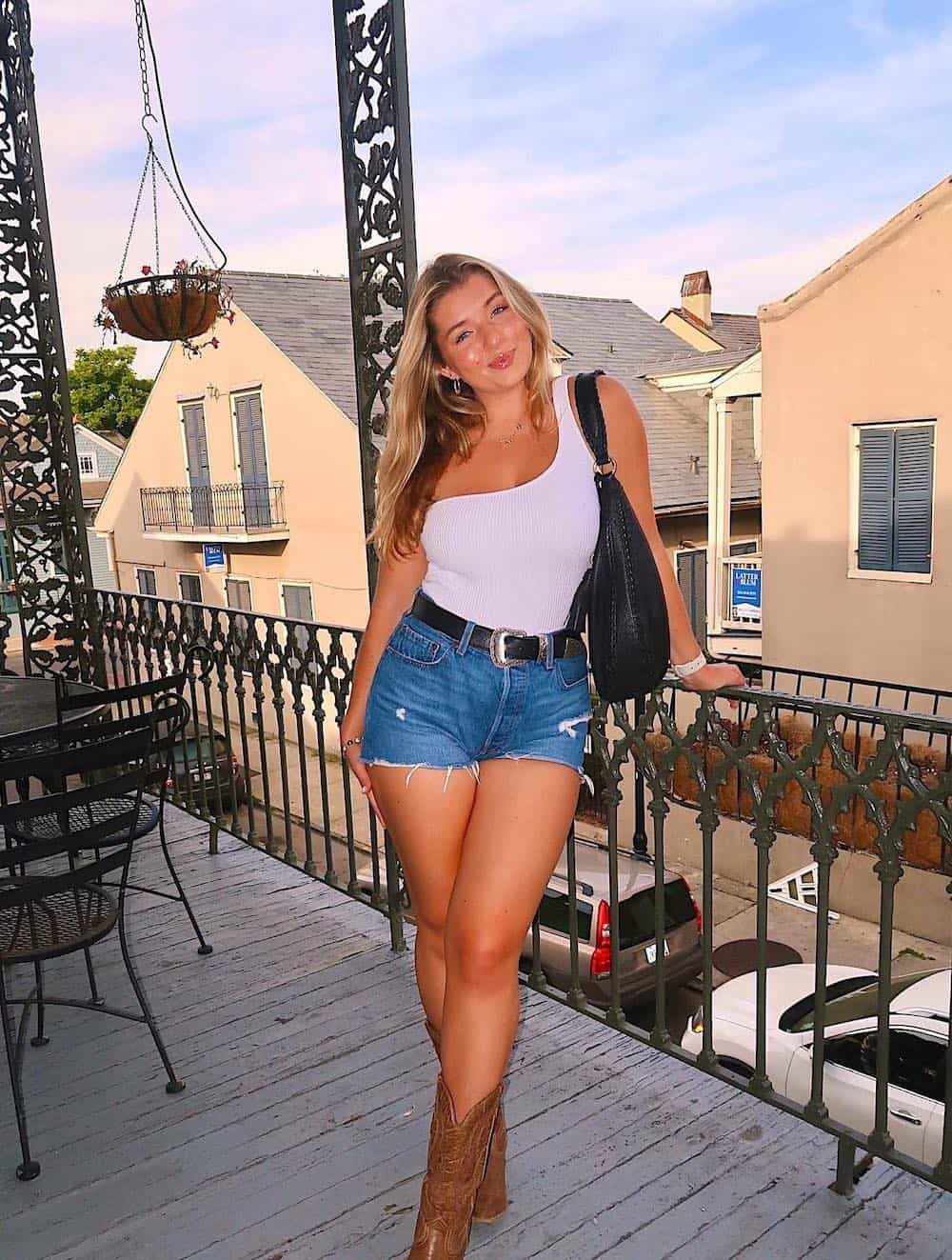 get the look:

Cowboy boots and denim shorts are a classic combo for a country music festival. And we love the addition of the one-shoulder top for a chic and modern touch.
The chunky belt gives the outfit a country aesthetic while highlighting your waist to show off your curves. Cowboy boots also give this look a Western feel, adding a bit of contrast to the feminine outfit.
This look is great for a late summer concert to stay and look cool during the show!
denim shorts + a fringed denim jacket
get the look:

When it comes to what to wear to a Morgan Wallen concert, denim anything is a good idea! It's comfortable and versatile and gives any outfit a Western feel. And you can always level up your classic denim pieces with glamorous details like sparkly fringe and gem accents!
This outfit definitely makes a statement, and you'll be turning heads all night in a look like this. The cowboy boots are a must-have for any country concert, and this embellished pair adds to the luxurious and bold aesthetic. And we can't forget about the shimmering belt. It ties the whole look together, making it a perfect finishing touch for this chic ensemble.
flowy dress + Western ankle boots
get the look:

Next on our list of Morgan Wallen concert outfit ideas, this look is so simple but makes a statement with gorgeous contrasting pieces. The flowy white mini dress is light and airy and has a feminine feel that pairs perfectly with rugged black cowboy boots.
This is another great choice for a summer country concert look, and you're sure to stay comfortable with a breezy dress and supportive boots as you dance to your favorite Morgan Wallen songs!
a vest w/ shorts + tall boots
get the look:

Go for a chic and modern outfit with a linen vest (one of 2023's top trends) and long denim shorts. We love the pastel shades here, and the tall black boots give the outfit that Western feel you want when going to any country concert.
Add a crop top or bandeau under your vest for more coverage or to give yourself the option of leaving it unbuttoned to enjoy some summer breeze. No matter how you style these pieces, this elevated country look is perfect for your upcoming show!
denim midi skirt + crop top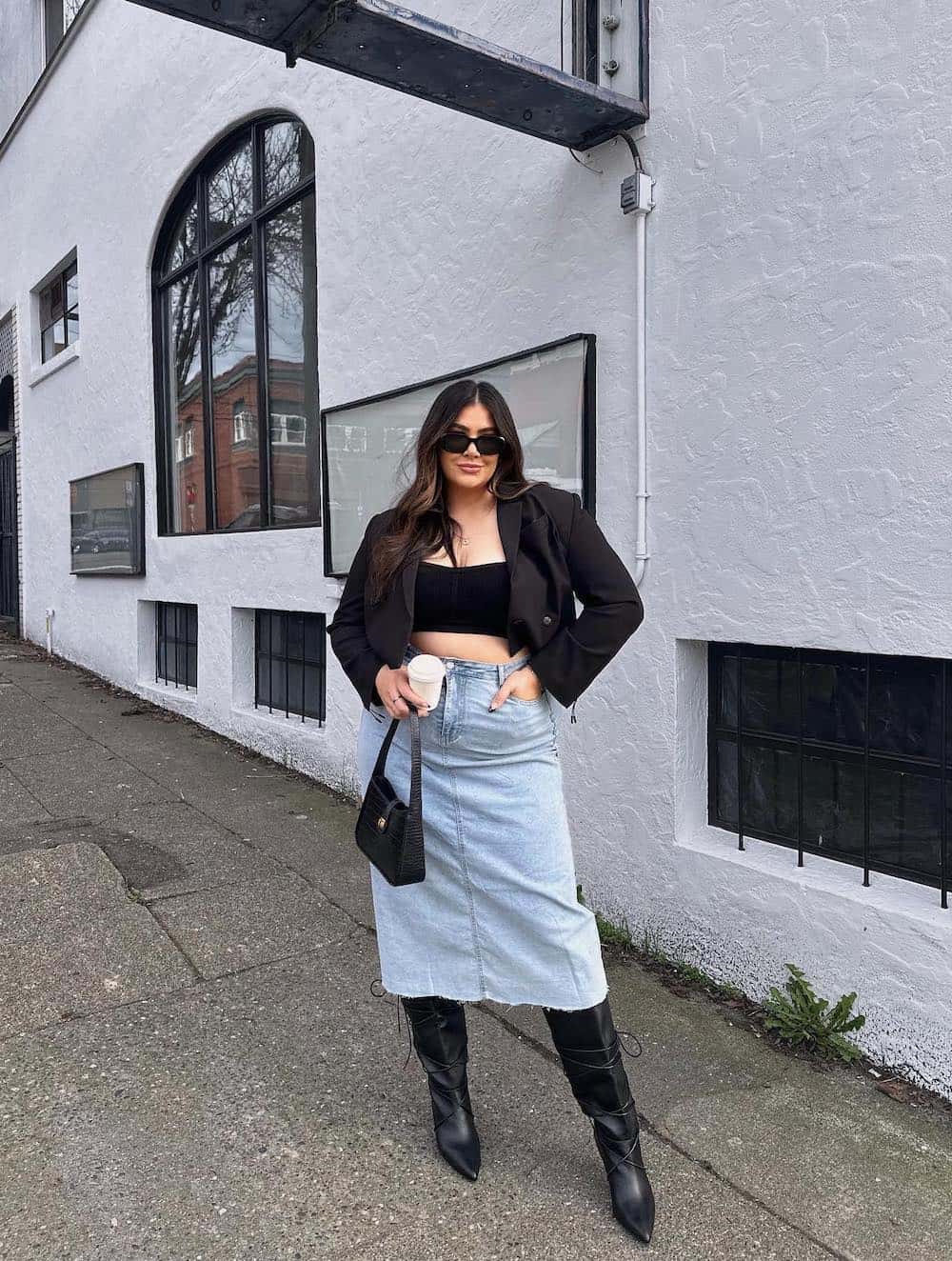 get the look:

A denim midi skirt is a modern piece with a classic country feel. Pair it with a simple bandeau top for a sassy yet sophisticated look, and add a cropped blazer for an elevated touch.
This outfit is stylish and perfect for a fall country concert when you need extra coverage. The tall boots have the perfect balance of modern style with Western flair, and they'll keep your feet warm and cozy during the show.
overalls + a cowgirl hat
get the look:

A graphic cropped tee, denim overalls, and a cowboy hat are the perfect combination for a fun and fashionable country concert ensemble.
The graphic cropped tee is cute, trendy, and a top choice for any concert. Denim short overalls add some Southern charm and are a must if you want something you can dance the night away in.
And, of course, the cowboy hat is the cherry on top of your country concert outfit. Not only is it stylish and on-theme, but it will also provide some much-needed shade from the summer sun!
graphic tee, glittery cowboy hat + boots
get the look:

Lastly on our list of Morgan Wallen concert outfit ideas, we love these opposite styles!
Opt for a classic country look with an oversized graphic tee and tall cowboy boots. These pieces have that timeless country style and are perfect for ultimate comfort during the show.
Or wear a sleek black dress with a shimmering fringed cowboy hat for a bold and glamorous look! No matter which option you pick, these chic country concert outfits are perfect for the One Night At A Time tour in 2023!
Going to a country concert will be a fantastic time no matter what you wear, but you really can't go wrong with dressing up for your night out! We hope you loved these Morgan Wallen concert outfits as much as we did and have the perfect inspiration for your country concert outfit.
More Style Inspiration You'll Love:
14+ Country Concert Outfit Ideas You'll Want To Copy
11+ Cool-Girl Concert Outfits for Summer 2023
11+ Stagecoach Outfits With A Chic Coastal Cowgirl Vibe
What To Wear To A Rodeo + Stylish Rodeo Attire Ideas